Beetroot & Feta Salad With Fresh Herb Dressing
Earthy and sweet beetroot is the perfect partner to sharp, salty feta cheese and when it's finished with a fragrant herb dressing, the holy trinity is complete! Learn how simple this flavourful salad is to make at home.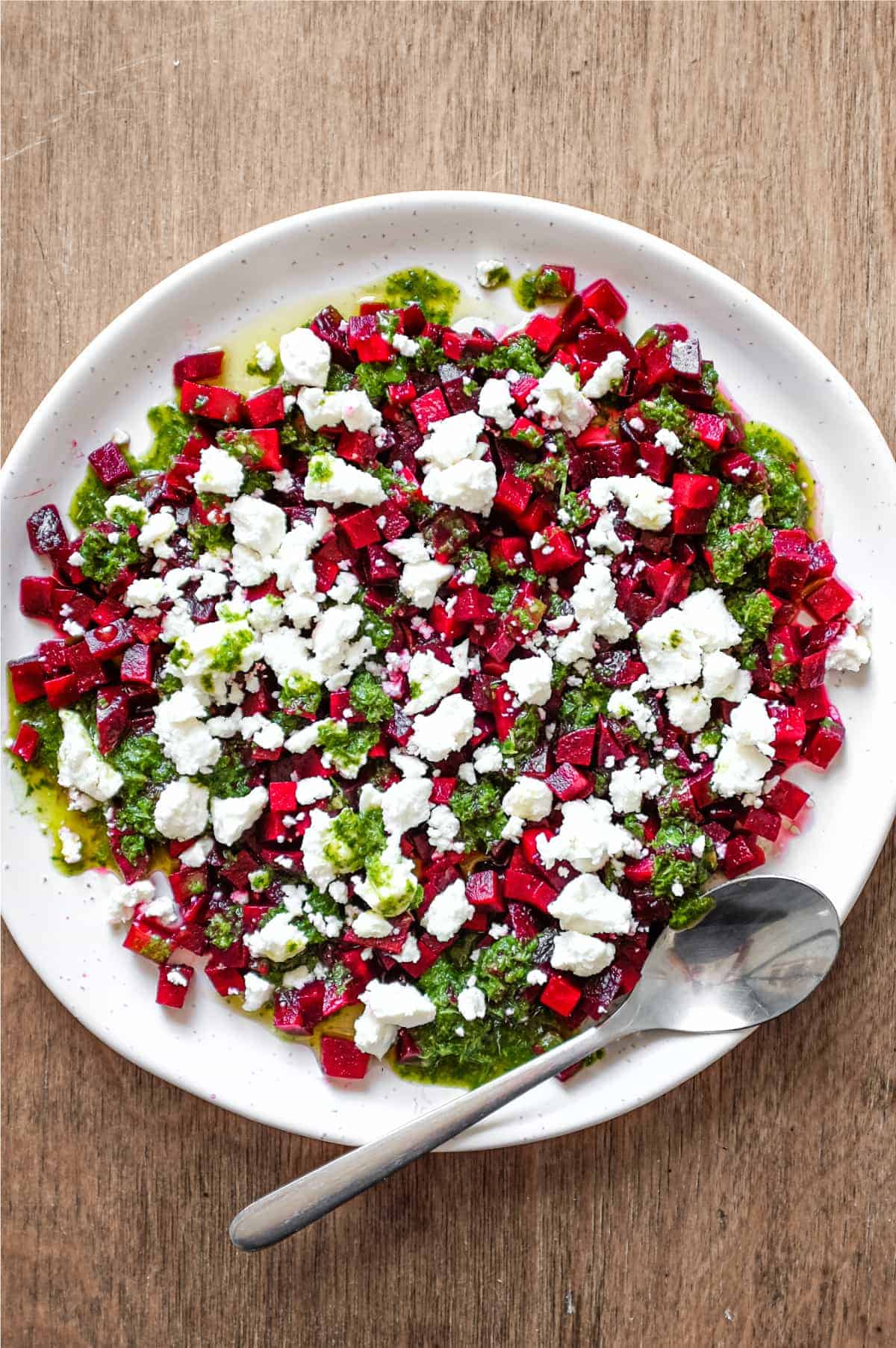 This salad takes full advantage of all the sweet earthiness of beetroot. Beet are one of my personal favourite vegetables and I serve it all summer long in various forms. This salad is a simple and perfect combination of colour, flavour and texture and the most asked-for salad from friends and family.
The sweetness of beetroot combined with the hit of herb dressing is a marriage made in heaven when joined by the salty sharpness of a good quality feta cheese. It's sheer perfection.
It's a simple, versatile salad that pairs so well with meat, fish and other vegetable dishes. I particularly love it with fish or lamb.
Why it works?
There are four flavour components to the salad that work in perfect harmony together, and the reason this salad is so successful.
Sweet - The earthy sweet notes of beetroot make for the perfect base to this salad
Salt - Feta cheese is the perfect accompaniment to beetroot, in all its briney saltiness and creamy texture. Be sure to buy a good quality variety. Bulgarian Sheep's Feta is my favourite.
Acid - Lemon juice or wine vinegar create an acid hit and light pickle for the beetroot which compliments its sweetness.
Herb - To round the flavours off, a simple herb dressing is drizzled over. It balances perfectly in its aromatic grassiness to the other flavours. I change up the herbs all the time - see below for what herbs go with beetroot.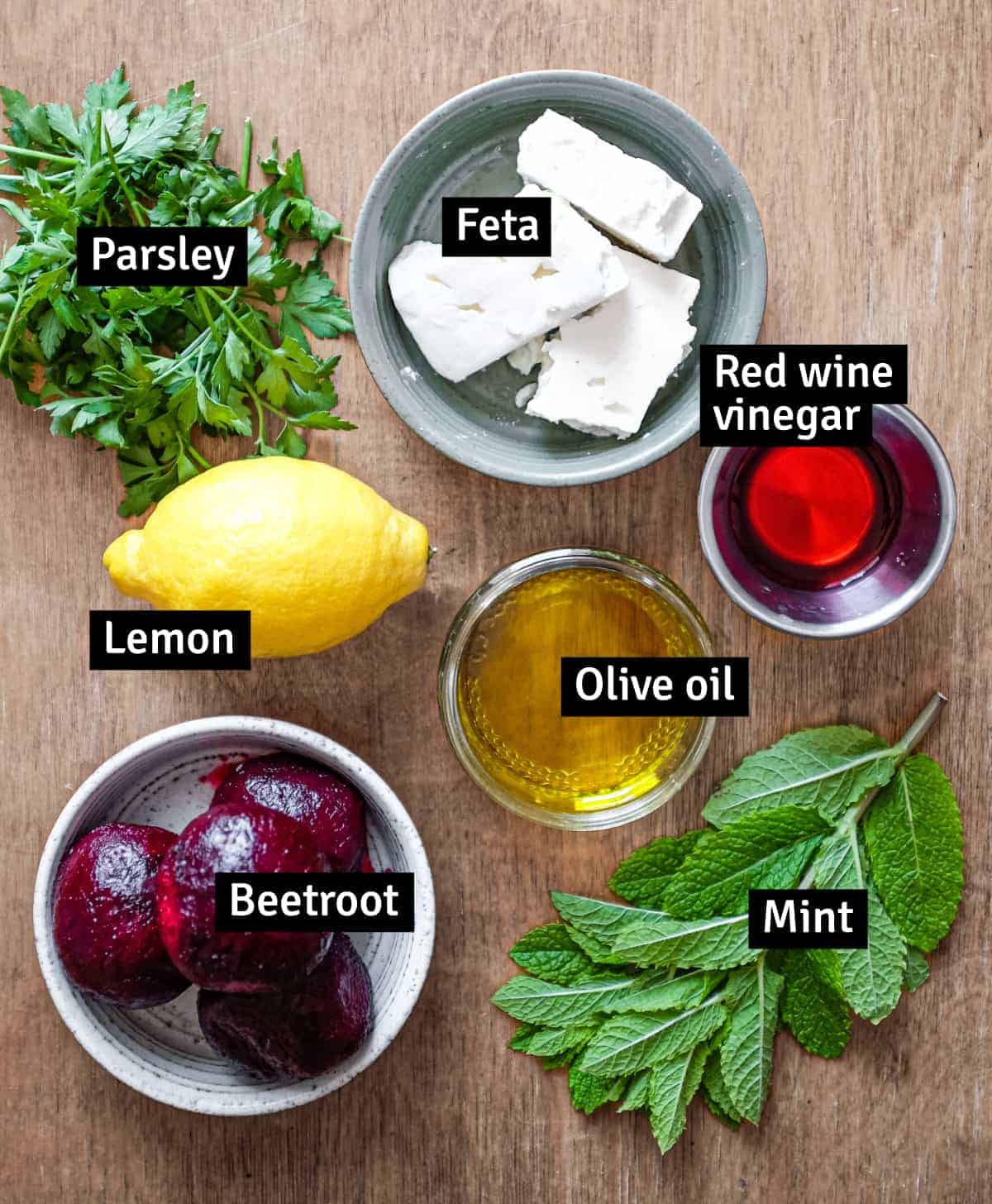 Stuff You'll Need
Creating this salad is simple. Few ingredients, but big on flavour. Here's what goes into my beetroot & feta salad.
Beetroot - red or yellow beet are fine, red is more earthy while yellow a little sweeter.
Feta Cheese - my favourite variety is Bulgarian Sheep's Feta, but any sharp, salty feta will do.
Herbs - In this recipe, I use fresh parsley and mint which are fabulous with beet and feta, but I'll often change things up (see below)
Wine Vinegar - I'll use whatever I have, but usually red wine, sherry vinegar or black/white balsamic vinegar.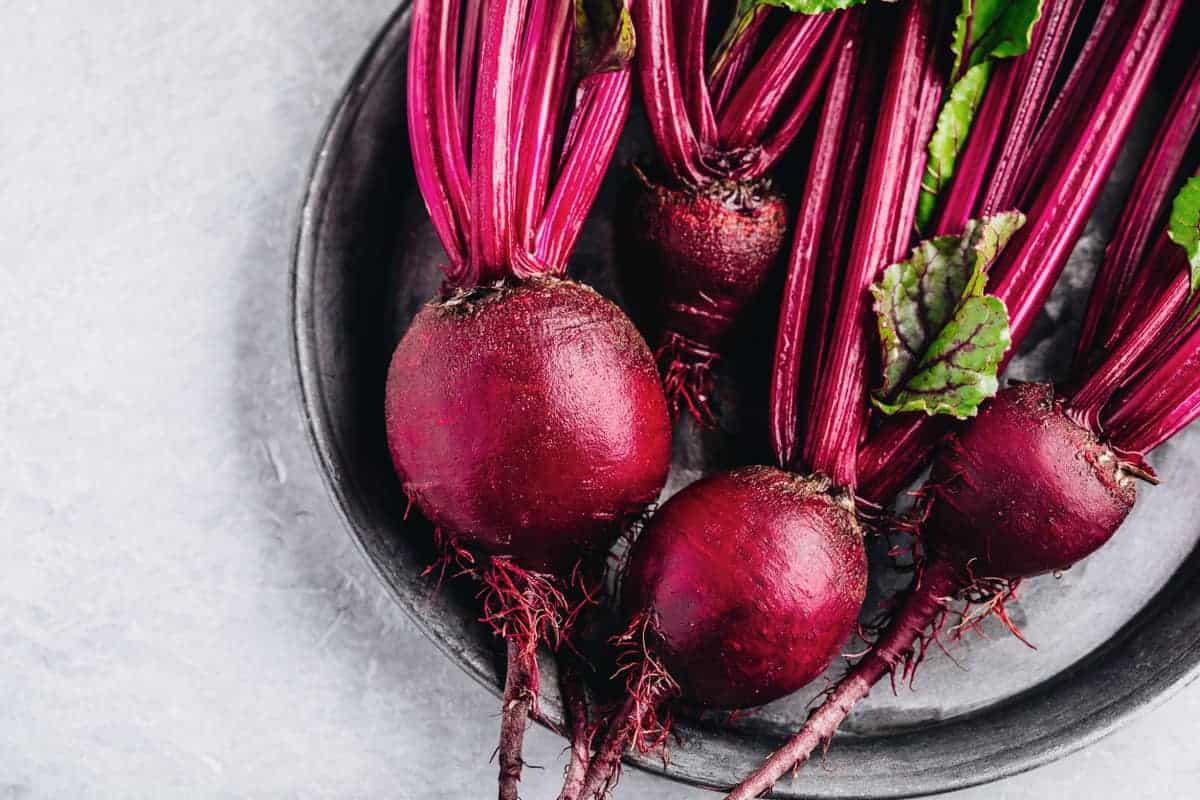 Step by Step
Making this beetroot & feta salad is simple! I urge you to cook your own beet as the shop bought often lacks flavour. Don't use jarred or canned, this salad needs fresh.
Cooking the beetroot

Cooking beetroot is easy, there are two popular ways. To boil it like most vegetables, or by using my preferred method: roasting. I feel that most of the flavour (and goodness) seeps out of a beet during boiling - when you roast it, the juices have nowhere to go, so all the nutrients and amazing colour is intensified within the vegetable. I wrap mine in foil and roast. Just remember to skewer them first. I had a beetroot explode in the oven once - as you can imagine this was a colourful experience. Once it's cooked and cooled a little you can peel it and chop/slice into bitesize pieces and coat lightly in vinegar or lemon juice.

Making the herb dressing

Simply blend the herbs with some good quality Extra Virgin Olive Oil and a little vinegar and that's it. I use a stick/immersion blender to make things easy, you can also use a pestle & mortar.

Arranging the salad

Make a single layer of beetroot on a platter and then crumble over the feta cheese. Drizzle over the herb dressing and that's it! Done!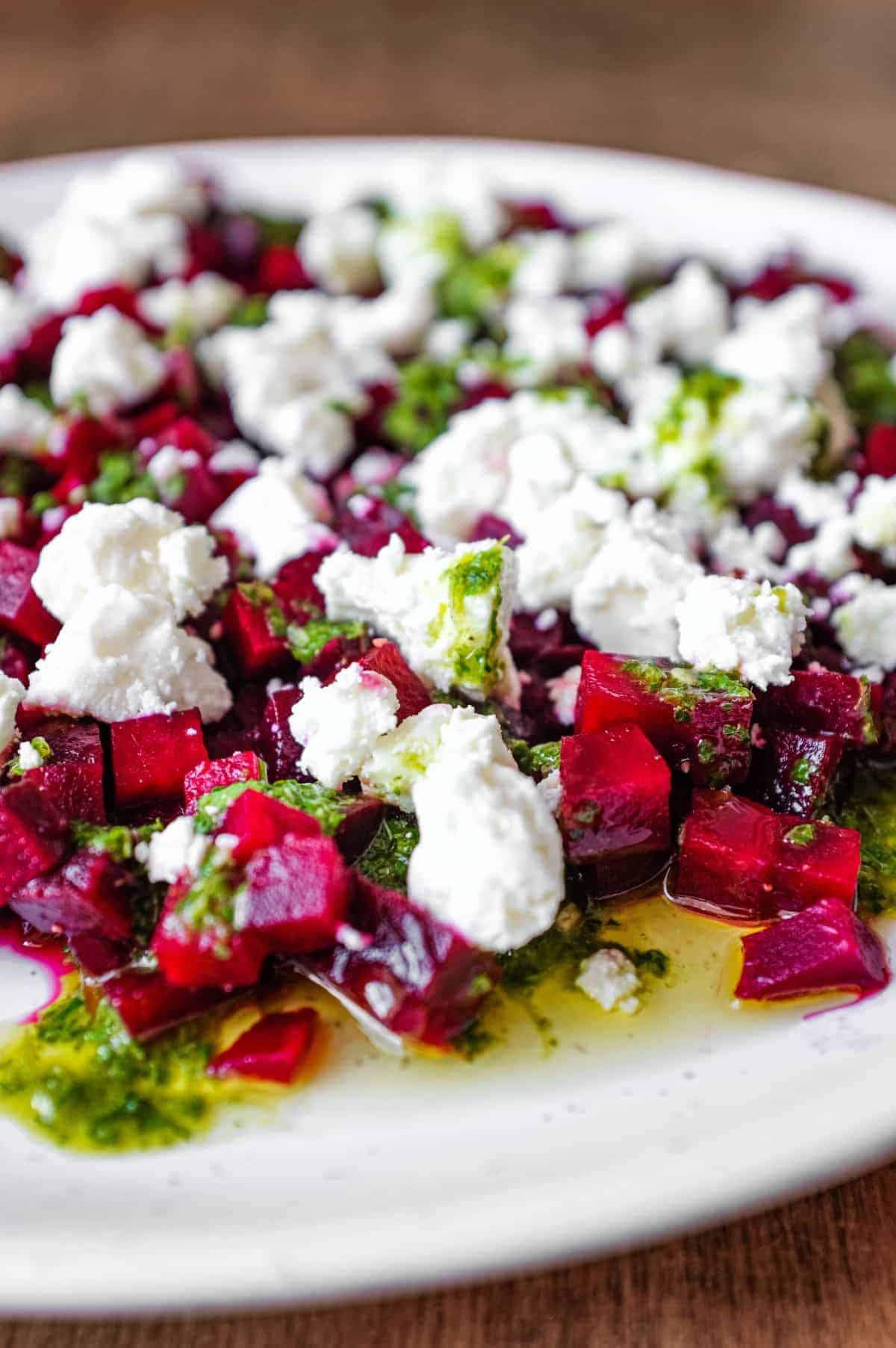 Pro Tips
You can switch up the ingredients to give different flavours, here are a few suggestions that I'll often incorporate into my salad.
Beetroot - Red or yellow beetroot is fine, I'll often use a combination of both too.
Cheese - Feta is my go-to but Turkish peynir, labne, goats cheese are also amazing! I've also made this dish using Italian burrata or buffalo mozzarella and lastly an aged Spanish Manchego cheese - all with excellent results.
Herbs - What herbs go with beetroot? Pretty much anything! Tarragon, oregano, marjoram, basil or dill are delicious. You could also create this salad by using my recipe for Georgian Green Ajika - wonderfully spicy, herbal condiment made from chillies, herbs and fenugreek.
Other toppings - Nuts & seeds are a great extra topping, try some unsalted pistachios, walnuts or pine nuts or a scattering of sunflower seeds. You can also scatter over a few pomegranate seeds for a pop of sourness.
Serving & Storage Suggestions
This salad is a great accompaniment to meat, poultry or fish as part of a larger spread. It's also great on its own with a few flatbreads. Serve cold or at room temperature. You can make in advance and it'll stay fresh in the fridge for up to 3 days. It's not suitable for freezing.
Ready to get cooking?
So, as easy, tasty salads go, it doesn't get easier than this delicious beetroot & feta salad. Such a harmonious, complex melding of flavour, colour and texture! It's a great salad to have in your arsenal as it really does go with just about anything.
More Mediterranean style recipes
If you liked this recipe for Beetroot & Feta Salad, I'm sure you'll love some more of my best Mediterranean recipes.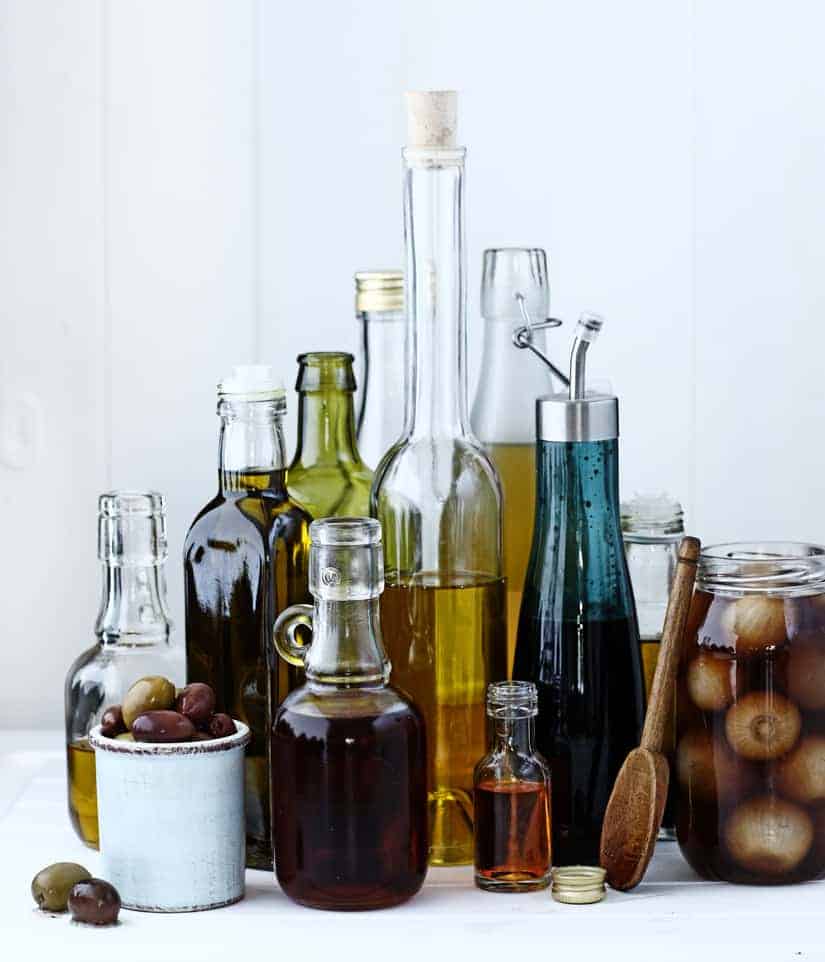 33 oils, vinegars and sauces
every home cook should have.
This recipe uses affiliations and may receive a commission based on your activity (link clicks). Learn more.
Beetroot & Feta Salad With Fresh Herb Dressing
Rate this recipe
Print Recipe
Pin Recipe
Save Recipe
Go to Collections
Calories (per serving) |
167
Ingredients
4

small beetroot

100

g

feta cheese

¼

cup

fresh mint (chopped)

¼

cup

flat leaf parsley (chopped)

3

tbsp

red wine vinegar

1

tbsp

freshly squeezed lemon juice

⅓

cup

extra virgin olive oil

Salt & pepper
Instructions
Preheat oven to 200ºC. Chop off the beetroot stalks but leave on the skin. Wrap each beetroot individually in cooking foil and place on a baking sheet. Cook for 40-60 minutes (depending on size) until soft. Cool for 20 minutes. Gently slip off the skins with your fingers - they should come off easily. Cut into small chunks, cover and cool to room temperature.

Once cooled, combine with 1 tbsp of vinegar and a little salt & pepper and set aside.

Combine the herbs with 2 tbsp vinegar, lemon juice and olive oil and blend using a stick blender until semi-smooth. Set aside.

Arrange the cooled beetroot in a single layer on a platter. Crumble over the feta cheese and then drizzle over the herb dressing.

Serve cold or at room temperature.
Notes
This salad is versatile in all of the ingredients it uses. Switch up some of them to create new and interesting flavours.
Beetroot - Red or yellow are fine, or a combo of both.
Cheese - Try salty Turkish Peynir, labne, goat's cheese, mozzarella or burrata
Herbs - For a variety of flavour, try fresh mint, tarragon, oregano, marjoram or basil. You could also use dried mint, dill or basil.
Nuts - a little crunch is great in the form of nuts. I like pistachio, pine nuts, almonds or sunflower seeds.
This salad will stay fresh in the fridge (well covered) for 3-4 days. It's not a contender for freezing.
Serve alongside many Middle Eastern or Mediterranean style dishes. It goes with pretty much everything like fish, meat, poultry or other plant-based delights.
Nutrition
Calories:
167
kcal
(8%)
|
Carbohydrates:
9
g
(3%)
|
Protein:
5
g
(10%)
|
Fat:
12
g
(18%)
|
Saturated Fat:
5
g
(31%)
|
Cholesterol:
22
mg
(7%)
|
Sodium:
345
mg
(15%)
|
Potassium:
282
mg
(8%)
|
Fiber:
2
g
(8%)
|
Sugar:
7
g
(8%)
|
Vitamin A:
270
IU
(5%)
|
Vitamin C:
8
mg
(10%)
|
Calcium:
139
mg
(14%)
|
Iron:
1
mg
(6%)