Light, bright Mediterranean flavours are in full-effect with this wonderful Greek strapatsada. A delectable combination of eggs and tomatoes, it's a fragrant, simple and hugely satisfying wake-up call from the Greek Gods.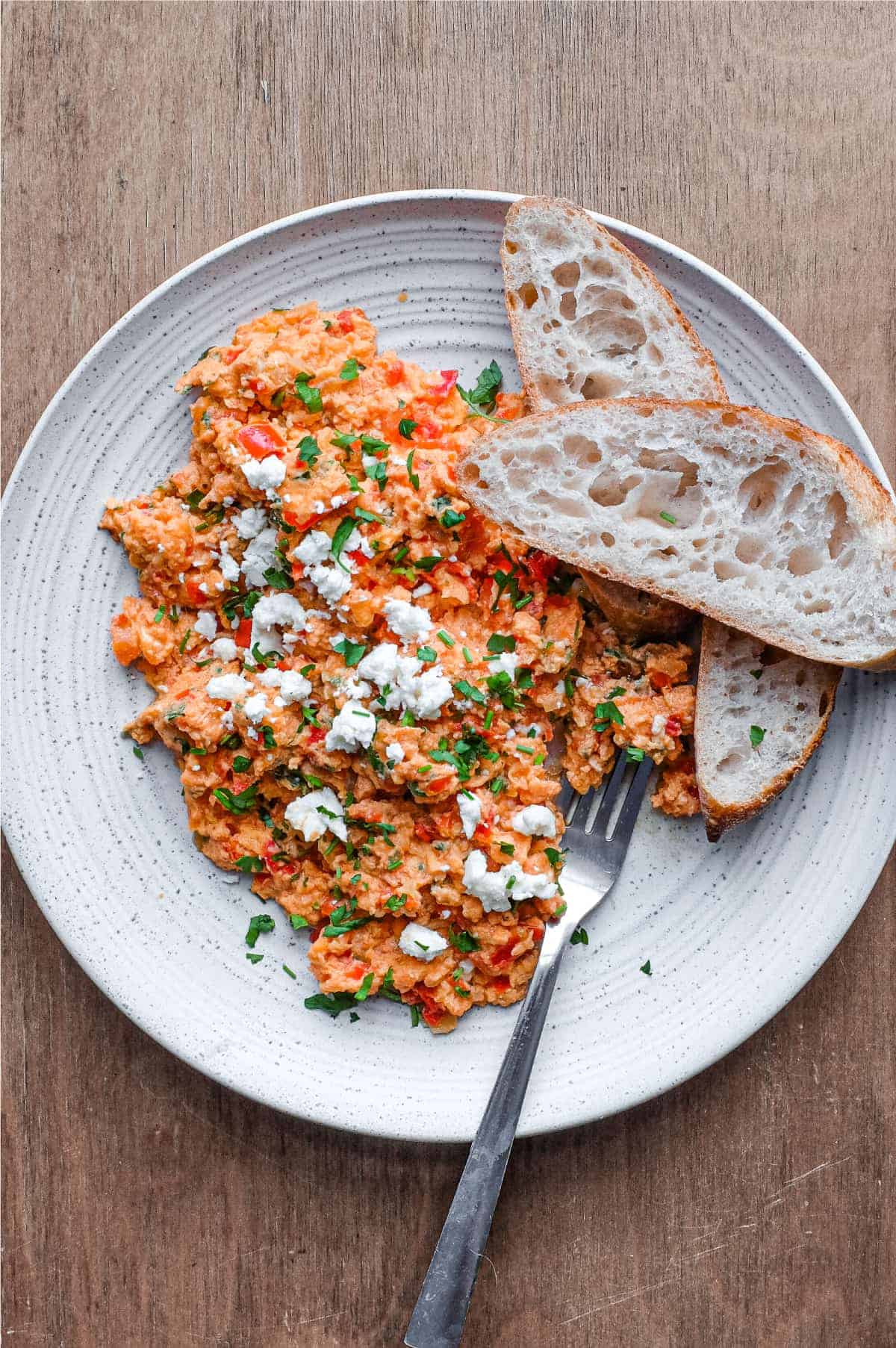 Eggs are my favourite. End of story. They've always been my go to for breakfast and even as a little kid I would consume an extraordinary amount. As long ago as that was, I'm still a cheerleader for all that is egg.
I'm always on the lookout for a new and interesting breakfast recipe, so when I stumbled on Strapatsada, a wonderful tomato and egg dish, a while back I knew it would soon become one of my go-to morning treats. I've long been a fan of the Turkish recipe, Menemen (a similar egg scramble featuring tomatoes), but Strapatsada is a little different in that it's simpler and cleaner in flavour. It's the best Greek scrambled eggs you'll ever taste!
Fresh tomatoes accompany eggs in a the creamiest, sweetest combination ever. A fluffy and light combination that is a delight when spooned over crusty sourdough. A brilliant breakfast for families or groups that can be served right from the pan. I like to serve mine that way plopped in the centre of the table, surrounded by bread and crumbly feta cheese for all to fight over.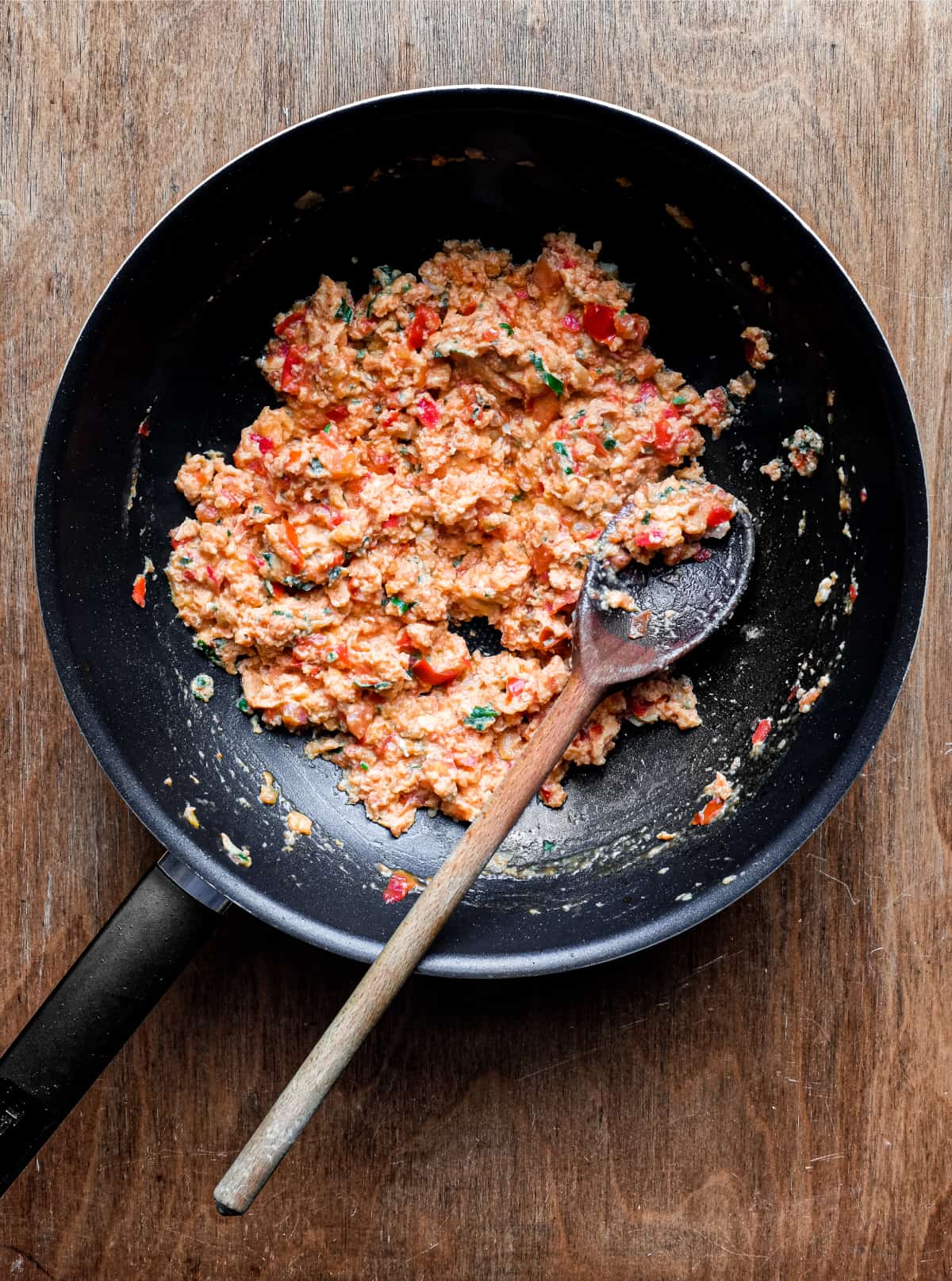 What is Strapatsada?
Strapatsada, also known as "kagianas," is a traditional Greek dish that is typically served for breakfast or as a light meal. It is a simple and flavorful dish made with eggs, tomatoes, onion or shallot, garlic and herbs. It is often served with salty feta cheese, to enhance the typical Mediterranean flavours.
It is particularly popular in the regions of Peloponnese and Crete, although variations of this dish can be found throughout Greece and in other Mediterranean cuisines.
Why it works?
It's light and fresh - egg dishes are a great way to start the day, so to have them served in such a light, bright and flavourful way is perfect.
It's quick - Egg dishes are ready in a snap, and this recipe is super quick to cook up.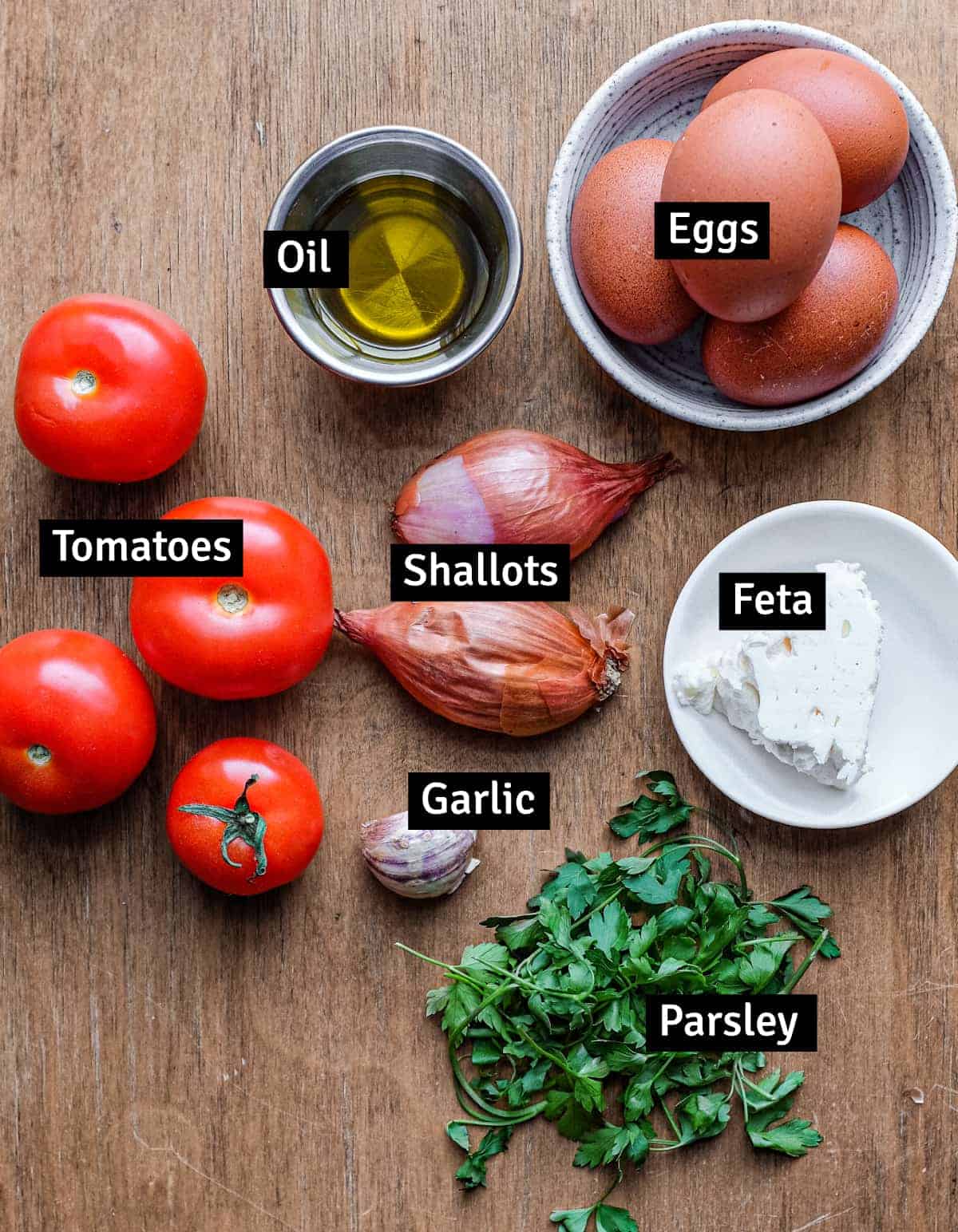 Stuff You'll Need
Making strapatsada is easy, there's nothing you can't find in any supermarket. Here are the key ingredients.
Eggs - a good quality egg will set you up for success, free-range is best.
Tomatoes - ripe tomatoes will give

the tangiest, light sweetness. Any kind, any colour is fine.

Shallots and garlic - will give a little backbone

to the eggs when fried until soft in a little olive oil. Use onion or spring

onion if you don't have shallots.
Parsley - This adds a little herbaceous note to the eggs. It's not essential, but I always add some form of fresh herb. You could also try fresh mint or dill too for a variation.
Feta - I love to crumble over some good quality feta cheese at the end. The salty notes work in perfect harmony with the sweet tomato.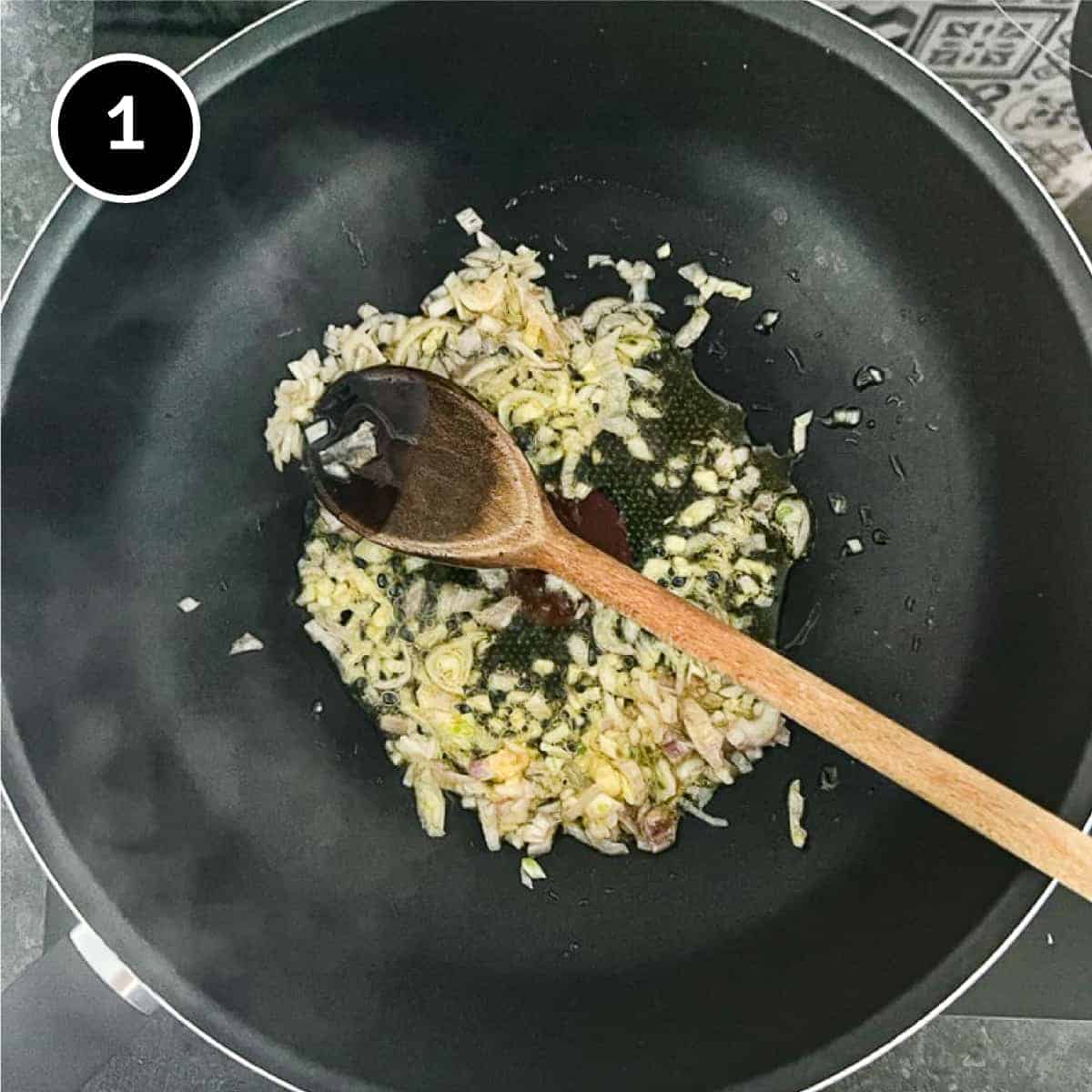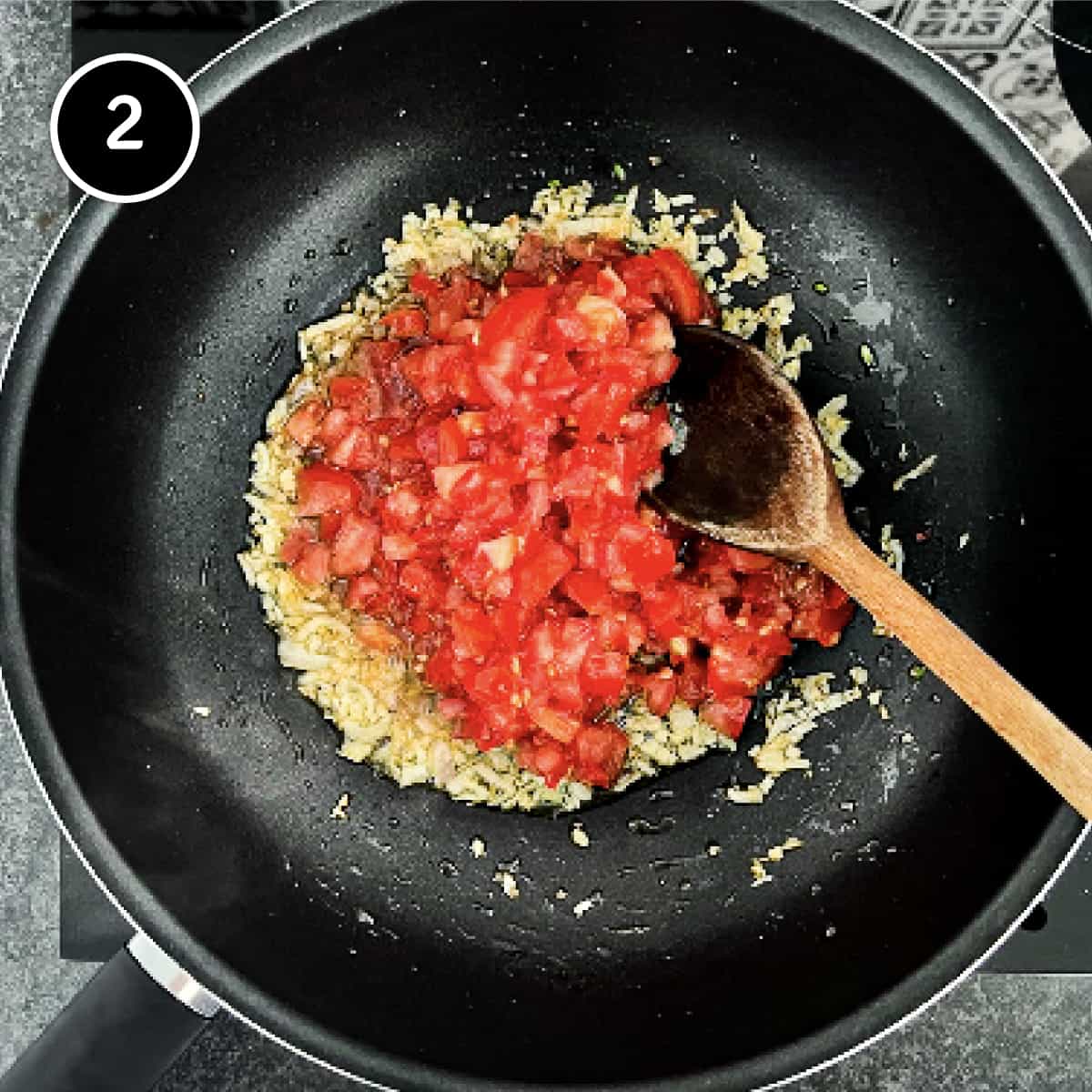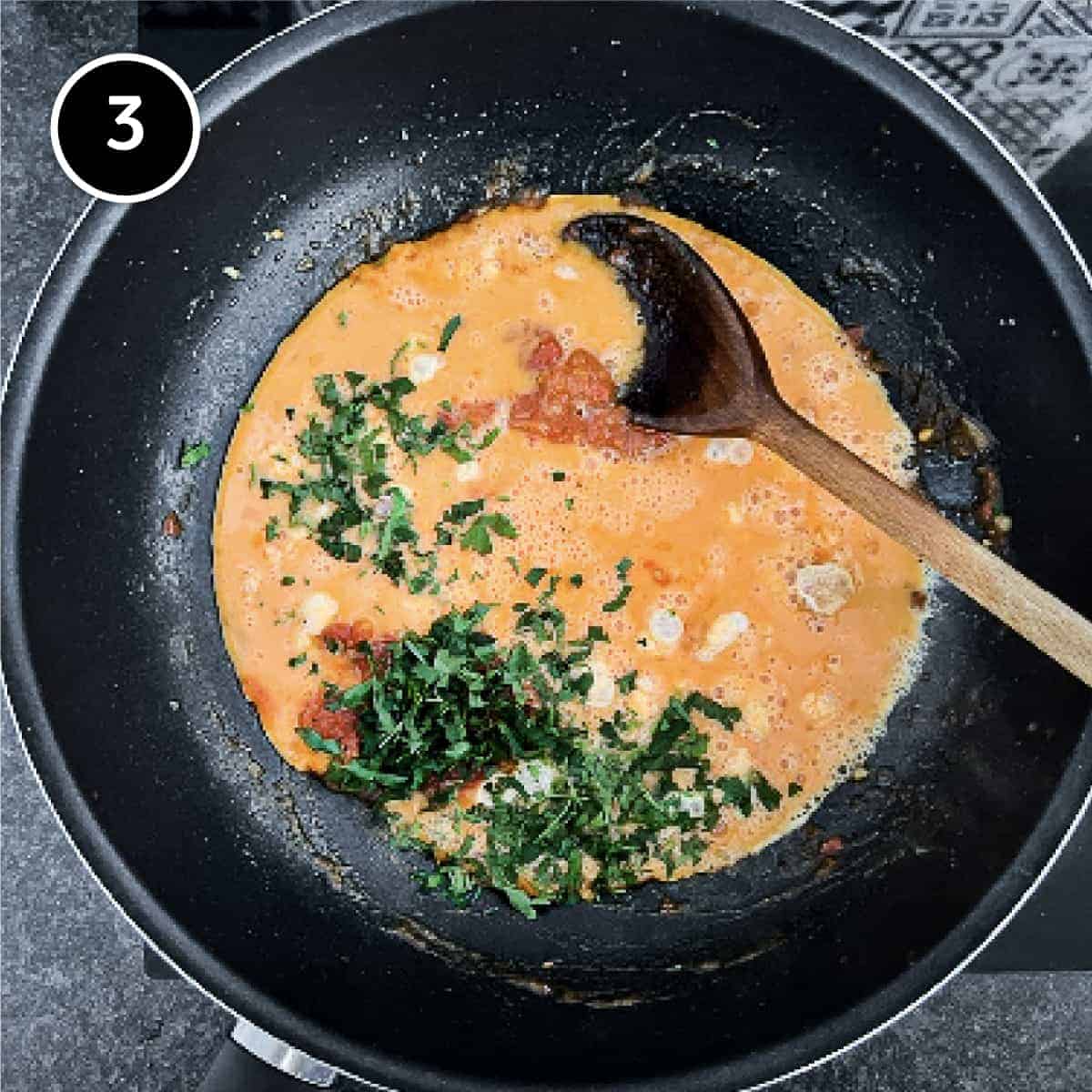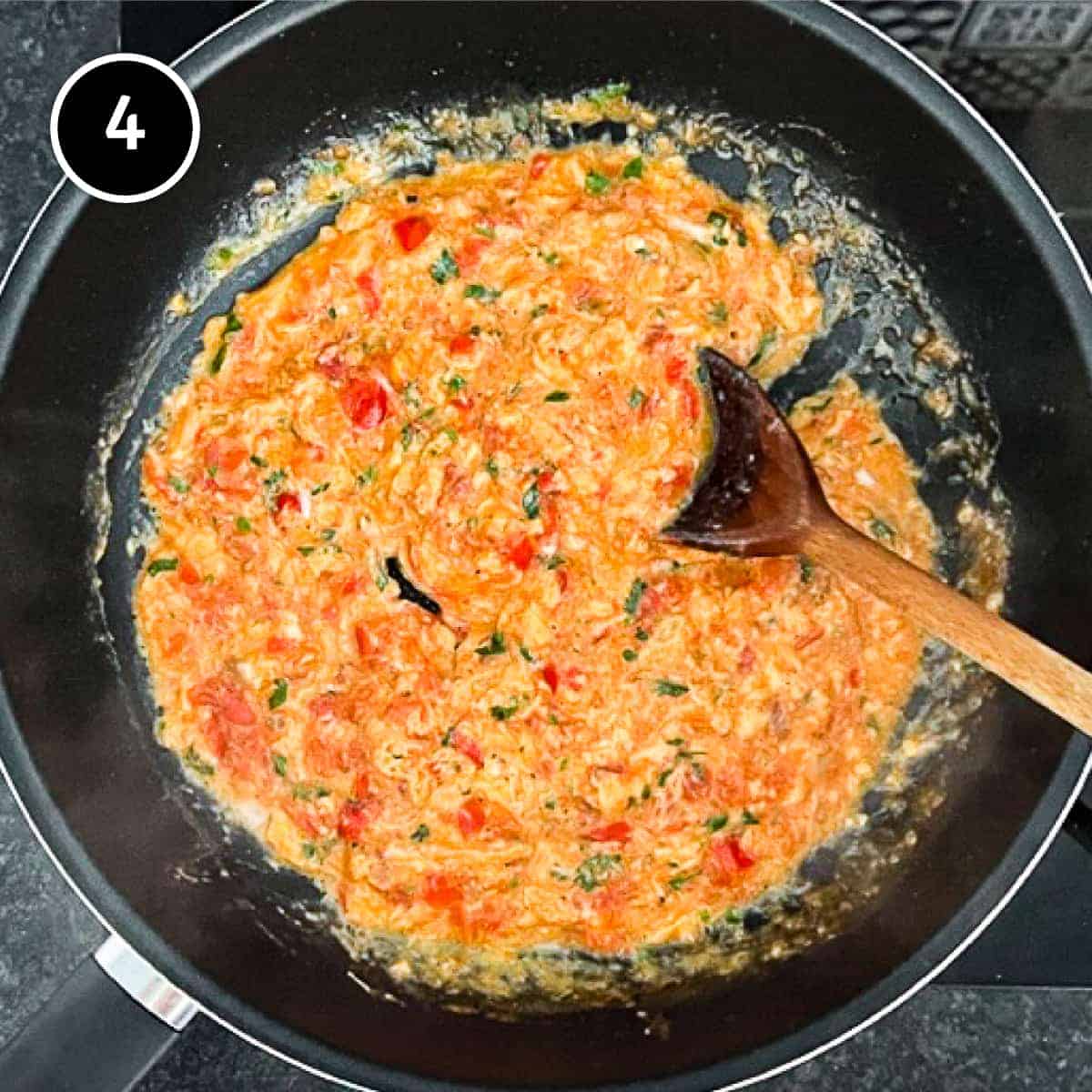 Step by Step
Making Greek Strapatsada at home is not difficult in the slightest. It's simple and quick and pretty much fool-proof.
Step 1 -

Fry the shallot and garlic gently for a few minutes until they're golden brown and soft.

Step 2 - Add the tomato to the pan and let them sizzle then simmer for a few minutes to reduce some of the water from the tomato.
Step 3 - Add the egg and parsley and stir once or twice. Then let it sit for 10-20 seconds before stirring again.
Step 4 - Stir regularly for 2-3 minutes until the eggs are cooked but still creamy. That's it! The strapatsada is done.
Now all that's needed is to either serve from the pan or plate up individual portions. I like to serve with crumbled feta and a little more parsley. I ALWAYS serve with plenty of crusty bread or pita breads.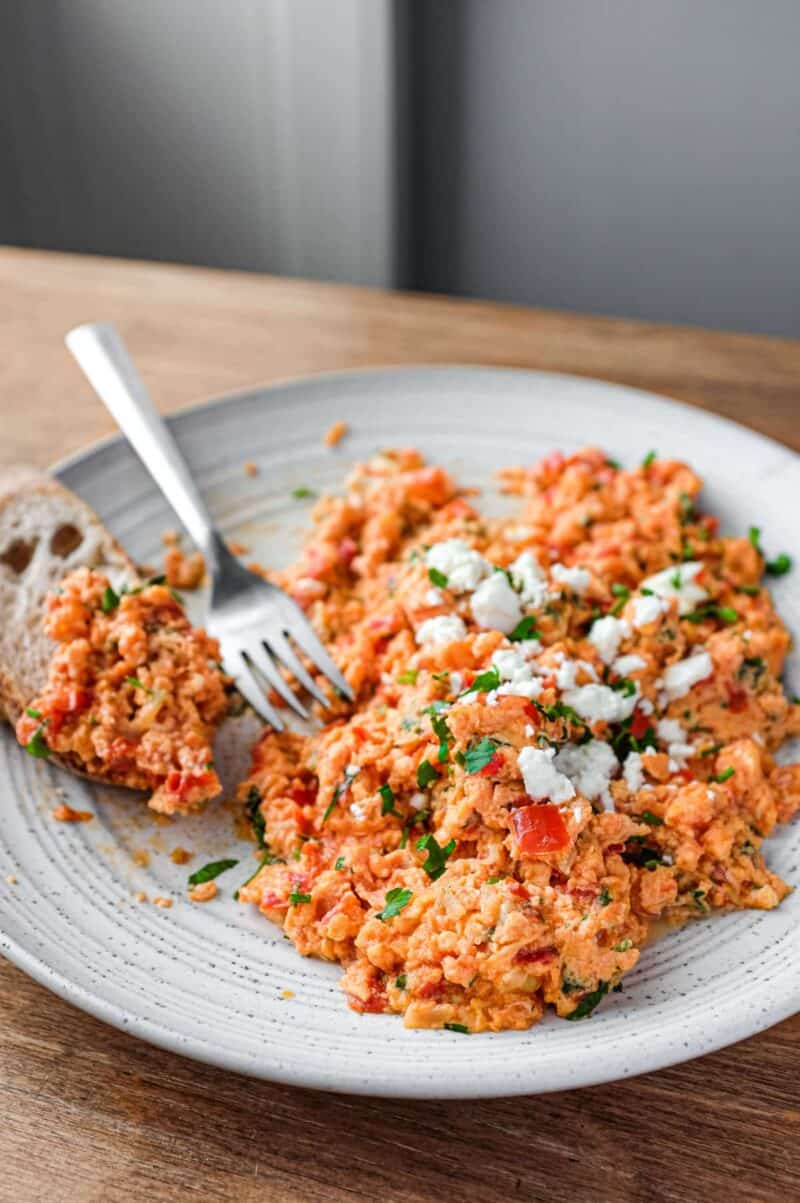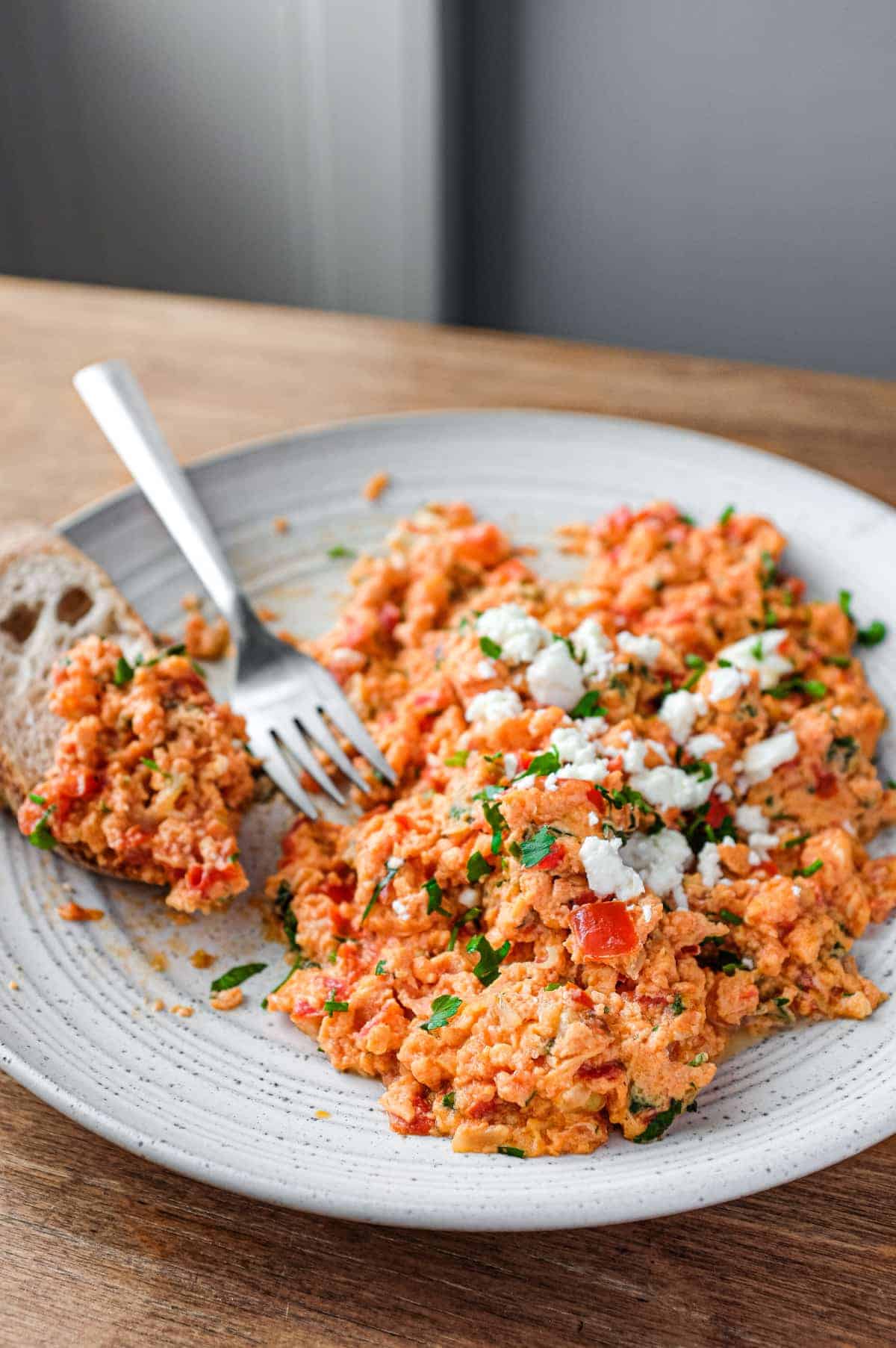 Pro Tips
Cooking temperature -

Be sure to have the pan at a medium heat to avoid cooking the eggs too quickly and ending up with a rubbery texture. Cooking over a lower heat will ensure the eggs are creamy and fluffy.

Hot or cold -

Strapatsada is best eaten right away and hot, but it's also really quite delicious eaten at room temperature too. This means you can make in advance and then serve when YOU are ready!

Add a herbal note - you can mix in some fresh herbs to change the flavour up a little, other than parsley my two favourites are mint and dill, but you could also use fresh oregano, thyme, marjoram or even basil.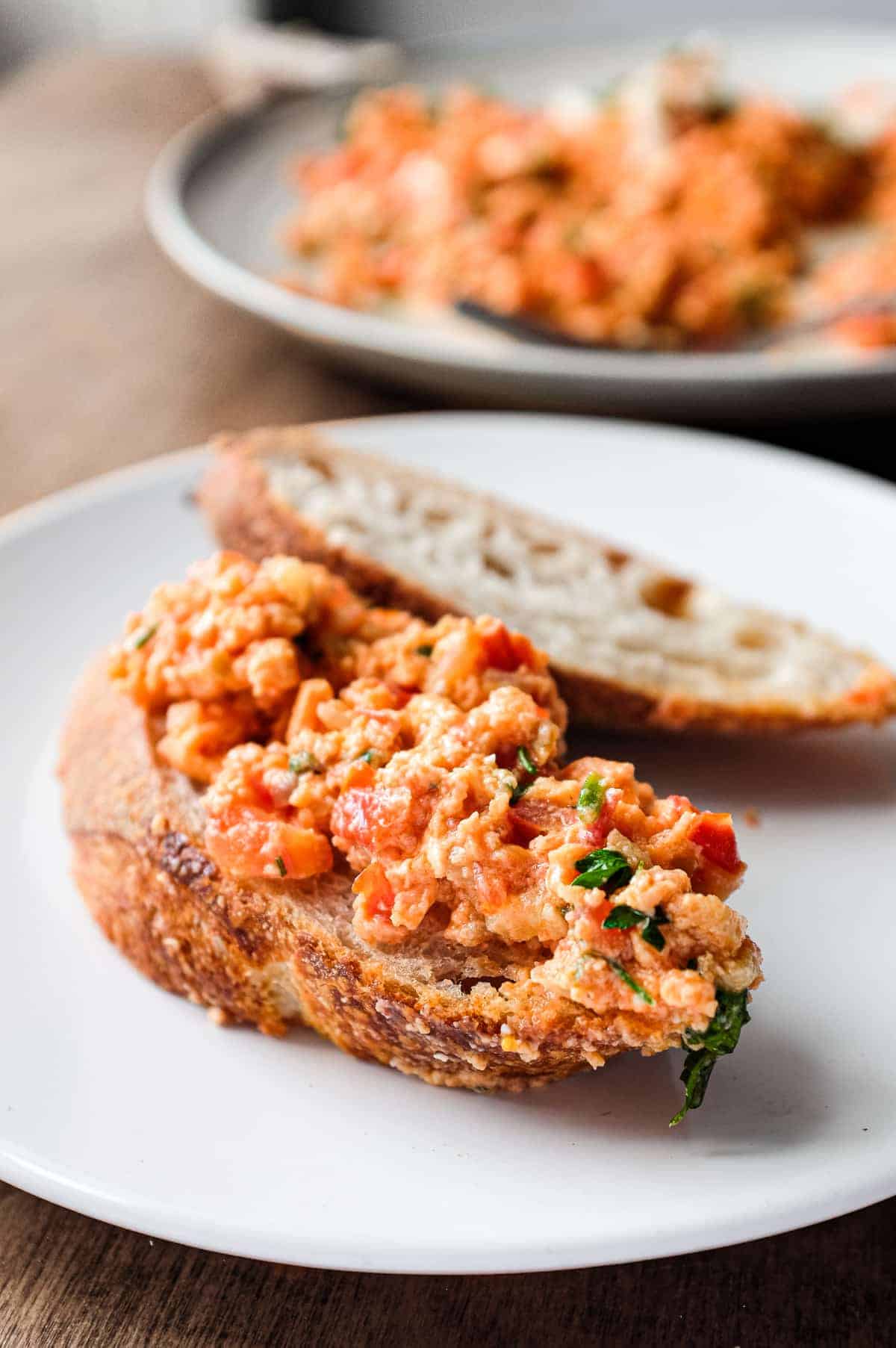 Serving Suggestions
As I mentioned earlier, you can eat Greek strapatsada hot or at room temperature. I like it hot from the pan, but it's pretty tasty at room temp too.

Serve for breakfast or as a light lunch or even side dish. I'm always sure to serve lots of crusty breads or pita breads alongside. It seems lost without some form of bread.
Storage
Fridge -

You can refrigerate for 2-3 days and either bring up to room temperature to eat or give it a very short blast in the microwave to warm through.

Freezer -

Not suitable for freezing.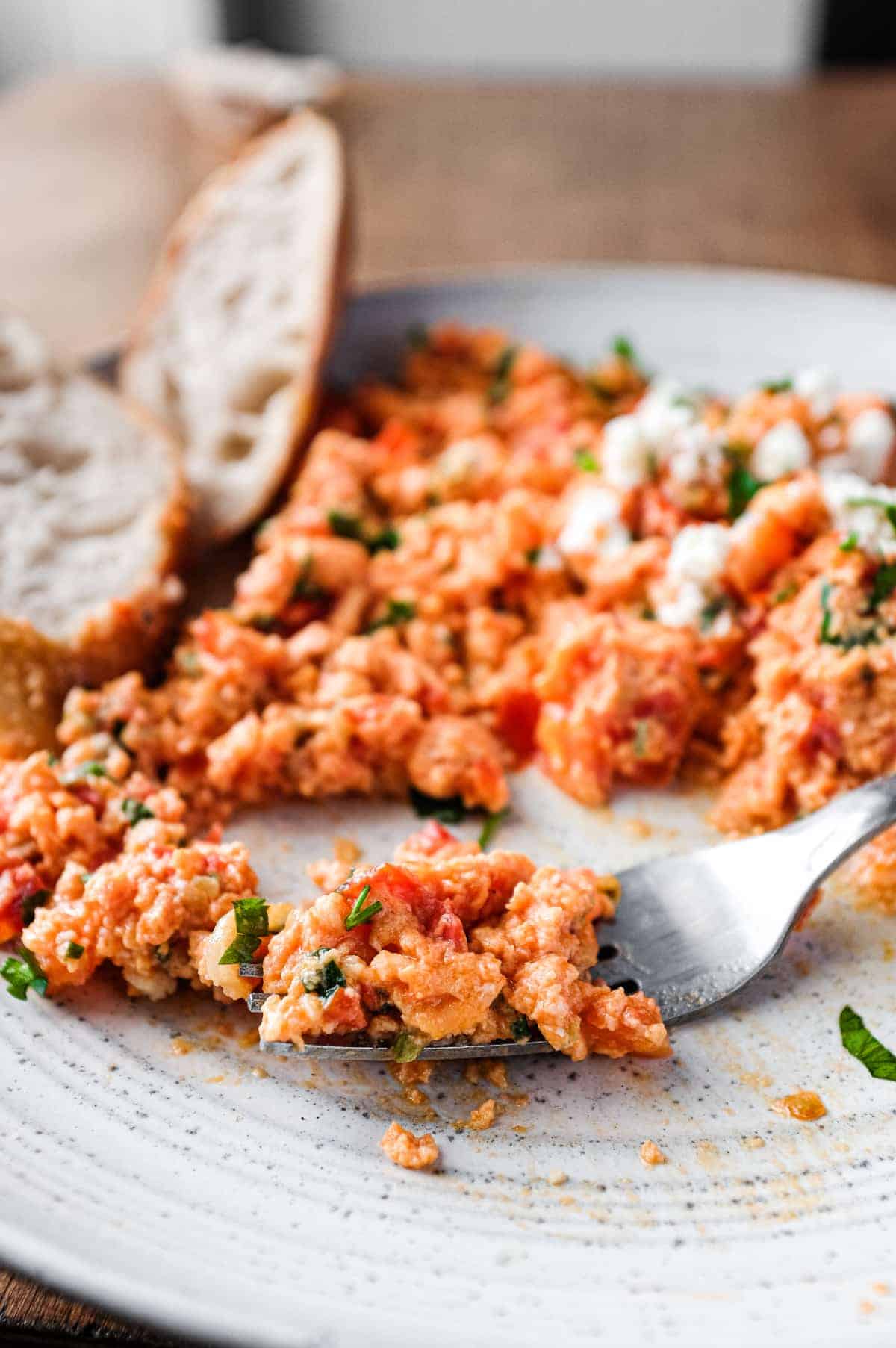 Ready to get cooking?
Now that I've woken up to Strapatsada, I think it's high-time you did too! A simple, stress-free breakfast that's guaranteed to start your morning off in the best possible way.
As far as healthy, light Greek recipes go, this one's a complete winner and delight. You won't believe just how much flavour is packed into this humble egg recipe. I hope you enjoy!
More Greek and Mediterranean recipes
If you liked this recipe for Strapatsada, I'm sure you'll love some more of my favourite Greek and Mediterranean recipes.
Any Questions? (FAQ)
Have a question about Strapatsada? Let me know in the comments.
What is Strapatsada?
Strapatsada, also known as Kagianas or Kagiana, is a traditional Greek dish that features eggs cooked with tomatoes and various other ingredients. It is a popular breakfast or brunch option in Greece and is often served with bread.
The basic ingredients of strapatsada include ripe tomatoes, eggs, olive oil, and salt. Some variations may also include onions, garlic, and herbs such as oregano or basil for added flavor. The dish typically starts with sautéing the tomatoes in olive oil until they soften and release their juices. Then, the eggs are cracked into the pan and lightly scrambled with the tomatoes until they reach the desired consistency. Salt and herbs are added to season the mixture.
Is Strapatsada the same as Shakshuka?
No, strapatsada is an egg scramble that incorporates tomatoes into the egg. Shakshuka poaches egg in a tomato sauce. Strapatsada is most like Turkish menemen.
Is Strapatsada spicy?
No, there is no chilli in the dish so has no spice level.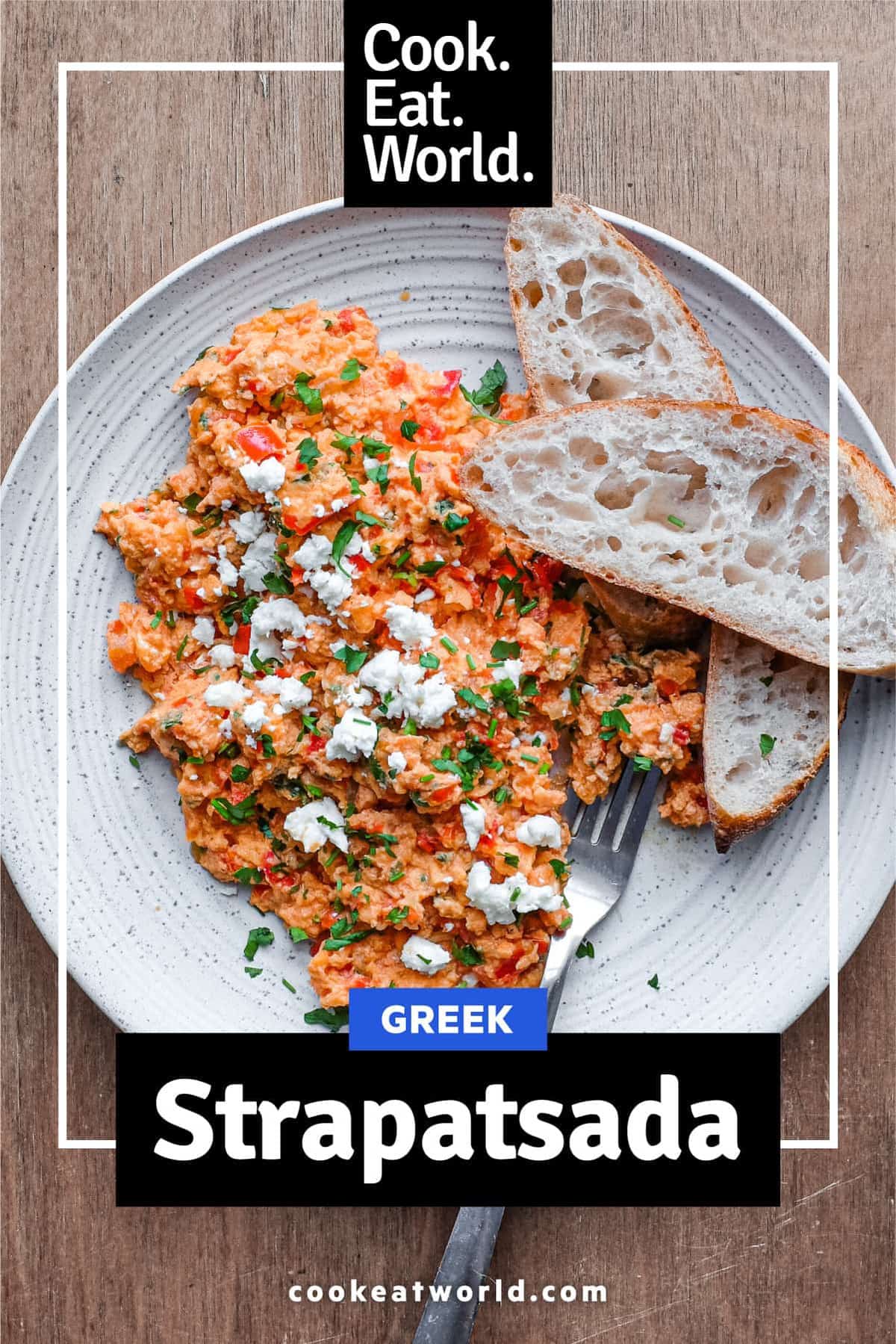 This recipe uses affiliations and may receive a commission based on your activity (link clicks). Learn more.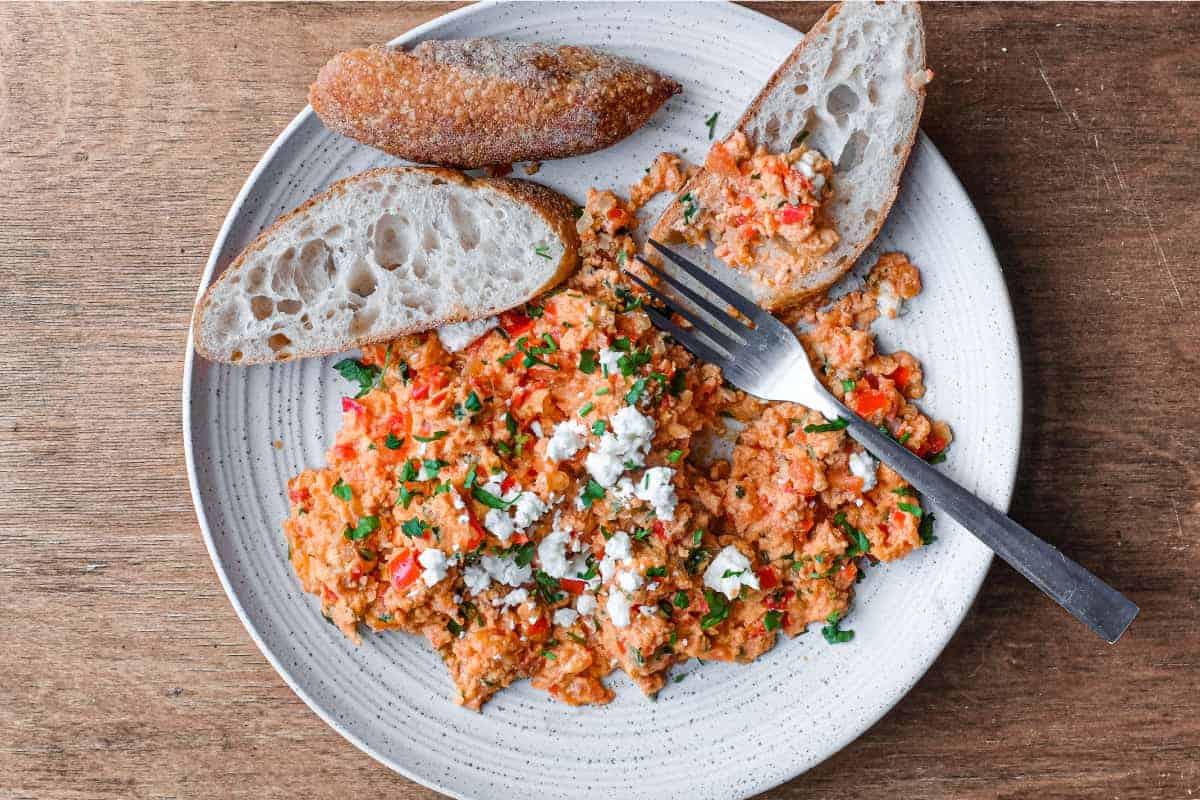 Greek Strapatsada
Rate this recipe
Print Recipe
Pin Recipe
Save Recipe
Go to Collections
Calories (per serving) |
365
Ingredients
Instructions
In a deep frying pan over a moderate/medium heat, heat the olive oil until just hot. Add the shallot and garlic and fry gently for 3-4 minutes until lightly golden and soft.

Add the tomato and stir. Let them sizzle then simmer for 4-5 minutes to reduce the liquid.

Pour in the egg and add the parsley and season generously with salt and pepper. Stir well then leave the eggs for 20-30 seconds, then stir again. Stir for 2-3 minutes more to ensure the eggs are fully cooked. Remove from the heat.

Serve direct from the pan with the feta cheese crumbled on top along with a little more fresh parsley.

Serve with plenty of bread (either crusty loaf or pita breads).
Nutrition
Calories:
365
kcal
(18%)
|
Carbohydrates:
16
g
(5%)
|
Protein:
17
g
(34%)
|
Fat:
27
g
(42%)
|
Saturated Fat:
7
g
(44%)
|
Polyunsaturated Fat:
3
g
|
Monounsaturated Fat:
14
g
|
Trans Fat:
0.04
g
|
Cholesterol:
344
mg
(115%)
|
Sodium:
357
mg
(16%)
|
Potassium:
828
mg
(24%)
|
Fiber:
4
g
(17%)
|
Sugar:
9
g
(10%)
|
Vitamin A:
2942
IU
(59%)
|
Vitamin C:
41
mg
(50%)
|
Calcium:
184
mg
(18%)
|
Iron:
3
mg
(17%)