As quick, delicious breakfasts go, this Menemen from Turkey is amongst the finest! Jam-packed with flavour, colour and texture – you'll love how simple it is too…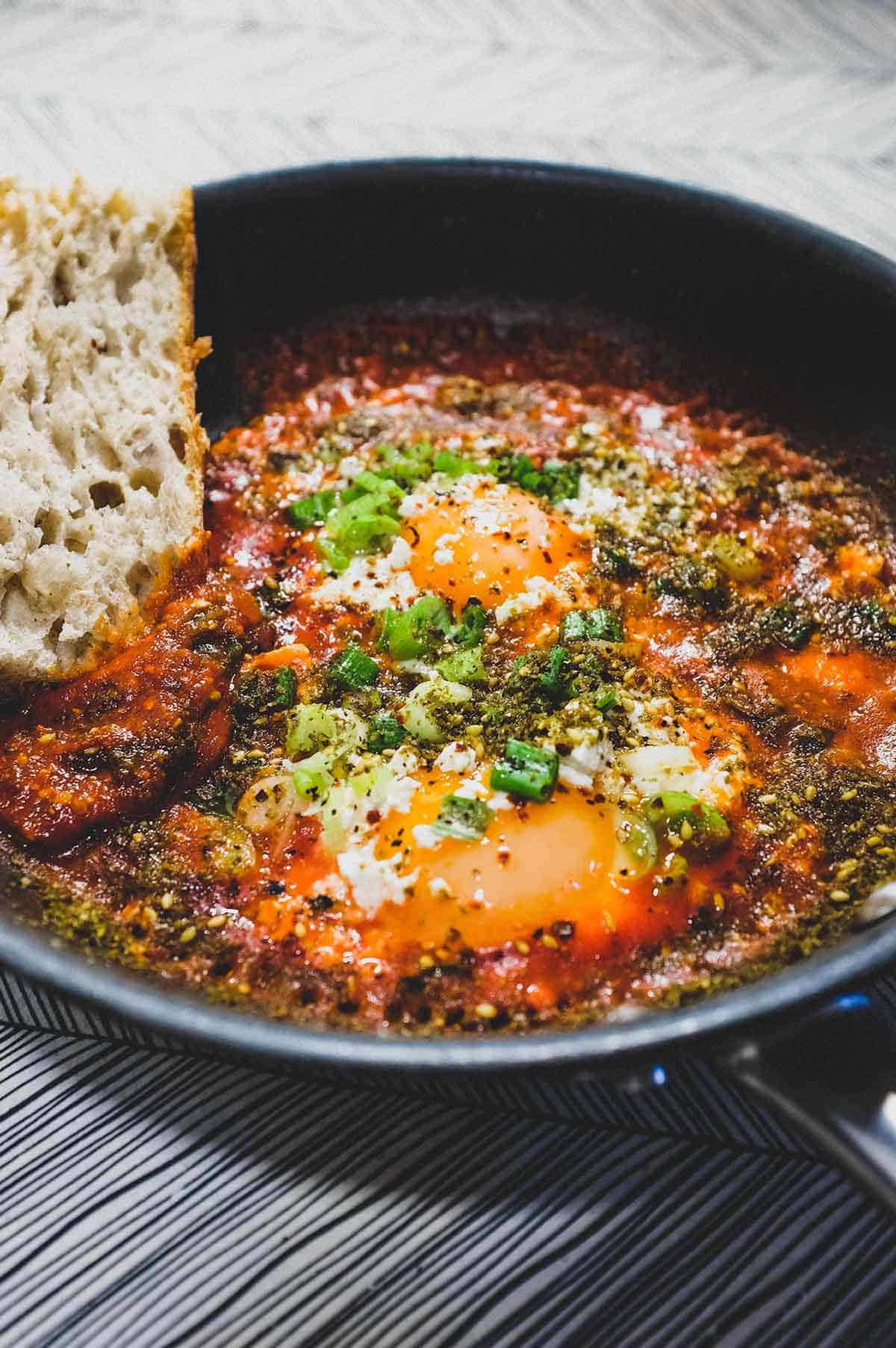 Of all the things I ate in Turkey, the most consistently amazing were the array of fabulous breakfasts. Generally speaking, Turks eat a simply for breakfast. Breads, cheeses, dried fruit, cured meats and yoghurt rule the mornings (which is FINE by me, by the way). On occasion I would order myself a Turkish Menemen Breakfast Eggs. A wonderful hot melange of eggs and tomato. It comes in many variations, but THIS recipe is my favourite preparation.
The best breakfast eggs you'll ever taste
I'd eaten a similar 'one-pan' dish (Turkish Sucuk with eggs) in Cappadocia which featured the intensely flavoured Turkish sausage Suçuk, but this version features a fragrant tomato sauce and no sausage. The flavours are a harmonious blend of sweetness, saltiness, earthiness, richness and savoury. Menemen is rich and filling, but that's the point - you most likely won't want to eat very much at lunchtime, you'll still be fuelled by this delicious brekkie.
Ease into the day with an all in one pan breakfast
Menemen is similar to a Middle Eastern Shakshuka, but the versions I ate in Turkey all had much less sauce than a shakshuka and were cooked on the stovetop, rather than baked in the oven. This makes for a much quicker, less fuss dish to make at home, especially in the mind-muddled morning! I've often found it difficult to get shakshuka eggs cooked properly in the oven - here, there's far less jeapordy and much more control, cooking in the pan in front of you. One time I ate Menemen in Turkey, the eggs were scrambled into the tomato, which was delicious too - but there's something about a runny egg yolk that cheers even the grimmest of mornings, so I prefer leave them whole.
This recipe is for a single serve, and I eat it direct from the pan with a few slices of crusty sourdough or Turkish bread. But if you're cooking for groups, just get a bigger frying pan! (and use the handy recipe scaler below). For a more authentic Turkish flavour, the addition of Aleppo pepper and mixed spice, Za'atar in my recipe take the flavour up a notch. As a substitute, add a few regular pepper flakes and a sprinkle of dried thyme or oregano and some sesame seeds instead.
In summary, menemen is a great breakfast or brunch dish all year round. Not too heavy but filling enough to get your day off to a great start. Wake up to menemen!
How to make my Turkish Menemen Breakfast Eggs
Turkish Menemen Breakfast Eggs
Rate this recipe
Print Recipe
Pin Recipe
Calories (per serving) |
421
Instructions
Heat the oil in a 7" sized frying pan over a moderate heat until just hot.

Add the bell pepper and fry for 1 minute until softened slightly.

Make a space and then break in each egg. Let it cook very briefly before pouring the tomato around the outside of the pan around the eggs.

Quickly sprinkle over the feta, spring onion, salt & pepper and put a lid on the pan.

Turn the heat down a little and let the egg cook - for around 2-3 minutes until just set.

Remove from the heat and sprinkle over the za'atar and Aleppo pepper.

Serve from the pan with lots of crusty bread or flatbreads to scoop up the delicious sauce.
Nutrition
Nutrition Facts
Turkish Menemen Breakfast Eggs
Amount Per Serving
Calories 421
Calories from Fat 279
% Daily Value*
Fat 31g48%
Cholesterol 361mg120%
Sodium 795mg35%
Potassium 705mg20%
Carbohydrates 19g6%
Protein 20g40%
Vitamin A 1402IU28%
Vitamin C 43mg52%
Calcium 315mg32%
Iron 5mg28%
* Percent Daily Values are based on a 2000 calorie diet.
This site contains affiliate links to products. We may receive a commission for purchases made through these links. Learn more.