Turkish Rice Pilav with Orzo (Sehriyeli Pilav)
Fluffy, buttery rice with Orzo Pasta, or Sehriyeli Pilav as it's known in Turkey, is served alongside many dishes. A simple and very effective side dish that is packed full of flavour in its own right. Learn how to make this Turkish national treasure.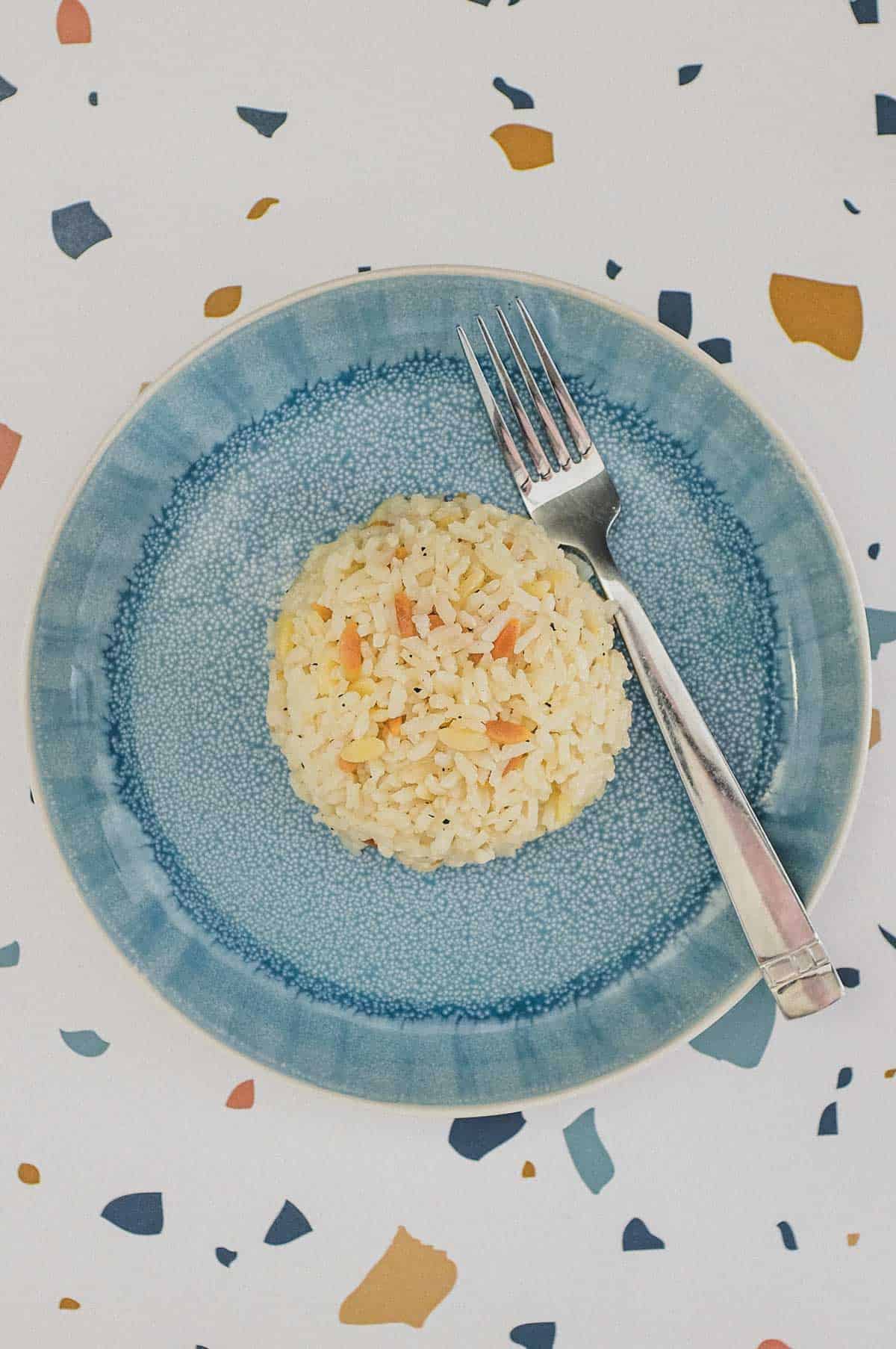 One of my go-to staples is this wonderful Turkish rice pilav. A simple and highly effective little affair that has bags of flavour! Rice is often relegated to the sidelines, being merely a vehicle to soak up sauces - this is not entirely tragic, but we often forget just how much rice has to offer in its own right! Have you tried my amazing rice recipe? Start with my Indian Chicken Biryani, or how about the splendid Chinese duck congee? They both showcase rice, centre stage and that's just the tip of the iceberg.
My Turkish Pilav with orzo is so delicious. A rich, buttery and pillow-soft little side dish. Sehriyeli Pilav, as it's known in Turkey is simple to put together - only a few humble ingredients. Rice of course, but also the wonderful Orzo.
What is Orzo?
For those unfamiliar, orzo is a pasta that's shaped into tiny rice-shaped pieces. It's used throughout Europe and the Mediterranean in soups, stews, salads, and pilafs–completely replacing rice in some instances. In turkey they use Orzo for Sehriyeli Pilav, sometimes the orzo is replaced with tiny pieces of vermicelli pasta - both are traditional ingredients in this dish, so feel free to substitute.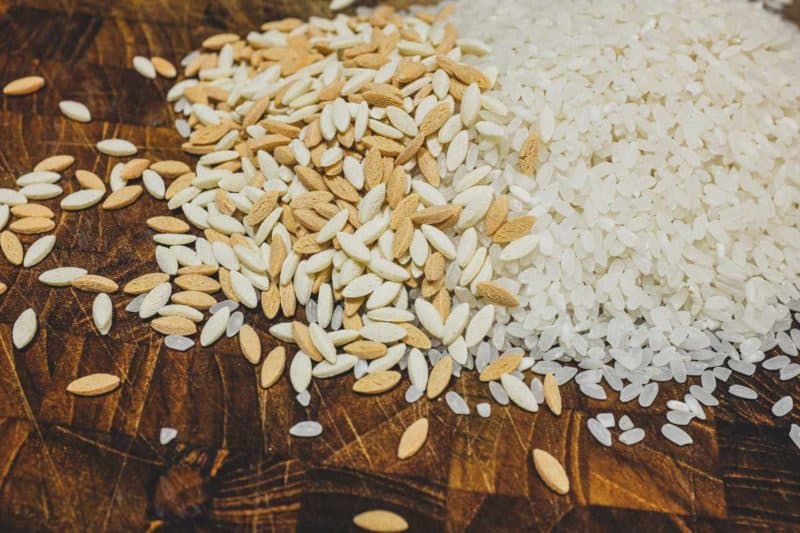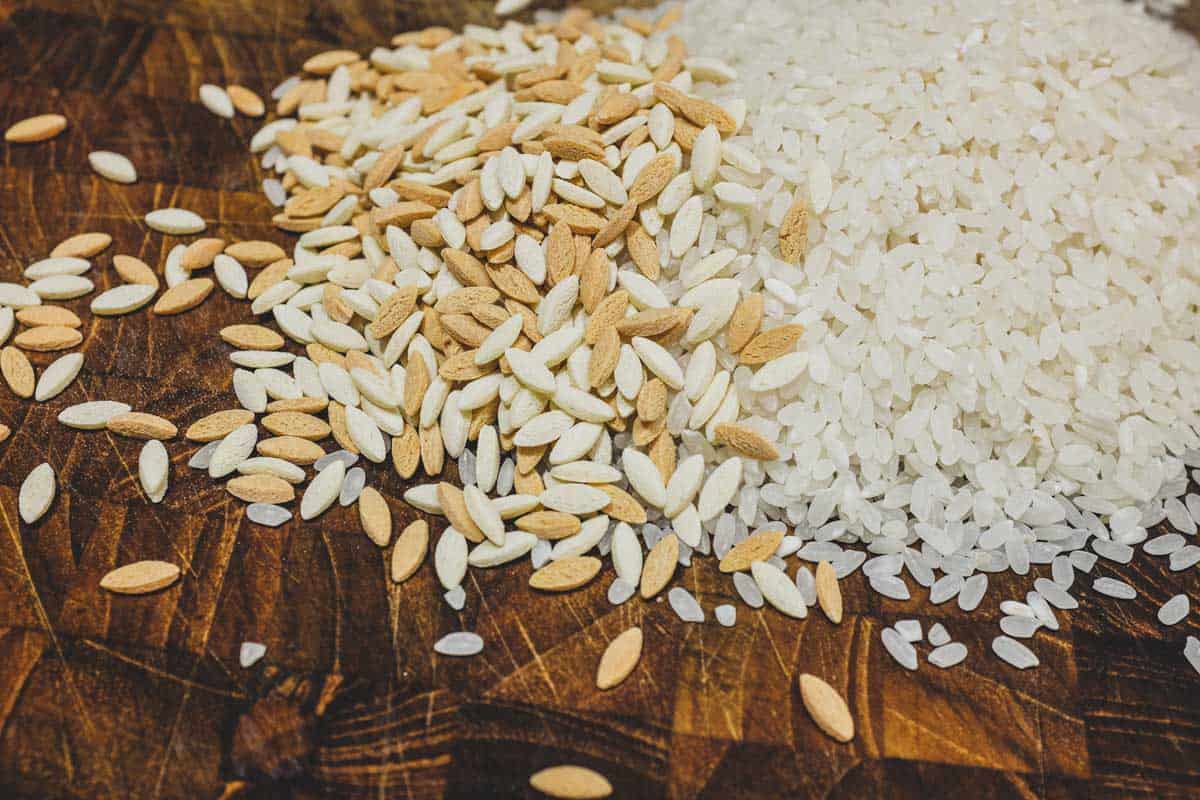 Turkish Rice Pilav with Orzo in a few simple steps
One of the essential steps in this pilav is butter! It's what gives its distinctive flavour, a good Sehriyeli Pilav is non-existent without butter. The other is stock/broth - rice cooked in broth is other-worldly. It's amazing how the flavour can be transformed with such a simple step. I generally use chicken stock (homemade if I have it), but low-sodium store-bought broth is fine too. You can also use a stock cube in a pinch if that's all you have.
To start, we fry the rice and orzo in the butter. To ensure we get nice separated grains in the final pilav, all the rice and orzo should get a coating of butter. We then pour over the stock - for rice, I work to the easy-to-remember "1 part rice, 2 parts liquid" formula. This recipe calls for 1 cup of rice, 2 cups of stock, which will serve 4 as a side dish. Because I've also added a little orzo, I'll be generous with the cups and maybe have about 1/4 cup more to allow.
The all-important rule with any pilav/pilaf is NO STIRRING! Put the lid on and very gently cook the rice for 20-25 minutes until all the water has been absorbed.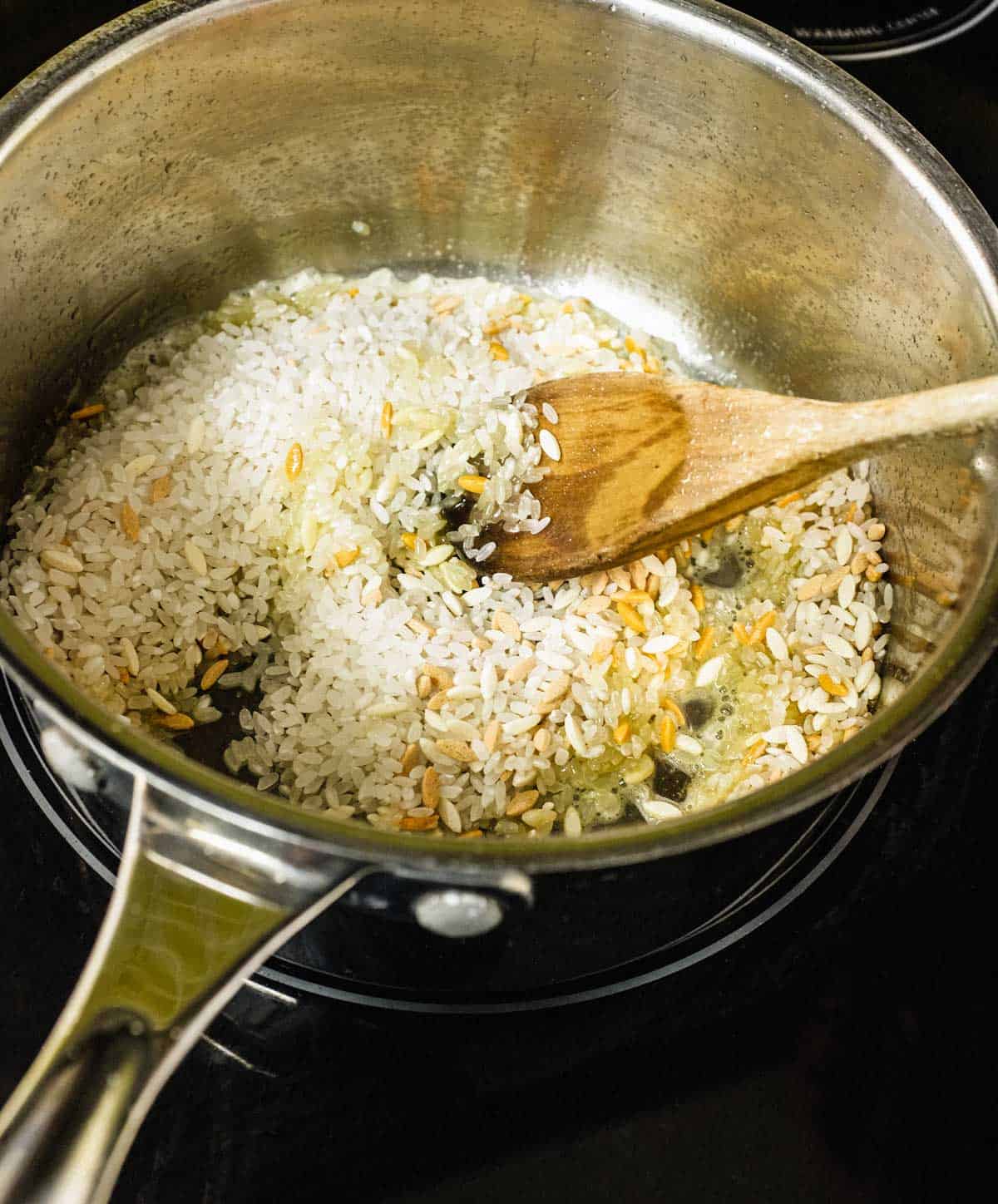 After 25 minutes, I'll make a few holes all the way to the bottom of the pan, this allows for more steam to escape. I'll pop a clean tea towel or some paper towels on top of the pan then replace the lid. This helps capture all the moisture that collects on the lid, to stop it dripping back into the pan and making the rice stodgy. We're going to leave this pan for at least 20 minutes before fluffing up. This step is essential in getting a good texture. Skip it at your peril. You can eat this rice hot or room temp, so leave it as longs as you see fit.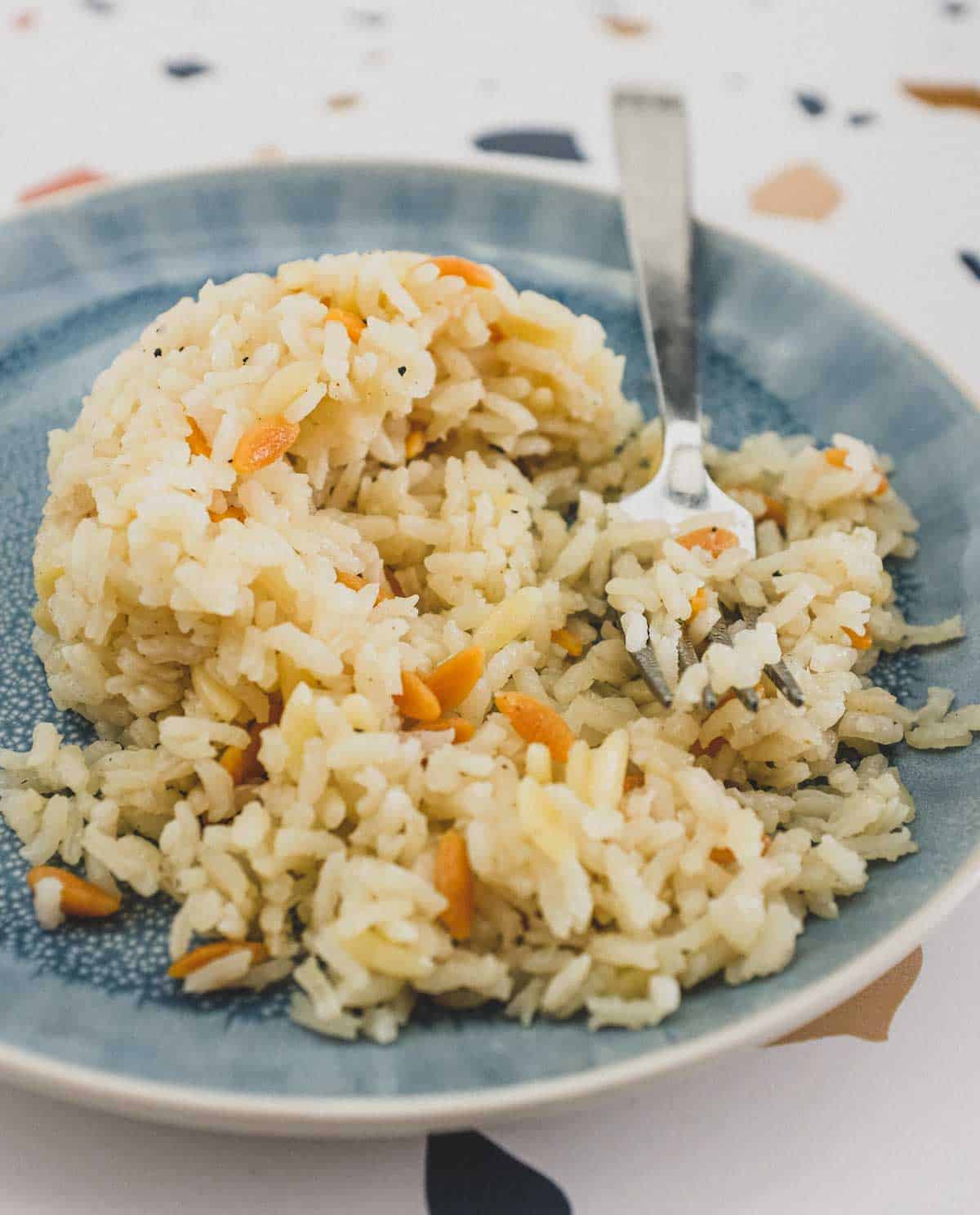 What to serve with Turkish Rice Pilav
In Turkey I ate this in several forms, with seafood, meat, salads and stews. Literally, anything goes with this pilav. One of my favourites is to eat it alongside a Turkish Kebab (maybe a Chicken Kebab or a Lamb Kofte Kebab) - I'll also get a nice big beefsteak tomato, half it and char it on the BBQ and serve that alongside the rice and Kebab.
I'm sure you'll agree after that first mouthful that this is a wonderfully flavourful and simple dish to put together. As easy as cooking regular rice and such a transformation!
Can I make Turkish pilav in a rice cooker?
Yes. I make it all the time. I simply melt the butter and mix it into the rice and orzo then put that, along with the stock, into the rice cooker and set for 'white rice' - then leave it alone until it beeps at you! Super simple!!
More delicious Turkish Recipes
If you liked this simple pilav, you'll love these Turkish recipes too...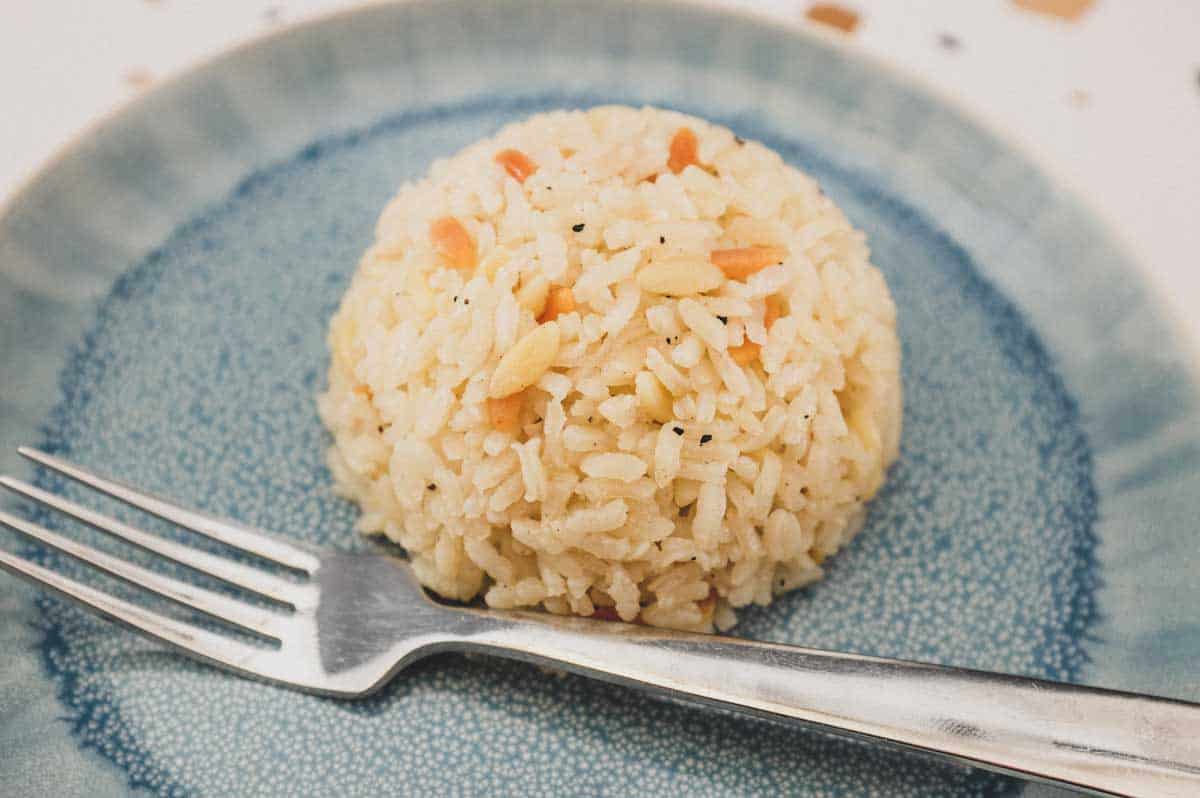 Turkish Rice Pilav with Orzo (Sehriyeli Pilav)
Rate this recipe
Print Recipe
Pin Recipe
Save Recipe
Go to Collections
Calories (per serving) |
290
Instructions
In a saucepan, over a moderate heat, melt the butter until bubbling. Add the orzo and raw rice and stir fry for 1 minute to coat everything in butter. Season with salt & pepper then pour in the stock.

Heat until just boiling then, reduce the heat to low so that it's just barely simmering. Put on a lid and cook for 20-25 minutes without stirring. All the stock should have evaporated. Check by making a deep hole to the bottom of the pan to see if it's dry. If not, cook until it is - don't stir the rice!.

When dry, make a few holes in the rice with a wooden spoon, then place a clean tea towel or a couple of paper towels over the pan and then return the lid. This will allow the rice to continue to steam/cool without any condensation dripping back into the pan and making everything stodgy.

Leave for 20 minutes, then fluff with a fork and serve either warm or at room temperature.
Notes
Cooking tips for Turkish Pilav:
You can add extra flavours and textures to the pilav before cooking. I often add about ¼ cup of pistachio or pine nuts (I fry them at the same time as the rice and orzo) and sometimes I'll add ¼ cup of sultanas or chopped dried apricots (I add the same time as the stock).
I'll often sprinkle my pilaf with fresh herbs like mint, dill or parsley at the end, for a little extra fragrance.
If you can't get hold of orzo, you can use a little thin spaghetti or vermicelli pasta snapped into small pieces (about ½ inch).
Nutrition
Calories:
290
kcal
(15%)
|
Carbohydrates:
47
g
(16%)
|
Protein:
7
g
(14%)
|
Fat:
8
g
(12%)
|
Saturated Fat:
4
g
(25%)
|
Trans Fat:
1
g
|
Cholesterol:
19
mg
(6%)
|
Sodium:
224
mg
(10%)
|
Potassium:
197
mg
(6%)
|
Fiber:
1
g
(4%)
|
Sugar:
2
g
(2%)
|
Vitamin A:
179
IU
(4%)
|
Vitamin C:
1
mg
(1%)
|
Calcium:
20
mg
(2%)
|
Iron:
1
mg
(6%)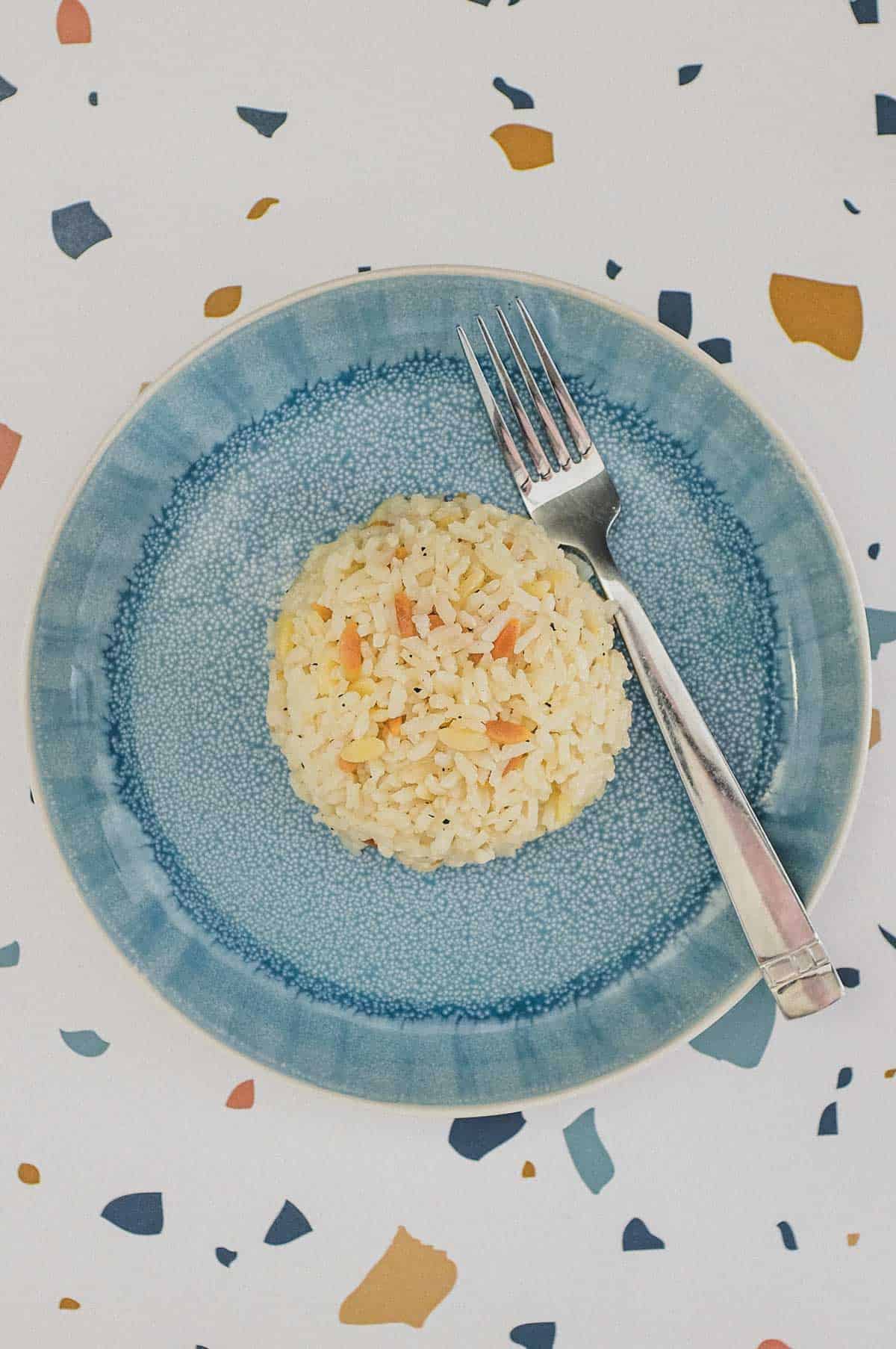 Did you make my Turkish Rice Pilav with Orzo (Sehriyeli Pilav)?
How did you go? Let me know in the comments below and be sure to tag @cookeatworld at Instagram.