Cacik (Turkish Yoghurt & Cucumber)
Cacik is one of the simplest Turkish meze dishes to put together. No cooking, just assembly. It's a creamy, refreshing and healthy side dish that pairs with just about anything. An essential for any Mediterranean-style dinner party spread.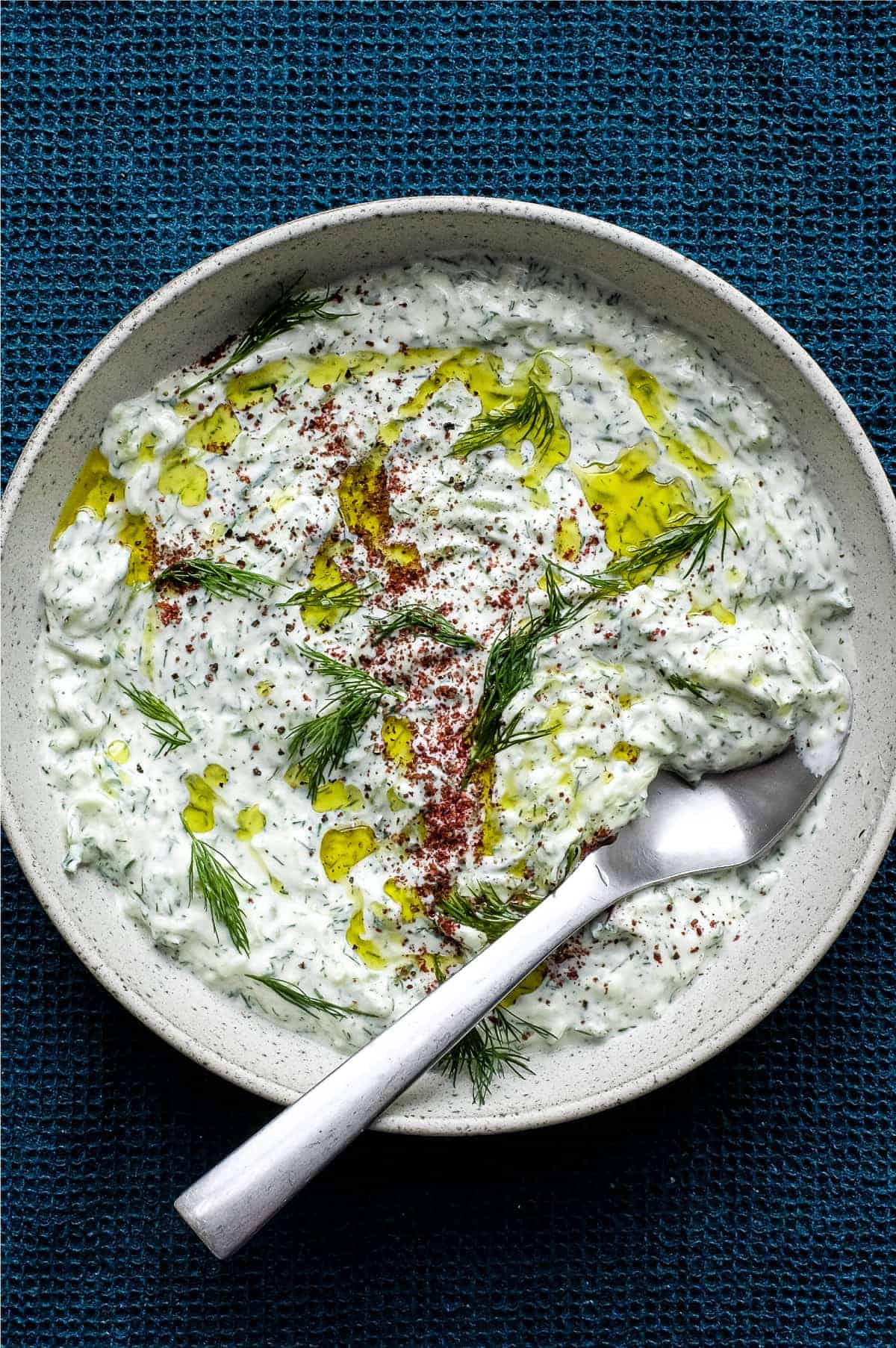 The cooling, refreshing delights of Turkish cacik are among my most favourite things to eat. It's a cooling, light and tangy dip-style salad that is perfect alongside other meze treats like my Turkish Carrot Salad or the vibrant Beetroot Salad.
There are so many ways to enjoy cacik, alongside delicious chicken Kebabs or lamb kebabs, or paired with fish and seafood. Or even just as part of an array of healthy meze small plates with flatbreads. Cacik is ubiquitous throughout Turkey and much loved and enjoyed with just about anything!
In Turkey there are many dishes that make use of yoghurt as dressings, sauces and dips. Try the lovely and super easy Turkish Garlic & Yoghurt sauce drizzled over some grilled meat or fish or the tangy, sharp creaminess of Haydari - a delicious mix of yoghurt and feta cheese served with a big pile of flatbreads.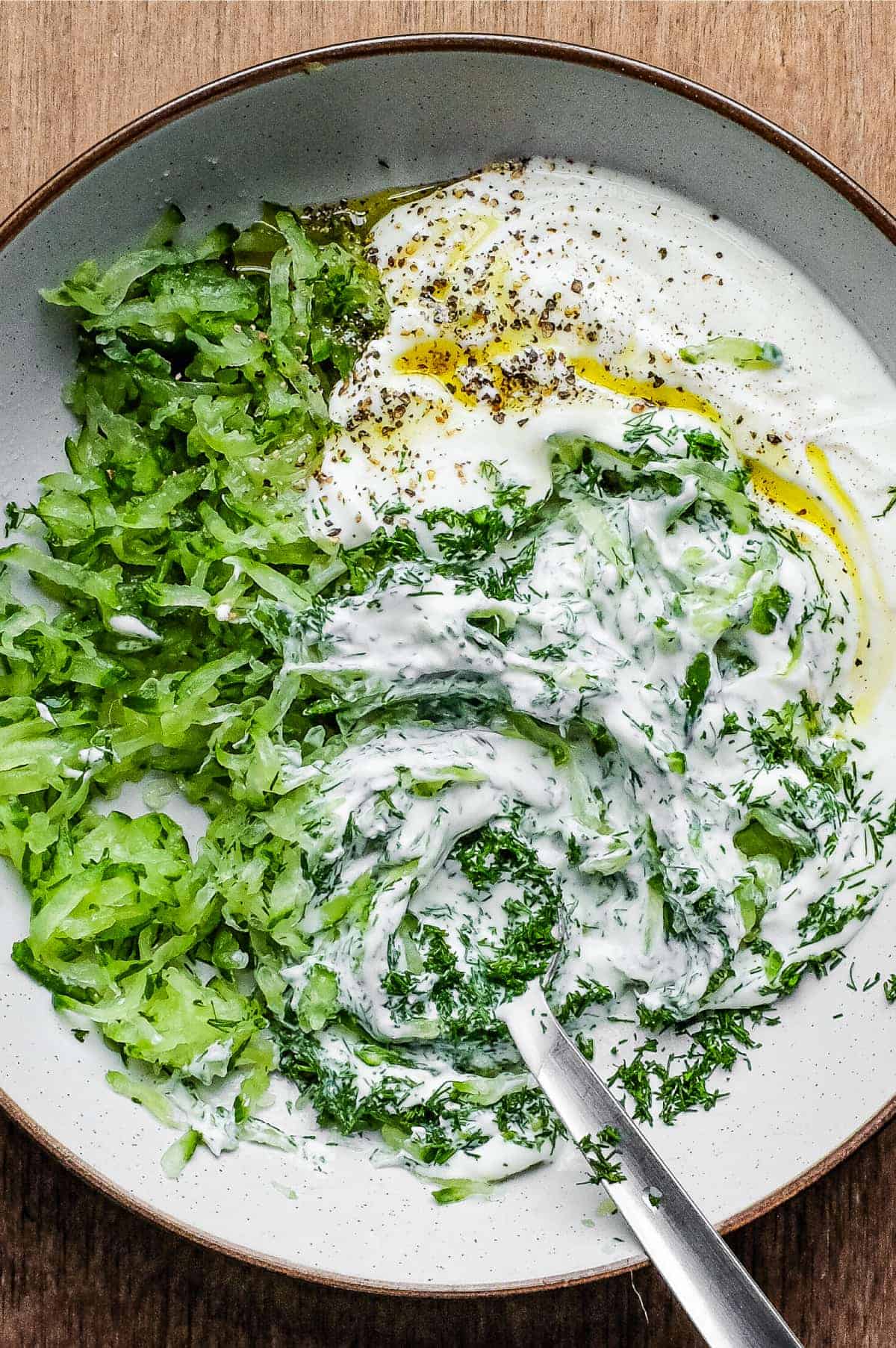 What is Cacik (Cacık)?
Cacik is a traditional Turkish yogurt-based condiment characterized by its blend of yogurt, cucumbers, fresh mint, garlic, and a drizzling of olive oil.
Cacik, originating from the culinary traditions of Turkey, boasts a rich history dating back centuries. It finds its roots in the Ottoman Empire, where yogurt was a dietary staple. It's similar in style to Greek Tzatziki.
Over time, it evolved into the beloved dip we know today, with the addition of cucumbers, garlic, and mint. Cacik's refreshing and tangy qualities made it a popular choice, not just in Turkish cuisine but also in neighboring regions.
Today, it continues to be a cherished part of Mediterranean and Middle Eastern culinary heritage, enjoyed for its timeless blend of flavors.
Why it works?
It's quick and easy - there's no cooking required, it's all about assembly and I'm all for not having to turn the oven on.
It's versatile - I can't think of a Mediterranean style dish that wouldn't benefit from a small bowl of cacik on the side. That's a win win as you can rest assured that your speedily made cacik will play well with whatever else you're serving.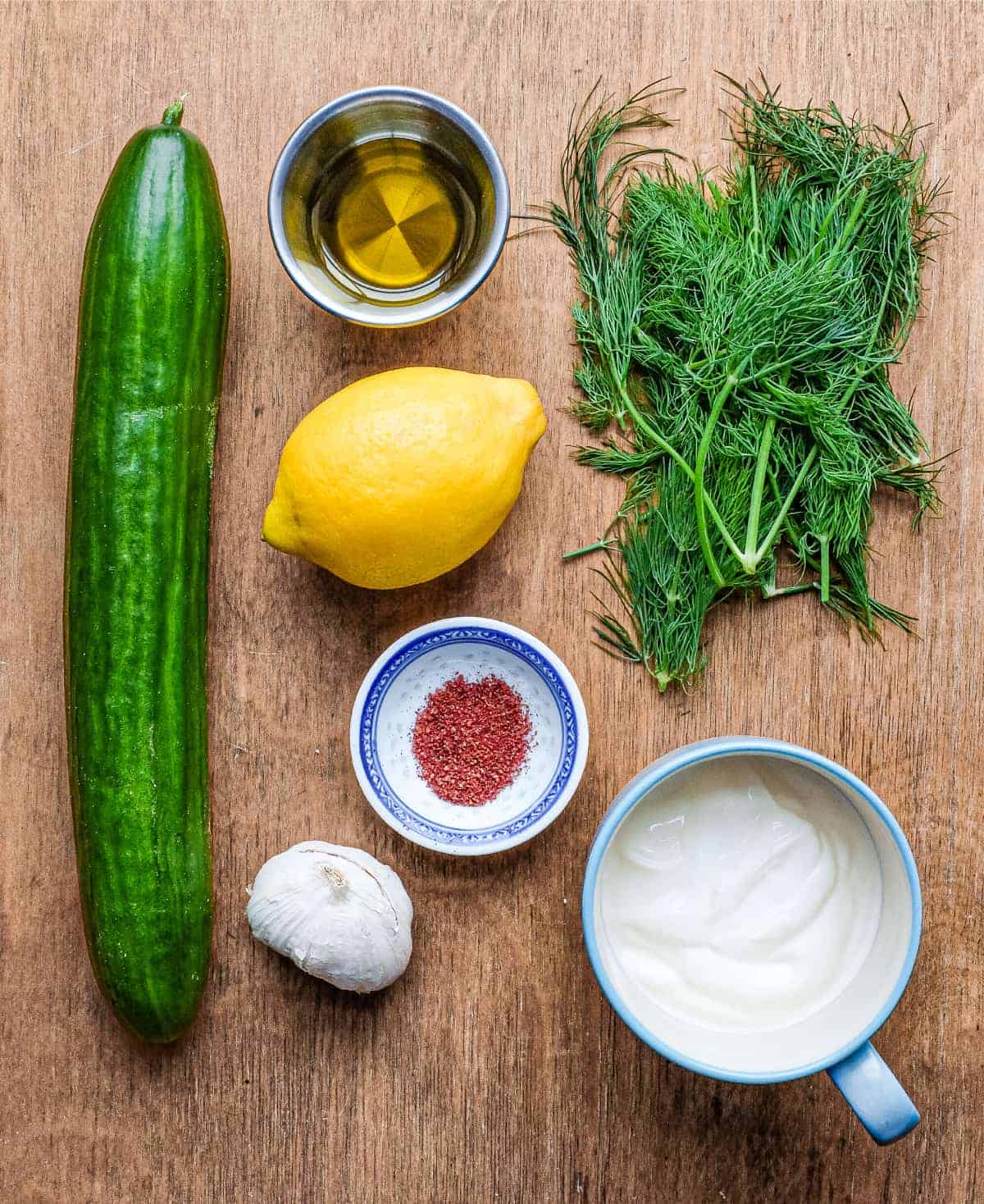 Stuff You'll Need
Cacik features only a few simple ingredients. Nothing too taxing to find at the supermarket.
Yoghurt - tangy natural Greek style is the base for the sauce.

Cucumber - for the light, refreshing flavour

Garlic - adds a little backbone to the sauce
Dill - with its herbal fragrance it's the perfect partner to cucumber.
Lemon - adds a little citrus freshness.
Extra vigin olive oil - It wouldn't be a Mediterranean classic without a drizzle of EVO!
Sumac - the sour, vermillion spice looks stunning when sprinkled over the cacik.
Step by Step
Cacik couldn't be easier to make, and having the freshest made bowl ensures it's the tastiest you're likely to taste, ever!
Step 1 - Using a spoon, remove the seeds from a cucumber. It's mostly water so won't be missed.
Step 2 - Coarsley grate the cucumber and place into a clean tea towel. Carefully squeeze out as much water as you can. TIP: keep the liquid and mix with ice cold water or add a little to your next gin & tonic for a cooling, fresh alternative.
Step 3 - Mix together all the other ingredients and that's it! All you need to do now is spread the cacik on a large platter and then drizzle with a little extra virgin olive oil with a final sprinkle of sumac.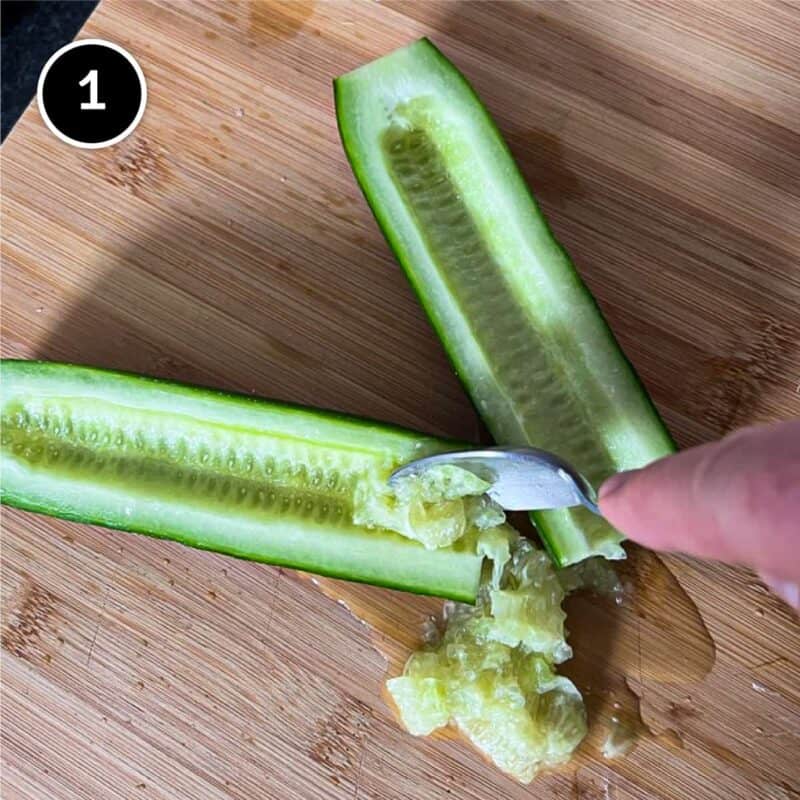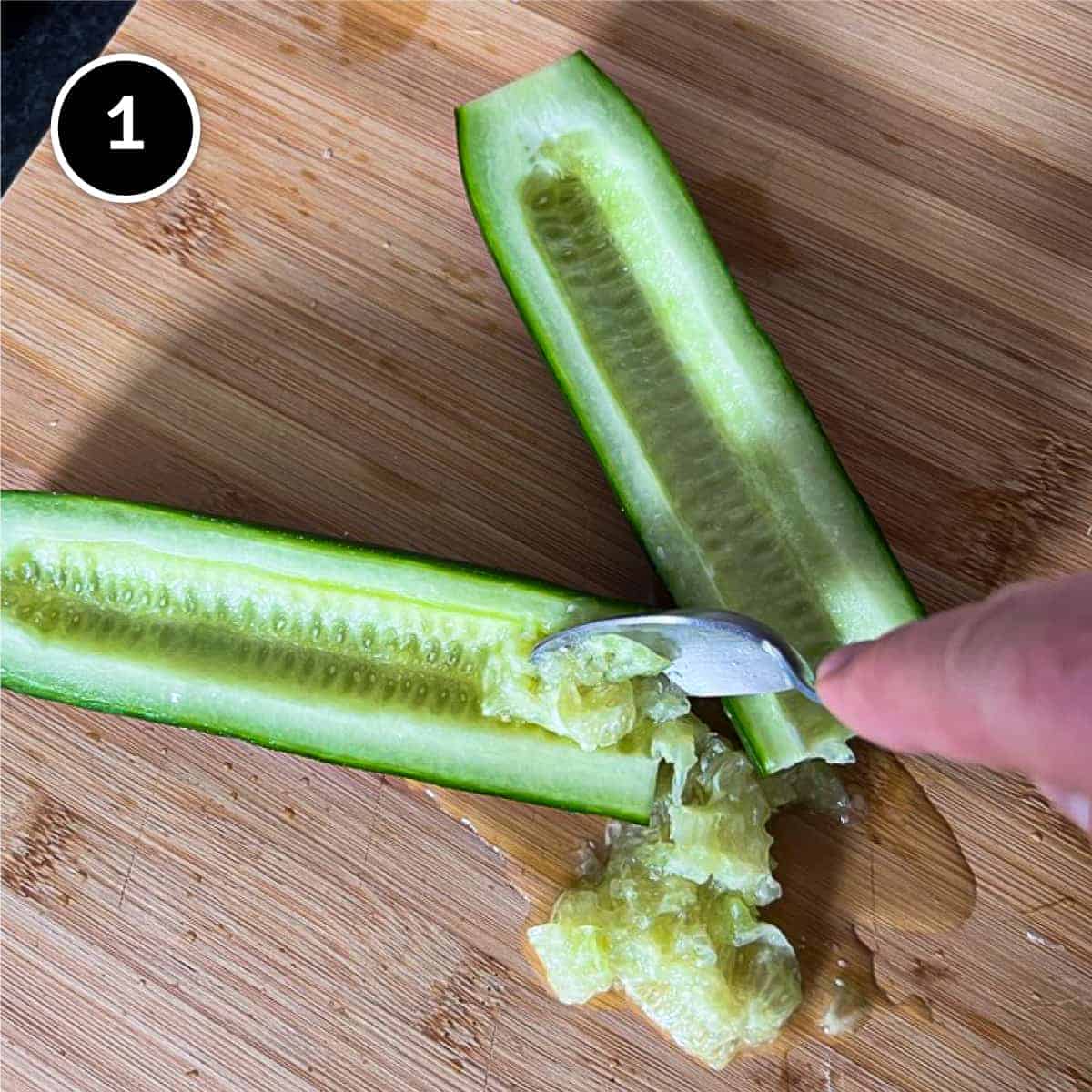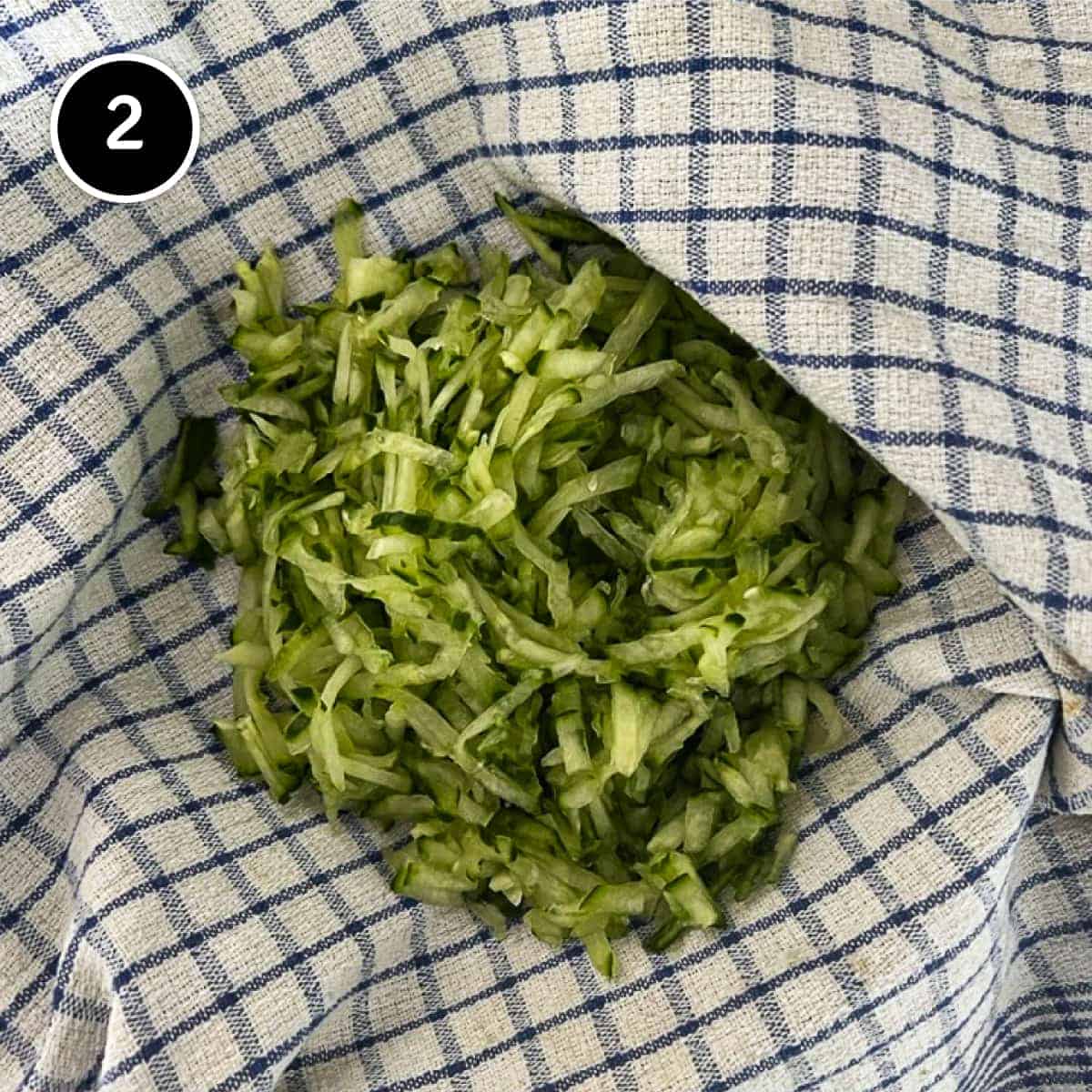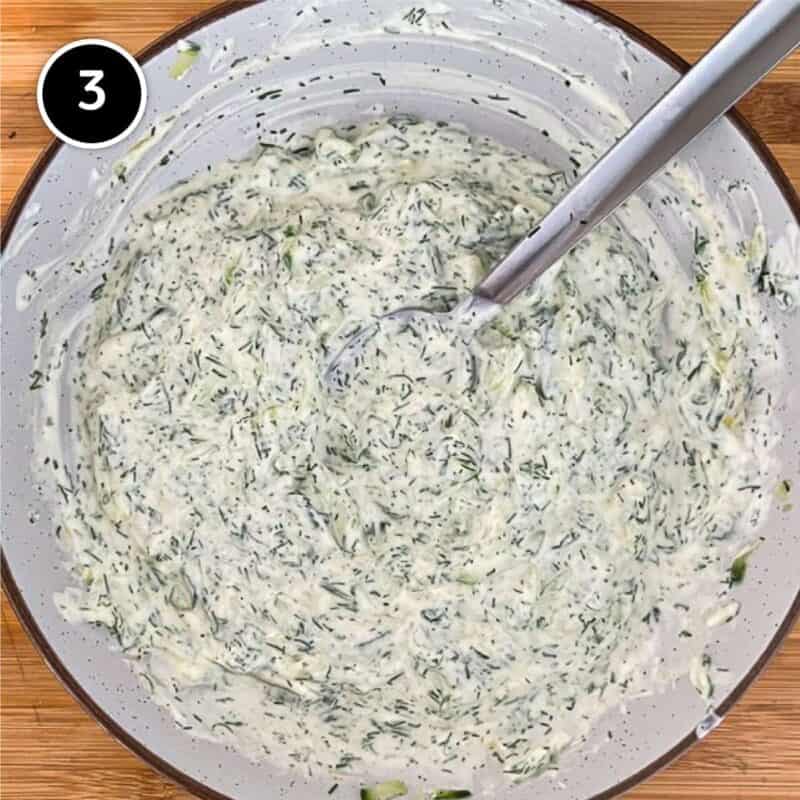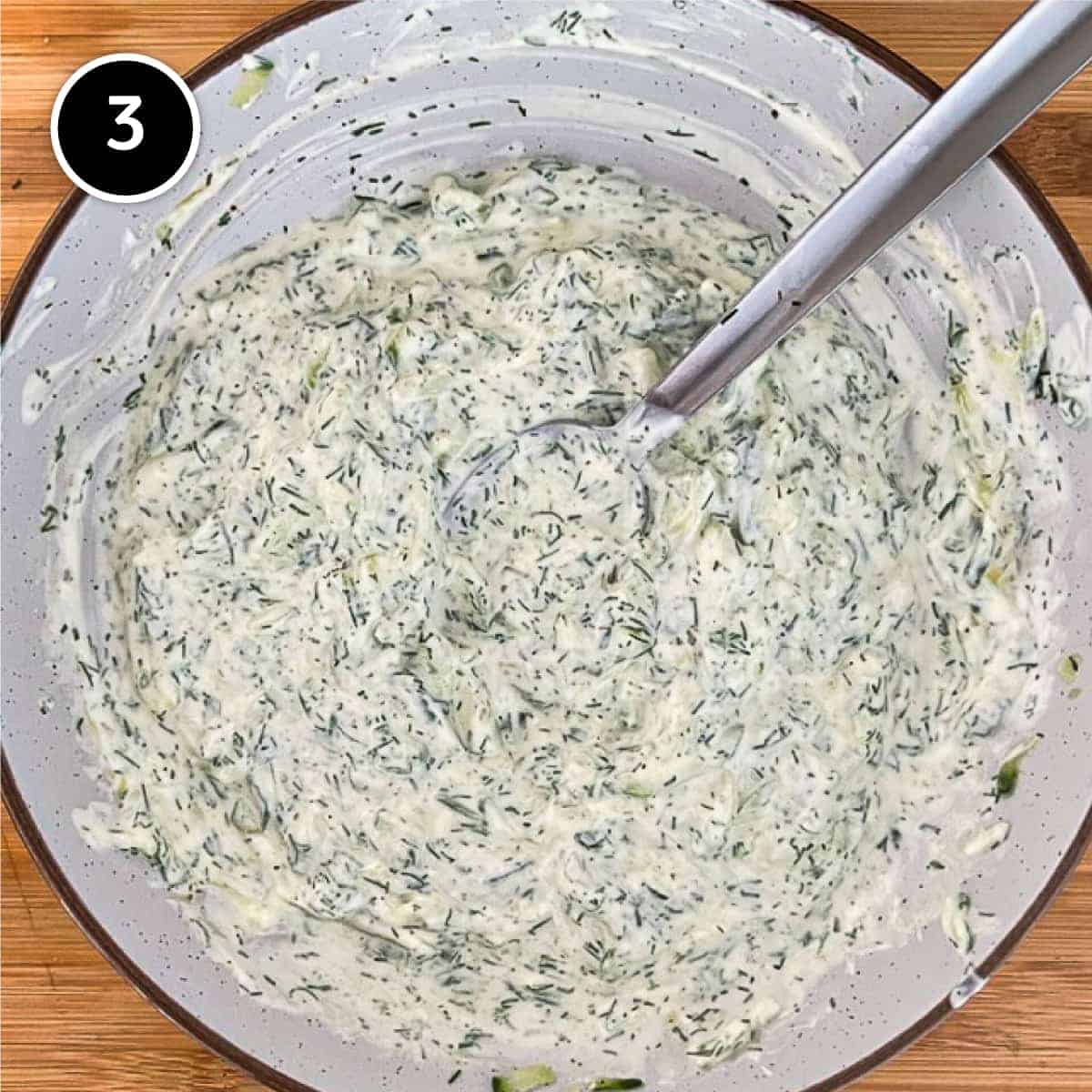 Serving & Storage Suggestions
Cacik will pair with literally anything. I love to serve mine with grilled meat or seafood and often with rice dishes like my tasty Chicken Pilaf.
If you decide to make more vegetable meze recipes, then cacik will sit well with everything - all you need to serve alongside is a plentiful supply of bread or crisp raw vegetables to dip and scoop up the delicious sauce.
Storage in the Fridge - Cacik will stay fresh (covered) in the fridge for 2-3 days. It's not suitable for freezing as it will become watery when defrosted. Fresh is very much BEST!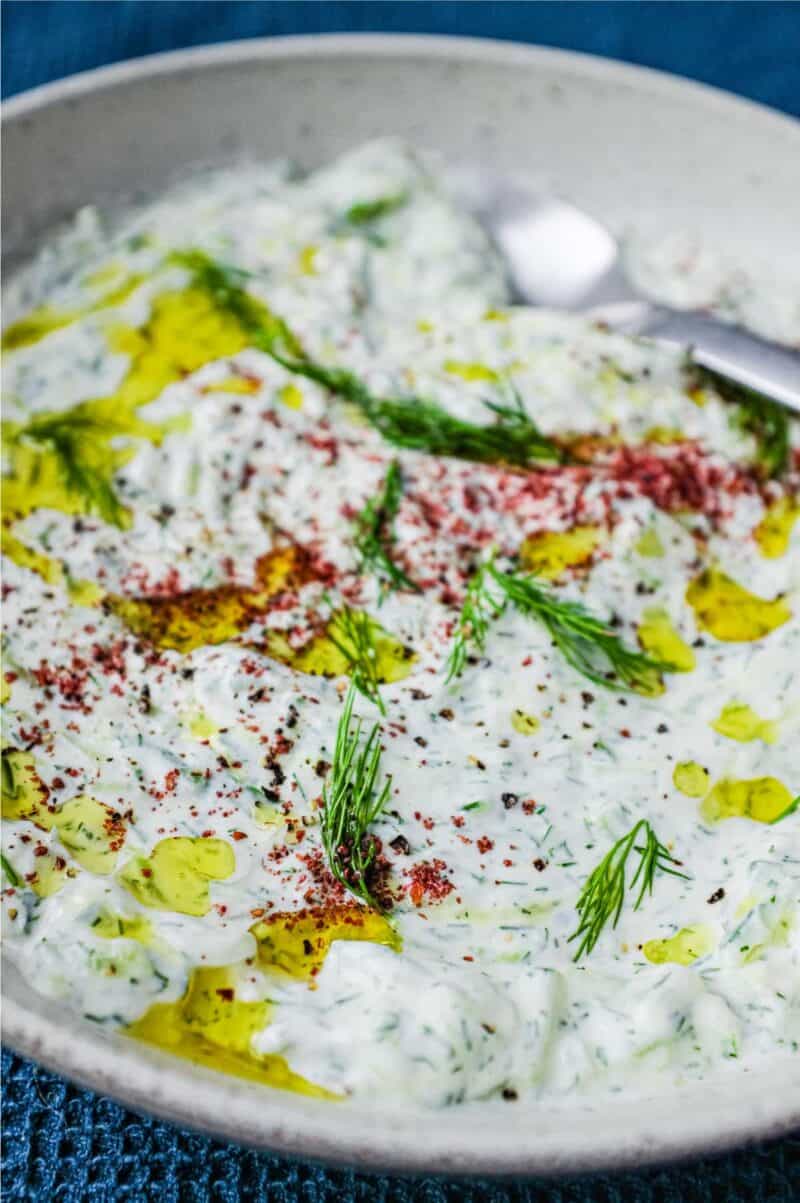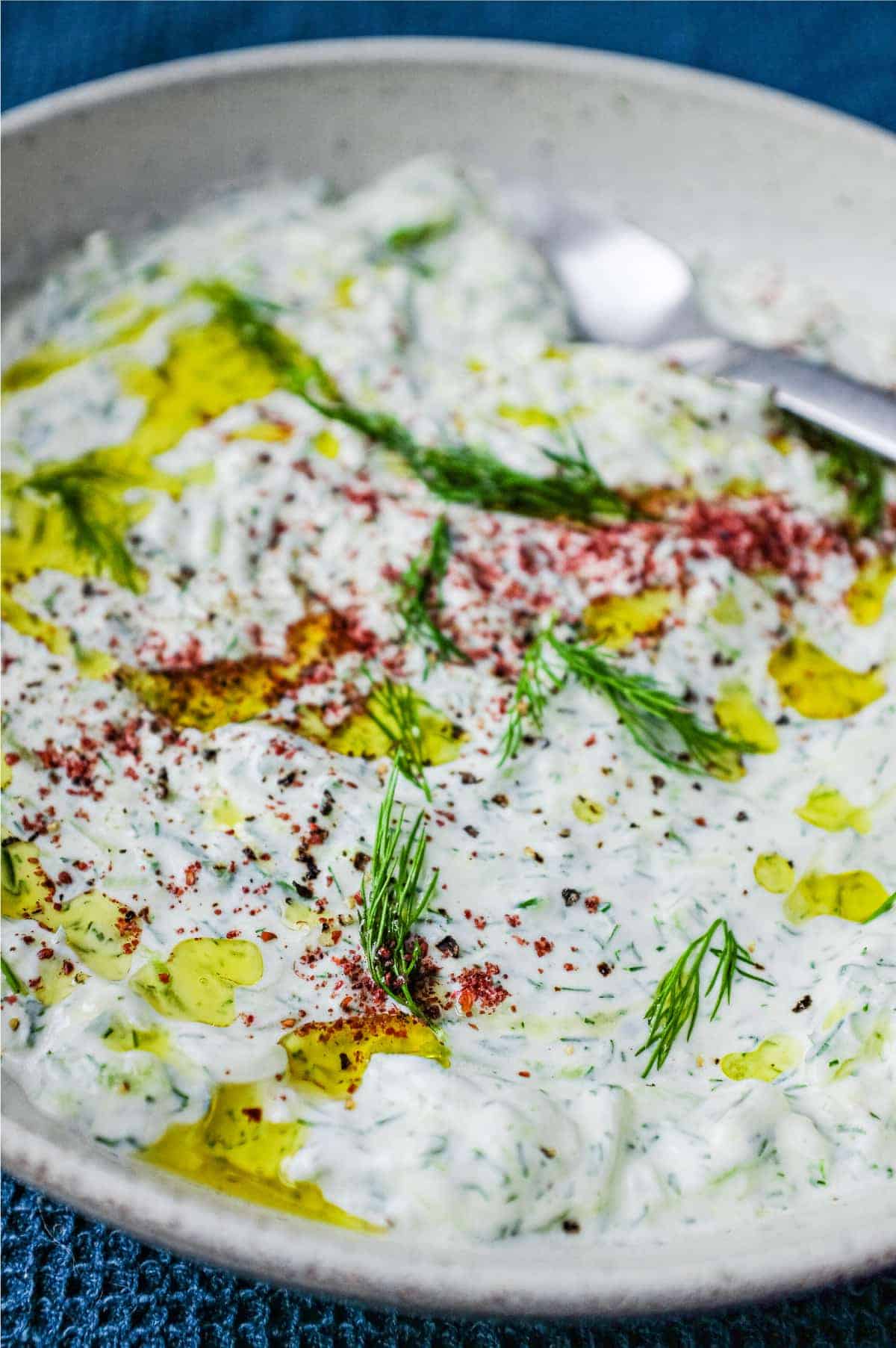 Ready to get started?
Now that you've seen just how easy cacik is to make yourself at home, there should be no stopping you. I make it all the time for all kinds of dishes - It's particularly effective for a hot, spicy curry like my Chicken Vindaloo, so don't feel you need to stick to the Med.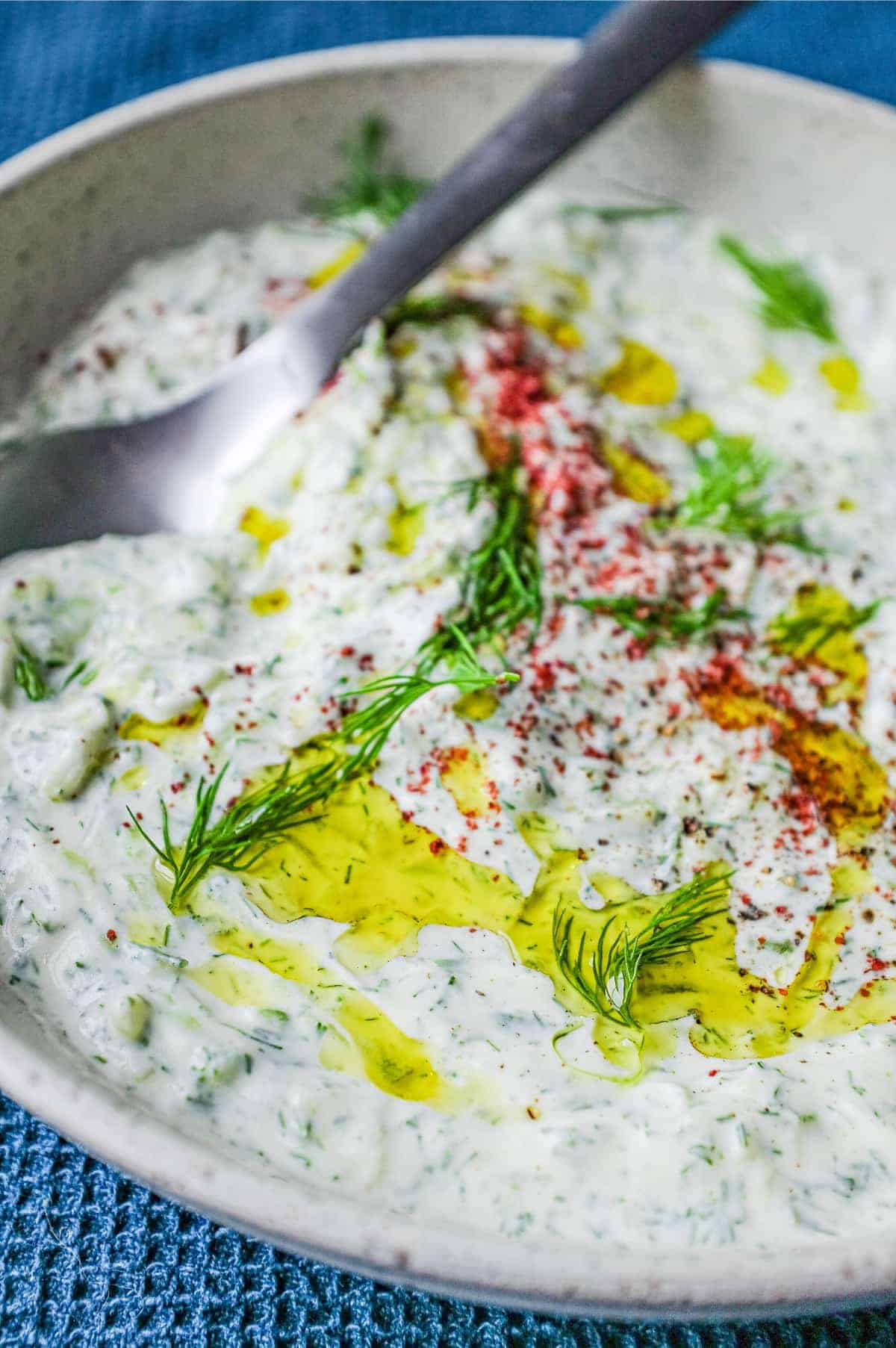 More meze and Med-stylerecipes
If you liked this recipe for , I'm sure you'll love some more of my recipes.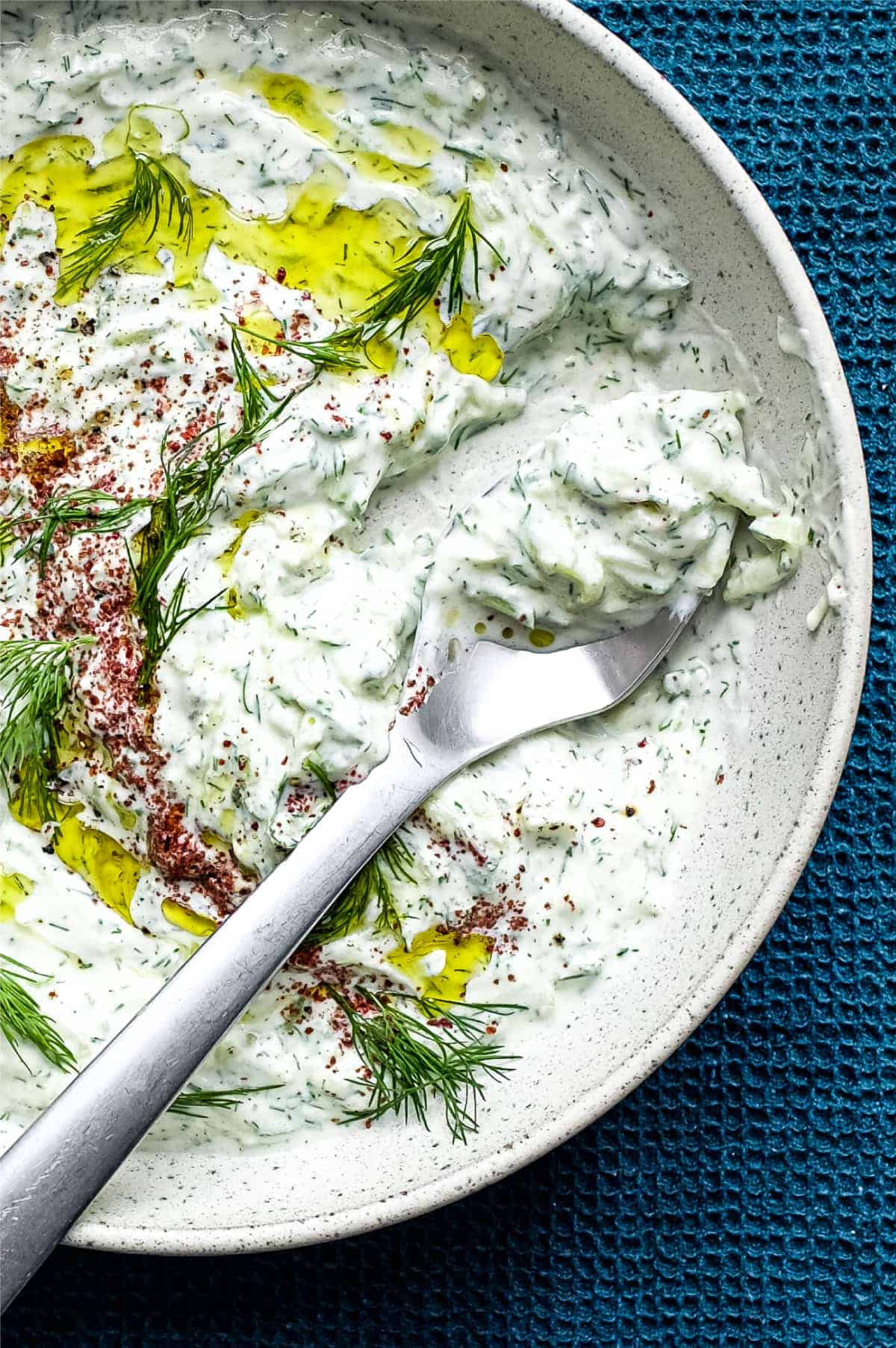 Any Questions? (FAQ)
Have a question about cacik? Let me know in the comments.
Is cacık the same as tzatziki?
Essentially the cacik and tzatziki are the same. They use the same ingredients. Some believe the yoghurt varieties play a part in differentiating as do others who say cacik is thinner in consistency, but the flavour profiles are pretty much the same.
What is cacik made of?
Yoghurt, cucumber and dill are the main flavours of cacik.
This recipe uses affiliations and may receive a commission based on your activity (link clicks). Learn more.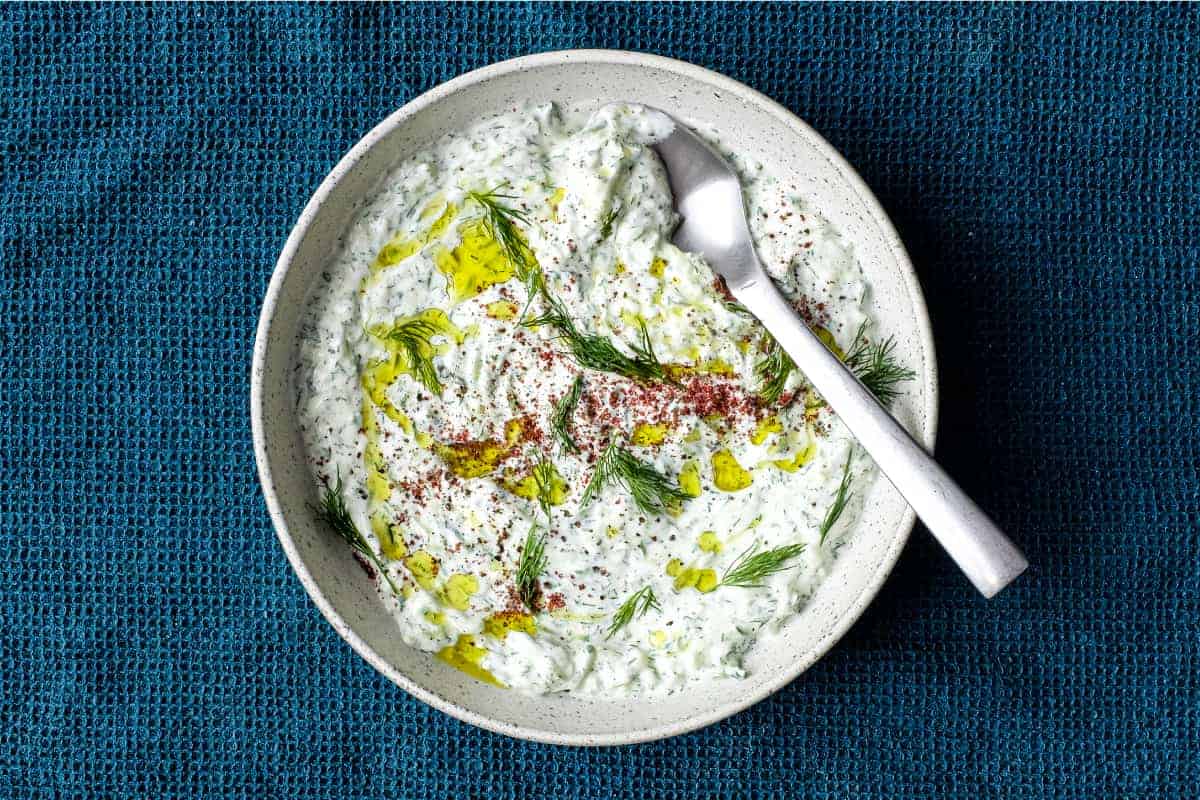 Cacik (Turkish Yoghurt & Cucumber)
Rate this recipe
Print Recipe
Pin Recipe
Save Recipe
Go to Collections
Calories (per serving) |
60
Instructions
Cut the cucumber in half and then using a spoon, scoop out the seeds and discard.

Coarsely grate the cucumber and then wrap in a clean tea towel. Squeeze out the excess water (keep the liquid and use, added to water for a refreshing drink with lemon. or add a little to a gin and tonic!)

Place the cucumber in a bowl and mix in the yoghurt, dill, garlic, salt & pepper, extra virgin olive oil and lemon juice.

Decant to a bowl and then drizzle over a little extra virgin olive oil and sprinkle with a little black pepper and sumac.
Notes
Versatile Pairing: Cacik complements a wide range of dishes, including grilled meat, seafood, and rice-based dishes like Chicken Pilaf.
Perfect Meze Companion: When preparing vegetable meze recipes, cacik serves as an excellent accompaniment. Simply provide ample bread or raw vegetables for dipping and scooping.
Fridge Storage: Keep cacik covered in the fridge, where it remains fresh for 2-3 days. Avoid freezing, as it tends to become watery upon defrosting. Freshness is key!
Nutrition
Calories:
60
kcal
(3%)
|
Carbohydrates:
4
g
(1%)
|
Protein:
4
g
(8%)
|
Fat:
3
g
(5%)
|
Saturated Fat:
1
g
(6%)
|
Polyunsaturated Fat:
0.3
g
|
Monounsaturated Fat:
2
g
|
Cholesterol:
2
mg
(1%)
|
Sodium:
22
mg
(1%)
|
Potassium:
134
mg
(4%)
|
Fiber:
1
g
(4%)
|
Sugar:
2
g
(2%)
|
Vitamin A:
701
IU
(14%)
|
Vitamin C:
10
mg
(12%)
|
Calcium:
69
mg
(7%)
|
Iron:
1
mg
(6%)