Turkish Mücver (Zucchini Fritters)
Mücver are a delicious Turkish fritter made from zucchini/courgette. Soft and fluffy with a delightful crispy skin, they're the perfect little appetizer or side dish. Herbaceous, fragrant and utterly delicious morsels of flavour.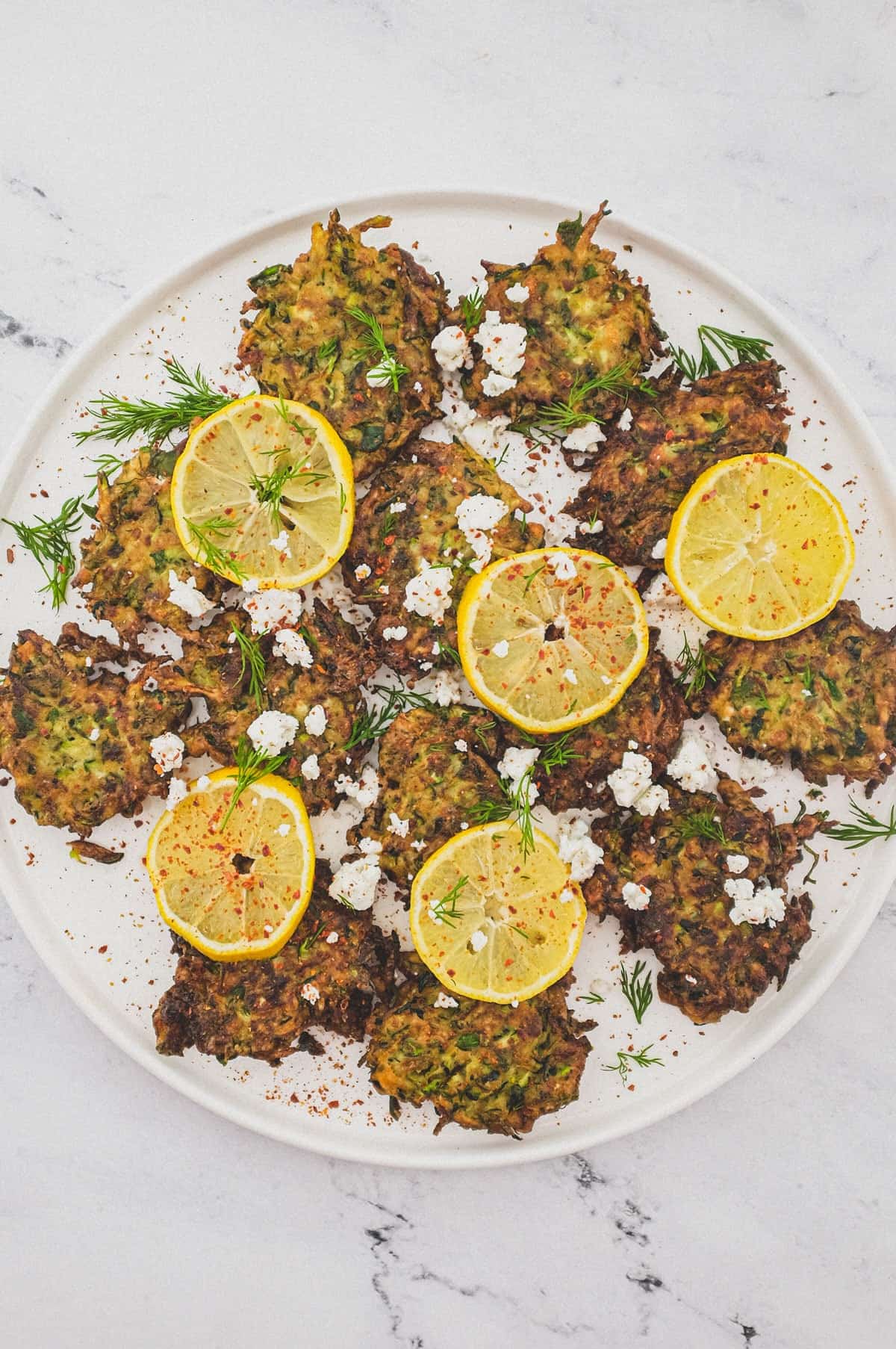 Mücver are one of Turkey's finest exports. Transforming the humble zucchini/courgette into a textural and flavour revelation.
Grated zucchini is combined with fresh herbs, cheese, egg and flour to create a batter that's then shallow. They transform into crisp little patties with a fluffy and soft interior, much like Jewish Latkes. It's an amazing transformation and perfect to serve on their own as a simple appetizer or alongside other Turkish offerings as a side dish.
What is Mücver?
Mücver (or Mucver) originates from the Ottoman cuisine of Turkey. Originally, the name referred to the cooking technique over the actual dish, but over time Mücver became synonymous with the zucchini fritter itself.
How to pronounce Mücver –
'Moosh-ver'
Zucchini/Courgette/Squash is the primary ingredient but Mücver can be prepared using other ingredients to create unique flavour combinations. Many recipes exist that utilise unique combinations of fresh herbs, onion, potato and some that include local Turkish cheeses like beyaz peynir or kaşar.
Why they work!
Mücver are so delicious because they have a wonderful texture, crisply fried on the outside and creamy on the inside. They're light and surprisingly packed with flavour. What's more, they're super easy to make at home.
Stuff you'll need
For my Turkish Mücver recipe, I use a few key ingredients that I have settled on as being the most delicious! I also like to serve my Mücver with a simple yoghurt and tahini sauce, so I've also added that recipe into the mix. You're welcome!
Zucchini/Courgette - whatever YOU call it. This is the essential ingredient.
Fresh herbs - my choices are mint, dill and parsley - yes, all three!
Feta Cheese - It's easier to find than the authentic Beyaz Peynir, and very similar in taste. If you can get hold of peynir, all the better.
Red onion - gives a mild onion flavour to counter the sharp cheese and fragrant herbs.
Ground Cumin - for a mild warming fragrance
Eggs and flour - to bind the mix into a batter for frying
Oil - a bland oil like canola, vegetable or corn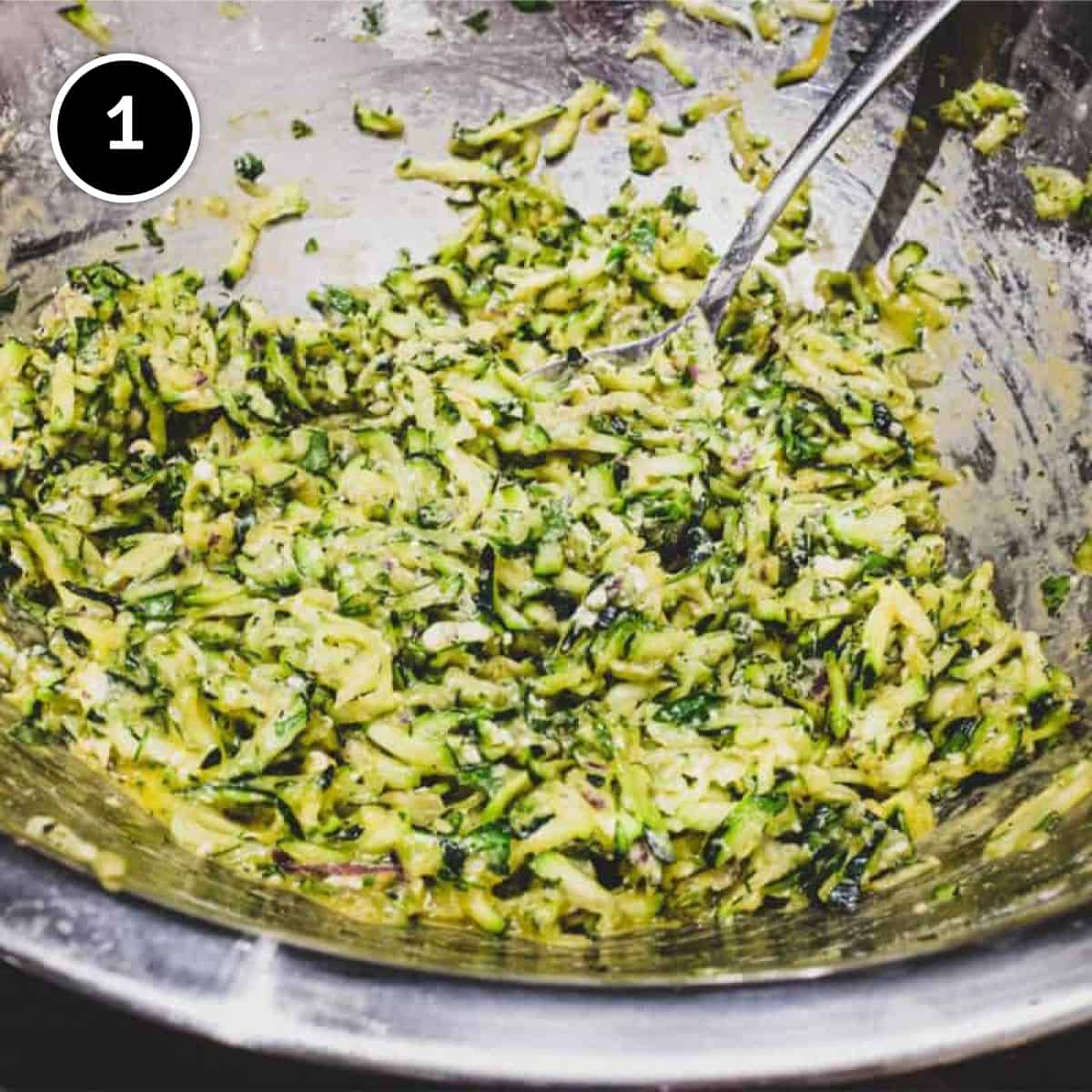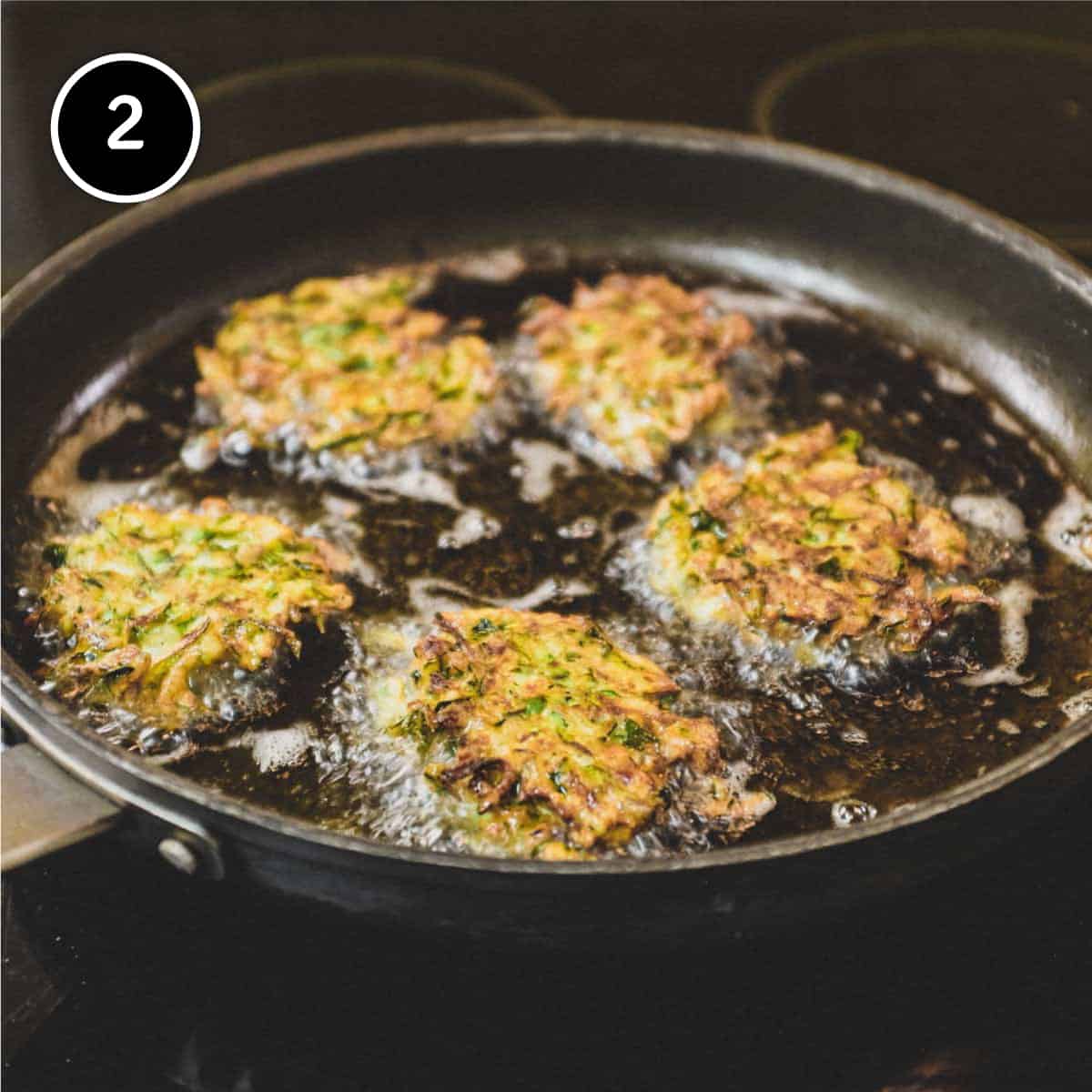 Step by Step
Following my Mücver recipe is simple! There are a few key steps to ensure you get the perfect consistency every time. There's a full recipe below with a more detailed how-to.
Zucchini contains a lot of water so we need to extract as much as we can to ensure the fritters stay crisp and not soggy. I simply coarsely grate the zucchini and onion and then tip into a clean tea towel. Then it's a bit of brute force to squeeze out as much liquid as I can. The more the better. Now we're ready to make the fritters.
Step 1 - Mix the batter. Once strained, stir all the other ingredients together for the batter. It's best to fry right away as the batter will become too watery over time, so have your oil heating as you mix the ingredients.
Step 2 - Fry the fritters. I like to use a large frying pan with about 1-inch of oil, this ensures nice, crisp fritters that are evenly cooked. A heaped tablespoon of batter is enough and a couple of minutes either side is all they need to cook. A quick note, ensure you don't over fill the pan with fritters as they'll reduce the oil temperature too much and you'll end up with greasy Mücver - about 5-6 at a time will be fine. Once cooked, drain on paper towels and you're ready for the next batch.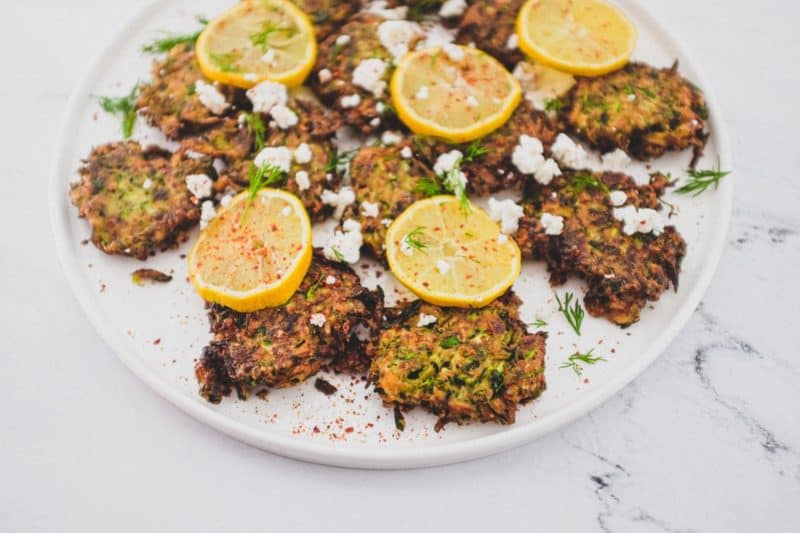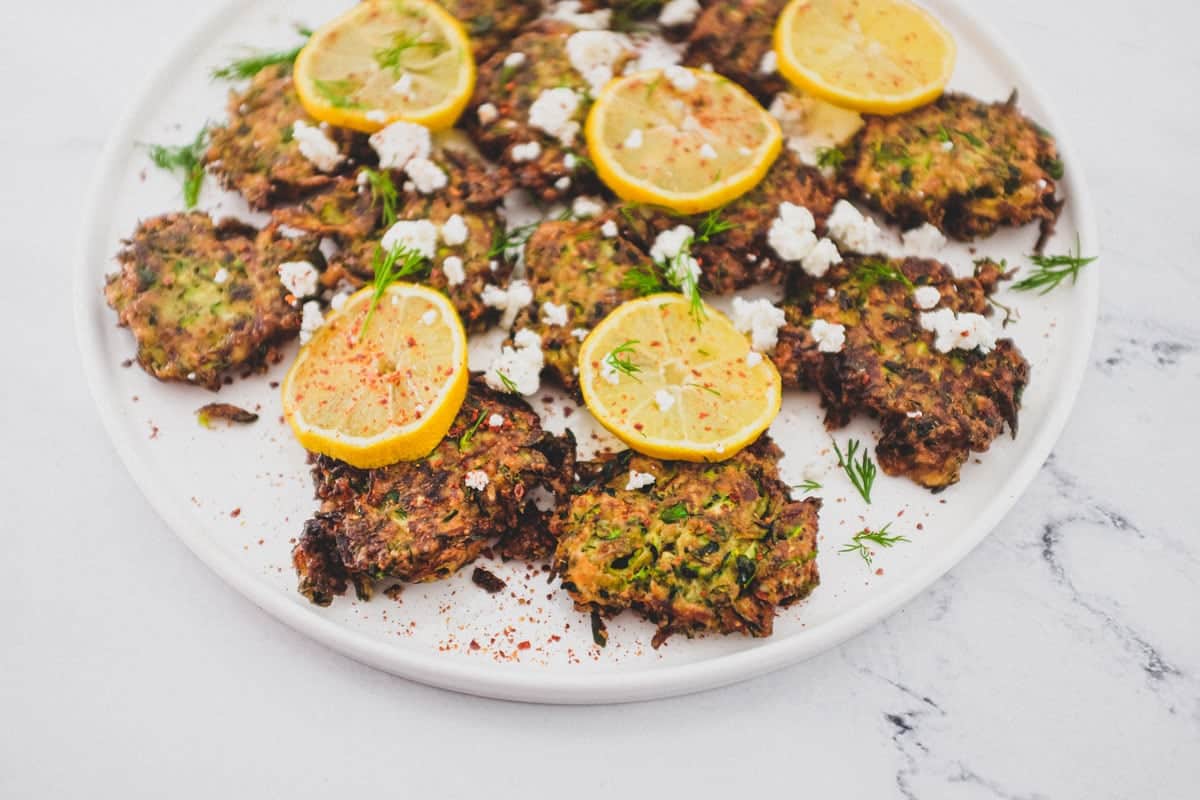 Pro Tips to make your life easier
Mücver are great eaten as soon as they're cooked, but they can also be made ahead of time and heated in a hot oven for 5-10 minutes too. They can also be eaten at room temperature.
For an extra pop of flavour and colour, mücver is delicious served with some zingy fresh lemon, a light scattering of crumbled feta and a delicate sprinkling of mild red pepper flakes known as pul biber in Turkey or Aleppo pepper elsewhere.
I also like to serve a simple dipping sauce made from yoghurt, tahini and garlic. It's the perfect partner!
Serving and storing suggestions
Leftovers - I often have many leftover Mücver (I make thousands when I serve them!) so I LOVE to eat a few for breakfast. I heat them gently in the oven then serve on a toasted bagel with a poached egg on top. Pure heaven!
Freezing - You can freeze the cooked fritters too. Arrange on a baking sheet and freeze until solid, then tip into a plastic freezer bag and they'll keep 1-2 months. Cook in a warm oven from frozen for 15-20 minutes.
Ready to get cooking?
So that's it, Mücver on a plate! Once you discover these delicious little morsels, you'll be amazed how the humble zucchini can taste so spectacular! They're a great option to have on hand and never fail to impress.
Cooking these over the years, my recipe is now at its optimum and never fails! It's one of my most-requested dishes to cook for a dinner party! Hope you enjoy!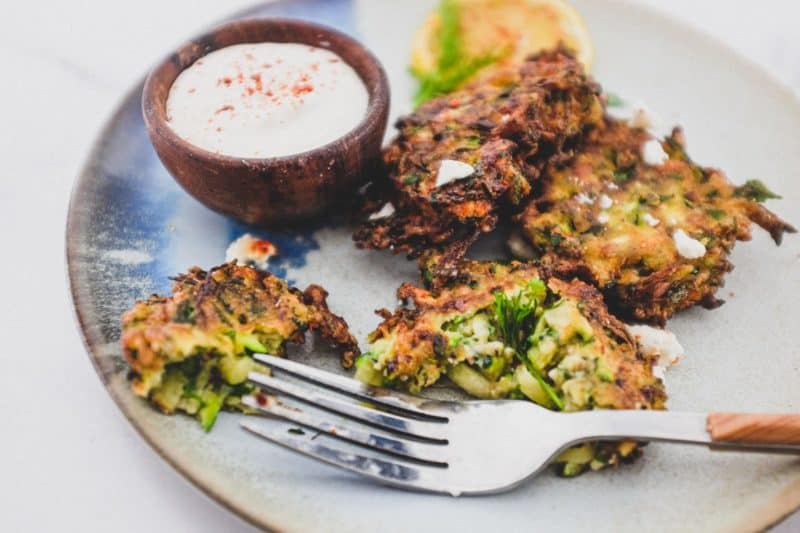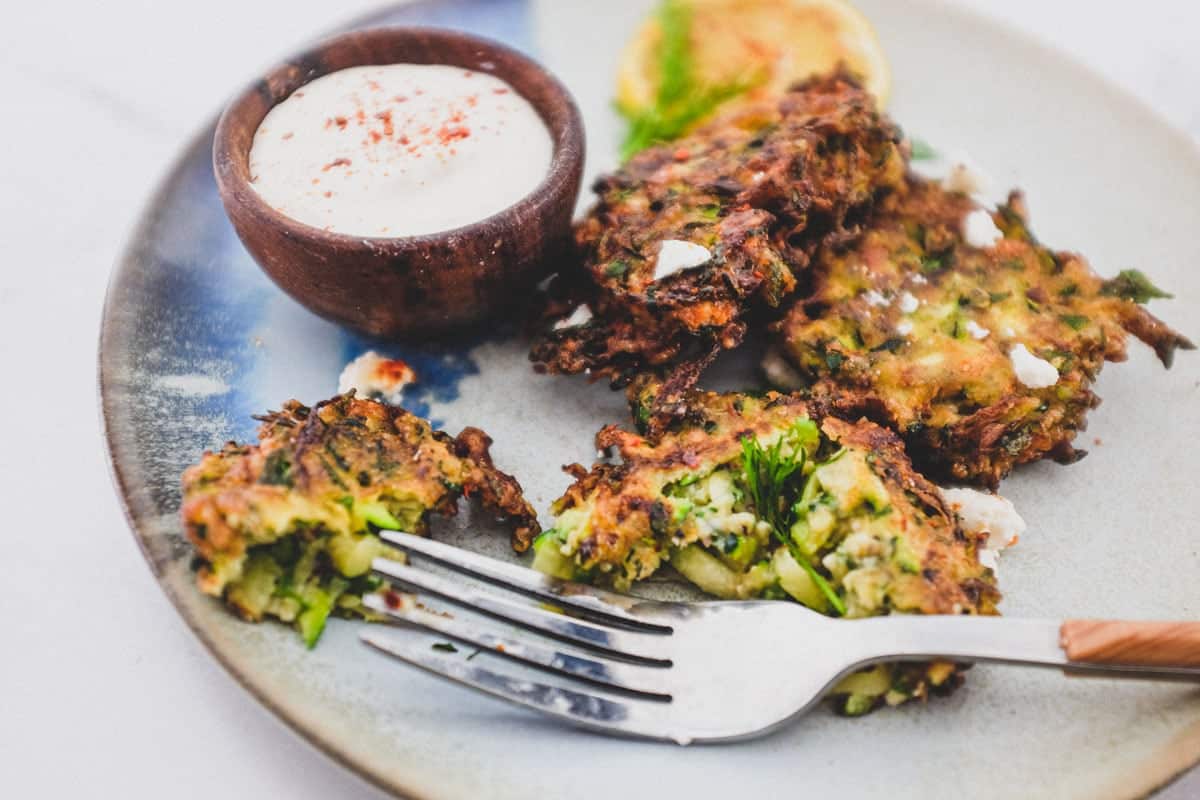 Any Questions? (FAQ)
Have a question about Turkish Mücver? Let me know in the comments.
What vegetable is in Mücver?
Mücver are made using zucchini/courgette/squash.
How is Mücver pronounced?
Mücver = "Mooshver"
More Mediterranean recipes
If you liked these tasty Turkish Mücver, you'll be sure to love some of my other Mediterranean style recipes.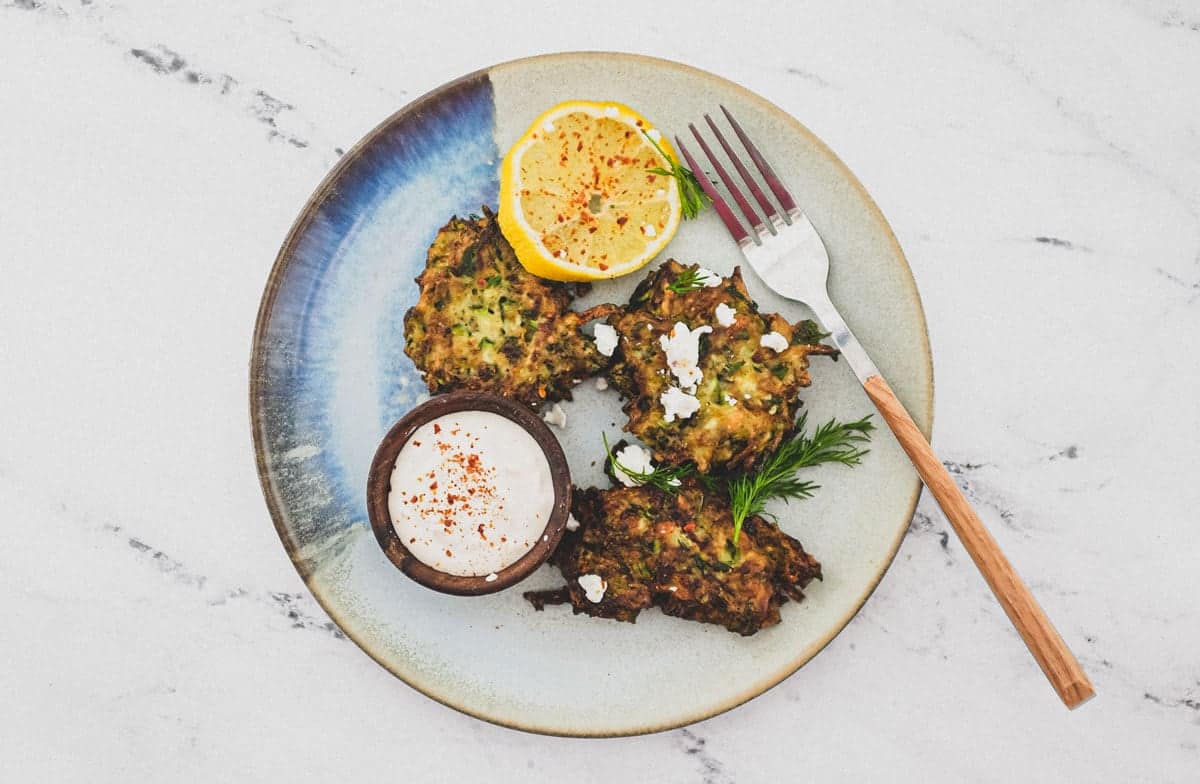 Turkish Mücver (Zucchini Fritters)
Rate this recipe
Print Recipe
Pin Recipe
Save Recipe
Go to Collections
Calories (per serving) |
439
Ingredients
For the Mücver
3

zucchini/courgette

(regular sized)(coarsely grated)

½

red onion

(coarsely grated)

1

tsp

salt

½

tsp

black pepper

(freshly ground)

1

tsp

ground cumin

⅓

cup

feta cheese

(or Beyaz Peynir) (crumbled)

¼

cup

mint

(chopped)

¼

cup

parsley

(chopped)

¼

cup

dill

(chopped)

2

eggs

(lightly beaten)

5

tbsp

plain flour

(all purpose)

Oil

(for frying)

1

Lemon

(cut into slices or wedges)

Aleppo pepper (pul biber)

(for garnish) (optional)
For the yoghurt & tahini sauce (optional)
Instructions
For the Mücver
Coarsely grate the zucchini and red onion then place on a clean tea towel.

Gather up the edges and twist to form a ball to squeeze out as much water as you can. It's hard going, but make sure you get as much out as possible for the best results when frying.

Tip the drained zucchini and onion into a bowl and combine with all the other mücver ingredients (except the oil)

Heat about a 1-inch depth of oil in a large, non-stick, frying pan over a medium/high heat until hot but not smoking - around 350/375ºF/175-180ºC if you have a kitchen thermometer.

Take a heaped tablespoon of batter and carefully drop it in to the oil. Repeat with about 6-7 fritters per batch. Leave the fritters for about 2 minutes and then using a flipper, flip to over and cook for another 2 minutes on the other side. They should be a deep brown but not burnt. Reduce the heat a little if they appear to be cooking too dark, too quickly.

Remove the cooked fritters and drain on some waiting paper towels.

Repeat this process until you've used up all your batter.

You can serve right away on a large platter scattered with a little more feta, lemon and a light sprinkling of Aleppo pepper (pul biber) (optional).

You can also let them cool and either eat at room temperature or heat in a hot oven for 5-8 minutes when you're ready.
For the Yoghurt & Tahini Sauce
Whisk together all the ingredients and dilute with up to ⅓ cup water, to give you a thick, creamy texture like whipping cream. Serve alongside the mücver as a dipping sauce.
Notes
The Batter Mix
Don't make the batter mix in advance, zucchini are full of water and they continue to release liquid into the mix. It'll become watery and affect the Mücver as they're fried. Best to mix the batter and fry right away.
Eating Mücver
Mücver best eaten as soon as they're fried, but can also be reheated from chilled for 5-6 minutes in a 400ºF/200ºC oven. You can also eat Mücver at room temperature too.
Storing and preserving
Mücver will keep in the fridge for 2-3 days and you can freeze them too.
To freeze - lay out the cooked Mücver in a single layer on a tray lined with greaseproof paper. When frozen solid, tip them into a freezer bag and keep for up to 2 months. Reheat from frozen in a single layer for 10-15 minutes, or thaw and reheat for 5-6 minutes in a 400ºF/200ºC oven
Garnishes
In Turkey pul biber or Aleppo pepper flakes are sprinkled over for colour and a mild chilli flavour. I also like to serve a Yoghurt Tahini sauce made from 2 tbsp yoghurt, 1 tbsp tahini paste, 1 tbsp extra virgin olive oil, 1 garlic clove (minced), 1-2 tbsp lemon juice and S&P.
I also often scatter over more fresh herbs and a handful of feta cheese. Lemons are always part of the garnish to bring everything to life.
Nutrition
Calories:
439
kcal
(22%)
|
Carbohydrates:
28
g
(9%)
|
Protein:
16
g
(32%)
|
Fat:
32
g
(49%)
|
Saturated Fat:
6
g
(38%)
|
Polyunsaturated Fat:
11
g
|
Monounsaturated Fat:
14
g
|
Trans Fat:
1
g
|
Cholesterol:
94
mg
(31%)
|
Sodium:
939
mg
(41%)
|
Potassium:
773
mg
(22%)
|
Fiber:
5
g
(21%)
|
Sugar:
7
g
(8%)
|
Vitamin A:
1169
IU
(23%)
|
Vitamin C:
66
mg
(80%)
|
Calcium:
212
mg
(21%)
|
Iron:
4
mg
(22%)