Briam (Greek Roasted Vegetables)
Briam is the essence of a Greek summer. Roasted seasonal vegetables in the tastiest Greek olive oil come together to form a healthy, simple, and filling dish. This Mediterranean marvel makes perfect use of the humblest ingredients.
The Mediterranean diet is packed with amazing ways to enjoy the freshest ingredients. Seasonal vegetable play an essential part in the diet, an none more so that in Greek Briam, a wonderful medley of roasted summer vegetables. A low-carb, gluten-free, vegan treasure that is unrivalled in flavour and texture. Eggplant, zucchini, potato, and onion and roasted with tomato and a copious amount of best quality Greek extra-virgin olive oil. It's as simple as it is delicious and undeniably addictive! Give me a bowl of briam and a loaf of crusty bread and I'm one happy man!
What is Briam?
Briam or Briami (Μπριάμ) is a Greek vegetable preparation, kind of a Greek version of ratatouille. It originated in Turkey under the name 'Tourlou Tourlou' but is widely cooked throughout Greece as Briam. It features summer vegetables, roasted with a little tomato sauce until golden brown.
As with many Mediterranean dishes, generous amounts of olive oil are used (also known as ladera style cooking, meaning 'in oil'). This oil helps create the taste and texture of the dish and is delicious mopped up with crusty bread at the end. I'll also drizzle a little over the final dish for even more fresh peppery olive oil flavour.
Why it works
Briam is a quick, flexible, one pan dish that can be served as a side dish or main meal. It's super-easy to make at home and delivers big on flavour. And good food that's healthy is a win win in my book.
Stuff you'll need
My favourite way to serve briam is with few ingredients available in a Mediterranean summer kitchen.
Zucchini – Nothing is better than roasted zucchini!
Potatoes – I don't need to be told twice to put potato in a dish! Any dish!
Eggplant – Roasted eggplant add a rich, creamy texture.
Onion – Their earthy sweetness is the perfect partner.
Tomato – adds a sweet tanginess and brings all the flavour together.
Garlic – The creamy roast garlic is perfection!
Herbs – Fresh or dried, it doesn't matter. I use oregano, both fresh and dried depending on what I have at home. I'll also add a little fresh parsley.
Step by Step
Briam couldn't be easier to make at home. A one-pan roast is all there is to it. You can do this on a baking or roasting sheet or in a large ceramic dish. Here's how!
1. Step 1 – Cut your vegetables into similar sized chunks (fairly large is best as they'll stay a hearty size once roasted) Combine them in a large bowl with the herbs and pour over a little tomato passata (sauce) and olive oil (be generous!).
2. Step 2 – Combine using your hands to ensure that everything's covered.
3. Step 3 - Transfer to the roasting pan or sheet and spread into a single layer.
4. Step 4 - Roast in a 180ºC/350ºF oven for 30 minutes then turn and roast for a further 30 minutes. Your veg will be nicely browned and a little crisp in places.
5. Step 5 – Serve! I like to serve mine on the baking sheet (no dishes!) sprinkled with feta cheese and a few slices or wedges of lemon. Greek food without lemon is a somewhat sad affair.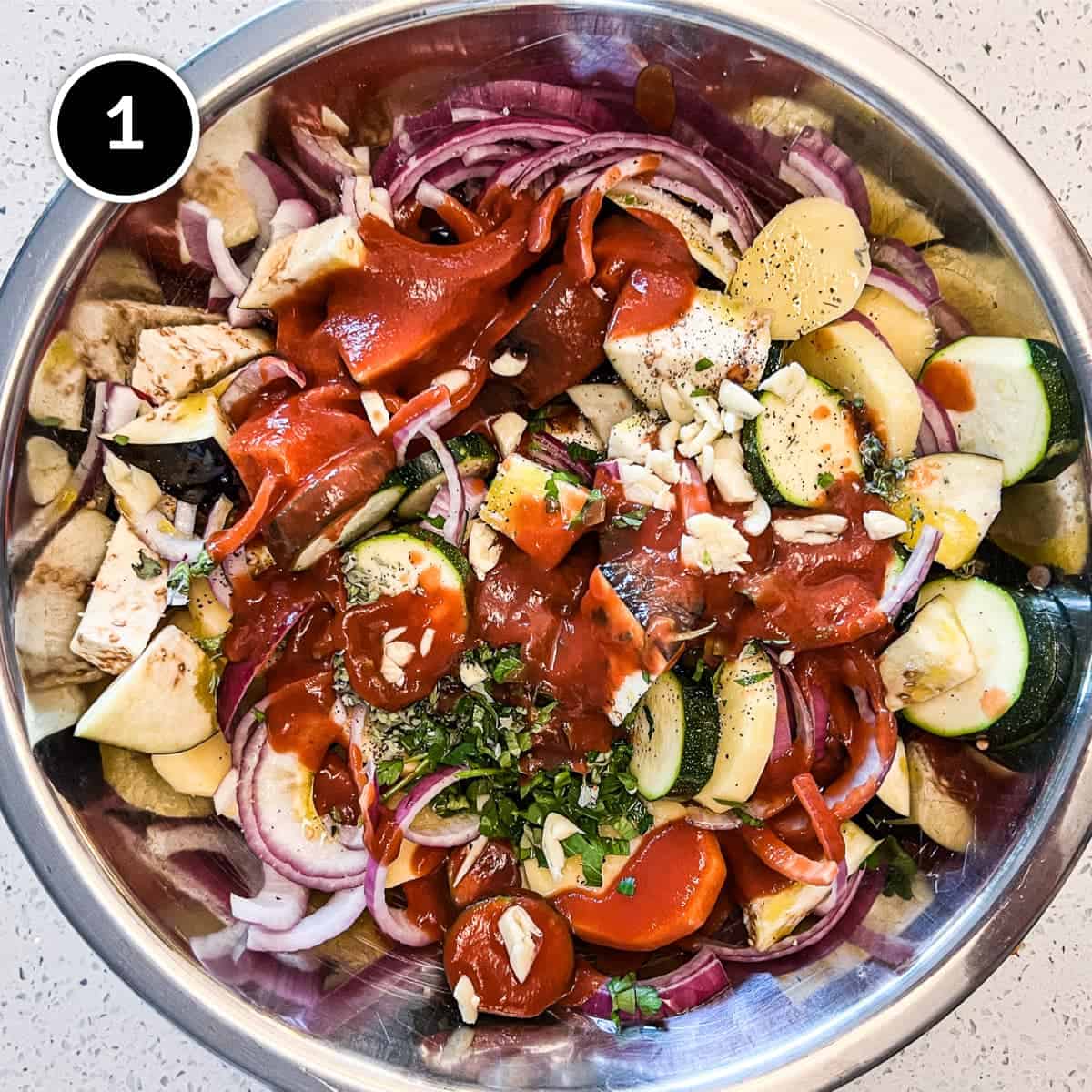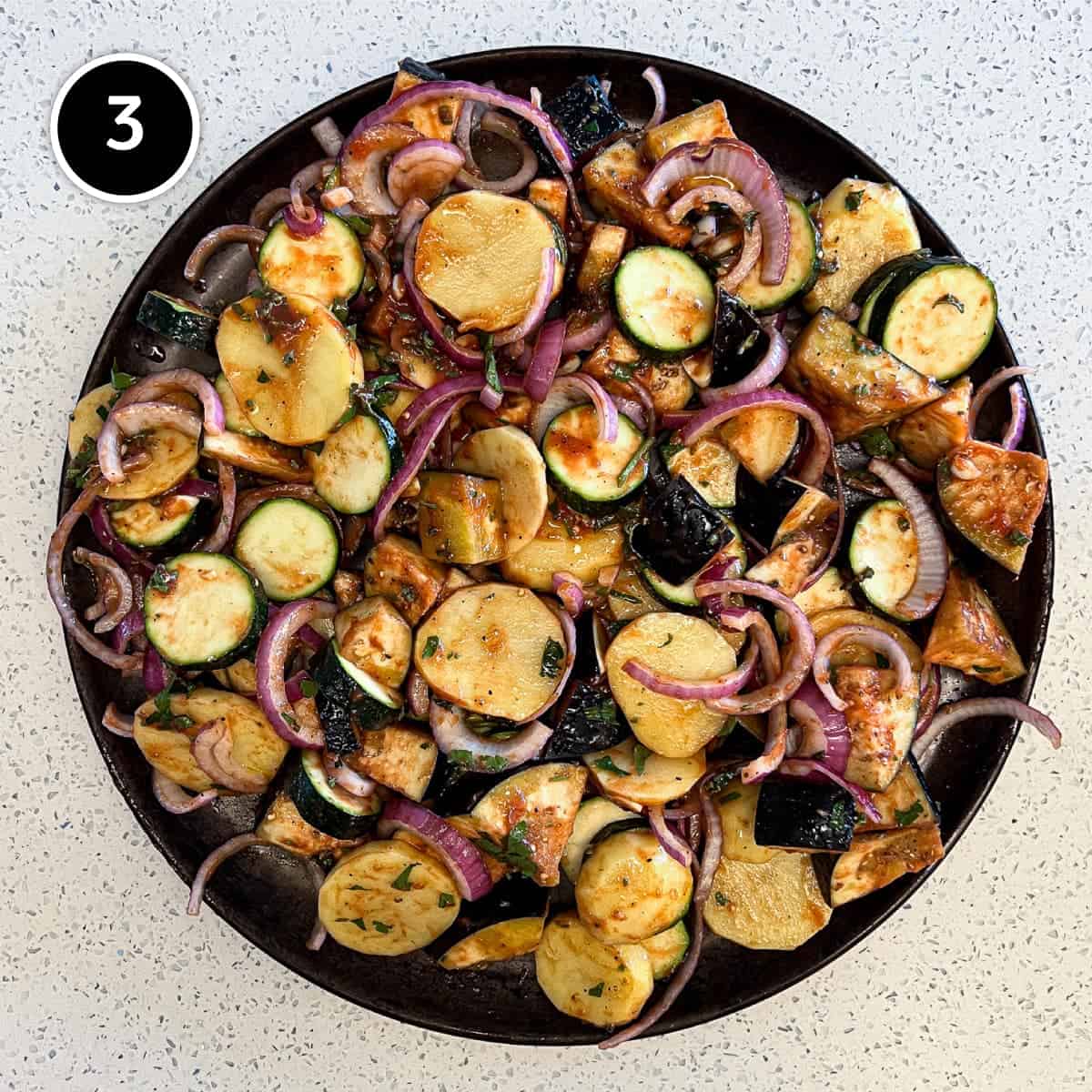 Serving and storing suggestions
Serving
Serve briam as a main course (alongside LOTS of crusty bread or pita breads). The bread is the perfect vehicle to mop up the olive oil. So much flavour.

Serve as a side dish alongside roasted or BBQ lamb. Check out my recipe for Greek lamb marinade – lamb and briam are perfect together.

I like to scatter salty, tangy feta cheese over my briam along with a citrus spritz of fresh lemon.

I'll often serve with Greek Tzatziki or my delicious salty Turkish Haydari (a delightful combo of yoghurt & feta cheese) or simple Yoghurt & Garlic Sauce.
Storage
Fridge: Store briam for 3-4 days in the fridge and when ready to eat either leave it out for an hour to come to room temperature or heat in a 200ºC/400ºF oven for 5 minutes.
Freezer: Keep in the freezer for 2-3 months. Thaw thoroughly and either eat at room temp or heated in the oven (same temperature as above) for 5 minutes.
Substitutions
Briam is flexible enough to switch around the ingredients to suit your taste or the season you're working in. Try adding bell peppers, mushrooms, sweet potato or pumpkin/squash. You can also switch the herbs around and add whatever you have, fresh or

dried

. Dill, rosemary, marjoram, tarragon and thyme all work really well. Remember, dried herbs are stronger, so work to the ratio of 1tbsp of fresh = 1tsp dried.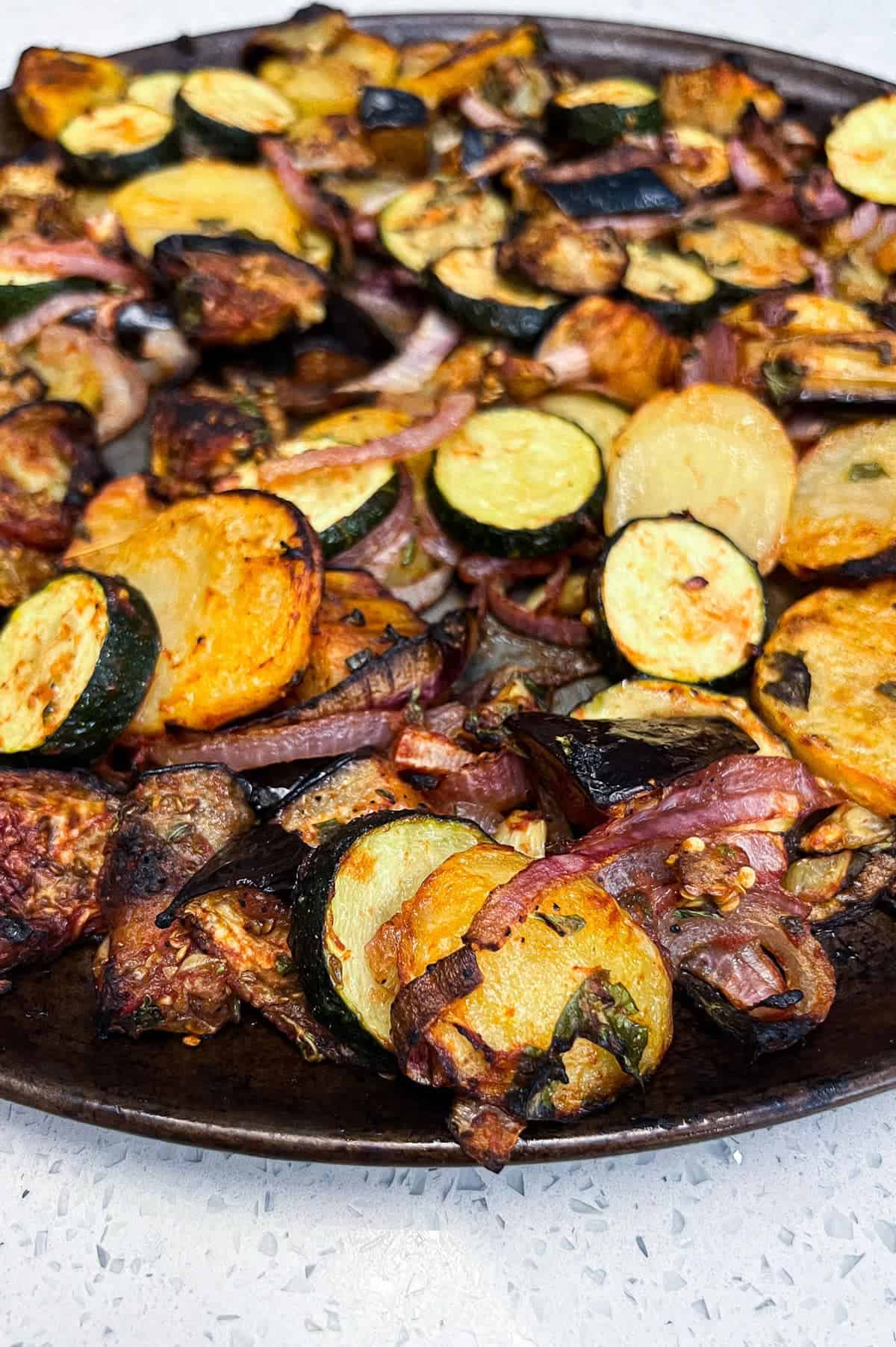 Ready to get cooking?
If you're in the market for a one-pan, little effort dish that delivers big on flavour then briam is the dish you've been looking for. The Mediterranean diet is something to celebrate and none more so than briam. Will you be giving it a little ripple of applause?
Any Questions? (FAQ)
Have a question about Briam? Let me know in the comments.
What is Briam?
Briam is a Greek and Turkish dish of roasted seasonal summer vegetables. A medley of veg is roasted with a tomato passata and seasoned with herbs.
More Mediterranean-style recipes
If you love the clean, healthy flavours of the Mediterranean, you should try some or all of my most favourite recipes.
Briam (Greek Roasted Vegetables)
Rate this recipe
Print Recipe
Pin Recipe
Save Recipe
Go to Collections
Calories (per serving) |
327
Ingredients
2

zucchini

(courgette) (cut into ½" slices)

1

eggplant

(cut into large chunks)

3

potatoes

(peeled and cut into ½" slices)

1

red onion

(peeled, halved and sliced)

4

garlic cloves

(peeled & chopped)

1

cup

tomato pasatta

(or 1 cup of fresh tomato, blended)

2

tbsp

fresh oregano leaves

(or 1 tsp dried)

2

tbsp

fresh parsley

(chopped)

1

tsp

sea salt

½

tsp

black pepper

1

lemon

(for serving - optional)

½

cup

feta cheese

(for serving - optional)
Instructions
Preheat oven to 180ºC/350ºF

Prepare all the vegetables and place in a large bowl.

Add the olive oil, tomatoes, herbs, salt and pepper. Using your hands, combine well.

Spread the vegetables in a large baking tin or sheet in a single layer if you can.

Bake for 30 minutes then turn the vegetables.

Return to the oven and bake for a further 30 minutes.

Remove from the oven and cool for 10 minutes before eating, or cool to room temperature and serve.
Notes
Ingredient Substitutions
You can change up the vegetables to whatever you have at hand. I'll often add sweet potato, squash or pumpkin, bell peppers and large mushrooms.
I'll change the herbs and use dry versions if that's all I have. I'll use either fresh or dried dill, parsley, tarragon, rosemary, thyme, tarragon, or marjoram.
Serving suggestions
You can serve briam as a main course or a starter. It's also a great side dish alongside other Greek or Mediterranean style dishes. I serve straignt from the baking sheet.
I like to crumble over some salty, tangy feta cheese and arrange some lemon wedges. I'll also drizzle over more (yes more) Greek olive oil just before serving.
However you decide to serve, be sure to include a bread element of some kind. Crusty sourdough or soft pita breads are ideal.
Storage
Fridge: Briam stays fresh for 3-4 days in the fridge (stored in an airtight container or bag). Leave out for an hour to eat at room temperature or heat in a 200ºC/400ºF oven for 5 minutes.
Freezer: It'll stay fresh in airtight container in the freezer for 2-3 months. Thaw thoroughly to enjoy at room temp, or again, heat in a 200ºc/400ºF oven on a baking sheet or roasting tin for 5 minutes from thawed.
Nutrition
Calories:
327
kcal
(16%)
|
Carbohydrates:
20
g
(7%)
|
Protein:
4
g
(8%)
|
Fat:
28
g
(43%)
|
Saturated Fat:
4
g
(25%)
|
Polyunsaturated Fat:
3
g
|
Monounsaturated Fat:
20
g
|
Sodium:
675
mg
(29%)
|
Potassium:
794
mg
(23%)
|
Fiber:
7
g
(29%)
|
Sugar:
10
g
(11%)
|
Vitamin A:
566
IU
(11%)
|
Vitamin C:
31
mg
(38%)
|
Calcium:
103
mg
(10%)
|
Iron:
3
mg
(17%)