A simple way to elevate any type of fish is to cook it in this amazing North African chraime sauce. A tangy, warmly spiced tomato sauce that compliments and soft, flaky fish perfectly. It's a quick and easy dish to put together too, ready in only 20 minutes.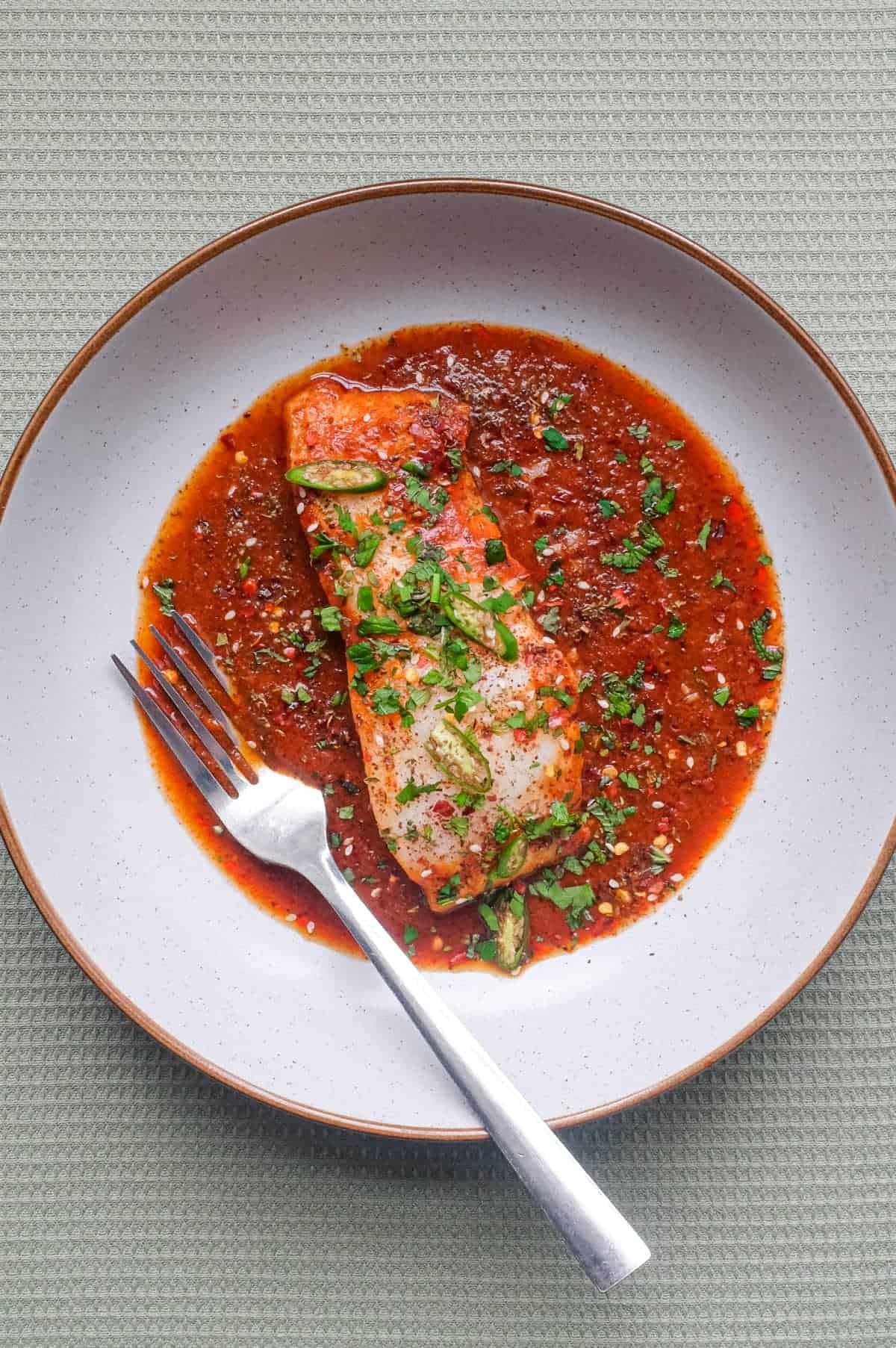 I just love this amazing and simple Chraime sauce from North Africa. A super easy tomato sauce that's spiced with warm, earthy flavours that compliment the fruity, tangy tomato perfectly.
I love to serve mine with fish, simply laying a soft, white fish like cod, snapper or hake on the sauce and poaching to flaky perfection. The two are a marriage made in heaven.
But Chraime sauce will also work well as a condiment sauce or a base sauce for a shakshuka style breakfast eggs, plus many more. It's a delicious, versatile and easy sauce to have up your sleeve.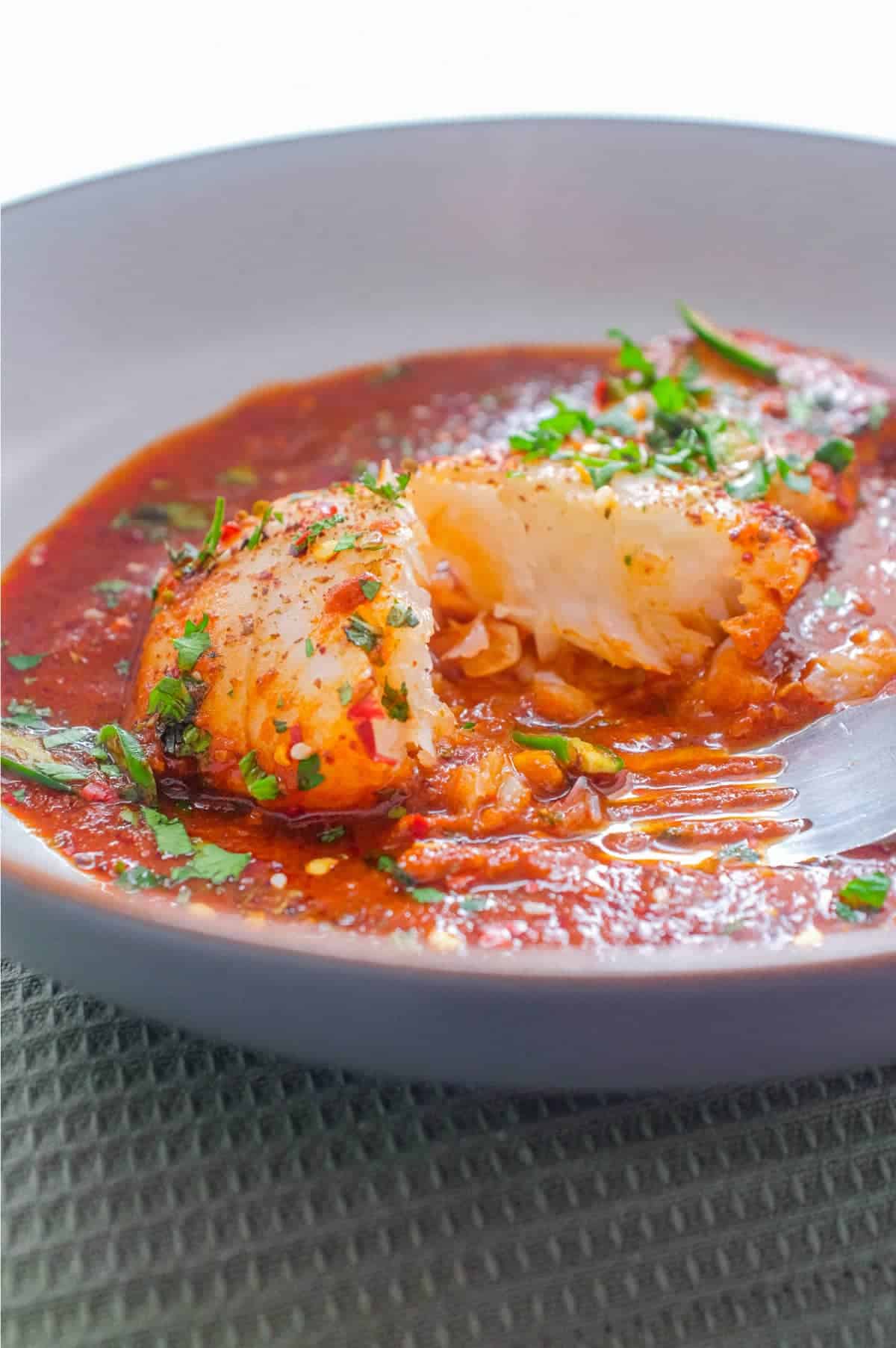 What is Chraime Sauce? الحريمي
Chraime sauce, also spelled "Craimeh", "Hraimeh", "Hraymah" or "Hraymi," is a spicy and tangy sauce commonly used in Middle Eastern and North African cuisine, particularly in Libyan, Israeli and Tunisian cuisine. Its name comes from the Arabic word for 'Hot'.
The sauce is typically made from a base of tomatoes, garlic, and chili peppers, and is often seasoned with a variety of aromatic spices such as cumin, coriander, paprika, and caraway.
Chraime sauce is commonly served with fish, especially fried or grilled fish, but can also be used as a condiment or dipping sauce for a variety of other dishes. It is known for its bold and flavourful taste, and its spiciness can range from mild to wild!
Why it works?
It's easy. Chraime sauce is super quick and easy to put together and the fish just simmers on top for 10 minutes to cook. No sweat!
It's tangy. I love a spiced tomato sauce with all its rich, tangy flavour. This dish served over couscous is just perfection. All that sauce is soaked up and pretty much perfect.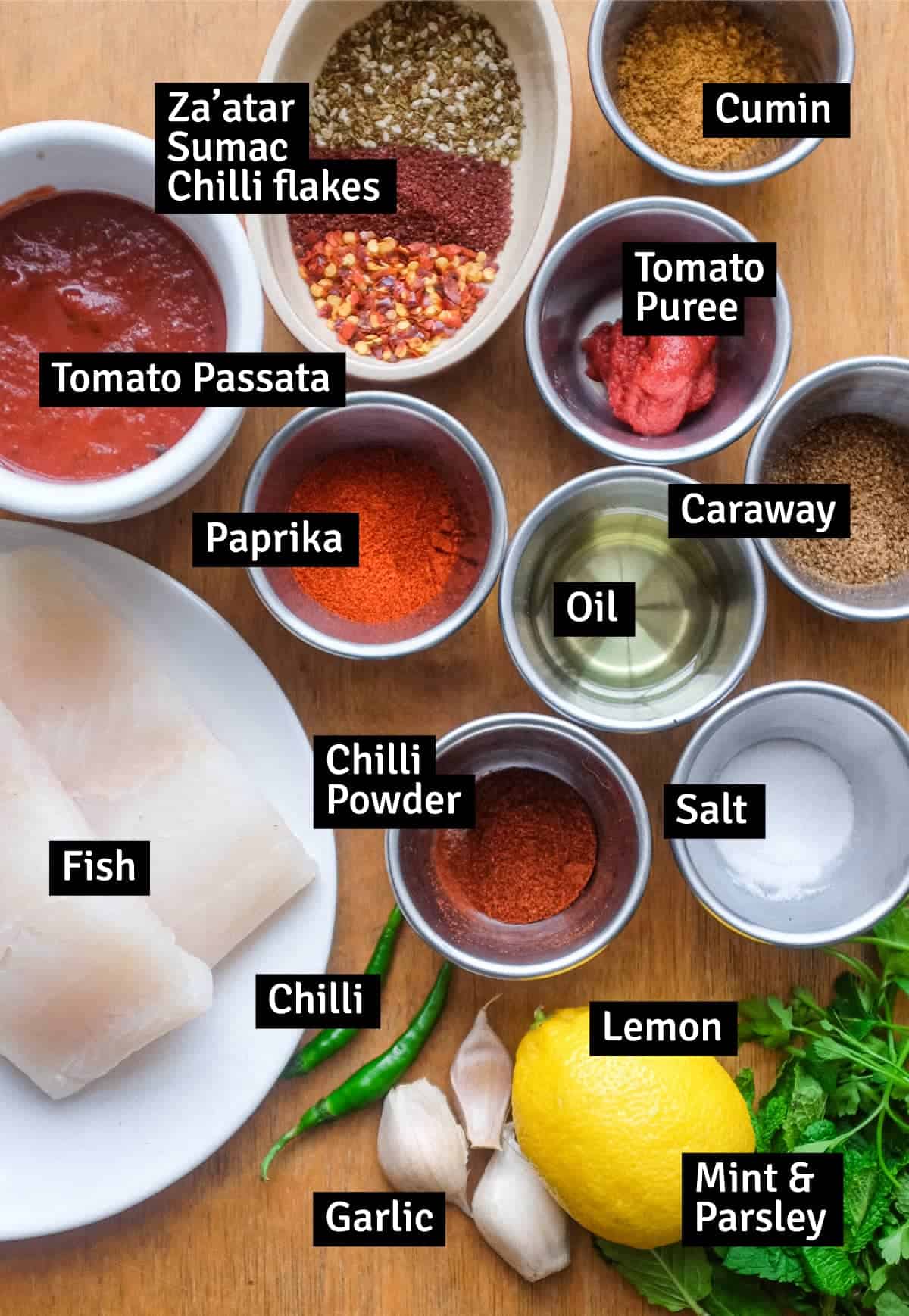 Stuff You'll Need
There's nothing too out of the ordinary that you'll need to find in order to make this Chraime Sauce. Here are the fey flavours.
Tomato - is the base of the sauce. I use a passata sauce mostly but often just whizz up a can of tomatoes in the blender too. There's also a little tomato puree/concentrate in there to up the tanginess.
Garlic will add a little backbone to the sauce.
Spices - we give

the sauce a warming spice with ground cumin, ground caraway, paprika and a

little

chilli powder for heat.

Fish - Use a firm white fish that won't

break up in the sauce. Cod, Monkfish, Hake, Snapper, Halibut, Bream etc. In this recipe I used one of my

favourite fish, hake.
Garnishes - Lemon, fresh chilli, mint & parsley, za'atar, sumac and chilli flakes all add their flavour while making the final dish a little more spectacular to look at.
Step by Step
Making Chraime sauce with fish couldn't be easier. Here's how it's done.
Step 1 - Fry the garlic in a little oil until fragrant
Step 2 - Add a little tomato concentrate and stir
Step 3 - Add the ground spices and a little water to avoid them sticking
Step 4 - Add the tomato passata and a little water to thin out the

sauce

Step 5 - Place the fish into the sauce and pop on a lid to the pan. Let them poach

for 10 minutes or so until fully cooked.

Step 6 - Spoon a little sauce into a shallow bowl and then top with the fish. Garnish and serve hot!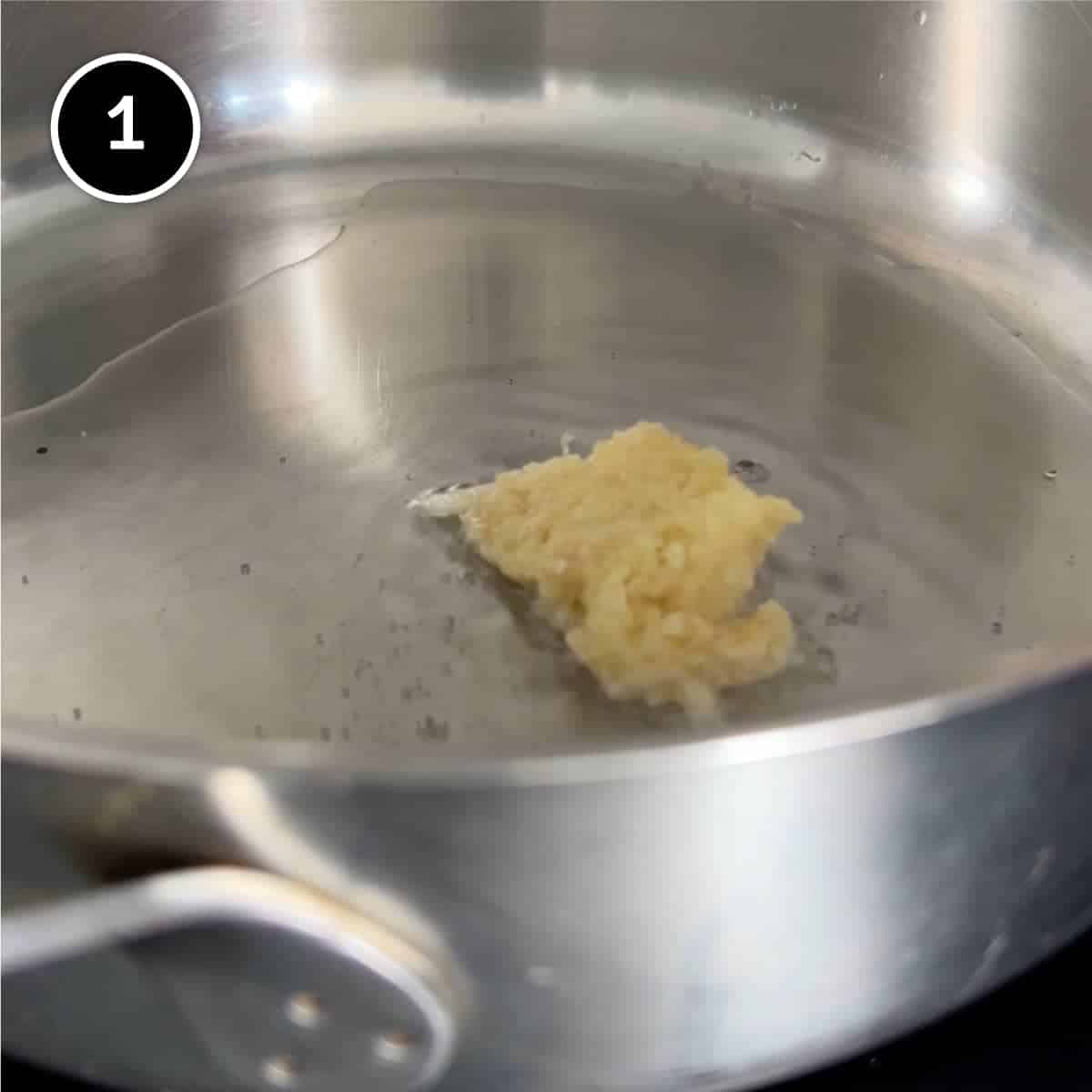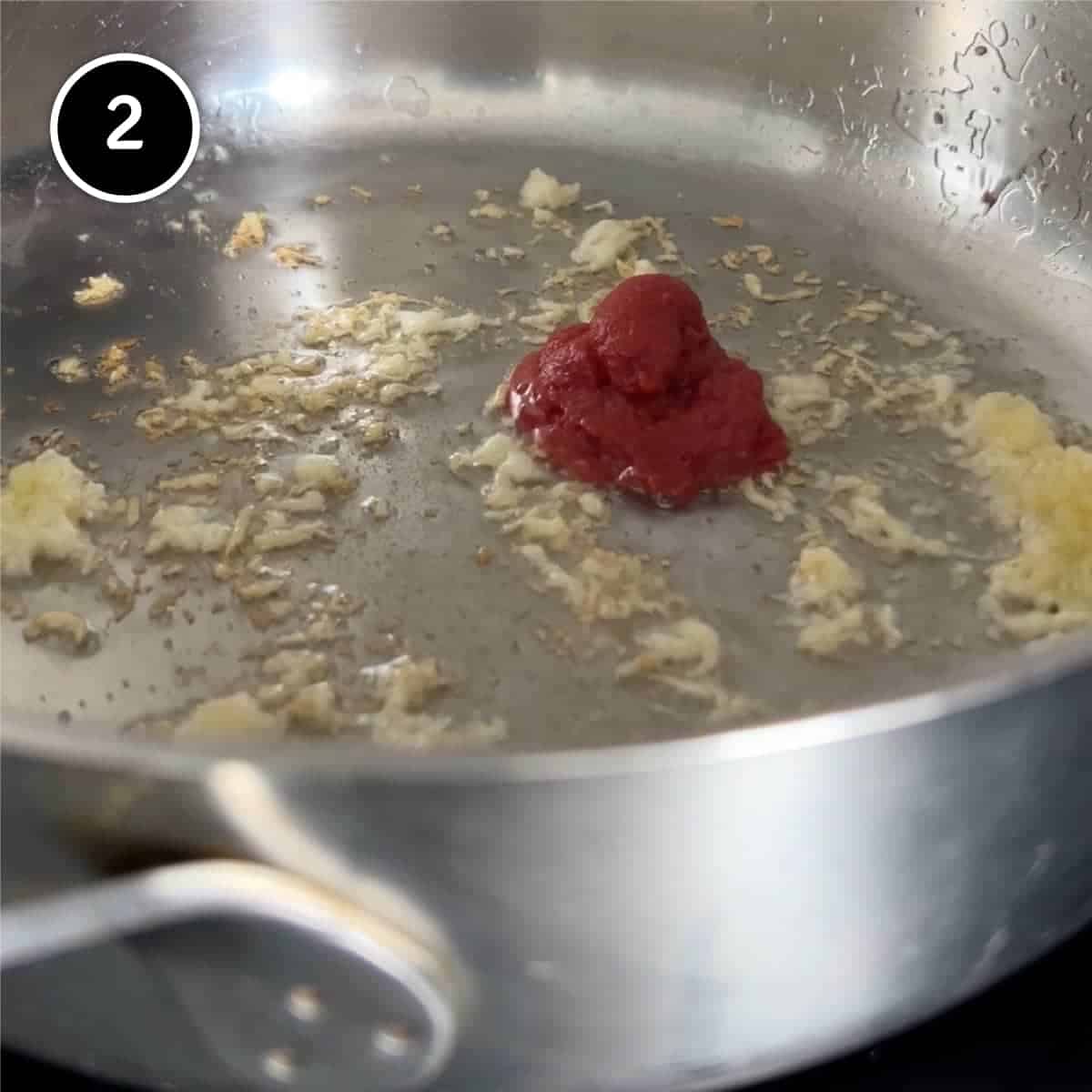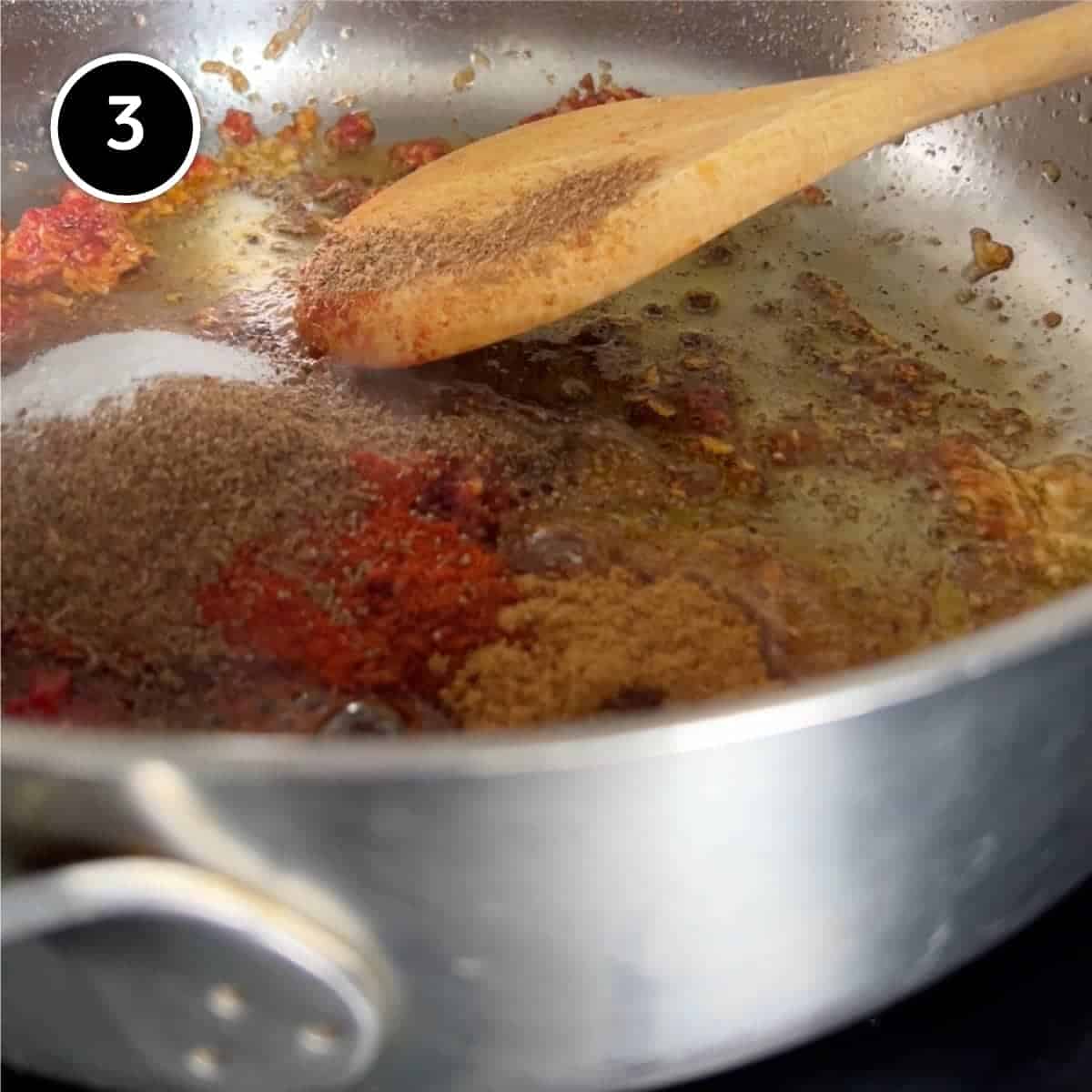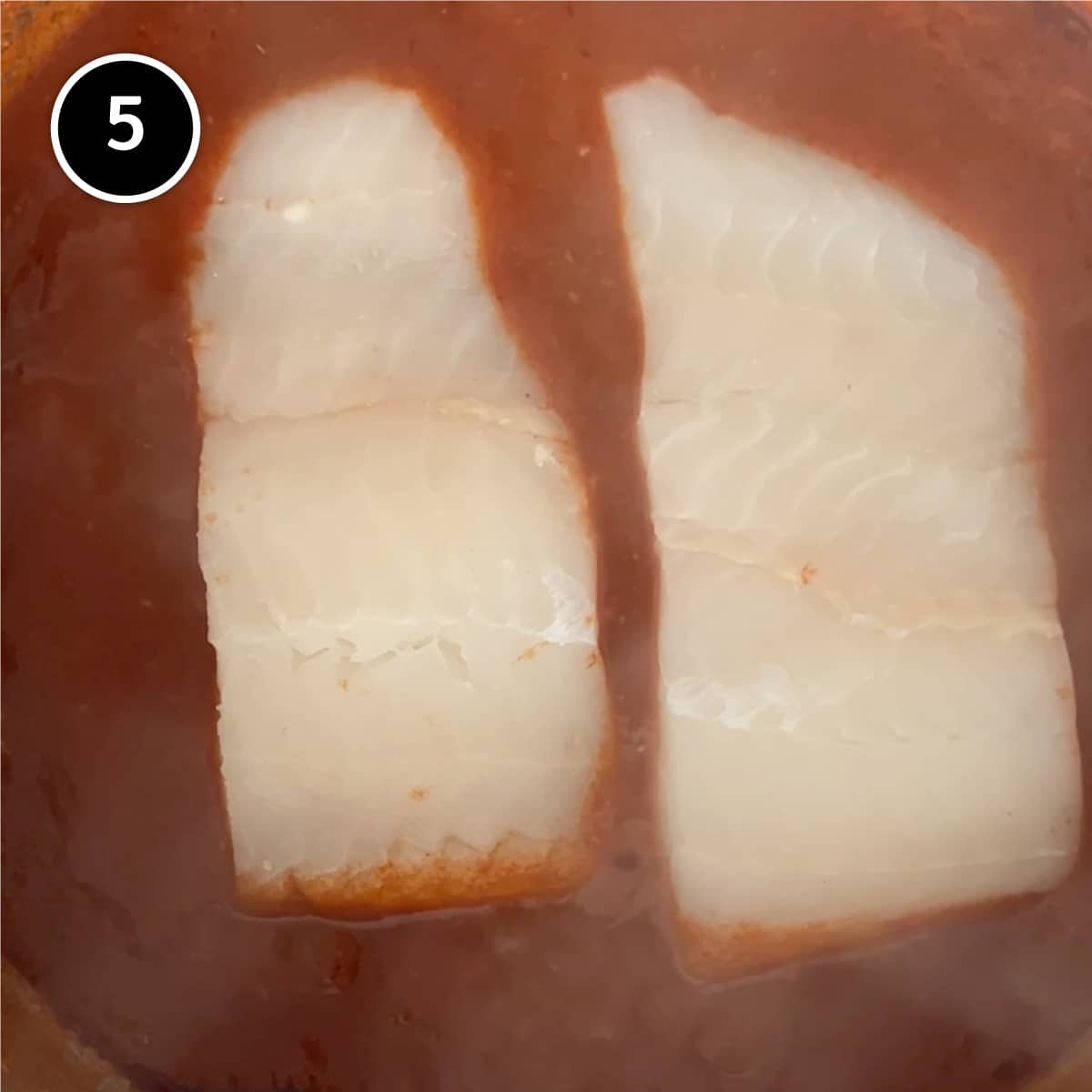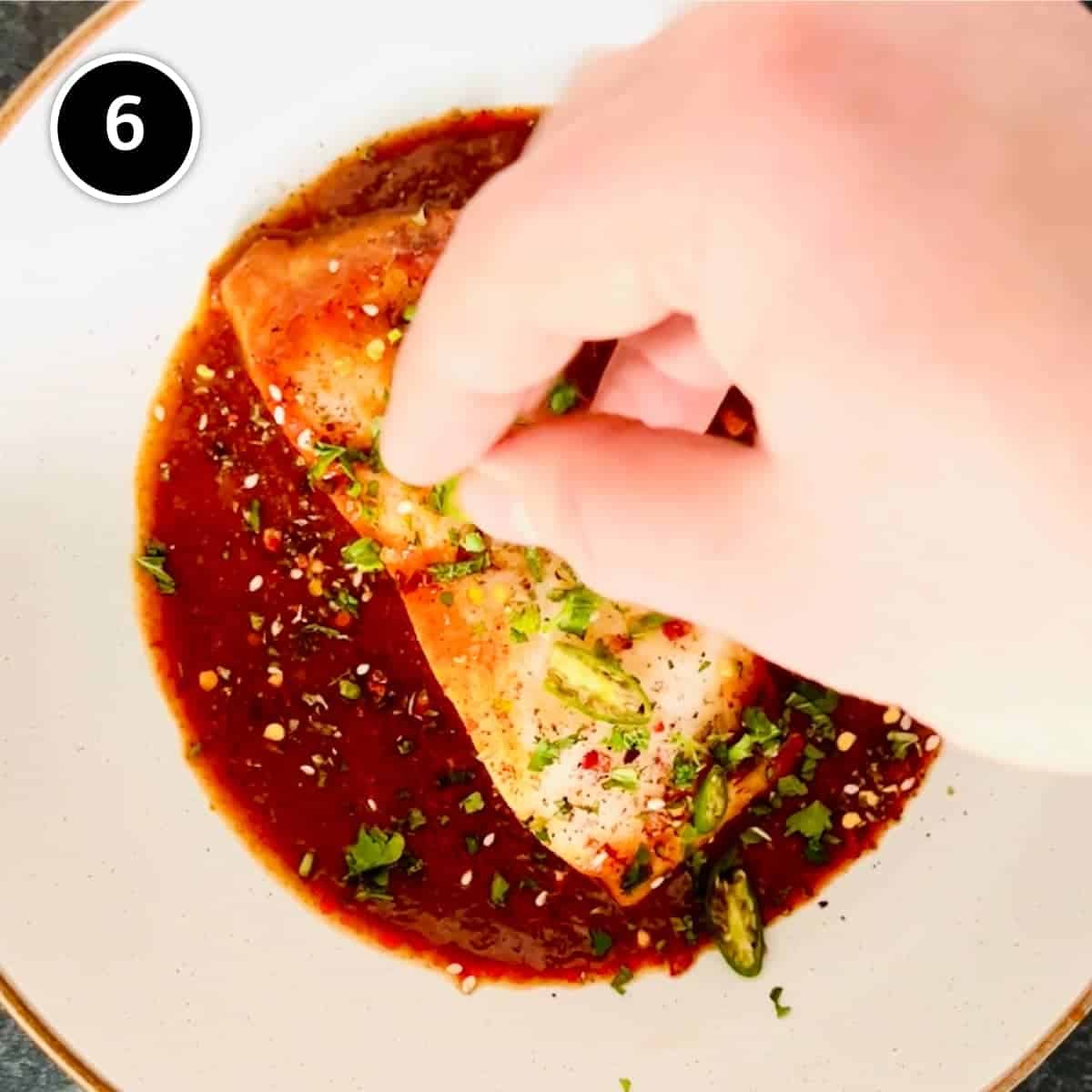 Not just for seafood
This sauce will also work as a condiment, like a hot sauce, so you don't need to serve it with fish. You can pour it over cooked meats,

chicken

and vegetables.

It's also a great way to make shakshuka (eggs in tomato sauce). Just make the sauce as usual and then instead of adding fish, break a few eggs

into

the pan and cover. Cook until

they're

set, but the yolk still runny.
Serving & Storage Suggestions
Serve hot or at room temperature. I like to make a bowl of fluffy couscous. It soaks up all that lovely chraime sauce to perfection. You can also serve with vegetables or salad or just a healthy serving of crusty bread.
Leftovers
Fridge:

Leftover Chraime Sauce with fish will stay good for 1-2 days in an airtight container.

Freezer:

Leftover Chraime Sauce with fish will be good for 1-2 months in an airtight container. I recommend defrosting (not in a microwave) before reheating to ensure the fish stays as intact as it can.
Storing Chraime Sauce (before adding fish)
The sauce itself (before adding the fish) will be good in the fridge for 1 week and 3+ months in the freezer.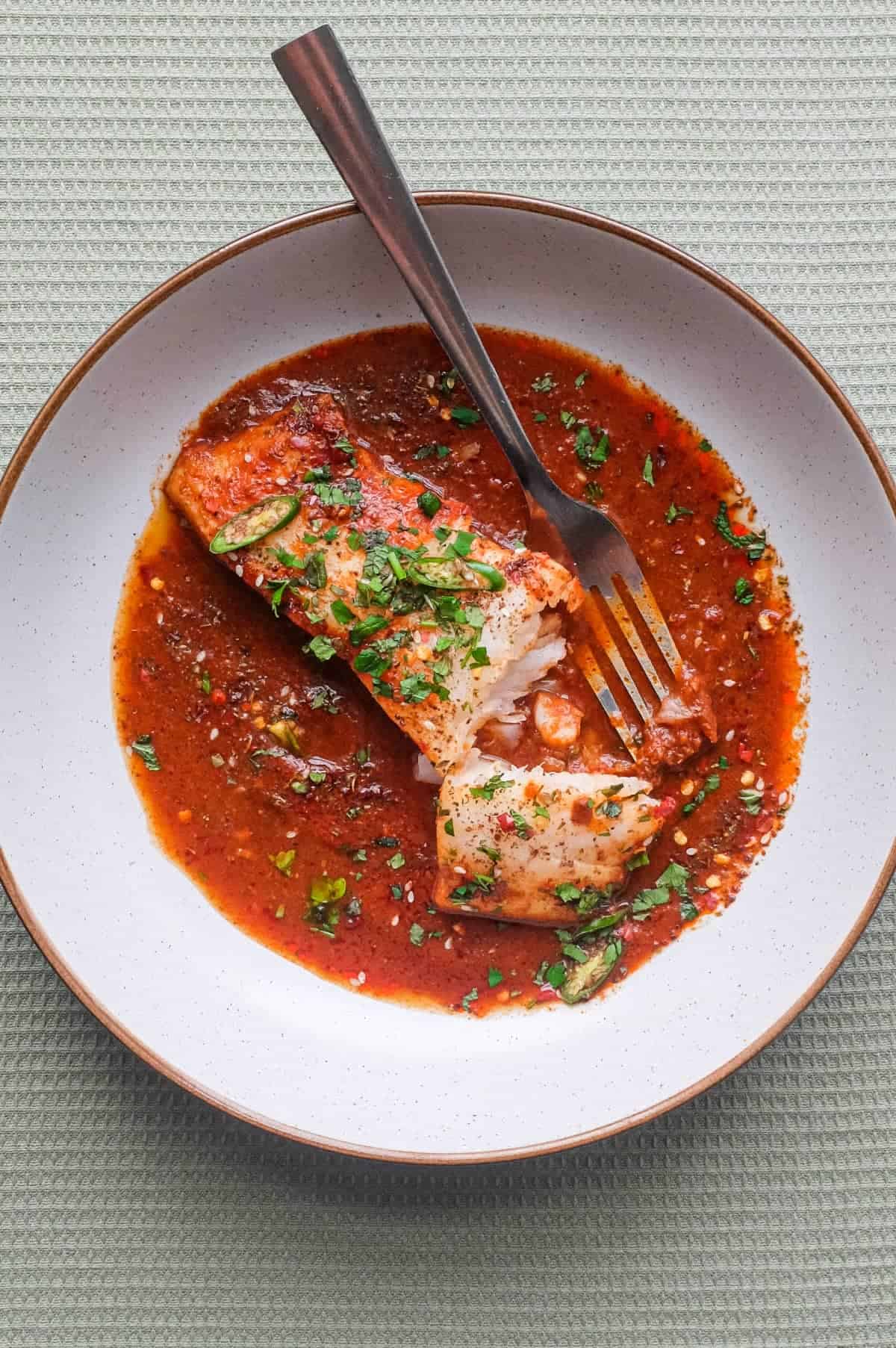 Ready to get cooking?
Now that you've learned just how easy and versatile Chraime Sauce can be, it should be a no-brainer in making its way to your weekday or weekend menu. It's the perfect simple sauce that will work alongside or poured over so many other dishes.
Cooking it with fish is just one of the delicious ways to enjoy Chraime Sauce, so let your imagination run wild. I hope you enjoy!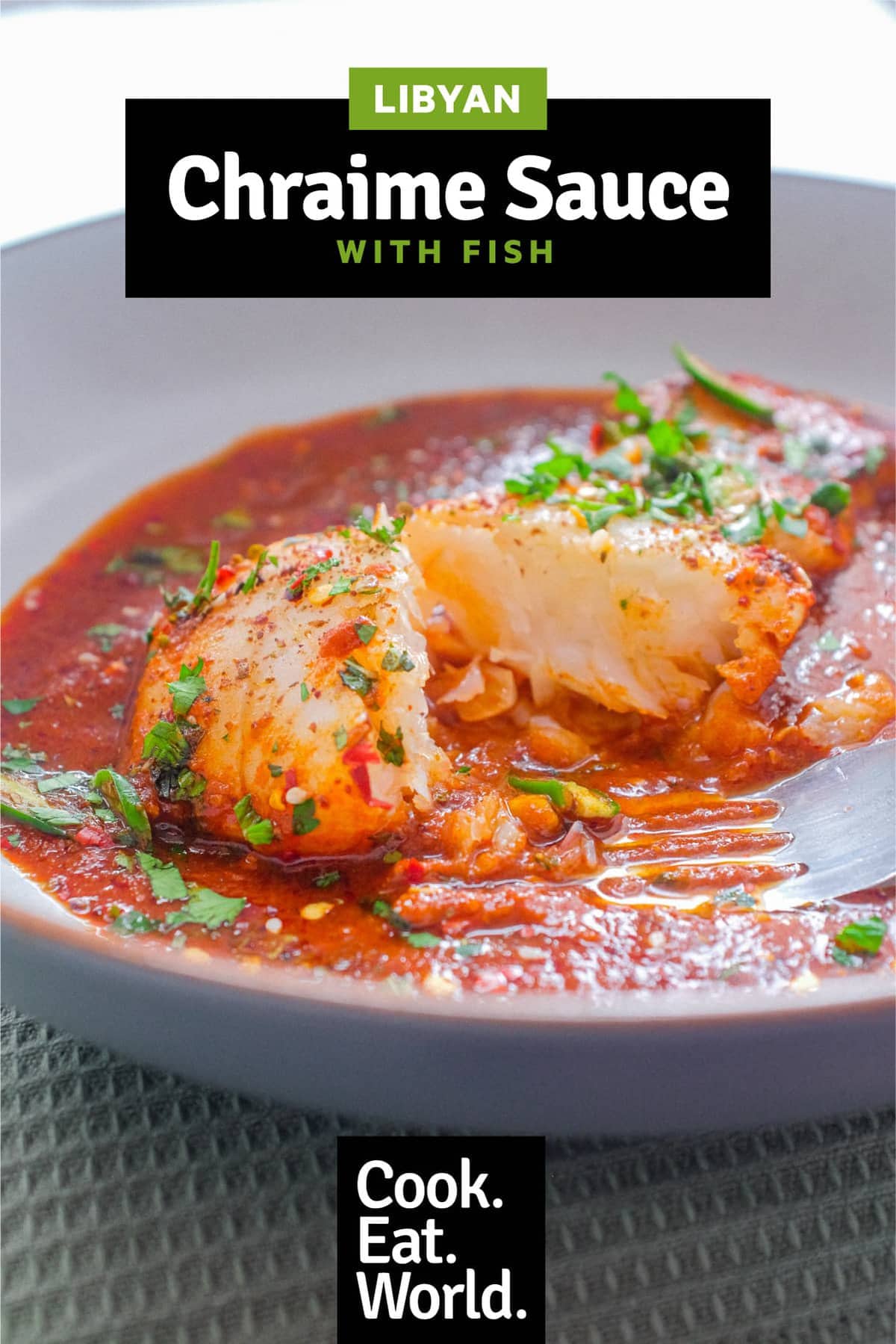 More North African & Middle Eastern recipes
If you liked this recipe for Chraime Sauce, I'm sure you'll love some more of my favourite North African and Middle Eastern recipes.
Any Questions? (FAQ)
Have a question about Chraime Sauce? Let me know in the comments.
Where does Chraime sauce originate from?
Chraime sauce is a traditional condiment in Israeli cuisine, originating from Libya and brought to Israel by Libyan Jews who immigrated in the mid-20th century.
Is Chraime Sauce spicy?
Yes, Chraime sauce is typically spicy. It is made with a blend of chili peppers and spices, giving it a piquant and flavorful taste. However, the level of spiciness may vary depending on the recipe and personal preference.
How do you use Chraime sauce in cooking?
Chraime sauce is a versatile condiment that can be used in a variety of ways in cooking. It is often used as a dipping sauce for bread or vegetables, or as a topping for grilled fish or meat. It can also be added to stews, soups, and rice dishes to add flavor and spice. Additionally, some people use Chraime sauce as a marinade for chicken or fish before grilling or baking.
This recipe uses affiliations and may receive a commission based on your activity (link clicks). Learn more.
Chraime Sauce with Fish
Rate this recipe
Print Recipe
Pin Recipe
Save Recipe
Go to Collections
Calories (per serving) |
231
Instructions
Heat the oil in a pan over a moderate heat until just hot. Add the garlic and fry for about 1 minute until fragrant. Be careful not to burn it as it'll turn bitter.

Add the tomato puree and stir briefly before adding the paprika, cumin caraway, chilli powder and salt. Stir to combine then add a splash of water to ensure they don't burn.

Add the tomato and water and stir to form a creamy sauce. Let this come to a simmer and cook gently for 5 minutes.

Place the fish into the sauce and put on a lid. Let it poach for 10-12 minutes until it's cooked through. Remove from the heat and sprinkle over the lemon juice. Shake the pan a little to combine.

To serve, make a small pool of sauce in a shallow bowl and place a fish fillet on top. Garnish with a little scattering of everything and serve hot. Alternatively, you can leave to come to room temperature (covered in the pan) and serve cold.
Nutrition
Calories:
231
kcal
(12%)
|
Carbohydrates:
23
g
(8%)
|
Protein:
5
g
(10%)
|
Fat:
16
g
(25%)
|
Saturated Fat:
2
g
(13%)
|
Polyunsaturated Fat:
2
g
|
Monounsaturated Fat:
11
g
|
Cholesterol:
1
mg
|
Sodium:
1324
mg
(58%)
|
Potassium:
856
mg
(24%)
|
Fiber:
8
g
(33%)
|
Sugar:
8
g
(9%)
|
Vitamin A:
3085
IU
(62%)
|
Vitamin C:
37
mg
(45%)
|
Calcium:
115
mg
(12%)
|
Iron:
6
mg
(33%)