This Chicken & Lentil Curry is impossibly creamy and delicious. A silky, smooth aromatic sauce coats every morsel of juicy chicken. Get ready for a hearty, healthy dose of Indian flavour.
This is one of my most treasured recipes. Why? Because I just live for lentils and beans, in any shape or form, any time of the day or year.
Lentils help create a richness and a creamy texture to any dish, while imparting all that nutty, mellow goodness. When cooked Indian style, alongside juicy chicken, the flavours develop into spiced (not particularly spicy) marriage of fragrance a comfort food classic.
Using two types of lentils helps create a distinctive texture too. The moong dal breaks down quickly to form the luxuriously creamy texture, while the chana dal holds its shape and brings a bit of texture to the overall dish. Together they are a perfect harmony of texture and flavour.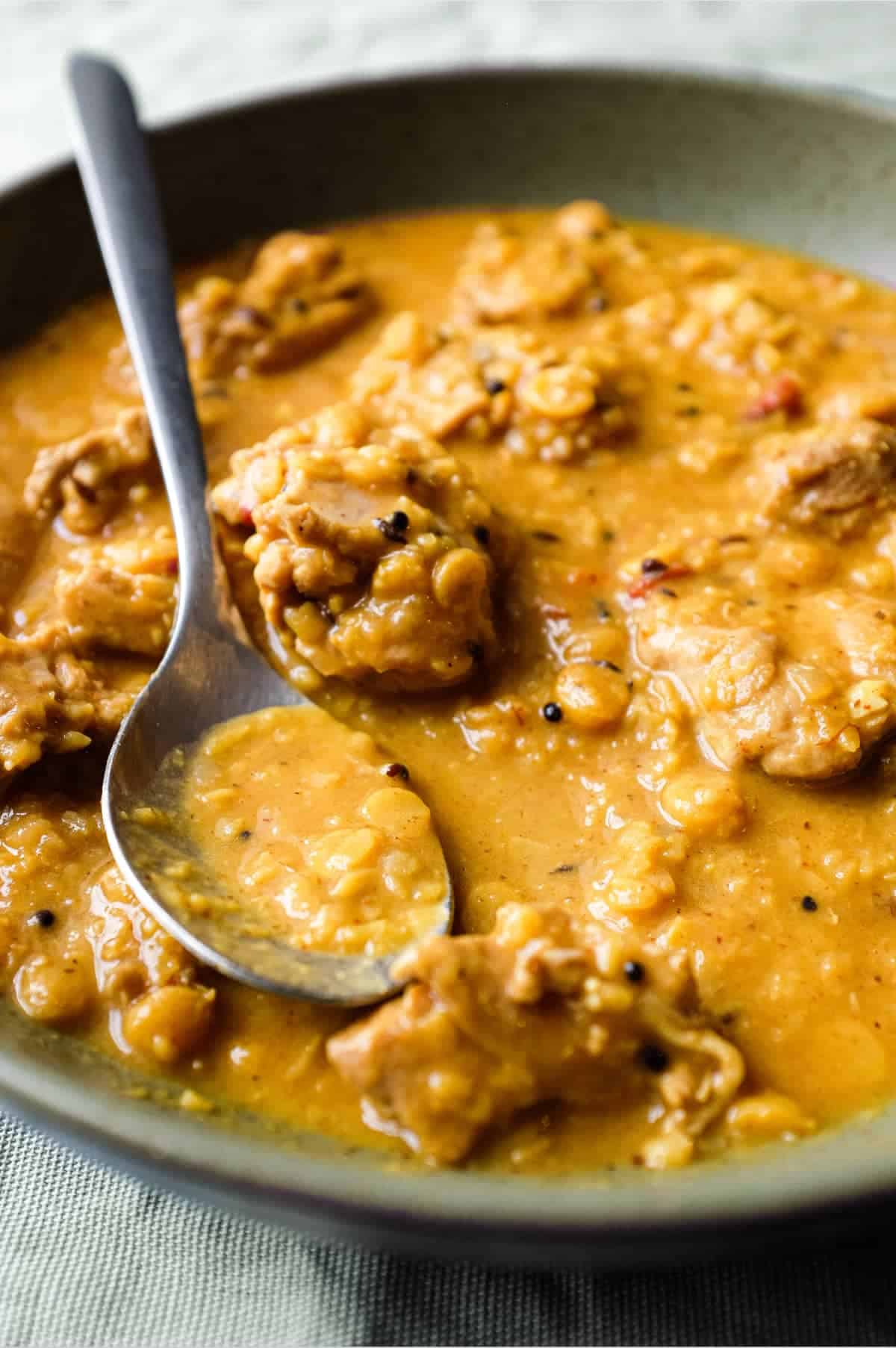 What is Dal?
Dal means 'pulses' or 'lentils'. It's what we refer to as an Indian style dish made using dried lentils in some way, cooked until soft or broken down. In India, Dal comes in many varieties, with a mind-boggling array of preparations.
Many preparations are vegetarian or vegan as dal is an excellent form of protein and fibre. Try my Parippu Dal or Dal Palak (with Spinach) for healthy, hearty recipes where the meat is not required.
But lentils are often used alongside meats too; Dhansak curry uses goat or mutton with dal, Lahori Chicken is another favourite here, but again there are countless lentil recipes in Indian cuisine.
Why it works?
It's hearty and healthy - Lentils are a good source of plant-based protein, fiber, vitamins, and minerals, which can aid digestion, reduce cholesterol levels, lower the risk of type 2 diabetes and heart disease, boost energy levels, and aid weight loss when consumed regularly as part of a healthy diet. This one pot recipe will fill you up and help you out!
Stuff You'll Need
Making my budget friendly chicken & lentil curry doesn't feature anything you can't easily find at the supermarket. Here are the key ingredients that make the magic happen.
Chicken thighs - I always use

thighs for curries. They stay juicy and don't dry out. Breast meat can easily dry out so I avoid.

Lentils - I use a combination of moong dal and chana dal. The moong dal disintegrates to create the creaminess, while the chana dal retains a little texture - both help give a wonderful ochre hue to the curry

.

Onion & garlic add a backbone to the sauce
Spices - a modest use of spices as far as Indian curries go with mustard seeds, cumin seeds, fenugreek seeds, peppercorns, bay leaf, cinnamon, Kashmiri chillies, turmeric and chilli powder.
Coconut milk - this is the final ingredient that brings its luxurious creamy texture to the final sauce.
Step by Step
My Chicken & Lentil Curry is really simple to put together. Here's the key stages to the process.
Step 1 - Fry the whole spices in a little oil to release flavour and season the oil.
Step 2 -

Add the onion and gently fry everything

until they're nice and soft.
Step 3 - Add the garlic and fry briefly
Step 4 - Add the chicken pieces and ground spices and some salt and stir well to combine everything.
Step 5 - Rinse the dal and then add it along with the coconut milk. Add a little water and stir to combine. Bring it to a simmer then reduce the heat.
Step 6 - Simmer gently for 45 minutes until the chana dal is soft but still with a little bite.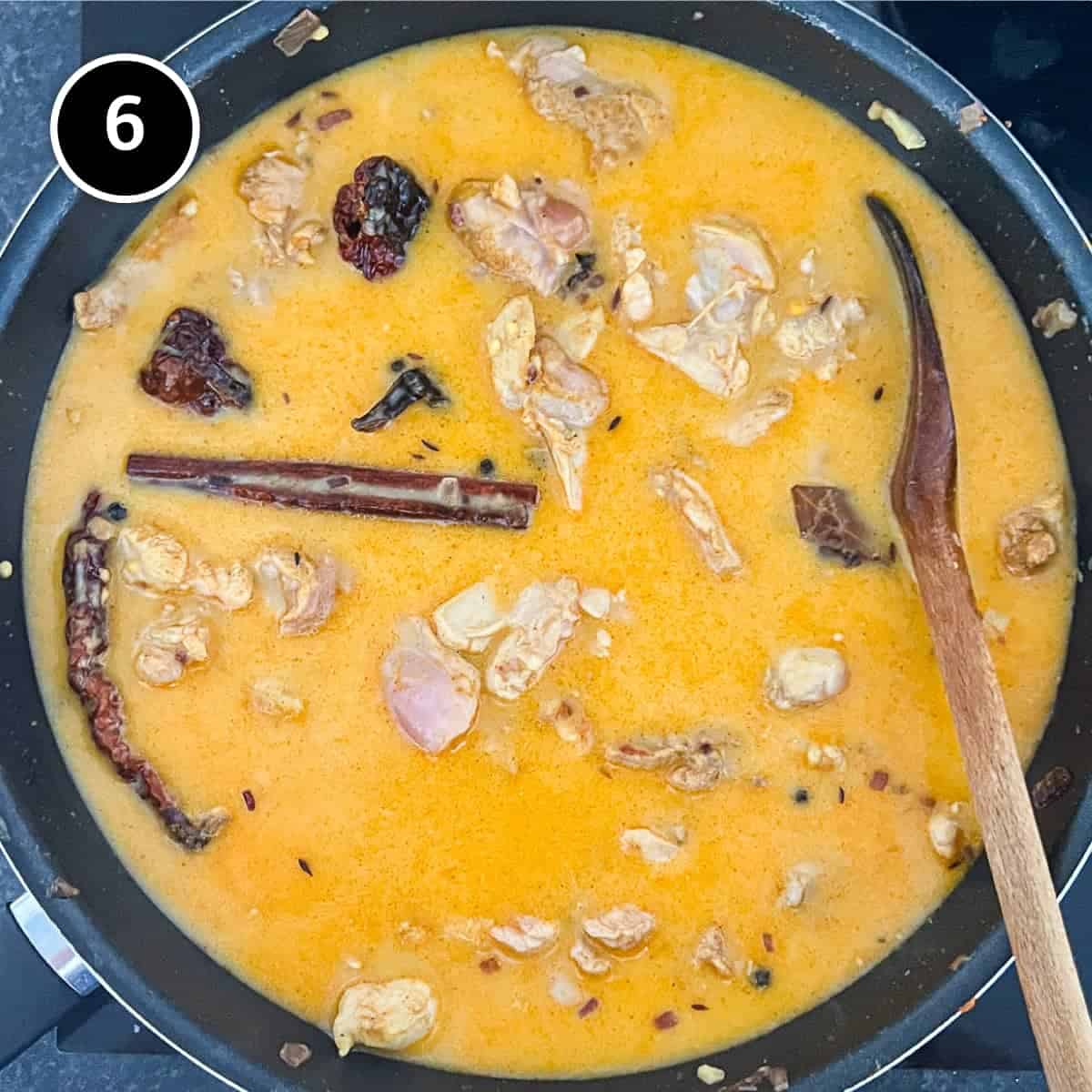 Pro Tips
Alternative dal - To replace the moong dal, you can use 'toor dal', 'masoor dal' or split 'urad dal' instead. They break down to give a similar creamy texture.
What cut of chicken? - Chicken thighs are king when it comes to curry. You can also use drumsticks. Breast tends to dry out and become tough, so I avoid this cut when making curries.
Want healthier? - To make an even healthier curry, you can replace the coconut milk with all water. The broken down lentils still makes a luxurious creamy texture.
Serving Suggestions
This dal curry is great served with Indian breads like chapati, roti, paratha and naan. It is also super delicious served over fluffy basmati rice. I keep it simple with garnishes for this curry and often have none at all, but a few tangy tomatoes and a light sprinkle of cilantro does the trick.
Storage
Fridge -

keep in the fridge for up to a week in airtight containers.

Freezer -

this dal curry keeps splendidly in the freezer for 3+ months. Store in airtight containers. You might also want to add a little water when reheating as the lentils will continue to soak up any liquid. Reheat until piping hot either from frozen in the microwave or defrosted in the microwave or stove top.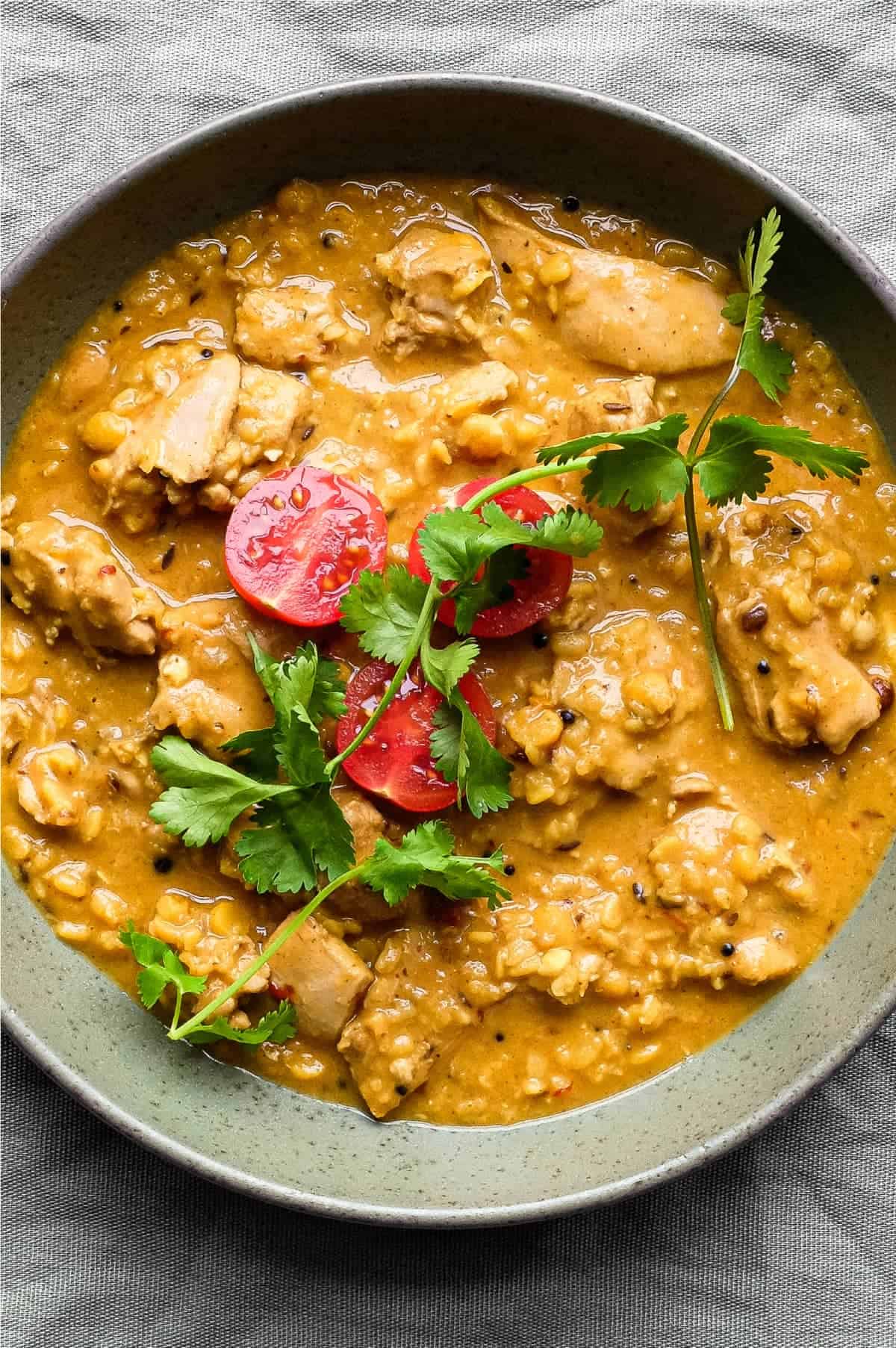 Ready to get cooking?
So, if you love lentils, like I do, then you'll absolutely need to create this curry yourself at home - an added bonus it freezes extremely well, so why not make a double portion and treat yourself for the coming weeks and months with ready-to-go meal-prep portions?!
It's truly a delicious curry to have on your regular curry roster (yes, I have a curry roster!). Hope you enjoy!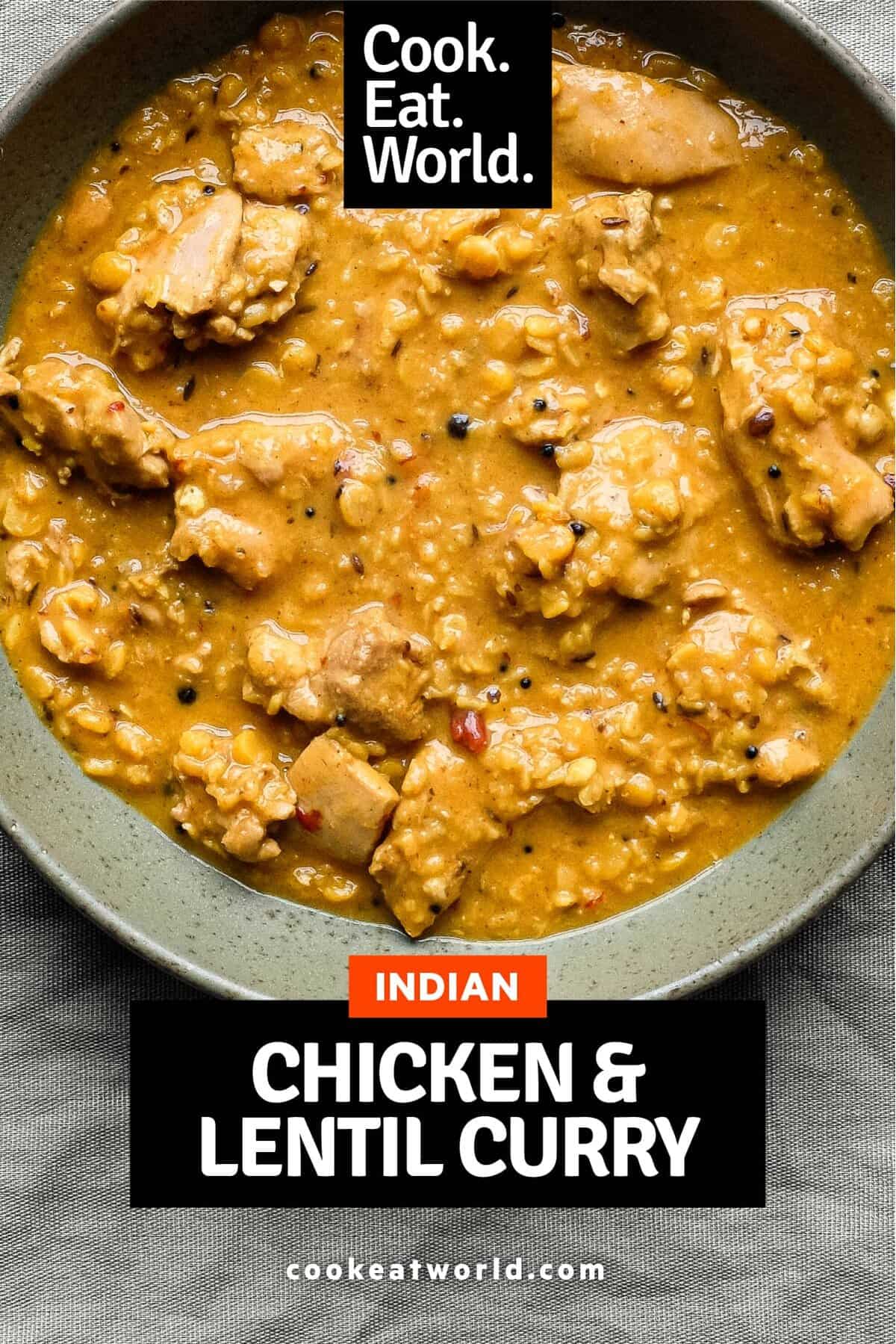 More Indian recipes
If you liked this recipe for chicken & lentil curry, I'm sure you'll love some more of my best Indian recipes.
Any Questions? (FAQ)
Have a question about chicken and lentils? Let me know in the comments.
Can we eat chicken and dal together?
Yes, absolutely. There are countless Indian recipes that feature chicken with pulses and lentils. The lentils work excellently together with poultry to give a rich, hearty and filling dishes.
How many calories are in chicken and lentil curry?
For this recipe there are around 680 calories per serve. And the lentils will aid in digestion along with other amazing health benefits.
Is chicken and lentils healthy?
Yes, eaten as part of a balanced diet, this curry is a great source of nutrition. Lentils are a nutrient-dense legume packed with fiber, protein, iron, and folate. They promote digestive health, lower cholesterol and blood pressure, and may reduce the risk of chronic diseases like diabetes and cancer.
This recipe uses affiliations and may receive a commission based on your activity (link clicks). Learn more.
Chicken & Lentil Curry
Rate this recipe
Print Recipe
Pin Recipe
Save Recipe
Go to Collections
Calories (per serving) |
682
Instructions
Heat the oil in a large pan over a moderate heat until hot. Add the mustard seeds, cumin seeds, fenugreek seeds, chillies, peppercorns, bay leaves and cinnamon stick. Let them sizzle for a minute until they begin to pop and jump around the pan.

Add the onion and fry for 2-3 minutes until soft and lightly golden. Add the garlic and fry for a further 1 minute. Add the turmeric and chilli powders and stir briefly before adding the chicken. Stir fry for 4-5 minutes until the chicken is lightly fried and the pan hot again.

Add the lentils and then pour in the coconut milk. Fill the can and pour in two more can-fulls of water (28oz/800ml). Season with salt.

Let this come to a simmer and then reduce the heat to low and let it bubble, partially covered with a lid for 15 minutes. Remove the lid and gently simmer, uncovered for 25 minutes. Stir frequently to avoid sticking.

The moong dal will break up completely to create a rich, creamy sauce. The chana dal should be intact but soft.

Garnish with whatever you like - I like a simple garnish of fresh chopped tomato and sometimes a little cilantro. Serve with plenty of fluffy basmati rice or Indian breads.
Nutrition
Calories:
682
kcal
(34%)
|
Carbohydrates:
54
g
(18%)
|
Protein:
29
g
(58%)
|
Fat:
42
g
(65%)
|
Saturated Fat:
29
g
(181%)
|
Cholesterol:
55
mg
(18%)
|
Sodium:
661
mg
(29%)
|
Potassium:
397
mg
(11%)
|
Fiber:
12
g
(50%)
|
Sugar:
3
g
(3%)
|
Vitamin A:
377
IU
(8%)
|
Vitamin C:
4
mg
(5%)
|
Calcium:
107
mg
(11%)
|
Iron:
7
mg
(39%)