Red Moong Dal Curry
The Instant pot makes light work of these super tasty, super healthy moong beans in this fantastic vegan Dal curry. Learn how quick and easy it is to whip up at home.
More often than not, I love to serve more than one dish when I cook Indian food. I cook it all the time, so slogging over a stove on many dishes isn't really an option, even for someone who loves to slog over a stove! A great way to ensure I always have options for my Indian mini-feasts I'll make a large pan of dal and freeze it into portions so that I can call on it whenever. One such dal is my fantastic Red Moong Dal Curry.
Red Moong, Chori Dal, Adzuki Bean, Mung Bean
These are just four of the names this delicious little bean goes by. I still get confused by all the names of lentils, beans and around the world. What I know as one ingredient will have a thousand names elsewhere in the world. I've wandered out of stores I thought didn't have what I wanted, only to discover it was disguised as something completely different. These days, the iPhone proves very very handy in these situations. A quick investigation usually remedies the situation and I can get on with my life.
So, if you're shopping for these beans, depending on where you're shopping they may well be called something else. Ask Siri or Alexa to be sure.
Red moong are a variety of mung bean. Called Adzuki beans in Asia and Chori Dal in some parts of India. They're small whole red beans - just like a green mung bean, only orange to red in colour. When cooked they have a deliciously creamy/soft texture, while still holding their shape. That makes them great for sauce they stay in shape and unlike other, puree style dal dishes like my delicious Parippu (made with yellow moong) have a chunky texture.
A creamy, vegan mung bean curry
This dal curry recipe is vegan and super healthy. As well as being a great source of protein Mung beans have also been noted as potentially having great health benefits such as, antioxidant effects, anti fungal qualities to fight stomach ulcers, anti-allergy benefits, blood glucose lowering benefits for those with diabetes, and qualities that help lower blood pressure.
In essence, all pulses are good for you, and mung beans are no exception. They should be part of your diet whether you're vegetarian/vegan or not. And to say they're also pretty delicious would be an understatement.
Serving Suggestions and Other Delicious Vegan Indian Recipes
If, like me, you like to sample many tastes and textures when you cook Indian food, this is a great curry to have in any spread. If you're vegan or vegetarian then it's good to mix up your tastes and textures so that you're not only getting a variety of texture, but that you're covering the spectrum of nutrition too. I'll usually serve one dal, a couple of vegetable curries along with rice and breads. That's plenty to cover all bases and give a delicious meal.
Like I mentioned earlier, I make my curries randomly (and don't eat them there and then). I'll freeze them in portions and call on them when needed. This is a fantastic way to have a take-out style feast without the cost or wait time. Why take out when you can take away these fantastic recipe!?
Indian Cauliflower with Mustard Seeds & Black Pepper
It also works alongside a variety of meat offerings, especially as light relief to some of the richer, heavier dishes. Try it with some of these:
How to make my Red Moong Dal Curry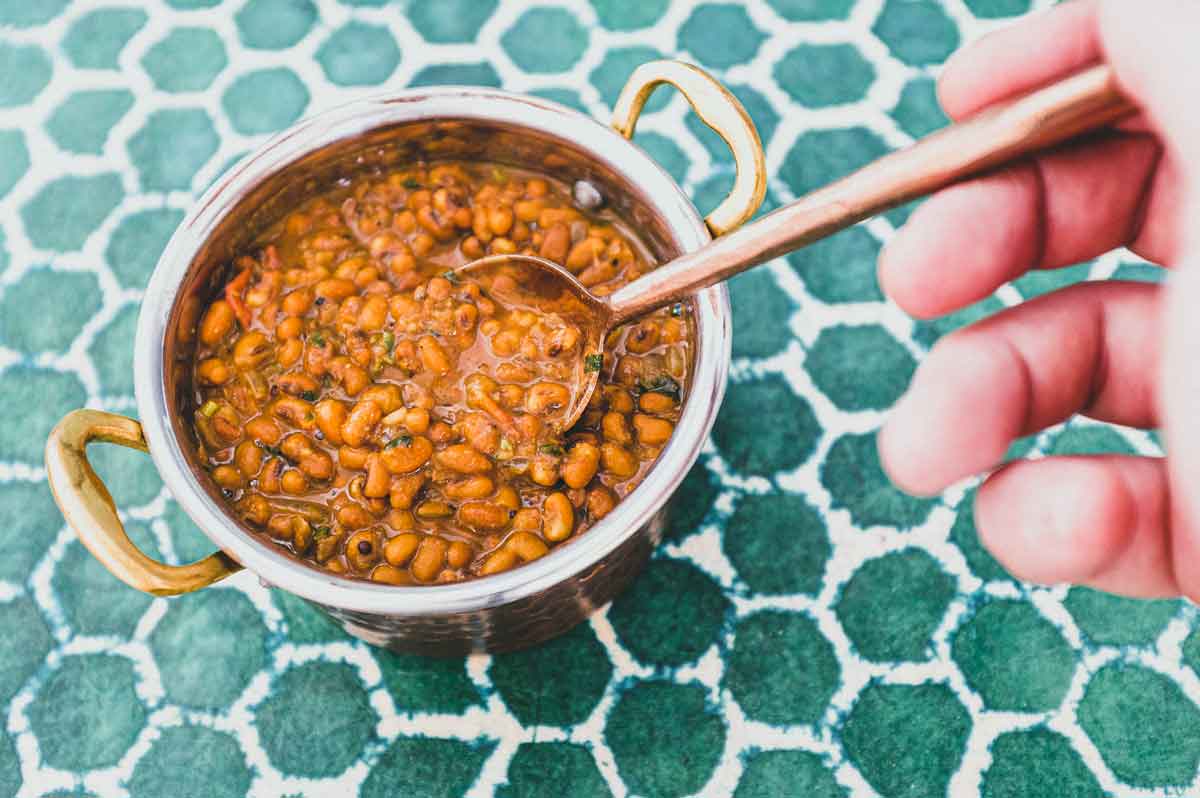 Red Moong Dal Curry
Rate this recipe
Print Recipe
Pin Recipe
Calories (per serving) |
168
Ingredients
For the moong bean cooking
Instructions
Soak the moong beans in cold water for 20 minutes then drain and rinse.

Add the beans to the Instant Potm sprinkle over the salt & turmeric and then pour in 5 cups water. Pop on the lid and cook on high pressure for 20 minutes - release pressure and set aside.

REGULAR COOKING: Add the same ingredients to pan, cover and simmer gently for 60 minutes. Remove from heat and set aside.

While the beans are cooking heat the oil in a large pan and when hot, add the mustard seeds, followed by the cumin seeds. Let them sizzle briefly before adding the onion. Fry for 2-3 minjutes until the onion begins to soften. Add the garlic and ginger and stir fry for another 1 minute.

Add the pureed tomato, garam masala, cumin powder and coriander powder and stir well. Let this cook for 2-3 minutes until it has thickened. You can stop at this stage to wait for the beans to finish cooking.

When they're cooked, pour in the moong beans and its cooking liquid and stir well to combine everything. Bring to a simmer and let it cook gently for 10 minutes until it has turned thick, but still creamy. Not too thick... add a little water it it gets a bit thick. (see video for a guide to consistency).

Stir in the fresh cilantro and that's it! You're good to eat!
Nutrition
Calories:
168
kcal
(8%)
|
Carbohydrates:
27
g
(9%)
|
Protein:
8
g
(16%)
|
Fat:
4
g
(6%)
|
Saturated Fat:
3
g
(19%)
|
Sodium:
304
mg
(13%)
|
Potassium:
571
mg
(16%)
|
Fiber:
6
g
(25%)
|
Sugar:
1
g
(1%)
|
Vitamin A:
324
IU
(6%)
|
Vitamin C:
6
mg
(7%)
|
Calcium:
41
mg
(4%)
|
Iron:
2
mg
(11%)
Did you make my Red Moong Dal Curry?
How did you go? Let me know in the comments below and be sure to tag @cookeatworld at Instagram.
This site contains affiliate links to products. We may receive a commission for purchases made through these links. Learn more.