Red Moong Dal Curry (Instant Pot Recipe)
Moong dal is a creamy, rich and healthy dal curry. Packed with fragrance and flavour and the most wonderful velvety texture. Cooking with the Instant pot get's it onto your plate in one-third of the time. Super easy, super quick and super delicious!
I love dal - In any and every variety! There's something so filling and satisfying about a big helping of creamy beans in a curry. It's one of my go-to comfort foods in any weather. The creamy mung beans (moong) are the perfect vehicle to the spiced tomato sauce. And I love that a usual arduous cook to get the beans tender is cut into one-third of the time by using the trusty Instant Pot, cooking beans in the Instant pot just makes sense and the results are perfect every time - soft, plump beans that are creamy while still holding their shape. I love this red moong curry so much!
What are Moong Beans?
Red moong are a variety of mung bean. Called Adzuki beans in Asia and Chori Dal in some parts of India. They're small whole red beans - just like a green mung bean, only orange to red in colour. When cooked they have a deliciously creamy/soft texture, while still holding their shape. That makes them great for sauce they stay in shape and unlike other, puree style dal dishes like my delicious Parippu (made with yellow moong) have a chunky texture.
Why it works
It's filling - Lentils are a great way to add protein, which will fill you up and keep you filled up.
It's easy - There are no fussy stages to this recipe. It's all plain sailing.
It's an Instant pot dish - The Instant pot makes light and speedy work to get the beans to the right texture, the final stages are fuss-free too.
It's meat free - I'm often looking for a way to fill up with a vegan option. This mung bean curry is perfect.
Stuff you'll need
Making my red moong dal curry doesn't require any hard-to find ingredients. Indeed, if you can't find red moong beans, then use regular green. It'll look different, but taste pretty much the same.
Red Moong Beans - Also called Mung Beans, Adzuki Beans and Chori Dal.
Spices - turmeric, mustard seeds, cumin seeds, garam masala, cumin powder, coriander powder and black pepper
Fresh Ingredients - onion, garlic, ginger, tomatoes and cilantro (coriander)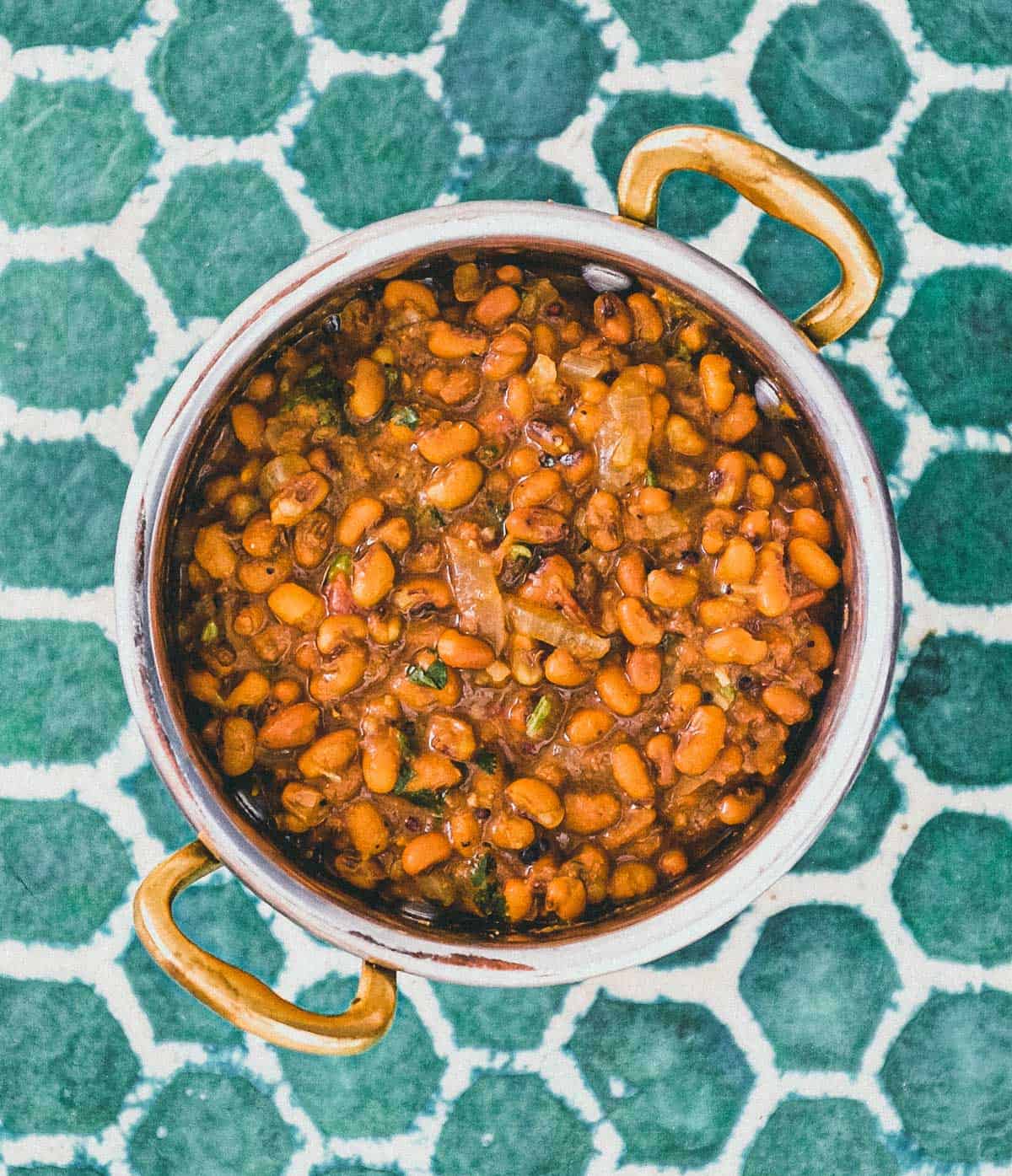 Step by Step
The Instant pot will make light work of the cooking of the beans and from there, making the curry is super easy. Here's how.
Step 1 - Combine the moong dal with turmeric, salt and water and cook for 20 minutes in the Instant pot or 1 hour on a regular stovetop.
Step 2 - The beans should be plump and have held their shape.
Step 3 - In a separate pan, fry the mustard seeds and cumin seeds to activate the oils.
Step 4 - Add the onion, garlic and ginger and fry until soft and golden.
Step 5 - Add the tomato, cumin, coriander and pepper and stir well.
Step 6 - Add the cooked moong beans and simmer gently of 10 minutes to reduce.
Step 7 - The beans should be creamy. Sprinkle over and stir in the cilantro.
Step 8 - That's it, you're good to serve.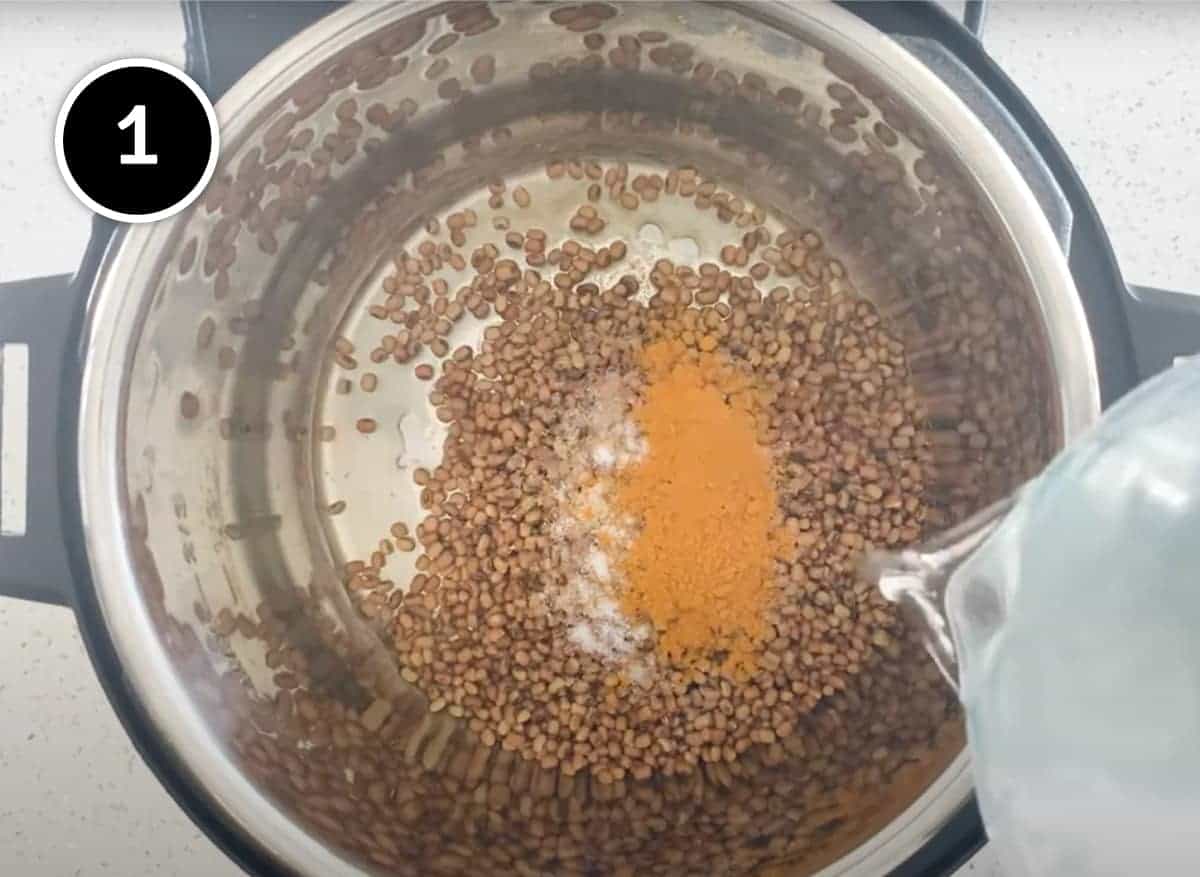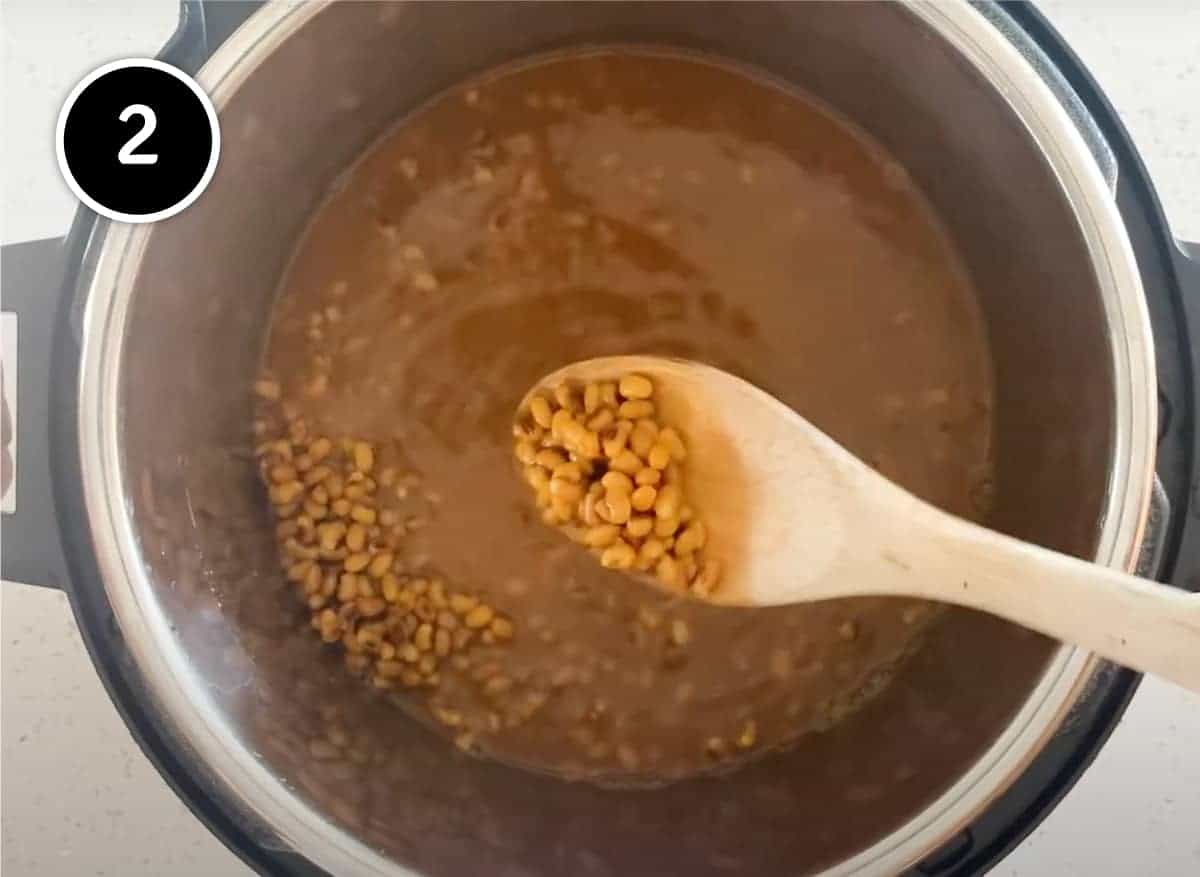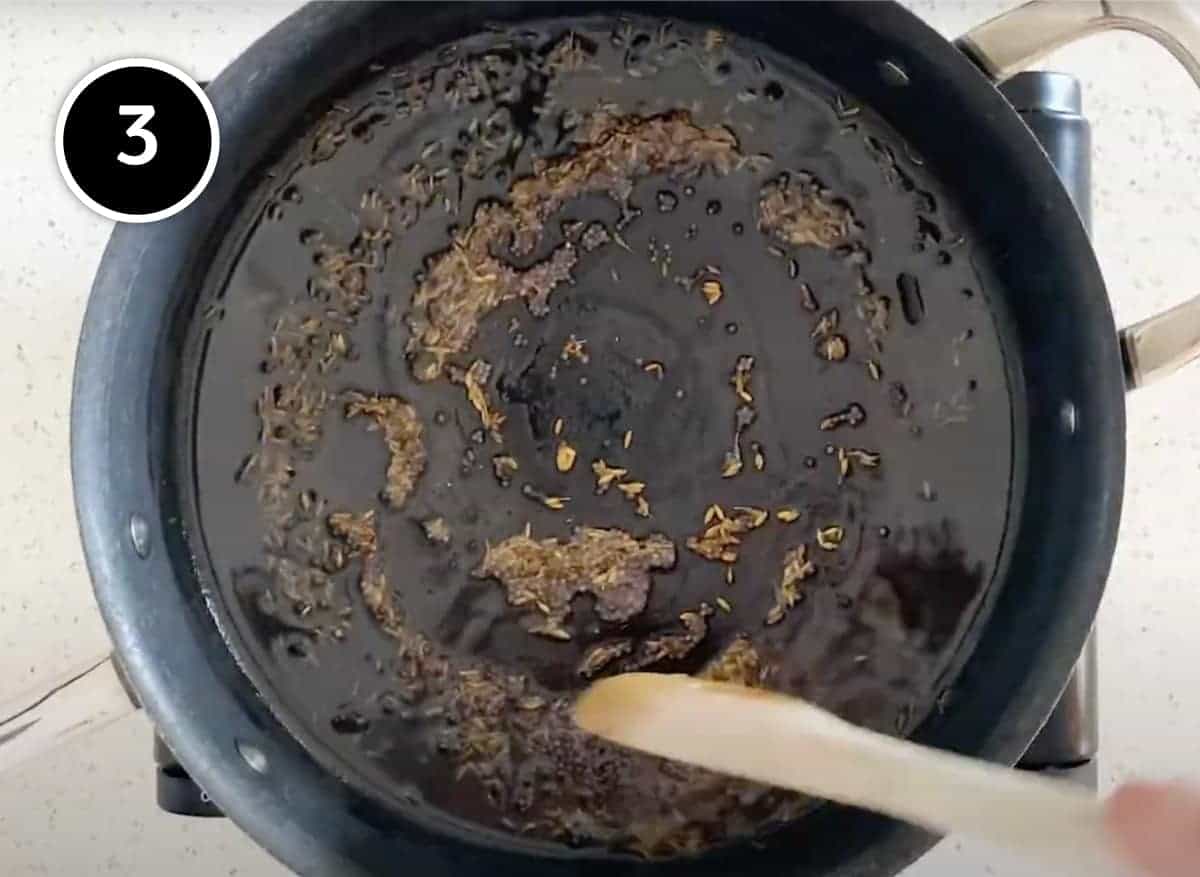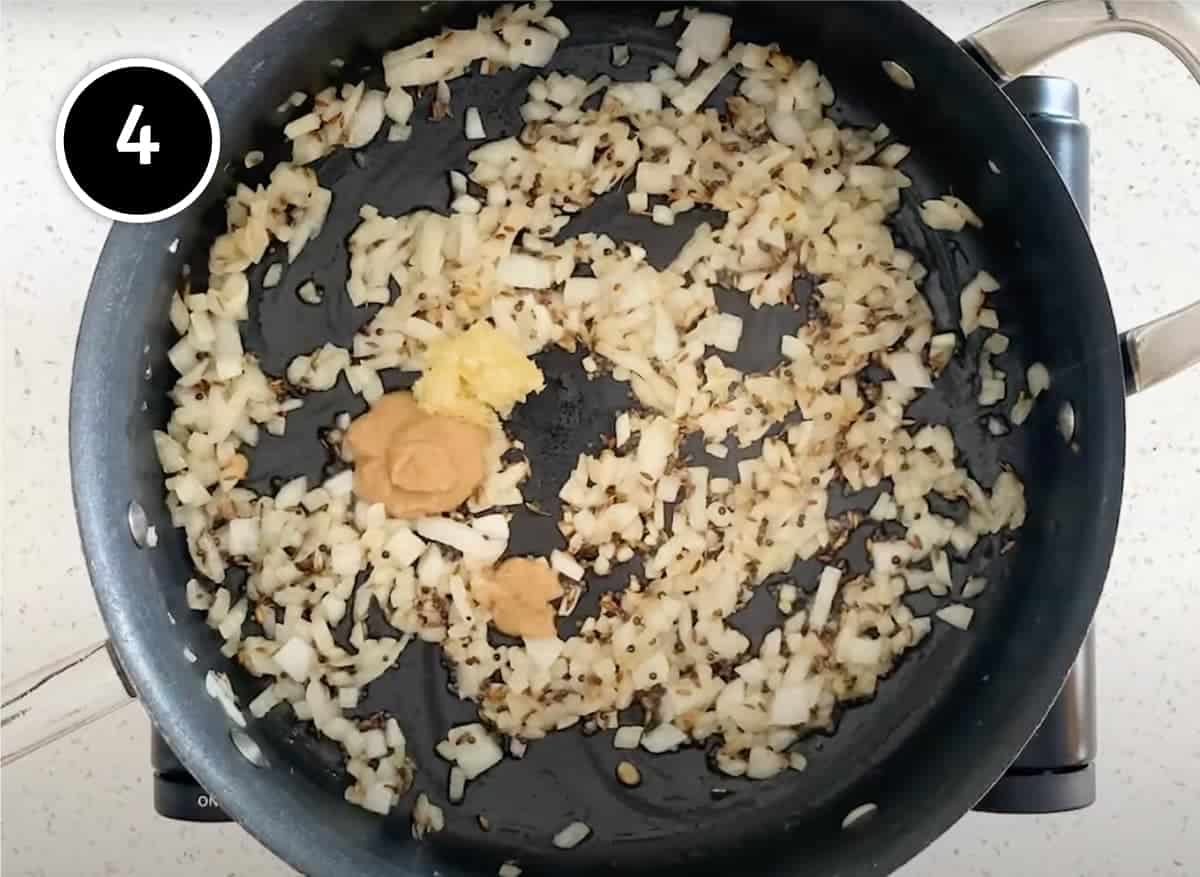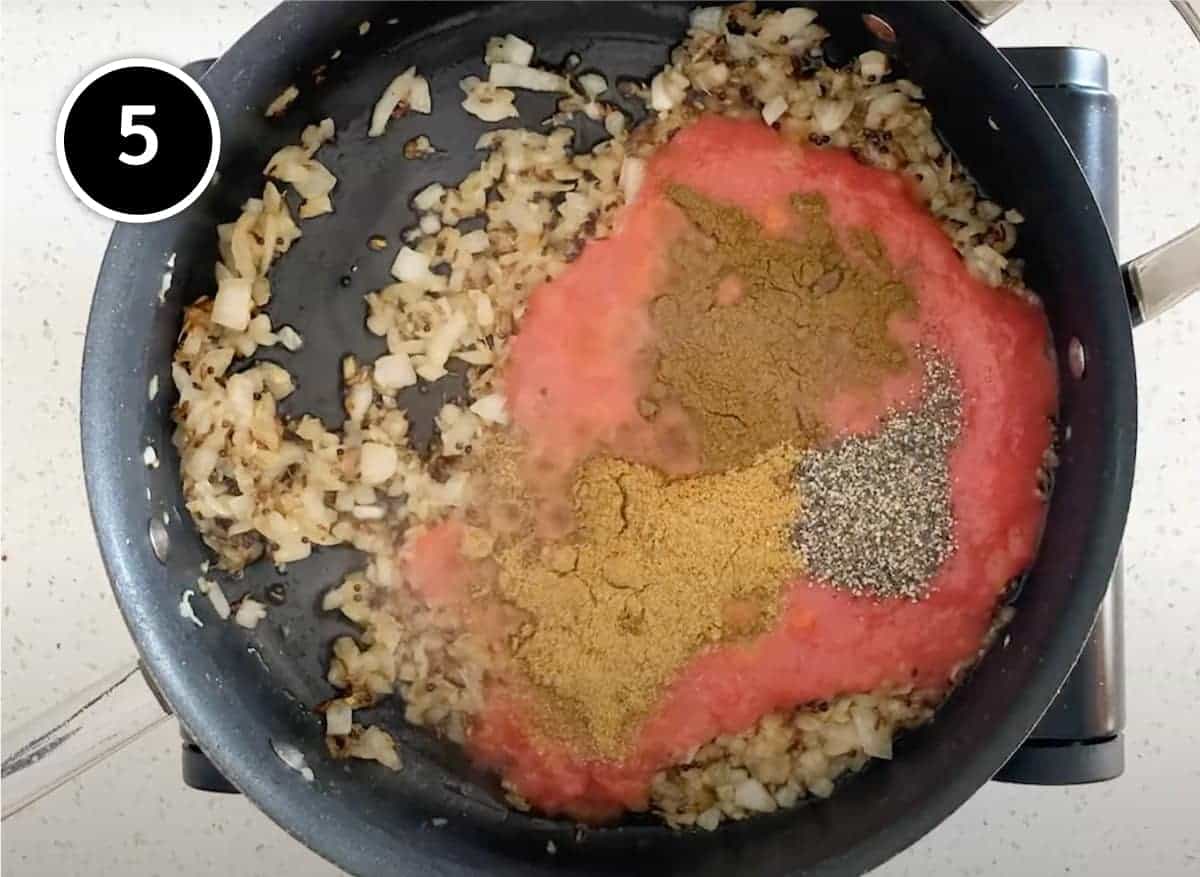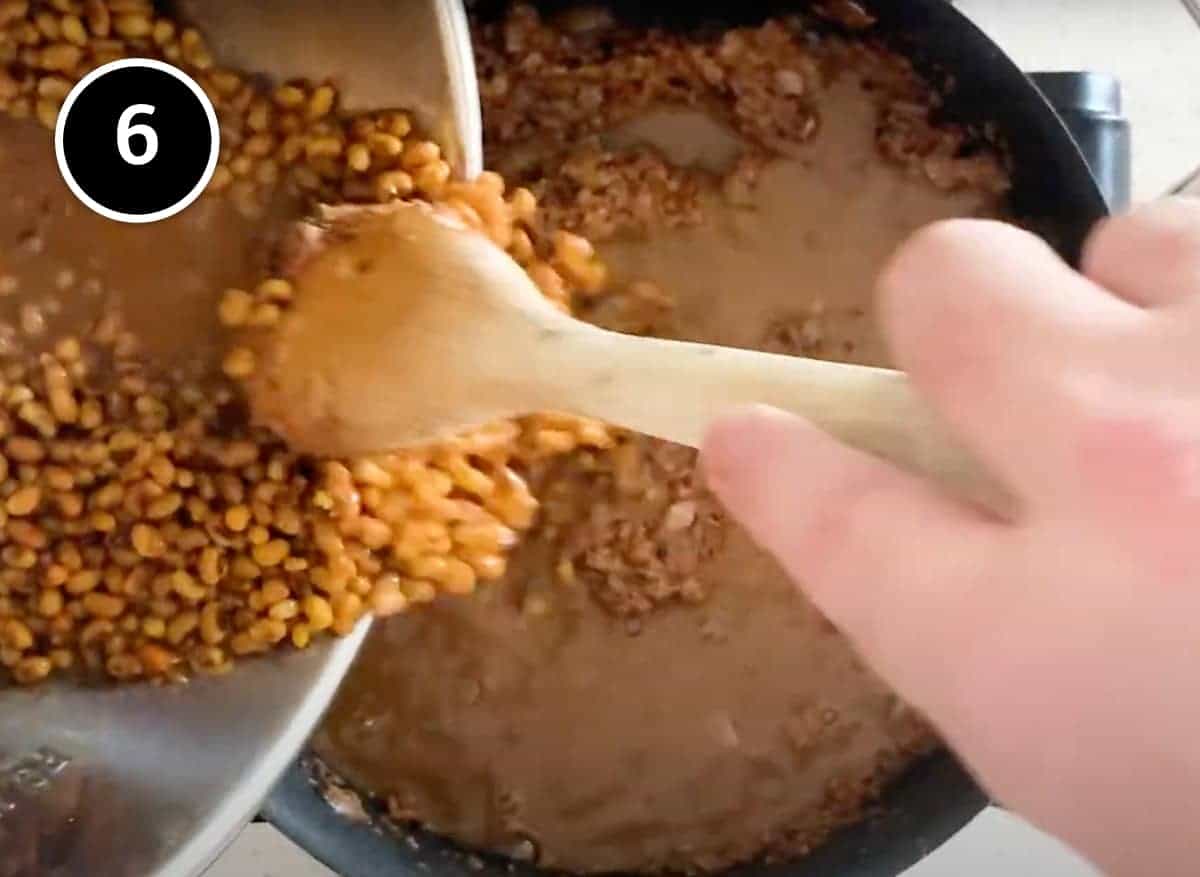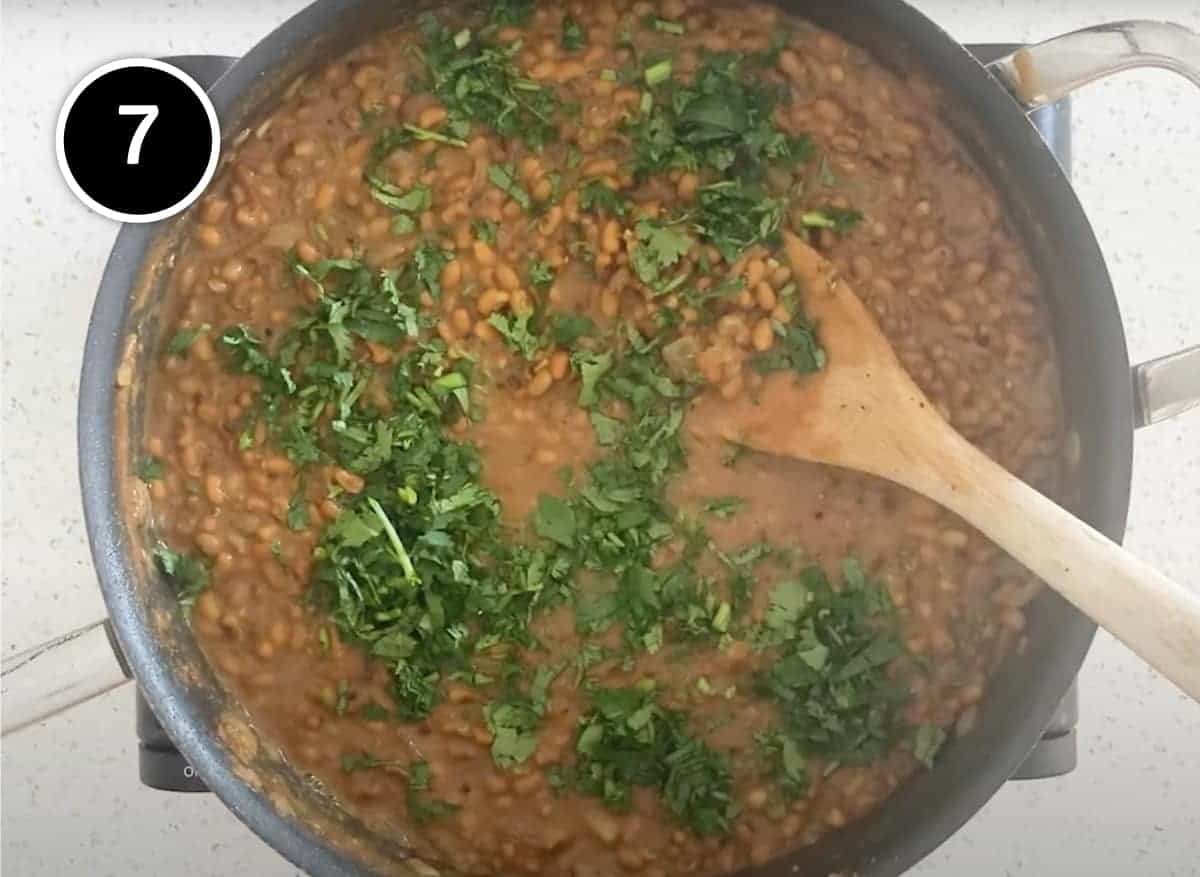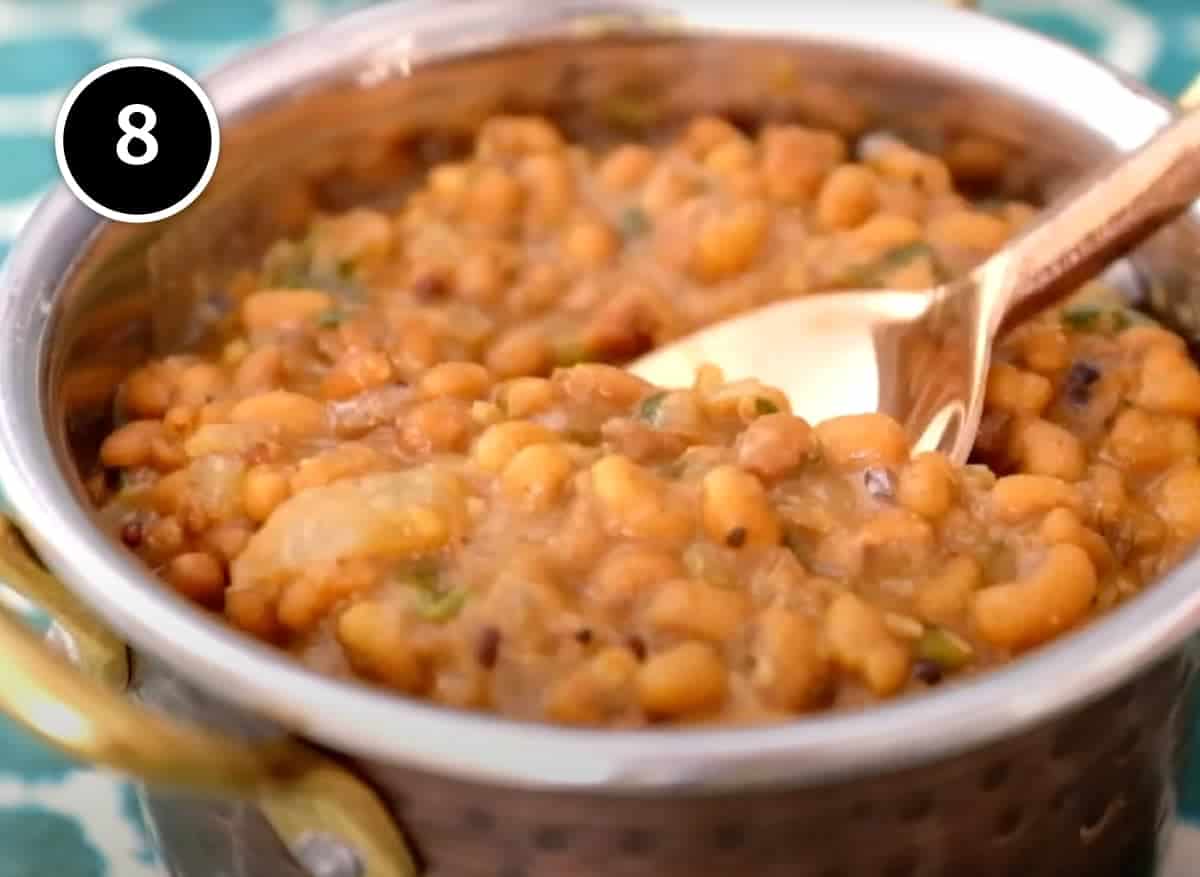 Pro Tips to make your life easier
The Instant pot cuts down the cooking time for the beans, but a stove top version is given in the recipe too. It'll take longer, but taste exactly the same.

If you can't get hold of red moong beans, use regular green mung/moong beans.

There's an old wife's tale that adding salt to dried beans will impair the cooking process. Those old wives got it wrong. It's a myth... adding salt makes no difference in the cooking process - in fact, it adds flavour. I always add salt and have never had any issues.
Serving and storing suggestions
Serve: I like to serve my Moong Dal curry with rice or Indian Breads. I also love this curry served with a jacket potato. A big follow of dal over a soft potato, then a drizzle of plain yoghurt and a scattering of extra cilantro is delicious.
Fridge: You can store moong dal curry for 5-6 days in the fridge in a sealed container.
Freezer: freeze in portion sizes in sealed containers for 3+ months. Cook from frozen in the microwave for 5-8 minutes until hot. Or defrost and reheat in a pan.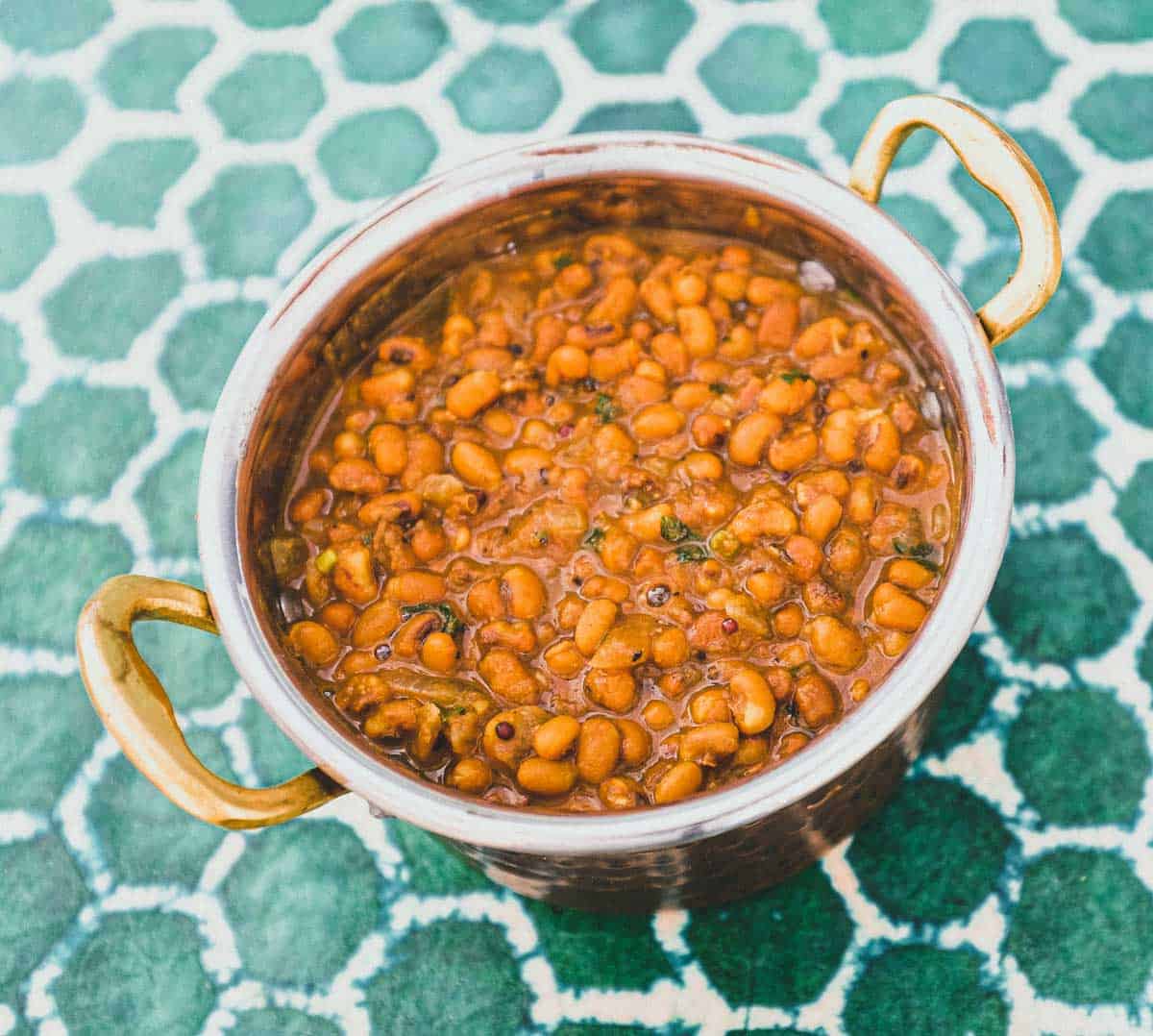 Ready to get cooking?
Once you taste this Red Moong Bean Dal Curry, you'll be an instant convert. It's one of my most cooked dal recipes at home and I will always have a few portions at my disposal in the freezer. It's mellow, not spicy, creamy, filling and luxe. Pretty much the perfect vegan curry! Hope you enjoy.
Any Questions? (FAQ)
Have a question about the red moong dal curry? Let me know in the comments.
Does moong dal need to be soaked before cooking?
No, you can cook from dried. Using a conventional stove top cooking method the dal will cookie about 1 hour, using an Instant Pot or pressure cooker, about 20 minutes.
Can I add salt to moong beans when cooking?
Yes, it makes no difference when you add salt.
Is Moong Dal Healthy?
Yes, it is rich in minerals like potassium, copper, iron and magnesium. It also contains folate, fibre, and vitamin B6. And with only 168 calories per serve is great for a healthy diet.
More delicious Indian vegetarian and vegan recipes
If you liked this vegan curry, then try more of my favourite vegetarian (v) and vegan (ve) recipes.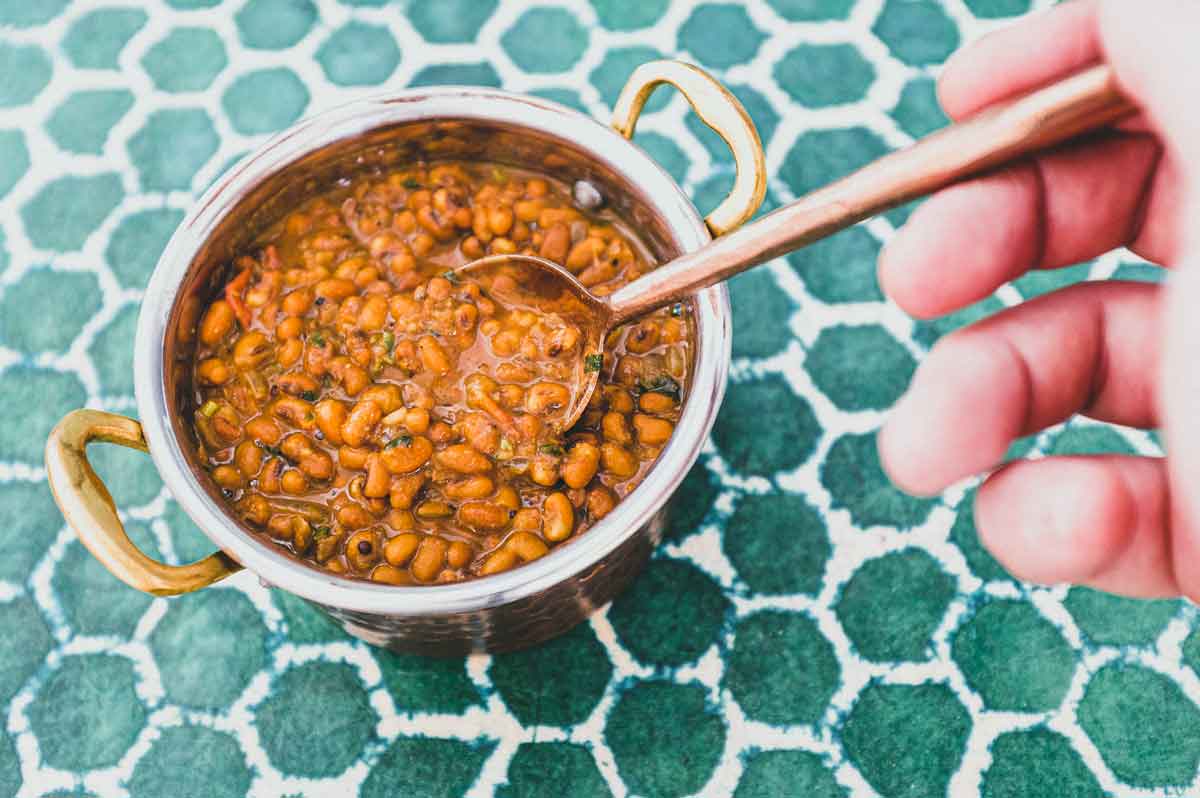 Red Moong Dal Curry
Rate this recipe
Print Recipe
Pin Recipe
Calories (per serving) |
168
Ingredients
For the moong bean cooking
Instructions
Soak the moong beans in cold water for 20 minutes then drain and rinse.

Add the beans to the Instant Potm sprinkle over the salt & turmeric and then pour in 5 cups water. Pop on the lid and cook on high pressure for 20 minutes - release pressure and set aside.

REGULAR COOKING: Add the same ingredients to pan, cover and simmer gently for 60 minutes. Remove from heat and set aside.

While the beans are cooking heat the oil in a large pan and when hot, add the mustard seeds, followed by the cumin seeds. Let them sizzle briefly before adding the onion. Fry for 2-3 minjutes until the onion begins to soften. Add the garlic and ginger and stir fry for another 1 minute.

Add the pureed tomato, garam masala, cumin powder and coriander powder and stir well. Let this cook for 2-3 minutes until it has thickened. You can stop at this stage to wait for the beans to finish cooking.

When they're cooked, pour in the moong beans and its cooking liquid and stir well to combine everything. Bring to a simmer and let it cook gently for 10 minutes until it has turned thick, but still creamy. Not too thick... add a little water it it gets a bit thick. (see video for a guide to consistency).

Stir in the fresh cilantro and that's it! You're good to eat!
Notes
Alt Cooking Methods
This recipe gives both Instant Pot and regular stove-top methods. Both have exactly the same flavour.
Ingredient Substitutions
If you can't get hold of red moong dal, then substitute with regular green mung/moong beans which can be easier to find.
Serving suggestions
I like to serve my curry with lots of fluffy basmati rice or Indian breads like roti, paratha, chapati or naan. 
I've also enjoyed this moong dal curry immensely, dolloped over a jacket potato.
Storage & reheating.
Fridge: Store leftovers in the fridge for 5-6 days in a sealed container. Reheat in the microwave or in a pan until piping hot.
Freezer: Moong Dal Curry will stay fresh in the freezer for 3+ months. Freeze in single portions unsealed containers and reheat from frozen for 6-8 minutes or until piping hot. Alternatively, defrost thoroughly and reheat in a pan until piping hot.
Nutrition
Calories:
168
kcal
(8%)
|
Carbohydrates:
27
g
(9%)
|
Protein:
8
g
(16%)
|
Fat:
4
g
(6%)
|
Saturated Fat:
3
g
(19%)
|
Sodium:
304
mg
(13%)
|
Potassium:
571
mg
(16%)
|
Fiber:
6
g
(25%)
|
Sugar:
1
g
(1%)
|
Vitamin A:
324
IU
(6%)
|
Vitamin C:
6
mg
(7%)
|
Calcium:
41
mg
(4%)
|
Iron:
2
mg
(11%)
This recipe uses affiliations and may receive a commission based on your activity (link clicks). Learn more.