Cashew Nut Curry (Kaju Maluwa)
Cashew curry (Kaju Maluwa) is a celebration of Sri Lankan taste and texture – a vegan delight from Sir Lanka and the South of India, this creamy curry surprises on every level. A filling, hearty dish that is light, yet satisfying.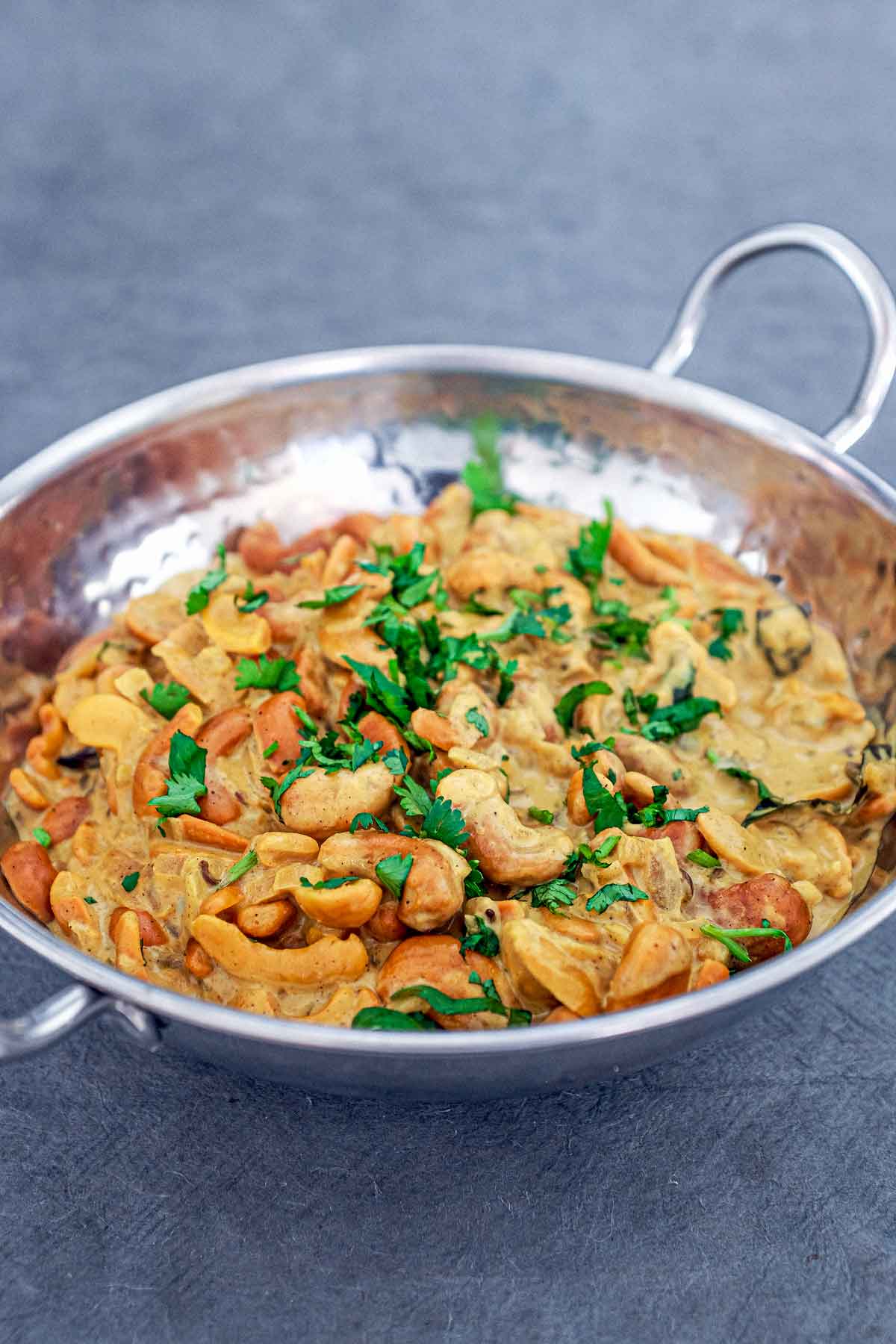 I was introduced to this curry in the far south of India in a wonderful Keralan city of Tiruchirappalli. Being so far south, this dish is a popular vegan curry and shares heritage with Sri Lanka. Cashew curry or Kaju Maluwa (Kadju Maluwa) was revaluation! It's a surprisingly flavourful and filling vegan curry with an amazing, creamy sauce.
Given its geographic heritage, as you'd expect coconut plays a huge part in the diet of Sri Lanka and South India, and it's used to great effect in this cashew nut curry.
What is Kaju Curry?
Kaju or Kadju is the local word for Cashew. With many of Indians and Sri Lankans being vegan or vegetarian, every conceivable vegetable, grain, pulse and nut has been put to work in creating amazing combinations of flavour, fragrance and texture. This is key to the success of their healthy, fulfilling diet.
Cashew nuts are the seed of the Cajew apple fruit grown abundantly in South Asia. They have a soft, creamy texture and are perfect eaten raw, roasted or used within dishes as garnishes or ground into pastes to lend creaminess and flavour.
Cashew curry uses the whole nut to create a meaty texture with a nutty flavour. The cashew curry sauce is mild and fragrant from the coconut milk. It's a hearty, healthy curry that pairs perfectly with Indian breads or rice. It's a great curry to eat on its own or as part of a larger feast.
Stuff you'll need
Kaju Maluwa is fairly light on ingredients and is very simple to make at home. You should have no trouble tracking down all the ingredients. Here are the key ingredients, but a complete recipe and video is below.
Cashew nuts - buy unsalted, roasted nuts - whole is better, but often in Asian supermarkets they may sell broken cashew nuts which are a good and cheaper option.
Spices - the usual suspects...

turmeric,

cumin powder, cloves, cinnamon, cardamom, coriander, chili powder and paprika. This results in a mild and fragrant blend in the final sauce. For this

recipe

I used pre-ground powders but you can dry roast whole spice versions of any ingredient and then grind into a powder yourself.

Aromatics - Added fragrance and flavour in the form of onion or shallots, coconut oil, fresh curry leaves, star anise and fennel seeds.
Coconut milk - brings a sweet creaminess to temper the spices. It softens the

whole dish to leave us with a mild, light cashew curry sauce - so delicious! Use coconut milk or if you can only find coconut cream, dilute with about 1/4 cup water.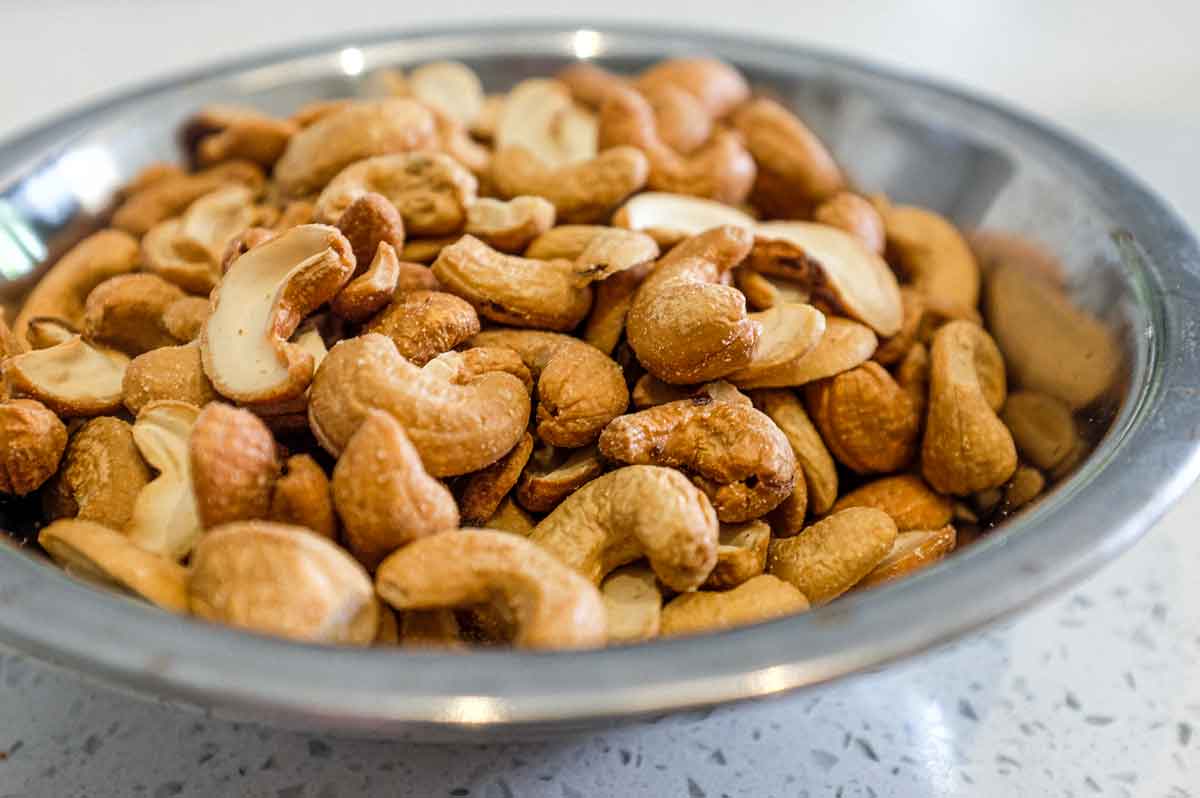 Step by Step
My cashew curry recipe is not taxing at all. There's a video below to show you and as you'll see there's not much to making this creamy, nutty delight happen!
Soaking and cooking the cashew nuts - This soaking stage elevates the texture of the nuts from crunchy to almost meaty. It's an essential part of the success, so don't skip it if you can. Pre cooking ensures the nuts have a soft but hearty texture in the final sauce.
Activate aromatics - fragrant coconut oil is used to fry our fresh aromatics; onion, curry leaves, star anise and fennel are brought to life in the hot oil.
Simmer the sauce. With the coconut oil now fragrant, the spices and cashews are added and gently stirred with the coconut milk. A 10 minute simmer is all that's needed to create the final curry.
Pro Tips and suggestions
Spice up your curry
This recipe creates a mildly soft and fragrant sauce, but there's definitely room to spice up the dish either by adding more or a hotter chili powder to cook out in the sauce or by adding fresh green chilies when you add the cashews. How spicy you want to go is up to you!
Authentic additions
In Sri Lanka and South Indian, Kaju Maluwa often includes green peas, spinach or fresh or frozen fenugreek leaves, potatoes, chickpeas and more. Bulking out the curry with vegetables or pulses will give a range of flavour and texture, so feel free to experiment. Calculate the cooking time of any addition and add to the sauce accordingly. You might need a little more liquid too.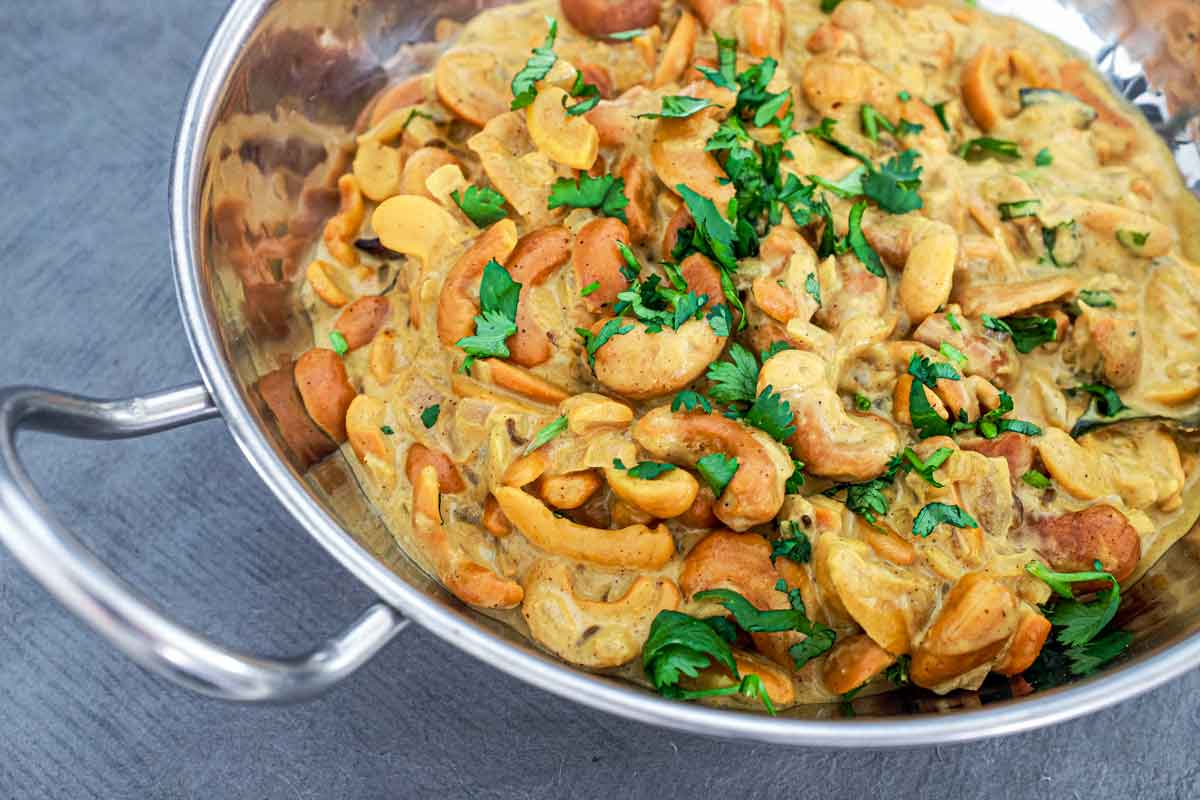 I just know you'll love this simple Kaju Maluwa curry with a wonderful texture and fragrance. It transports me directly to Kerala and all the amazing food experiences I had. I can't wait to visit India and Sri Lanka again, but for now I'll satisfy my appetite with delicious dishes like this. Enjoy!
Questions?
Is cashew curry vegetarian?
Yes, it's also vegan, low carb, gluten-free and non-dairy!
Can I freeze Cashew Curry?
Absolutely, it's best frozen in small portions. Whenever I freeze curries I add a little water before, so that it doesn't dry out while reheating. It's stay fresh for 3-4 months.
More Vegan South Asian recipes
If you follow a vegan or vegetarian diet, then there are plenty of Indian and Sri Lankan Recipes at Cook Eat World. Here are a few of my personal favourites.
How to make my Cashew Nut Curry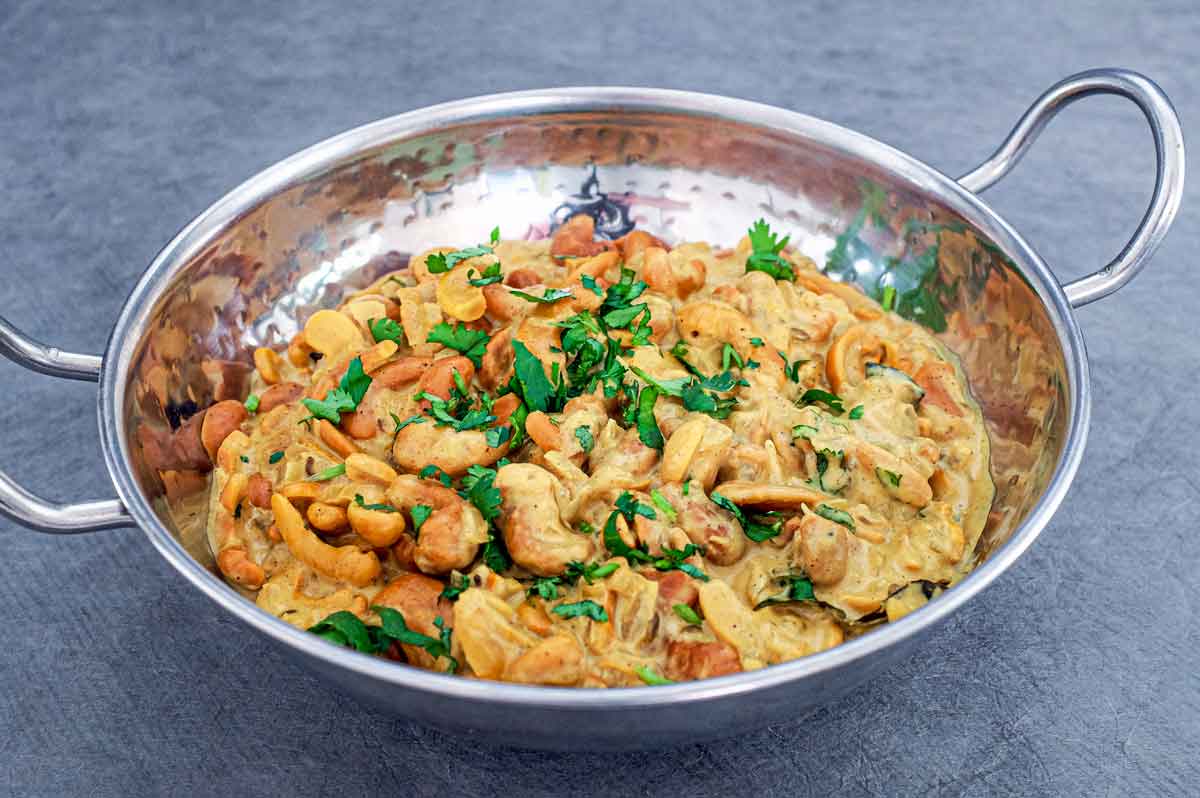 Cashew Nut Curry (Kaju Maluwa)
Rate this recipe
Print Recipe
Pin Recipe
Calories (per serving) |
618
Instructions
Add the cashew nuts to a bowl, cover with cold water and soak for 1 hour.

In a bowl, add all the curry paste ingredients. Add ¼ cup water and whisk to combine. Set aside.

Once soaked, drain the nuts and place into a saucepan. Pour over 3 cups fresh water and add the turmeric. Bring to a boil and reduce the heat to simmer gently for 30 minutes.

Once cooked, remove from the heat, drain and retain the cooking liquid. Set both aside.

Heat the coconut oil in a saucepan over a moderate heat until hot.

Add the curry leaves, star anise and fennel seeds and let them sizzle for 30 seconds before add the diced onion. Stir well to combine, then stir fry for 5-7 minutes until they are soft and golden brown.

Add the curry paste and stir for 1-2 minutes being careful not to burn the spice. Add a little of the cashew nut cooking liquid if things get too hot.

Tip in the cashew nuts and stir well before pouring in the coconut milk and about 1/2 cup of the cashew cooking liquid to thin out the sauce a little.

Stir well, then pop on a lid and cook over a low temperature - a light simmer for 10 minutes.

You can thin out the sauce out further if you need to here, by adding more cashew nut cooking liquid - I like mine rich and creamy, but sometimes it gets a little thick - you decide!

Remove from the heat and that's it. Check for seasoning and add a little salt if you think it needs it.

Sprinkle with fresh cilantro and serve.
Nutrition
Calories:
618
kcal
(31%)
|
Carbohydrates:
29
g
(10%)
|
Protein:
15
g
(30%)
|
Fat:
54
g
(83%)
|
Saturated Fat:
27
g
(169%)
|
Sodium:
607
mg
(26%)
|
Potassium:
713
mg
(20%)
|
Fiber:
4
g
(17%)
|
Sugar:
6
g
(7%)
|
Vitamin A:
215
IU
(4%)
|
Vitamin C:
55
mg
(67%)
|
Calcium:
83
mg
(8%)
|
Iron:
8
mg
(44%)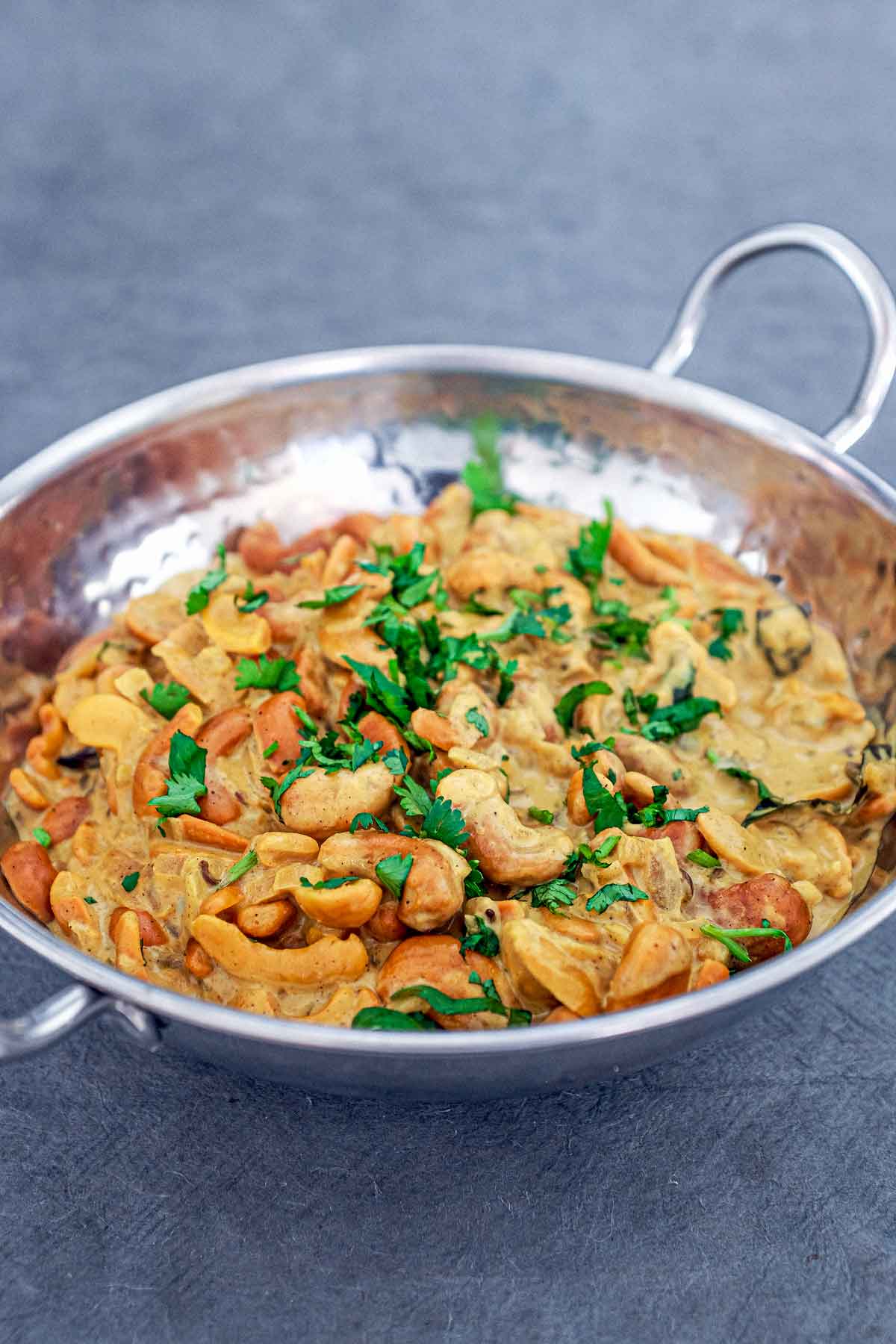 Did you make my Cashew Nut Curry (Kaju Maluwa)?
How did you go? Let me know in the comments below and be sure to tag @cookeatworld at Instagram.
This site contains affiliate links to products. We may receive a commission for purchases made through these links. Learn more.