Korean Braised Tofu – Dubu-Jorim | 두부조림
Dubu Jorim is an amazing little Korean treasure – Tofu is fried until crisp on the outside and soft inside and then lightly braised in a flavourful sauce made from soy, sesame and gochugaru chilli flakes – learn just how simple my Korean tofu recipe is.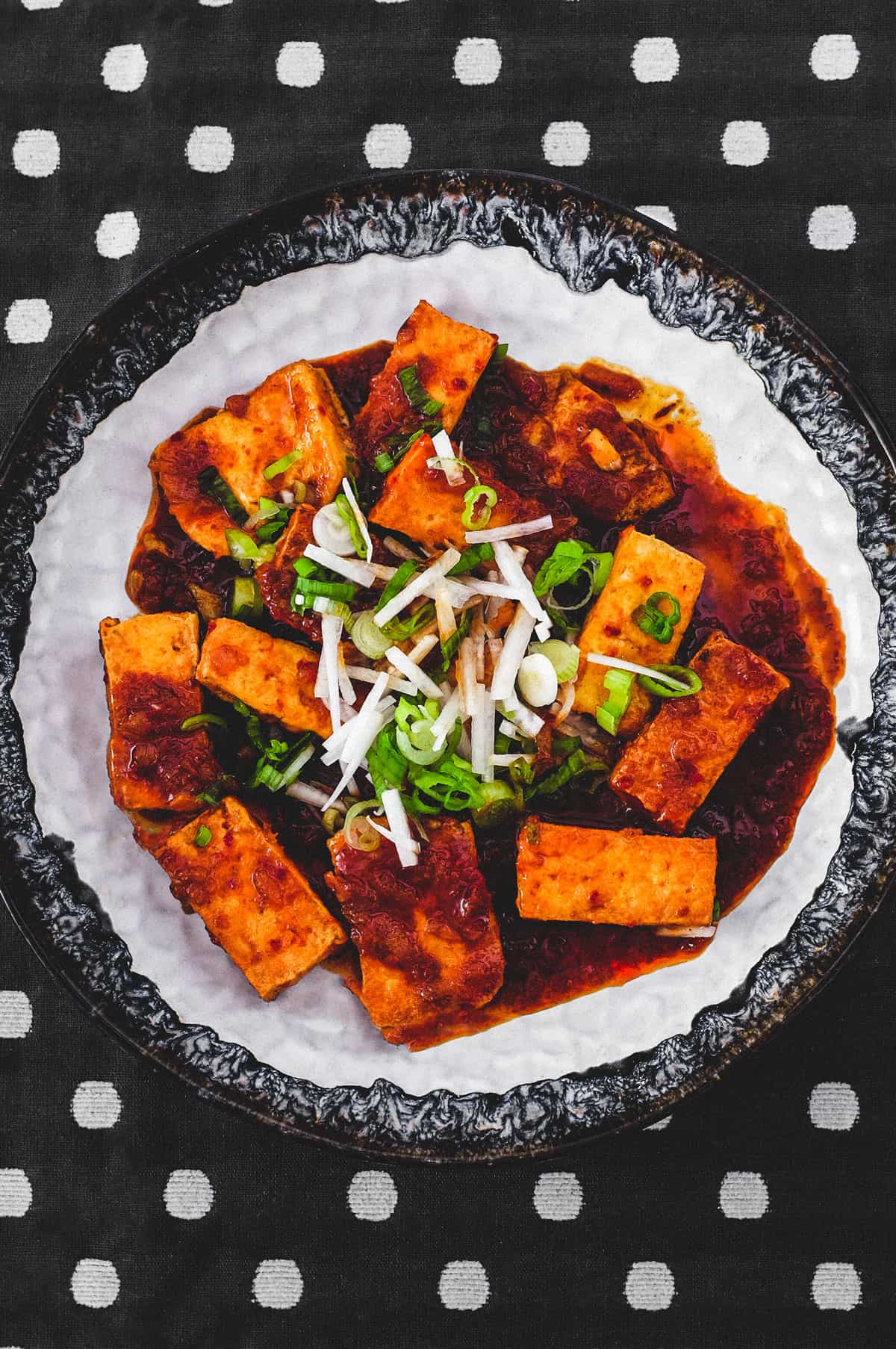 When it comes to tasty Korean banchan, there are few flavours more intoxicating than dubu jorim - a Korean tofu recipe like no other. Deliciously soft tofu is fried to form a crisp exterior, while the inside remains soft and decadent. It's then lightly braised in a vibrant and flavourful chilli sauce - the tofu soaks up the sauce and creates a fantastic combination of flavour and texture.
It's a great dish to eat in many ways - my favourite way is to simply have it over rice with as a rice bowl with some kimchi or maybe some delicious cucumber salad Oi Muchim. A fried egg on to never hurt anyone too! It's also great as a side dish served alongside other small plates (banchan) as a larger Korean feast.
This dubu jorim recipe is one of my favourite Korean tofu recipes, in fact one of my favourite tofu recipes period! Lets see just how easy this flavour-bomb is to put together at home.
Ingredients you'll need
Making dubu jorim is actually very easy, so let's see what makes the magic happen. There's a full recipe below, but these are the key ingredients for my dobu jorim recipe.
Tofu - the best tofu to use for dubu jorim is 'Firm'. It will hold its shape during frying and form a wonderful crisp exterior while retaining a soft, melting interior. Quite the combination!
Sesame oil - one of the key flavours to Korean food, sesame oil is essential - bringing it's nutty and intoxicating aroma.
Gochujang Sauce - Korea's much loved chilli sauce is available in paste form which is thick and sticky or in a sauce in a squeezy bottle. You can use either.
Gochugaru - These ubiquitous mild chilli flakes help creates the pillar-box red colour of many Korean dishes.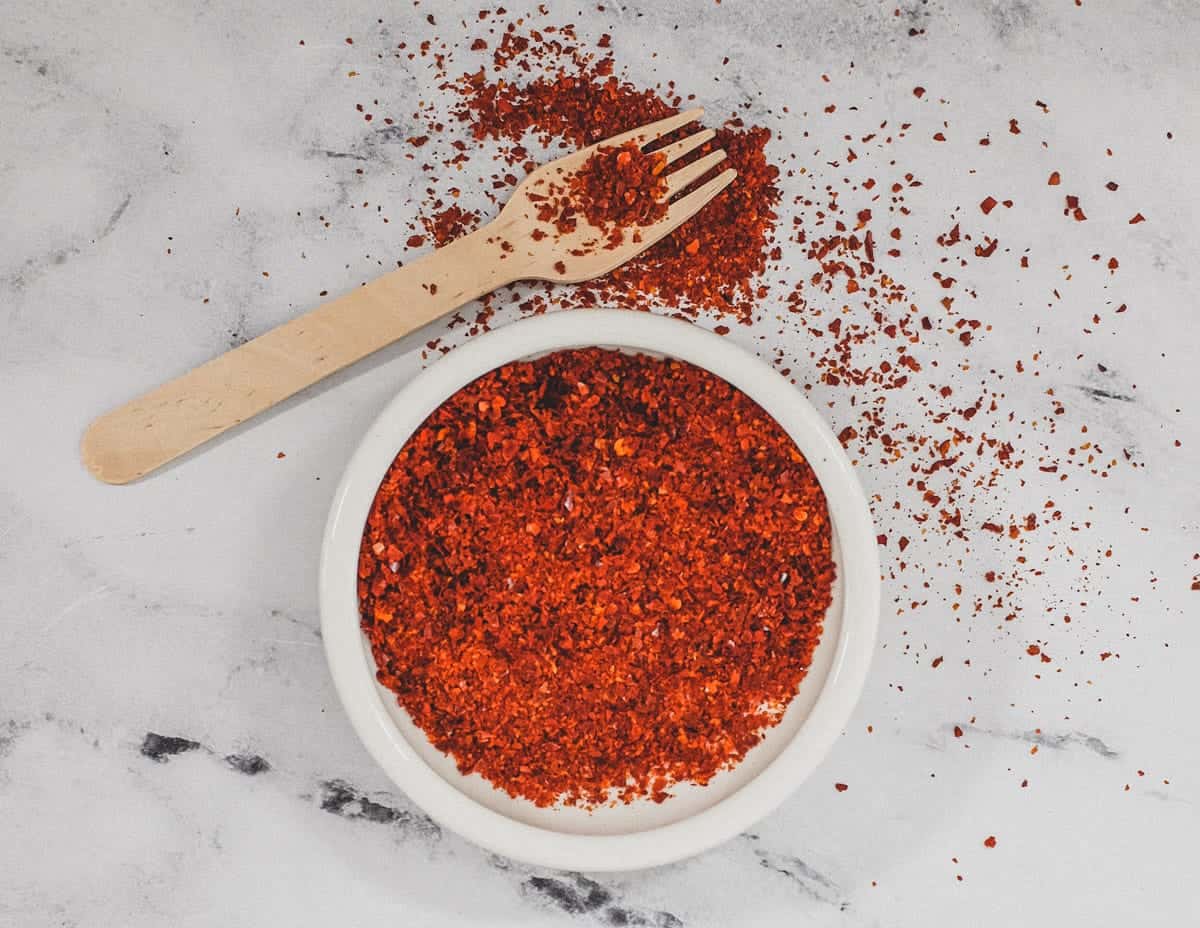 Step by Step
Creating this braised tofu is really not difficult. There are only three simple steps to success:
Fry the tofu - divide into cubes or slices and fry for 7 minutes each side to create a crisp exterior.
Create the sauce - fry up some onion and garlic and add the gochugaru, sugar, sesame, soy and water and sizzle for a minute.
Toss the tofu in the sauce and that's it!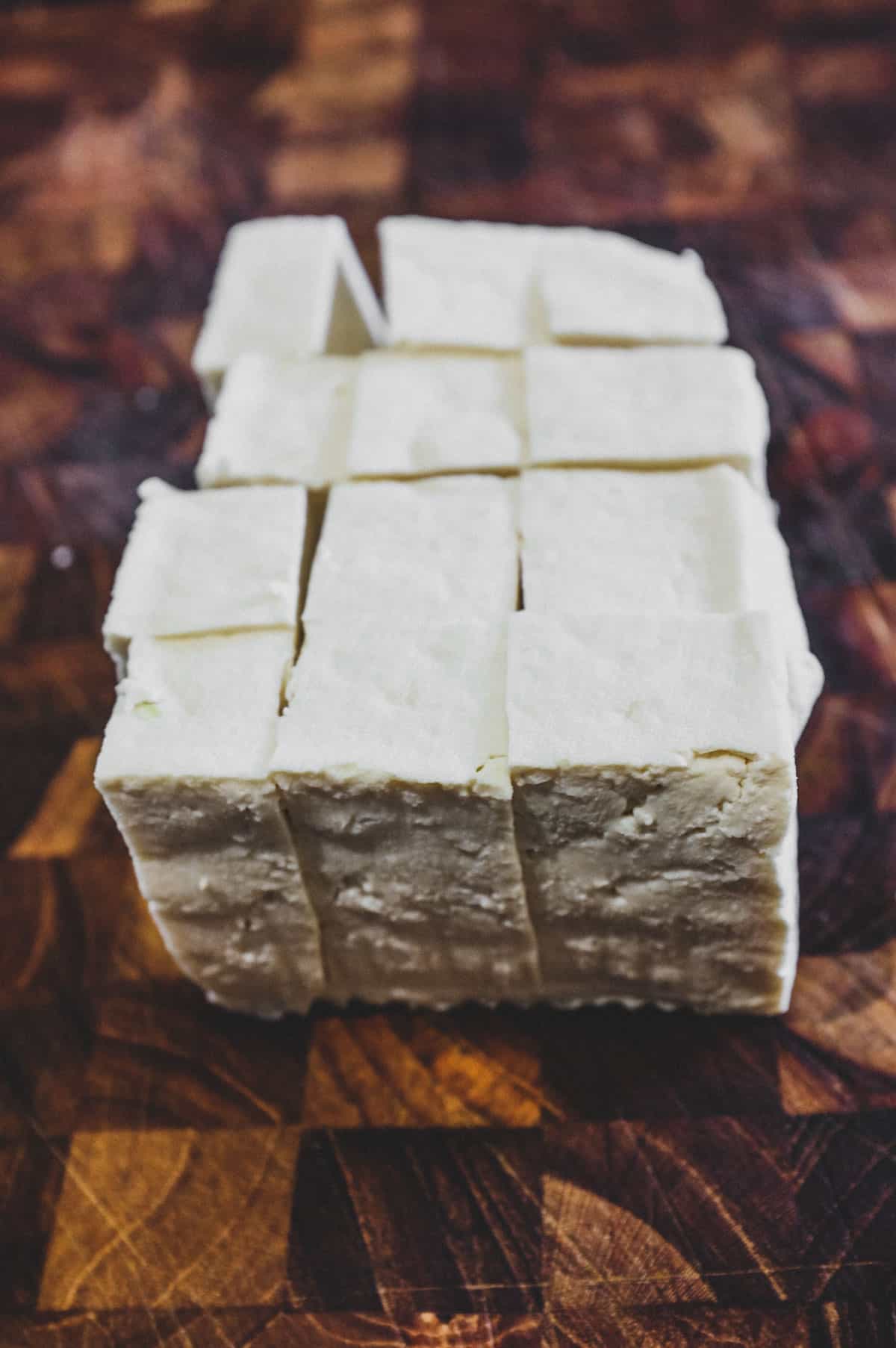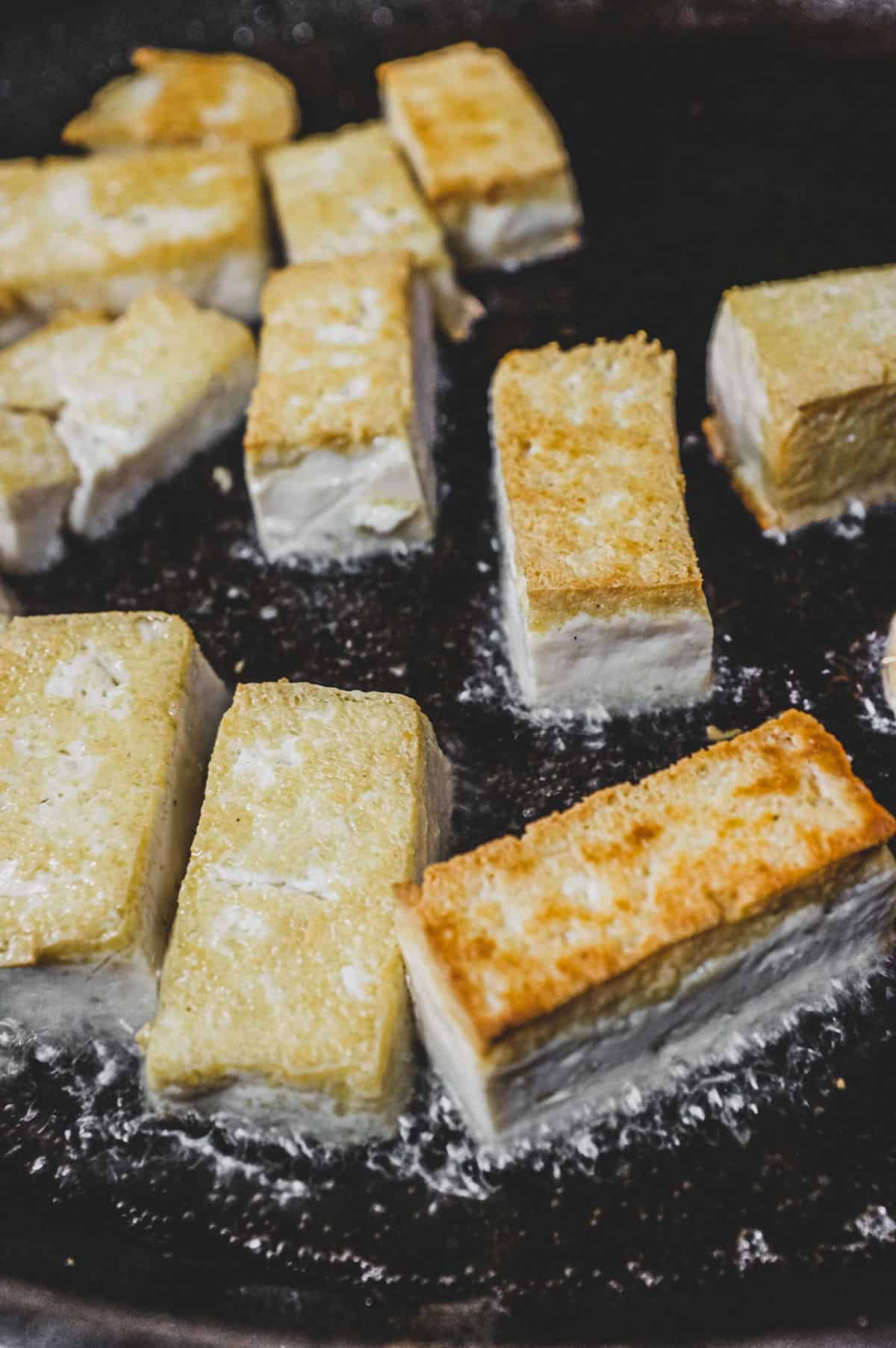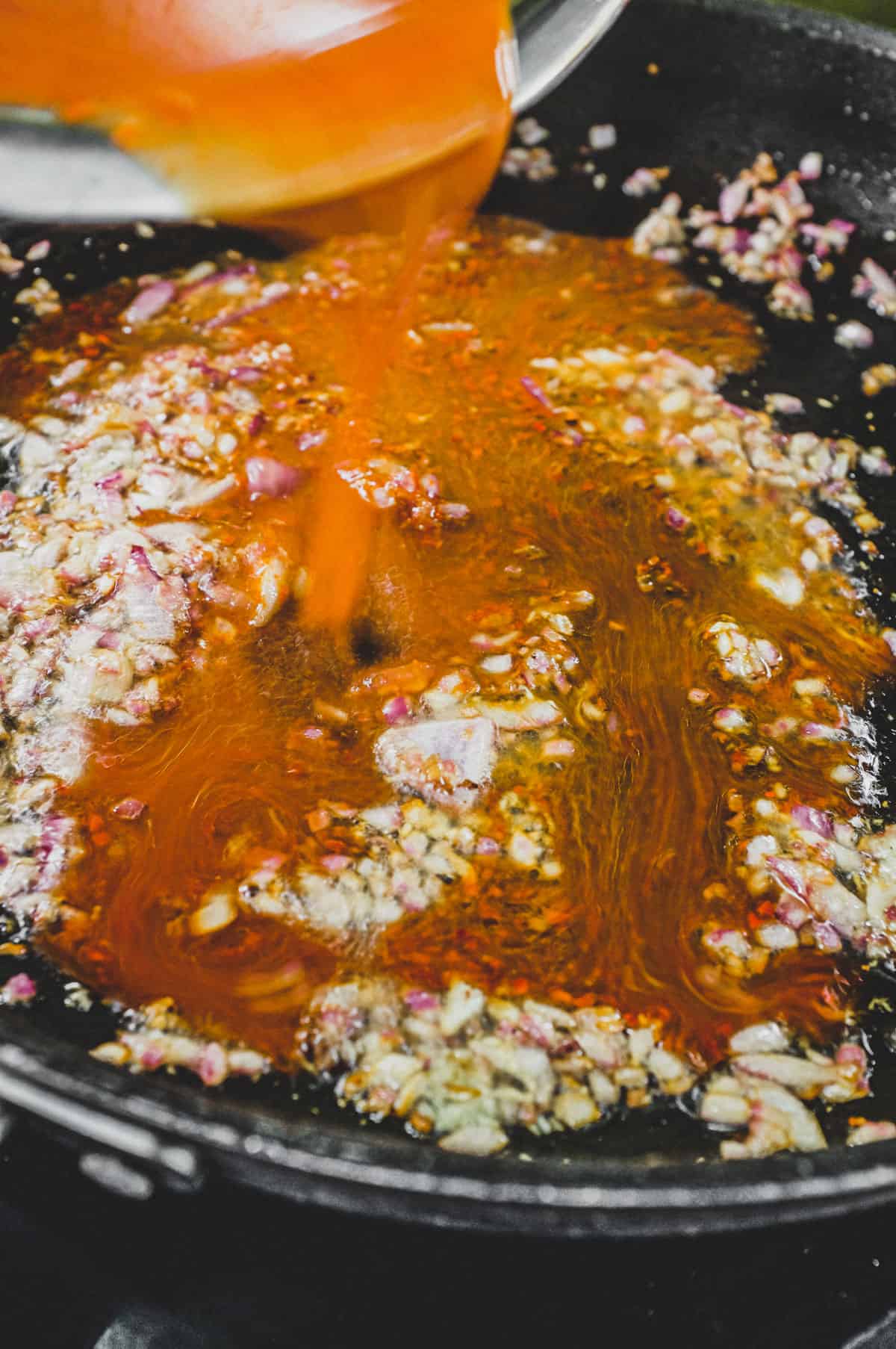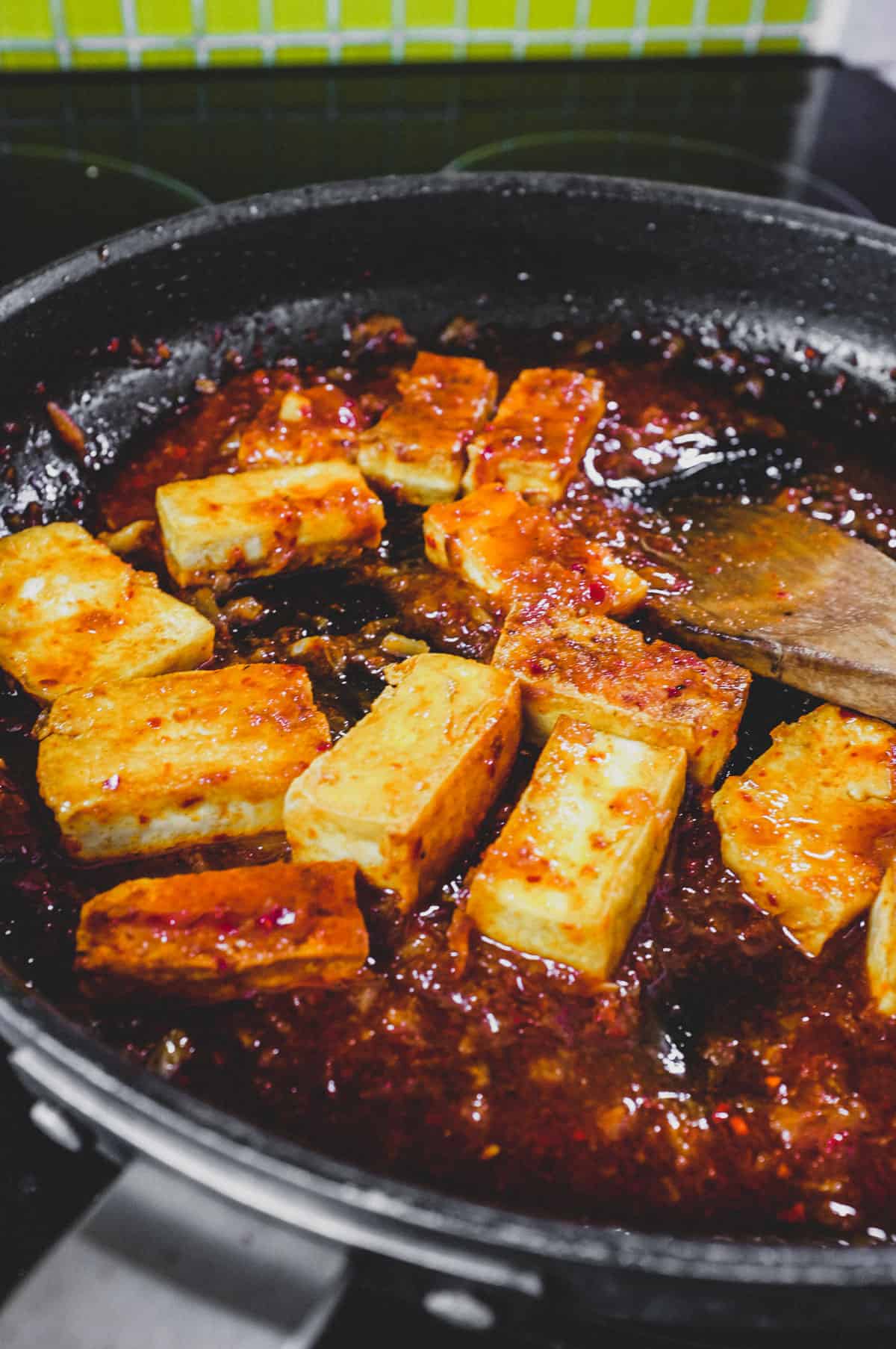 More delicious Korean recipes
If you liked this recipe, then be sure to check out more of my Korean favourites.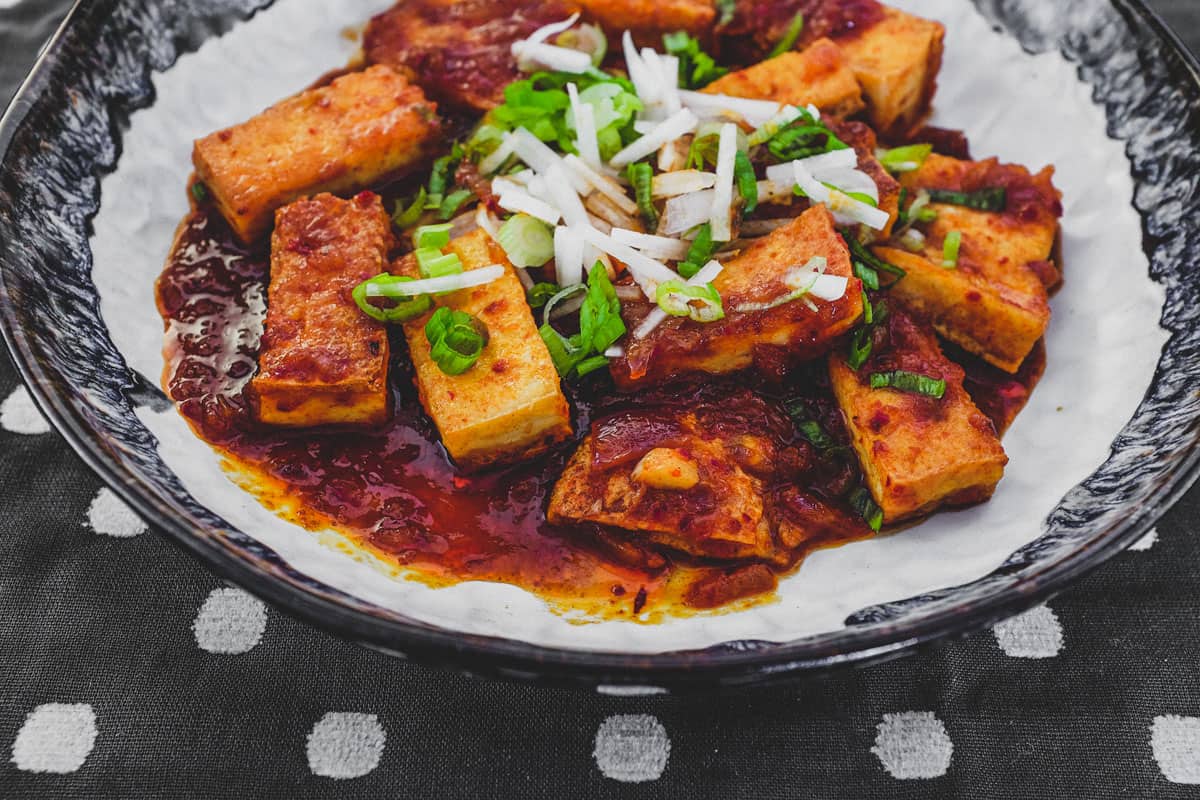 Korean Braised Tofu - Dubu-Jorim | 두부조림
Rate this recipe
Print Recipe
Pin Recipe
Calories (per serving) |
318
Instructions
Remove the tofu from the pack and pat dry on paper towels. Divide into around 12 pieces or into thick slices.

Whisk together the soy sauce, salt, sugar, gochugaru, gochujiang with 3/4 cup water and set aside.

Heat the oil in a large frying pan over a moderate heat until hot.

Add the tofu and fry for abour 7 minutes each side until the tofu is crisp and brown. Remove with a slotted spoon and drain on paper towels.

Pour off the oil until you have about 1 tbsp left, then add the diced onion to the pan. Let this cook for 4-5 minutes until the onion is soft and golden then add the garlic and fry briefly.

Pour in the chilli sauce and let it come to a sizzle. Simmer for 2-3 minutes until it reduces a little - it should have consistency that sticks to the back of a spoon but not too thick.

Return the tofu to the pan and let it sizzle for another minute. Remove from the heat. Drizzle over the sesame oil and stir well.

Sprinkle over the spring onion and radish and serve either hot over rice or at room temperature as part of a larger 'banchan' (small plate) feast.
Notes
I like to serve mine hot over rice with napa cabbage kimchi and a simple, spicy cucumber salad called Oi Muchim. On occasion, I'll top my dubu jorim with a fried egg or a soft-boiled egg cut in half.
Nutrition
Calories:
318
kcal
(16%)
|
Carbohydrates:
21
g
(7%)
|
Protein:
20
g
(40%)
|
Fat:
18
g
(28%)
|
Saturated Fat:
2
g
(13%)
|
Polyunsaturated Fat:
9
g
|
Monounsaturated Fat:
8
g
|
Trans Fat:
1
g
|
Sodium:
1172
mg
(51%)
|
Potassium:
331
mg
(9%)
|
Fiber:
4
g
(17%)
|
Sugar:
7
g
(8%)
|
Vitamin A:
1354
IU
(27%)
|
Vitamin C:
15
mg
(18%)
|
Calcium:
293
mg
(29%)
|
Iron:
4
mg
(22%)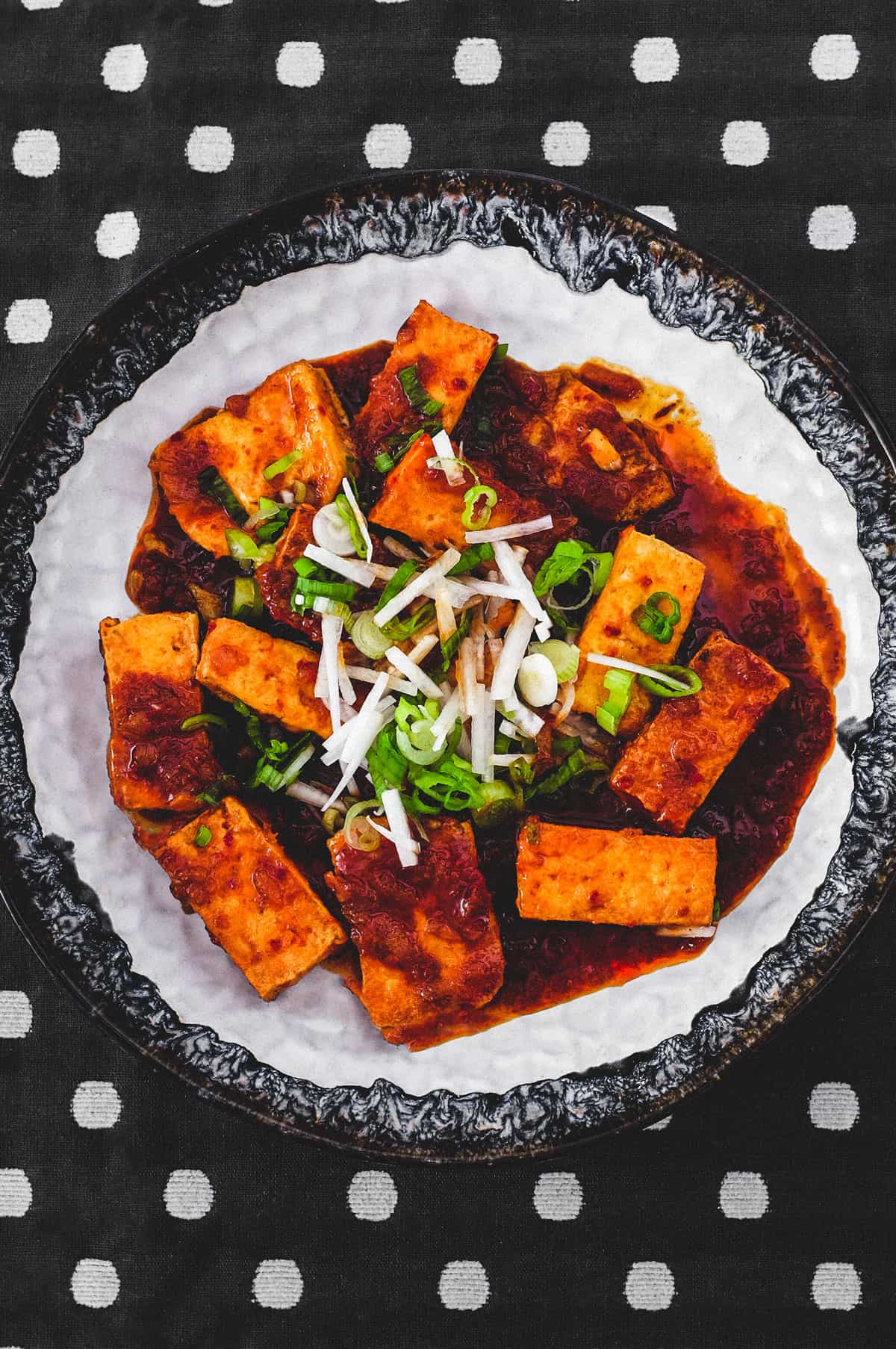 Did you make my Korean Braised Tofu – Dubu-Jorim | 두부조림
How did you go? Let me know in the comments below and be sure to tag @cookeatworld on Instagram.