Bibim Guksu (Korean Spicy Cold Noodles)
There's something so fresh and interesting about this amazing cold noodle salad from Korea. Bibim Guksu features soft noodles in a fiery, umami sauce with lots of crunchy, cooling cucumber and soft eggs. It's the perfect summery hit of flavour.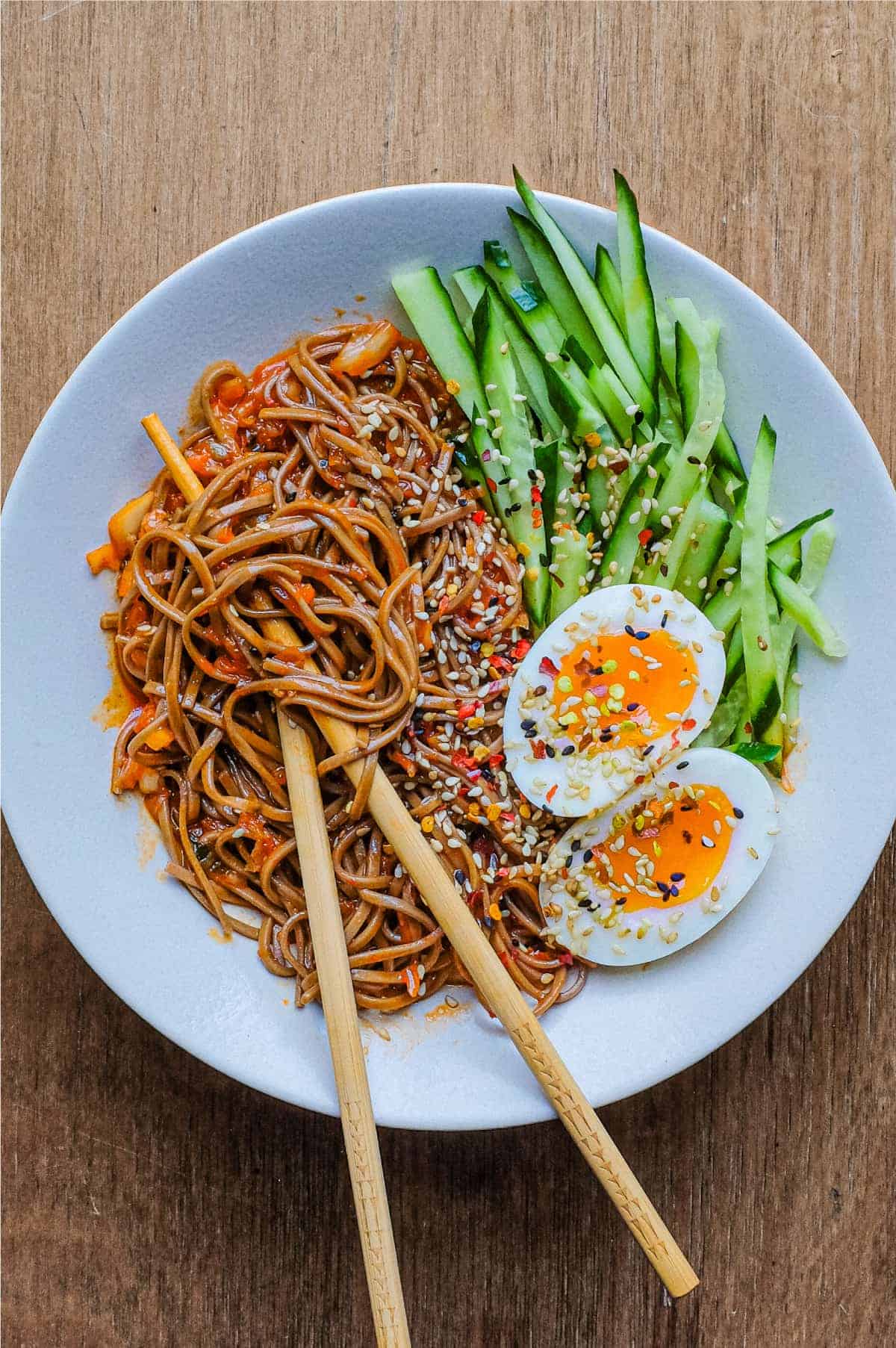 Are you ready for the vibrant flavours of Bibim Guksu? A beloved Korean dish, Bibim Guksu, also known as "mixed noodles," offers a tantalizing fusion of textures and tastes.
Thin noodles (I use soba, but you can use wheat noodles too) are artfully combined with a medley of fresh vegetables and a zesty, gochujang-based sauce, creating a harmony unlike anything else.
If you're a spice enthusiast you're in luck, this dish looks spicy and it is! A wake up for any palette in the best possible way.
What is Bibim Guksu (비빔국수)?
In Korean, Bibim Guksu" (비빔국수) translates to "mixed noodles" in English. The term "bibim" means "mixed," and "guksu" refers to "noodles".
It is a popular Korean noodle dish made with thin noodles, fresh vegetables, and a spicy-sweet gochujang-based sauce. It is said that it is eaten cold to combat the summer heat.
Why it works?
It's packed with flavour - Gochujang is one of those super-charged ingredients that does ALL the heavy lifting for flavour. Stir it into anything and you have a ready made wallop of taste. Any eating it cold with noodles is a revelation.
It's quick - The only cooking you need to do is some noodles and egg -simple! The rest is assembly which, let's face it, is the best way to cook!
Stuff You'll Need
There's not a lot to hunt around for with my Bibim Guksu recipe here are the key flavours.
Noodles - I love the light, nutty chewiness of Soba Noodles, but you can use a regular Asian wheat noodle or indeed rice noodles if you're so inclined.
Gochujang Paste - This Korean chilli paste is becoming easier to find in most supermarkets these days. If not, almost all Asian markets stock it. Failing that, the Internet has everything!
Kimchi - For a little more umami and funky, crunchy spice, grab a little kimchi - whichever kind you prefer. I opt for regular cabbage kimchi and buy the spiciest I can find.
Flavourings - Soy sauce, rice vinegar, sugar and sesame oil add to the complexity of the sauce.
Cucumber - The cold, cooling nature is the perfect counter balance to the spicy sauce.
Egg - no Asian noodle bowl seems complete without a 'just set' jammy boiled egg.
Garnishes - I opt for extra chilli flakes and a few mixed black & white sesame seeds to finish the dish off.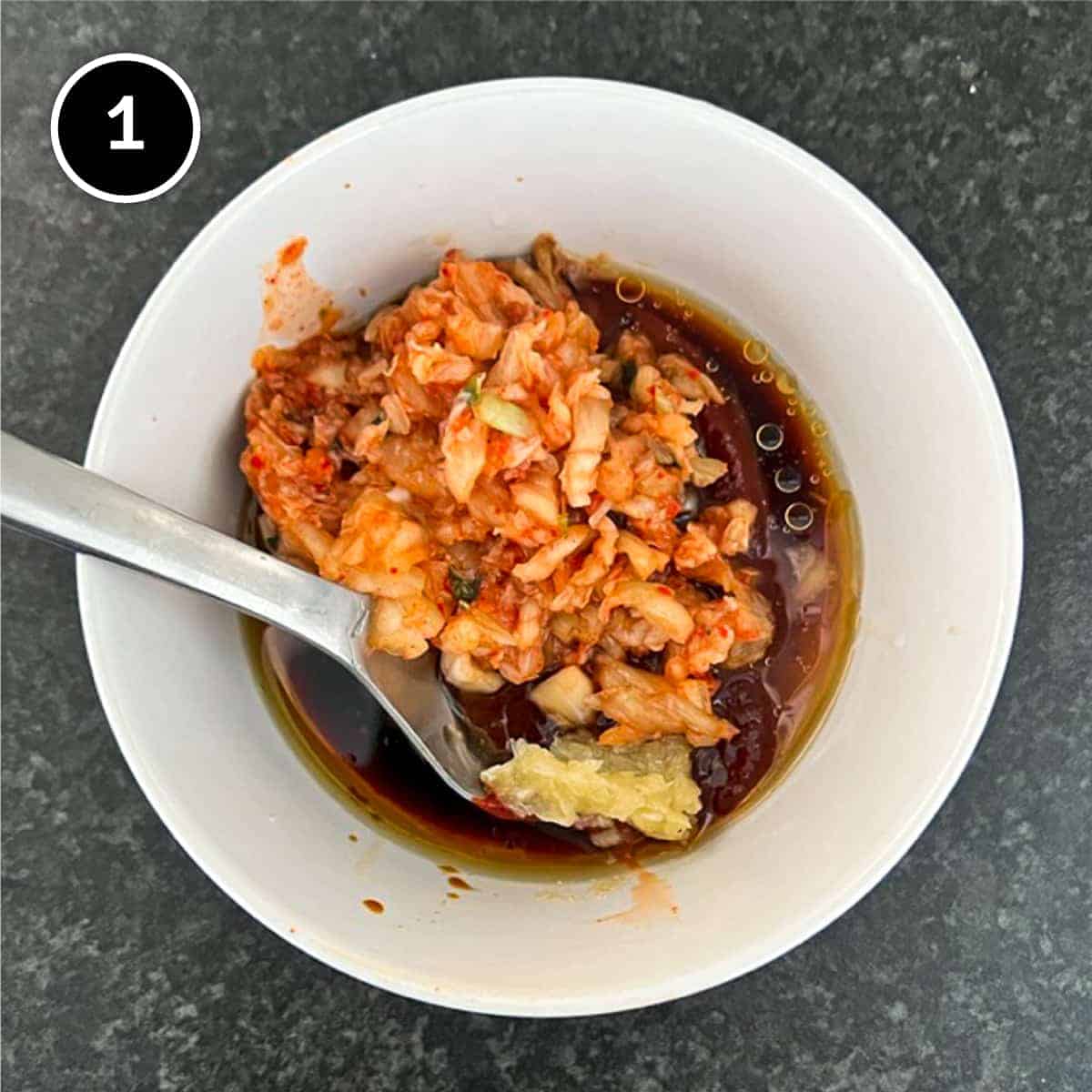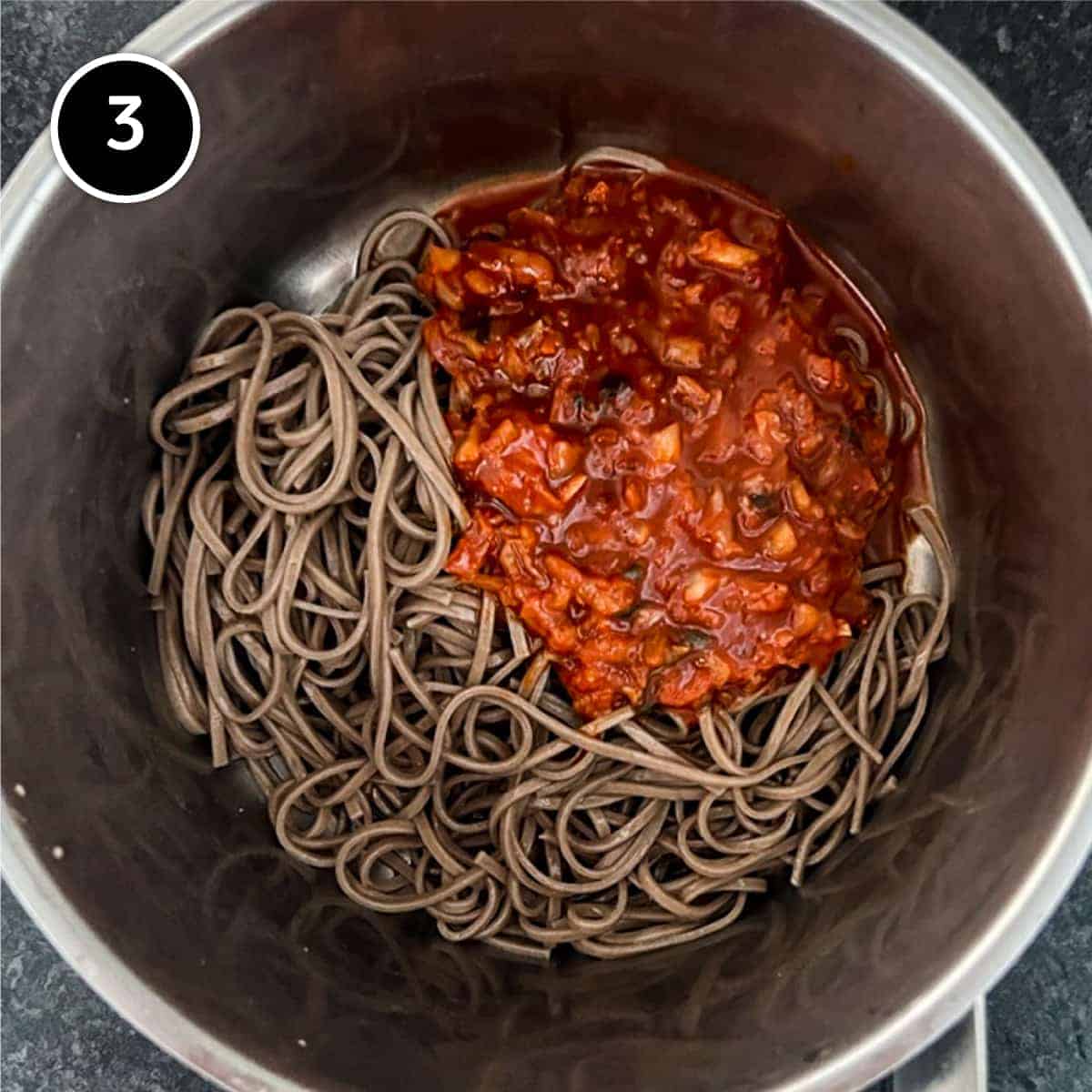 Step by Step
Making Bibim Guksu at home is simple. There are only a few basic cooking steps and the rest is assembly. My kind of cooking. Cook your noodles to the packet instruction and then plunge into cold water. Drain and set aside. Then boil your egg, cool and peel and set aside.
Step 1 - Finely

chop the kimchi and place in a bowl with the gochujang, sesame oil, vinegar,

sugar and soy sauce.
Step 2 -

Stir this well until

completely combined
Step 3 - Mix the cold noodles with the sauce
Now all you need to do is arrange some noodles in a deep Asian bowl and then arrange a good handful of cucumber batons followed by your egg, cut in half. Sprinkle over your garnishes and you're done!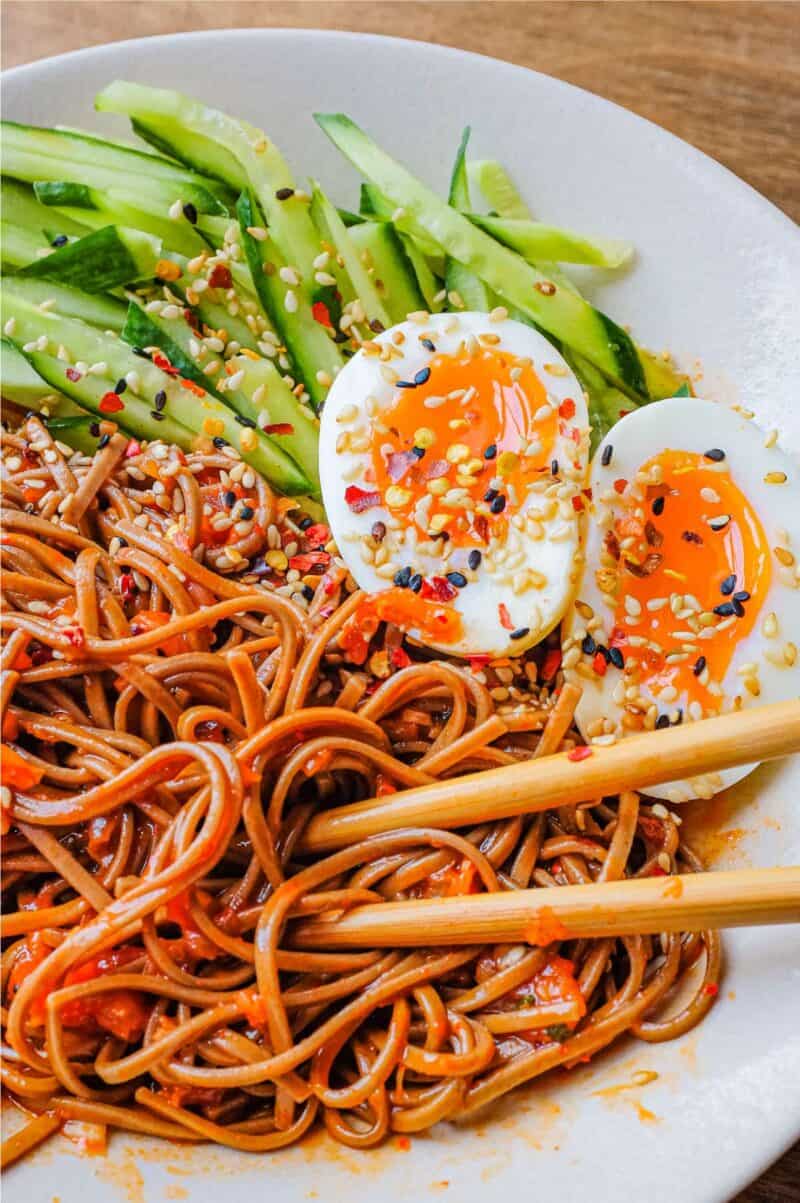 Pro Tips
You can make the Bibim Guksu sauce in advance and keep refrigerated in a container until needed. Once you're ready, cook and cool your noodles and egg and you're good to go.

For a more protein lead option add a few slices of cold poached chicken to the sauce or some cooked, cold shrimp.
Storage Suggestions
Fridge - You can keep the elements of bibim guksu separately in the fridge and assemble when you need. For leftovers, 1-2 days in the fridge. Not suitable for freezing.
Ready to get cooking?
So, I can't sing the praises of this flavourful, refreshing Korean treasure enough. A wonderful, umami taste-bomb while not feeling heavy or stodgy. It's definitely a summer favourite for lunch or dinner. Hope you enjoy!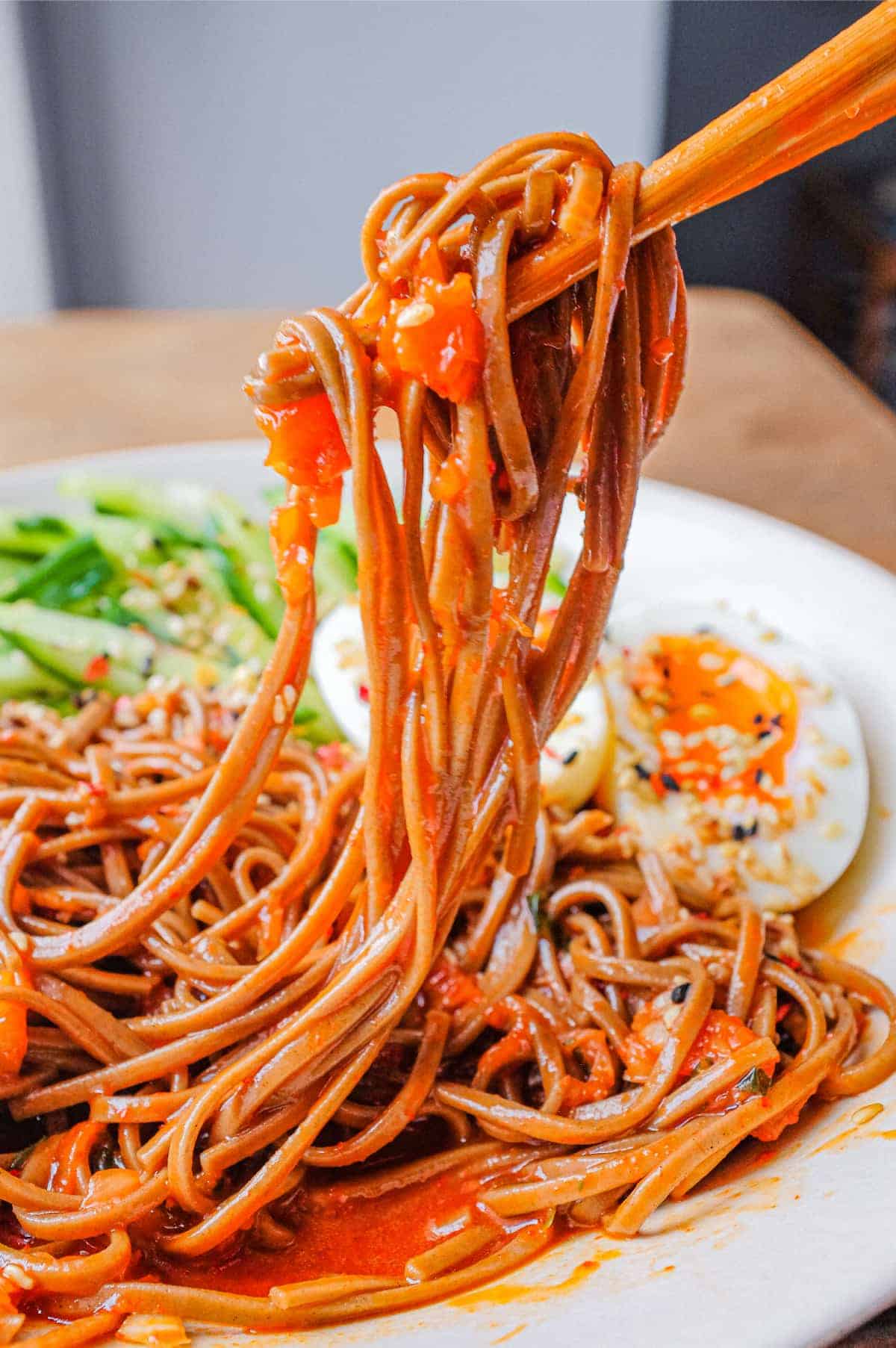 More Korean recipes
If you liked this recipe for Bibim Guksu, I'm sure you'll love some more of my favourite Korean recipes.
Any Questions? (FAQ)
Have a question about Bibim Guksu? Let me know in the comments.
Bibim Guksu is a popular Korean cold noodle dish. It features thin wheat noodles mixed with a spicy and savory sauce, typically made from gochujang (red chili paste), sesame oil, vinegar, and other seasonings. The dish is often garnished with vegetables like cucumber, carrot, and kimchi, as well as a boiled egg. It offers a refreshing and fiery flavor profile, perfect for hot weather or a satisfying meal.
Is Bibim Guksu eaten cold?
Yes, Bibim Guksu is a traditional Korean noodle dish that is enjoyed cold.
Is Bibim Guksu spicy?
Yes, it uses Korean Gochujang chilli paste and spicy Kimchi
This recipe uses affiliations and may receive a commission based on your activity (link clicks). Learn more.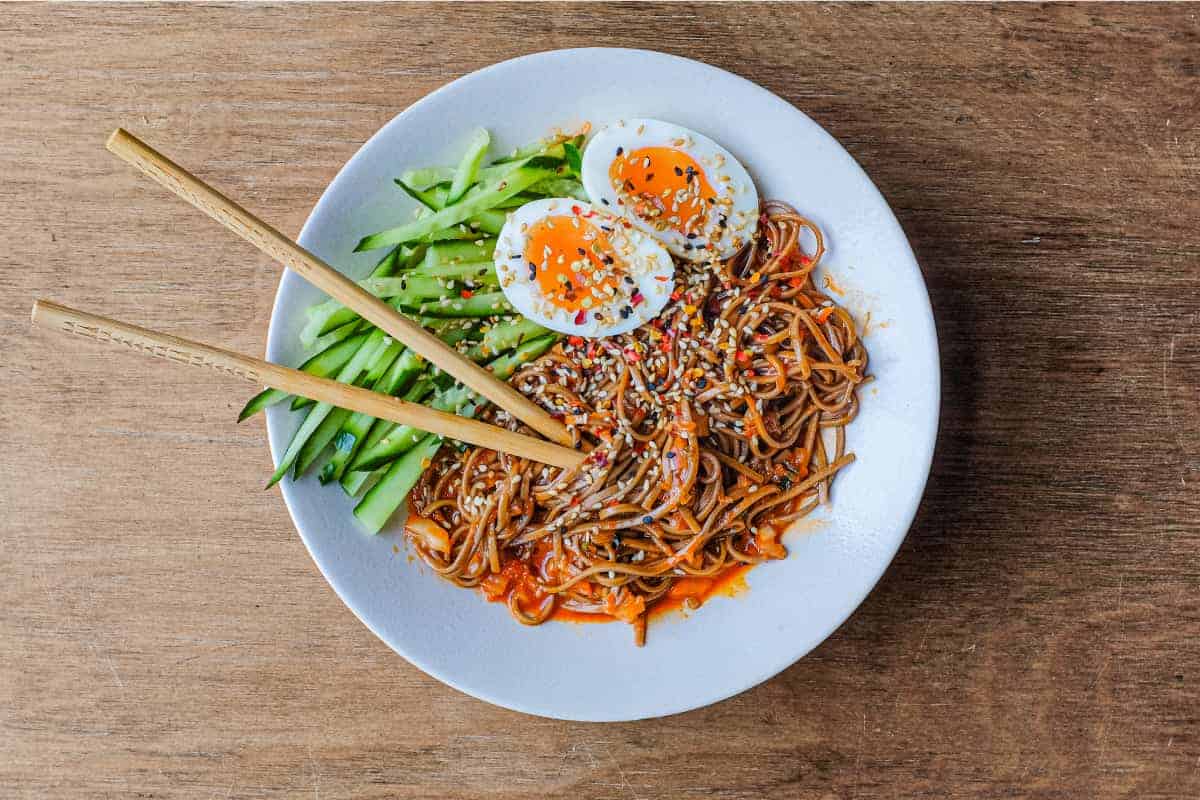 Bibim Guksu (Korean Spicy Cold Noodles)
Rate this recipe
Print Recipe
Pin Recipe
Save Recipe
Go to Collections
Calories (per serving) |
582
Ingredients
Other ingredients
8

oz

soba noodles

(around 220g) (or wheat noodles like somyen)

2

eggs

boiled and peeled

1

cup

cucumber

cut into thin batons

Korean chilli flakes

gochugaru
Instructions
To make the sauce
Mix together all the sauce ingredients and set aside.
To make the noodle bowl
Cook the soba noodles to the packet instruction. Rinse in cold water and set aside in a sieve to drain.

Boil the eggs, rinse in cold water for 30 seconds then peel while still hot. The shell will come off much easier this way. Set aside to cool.

Mix the noodles with the sauce then place into waiting bowls.

Add the cucumber to the side and then cut the eggs in half and arrange in the bowl.

Sprinkle over the chilli flakes and sesame seeds and serve!
Notes
You can make the elements for Bibim Guksu individually then keep them separately in the fridge until you need. Then it's just a case of assembling when you're ready.
Refrigerate leftovers for 1-2 days (covered). Not suitable for freezing.
Nutrition
Calories:
582
kcal
(29%)
|
Carbohydrates:
102
g
(34%)
|
Protein:
24
g
(48%)
|
Fat:
13
g
(20%)
|
Saturated Fat:
3
g
(19%)
|
Polyunsaturated Fat:
4
g
|
Monounsaturated Fat:
5
g
|
Trans Fat:
0.01
g
|
Cholesterol:
164
mg
(55%)
|
Sodium:
1594
mg
(69%)
|
Potassium:
667
mg
(19%)
|
Fiber:
2
g
(8%)
|
Sugar:
9
g
(10%)
|
Vitamin A:
403
IU
(8%)
|
Vitamin C:
8
mg
(10%)
|
Calcium:
108
mg
(11%)
|
Iron:
6
mg
(33%)