Korean Gochujang Noodles with Pork
This Gochujang Noodles with pork is the perfect sweet, savoury and spicy bowl of flavour. The addictive Korean chilli paste brings all the flavour you need and then some in this quick and easy recipe.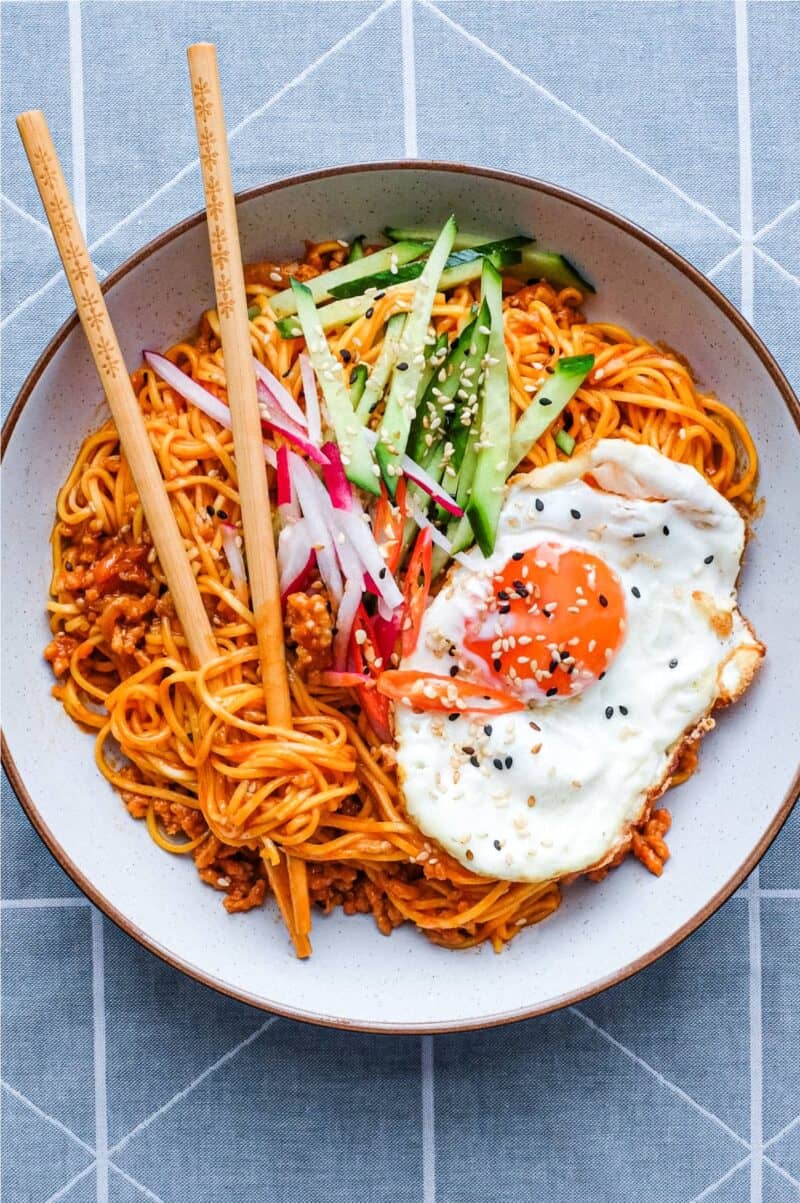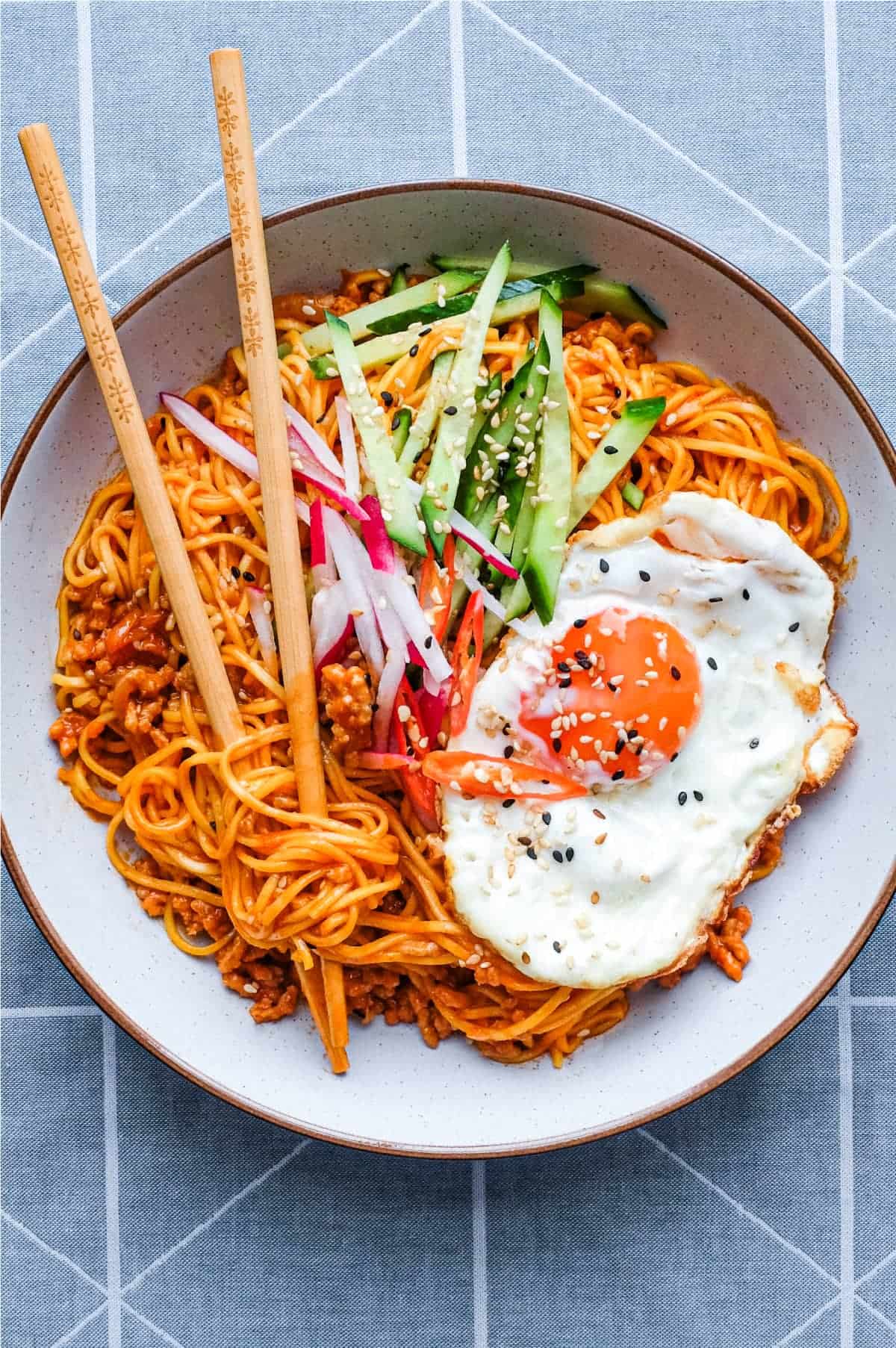 Korean Gochujang paste is one of those ingredients that just keeps on giving! A unique, intense burst of chilli and sweetness quite unlike anything else. It's a ready made pop of flavour that makes this recipe so easy to put together at home.
When used to breast a simple sauce to sook alongside juicy ground pork it's flavour all the way stirred through soft noodles. And who could fail to be enticed with a crispy and jammy fried egg on top. It's pure Korean perfection!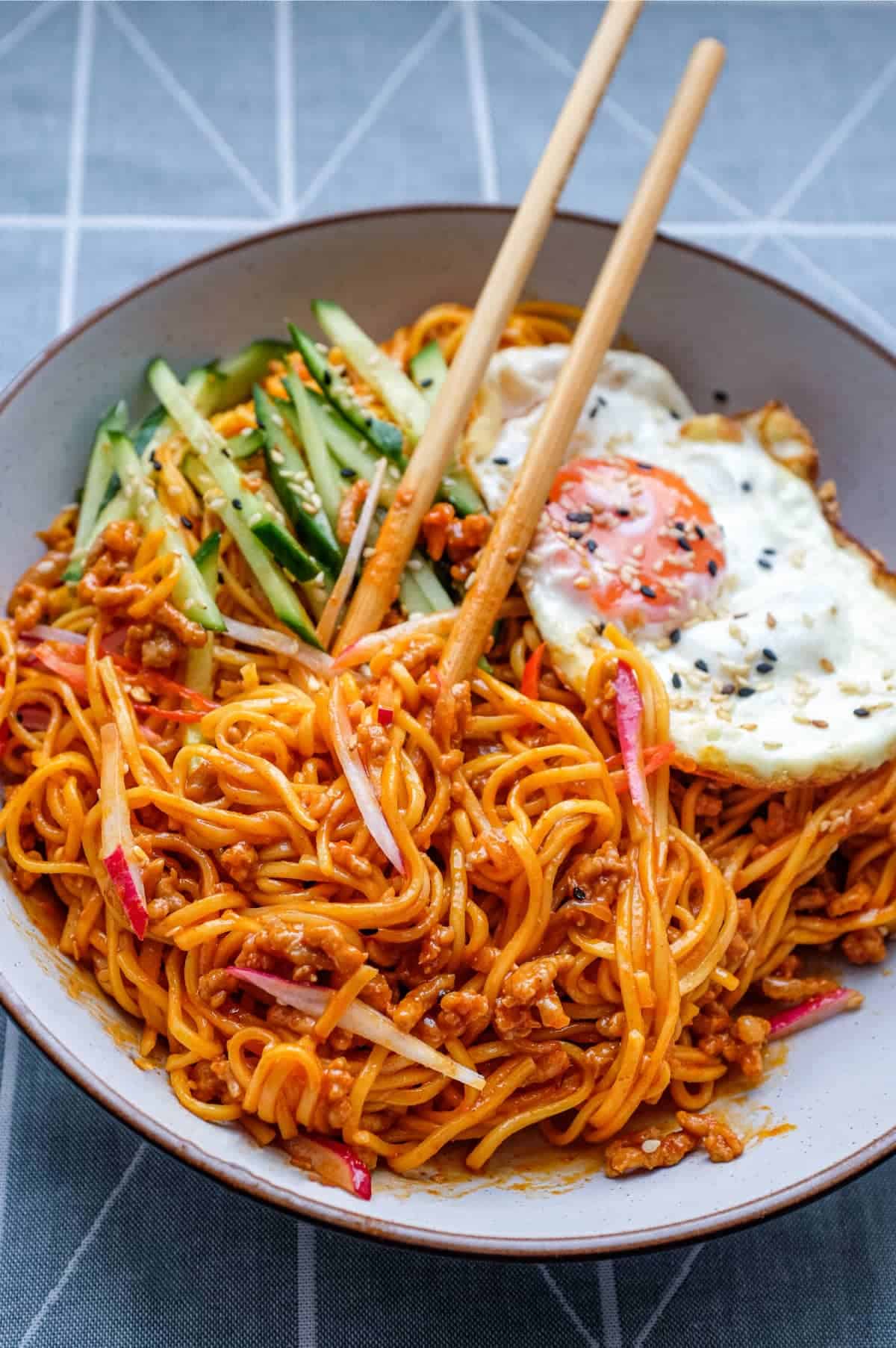 What is Gochujang?
The secret is long since discovered on Gochujang paste, the wonder-food from Korea. This thick, sticky chilli paste has been enjoyed by Koreans for Centuries but only relatively recently secured its presence on the International food scene.
Gochujang paste is made from ground chillies, soy beans and glutinous rice. It's thick, pungent, sticky, spicy and sweet. It has an intense red hue that imparts its colour and flavour into many Korean recipes.

Gochujang paste is available on a sliding scale of spiciness, from mild to hot. I would rate the hot variety at around a 7/10, spicy but not dangerously so!

You can also buy gochujang sauce, which is a runnier ketchup style condiment. I use the paste for this recipe and not the sauce.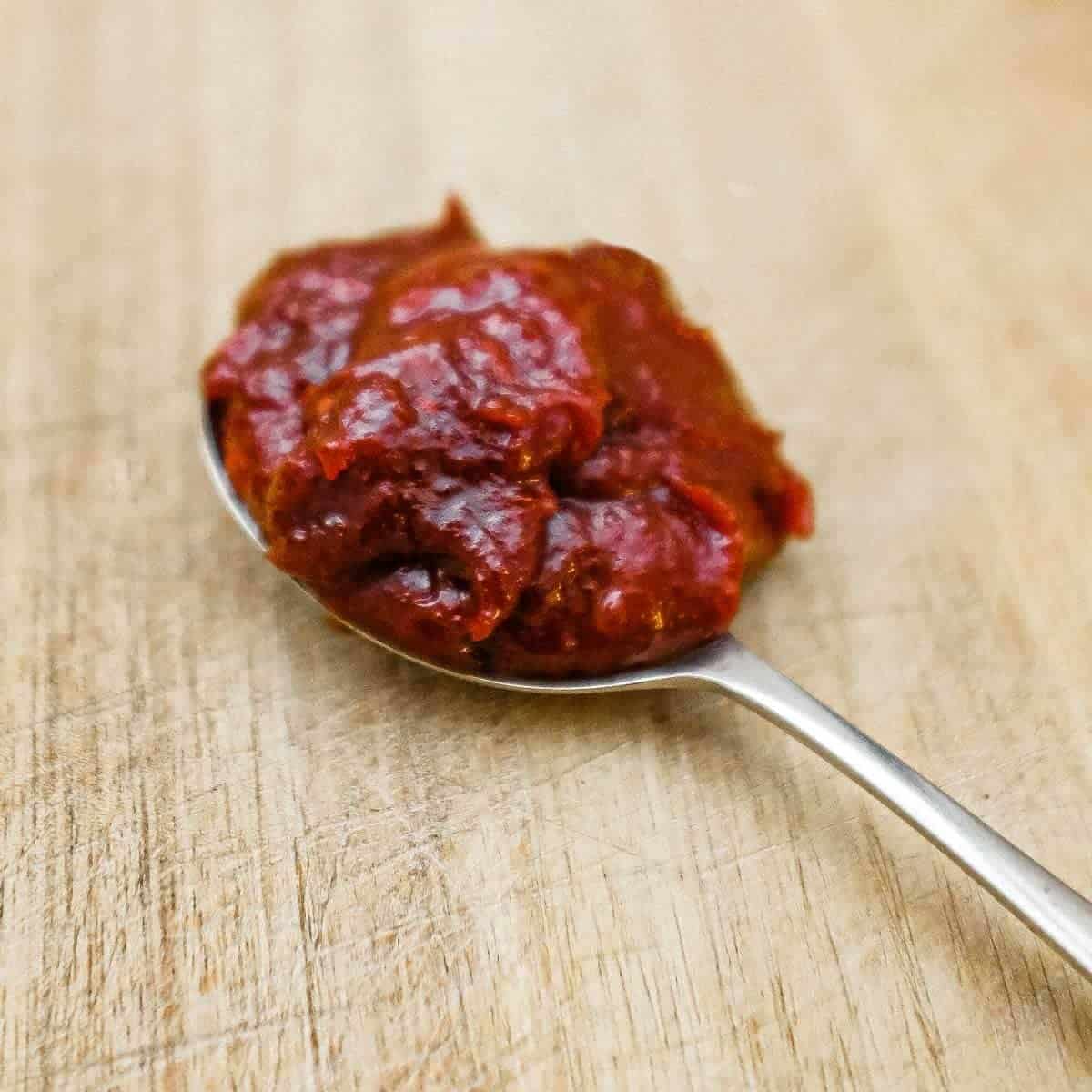 Why it works?
It's quick and easy - like a pasta stir in sauce, this gochujang pork recipe has all the flavour pre-built with the paste and is simply mixed with a few more ingredients and simmered with the ground meat.
It has an egg! - I'm a huge fan of eggs, so anything with a sunny, runny egg on top is an instant winner. I like to fry mine in quite a bt of oil to ensure the outside gets super crisp and fluffy while the yolk stays runny. This in itself is perfection to me!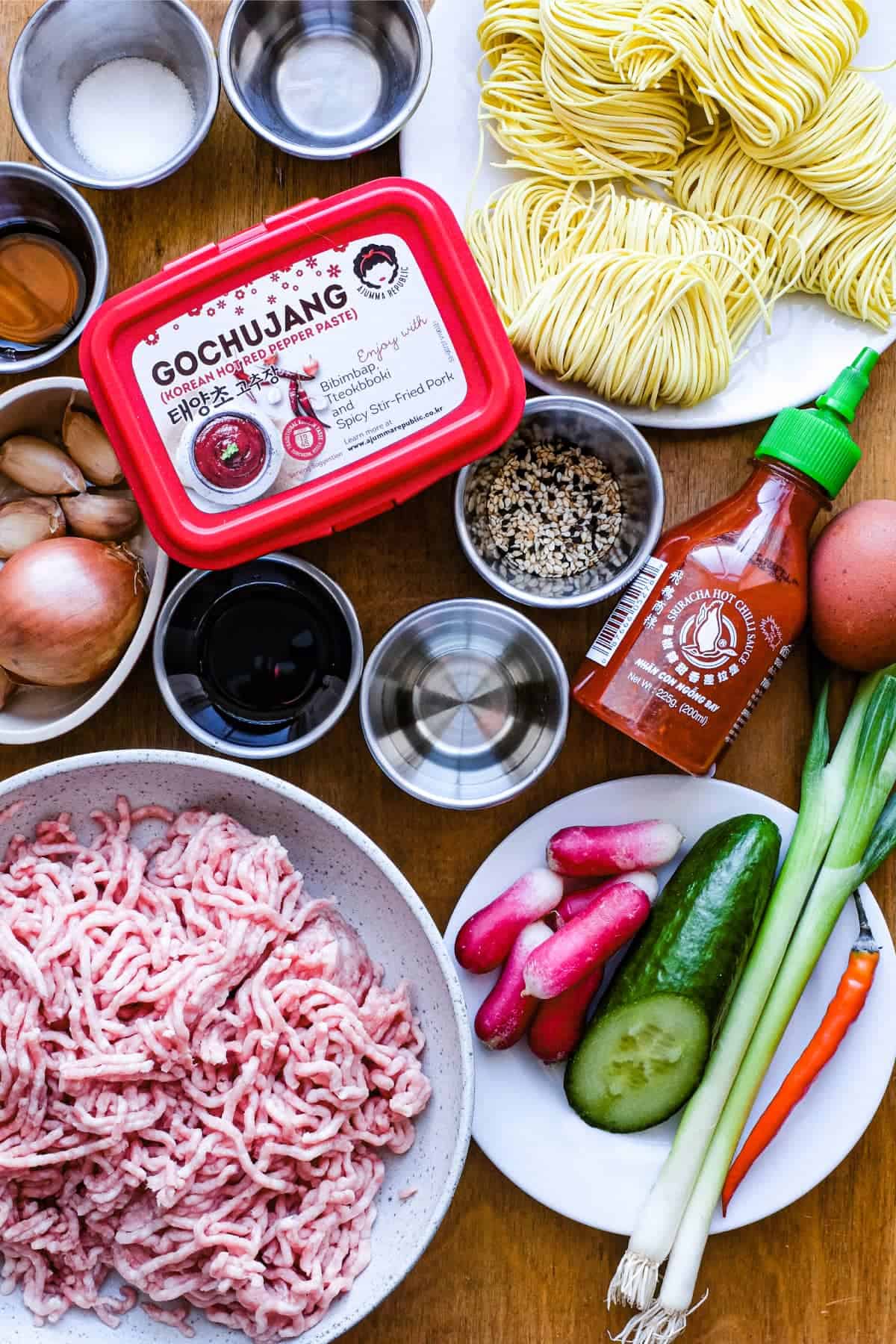 Stuff You'll Need
Most of the flavour comes from the addictive Korean gochujang paste, so all the other ingredients are fairly simple. If you can't get hold of some of the other paste ingredients, don't worry too much, but the gochujang paste is essential.
Gochujang paste - you can find this in most supermarkets now. Asian supermarkets for sure. Buy hot or mild.
Egg noodles - I used dried Asian egg noodles, you can also use pre-cooked noodles or even just spaghetti.
Onion and garlic - bring a little backbone to the sauce
Ground pork (mince) - you can use ground beef, chicken or turkey too.
Seasonings - the sauce uses rice vinegar, Sriracha sauce (I like my sauce with a little extra spice) this is optional, sugar and sake/soju (this is also optional, you can use a little water if you can't find sake or soju).
Garnishes - I like to use cooling cucumber, radishes, spring onion/green onion and chilli. Eagle-eyed viewers might notice I forgot to add the green onion to my bowl photo! They were right there!!
Egg - You MUST have an egg! Fried is my favourite, but a jammy boiled egg (6 mins) or a poached egg work too.
Step by Step
Let me take you though how easy this bowl of noodles is to make at home.
Step 1 - Make the paste by stirring all the paste ingredients together. Set this aside. Cook your noodles at this stage too and set them aside.
Step 2 - Fry the onion and garlic for a few minutes
Step 3 - Add the pork and cook until there's no pink left. Break up any clumps of meat with the spoon.
Step 4 - Add the paste and simmer for 15 minutes until thick and creamy.
Step 5 - Stir in the cooked noodles and sesame oil and remove from the heat. Fry your eggs and drain them on paper towels.
Now all that's needed is for you to assemble the bowls. Add a generous helping of noodles and then top with all your garnishes. Done!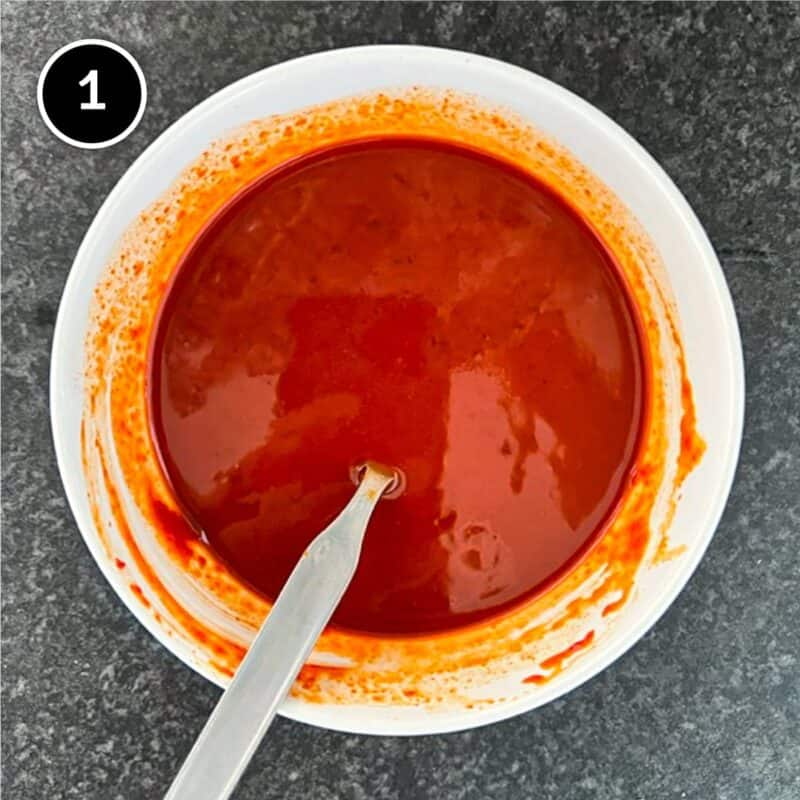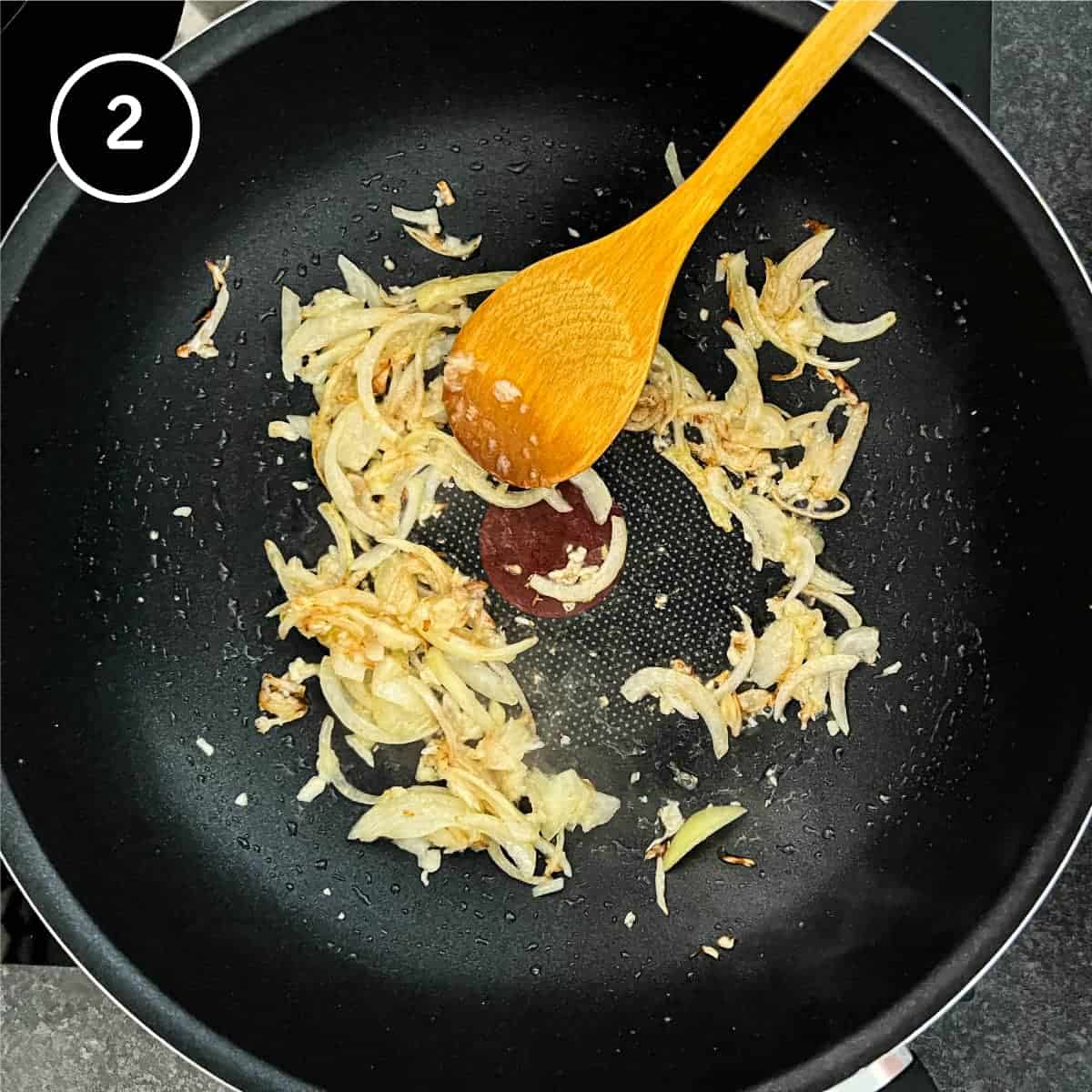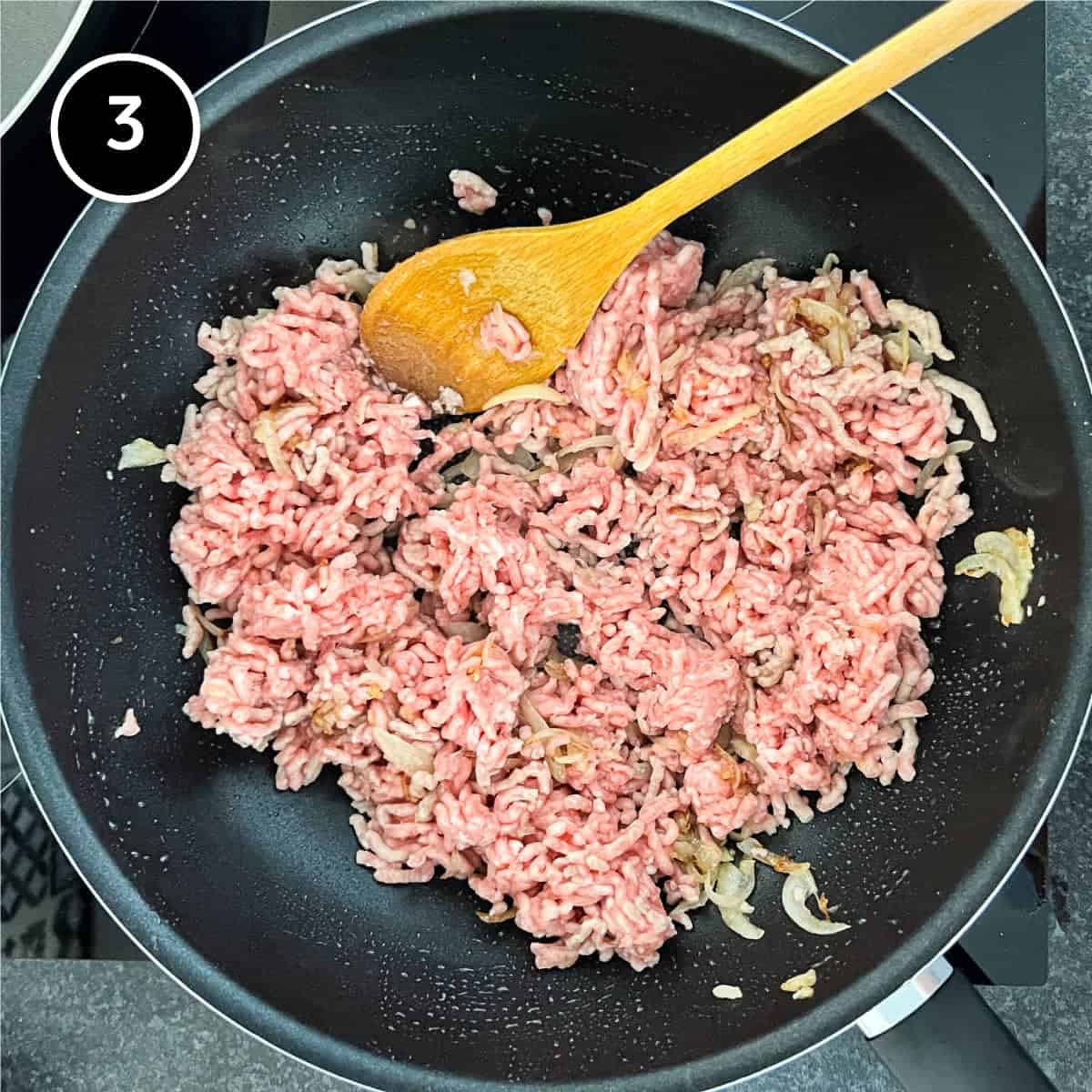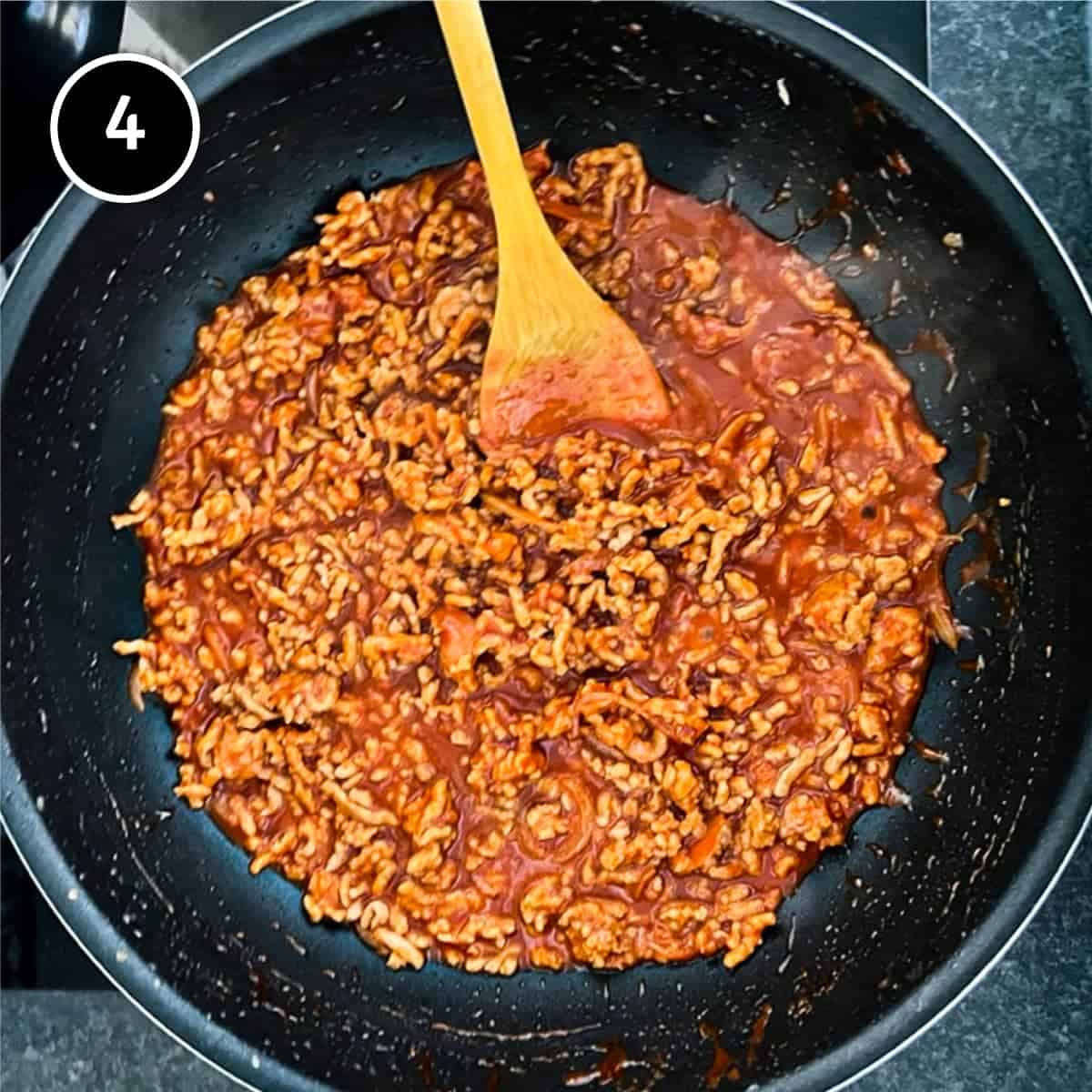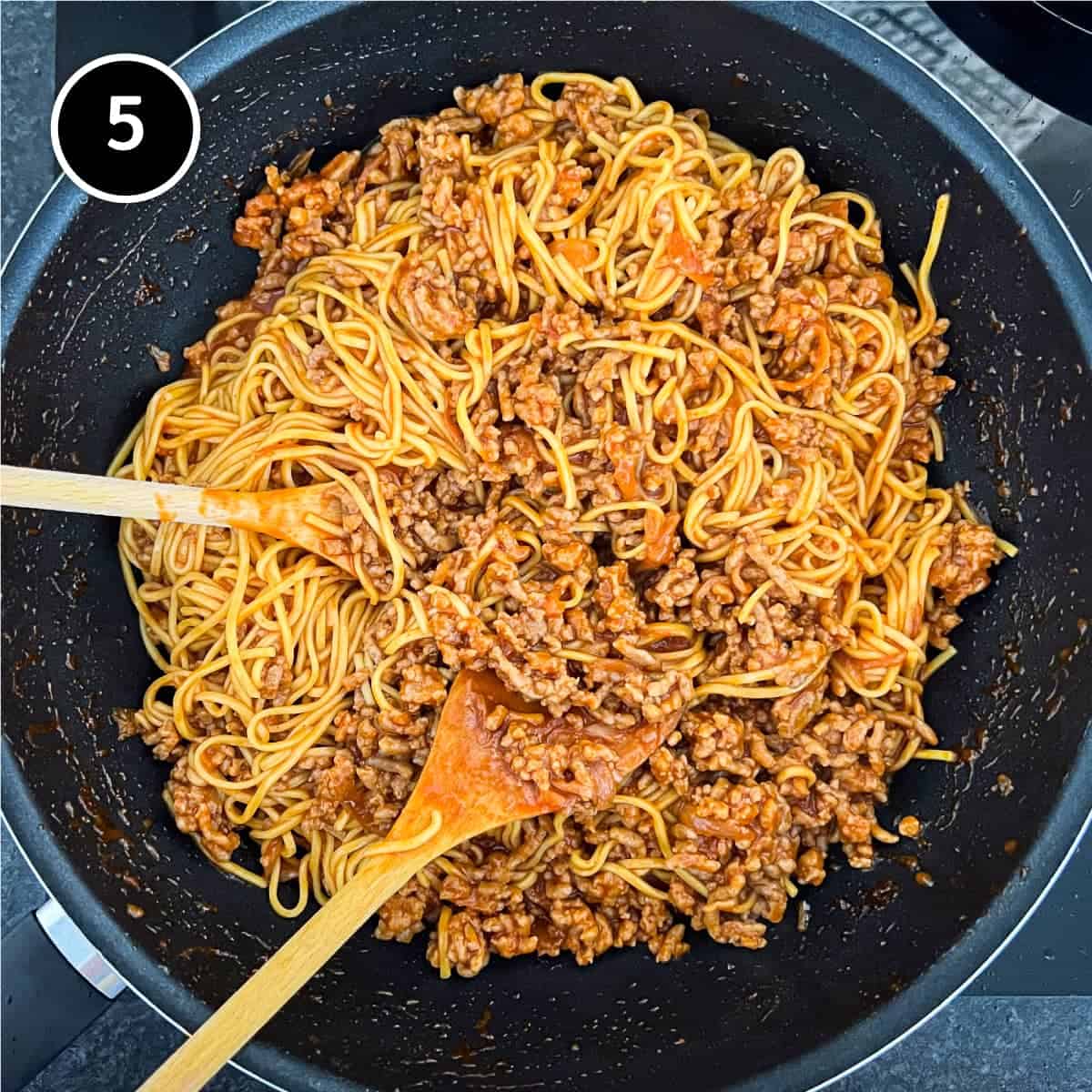 Pro Tips
Pre cooking your noodles will save any drama so do that at stage 1 and set them aside - you can toss them with a little sesame oil to stop them sticking if you like.

Instead of fried eggs, you can use boiled egg or poached.

Buy pre-toasted sesame seeds or simply toast your own for a few minutes in a dry frying pan. Let them dry on paper towels.
Serving & Storage Suggestions
Serve hot as soon as they're ready. This is a whole meal in a bowl, so doesn't really need anything else. Leftovers can be reheated in the microwave but may become a little mushier as the noodles will continue to absorb whatever sauce there is.
This dish is not suitable for freezing.
You can mix up your garnishes as you like. Pickled asian vegetables and kimchi vegetables are a great addition, finely shredded crunchy daikon radish and cabbage are good too. Finally, some finely julienned fresh ginger is great.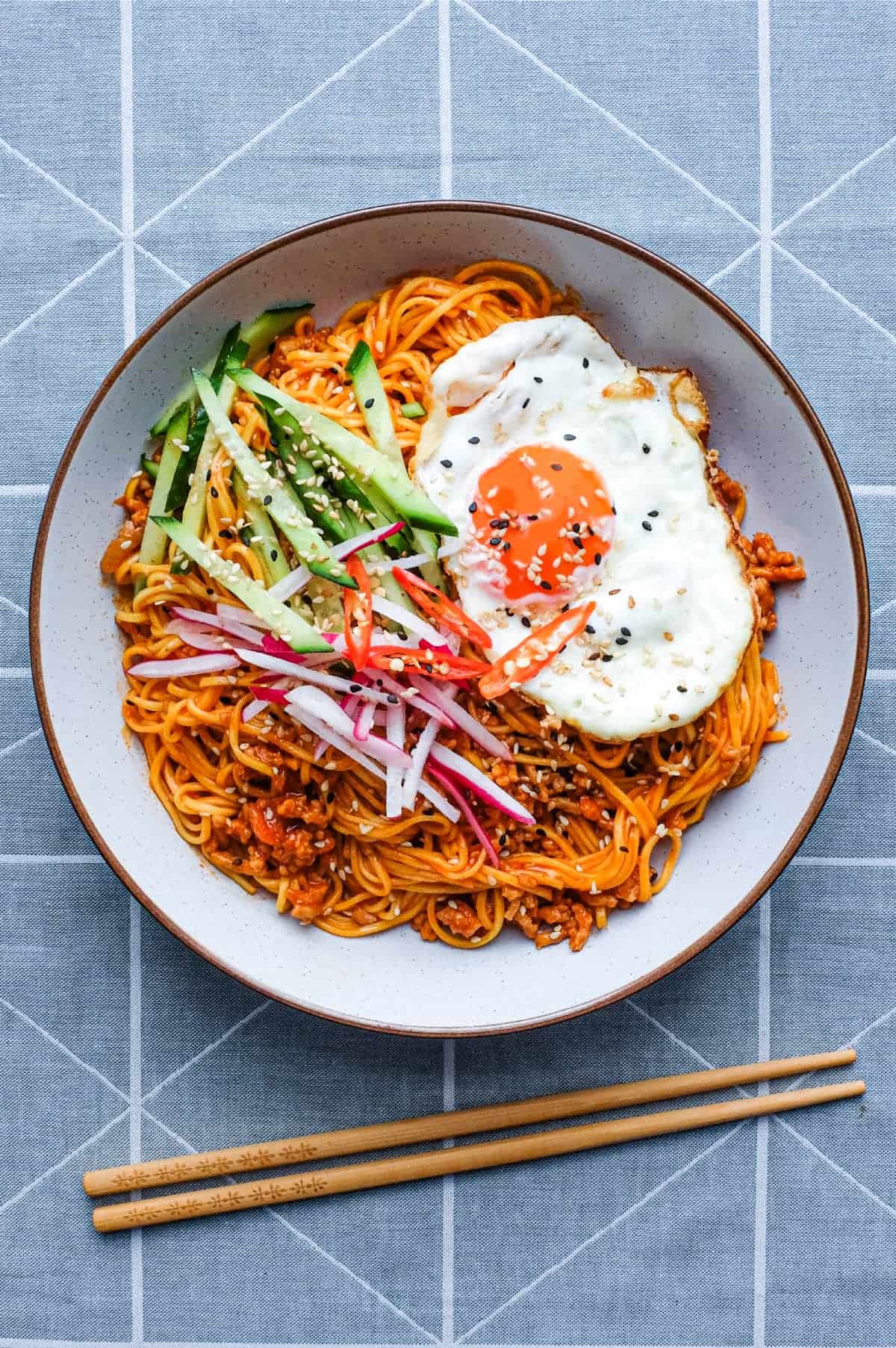 Ready to get cooking?
So, as you can see, my Korean gochujang noodles with pork are so easy to make at home. And, trust me on this, they taste so good! All the heavy lifting is already done for you with the amazing superstar ingredient gochujang paste.
This is one of my favourite easy to make dinner dishes that doesn't require much chopping and time at the stove. All without sacrificing on flavour flavour flavour. Hope you enjoy.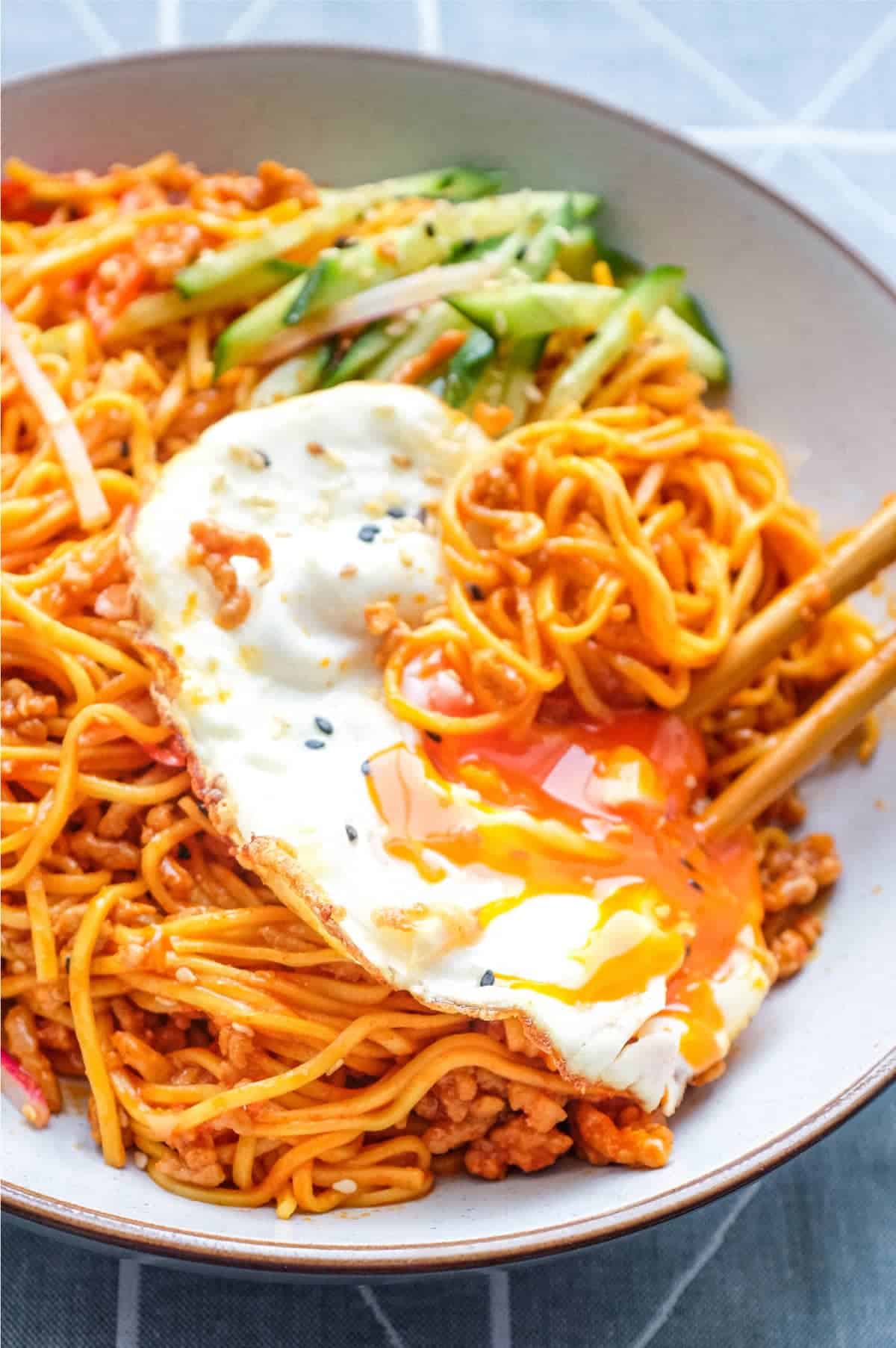 More Korean recipes
If you liked my Gochujang noodles with pork, I'm sure you'll love some more of my favourite Korean recipes.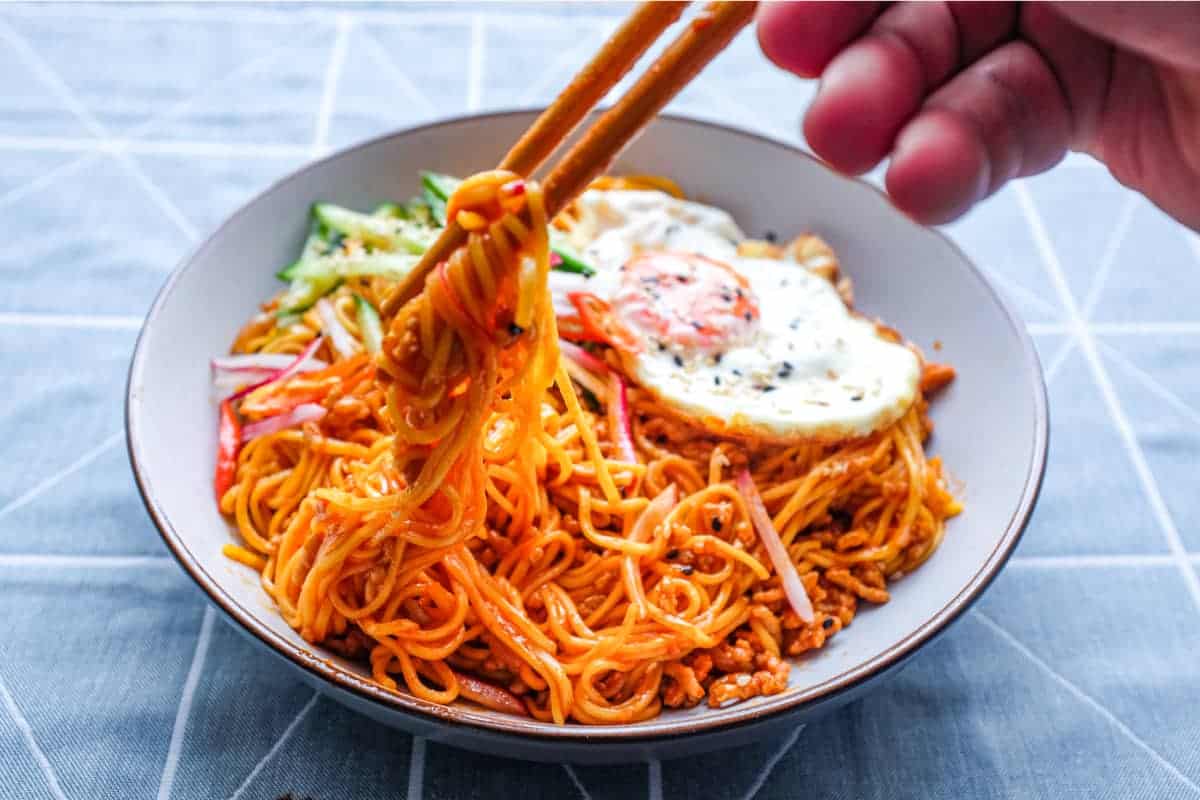 This recipe uses affiliations and may receive a commission based on your activity (link clicks). Learn more.
Korean Gochujang Noodles with Pork
Rate this recipe
Print Recipe
Pin Recipe
Save Recipe
Go to Collections
Calories (per serving) |
575
Ingredients
Garnishes
2

eggs

(1 per person)

2

green onions

(spring onion/scallion)

5

radishes

(sliced or julienned)

1

cup

cucumber

(sliced or julienned)

1

hot chilli

(thinly sliced)

1

tbsp

toasted sesame seeds
Instructions
Make the gochijang paste
In a small bowl, combine the gochujang paste, soy sauce, vinegar, Sriracha (if using), sugar and sake (or water). Mix well and set aside.
Make the noodles
Boil the dried noodles to the packet instructions and set aside. You can also use pre boiled noodles too.
Make the spicy pork
Heat the vegetable oil over a medium heat in a pan or wok until just hot then add the onion and garlic and fry gently for 3-4 minutes.

Turn up the heat a little and then add the pork and stir fry for 4-5 minutes until no pink is left, breaking up any clumps of meat.

Add the gochujang paste and 1 cup water and stir well to combine. Let this come to a simmer then reduce the heat to low. Simmer gently for 15 minutes until thick and creamy.

Stir in the noodles until well combined and just starting to simmer again. Remove from the heat and stir in the sesame oil.
Assembling the bowls
Using a couple of tbsp of oil, fry your eggs in a small frying pan, then drain on paper towels.

Spoon a generous helping of noodles and pork into a deep bowl and garnish with the spring onion, radish, cucumber and a little sliced chilli. Top with a fried egg and then a sprinkle of sesame seeds. That's it!
Notes
Serve promptly once prepared while hot. This all-in-one bowl meal doesn't require any additional accompaniments. If you have leftovers, they can be reheated in the microwave, but be aware that the noodles may become softer as they continue to absorb the sauce.
Please note that this dish is not recommended for freezing. Feel free to personalize your garnishes based on your preference. Pickled Asian vegetables, kimchi, shredded daikon radish, cabbage, or fresh ginger can all be great additions to enhance the flavor.
Nutrition
Calories:
575
kcal
(29%)
|
Carbohydrates:
15
g
(5%)
|
Protein:
34
g
(68%)
|
Fat:
40
g
(62%)
|
Saturated Fat:
14
g
(88%)
|
Polyunsaturated Fat:
5
g
|
Monounsaturated Fat:
17
g
|
Trans Fat:
0.01
g
|
Cholesterol:
225
mg
(75%)
|
Sodium:
597
mg
(26%)
|
Potassium:
746
mg
(21%)
|
Fiber:
1
g
(4%)
|
Sugar:
5
g
(6%)
|
Vitamin A:
332
IU
(7%)
|
Vitamin C:
14
mg
(17%)
|
Calcium:
94
mg
(9%)
|
Iron:
3
mg
(17%)