Indian Black Pepper Chicken Curry
Before chillies, Indian cuisine called upon copious helpings of native peppercorns. Discover a whole new world of spice with this classic black pepper chicken curry…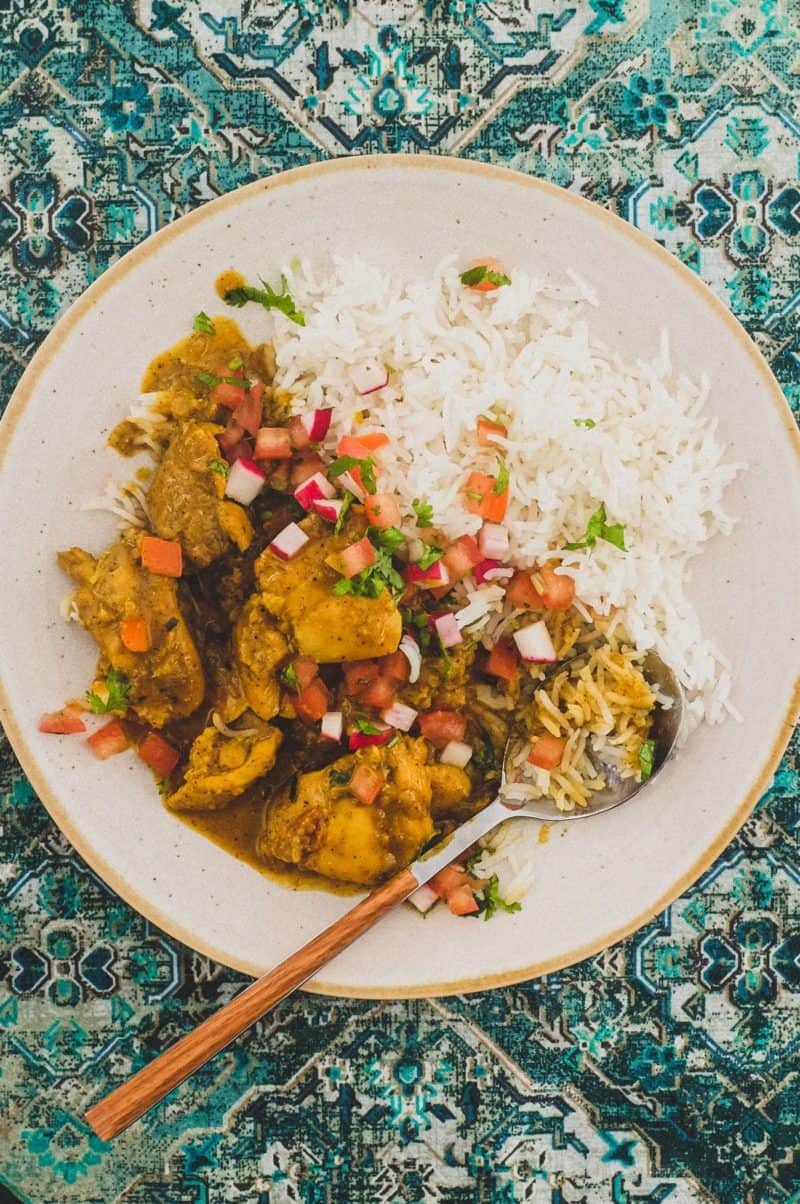 This Indian Black Pepper Curry is just the ticket if you're looking for a more unusual chicken curry recipe, not often seen on the menus outside of India. It's most definitely one of my 10 Best Chicken Curry Recipes.
I first ate this in a small coastal town of Varkala in Kerala, India. Kerala is famed for its Malabar Pepper, considered the finest India has to offer. I was lucky enough to sample some fresh, from the vine on a trip through the amazing Keralan backwaters – they were incredibly spicy and delicious! I also sampled them fresh, added to curries as a whole vine which was spectacularly spicy! If you're lucky enough to ever find fresh peppercorns, add them during the last 10 mins of cooking to infuse their heat.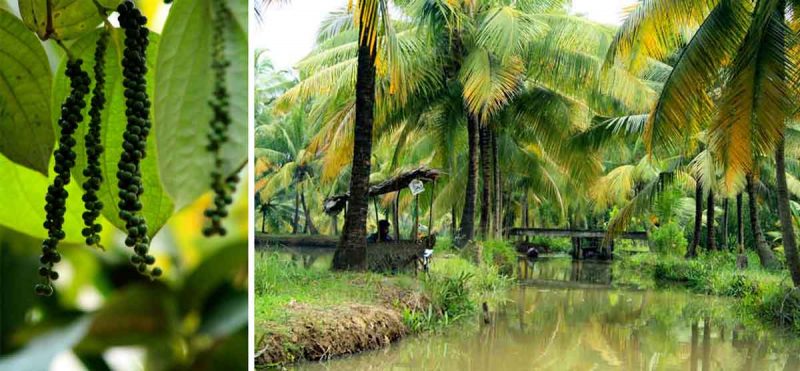 Black pepper – old spice!
Before the introduction of chillies from South America in the 16th Century, peppercorns were the dominant spicing of Indian food. Chillies subsequently took a firm grip, but peppercorns still maintained a stronghold in the South. The dominance of black pepper in this dish creates a uniquely Keralan spice – a slow and lingering heat, unlike any other curry.
Stuff you'll need
This curry is a wonderful combination of flavours and textures – here are some of the main players that go into its making (there's a full recipe below)
Black peppercorns – Try and get hold of Malabar black pepper for the authentic flavour
Mustard Seeds – they'll give an added kick of heat
Spices – a combination of typical Indian spices, cumin, coriander, turmeric, cinnamon, cardamom to name a few.
Chicken thighs – I always make my Indian curries using thigh or leg meat. It makes for a juicer chicken as breast meat will dry out too much. Buy the skinless & boneless thighs for convenience.
Coconut – Using the oil and milk of a coconut gives the authentic flavour of South India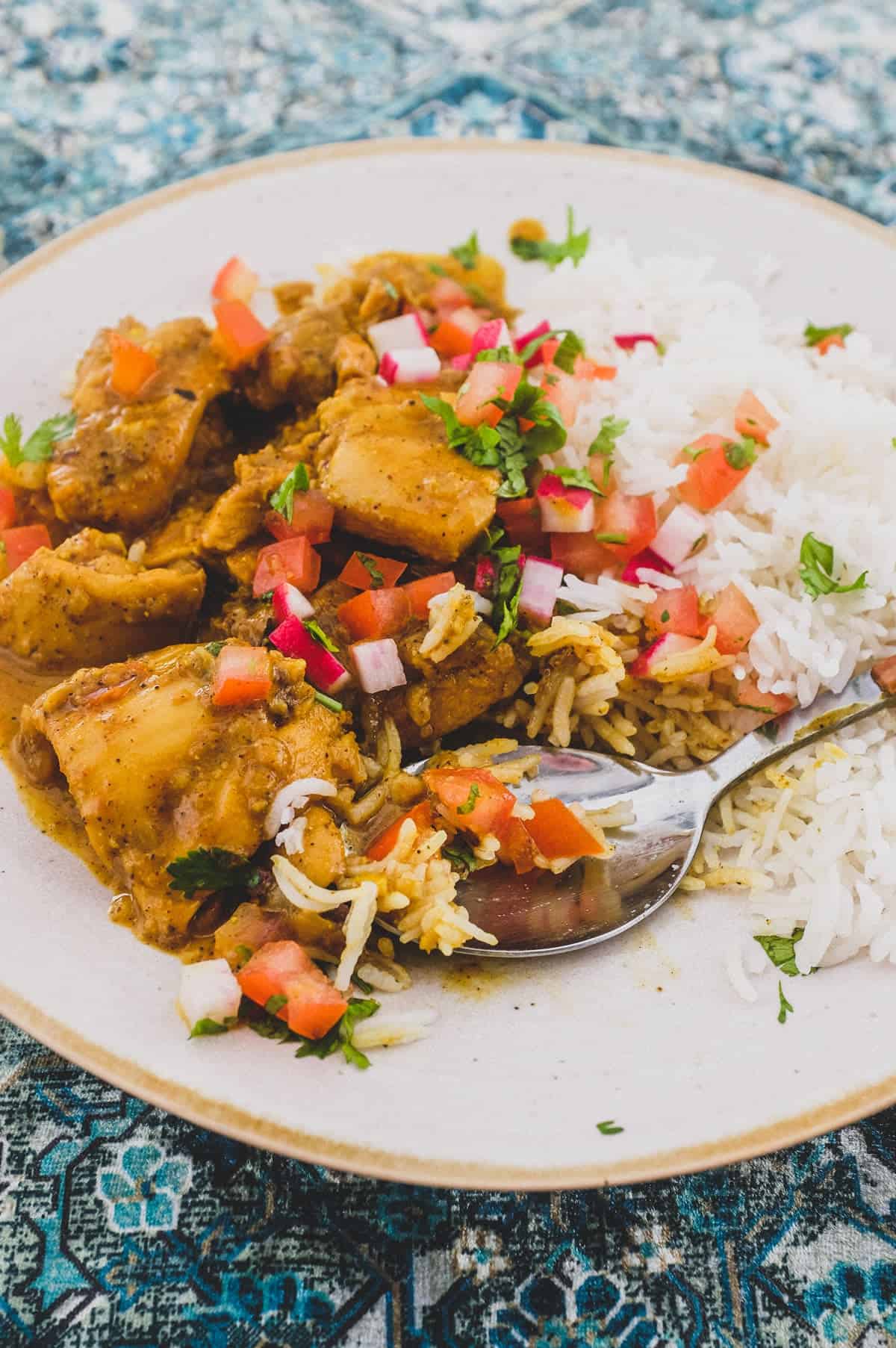 More delicious South Indian curry recipes
If you liked this delicious curry, give one of my other special South Indian or Sri Lankan curries a whirl.
What are the different types of peppercorn?
What are peppercorns?
Peppercorns are the fruit of the pepper plant. They are native to South Asia. Pepper grows on vines with stems and hang like small grapes. The fruit can be harvested at different times to produce different types of pepper products.
What is black pepper?
Black pepper is made by harvesting the under-ripe green fruit and drying. The skins turn black and this creates what we know as the whole black peppercorn.
What is white pepper?
White pepper is created by harvesting the fruit when fully ripe then soaking to remove the skins. The fruit is then dried to create the white peppercorn.
What is green pepper?
Green pepper is created by harvesting the green fruit and eating fresh or by preserving in brine, pickling or canning to retain the green colour.
What is red pepper?
Red peppercorns are created by harvesting the ripe red fruit and eating fresh or by preserving in brine, pickling or canning to retain the red colour. They shouldn't be confused with dried Pink or Sichuan peppercorns.
What are pink and Sichuan peppercorns?
Pink peppercorns and Sichuan peppercorns are not closely related to the pepper plant. Pink are native to South America and Sichuan to South East Asia, North India and China.
Can I substitute the pepper in this recipe?
To give the most authentic flavour, you should use the widely available black pepper. White pepper is milder, so you may want to experiment with that too.
How to make my Indian Black Pepper Chicken Curry
Indian Black Pepper Chicken Curry
Rate this recipe
Print Recipe
Pin Recipe
Calories (per serving) |
532
Instructions
In a pestle & mortar or using a spice grinder, grind together the peppercorns and mustard seeds until coarsely ground. Set aside.

Heat the coconut oil in a large pan over a medium heat until hot. Add the cumin seeds, cinnamon, cardamom, curry leaves and dried chillies. Let them splutter and sizzle for 30 seconds before adding the onion, garlic and ginger. Stir well for 2-3 minutes.

Splash in about 1/4 cup water and sizzle for a further 2-3 minutes until the water has evaporated and the onions are frying again. Repeat this process of adding water and reducing for about 10 minutes.

Add the ground turmeric, cumin, coriander, chilli powder, garam masala and the ground pepper/mustard and stir well. Add 1/2 cup water and stir again. Like before, let this mixture reduce until almost dry then add 1/4 cup water. Stir constantly to avoid sticking.

Add the tomato, salt and sugar and another 1/4 cup water and reduce again. Repeat this process of water and reduction, like before, for about 20 minutes until the paste is thick and smooth and the oil begins to separate.

Now, Add the chicken and turn up the heat. Stir fry for 10 minutes before pouring in the coconut milk and about 1 cup water. Bring to a boil, then reduce the heat to low and simmer gently, uncovered for 30 minutes until the chicken is cooked through and the sauce thick and creamy.

Squeeze over some lemon juice (about 1/2 lemon or more) to add a last minute citrus hit.
Nutrition
Calories:
532
kcal
(27%)
|
Carbohydrates:
13
g
(4%)
|
Protein:
30
g
(60%)
|
Fat:
41
g
(63%)
|
Saturated Fat:
19
g
(119%)
|
Cholesterol:
163
mg
(54%)
|
Sodium:
533
mg
(23%)
|
Potassium:
662
mg
(19%)
|
Fiber:
3
g
(13%)
|
Sugar:
4
g
(4%)
|
Vitamin A:
745
IU
(15%)
|
Vitamin C:
87
mg
(105%)
|
Calcium:
79
mg
(8%)
|
Iron:
4
mg
(22%)