Indian Black Pepper Chicken Curry
Before chillies, Indian cuisine called upon copious helpings of Indian native peppercorns. Discover a whole new world of spice with this classic South Indian Black Pepper Chicken Curry.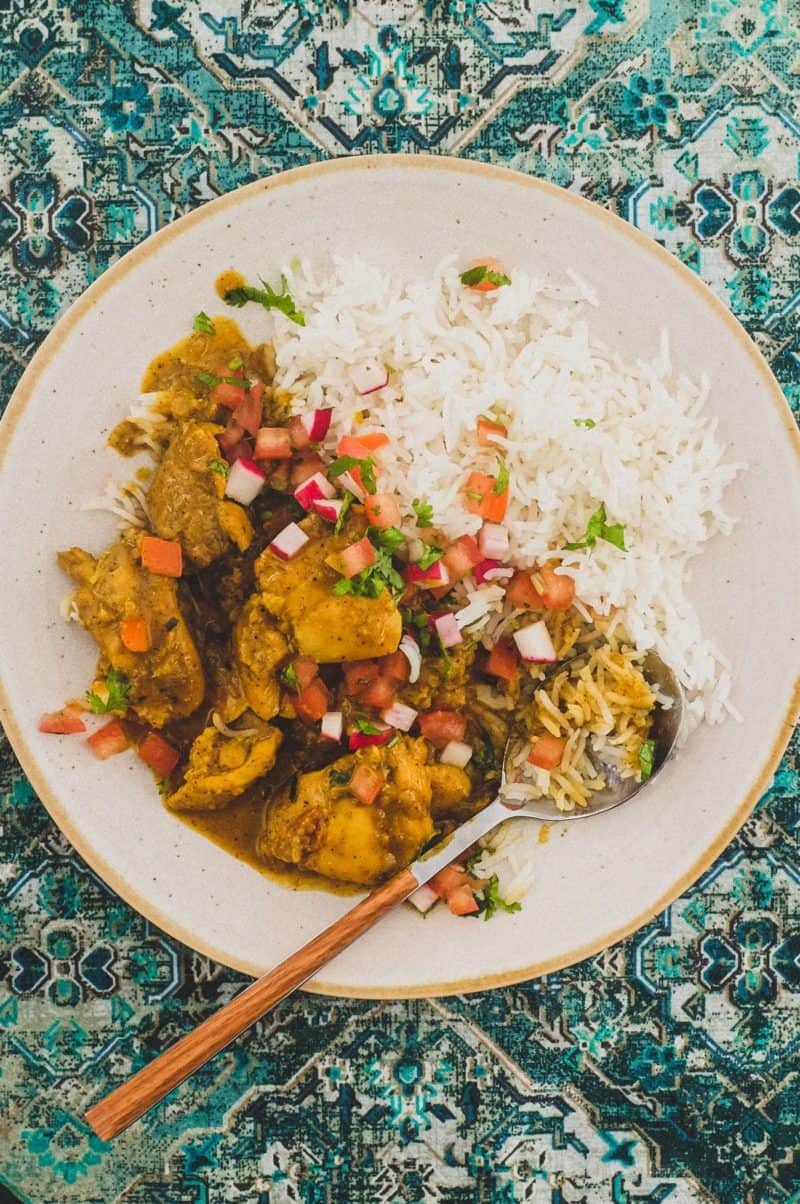 Black pepper played an important part of Indian cuisine before the introduction of chilli by the Portuguese in the 16th Century. Notice to the Indian sub continent, peppercorns have a hot, spicy flavour, making them the perfect ingredient to add a kick to the cuisine.
I first ate this chicken curry in a small coastal town of Varkala in Kerala, Southern India. Kerala is famed for its Malabar Pepper, considered the finest India has to offer. They lend an intriguing heat to this sauce, a slow growing heat that lingers. This recipe creates a spicy curry quite unlike any other, the juicy chicken is perfect to soak up all the fiery flavour that the black pepper imparts.
Fresh peppercorns
I was lucky enough to sample some fresh Malabar peppercorns, from the vine on a trip through the amazing Keralan backwaters – they were incredibly spicy and delicious! If you're lucky enough to ever find fresh peppercorns in the store, you can add them during the last 10 minutes of cooking and infuse their heat to up the ante on your spice challenge.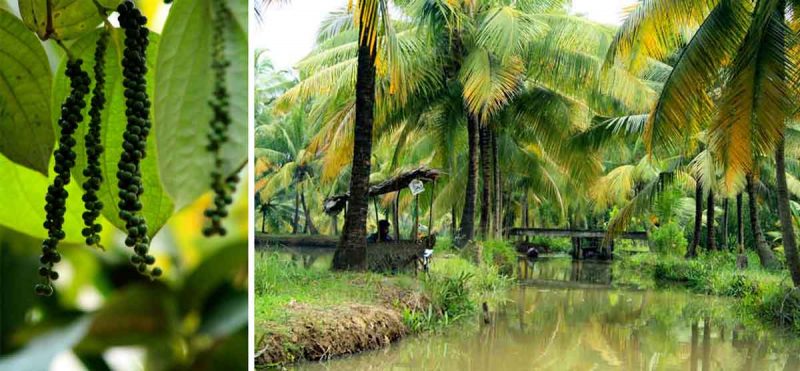 What are peppercorns?
Peppercorns are the fruit of the pepper plant. They are native to South Asia. Pepper grows on vines with stems and hang like small grapes. The fruit can be harvested at different times to produce different types of pepper products.
Black pepper -

Black pepper is made by harvesting the under-ripe green fruit and drying. The skins turn black and this creates what we know as the whole black peppercorn.

White pepper -

White pepper is created by harvesting the fruit when fully ripe then soaking to remove the skins. The fruit is then dried to create the white peppercorn.

Green pepper -

Green pepper is created by harvesting the green fruit and eating fresh or by preserving in brine, pickling or canning to retain the green colour.

Red pepper -

Red peppercorns are created by harvesting the ripe red fruit and eating fresh or by preserving in brine, pickling or canning to retain the red colour. They shouldn't be confused with dried Pink or Sichuan peppercorns.

Pink and Sichuan peppercorns -

Pink peppercorns and Sichuan peppercorns are not closely related to the pepper plant. Pink are native to South America and Sichuan to South East Asia, North India and China.

Can I substitute the pepper in this recipe?

To give the most authentic flavour, you should use the widely available black pepper. White pepper is milder, so you may want to experiment with that too.
Why it works?
It's a unique curry - I love this curry because it's quite unlike any other curry recipe. It's hugely successful in flavour and a stand-out dish that I love to cook (and eat).
It's spicy! - I love spice, and peppercorns offer a unique hit of spice - a slow burn that stays with you long after you're done eating.
Stuff You'll Need
This curry is a wonderful combination of flavours and textures – here are some of the main players that go into its making (there's a full recipe below)
Black peppercorns – Try and get hold of Malabar black pepper for the authentic flavour
Mustard Seeds – they'll give an added kick of heat
Spices – a combination of typical Indian spices, cumin, coriander, turmeric, cinnamon, cardamom to name a few.
Chicken thighs – I always make my Indian curries using thigh or leg meat. It makes for a juicer chicken as breast meat will dry out too much. Buy the skinless & boneless thighs for convenience.
Coconut – Using the oil and milk of a coconut gives the authentic flavour of South India
Step by Step
Making black pepper chicken is easy, just follow these simple steps.
Step 1 - Coarsely grind the pepper and mustard seeds in a pestle & mortar or spice grinder
Step 2 - Sizzle the cumin seeds, cinnamon, cardamom, curry leaves and dried chillies in a little coconut oil then add the onion, garlic and ginger.
Step 3 - Add the tomato, salt and sugar and stir for 20 minutes to make everything paste-like.
Step 4 - Add the chicken then coconut milk and a little water and simmer gently for 30 minutes until the chicken is cooked and the sauce thick and creamy.
Step 5 - Spritz in some lemon or lime juice at the end and then serve over fluffy basmati rice garnished by something fresh. I like diced tomatoes, radishes and chopped cilantro.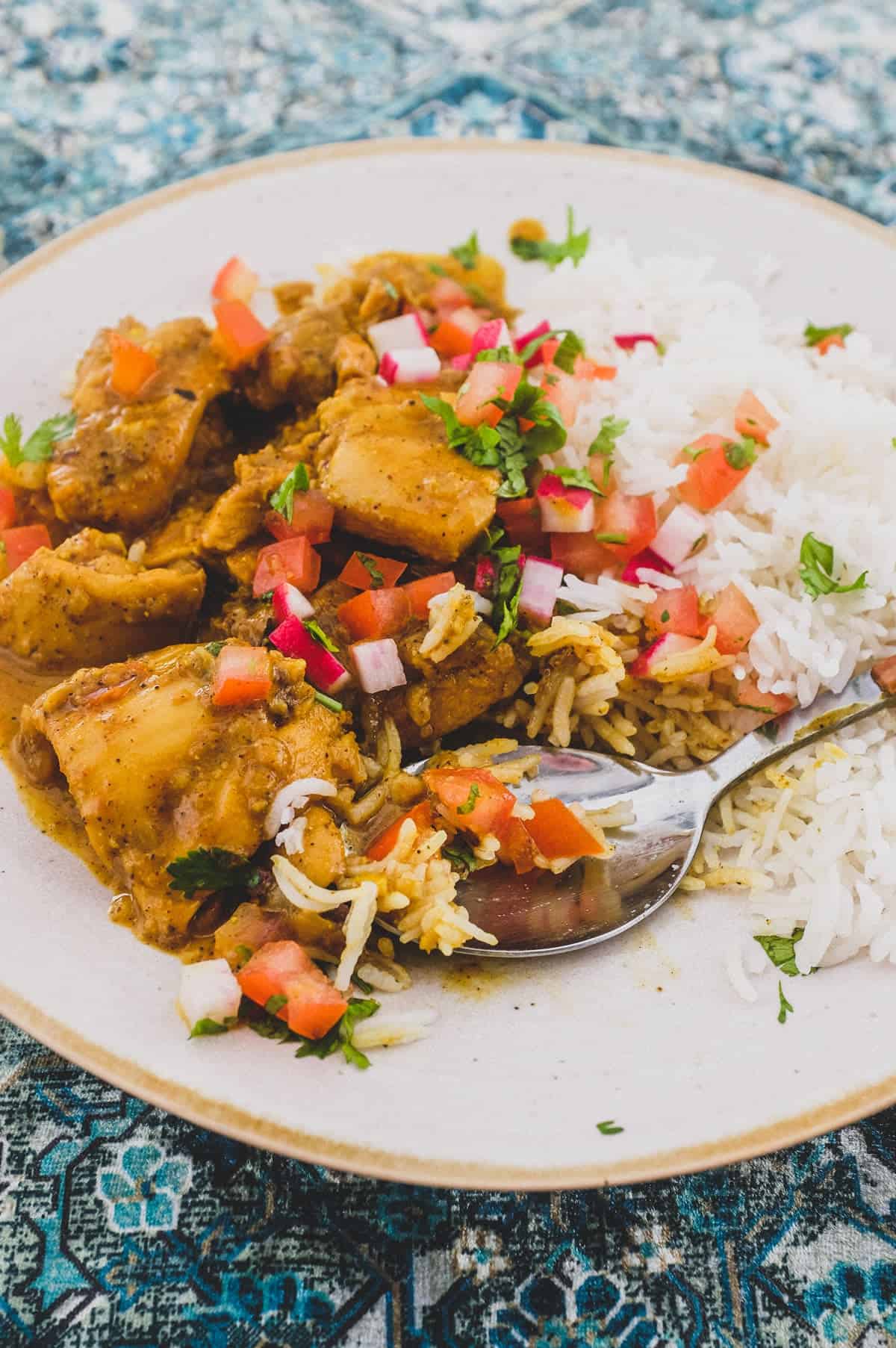 Pro Tips
When we add the onion, a clever technique is used to soften them properly, by adding small amounts of water over a few stages and letting it sizzle and evaporate. This technique avoids them burning. It replicates how onions react over a long, slow cook and helps them break down to create a rich, creamy sauce.
Serving & Storage Suggestions
If you happen to have any leftovers this curry keeps well in either the fridge or freezer.
Fridge -

store in an airtight container for up to 1 week. The flavour enhances the longer you leave it.

Freezer -

store in airtight containers for 3+ months. I like to add a little water if reheating in a microwave as it'll stop the sauce drying out. Reheat, from frozen, stirring once or twice until the curry is piping hot.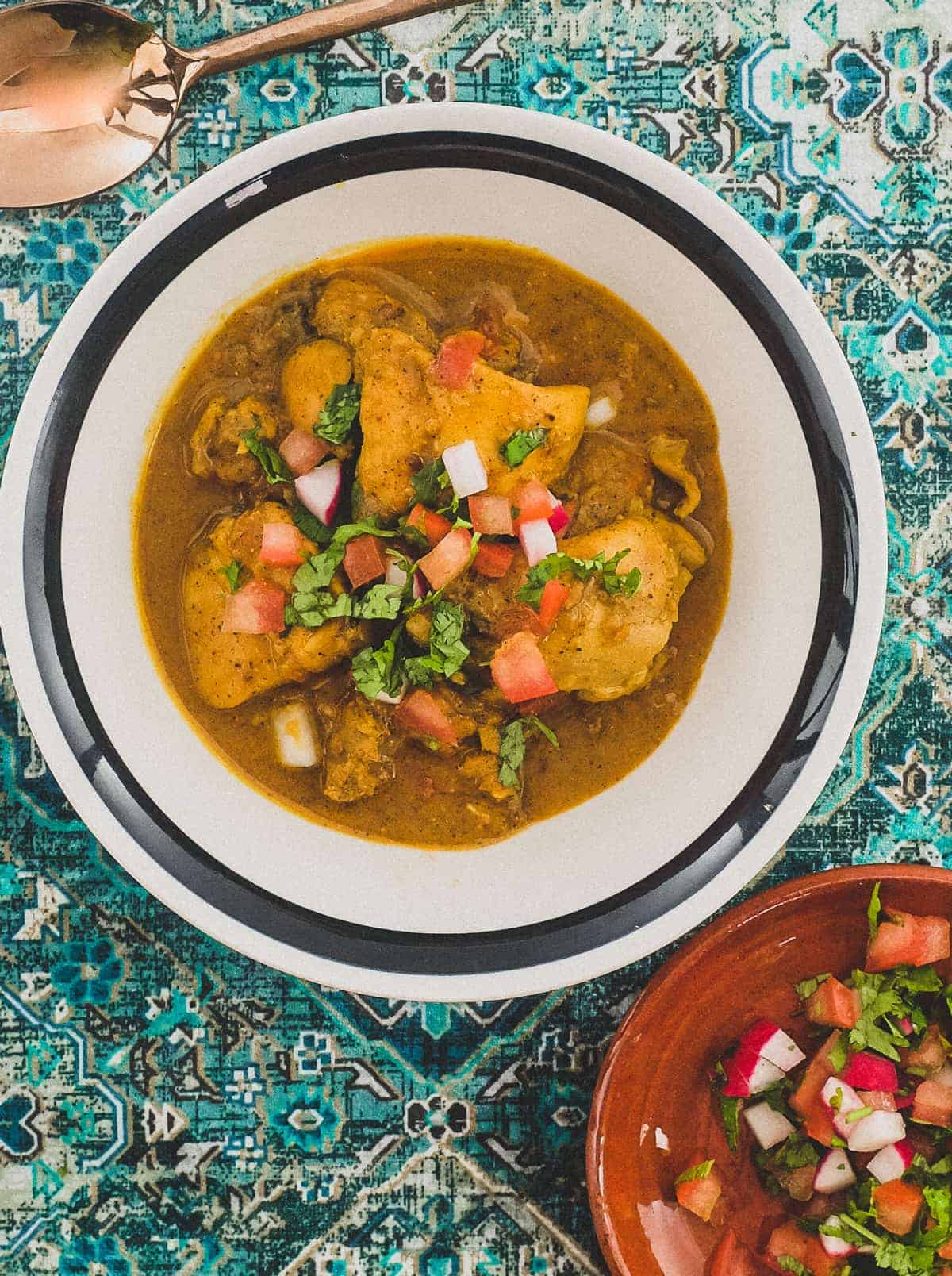 Ready to get cooking?
Black pepper curry truly is one of my favourite curries to cook and eat. It's easy and a splendid change, a unique blend of fragrance, flavour and SPICE! Once you've tried yourself, I'm sure you'll be in complete agreement. Hope you enjoy!
More curry recipes
If you were a fan of this recipe, be sure to try more of my other favourite curry recipes.
Any Questions? (FAQ)
Have a question about ? Let me know in the comments.
What is black pepper curry?
Black pepper curry is a traditional South Indian dish seasoned with spices like cumin, coriander, turmeric, and cinnamon and black peppercorns. It can be made with various ingredients including meat and vegetables, such as chicken, lamb, beef, potatoes, cauliflower, or peas. The black pepper used gives it a unique spicy flavor and aroma sets it apart from other curries.
Is Black Pepper Curry spicy?
Yes, black pepper curry can be spicy, as black pepper is a pungent spice that adds heat to the dish. However, the level of spiciness can be adjusted based on personal preference and the amount of black pepper used in the recipe. Some people may find black pepper curry to be mildly spicy, while others may find it to be quite hot. It is always a good idea to taste a small amount of the dish before serving to ensure that it is not too spicy for your liking.
This recipe uses affiliations and may receive a commission based on your activity (link clicks). Learn more.
Indian Black Pepper Chicken Curry
Rate this recipe
Print Recipe
Pin Recipe
Save Recipe
Go to Collections
Calories (per serving) |
532
Instructions
In a pestle & mortar or using a spice grinder, grind together the peppercorns and mustard seeds until coarsely ground. Set aside.

Heat the coconut oil in a large pan over a medium heat until hot. Add the cumin seeds, cinnamon, cardamom, curry leaves and dried chillies. Let them splutter and sizzle for 30 seconds before adding the onion, garlic and ginger. Stir well for 2-3 minutes.

Splash in about 1/4 cup water and sizzle for a further 2-3 minutes until the water has evaporated and the onions are frying again. Repeat this process of adding water and reducing for about 10 minutes.

Add the ground turmeric, cumin, coriander, chilli powder, garam masala and the ground pepper/mustard and stir well. Add 1/2 cup water and stir again. Like before, let this mixture reduce until almost dry then add 1/4 cup water. Stir constantly to avoid sticking.

Add the tomato, salt and sugar and another 1/4 cup water and reduce again. Repeat this process of water and reduction, like before, for about 20 minutes until the paste is thick and smooth and the oil begins to separate.

Now, Add the chicken and turn up the heat. Stir fry for 10 minutes before pouring in the coconut milk and about 1 cup water. Bring to a boil, then reduce the heat to low and simmer gently, uncovered for 30 minutes until the chicken is cooked through and the sauce thick and creamy.

Squeeze over some lemon juice (about 1/2 lemon or more) to add a last minute citrus hit.
Notes
Storage
If you have any remaining curry, it can be stored in either the refrigerator or freezer for later consumption.
For refrigeration, place the curry in an airtight container and store for up to one week. The flavor of the curry will become more intense over time.
For freezing, store the curry in airtight containers for three or more months. If reheating in a microwave, it is advisable to add a small amount of water to prevent the sauce from drying out. When reheating from frozen, stir the curry occasionally until it is heated through.
Nutrition
Calories:
532
kcal
(27%)
|
Carbohydrates:
13
g
(4%)
|
Protein:
30
g
(60%)
|
Fat:
41
g
(63%)
|
Saturated Fat:
19
g
(119%)
|
Cholesterol:
163
mg
(54%)
|
Sodium:
533
mg
(23%)
|
Potassium:
662
mg
(19%)
|
Fiber:
3
g
(13%)
|
Sugar:
4
g
(4%)
|
Vitamin A:
745
IU
(15%)
|
Vitamin C:
87
mg
(105%)
|
Calcium:
79
mg
(8%)
|
Iron:
4
mg
(22%)