My Goan vindaloo curry has a fiery personality you'll be sure to remember. Chilli heat plays its part in this sweet, sour and spicy curry. It's utterly addictive and simple to make at home.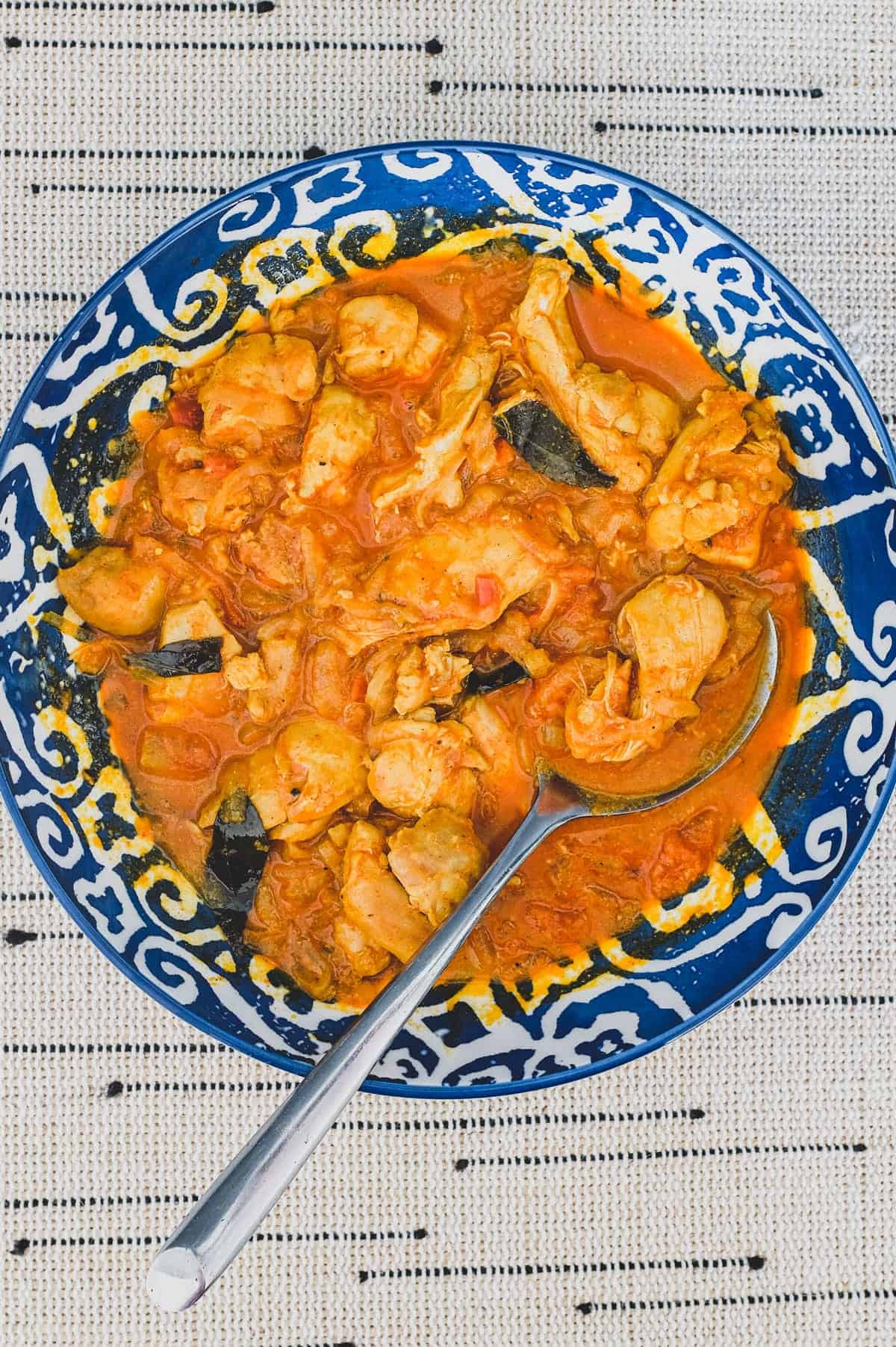 One of my favourite Indian curries is the spicy, Goan chicken curry, vindaloo. It's a stalwart member of my 10 Best Chicken Curry Recipes - with its rich, tangy sauce that then delivers big on taste, fragrance and spice. Indian Vindaloo often gets a bad rap because people assume it needs to be liquid gunpowder. But, while indeed, vindaloo is spicy curry - it needn't blow you head off. This curry turns up the heat, flavour, texture... everything!
What is Goan Vindaloo?
Vindaloo gets its name from the Portuguese, who colonised and ruled over South Western India from 1505. They brought with them a dish "carne de vinha d'alhos", meaning 'meat with wine/vinegar & garlic'. The dish was popular on the Portuguese ships as it was a good way of using sour wine and helped preserve meat. Over time, the dish made its way into the local Indian cuisine, incorporating spices to help create the dish we know as 'Vindaloo' today. It's commonly cooked using pork, but chicken vindaloo is popular too.
Why it works
It's easy - There's not a lot of fuss-pottery going on with this curry. It's all fairly straightforward.
It's spicy - It's spicy, but feels right! You can dial it up or down but as it stands the recipe will deliver an 8/10 spice, so not fully nuclear.
It's authentic - All too often a chicken vindaloo in a restaurant is served overspiced with chilli powder at the end of cooking and frequently inedible. This dish cooks the spice into the curry for a more deeply rounded and developed experience.
Stuff you'll need
This Goan chicken vindaloo is a simple dish with relatively few ingredients. Here are some of the key flavours - a full recipe is below.
Chicken - I like thigh meat best for my chicken vindaloo - it stays juicy. Breast will dry out, so avoid!
Vinegar - coconut vinegar if you can get it, apple cider or white vinegar works too. This adds the unique sour taste to the Vindaloo, so stick to the recipe for this element.
Spices! - Ground cumin, coriander, turmeric, black pepper and cardamom are combined. I then add my chilli powders, using milder Kashmiri chilli for the vibrant red colour, Paprika for smokey notes and finally cayenne pepper for spice heat. There are couple of whole spices too, namely cloves and cinnamon.
Curry leaves - The essence of curry, fresh curry leaves bring a unique fragrance to the vindaloo. And please eat them, they're delicious!
Fresh - The backbone to the sauce comes in the form of onion, garlic, ginger and tomato.
Step by Step
My Goan Chicken Vindaloo recipe only has a few simple steps. See for yourself how easy it is to make at home.
Mix all the ground spices with the garlic and ginger and a little water to create a curry paste.
Fry the onion with some whole spices until soft.
Add the chicken and curry paste and stir until hot and bubbling.
Add the tomatoes and cook again until bubbling.
Add the vinegar this will give the unique sour note to the chicken vindaloo sauce. We'll also add a little water at this stage too.
Simmer for 30-40 minutes uncovered, until reduced. I like a lot of sauce and enjoy a relatively thin sauce (like single/pouring cream), but you can reduce the sauce to a consistency you prefer. That's it! It's time to serve.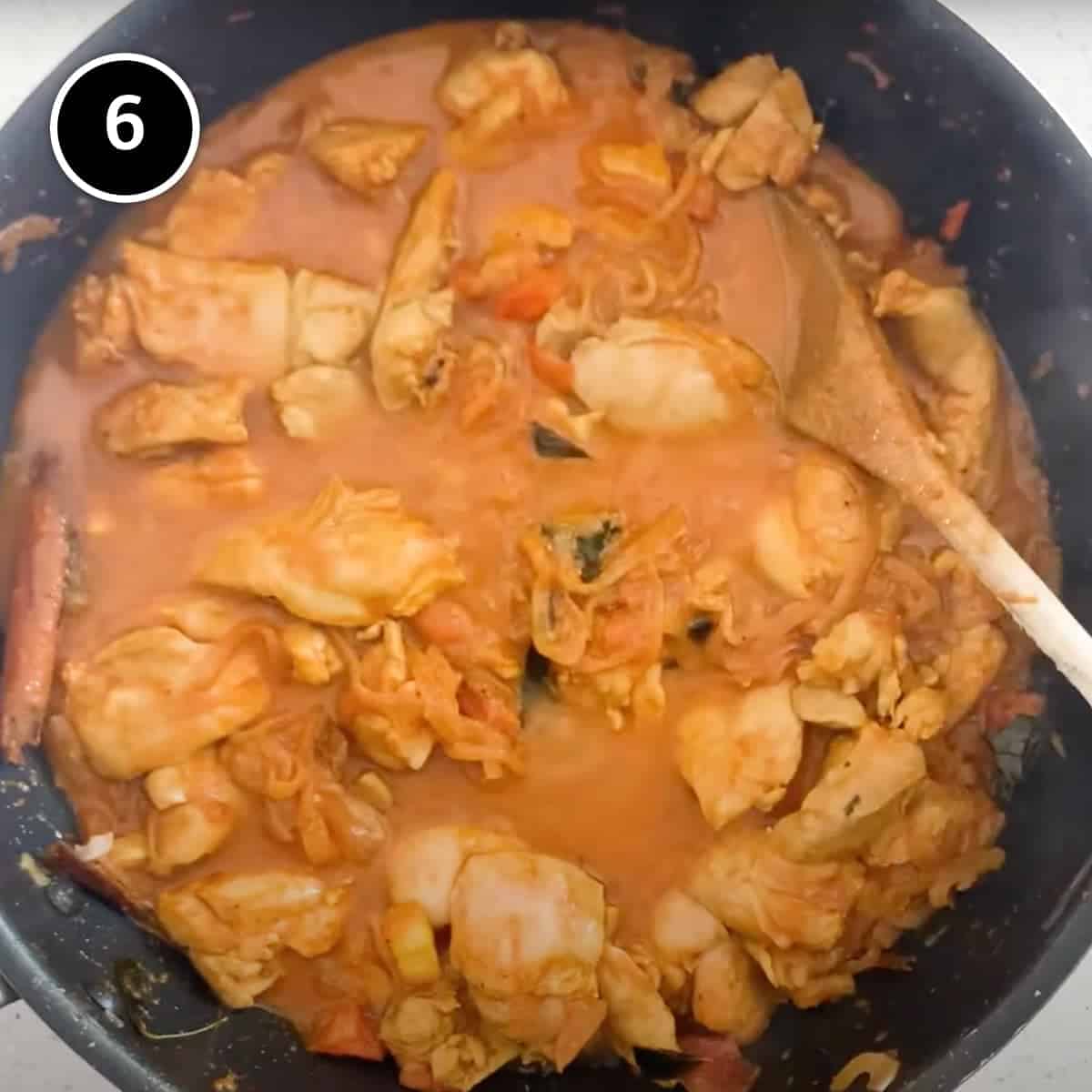 Serving, storing and suggestions
Serving:
Serve with lots of fluffy basmati rice, or Indian breads like roti, chapati and naan.

A nice cooling yoghurt raita is a good idea with a fiery vindaloo.
Serve a cool kachumber salad, a healthy, ice-cold combination of chopped vegetables.
Leftovers and storage:
Enhanced flavour: For an enhanced flavour, consider making your vindaloo up to two days in advance. You'll notice a more intensely delicious flavour to the sauce. Just store the cooked curry in the fridge until you're good to go.
Fridge: Leftovers will stay fresh for 5-6 days in the fridge in an airtight container.
Freezer: Chicken Vindaloo is a good contender for the freezer. Store in single portions in airtight containers (keep hold of your plastic take-out containers) and freeze for 3+ months. Reheat from frozen in a microwave for 7-10 minutes until piping hot (stir every 2-3 minutes). Or, defrost thoroughly and reheat in a pan until piping hot.
Additions and suggestions:
To add to your 5-a-day, you can add vegetables to the vindaloo. I like to add potatoes (add at the same time as the chicken). I've also added cooked French beans and even frozen peas at the end.
Ready to get cooking?
Make your next curry night a Goan Chicken Vindaloo night. You'll taste the difference from take-out and restaurant vindaloo. It's one of my most favourite spicy curries to make and devour at home. Let me know if you agree! Enjoy!
Any Questions? (FAQ)
Have a question about , let me know in the comments.
What's the
best vinegar to use for vindaloo?
In Goa they use Coconut Vinegar - you can find this online or at some Asian supermarkets (specifically Filipino supermarkets - they use a LOT of vinegar in their cooking - A Spanish influence). If you can't find coconut vinegar then use apple cider vinegar or white vinegar - both give excellent results
Is Vindaloo the hottest Indian curry?
There are many hot, spicy Indian curries. Vindaloo is considered by many to be one of the spiciest although there are some curries that out-spice even vindaloo. Phall, Laal Maas, Andhra and Chettinad curries all give a spicy Vindaloo a run for its money.
What does chicken vindaloo taste like
Vindaloo has a spicy, sweet and sour taste. The vinegar has a certain sweetness, but primarily sour it creates a unique note to counteract the chilli heat from the hot chilli powder.
Is Vindaloo very spicy?
Yes, it can be. My Chicken Vindaloo recipe scores about 8/10 on the spice scale.
More delicious Indian recipes
If you liked this recipe for Goan Chicken Vindaloo, you'll be sure to enjoy more of my favourite Indian recipes.
Goan Chicken Vindaloo
Rate this recipe
Print Recipe
Pin Recipe
Calories (per serving) |
365
Ingredients
Other ingredients
4

tbsp

vegetable oil

2

large onions (halved and thinly sliced)

4

cloves

2.2

lb

(1kg) skinless & boneless chicken thighs

2

ripe tomatoes (blended to pulp) or 1/2 can crushed tomatoes

5

tbsp

coconut vinegar

(or apple cider/white vinegar)
Instructions
Spice paste
Mix together all the spice paste ingredients with 1/4 cup water and set aside.
The Curry
Heat the oil in a large casserole pan or wok over a moderate heat until hot. Add the curry leaves, cloves and cinnamon stick and let them splutter briefly before adding the onion.

Cook the onion gently for 10 minutes, stirring regularly until soft and golden.

Add the chicken to the pan and stir well. Cook for 5 minutes before adding the spice paste. Stir the paste in well and cook for 2-3 minutes before stirring in around 13oz/400ml water.

Add the tomatoes and stir well.

Let this come to a boil and then reduce the heat to low and let the curry simmer gently 40 minutes with the lid off. In the last 10 minutes, turn up the heat to reduce the sauce til it's thick and creamy, being careful to not let it stick.

Remove from the heat and stir in the vinegar. Pop on the lid and let it rest for 10 minutes before serving. I serve mine with lots of fluffy basmati.
Notes
Serving:
Indian breads or fluffy Basmati rice make great accompaniments to a Chicken Vindaloo

To counteract the chilli heat a simple yoghurt raita will cool the palette.

Serve a cool kachumber salad alongside, you can find my recipe here: cookeatworld.com/kachumber
Leftovers and storage:
Enhanced flavour: Consider cooking your vindaloo in advance. a little time in the fridge will develop a more intense flavour to the sauce.
Fridge: In an airtight container, leftovers will stay fresh for 5-6 days in the fridge.
Freezer: Store in single portions in airtight containers for 3+ months. Reheat from frozen in a microwave for 7-10 minutes until piping hot (stir every 2-3 minutes). Or, defrost thoroughly and reheat in a pan until piping hot.
Additions and suggestions:
Add vegetables to the vindaloo to bulk it out and get in some of your 5-a-day. I like to add potatoes (add at the same time as the chicken). I've also added cooked French beans and even frozen peas at the end.
Nutrition
Calories:
365
kcal
(18%)
|
Carbohydrates:
7.9
g
(3%)
|
Protein:
49.7
g
(99%)
|
Fat:
13.5
g
(21%)
|
Saturated Fat:
3.5
g
(22%)
|
Cholesterol:
148
mg
(49%)
|
Sodium:
585
mg
(25%)
|
Potassium:
635
mg
(18%)
|
Fiber:
2.5
g
(10%)
|
Sugar:
3.3
g
(4%)
This recipe uses affiliations and may receive a commission based on your activity (link clicks). Learn more.