This British/Indian style curry is packed with bright, tart, sour flavours. A vibrant, spicy curry that's brimming over with personality. Learn how the magic happens with this simple to follow recipe.
I remember fondly Chicken Pathia from my years growing up in the UK. Being a Brit, we are fond of the old curry house, where all manner of tasty dishes are served - some not seen anywhere else in the World. Chicken Pathia is one of those British India dishes that has its roots in India, but has also gradually morphed over generations into the dish I love today. It's so delicious and definitely serves its place as one of my 10 Best Chicken Curry Recipes.
What is Pathia Curry?
The origins of Pathia curry lie with the ancient Persians who migrated into India - with them the brought cooking techniques and ingredients that would shape and transform Indian cuisine. One such dish was a sweet and sour stew that, when combined with Indian spices, created an early version of Pathia.
It was the Parsi (Persian) community of India that would keep this dish alive, and when they in turn migrated to the UK, brought with them. The curry houses of British Indian chefs continue to serve a version of this dish - I've never seen it on any Indian menu outside of the UK, but I often cook my version at home as a trip down memory lane.
Pathia is a spicy, sweet and sour concoction. Like a Goan Vindaloo, it has a sour note, not from vinegar but Tamarind and Limes. These days, to make my life simpler, I use only limes and I have to say - the results are fantastic. Quite unlike any other Indian curry you're likely to sample.
Hot or Not?
In the UK, most Pathia curries I've eaten have been spicy (8/10), but it's really up to you how you spice yours. I usually for somewhere between 7/10, so hot but not ridiculously so. This recipe specifies a hot chilli powder, so yours may vary depending how hot your powder is. If you're using Cayenne pepper, you can be assured the recipe will be spicy! If you're not a fan of spice, switch chilli powder with paprika and you're set.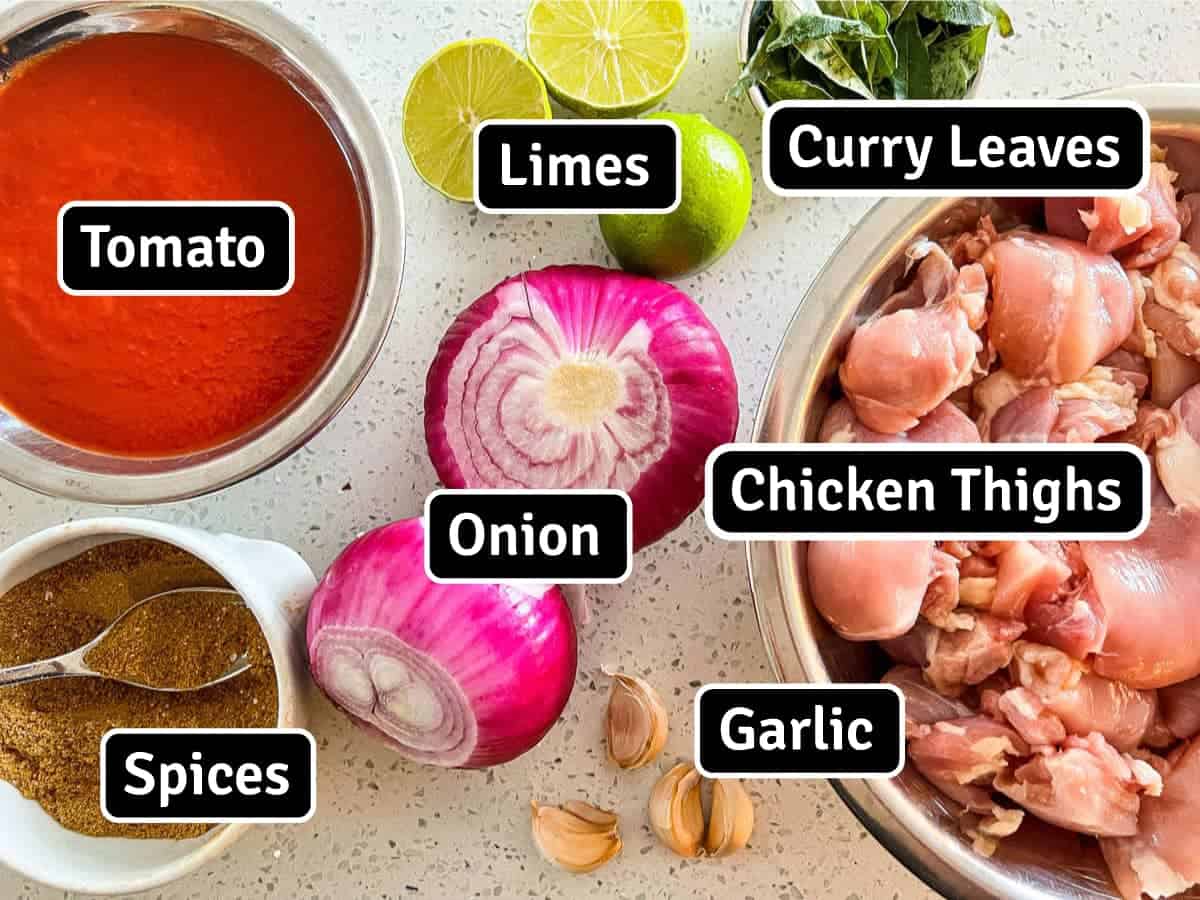 Stuff you'll need
My Chicken Pathia Curry recipe doesn't call for anything out of the ordinary, see for yourself how the magic happens.
Chicken - I always use thighs for curries, they're juicier and won't dry out like a chicken breast will.
Spices - I make a simple curry powder with ground spices. We're talking clove, cardamom, cumin, coriander, cinnamon and turmeric
Onion & Garlic - The base for many curries, it brings a sweetness and helps thicken the sauce.
Tomato - For sweetness and colour.
Limes - My recipe uses fresh limes for sourness but see the tips below for more options.
Fresh Curry Leaves - I LOVE fresh curry leaves in this curry. I strip a stem and add them towards the end of cooking.
Step by Step
My Pathia curry recipe is simple to make at home. I've simplified it as much as possible to get the best, most authentic version.
Step 1

Make a curry powder - Mix together all the ground spices for the simplest curry powder ever! No dry roasting, it's a no-nonsense powder.

Step 2

Fry the onion & Garlic until soft

Step 3

Add the chicken and cook for a few minutes before adding the spices and then tomatoes. A little water is then added.

Step 4

Add the lime - I squeeze in 1 lime and then cut another into quarters and pop those directly into the sauce. It's then a cook uncovered for around 40 minutes until the sauce is nice and thick. That's it!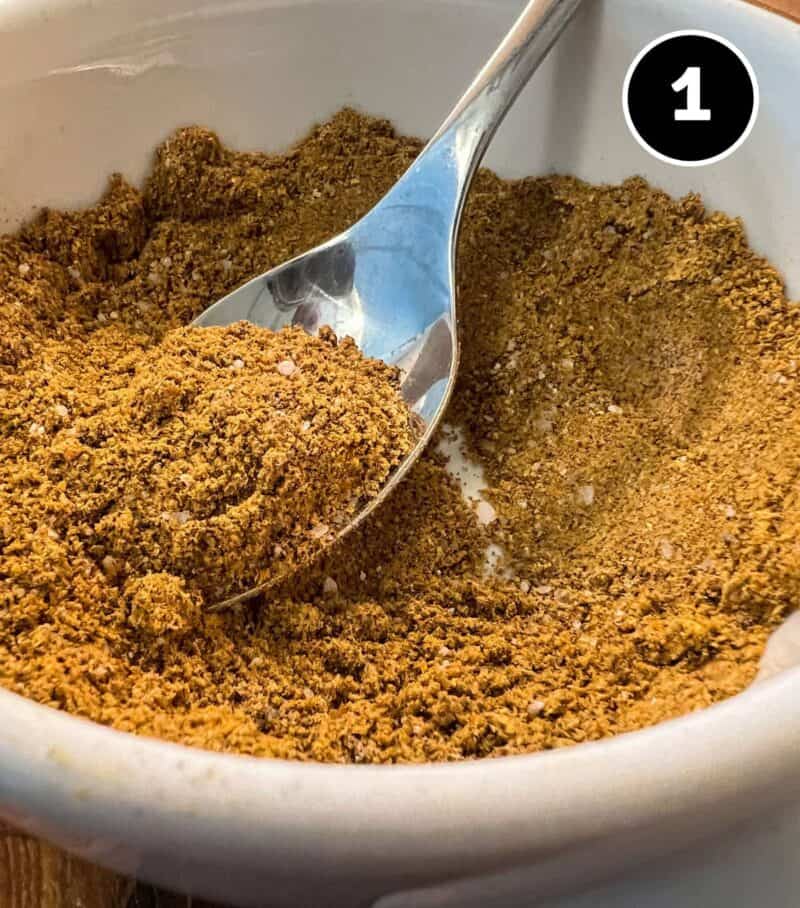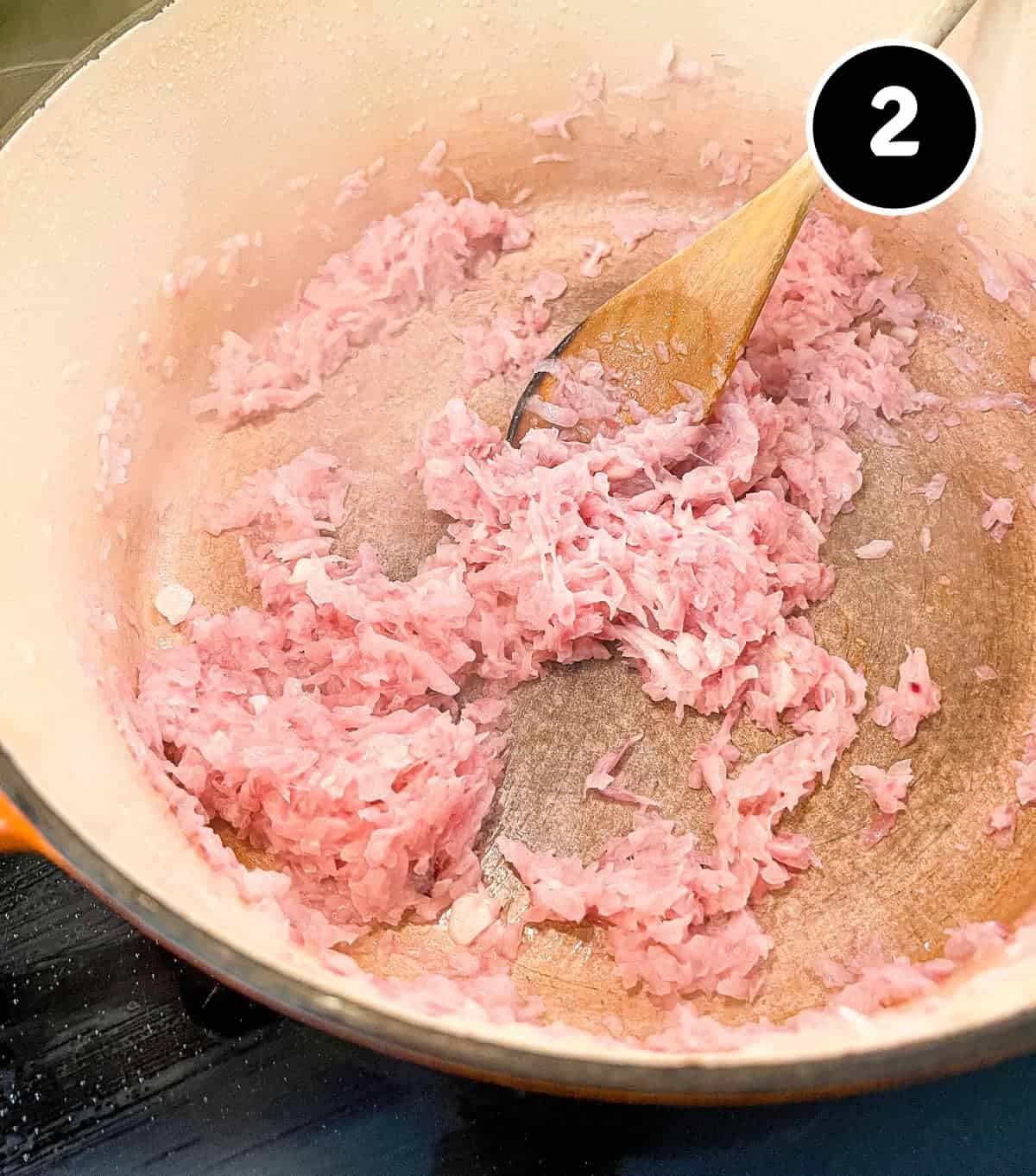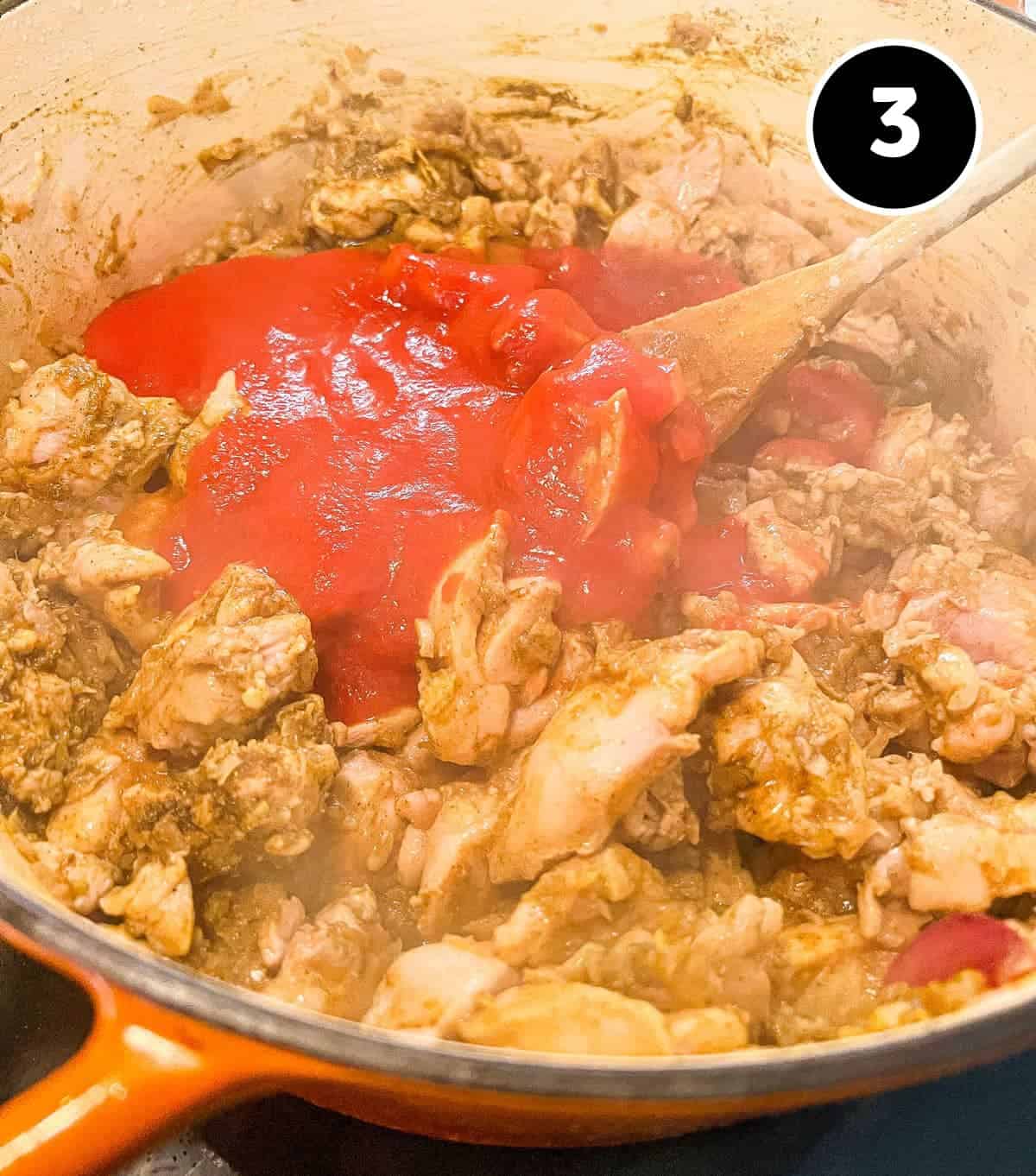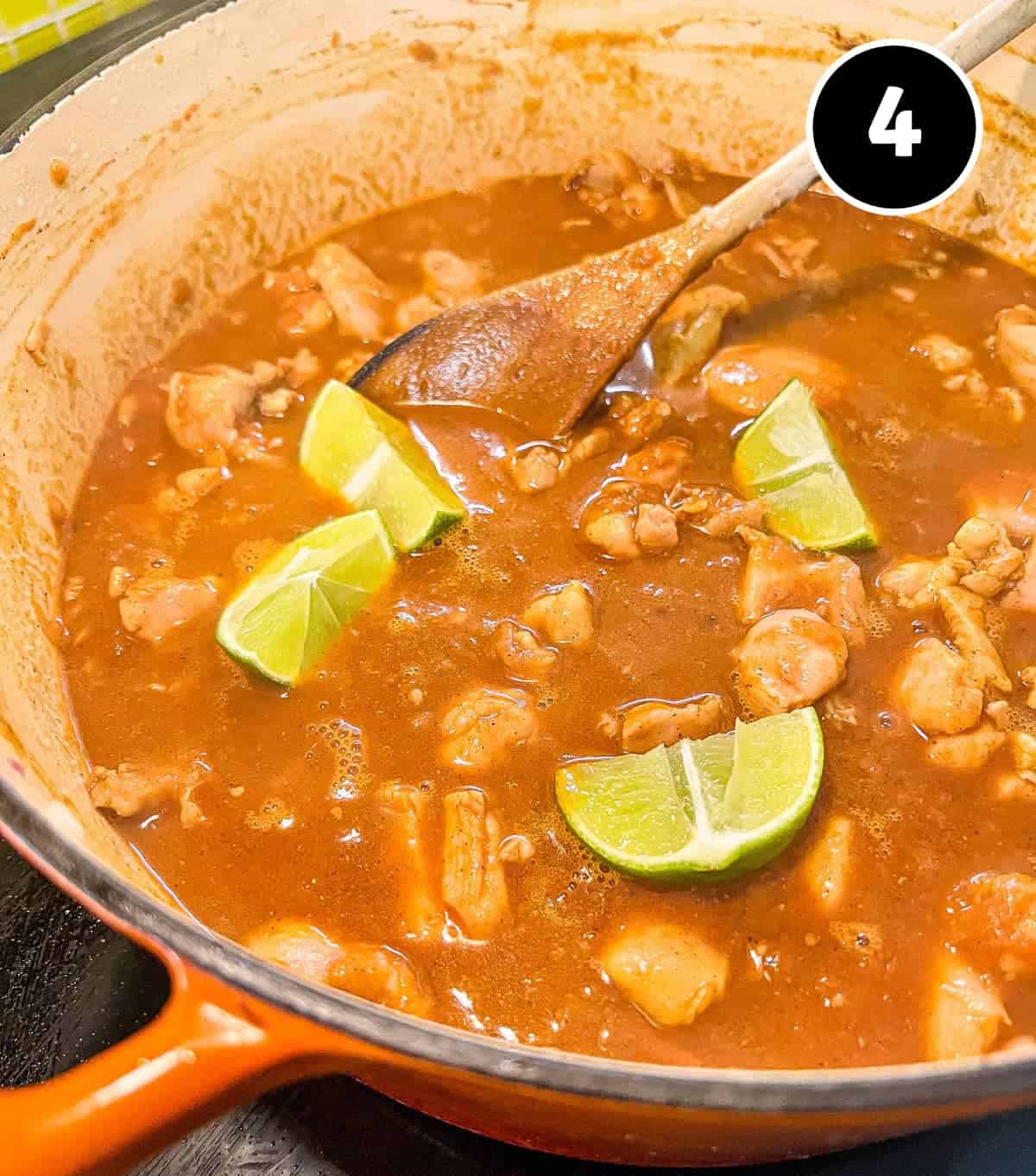 Pro Tips for achieving the delicious sourness
A sour note - traditionally tamarind is used to bring the sourness, but limes are used throughout Parsi cuisine, where this recipe derives, so these are an option too, and my preferred addition. There's also the option to use dried limes too if you can find them (look in Persian or Middle Eastern deli's). Dried limes give an AMAZING flavour to this curry, so if you want to hunt them out, I fully approve!
Serving and storing suggestions
My Chicken Pathia Curry will stay fresh for 4-5 days in the fridge and in the freezer for 3 months.
I serve Pathia mostly with plain boiled Basmati rice or with Indian Chapati, Roti, Naan or Paratha bread.
Ready to get cooking?
Pathia Curry is truly a wonderful curry and my recipe has evolved over the decades into one of my most favourite to cook at home. It brings back so many fond memories of the blurry nights of my youth, and the empty cartons strewn around the living room floor like a Hansel & Gretel curry trail as I groggily surfaced the next morning. Memories! Or lack thereof. Enjoy!
Any Questions? (FAQ)
Have a question about Pathia Curry? Ask me in the comments below.
What is Pathia Curry made of?
A combination of spices (clove, cardamom, cumin, coriander, cinnamon and turmeric) along with onion, tomatoes and a protein like chicken, lamb, beef or goat.
How spicy is Pathia curry?
In many UK restaurants Pathia is medium-hot. My recipe for Chicken Pathia Curry follows the UK version, but you can dial the spice up or down to suit your tolerance.
Which curry is similar to Pathia?
Vindaloo has a similar flavour and texture to Pathia. Vindaloo gets its sourness from vinegar, Pathia however, uses limes or tamarind.
Does Pathia Curry have Diary?
No. Pathia curry is diary free.
Is Pathia Curry Healthy?
As curries go, Pathia curry is a healthier option. With only around 500kcal per portion it's a good option that doesn't include many hidden calories from diary like ghee, yoghurt or cream.
More Delicious Indian & Sri Lankan recipes
Chicken Pathia
Rate this recipe
Print Recipe
Pin Recipe
Save Recipe
Go to Collections
Calories (per serving) |
486
Instructions
Make the curry powder
Mix together all the curry powder ingredients in a small bowl and set aside.
Make the curry
Heat the oill in a large pan over a moderate heat until hot. Add the onion and garlic and fry gently for 7-8 minutes until well browned and soft.

Stir in the chicken and let this fry for 4-5 minutes, stirring regularly.

Add the curry powder and stir for 1-2 minutes before adding the tomato. Stir well to incorporate everything before adding about 1½ cups water.

Cut one of the limes in half and squeeze in the juice. Cut the remaining lime into wedges and add them to the sauce.

Bring to a simmmer then reduce the heat to low and bubble gently, uncovered for 35 minutes, stirring frequently. The sauce will reduce, but if it becomes too dry add a little more and ensure the heat's not too high.

After 35 minutes, strip the curry leaves from the stem and stir them into the sauce, discarding the stem. Cook for 1-2 more minutes and then that's it! You're done.

Serve with lots of fluffy basmati rice or Indian breads.
Notes
Adding Sourness
My recipe calls for fresh limes as they're easy to get hold of. You can also try dried limes, usually available from Persian or Middle Eastern stores. They give a wonderful mellow lime flavour to the sauce. You can also use 1-2 tbsp of tamarind pulp to achieve a splendid sour note to the pathia.
Serving
I like to serve my Pathia Curry with boiled basmati rice or Indian breads like Roti, Chapati, Naan or Paratha.
I'll often serve a cooling yoghurt sauce or crunchy salad like Katchumbar (see my recipe for that at cookeatworld.com)
Storing
Pathia stays fresh in the fridge for a few days (4-5) - be sure to store it in an airtight container. If you're looking to freeze, portion it up and it'll stay goof for at least 3 months.
Nutrition
Calories:
486
kcal
(24%)
|
Carbohydrates:
12
g
(4%)
|
Protein:
34
g
(68%)
|
Fat:
34
g
(52%)
|
Saturated Fat:
9
g
(56%)
|
Polyunsaturated Fat:
7
g
|
Monounsaturated Fat:
14
g
|
Trans Fat:
0.2
g
|
Cholesterol:
196
mg
(65%)
|
Sodium:
870
mg
(38%)
|
Potassium:
693
mg
(20%)
|
Fiber:
3
g
(13%)
|
Sugar:
4
g
(4%)
|
Vitamin A:
406
IU
(8%)
|
Vitamin C:
27
mg
(33%)
|
Calcium:
77
mg
(8%)
|
Iron:
3
mg
(17%)