Sri Lankan Curry Powder Recipe
To create the distinct, authentic flavours of Sri Lanka, a quality curry powder is essential. With a complex blend of spices this curry powder sets you on the path to some of the most delectable curries in Asia.
I love curries from all over the world, but there's something about Sri Lankan cuisine that sets them apart. Sri Lankan cuisine is a combination of fresh, wholesome ingredients (lots of fish and vegetables) alongside a heady array of spice.
Spices play an important part in creating so many Sri Lankan dishes, so it's no wonder that blended spice mixes (curry powders) are commonplace. These blends come in all manner of combinations - no two the same. Recipes change from city to city, village to village and even family to family.
All are integral in creating the authentic flavours of Sri Lanka and my special curry powder will do just that. A rich mix of earthy, sweet and spice that's perfect for so many Sri Lankan delights.
What is a curry powder?
Curry powders are blend of ground spices, used to create a specific flavour curries, soups and stews.
In India and Sri Lanka and South East Asia, there are many commercially available pre-mixed curry powders, some narrowed down to use for one specific dish!
Many Sri Lankans choose to blend their own spices at home. This is popular because the cook can modify flavour to suit their own taste. They can also control how much powder they make and often prepare in small amounts to ensure the spice mix is fresh - meaning the flavours are more pronounced.
Whether you use store bought, or prepare your own, it's the style of curry powder that brings an authentic flavour to your curry sauces, so when preparing a Sri Lankan curry, a Sri Lankan curry powder is essential.
Why it works?
It's all about flavour - A fresh curry powder can mean all the difference in making a good curry, a great curry. It's no secret that blending a fresh curry powder gives great flavour, and I'm all about flavour!
Stuff You'll Need
There's a wonderful array of whole spices that go into my Sri Lankan curry powder. All are available from any Indian store, online or and many from regular supermarkets.
The resulting curry powder is a warmly spiced mix and not particularly spicy. When creating Sri Lankan dishes, which can be FIRE, along with the curry powder, I'll add fresh hot chillies to bring the heat. This gives me more flexibility.
That said, I also often make hotter versions of this curry powder too by switching the dried Kashmiri chillies with hotter chillies, or by mixing in a hot chilli powder or cayenne pepper to the ground spices at the end.
Step by Step
Creating the curry powder is a piece of cake. All you'll need is a spice/coffee grinder or a pestle & mortar.
Step 1 - Add chillies and cinnamon to a dry pan over a medium/high heat and stir them around for 20-30 seconds. The chillies may puff up a little.
Step 2 -

Tip in all the other spices and stir well. Let them sit in the heat until they begin to

jump around the pan. Stir for about a minute then tip into a waiting bowl. Be careful nor to burn the spices as this will result in a bitter flavour.
Step 3 - Let the spices cool for a couple of minutes then tip them into a a spice grinder or pestle and mortar (you'll have to do this in batches). Grind into a fine powder and then repeat with the remaining toasted spices. That's it!
You now have enough curry powder for around 4 curries. Store the powder in an airtight container for up to 6 months. The sooner you use it, the better the flavour - the flavours will dull in time but they'll be great for 6 months.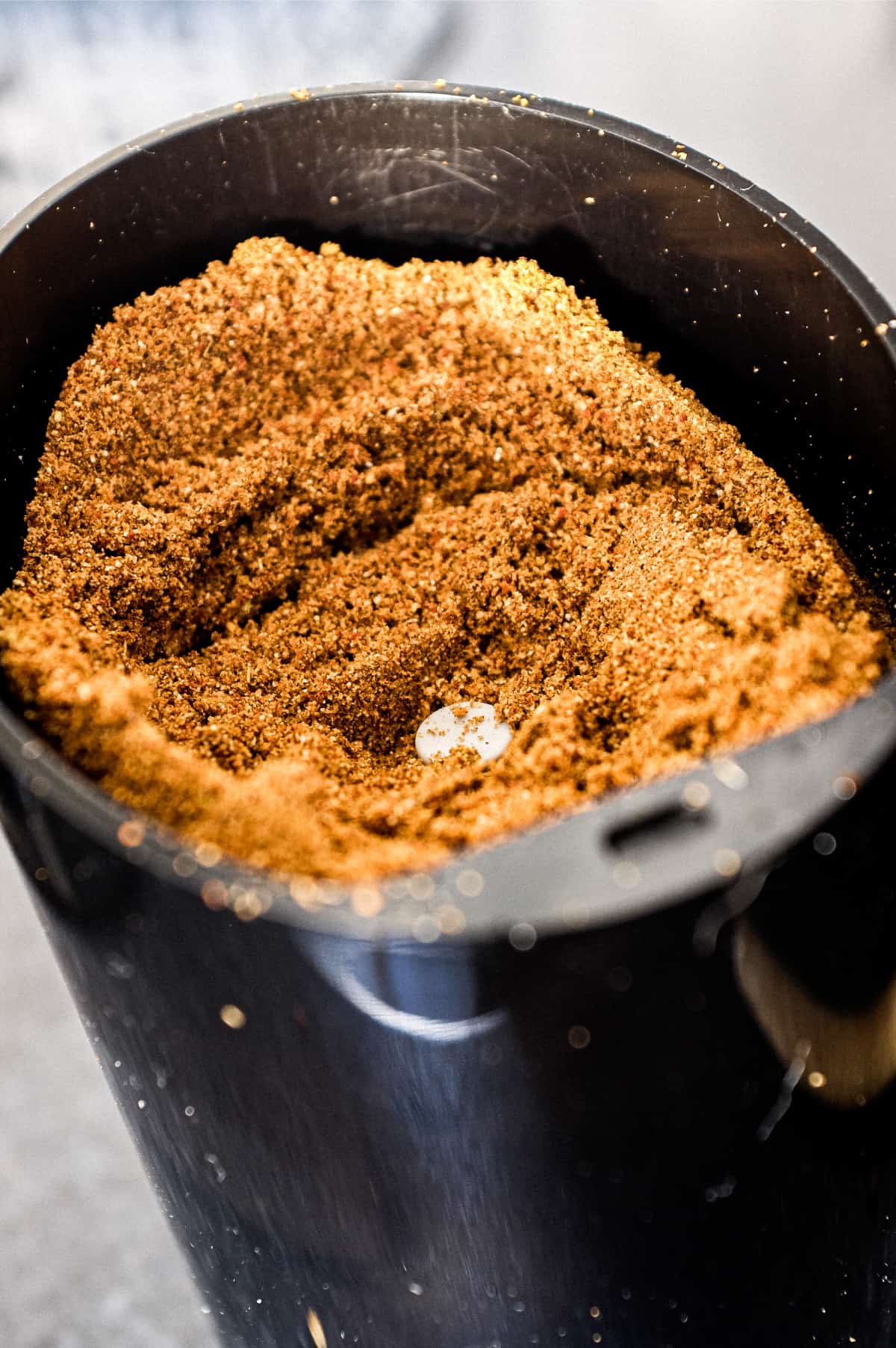 Pro Tips
A spice grinder makes a world of difference. It makes light work of the laborious pestle and mortar, so invest in one if you can. You'll use it often once you discover how tasty freshly ground spices are in comparison to pre-ground spices.
Usage & Storage Suggestions
Use wherever a recipe calls for 'curry powder', and specifically for any Sri Lankan recipe that calls for it.

If you're creating your own curry, I would suggest anywhere between 3-4 tbsp of this curry powder with other ingredients like onion, garlic and ginger, to ensure plenty of

fragrance and flavour.

Store your powder in an airtight container in a dark, cool cupboard. It will stay fresh for up to 6 months. It will keep for longer, but the flavour will fade over time.

Be sure to label your curry powder as you might forget your handiwork over time!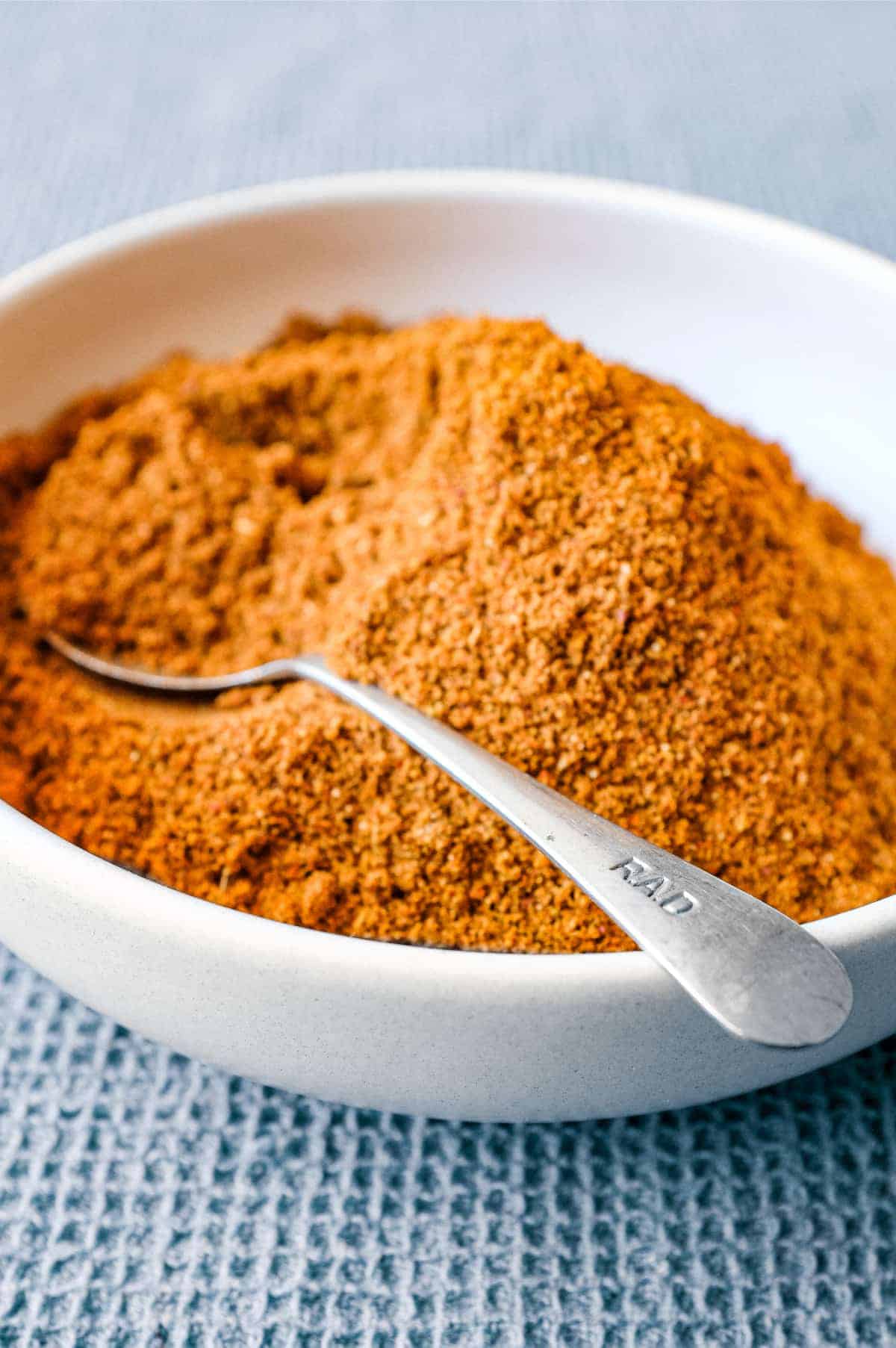 Ready to get blending?
So, as you can see, creating the most amazing Sri Lankan curry powder is really quite simple. And let me reiterate, makes a world of difference to the flavour.
Once you blend one powder, you're set for 4 curries, so a little work now, makes for less work later - that's a win in my book! Hope you enjoy.
More curry powder recipes
More Sri Lankan and South Indian recipes
If you like Sri Lankan curries, be sure to check out more of my favourites alongside some of my best South Indian recipes too.
Any Questions? (FAQ)
Have a question about this Sri Lankan Curry Powder? Let me know in the comments.
What is Sri Lankan curry powder made from?
Sri Lankan curry powder recipes differ depending on the region and recipe. Often different blends will be used for fish, vegetable or meat curries. Some of the whole spices used are coriander, cumin, cloves, cinnamon, fenugreek, cardamom, mustard, chillies and fennel. Other ingredients like curry leaves, fenugreek leaves, rice and coconut can also be added.
What is the difference between Indian and Sri Lanka curry powder?
Indian and Sri Lankan curry powders are similar in many ways. Especially Southern Indian spice blends. Cloves, cinnamon and coconut feature more prominently in Sri Lanka and as a rule of thumb, are also often seen as spicier than Indian curry powders although recipes and spice levels are not set in stone.
This recipe uses affiliations and may receive a commission based on your activity (link clicks). Learn more.
Sri Lankan Curry Powder
Rate this recipe
Print Recipe
Pin Recipe
Save Recipe
Go to Collections
Servings (adjustable)
4
servings
Calories (per serving) |
112
Instructions
Measure out all the ingredients first as we'll be adding all to a hot pan at the same time.

In a dry pan over a medium/high heat, add the cinnamon and chillies and stir around the pan. The chillies may puff up a little as they toast. Toast for 1 minute.

Add the rest of the ingredients to the pan and stir to combine. After a while they'll start to dance around the pan. Let them toast for 1 minute then turn off the heat and tip the spices into a bowl. Let them cool slightly for a few minutes.

Using a spice/coffee grinder, grind the spices in batches into a fine powder. Complete with all the toasted spices.

Let it cool completely and then tip into a jar or sealable container.
Notes
Use this curry powder wherever a Sri Lankan curry recipe asks for 'curry powder'.
Generally speaking, you can also replace the total amount of ground spices in any Sri Lankan (or South Indian) curry recipe for the same amount of this curry powder.
Make your curry hotter by either replacing Kashmiri chillies for a hotter dried chilli, or by stirring in a hot curry powder or cayenne pepper to the finished blended curry.
Storage
This curry powder should be stored in a cool, dark cupboard in an airtight container. It will be at its best for up to 6 months. This recipe will yield at least 4 curries.
Nutrition
Calories:
112
kcal
(6%)
|
Carbohydrates:
17
g
(6%)
|
Protein:
4
g
(8%)
|
Fat:
5
g
(8%)
|
Saturated Fat:
2
g
(13%)
|
Polyunsaturated Fat:
1
g
|
Monounsaturated Fat:
2
g
|
Trans Fat:
0.003
g
|
Sodium:
18
mg
(1%)
|
Potassium:
331
mg
(9%)
|
Fiber:
7
g
(29%)
|
Sugar:
1
g
(1%)
|
Vitamin A:
291
IU
(6%)
|
Vitamin C:
3
mg
(4%)
|
Calcium:
150
mg
(15%)
|
Iron:
6
mg
(33%)