Parippu Curry – Kerala Style Dal
Parippu is a creamy and fragrant lentil curry from the South of India and Sri Lanka. Bursting with flavour, colour and texture. One of my most-cooked Indian recipes for a reason. It's a dreamy, creamy delight.
My first encounter with this Parippu curry, a Kerala Style Dal dish, was visiting the South of India, in a charming beach town of Varkala. We spent the morning swimming and sunning ourselves and for lunch sampled parippu as part of a banana leaf offering, known as a Sadya.
Our Sadya (meaning 'feast') must have featured 15-plus samples of various vegetarian curries, chutneys and sambals served with rice and poppadoms - a combination of many textures, flavours and fragrances - a truly wonderful banquet in the warm Indian sun!
What is Parippu Curry?
Parippu curry is a simple tadka style dal made from split moong beans. A golden creamy gravy with a slick of vibrant, spiced buttery tadka drizzled on top. It was a stand-out flavour on our Sadya leaf feast!
What is Tadka?
Tadka (also known as tarka or chhaunk) is a method of seasoning; a tempering of oil and spices added after the initial cooking of a dish to enhance its flavour. The tadka ingredients are flash fried in a generous amount of oil or ghee to bring out their natural flavour. The entire tadka, oil and all, is then stirred into a sauce to add further layers of flavour and texture. It can transform a good dish into an amazing dish!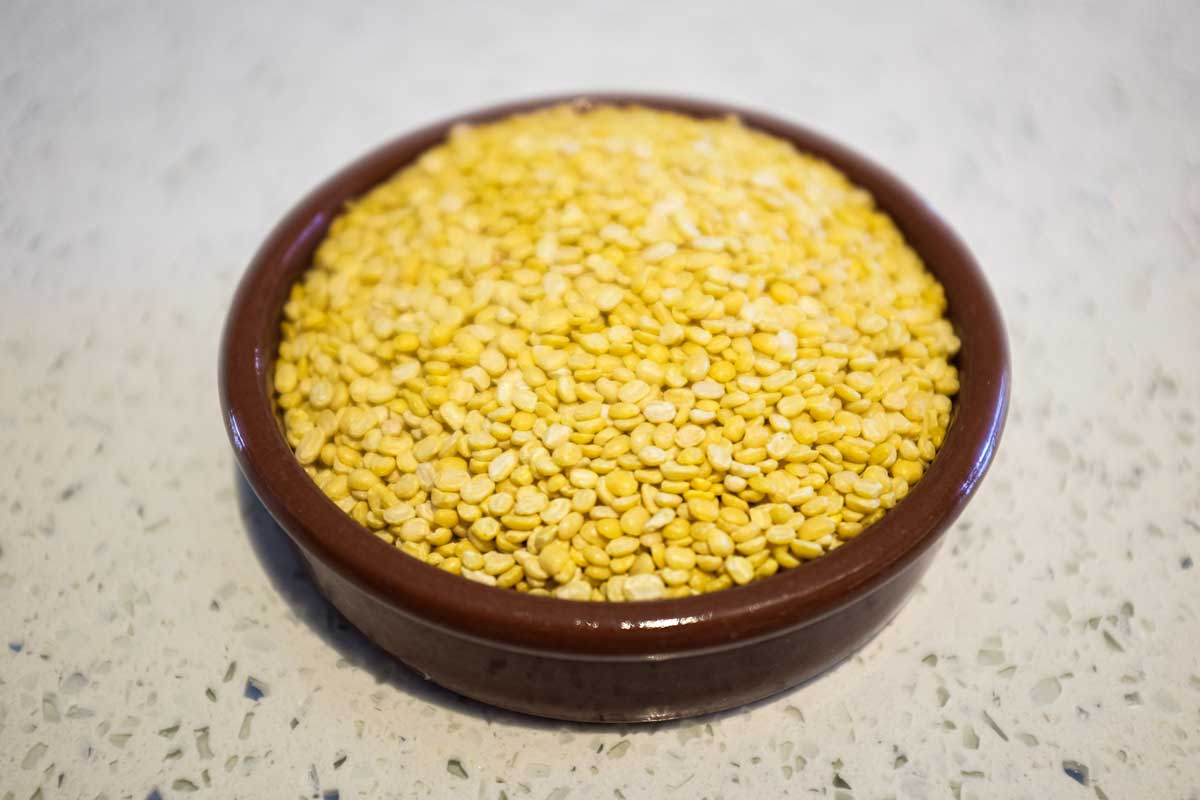 The different types of Parippu
In my Parippu curry recipe I feature the most commonly used lentil, moong dal. Moong dal (above) is the hulled version of the dried moong bean (mung bean) and looks a little like a split yellow lentil. It's the perfect lentil because it breaks down quickly and quickly forms a creamy texture with a light, nutty flavour. But Parippu curry isn't limited to moong dal - it's cooked using a wide variety of lentils, each bringing its own personality to the final dal - here are just a few:
Kadala Parippu (Chickpeas)
Uzhunnu Parippu (Urad Dal)
Sambar Parippu (Toor Dal)
Thuvara Parippu (Toor Dal)
Cheruayar Parippu (Mung Bean)
Parippu Pradhaman (A parippu made into a dessert with copious amounts of sweet jaggery and fruit).
We're using the most traditional dal to give the most authentic flavour.
Stuff you'll need
For my parippu curry recipe, you won't need too many ingredients. Here are the key flavours.
Dal - I typically use moong dal for the creamiest texture.
Coconut milk (cooking the dal in coconut milk creates the most luxuriously creamy texture)
Turmeric - to enhance the golden hues of the dal
The tadka features various spices and fresh ingredients that are cooked together in ghee*
*to make this dish vegan, use vegan ghee or vegetable oil.
Step by Step
Making this parippu curry is simple - three stages and no more! And you won't believe just how splendid the final dish is!
Make the lentil puree - simply simmer the lentils in the coconut milk with some turmeric for 35 minutes until creamy.
Fry the tadka. In a generous amount of ghee, fry all the remaining ingredients briefly. The aim is to spice the oil and draw out all the natural flavours without cooking too much.
Pour the tadka into the dal and lightly stir. Keep a little back for garnish.
Click arrows or swipe to scroll through images
In essence, parippu dal is a simple, humble dish that can be enjoyed as a side dish or as the main event. There's nothing more delicious than parippu and rice! Try it over a piece of fried fish too. It's a staple in my house, and freezes well. I think there's never a time where there isn't a portion or two or parippu in my freezer!
More tasty recipes featuring dal or lentils
Lentils are a favourite of mine and I have a constant supply in my cupboards, ready to create recipes from around the World - here are a few of my must-try favourites.
Frequently Asked Questions (FAQ)
Is Parippu Curry spicy?
Not really, there's a little chilli heat, but it's simple to dial that up or down. You can omit the chilli completely, which will make it perfect for kids and babies.
Can I freeze Parippu curry? Parippu freezes perfectly and is a great candidate for meal-prep - just freeze with a little cooked rice - the two should cook evenly together in the microwave.
How to make Parippu Curry – Kerala Style Dal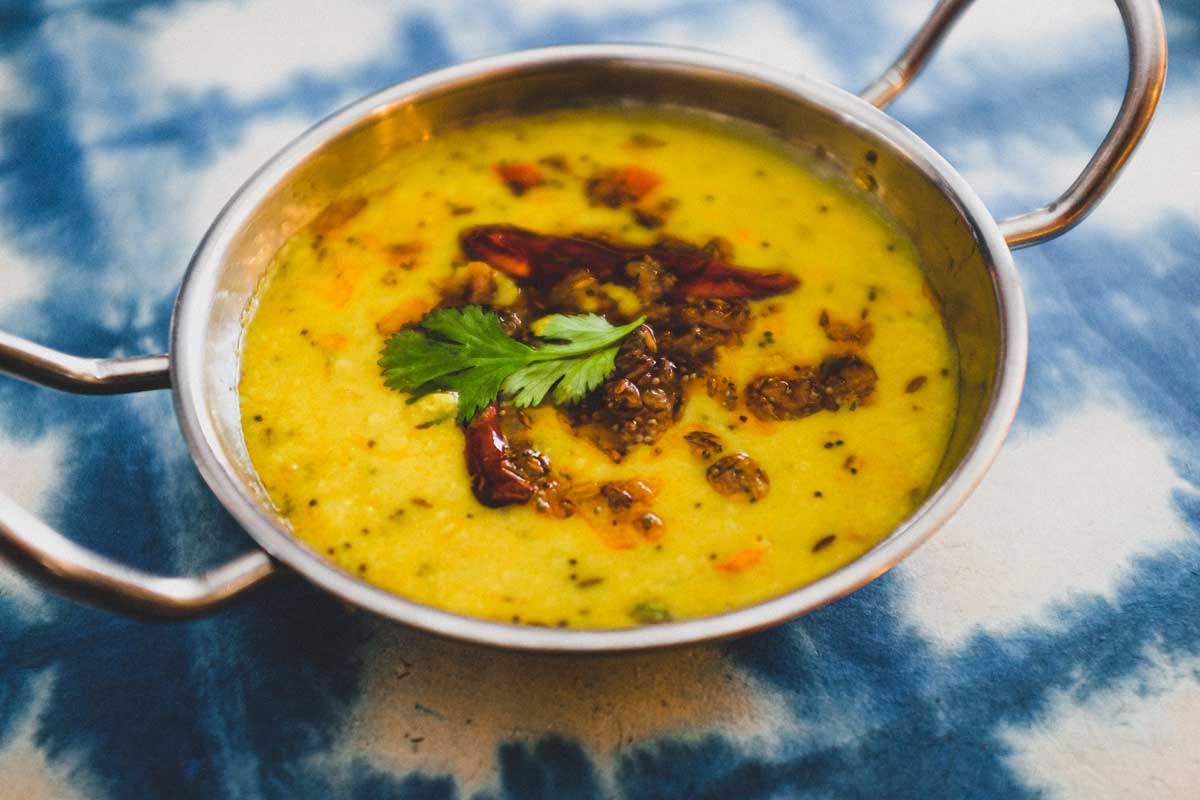 Parippu - Kerala Style Dal Curry
Rate this recipe
Print Recipe
Pin Recipe
Calories (per serving) |
381
Instructions
Add the moong dal, coconut milk and turmeric to a pan. Pour over 2 cups of water. Bring to a boil then reduce the heat to very low so that it's very gently bubbling.

Cover and cook for 35 minutes until the dal is soft and creamy, then remove from the heat.

NOTE: you will most likely need to add more water during the cooking if the dal becomes too thick. The consistency should be similar to a creamy soup, so adjust accordingly. (See video recipe for a guide.)

Using a wok or deep frying pan over a moderate heat, add the ghee an let it get hot.

Add the cumin seeds, mustard seeds and dried chillies and let them sizzle for 20 seconds.

Add the curry leaves and let them splutter briefly before adding the shallots, followed by the green chilli, chilli powder, salt and then finally tomato.

Stir and reduce the heat to low - let this all sizzle for 1 minute, stirring constantly.

Remove from the heat.

Tip the tadka into the dal (reserve a little for garnish) and stir in well.

When you're ready to serve, heat the tadka until it starts to sizzle again and then pour ot over a serving bowl of hot dal. Sprinkle with fresh cilantro if you like.
Nutrition
Calories:
381
kcal
(19%)
|
Carbohydrates:
37
g
(12%)
|
Protein:
15
g
(30%)
|
Fat:
21
g
(32%)
|
Saturated Fat:
15
g
(94%)
|
Cholesterol:
19
mg
(6%)
|
Sodium:
651
mg
(28%)
|
Potassium:
241
mg
(7%)
|
Fiber:
6
g
(25%)
|
Sugar:
3
g
(3%)
|
Vitamin A:
650
IU
(13%)
|
Vitamin C:
57
mg
(69%)
|
Calcium:
49
mg
(5%)
|
Iron:
5
mg
(28%)
Did you make my Parippu Curry – Kerala Style Dal
How did you go? Let me know in the comments below and be sure to tag @cookeatworld at Instagram.
This site contains affiliate links to products. We may receive a commission for purchases made through these links. Learn more.