Chicken Madras is one of the most intensely satisfying curries India has to offer. A rich, decadent, glossy sauce clings to fork-tender chicken pieces. Dense with complex spicing and a luxurious finish, it's a real crowd-pleaser on every front.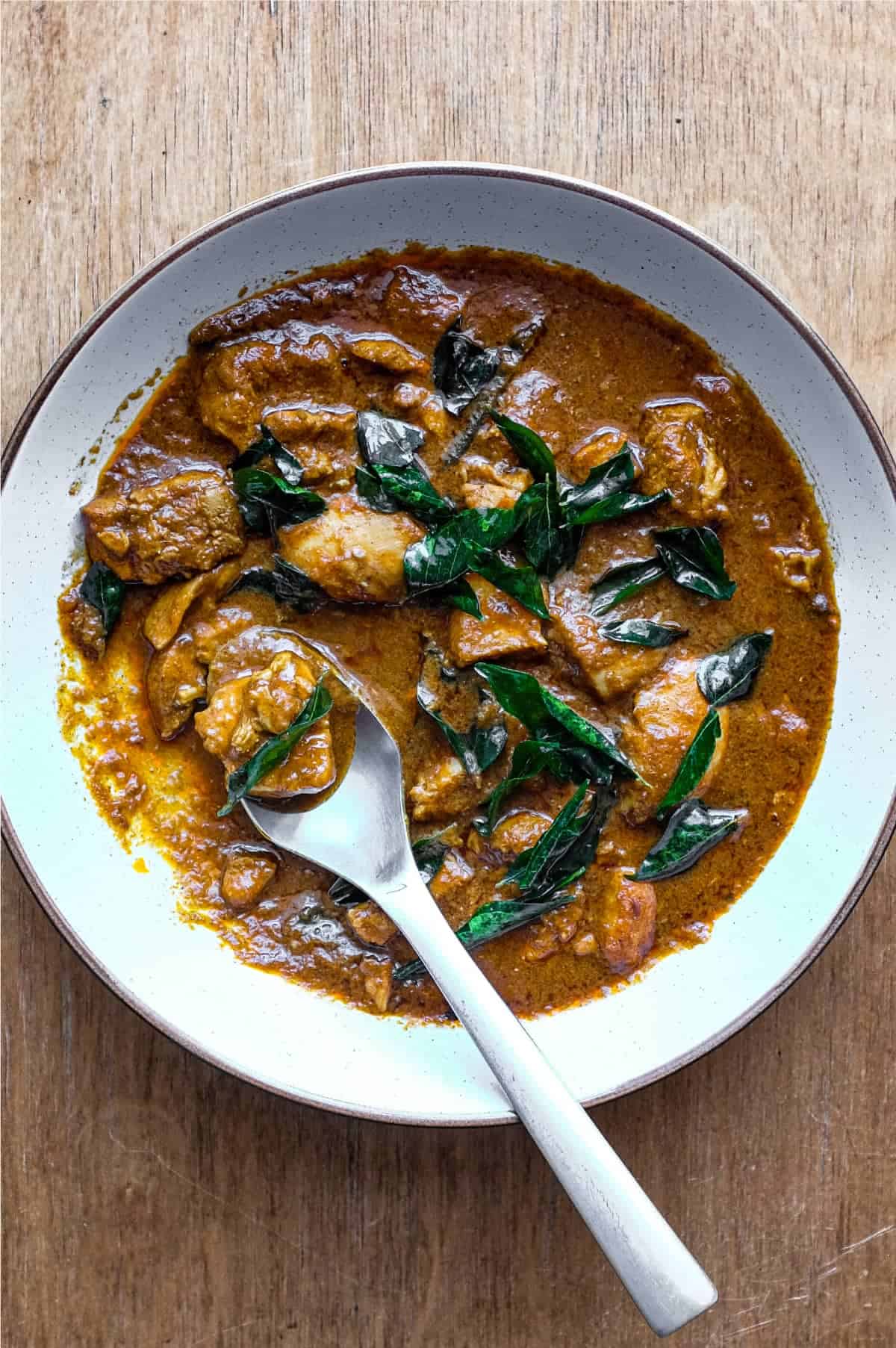 Madras curries are amongst my favourites, they're rich, luxurious and jam-packed with flavour. Like, an immeasurable amount of flavour! I prepare this chicken madras regularly and often have take-out portions (take-out-the-freezer) at hand.
The great thing about this curry is that it can be one of the easiest to put together if you play your cards right and make a bulk stockpile of my special Madras Curry Powder. Then, this recipe is super easy to put together. You can also buy pre-mixed Madras Curry Powder at the supermarket, and that's fine, but doesn't quite deliver the same amazing taste of homemade.
This complex combo if spices combined with a coconut milk base help create a glossy, rich sauce that clings to the juicy chicken pieces. It's really not difficult to make at home.
What is Madras curry?
Madras curry gets its name from the Southern Indian city of Chennai (formerly known as Madras). It's famed for its fiery heat and complex spiced dishes. Various meats like chicken, lamb, mutton and goat are used as well as seafood, vegetarian and vegan recipes.
Many Madras-style curries use coconut in the recipes as the South of India is rich in coconut trees.
Madras curries are commonly eaten with basmati rice or rice products like Idli as well as Indian breads such as roti, chapati and paratha.
Why it works?
It's so flavourful - Madras curries are amongst may most favourites because of the intensely satisfying flavours. Complex, intense and spiced to perfection. If you like a spicy curry, then Madras may just fit the bill. If you don't, fear not, you can dial the spice down too.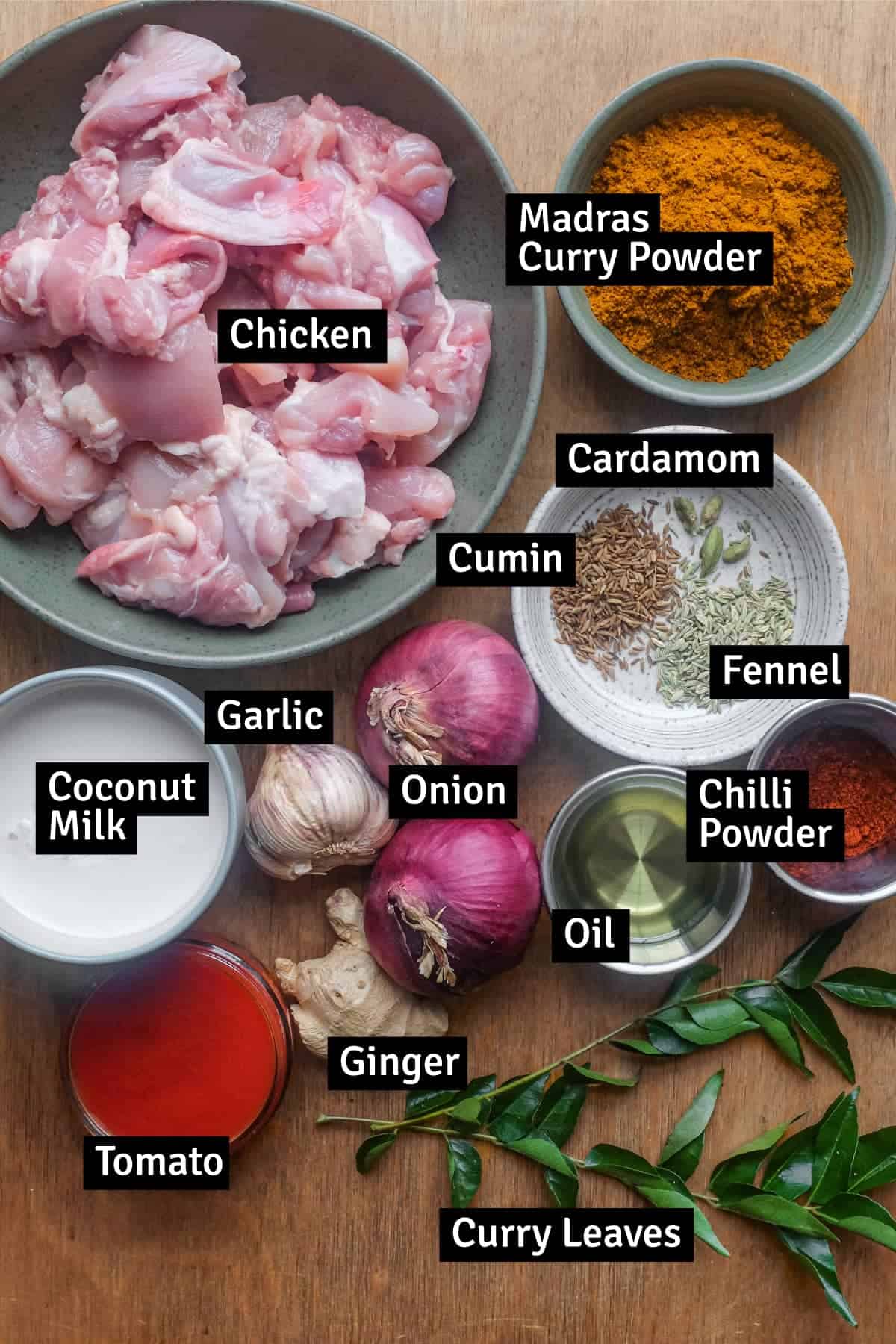 Stuff You'll Need
Making Madras Chicken doesn't require too many ingredients. If you're looking to make everything, including the homemade Madras curry powder, you'll need a few spices, but they'll come in handy for more Indian recipes.
Curry Powder -

Homemade

Madras Curry Powder

or Store bought

Madras Curry Powder

. Homemade is best, obviously (see

below)

.

Chicken thighs - I say this every chicken curry recipe, but thighs are best. They'll stay super-juicy during cooking. Breast dries out.
Whole spices - cumin, cardamom & fennel add more fragrance to proceedings.
Fresh Curry Leaves - I can't get enough of the unique fragrance they bring to the dish.
Aromatics - Onion, garlic & ginger add a backbone

to the sauce and up the flavour even more.

Tomato - brings a sweetness to the dish and an added complexity to the sauce.
Coconut milk - The creamy and luxe sauce is helped along by coconut milk.
Step by Step
Making your Madras curry is simple. I've broken it down into easy to follow steps.
Step 1 - Blend the onion, garlic an ginger with an immersion blender until smooth.
Step 2 - Heat some oil in a large pan or wok until hot then sizzle the whole spices and curry leaves.
Step 3 - Add the onion puree and fry until golden brown.
Step 4 - Add the spices and sizzle, then the chicken and stir fry for a few minutes to get the pan hot again.
Step 5 - Add the tomato and stir well to combine.
Step 6 - Add the coconut milk and again, stir until well combined.
Step 7 - Pour in a little water and let this come to a simmer. Reduce the heat a little and then simmer gently for 40 minutes until the sauce is reduced by half and nice and creamy.
That's all there is to it. Told you it was easy, right!? I like to serve my curry with basmati rice as it soaks up all the delicious sauce. You can also use Indian breads or rice idli cakes.
Pro Tips
Curry powder - Making my Madras Curry Powder recipe in advance will put you at a serious advantage time wise. You can also save yourself even more time and buy some Madras Curry Powder online or at any Indian store. A word of warning though, test a little store-bought powder on your finger first to gauge its spice level.
To add more heat to your curry, either add more hot chilli powder or use Cayenne pepper. You can also blend into the onion a few fresh spicy chillies (seeds and all).
Serving & Storage Suggestions
Garnish -

I like to use more fresh curry leaves, which I'll fry for a few seconds until crisp and fragrant. I scatter them over the final curry. You can also scatter over fresh

cilantro

, grated coconut, radishes, tomatoes or cucumber.

Storage - Chicken Madras Curry is perfect for both the fridge and freezer. For the fridge, cover well and keep cold for up to a week. For the freezer, decant into plastic take-out containers in single

portions. They'll stay good for 3+ months. Be sure to cook them (microwave is easiest) until

they're

piping hot - you should also stir the curry a few times

during

reheating to avoid the meat burning or drying out in the microwave.

More Madras Curry - If lamb is your thing, this same curry powder creates one of my all-time-most-loved curries, Lamb Madras Curry, which takes luxurious to a whole new level. Be sure to make this recipe too!
Ready to get cooking?
Mastering this simple Madras Curry is easy, and once you've made a stash of Madras curry powder, you'll be able to whip it up in half the time, whenever the fancy takes you.
There's good reason why this is one of the best, and most cooked curries in my household and I'm so happy to share the recipe. Hope you enjoy!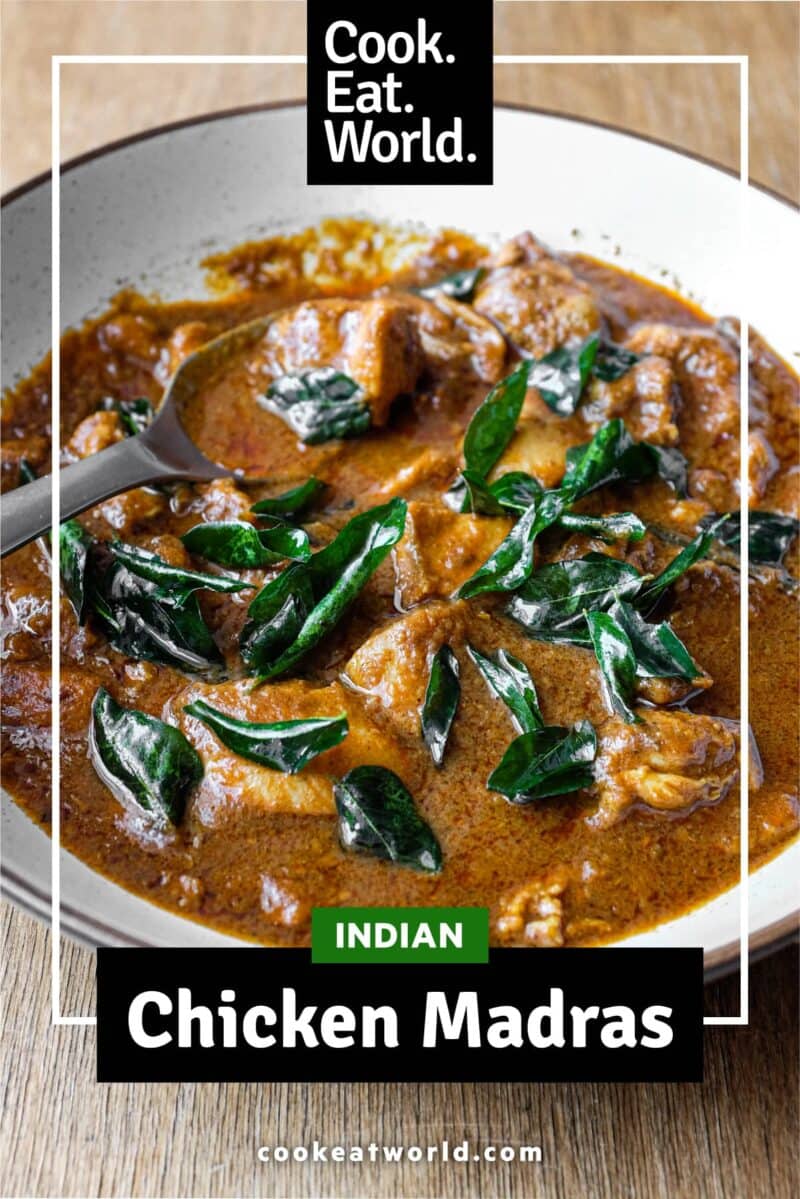 More delicious Indian recipes
If you liked this recipe for Chicken Madras Curry, I'm sure you'll love some more of my favourite Indian recipes.
This recipe uses affiliations and may receive a commission based on your activity (link clicks). Learn more.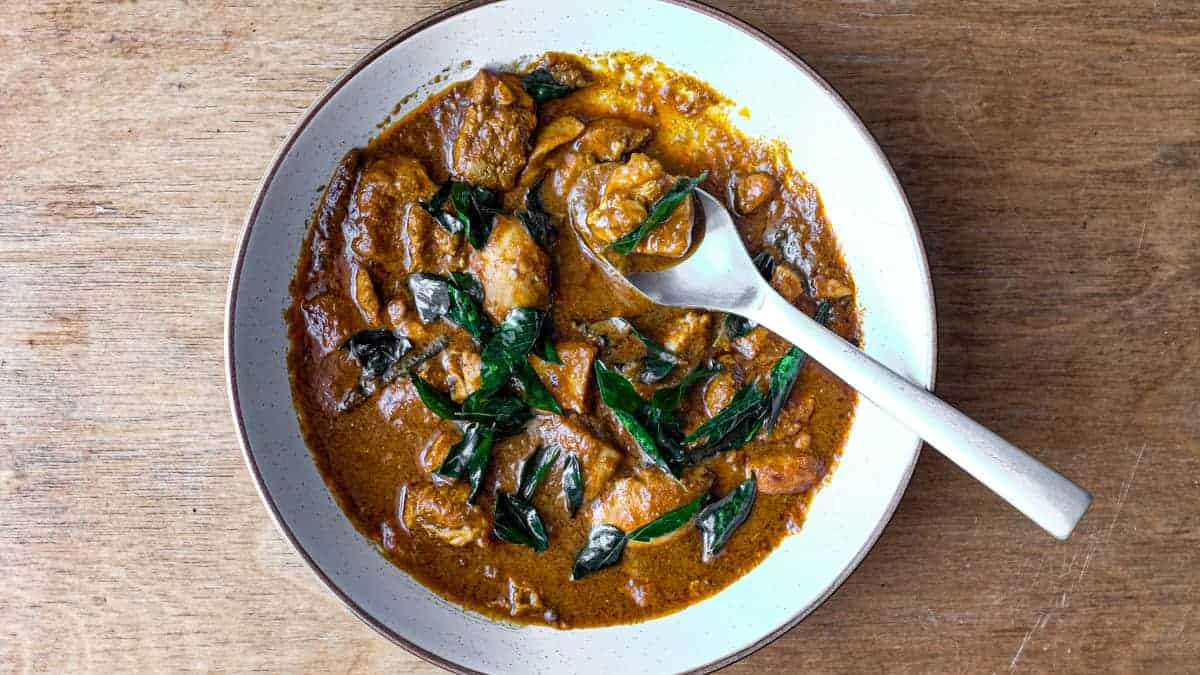 Chicken Madras Curry
Rate this recipe
Print Recipe
Pin Recipe
Save Recipe
Go to Collections
Calories (per serving) |
573
Ingredients
Garnish
Fried curry leaves

optional
Instructions
Heat the oil in a large pan until hot. Add the curry leaves, cumin, cardamom and fennel and fry for 1 minute.

Add the onion, garlic and ginger and fry gently for 10 minutes, stirring regularly.

Add the Madras curry powder and salt and pepper and stir for 1-2 minutes.

Add the chicken and stir to coat everything. Let this cook for 1-2 minutes.

Add the tomato and then the coconut milk along with 300ml of water.

Simmer gently for 40 minutes uncovered until the sauce has reduced by about 1/2 and it's the consistency of double cream. Remove from the heat.
Garnish
Heat more oil in a small pan and when hot, drop in a handful of fresh curry leaves. Let them splutter briefly. Once the spluttering stops, carefully push them out and set on paper towels.

Serve the curry in a large bowl for the centre of the table, scattered with the fried curry leaves. Serve plenty of fluffy basmati rice or Indian breads like naan, chapati and paratha.
Nutrition
Calories:
573
kcal
(29%)
|
Carbohydrates:
16
g
(5%)
|
Protein:
31
g
(62%)
|
Fat:
44
g
(68%)
|
Saturated Fat:
22
g
(138%)
|
Polyunsaturated Fat:
6
g
|
Monounsaturated Fat:
12
g
|
Trans Fat:
0.1
g
|
Cholesterol:
163
mg
(54%)
|
Sodium:
742
mg
(32%)
|
Potassium:
859
mg
(25%)
|
Fiber:
5
g
(21%)
|
Sugar:
6
g
(7%)
|
Vitamin A:
582
IU
(12%)
|
Vitamin C:
60
mg
(73%)
|
Calcium:
86
mg
(9%)
|
Iron:
5
mg
(28%)