Easy dishes are often the best, right!? This amazing crisp, crunchy and fragrant Chinese cucumber salad (拍黄瓜) recipe is just that. Perfect as an appetizer or side dish and super-quick to put together at home.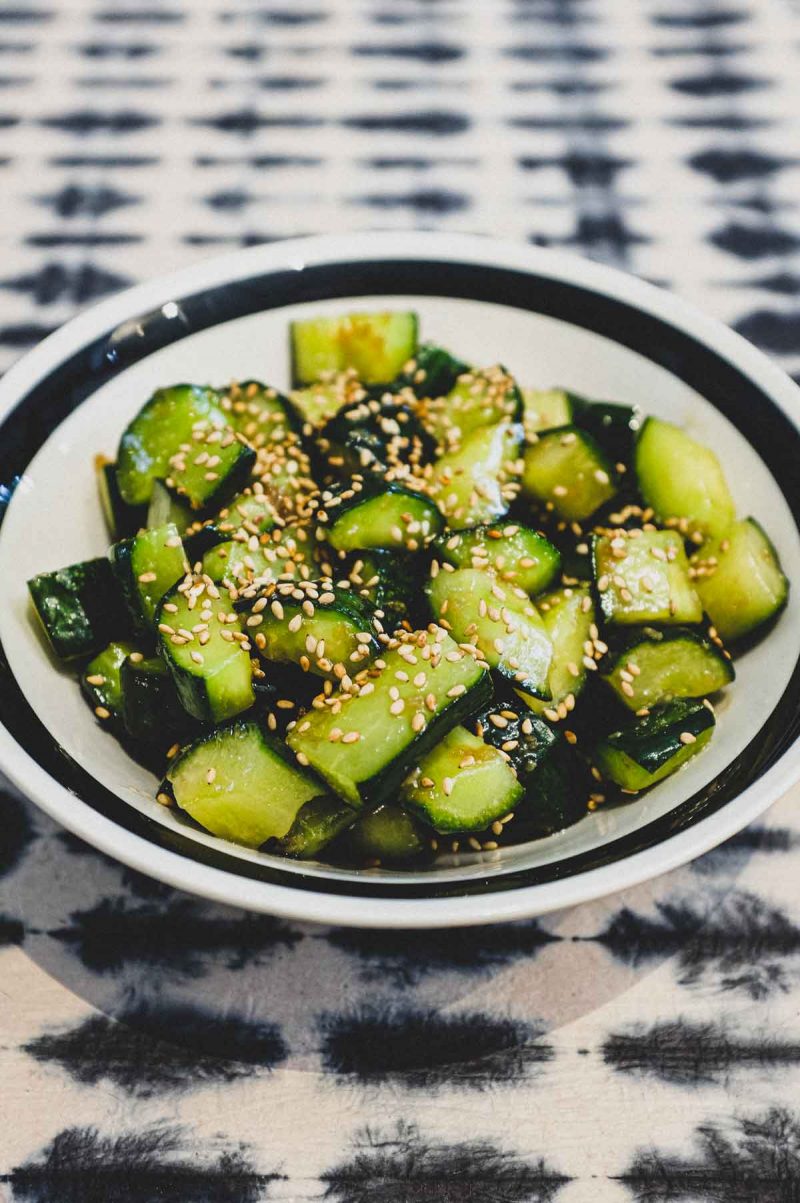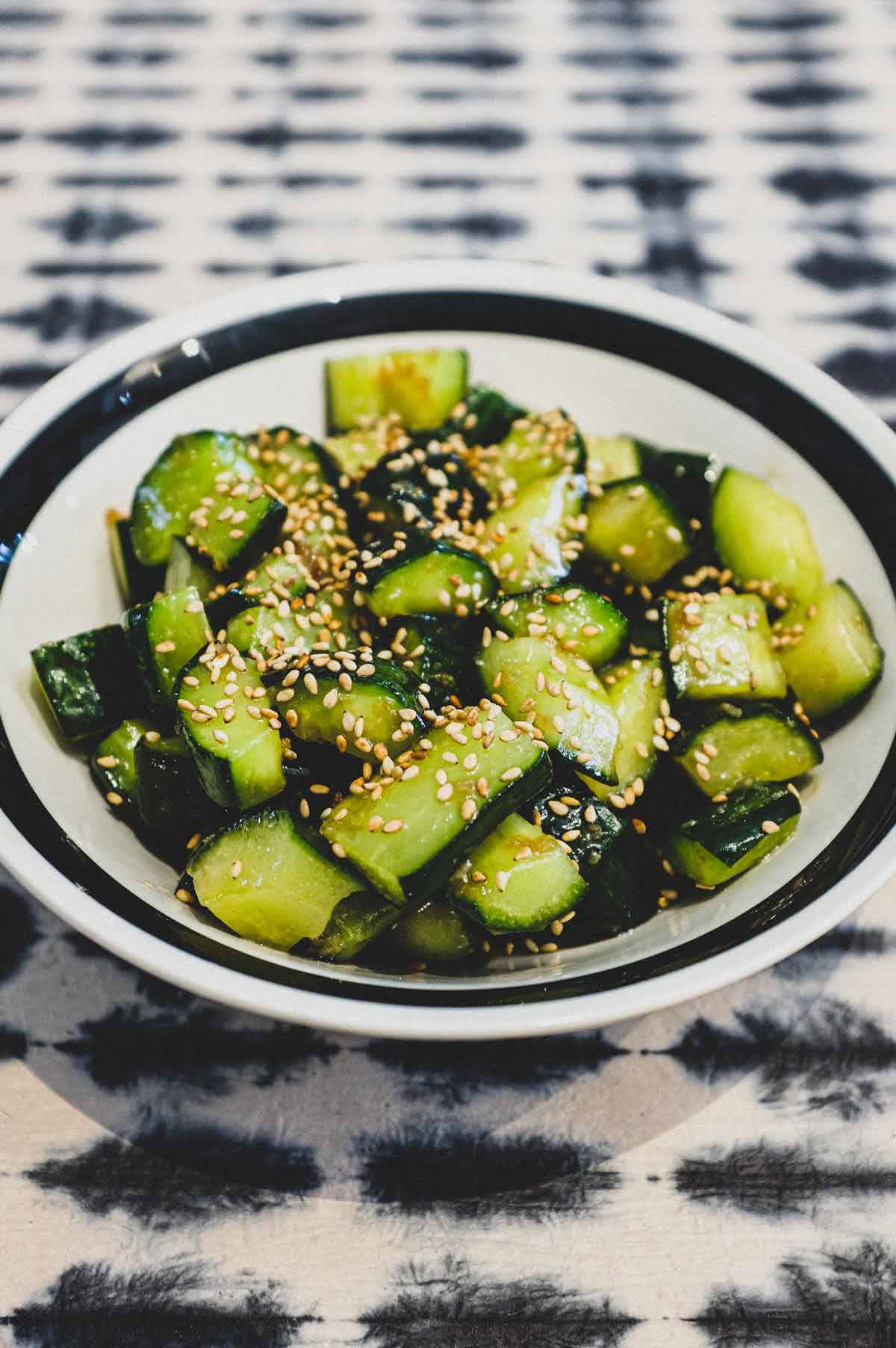 Whenever I eat a Chinese feast at a restaurant or at home, I'm always sure to order a Chinese cucumber salad. It's a simple, wonderful, cooling dish - that offers fragrance and texture in equal measure. It feels like it should be difficult to put together, but it's really not. It's all about assemblage! That makes it perfect for making at home - and most times, for me, it's the star of the show.
Stuff you'll need
Any Asian cucumber salad recipe will call for similar ingredients, to ensure a blend of umami, sweet and sour. This Chinese recpie follows these principle. The key is the dressing - rich, fragrant and a burst of umami, smoky saltiness. I literally cannot get enough of the stuff! Here are some of the key ingredients for the salad - a full recipe is below.
Cucumber - I prefer to use English cucumbers, the skin is thinner which makes for a better eating experience. I remove the seeds and salt them, then squeeze out the excess water, smashing up some of the pieces in the process. It makes for a splendid texture to the finished dish.
Rice vinegar - a touch of acid and sourness
Sesame oil - oh boy! I can't tell you how smoky, nutty and perfect it is in this dressing
Peanut oil - more nuttiness!
Soy sauce - light soy - salty and umami!
Sugar - to counteract the salt and sour
Garlic & Ginger - Did anyone order a side of fragrant!?
When everything comes together, the results are nothing short of magical! A perfect balance of sweet, salt and sour. And how long did that take to put together! 5 minutes - tops! A crisp accompaniment to literally any Chinese dish.
So, get ready to enjoy a super easy and quick Chinese salad for the next time you want to experience authentic Chinese restaurant food - and all without putting your shoes on and leaving the house. So, why have take out, when you can takeaway this amazing recipe?!
Pro Tips
1. Remove the cucumber seeds. This helps create a meatier, less watery salad - English cucumber are less watery, but still benefit from a light scooping of the seeds with a teaspoon.
2. Spice it up. Drizzle over some chilli oil at the last minute for a splendid combination of spice and cool in every bit.
3. Try black vinegar (Chinkiang vinegar) - for a deeper headier sourness. It can add a lovely complexity to the dressing.
4. Toast your sesame seeds at home. Dry toasting your sesame seeds at home will enhance the flavour no end. You CAN buy pre toasted, but they've already lost the bulk of their flavour. See for yourself the wonderful difference of toasting at home.
So, get ready to have a super easy and quick Chinese salad under your belt for the next time you want to experience authentic Chinese restaurant food, without putting your shoes on and leaving the house. So, why have take out, when you can takeaway this amazing recipe?!
Any questions?
Feel free to ask...
Can I freeze Chinese cucumber salad?
No, cucumber doesn't freeze well at all. The salad will stay fresh in the fridge for 4-5 days, but is at its best when eaten right away.
Can I make this salad gluten free?
Soy sauce is the only ingredient that contains gluten so replacing that with a gluten free soy sauce is easiest. Alternatively, most tamari is wheat-free and gluten-free so is a great alternative.
More delicious Chinese recipes
If you're serving this cucumber dish at home with a homespun Chinese spread of your own, why not try one or more of my other delicious recipes.
How to make Chinese Cucumber Salad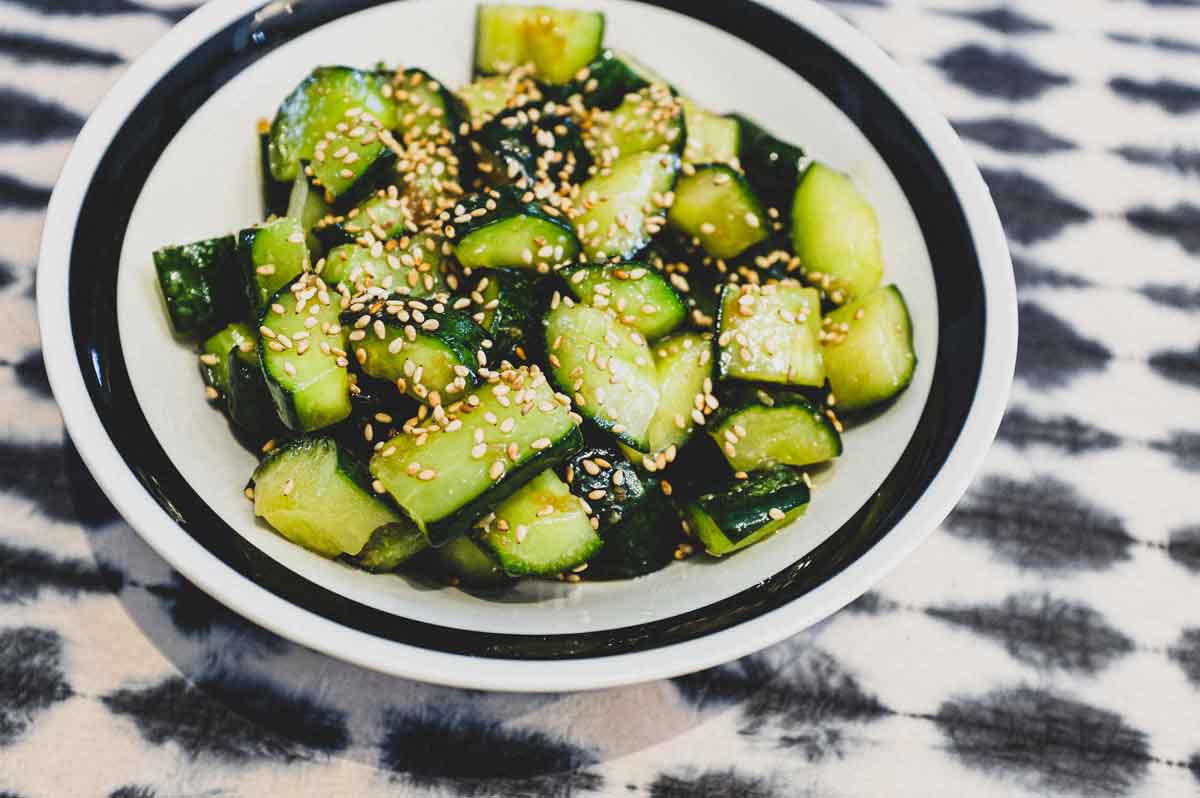 Chinese Cucumber Salad
Rate this recipe
Print Recipe
Pin Recipe
Save Recipe
Go to Collections
Calories (per serving) |
81
Instructions
Cut cucumber in half, and using a teaspoon, scrape out the seeds and discard. Cut the cucumber in half lengthways and then cut into 1-inch pieces.

Toss the cucumber pieces into a sieve over a bowl and then sprinkle over the salt & sugar. Mix a little and then leave for 20 minutes to let the moisture seep out.
Making the dressing
Whisk together the salt, sugar, rice vinegar, sesame oil, soy sauce, peanut oil, minced garlic and minced ginger. Set aside.

After 20 minutes, tumble the cucumber onto a clean tea towel. Gather up and squeeze out the excess moisture, be firm but don't utterly destroy the cucumber inside!

Tip the cucumber back into a bowl and pour over the dressing. Toss gently then decant to a serving platter. You can chill the cucumber salad up to 6 hours – it's best served cold! Just before you serve, sprinkle with toasted sesame seeds.
Nutrition
Calories:
81
kcal
(4%)
|
Carbohydrates:
4
g
(1%)
|
Protein:
1
g
(2%)
|
Fat:
7
g
(11%)
|
Saturated Fat:
1
g
(6%)
|
Sodium:
1042
mg
(45%)
|
Potassium:
102
mg
(3%)
|
Fiber:
1
g
(4%)
|
Sugar:
3
g
(3%)
|
Vitamin A:
54
IU
(1%)
|
Vitamin C:
3
mg
(4%)
|
Calcium:
13
mg
(1%)
|
Iron:
1
mg
(6%)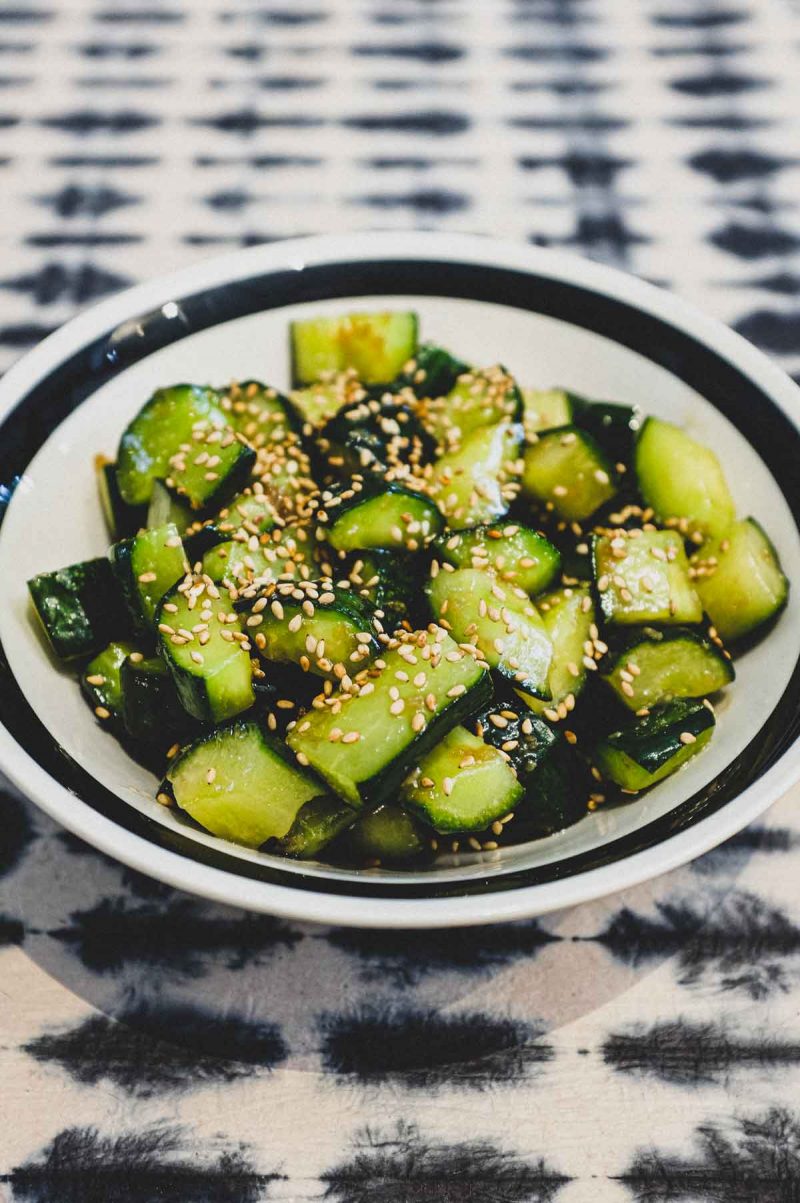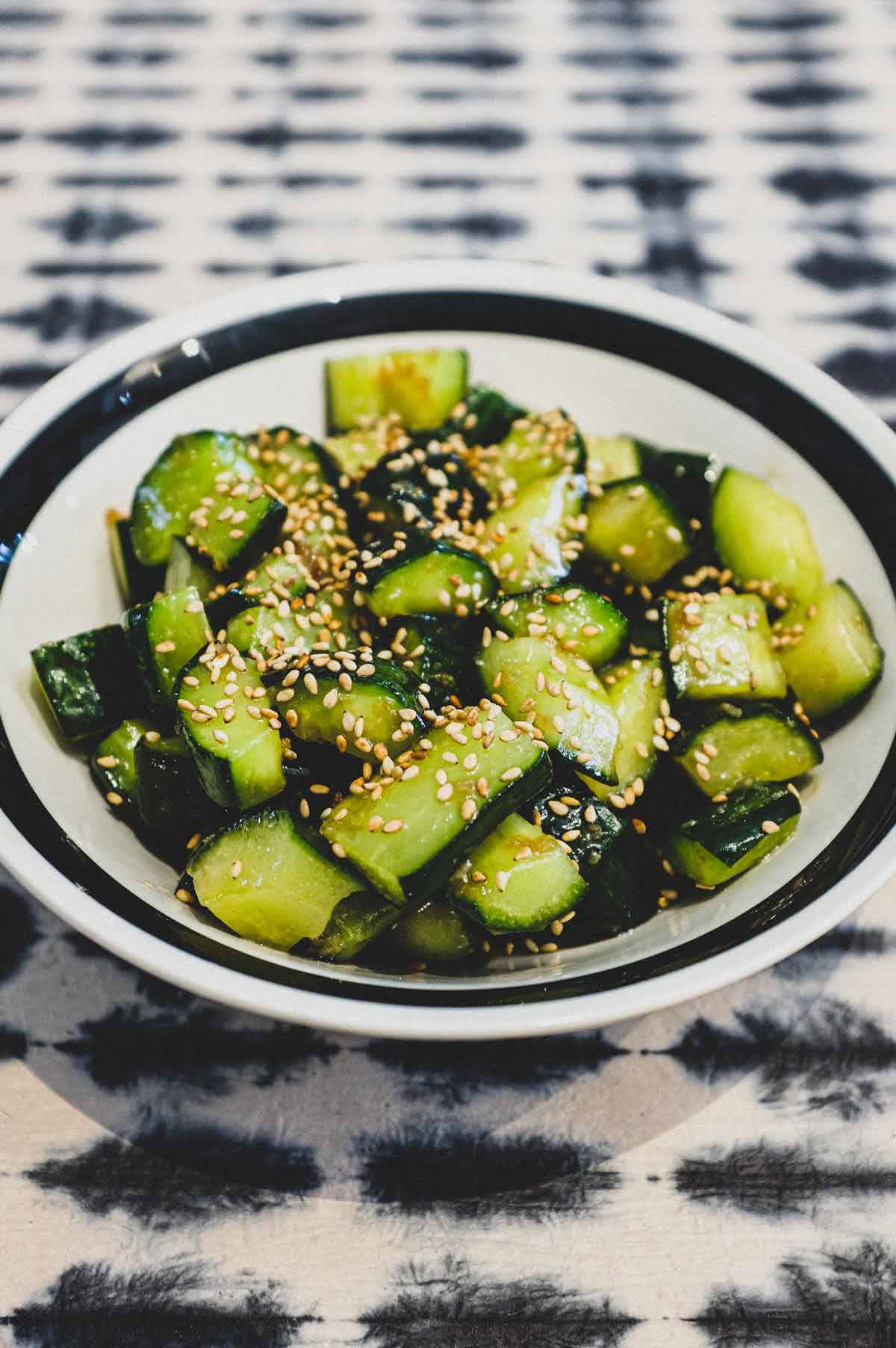 Did you make my cucumber salad?
How did your cucumber salad turn out? Let me know in the comments below and be sure to tag @cookeatinsta at Instagram.