Chinese Shandong Roast Chicken
Fewer dishes are as simple to prepare than the delicious Shandong Chicken! Succulent chicken dressed in the most aromatic and flavourful vinegar sauce. A wonderful Chinese dish that's every bit as simple as it is delicious.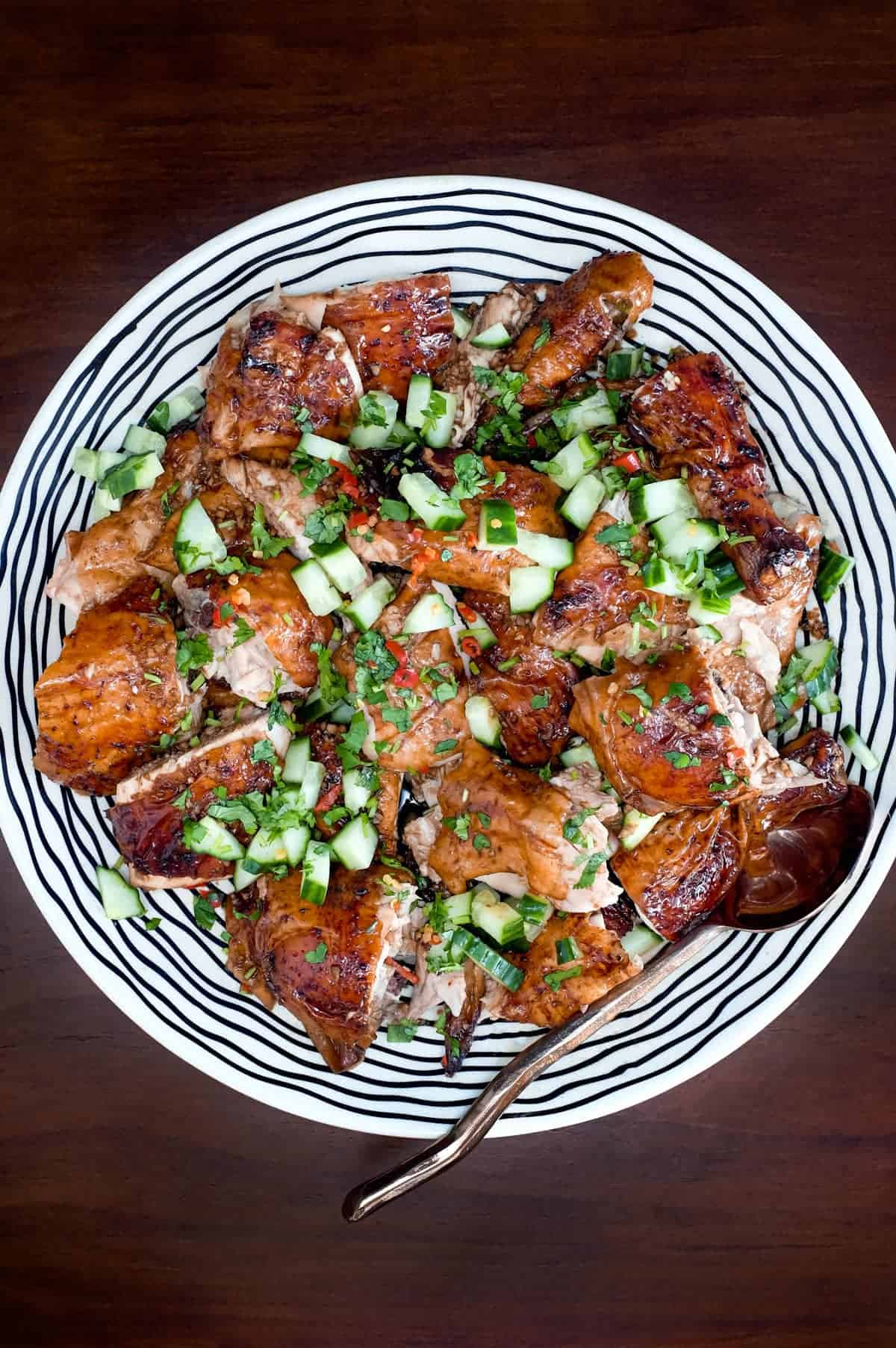 Who could fail to love the Chinese treasure known as Shandong Chicken? A brilliantly simple and delicious preparation that never fails to impress. Juicy chicken is dressed in the most aromatic black vinegar sauce that's a surprising and tasty contrast to the chicken. Fresh and flavourful and simple and stress free to make at home.
What is Shandong Chicken?
Often referred to as Shantung Chicken, this Chinese dish is not actually a product of the Shandong region of China at all, rather a Cantonese creation that uses influences, like black vinegar, common to Shandong cuisine.
for this dish, typically the whole chicken is poached and then hung to dry, then deep fried to crispen the skin. This is a lengthy and slightly dangerous process (deep frying a whole chicken is not fun).
My recipe for Shandong Chicken makes things even simpler, by roasting the bird instead. An acceptable and far easier alternative that achieves the same crispy skin! In fact, many Chinese families will even skip this stage and simply buy a supermarket rotisserie chicken – leaving them only one task, to whip together the simple Shandong sauce!
Stuff you'll need
The ingredients for Shandong chicken are simple, Chinese staples and quick to put together.
1 chicken
Soy Sauce (Dark and Light)
Chinese black vinegar
Shaoxing cooking wine
Ginger & garlic
Salt & Sugar
Cucumber, cilantro and fresh chilli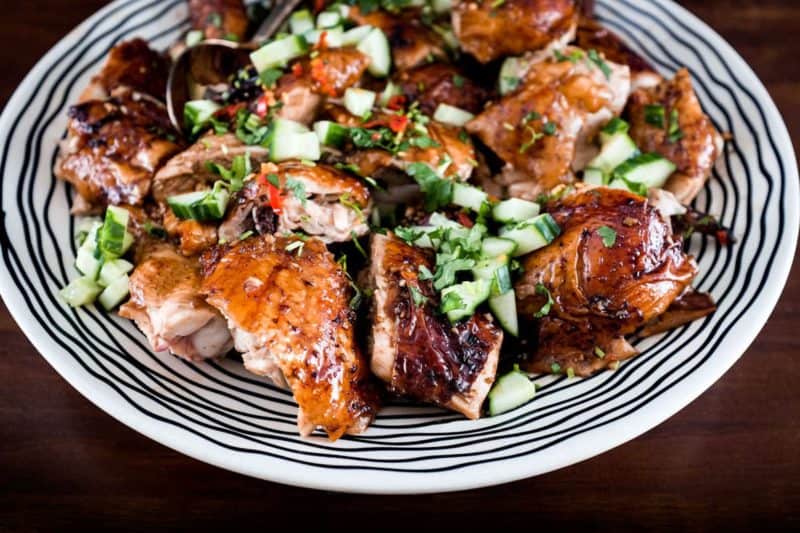 Step by Step
To make the Chinese Roast Chicken is easy. Ready in a few steps:
Whisk together some dark soy (for colour), sugar, salt, ginger and Shaoxing cooking wine.
Pour the sauce over the chicken and coat all the skin.
Roast in the oven, basting the chicken with the soy mixture until cooked.
Cut the chicken up into pieces and leave to cool. You can remove the meat from the bones or chop right through with a cleaver or large knife. You could also Invest in some poultry shears to make light work of chicken bones).
Whisk up the Shandong Sauce, a combination of garlic, ginger, soy, Shaoxing cooking wine, sugar and Chinese black vinegar
Pour the sauce over the cooled chicken
Garnish with lots of cucumber, cilantro and a little fresh chilli
Shandong chicken is typically eaten at cold or at room temperature, but hot is pretty delicious too. I usually eat it about 30 mins after roasting so there's a slight warmth to the chicken. Like most Chinese food, it's served family-style, just be ready with your chopsticks as it goes FAST!!
Pro Tips
Save yourself a roasting and buy supermarket rotisserie chicken (be sure to NOT buy a flavoured or stuffed version as it will compete with the Chinese flavours).
Instead of a whole chicken, use 4 Maryland portions or 8 chicken thighs to roast. (Reduce the cooking time as needed).
Make ahead and refrigerate - Shandong chicken can be eaten hot or cold, but give it 30 mins out of the fridge before eating for the best flavour.
Is Shandong Chicken Spicy?
Depends. The only spice comes from adding some chopped chilli at the end and that's optional, so you can decide if you want it spicy or not.
What to serve with Shandong Chicken?
It's a self contained dish so doesn't need too much more - I do like it with simple rice and maybe some snow pea shoots with garlic or sugar snap peas.
What is Shandong Sauce?
A combination of black vinegar, soy, Chinese cooking wine and sugar
How to make Chinese Shandong Roast Chicken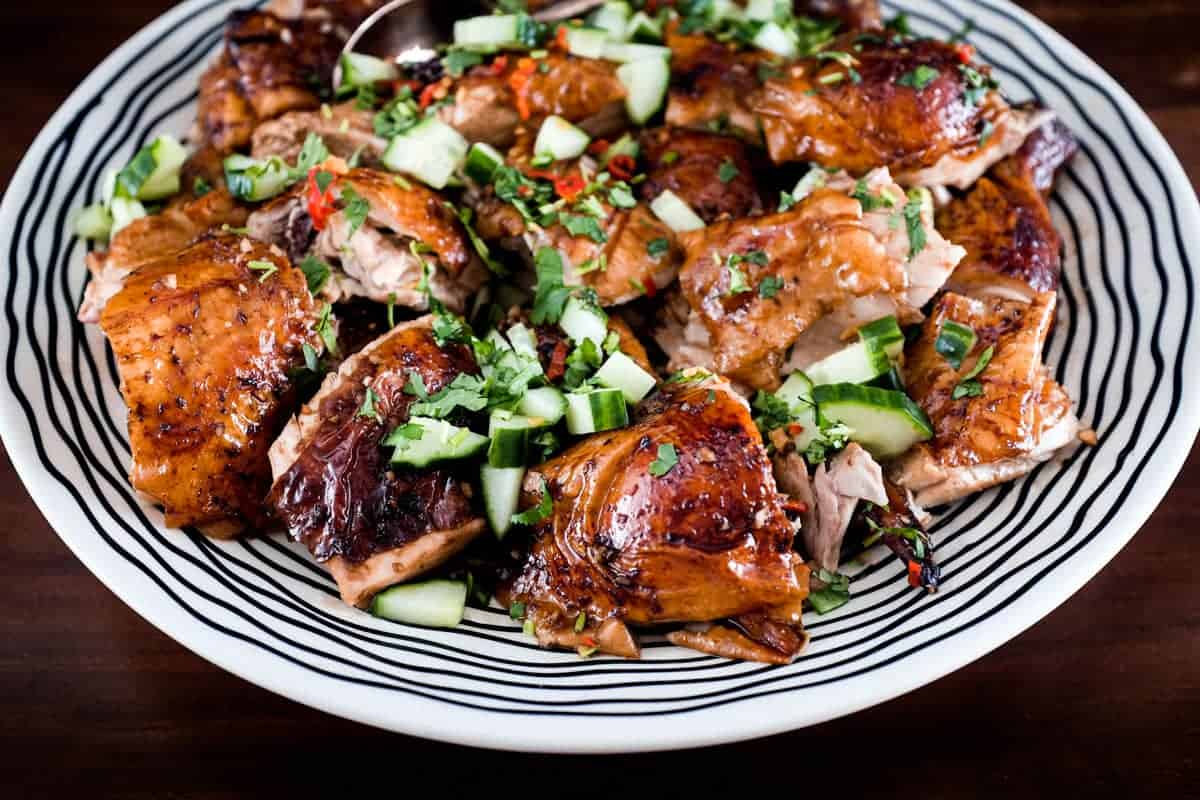 Chinese Shandong Roast Chicken
Rate this recipe
Print Recipe
Pin Recipe
Save Recipe
Go to Collections
Calories (per serving) |
455
Ingredients
Other ingredients
1

cup

cucumber

(cubed)

2

tbsp

cilantro

(chopped)

1

red chilli

(seeded and thinly sliced or chopped)
Instructions
For the Chicken marinade
Whisk together all the marinade ingredients then pour over the chicken. Rub into the skin to ensure it's all covered then cover and rest in the fridge for 2 hours.

Preheat oven to 200ºC

Place the chicken on a rack in a roasting tin and roast for between 1-1½ hours. After 30 minutes loosely cover the chicken with foil to avoid burning.

The internal temperature should be at least 165ºF/74ºC and the juices run clear when pierced through the thighs.

Remove the chicken and leave to rest for 30 minutes.
To make the Shandong sauce
Whisk together all the sauce ingredients and set aside.
Assembling the dish
Cut the chicken into bite size pieces. The simplest way to do this is to remove the legs and thighs first and using either a cleaver or poultry shears cut up into pieces.

Then, using shears, cut either side of the backbone (the bottom of the chicken) and then cut the whole bird in half to give two full breasts with the bone still in.

Then, using a cleave or the shears, cut these into bite sized pieces.

If this all seems like hard work, you can simply strip the chicken from the bones in large chunks and serve that way.

Arrange all the chicken pieces in a single layer on a large platter then pour over the Shandong sauce. Scatter over the cucumber, cilantro and chilli and serve.

You can serve warm or leave to cool completely. If you want to make in advance, refrigerate. Bring out of the fridge about 1/2 hour before you want to eat to let it come up in temperature slightly (it tastes better!).
Notes
Eating Shandong Chicken
You can eat Shandong Roast Chicken at any temperature. Eating cold means you can refrigerate and eat later. The only difference is to not add the dressing until you want to eat. Bring the chicken up to room temperature from the fridge and then pour over the dressing just before serving.
Rotisserie Chicken
You can save yourself the trouble of roasting your chicken by using a supermarket bought rotisserie chicken. The only thing is to ensure you buy a straightforward chicken without any added flavour (no BBQ, Mediterranean herb etc). Simply, divide the hot, warm or cold chicken into pieces and pour over the dressing.
Instead of a whole chicken, you could roast 4 leg/thigh (Marylands), or 8 thighs (bone in/skin on).
Nutrition
Calories:
455
kcal
(23%)
|
Carbohydrates:
7
g
(2%)
|
Protein:
37
g
(74%)
|
Fat:
29
g
(45%)
|
Saturated Fat:
8
g
(50%)
|
Polyunsaturated Fat:
6
g
|
Monounsaturated Fat:
12
g
|
Trans Fat:
1
g
|
Cholesterol:
143
mg
(48%)
|
Sodium:
1220
mg
(53%)
|
Potassium:
473
mg
(14%)
|
Fiber:
1
g
(4%)
|
Sugar:
5
g
(6%)
|
Vitamin A:
411
IU
(8%)
|
Vitamin C:
21
mg
(25%)
|
Calcium:
34
mg
(3%)
|
Iron:
2
mg
(11%)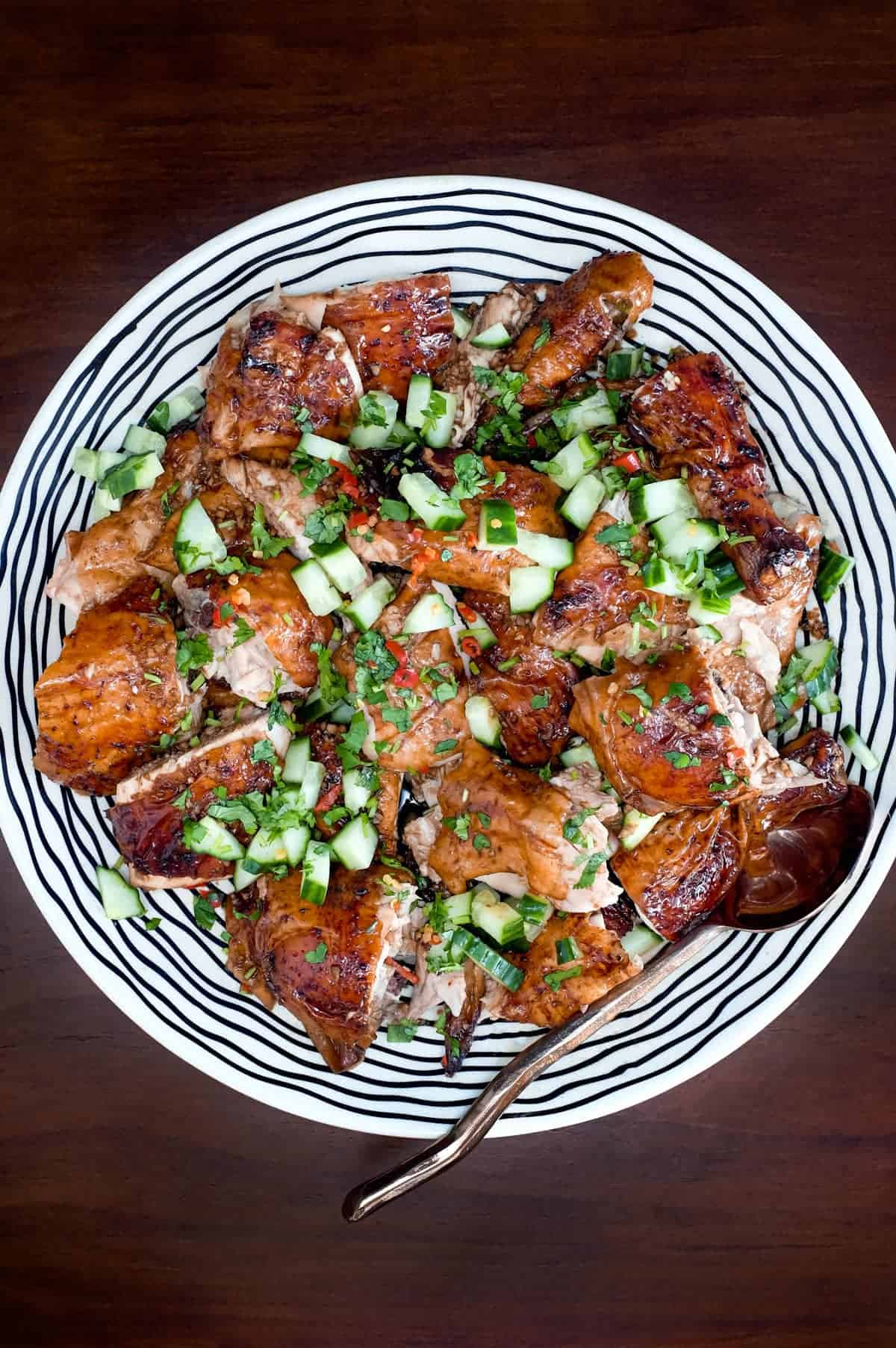 Did you make my Chinese Shandong Roast Chicken
How did you go? Let me know in the comments below and be sure to tag @cookeatworld at Instagram.