These fluffy and crisp egg pancakes are one of my all time favourite Chinese dishes. Chicken Egg Foo Young are a little retro, a lot tasty – learn how to make them at home…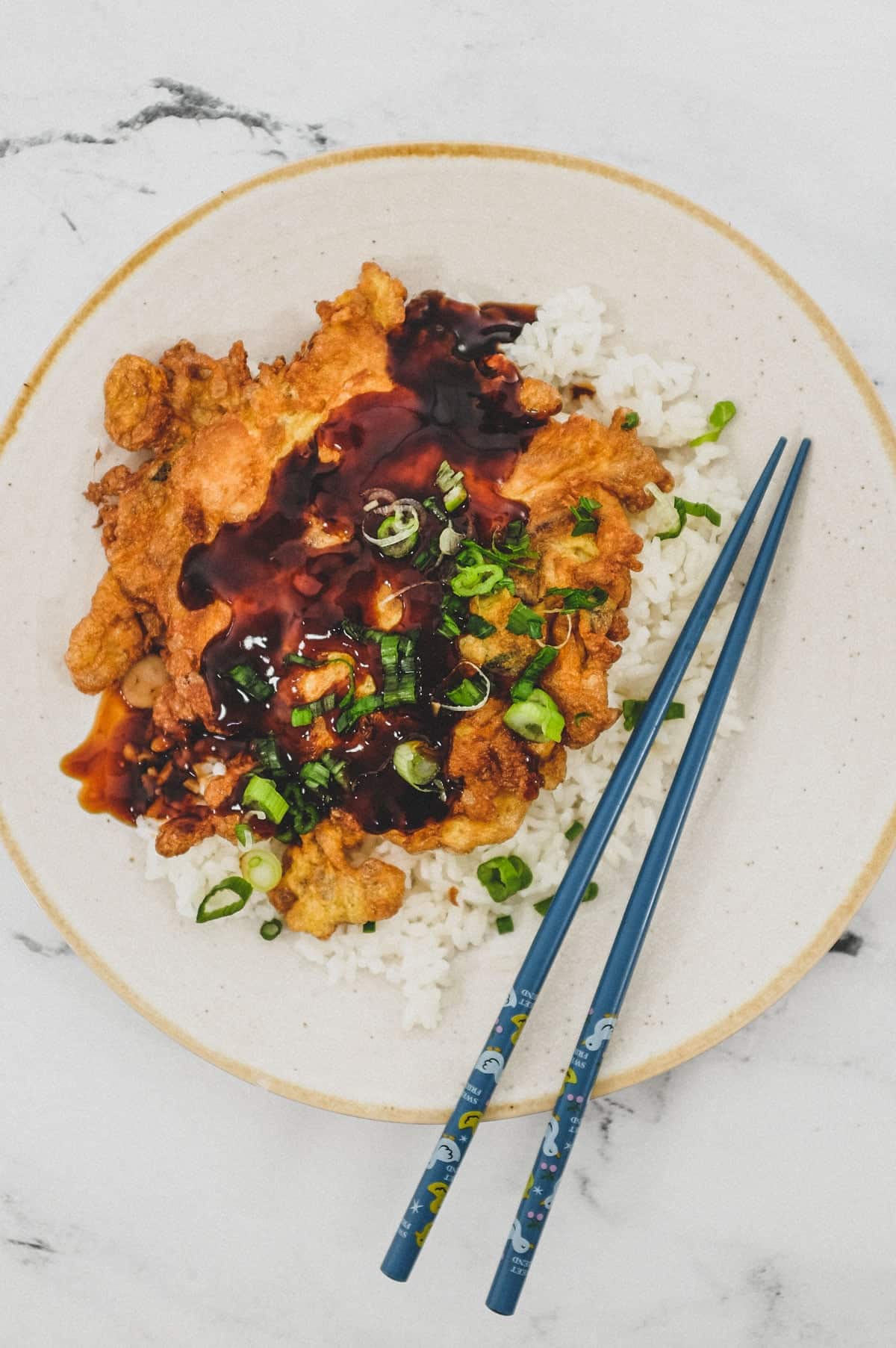 If there's one dish that reminds me of home back in the UK it's the dish I ordered most at my local takeaway, Chicken Egg Foo Young. I wouldn't ever need to even ask, the second I walked in, my friend behind the counter would just nod. I rarely ordered anything else, and in fact, the last time I visited the UK, I went back to my local and he was still there, and STILL knew what I was about to order, some 20 years later!
What is Egg Foo Young?
Egg Foo Young is a simple Chinese omelette that originates from the Cantonese cuisine of the Guangdong region in China, making its way into Chinese Indonesian, British Chinese and American Chinese cuisines. Foo Young consists of fluffy, deep fried egg patties that are combined with all manner of ingredients they have a crisp outer from frying and a soft, fluffy interior. They're quick and easy to prepare and full of flavour.
My favourite combination of flavour is onion, mushroom, spring onion, beansprouts and sometimes water chestnuts. That said, I'll make foo young with whatever I have at home, including peppers, cabbage and green beans. Mostly I'll make my foo young with chicken or shrimp, but often with neither - a vegetarian foo young pretty delicious too.
What's an Authentic Egg Foo Young?
The fluffiness of an authentic Egg Foo Young is achieved by frying the patties in quite a bit of oil. Deep frying egg foo young, achieves the fluffy, and lightly crisp exterior while remaining soft and tender inside. You can't achieve this buy cooking like a regular omelette. If all that oil doesn't appeal, you can of course cook with less and still have a tasty Chinese omelette.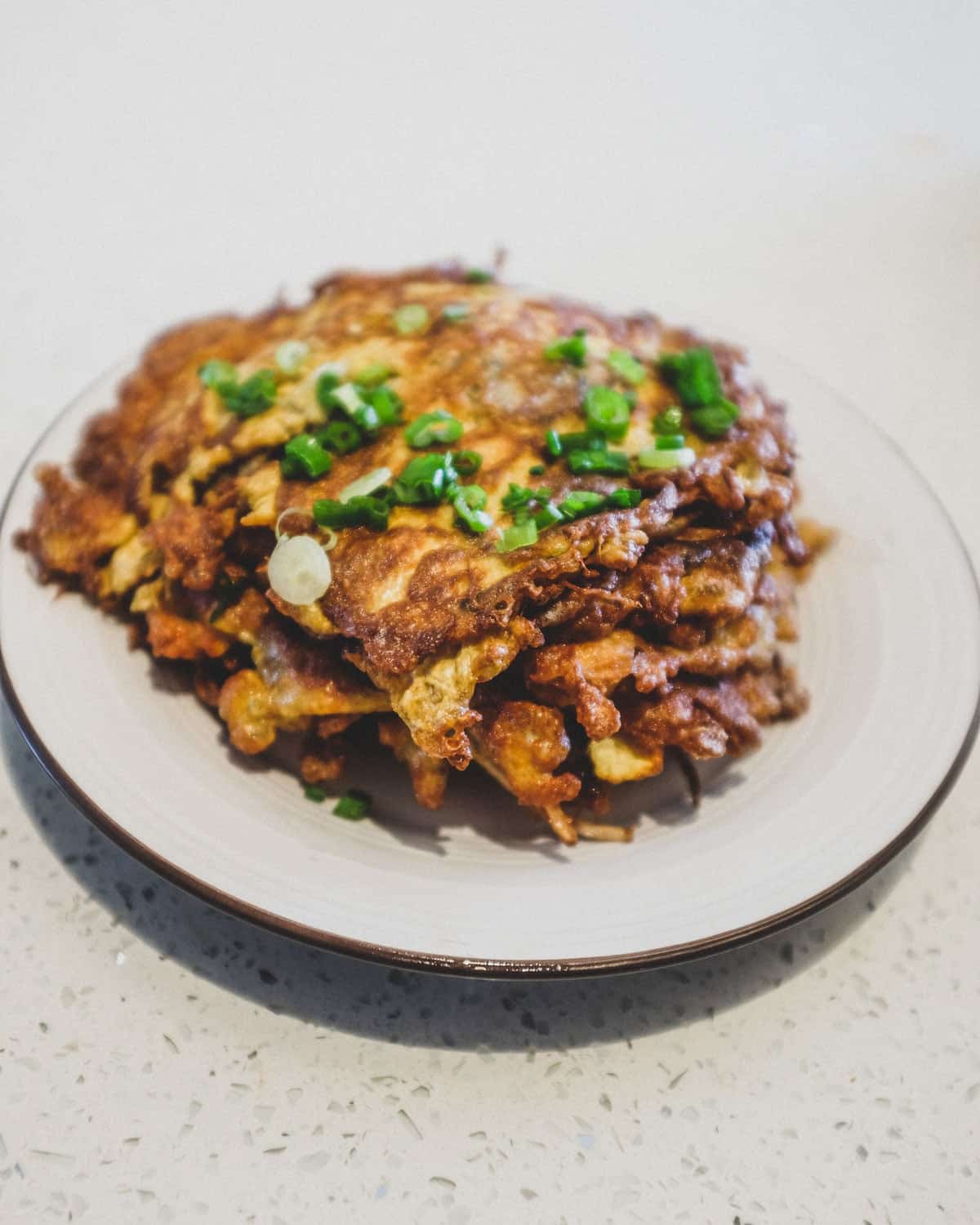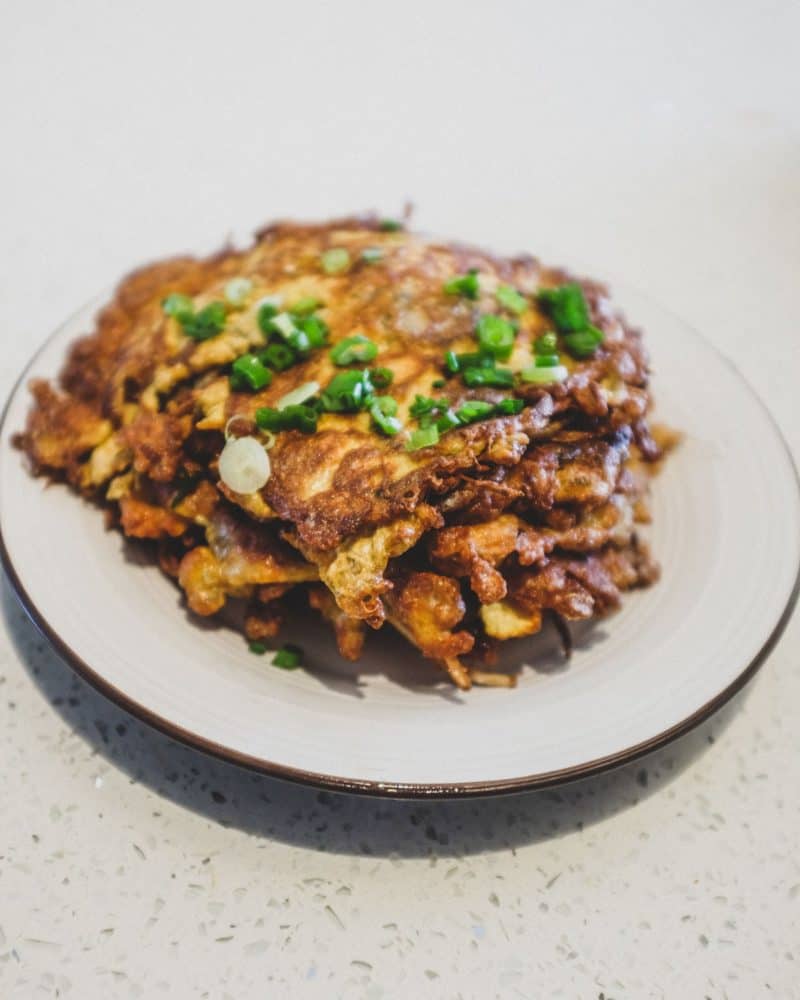 How to eat egg foo young
This recipe makes a bunch of small patties which are perfect over steamed rice (or french fries/chips in the UK) with a drizzle (or glug) of the wonderful, special gravy on top. The gravy is essential in giving a hit of umami to the dish. The great news, is that making the gravy is simple, just a combination of a few store cupboard ingredients.
How to make Foo Young Gravy
Your umami-filled gravy is simple... You can also make this in advance and heat it up when you're good to go. Here's what you'll need.
Making the foo young patties
It's easy, ready in a few simple steps.
Fry the chicken pieces with the onion and mushrooms
Beat the eggs and then combine with the chicken mix, and other ingredients
Heat some oil (about a cupful) in a wok until hot (around 330ºF)
Take a ladleful of egg mix and fry for 1-2 minutes per side
Repeat until you've used it all up.
Scroll through the pics for a step by step guide
So, to achieve restaurant quality Chicken Egg Foo Young, my recipe will show you  just how easy it is. You can make the patties in advance and simply heat in a hot oven for 3-4 minutes when you're ready. It's a trip down memory lane every time I make them, each time I'm reminded why it was the only dish on the menu!
More delicious Chinese recipes
How to make Chicken Egg Foo Young
Chicken Egg Foo Young
Rate this recipe
Print Recipe
Pin Recipe
Calories (per serving) |
492
Ingredients
For the Foo Young
2

tbsp

canola oil

½

onion

(sliced)

1

chicken breast

(cut into small cubes)

½

cup

mushrooms

(finely sliced)

8

eggs

½

cup

chicken stock

4

spring onions

(scallions) (finely sliced)

1

cup

beansprouts

1

tbsp

sesame oil

salt & white pepper

1

cup

canola oil

(for frying)
Instructions
To make the gravy
Combine the soy sauces, oyster sauce, sugar and chicken stock in a small pan. Bring to a simmer over a medium heat and cook for 5 minutes. Whisk the cornstarch with about 1/4 cup water and then pour into the gravy. Stir and let it cook for 1-2 minutes more - the cornstarch will thicken the sauce. Remove from the heat and set aside with a lid on to keep it warm.
To make the foo young patties
Fry the onion for 1-2 minutes in a little oil until soft. Add the chicken pieces and mushrooms and cook for a further 5-6 minutes until the chicken is cooked through. Remove from the heat and set aside to cool a little.

Beat the eggs with the chicken stock and then add 1/2 the spring onion, the chicken, onion & mushroom mix, beansprouts and sesame oil and season with salt & pepper. Stir well to combine everything.

In a wok or deep frying pan, heat the canola oil until just hot, but not smoking.

Take a ladleful of the egg mixture and gently turn out into the oil. The egg will puff up in the hot oil. It may spread out too, so, using a flipper, flip the sides in a little to make a neater pattie. Let it cook for about 1-2 minutes each side until browned.

Remove from the oil and rest on paper towels while you cook the rest of the foo young patties.

Serve over a little fluffy rice with a spoonful of the gravy on top - finally, sprinkle with a few spring onions and you're done!
Notes
You can cook the foo young in advance and heat for 5 mins in a hot oven or even eat cold, but they're at their best just out of the pan, hot and crispy!
Nutrition
Calories:
492
kcal
(25%)
|
Carbohydrates:
13
g
(4%)
|
Protein:
29
g
(58%)
|
Fat:
36
g
(55%)
|
Saturated Fat:
6
g
(38%)
|
Polyunsaturated Fat:
10
g
|
Monounsaturated Fat:
19
g
|
Trans Fat:
1
g
|
Cholesterol:
367
mg
(122%)
|
Sodium:
1244
mg
(54%)
|
Potassium:
618
mg
(18%)
|
Fiber:
1
g
(4%)
|
Sugar:
6
g
(7%)
|
Vitamin A:
621
IU
(12%)
|
Vitamin C:
8
mg
(10%)
|
Calcium:
75
mg
(8%)
|
Iron:
3
mg
(17%)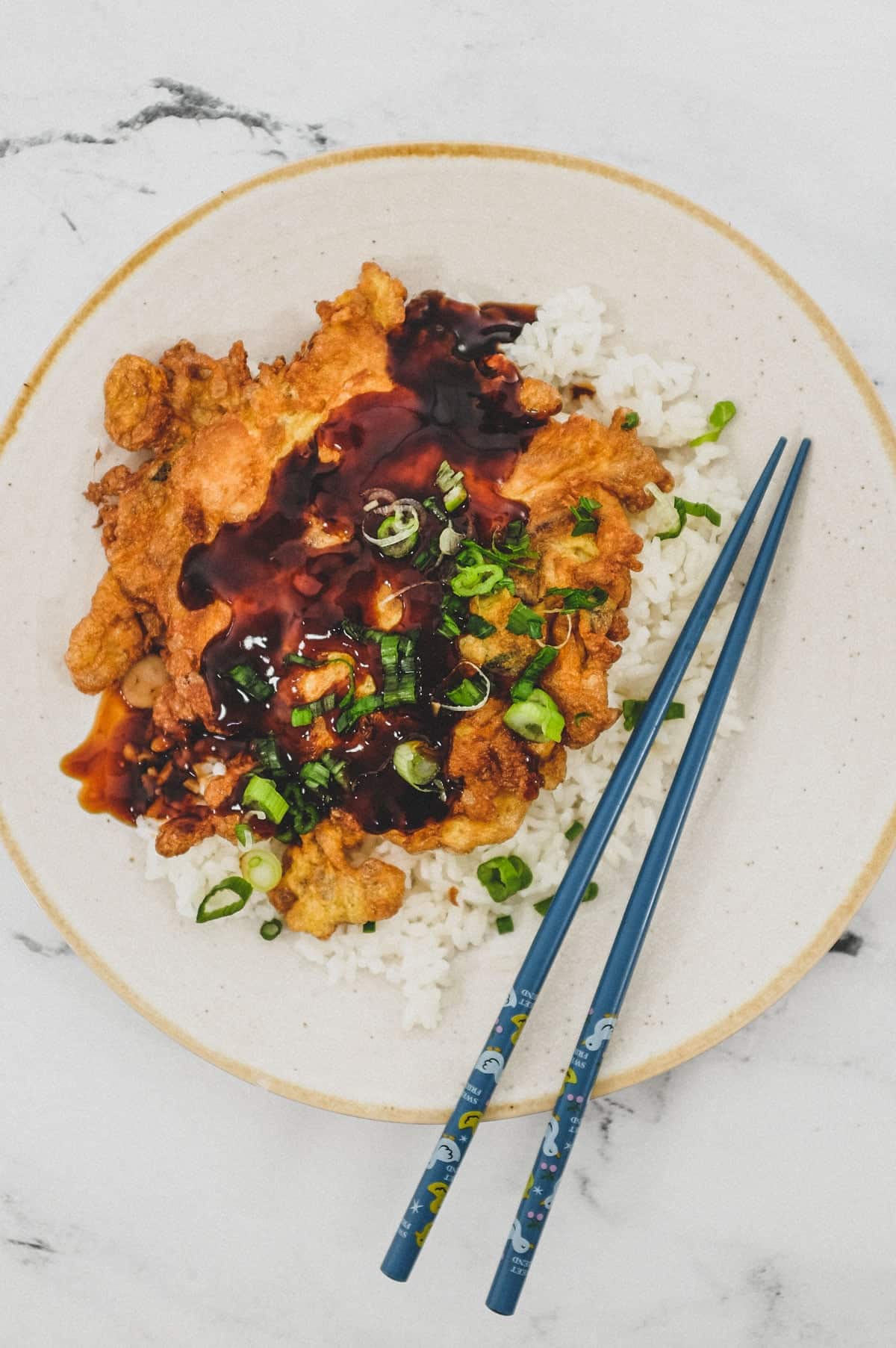 Did you make my Chicken Egg Foo Young
How did you go? Let me know in the comments below and be sure to tag @cookeatworld at Instagram.
This site contains affiliate links to products. We may receive a commission for purchases made through these links. Learn more.