Chinese Braised Pork Belly – Hong Shao Rou (Instant Pot Style)
Get a delicious slow-braised Chinese pork belly stew in a fraction of the time, thanks to the trusty Instant Pot. Meltingly tender pork in a fragrant umami sauce that oozes authentic Chinese flavours.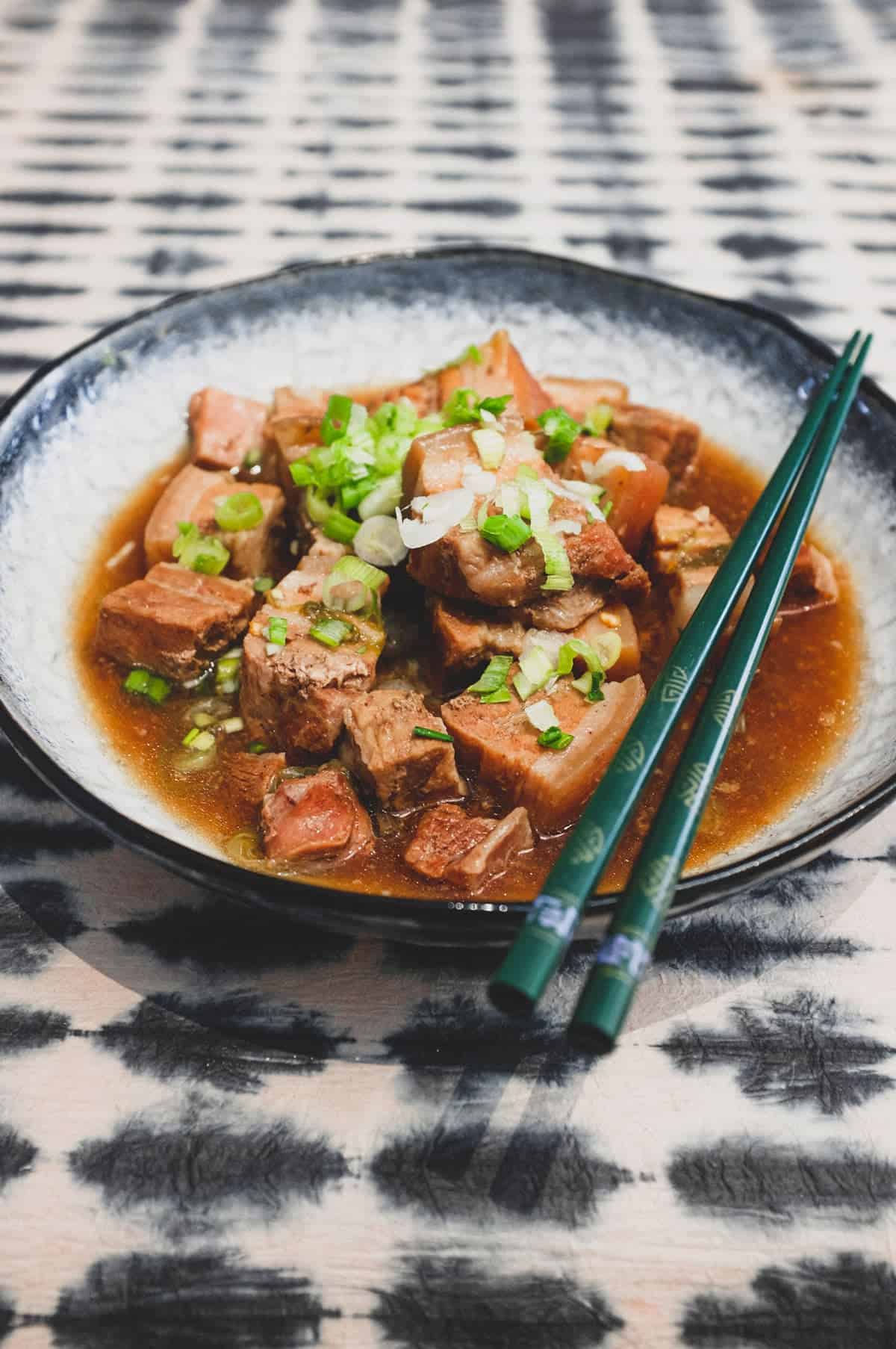 I'm a sucker for Chinese Braised Pork Belly! Meltingly tender morsels of meat - so juicy and perfect - a taste of China with every treasured bite. Braising meat, is one of my favourite ways to cook, and this Chinese braised pork recipe is one of my tastiest. A little goes a long way and the flavour is so intoxicating you'll want to drink it from the bowl...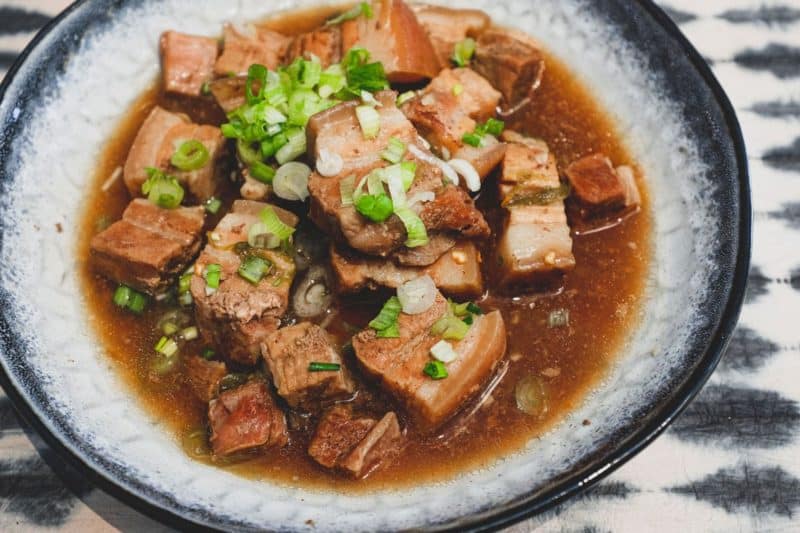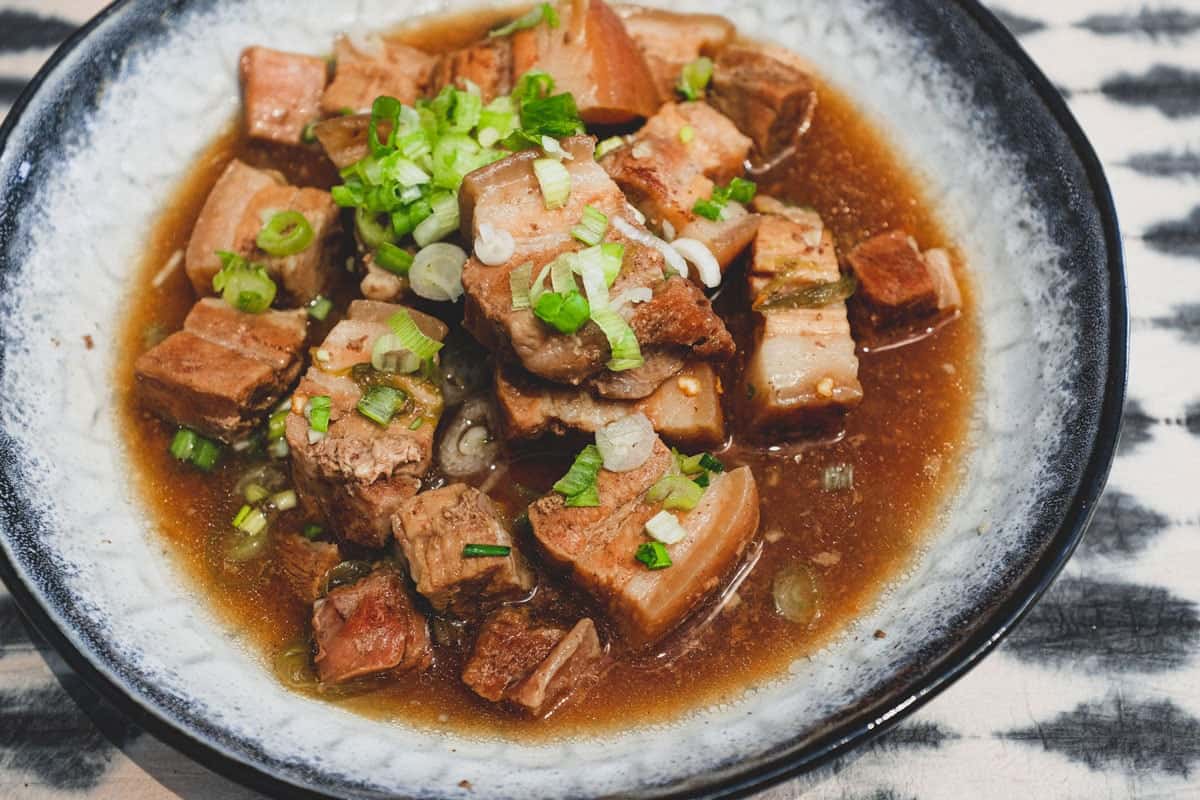 Braising can take forever, but of course that's why the pressure cooker and more recently, Instant Pot were invented. To take all the wonderful results from slow cooking and put them on fast forward.
Those not familiar with pressure cooking, or those with no interest will be pleased to know I offer you the recipe for both cooking options. Both are simple, only one of you will still be waiting, long before the other has devoured their helping. Just to note, you'll have your slow cooked/fast-tracked treasure in a mere 25 minutes!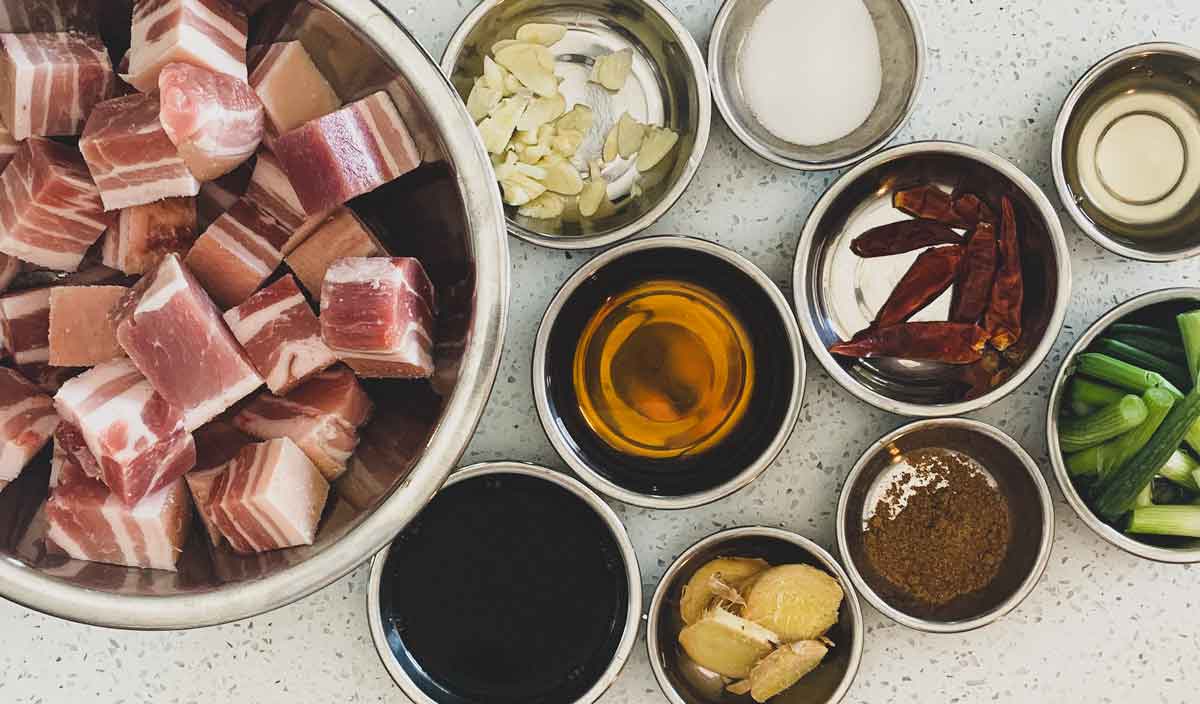 Stuff you'll need
To get things moving, fast you'll need a few simple ingredients to create that authentic Hong Shao Rou flavour.
Pork Belly - the fattiest of pork cuts, has that amazing juicy texture that's synonymous with Chinese Hong Shao Rou. You can use other cuts, just ensure they do have some fat, so that the meat stays tender. Tenderloin is not a suitable contender for this recipe.
Aromatics - five spice brings an anise and fragrance to the sauce that is quintessentially Chinese. Ginger, garlic and spring onion (scallions) enhance the aromatics even more.
Umami - the rounded saltiness of soy sauce and acidic notes of rice vinegar and Shaoxing cooking wine complete the fragrance and give the dish its final complex balance.
Step by Step
Thanks to the Instant Pot, this is fast food that is even more convenient than eating out or ordering take out. And it's every bit as authentic and delicious. And even with conventional cooking, it's so easy, it just takes a little longer. Here's just how easy things are either way.
With an Instant pot
Put all the ingredients into the Instant pot
Set for 25 minutes and you're done
With conventional pan on the stove
Put all ingredients into a pan

Simmer gently for 90 minutes and you're done.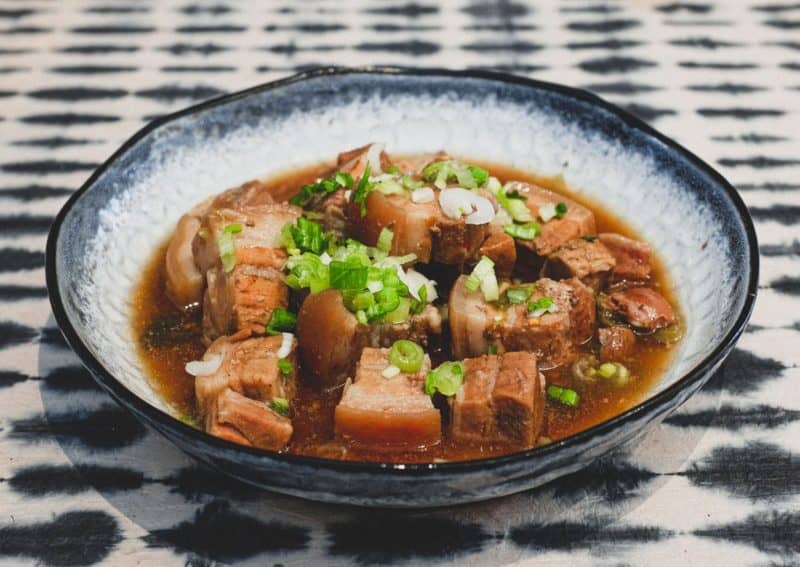 Pro tips: Finishing the sauce or not?
Traditionally, Hong Shao Rou has a thick, sticky sauce. My recipe is more of a broth because I like it that way, but to achieve this sticky sauce is super easy. All you need is a tablespoon of cornstarch and a little water combined. Then stir into the bubbling sauce (keep the sauce on a simmer in the Instant Pot), stir briefly and the sauce will thicken. Bubble for 1-2 minutes to cook the flour out and then remove from the heat.
Any questions?
Where is Hong Shao Rou from?
China, from the Hunan region, although it is eaten all across the country.
What does Hong Shao Rou Mean?
The literal translation means braised red pork, the red hues (more russet) from the soy sauce.
Can I freeze Hong Shao Rou?
Absolutely. Cook from frozen in the Microwave, or thaw and cook in a pan until piping hot.
I like to serve at least one other dish alongside the braised pork belly. Something fresh and green to cut through the richness of the meat is essential. My Chinese cucumber salad is another super-simple dish to prepare - no cooking involved! If you're up for a little light stir frying then maybe try my Snow Pea Sprouts with Garlic.
All in all, Hong Shao Rou is one of my favourite braised pork belly recipes and made even more appealing by the speedy Instant Pot. I'll let you decide if you want conventional or pressure cooking or a soupy broth or sticky sauce, but in any eventuality, I'm sure you'll agree that this is one delicious pop of flavour!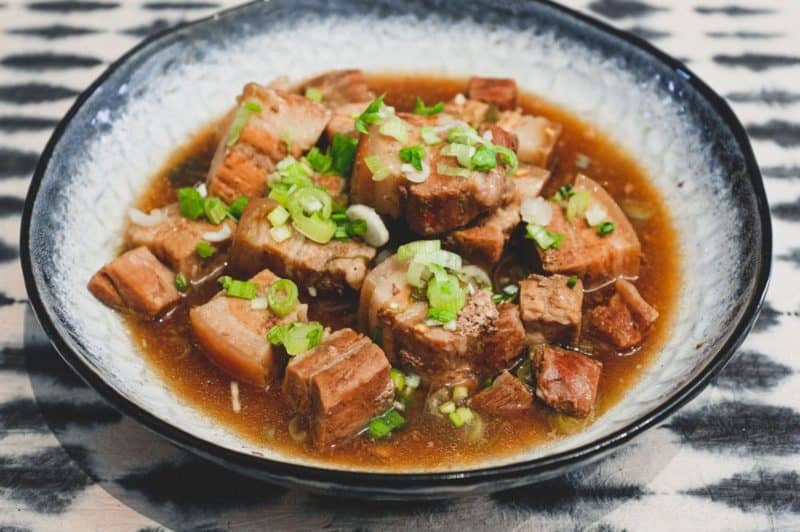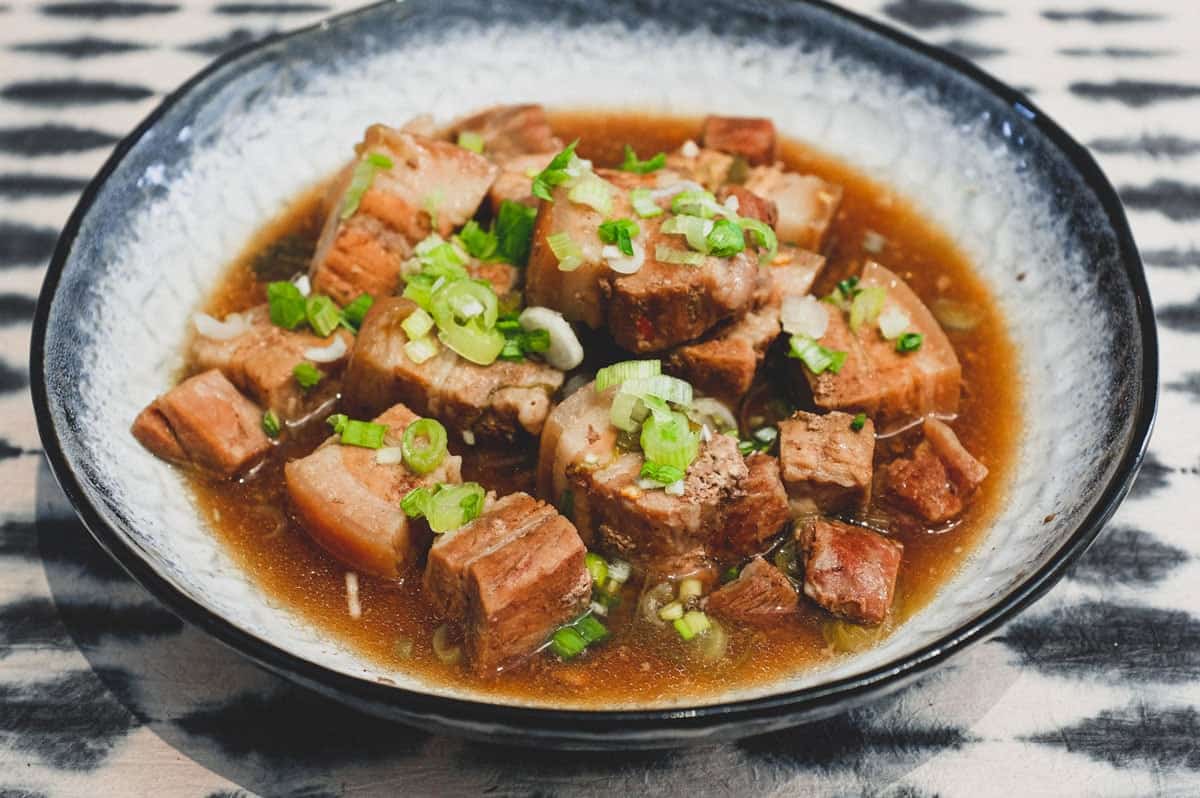 More Chinese recipes to try at home
If Chinese food is your thing, and you want to try some of my favourite recipes then I have some great options. Try one or all!
How to make my Chinese Braised Pork Belly – Hong Shao Rou (Instant Pot Style)
Chinese Braised Pork Belly - Hong Shao Rou (Instant Pot Style)
Rate this recipe
Print Recipe
Pin Recipe
Save Recipe
Go to Collections
Calories (per serving) |
1377
Instructions
Add to the Instant pot all the ingredients. Top with 2½ cups water and stir a little.

Set the Instant pot to high pressure for 25 minutes.

Release the pressure and then remove the lid. Check the pork is tender. If not, return for 5 minute intervals until done.
To cook on the stove top
Add all ingredients to a pan with the same amount of water and bring to a boil. Reduce the heat to low, cover with a lid and simmer gently for 90 minutes, until the pork is tender.

That's it! Serve sprinkled with more spring onion and lots of fluffy rice.
Nutrition
Calories:
1377
kcal
(69%)
|
Carbohydrates:
9
g
(3%)
|
Protein:
27
g
(54%)
|
Fat:
133
g
(205%)
|
Saturated Fat:
48
g
(300%)
|
Polyunsaturated Fat:
14
g
|
Monounsaturated Fat:
62
g
|
Cholesterol:
180
mg
(60%)
|
Sodium:
1648
mg
(72%)
|
Potassium:
599
mg
(17%)
|
Fiber:
1
g
(4%)
|
Sugar:
4
g
(4%)
|
Vitamin A:
284
IU
(6%)
|
Vitamin C:
4
mg
(5%)
|
Calcium:
38
mg
(4%)
|
Iron:
3
mg
(17%)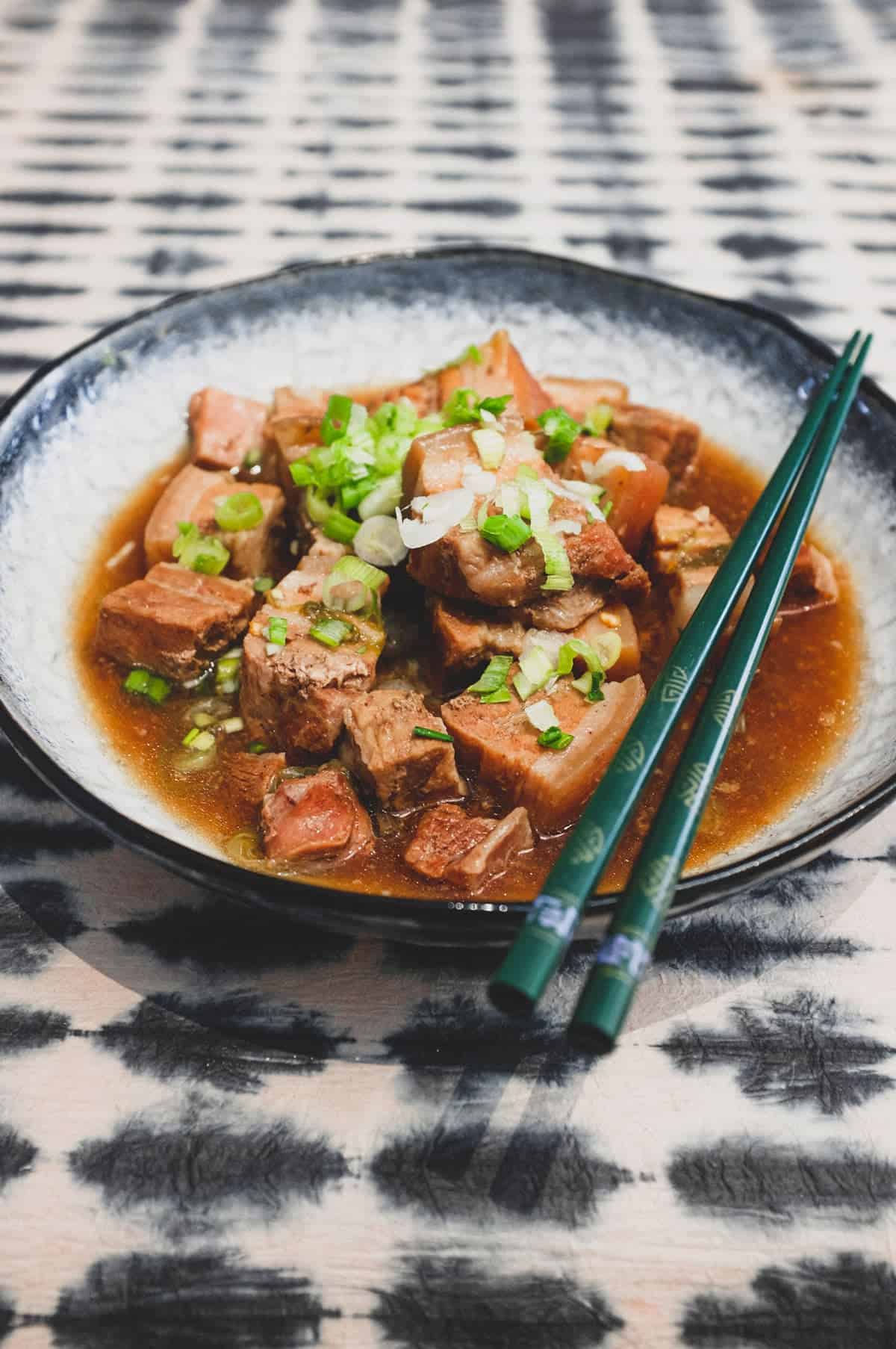 Did you make my Chinese Braised Pork Belly – Hong Shao Rou (Instant Pot Style)
How did you go? Let me know in the comments below and be sure to tag @cookeatworld at Instagram.