Vietnamese Braised Pork Belly with Eggs – Thit Kho
Meltingly tender hunks of pork belly sit in the most fragrant Vietnamese Sauce infused with lemongrass and star anise alongside whole tender eggs. It's the essence of Vietnam, and that means flavour overload!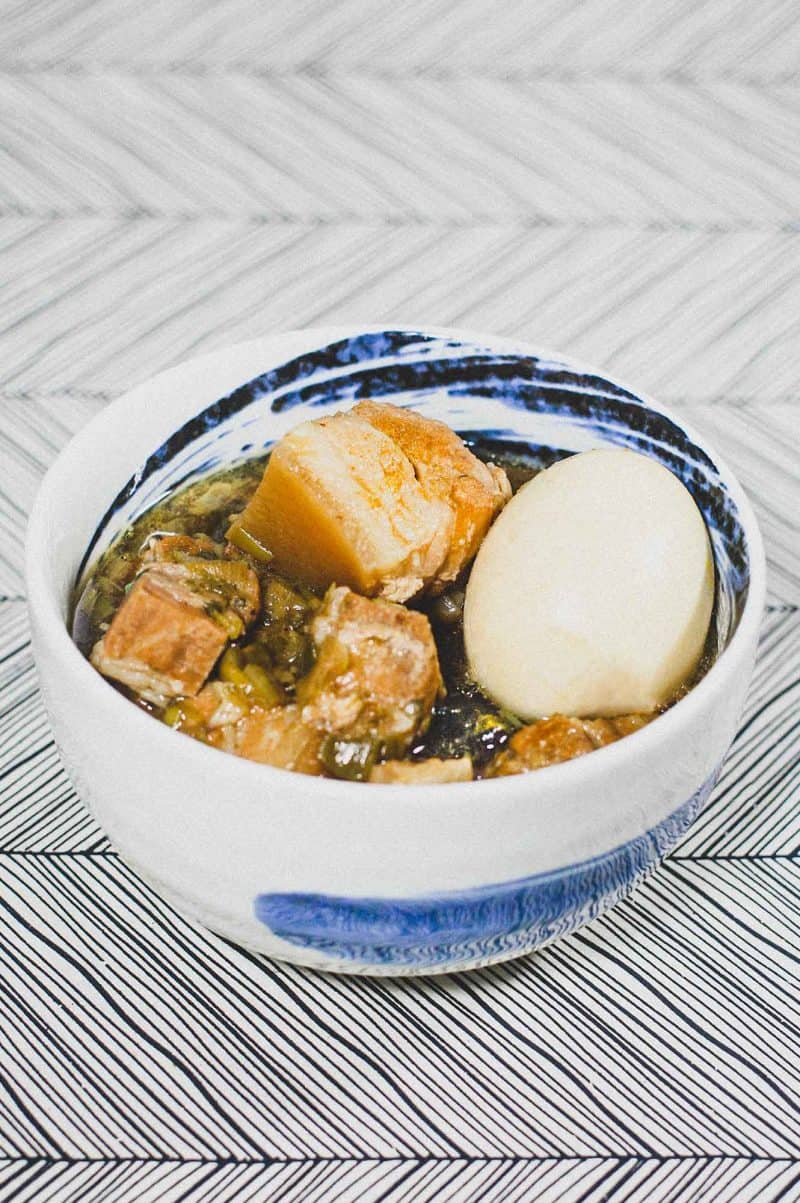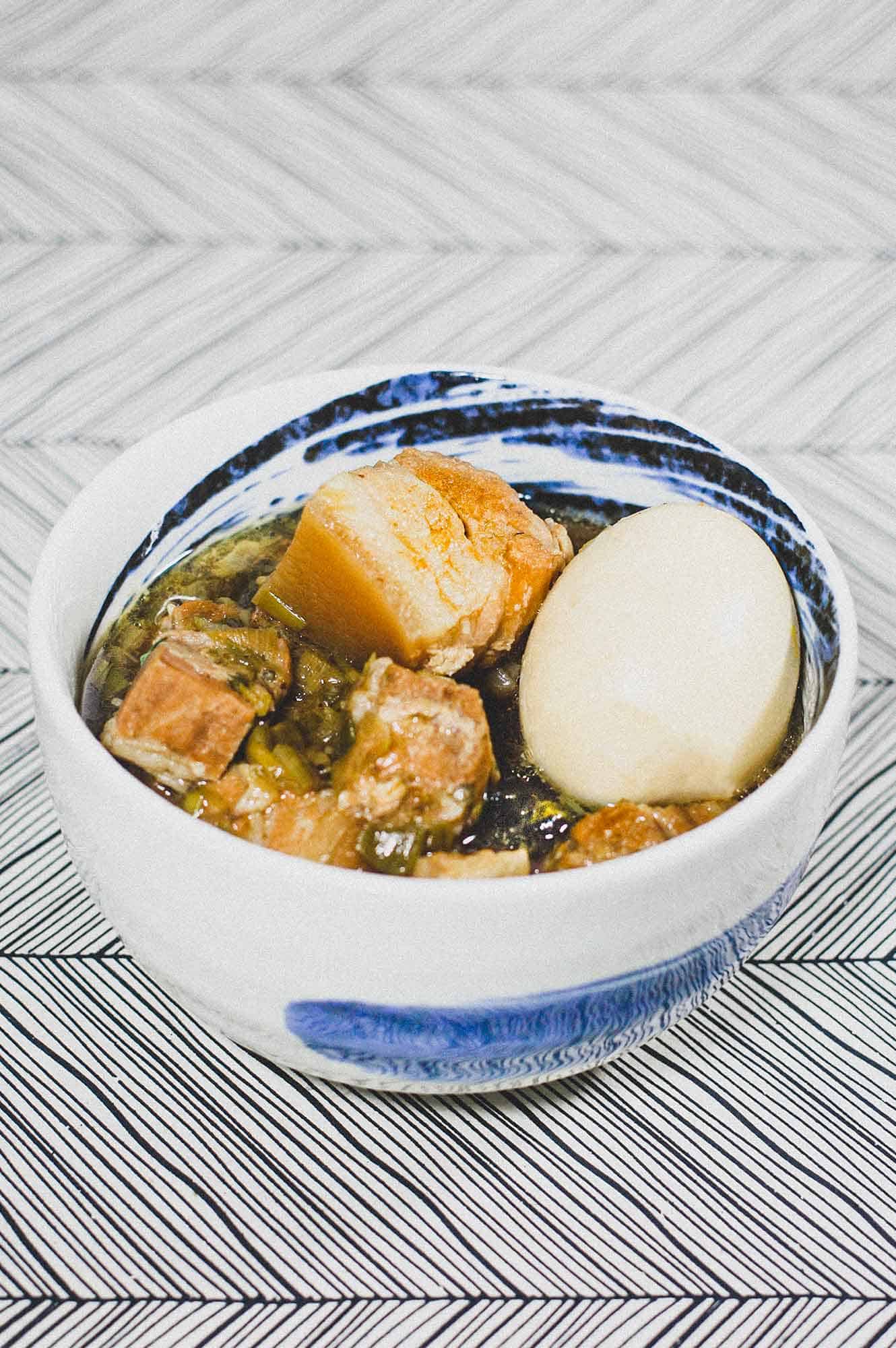 For my sins, I'm a huge fan of pork belly - in all guises. This dish showcases the ingredient to magnificent effect. As some of my regular readers may know, I'm also the world's number one fan of eggs - so to see two of my faves in one dish makes me very happy indeed.
As Vietnamese pork recipes go, this is very simple to create at home - there's not really much pre-cooking, it's essentially just braising everything together until the meat is meltingly tender. It has all the flavour notes you'd expect from Vietnam and fragrance for days. It's one of my favourite treats for sure.
What is Thịt Kho?
Thịt kho is a popular Vietnamese dish made with braised pork belly, eggs, and a sweet-savory sauce. Cooked slowly with fish sauce, soy sauce, sugar, black pepper, garlic, and shallots, it's served with rice and pickled vegetables. A classic comfort food in Vietnamese cuisine.
Thịt kho is also known as Thịt kho trứng, which translates to "braised meat with eggs" in Vietnamese. Additionally, it is sometimes called Thịt kho tàu, which literally means "Chinese-style braised meat," as the dish is believed to have originated in China and was later introduced to Vietnam.
In some regions of Vietnam, Thịt kho may also be called Thịt kho nước dừa, which refers to the use of coconut water in the recipe instead of water or broth.
Why it works?
It's fragrant - The lemongrass and star anise are two of my most favourite flavours and the aromas that spread through the house when this dish is cooking are almost too much to bear!
Pork belly - It's a treat for sure, those melting morsels are not for everyday consumption, but for a treat they are something very special indeed.
Stuff You'll Need & Step by Step
Thit Kho is a very simple dish to put together, and use readily available ingredients, all of which you can now find in most supermarkets. Here's how you can get to making your own Vietnamese pork belly at home.
Step 1 - Leek and Garlic are fried in a little oil until soft.
Step 2 - Cubes of pork belly are added and lightly seared.
Step 3 - A bunch of aromatics like soy sauce, fish sauce, rice vinegar, sugar, pepper, star anise and lemongrass are added along with some water. The pork then stews for 2 hours until the belly

is soft.

Step 4 - While the pork is cooking, boil some eggs then peel.
Step 5 - After 2 hours the peeled eggs are added to the sauce and simmered for 15 minutes. They'll take on some of the colour of the sauce.
Pro Tips
For more flavour to the eggs, you can turn off the heat and leave them submerged overnight in the sauce. They'll take on more colour and flavour. The meat itself will also improve in flavour.

You can also use pork shoulder or butt for this recipe which has less fat overall. For variations, you may also use beef, duck legs and chicken drumsticks. You'll need to adjust the cooking time for poultry to around 1 1/2 hours in total.
Serving Suggestions
Serve thit kho with lots of fluffy jasmine rice, broken rice alongside some simple picked carrot and radish. The pickles cut though the richness of the sauce. Everyone should get a combination of meat, sauce and an egg, so adjust how many eggs you cook to how many serves you want.
Storage
Fridge -

Leftovers will stay fresh in the fridge for 4-5 days. Be careful if you reheat a boiled egg. I wouldn't recommend the microwave as they will most likely explode or turn to rubber. Simply reheat gently in a pan.

Freezer -

If you're freezing, I wouldn't recommend including the egg (they don't freeze successfully and turn rubbery). I suggest you cook fresh eggs for reheated sauce from the freezer.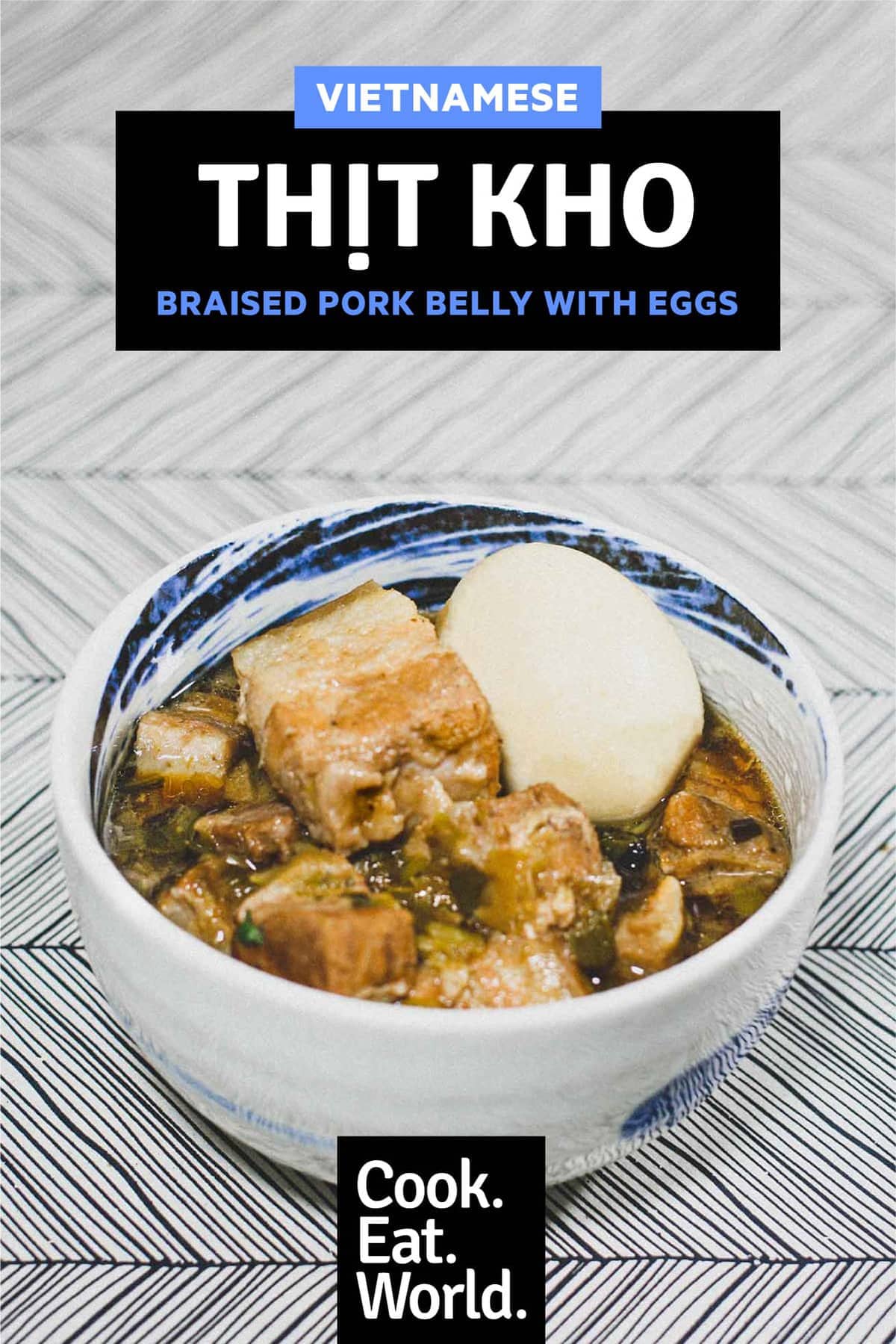 Ready to get cooking?
My Vietnamese Braised Pork Belly with Eggs is really simple to make yourself. All you need is a little time to let the pork get to the perfect texture. The pay-off is huge, a masterclass in flavour and fragrance. Sweet, savoury and completely addictive. I hope you enjoy!
More Vietnamese and South East Asian recipes
If you liked this recipe for Thit Kho, I'm sure you'll love some more of my favourite South East Asian recipes.
Any Questions? (FAQ)
Have a question about ? Let me know in the comments.
What does Thit Kho taste like?
It has a rich and savory umami flavor with a subtle sweetness Tender and juicy meat, and a creamy egg texture makes it a comforting and satisfying dish that's often served with rice and sweet/acidic pickled vegetables to cut through the richness.
What are the ingredients for thit kho?
The ingredients for thit kho typically include pork belly, eggs, fish sauce, sugar, lemongrass, garlic, shallots, pepper, water or coconut water, and cooking oil. Some recipes may also include additional ingredients such as star anise (a Chinese connection), chilli peppers, or coconut milk.
Is Thit Kho healthy?
Thit kho is rich in flavour and can be high in calories, sodium, and fat. The pork belly used in thit kho is a fatty cut of meat, which can contribute to a high saturated fat content in the dish. The caramel sauce used in the dish also contains sugar, which can add extra calories.
Overall, thit kho can be enjoyed in moderation as part of a balanced diet. It's important to consider portion sizes and the ingredients used when enjoying this dish to maintain a healthy and balanced diet.
This recipe uses affiliations and may receive a commission based on your activity (link clicks). Learn more.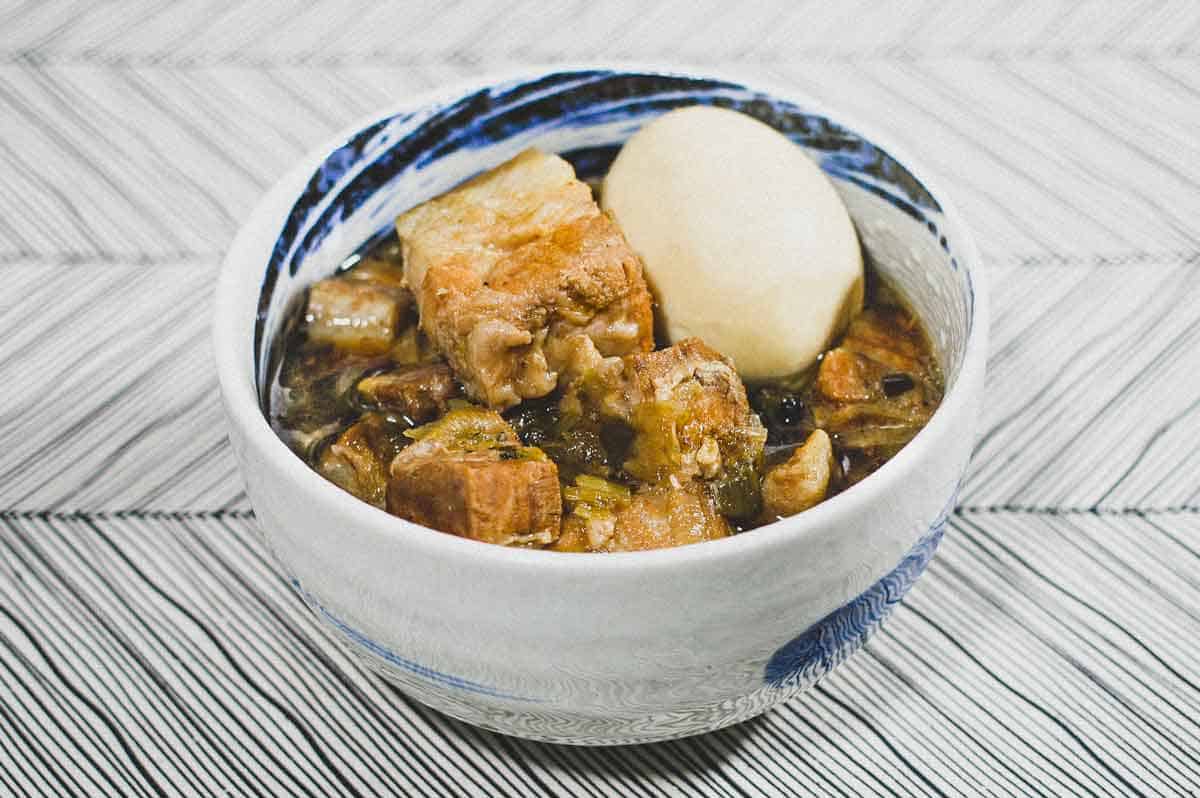 Vietnamese Braised Pork Belly with Eggs - Thit Kho
Rate this recipe
Print Recipe
Pin Recipe
Save Recipe
Go to Collections
Calories (per serving) |
916
Instructions
In a large pan or wok heat the oil over a moderate heat until hot. Add the sliced leek and garlic and fry for 1-2 minutes. Add the pork and fry for a further 2-3 minutes.

Add all the other ingredients (except the eggs) and 400ml water. Bring this to a boil then reduce the heat to low. Pop on a lid and cook slowly for 2 hours, until the pork is soft.

While the pork cooks, add the eggs to a pan in a single layer. Cover with about 2 inches of cold water with 1 teaspoon salt. Bring the water to a full boil, then turn off the heat and leave for 12 minutes. Plunge into cold water and leave for 30 minutes before peeling.

When the pork has cooked for 2 hours, add the eggs to the pan and cook for a further 15 minutes. That's it!

I like to serve mine with my favourite type of rice, Vietnamese broken rice. Jasmine rice is also excellent!
Notes
To enhance the eggs' flavor, turn off the heat and leave them in the sauce overnight. This allows them to absorb more color and flavor. The meat also becomes more flavorful with this method.
An alternative to pork belly is pork shoulder or butt, which has less fat. Other meat options include beef, duck legs, and chicken drumsticks, but note that the cooking time should be adjusted accordingly, with poultry taking approximately 1 1/2 hours to cook thoroughly.
Serving and Storage
Serve - Serve the thit kho with fluffy jasmine rice or broken rice and a side of simple pickled carrots and radishes to cut through the richness of the sauce. To ensure everyone gets a combination of meat, sauce, and egg, adjust the number of eggs you cook according to the number of servings you need.
Fridge -

Leftover thit kho can be stored in the refrigerator for 4-5 days. When reheating boiled eggs, be cautious as they can be tricky. It's not recommended to reheat them in the microwave, as they may explode or become rubbery. Instead, gently reheat the dish in a pan.

Freezer -

If you plan on freezing thit kho, it's not recommended to include the egg, as they don't freeze well and can become rubbery when reheated. Instead, it's best to cook fresh eggs when reheating the sauce from the freezer.
Nutrition
Calories:
916
kcal
(46%)
|
Carbohydrates:
6.3
g
(2%)
|
Protein:
20.9
g
(42%)
|
Fat:
89.2
g
(137%)
|
Saturated Fat:
31.5
g
(197%)
|
Cholesterol:
270
mg
(90%)
|
Sodium:
946
mg
(41%)
|
Potassium:
137
mg
(4%)
|
Fiber:
0.6
g
(3%)
|
Sugar:
3.2
g
(4%)