Vietnamese Braised Pork Belly with Eggs – Thit Kho
Meltingly tender hunks of pork belly sit in the most fragrant South East Asian Sauce. Thit Kho is an amazing Vietnamese treat… and let's not forget the boiled eggs! A triumph!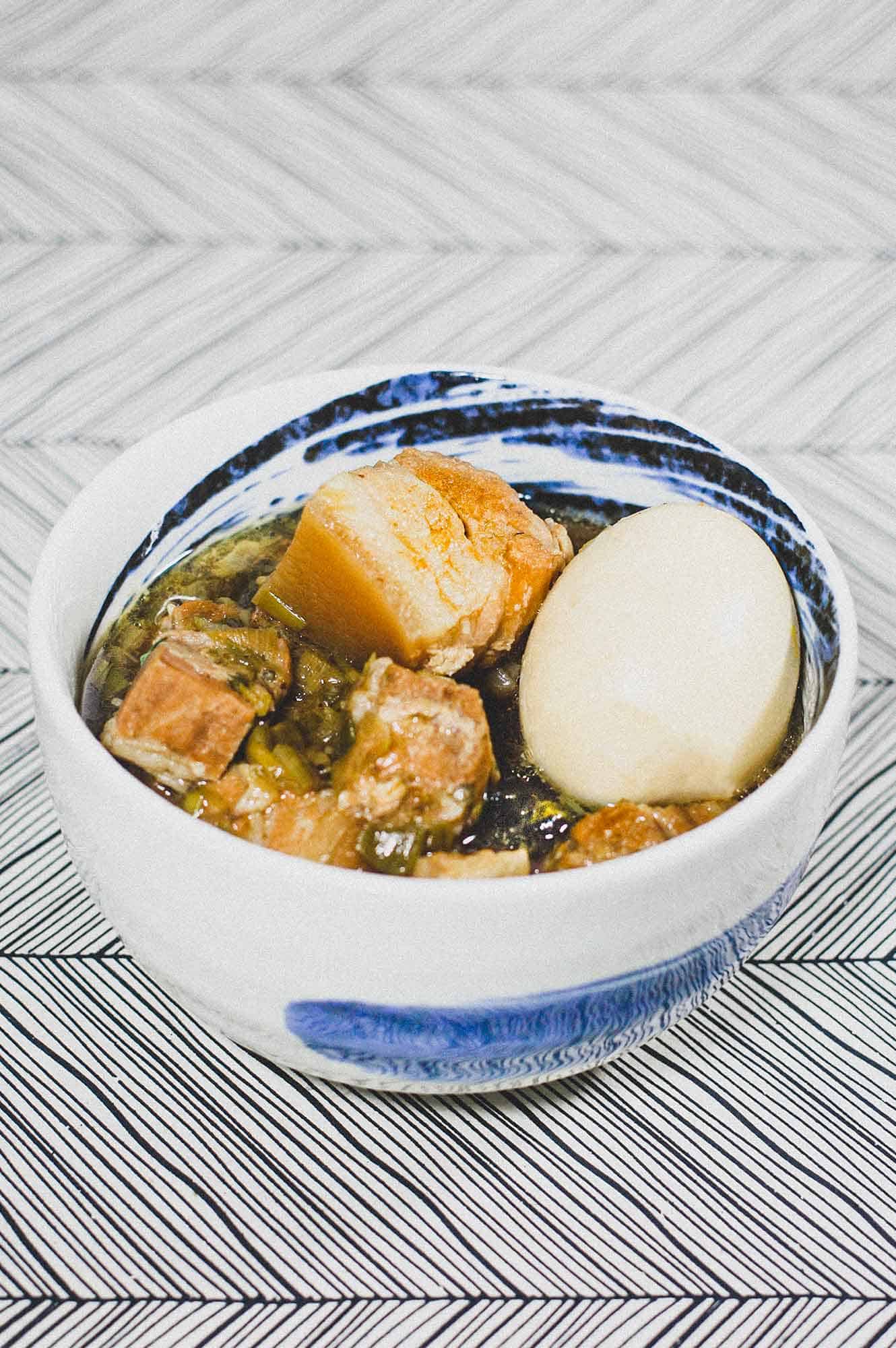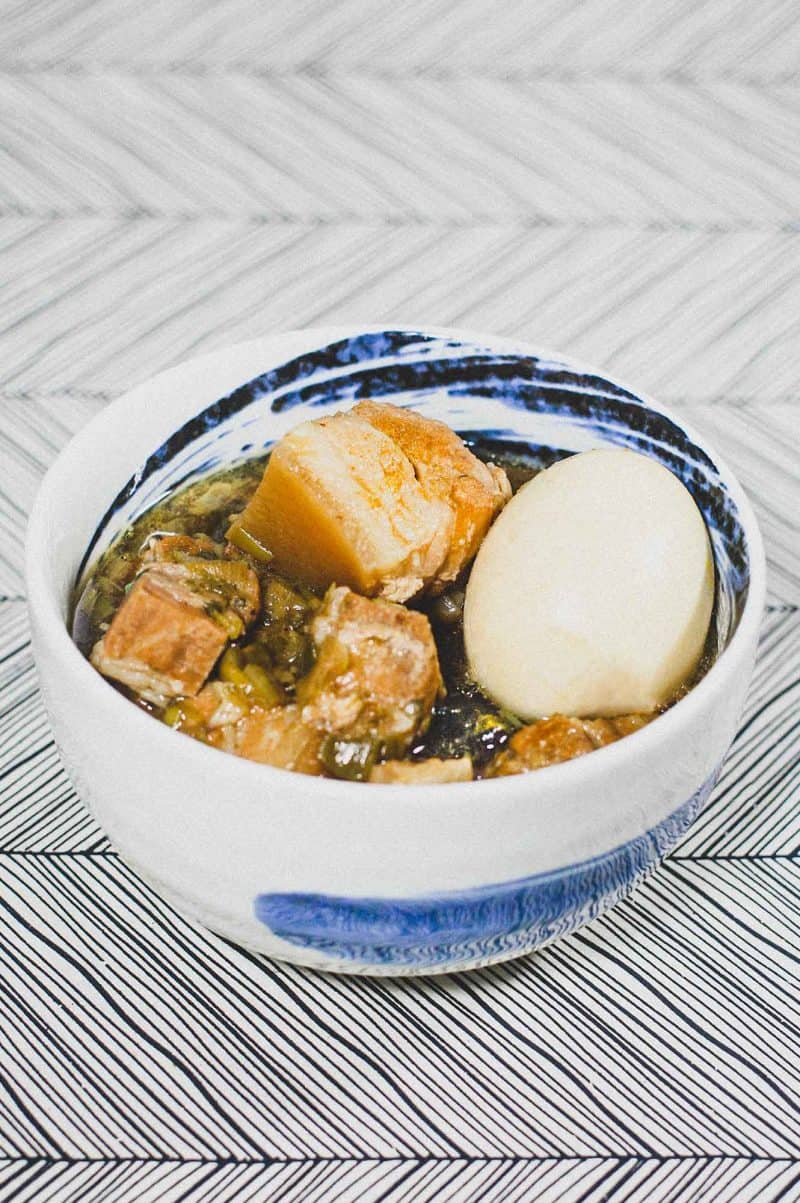 This Vietnamese Braised Pork Belly with Eggs, known as Thit Kho has long been one of my favourite Vietnamese dishes. I first tasted it in the Sydney suburb of Cabramatta - an amazing and lively part of the city - packed with excellent Vietnamese restaurants, butchers and markets. I would spend hours and many dollars picking up all kinds of weird and wonderful ingredients. I'd also eat there all the time! Look out for this dish if you ever eat Vietnamese - sometimes also called clay pot pork belly, caramalized pork belly or paddy field pork. It's slowly stewed pork belly in a fragrant sweet broth alongside a hard boiled egg. A little random maybe - but utterly delicious.
A recipe that brings pork and egg together at last
For my sins, I'm a huge fan of pork belly - in all guises. This dish showcases the ingredient to magnificent effect. As some of my regular readers may know, I'm also the world's number one fan of eggs - so to see two of my faves in one dish makes me very happy indeed. As Vietnamese pork recipes go, this is very simple to create at home - there's not really much pre-cooking, it's essentially just braising everything together until the meat is meltingly tender. Too easy! You can also cut some time and cook it in the Instant Pot or Pressure Cooker in 50 minutes.
Bụng lợn = 'pork belly' & thit kho = 'meat stew'

Whenever I can I always ask a native speaker a favourite dish or ingredients of mine is pronounced - I never remember, but it's fun, especially for everyone else, trying to pronounce them right. For an inexplicable reason, I never forget the Vietnamese word for pork belly.
A rich and decadent treat
Now, I generally eat pretty healthily, and am fully aware of the calorific perils of this dish. but trust in me that a little goes a long way. The dish originated as food for those working the paddy fields - a dish to give strength and sustenance for the back-breaking work. The meat IS fatty, it IS also utterly delicious, so as long as you keep your portion modest - you'll be just fine. The sauce is to die for - a heady, aromatic concoction - sweet, lemony, salty and a hint of sour - it's magical! If you feel like popping out and plowing a field afterwards, that's entirely your prerogative.
If you're looking for something a little lighter, try my recipes for Vietnamese Pork with Lemongrass & Chilli or Vietnamese Lemongrass Pork Chops instead - they're delicious!
How to make my Vietnamese Braised Pork Belly with Eggs - Thit Kho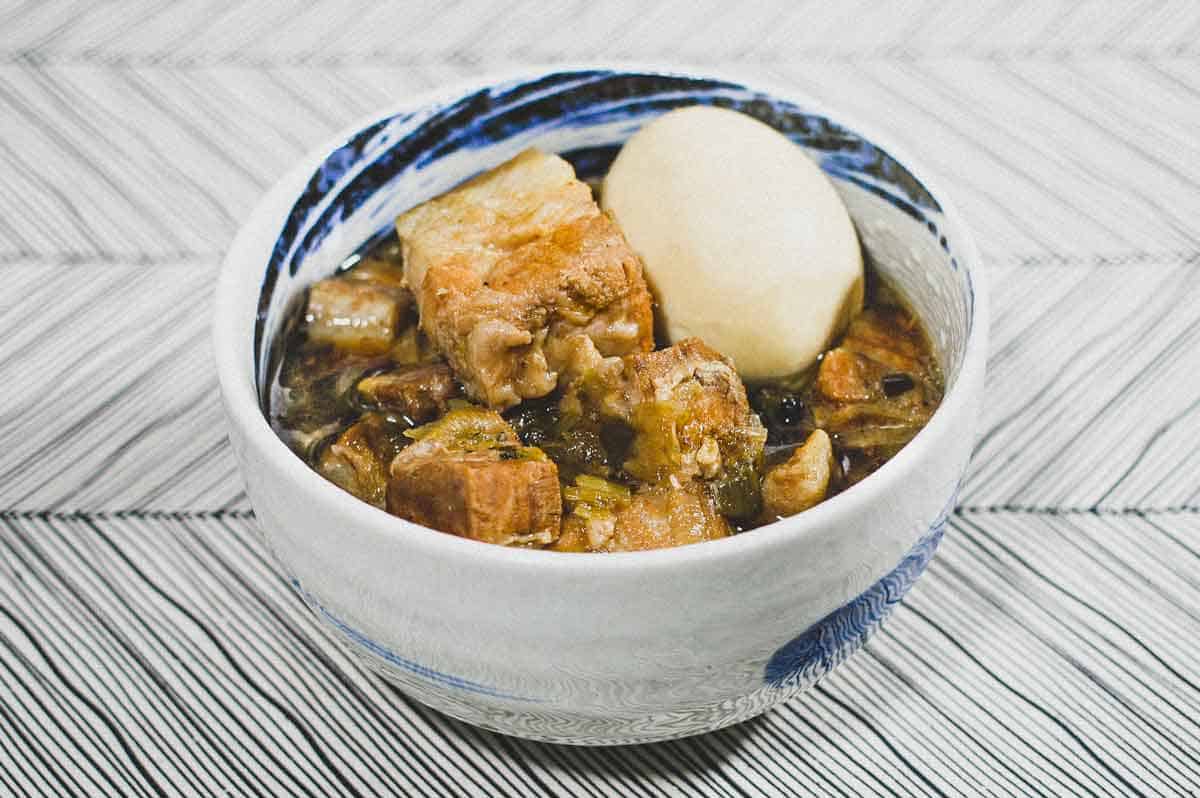 Vietnamese Braised Pork Belly with Eggs - Thit Kho
Rate this recipe
Print Recipe
Pin Recipe
Calories (per serving) |
916
Instructions
In a large pan or wok heat the oil over a moderate heat until hot. Add the sliced leek and garlic and fry for 1-2 minutes. Add the pork and fry for a further 2-3 minutes.

Add all the other ingredients (except the eggs) and 400ml water. Bring this to a boil then reduce the heat to low. Pop on a lid and cook slowly for 2 hours, until the pork is soft.

While the pork cooks, add the eggs to a pan in a single layer. Cover with about 2 inches of cold water with 1 teaspoon salt. Bring the water to a full boil, then turn off the heat and leave for 12 minutes. Plunge into cold water and leave for 30 minutes before peeling.

When the pork has cooked for 2 hours, add the eggs to the pan and cook for a further 15 minutes. That's it!

I like to serve mine with my favourite type of rice, Vietnamese broken rice. Jasmine rice is also excellent!
Nutrition
Calories:
916
kcal
(46%)
|
Carbohydrates:
6.3
g
(2%)
|
Protein:
20.9
g
(42%)
|
Fat:
89.2
g
(137%)
|
Saturated Fat:
31.5
g
(197%)
|
Cholesterol:
270
mg
(90%)
|
Sodium:
946
mg
(41%)
|
Potassium:
137
mg
(4%)
|
Fiber:
0.6
g
(3%)
|
Sugar:
3.2
g
(4%)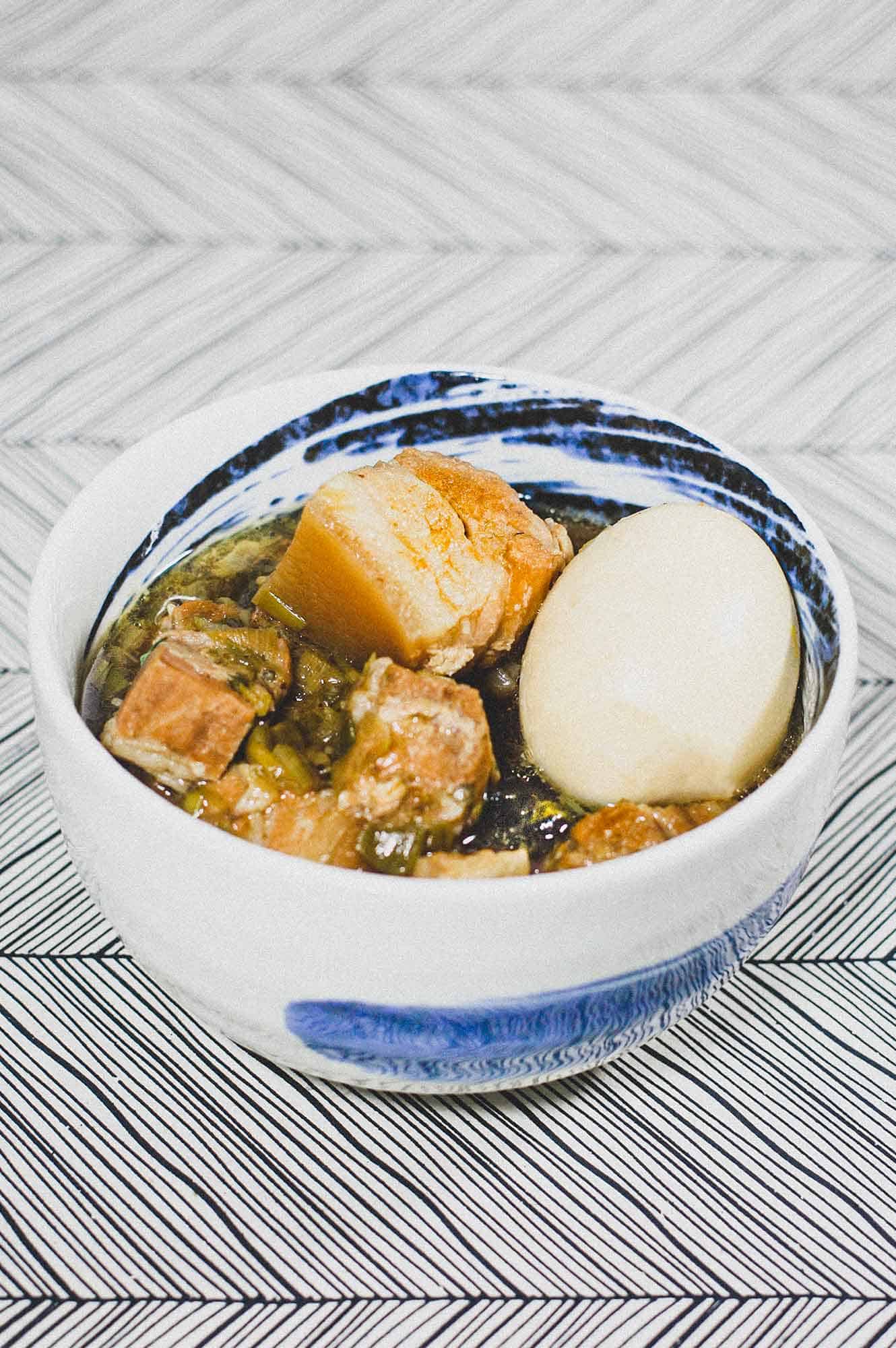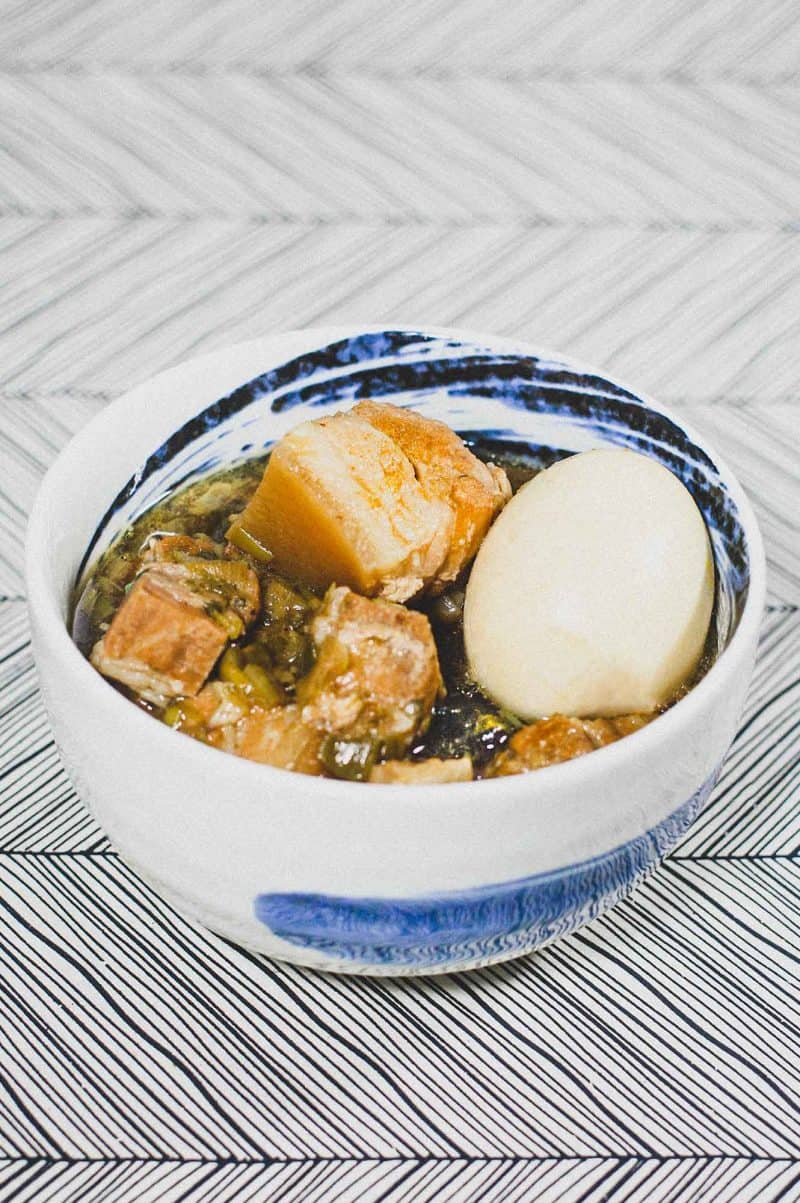 Did you make my Vietnamese Braised Pork Belly with Eggs – Thit Kho?
How did you go? Let me know in the comments below and be sure to tag @cookeatworld at Instagram.