Chashu Don (Japanese Pork Rice Bowl)
Fork tender sweet and salty pork belly (chashu) is spooned over a hearty bowl of Japanese rice and generously garnished with fresh radish, spring onions, pickles and a ramen-style egg. Are you ready for Chashu Don?
Chashu Don (チャーシュー丼) is a real triumph in every culinary sense. Flavour, fragrance, texture and colour. This amazing little rice bowl has it all by the bucketload. I'm a big fan of Japanese donburi (translated as 'rice bowl') they're an endless source of flavour, coming in every variety you can imagine. Like the incredible Katsudon, breaded chicken or pork cutlets with egg. Interestingly donburi refers to both the variety of meal and the bowl itself.
One of my favourite varieties is this chashu pork rice bowl. Meltingly soft pork belly in a sweet and salty braising sauce topped with the ultimate ramen-style soft boiled egg. It's filling and overflowing with flavour. It's the ultimate comfort food.
What is Chashu?
Chashu is derived from the Cantonese 'Char-Sui' meaning 'fork roasted'. The meat is pork, usually a fatty cut like belly. While char sui is roasted on large fork-like skewers in China, its Japanese cousin 'chashu' is braised. Soy sauce, sake, sugar, ginger and star anise make up an aromatic poaching liquid both sweet and savoury. The pork belly can be rolled or flat and poached low and slow until meltingly fork-tender.
Chashu is a key addition to ramen bowls across Japan, but also as the main event in many donburi rice bowls. For a tasty alternative to Chashu, try Japanese Buta Kakuni pork belly too.
Why it works
It's tender pork belly! Who doesn't love the meltingly soft experience of slow cooked pork belly!? Soft and luxurious, a triumph of texture.
It's filling - The best comfort foods leave you with a full belly and ready for a nap.
It's easy - honestly, braising pork belly is super simple, as long as you have the time to wait, you can make chashu.
Stuff you'll need
Ingredients are sparse, there's not a lot to the poaching liquid at all.
Pork belly - you can buy a rolled pork belly, which is a common way to serve it with Ramen or thick slices of pork belly which are my preferred option for chashu don as you can cut them into small pieces very easily when cooked.
Soy sauce - A light soy sauce is best as it has a good balance of salt without being too rich.
Sake (sa-kay) will add a light fragrance to the poaching/braising liquid.
Sugar is key in creating the traditional sweet notes to the sauce, marrying perfectly with the salty soy sauce.
Aromatics - Ginger, spring onion and star anise bring that quintessential Japanese fragrance to the dish.
Garnishes - you can chop and change the garnishes as you see fit. I always have a ramen-style egg (quick recipe below) and some spring onion, but then mix and match other ingredients to suit what I already have at hand or what I'm in the mood for. There are some topping suggestions below.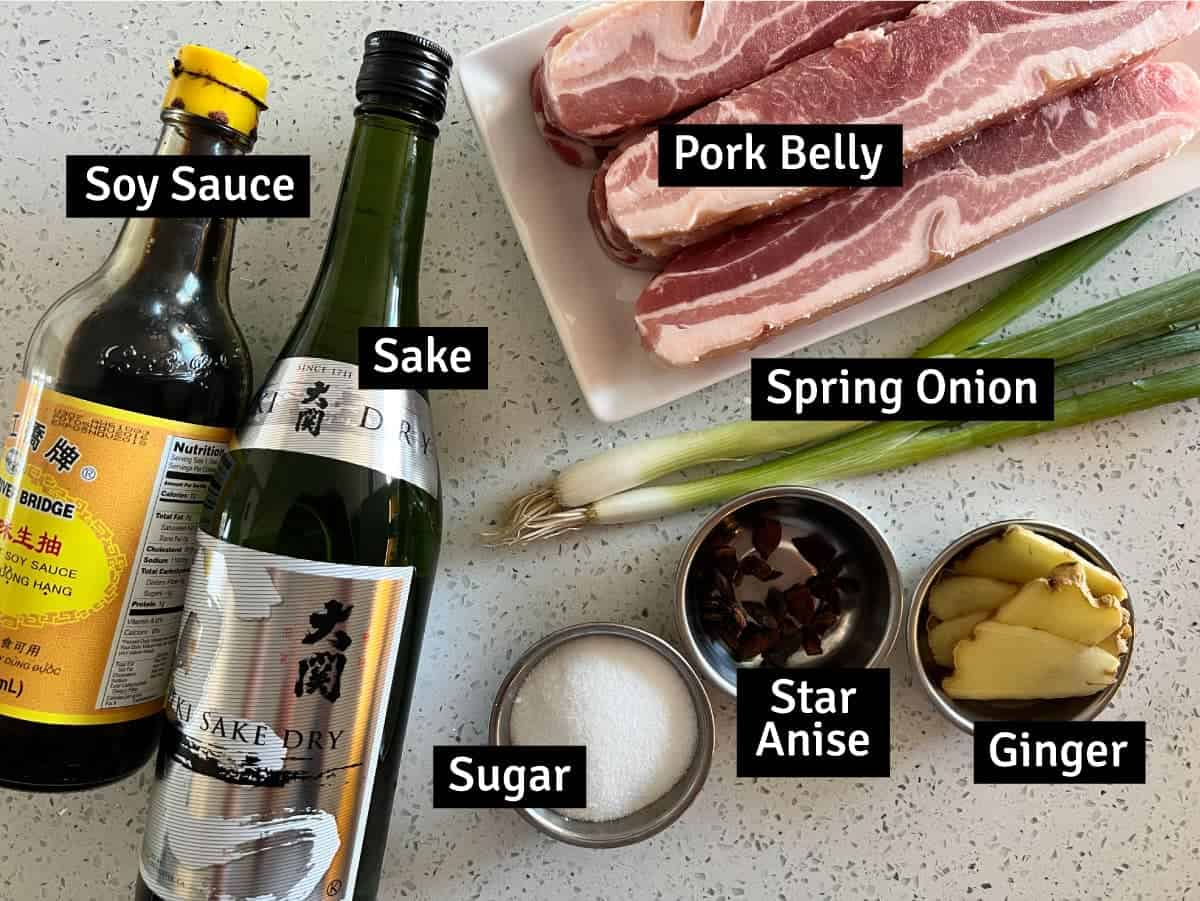 Step by Step
There's only one real cooking stage for this chashu don, and the rest is just assembly. Once you've made the braised pork belly you're on the home stretch.
Step 1 -

Fry the pork belly to sear

iron

both sides. This helps with flavour and colour.

Step 2 -

Immerse the pork belly in a pan snug enough to fit and cover the pork with the braising liquid. Then it's simply just

bringing

it to a

simmering

cooking at a low temperature (barely simmering) for 1 1/2 hours until it's soft.

Step 3 -

Remove the pork belly and chop into small pieces. Pop in a bowl with a ladleful of the liquid. I strain the rest of the liquid and simmer it for 15 minutes to reduce and intensify in flavour.

Step 4 -

Then it's just a matter of arranging the pork over cooked rice along with the garnishes you've chosen.

That's it!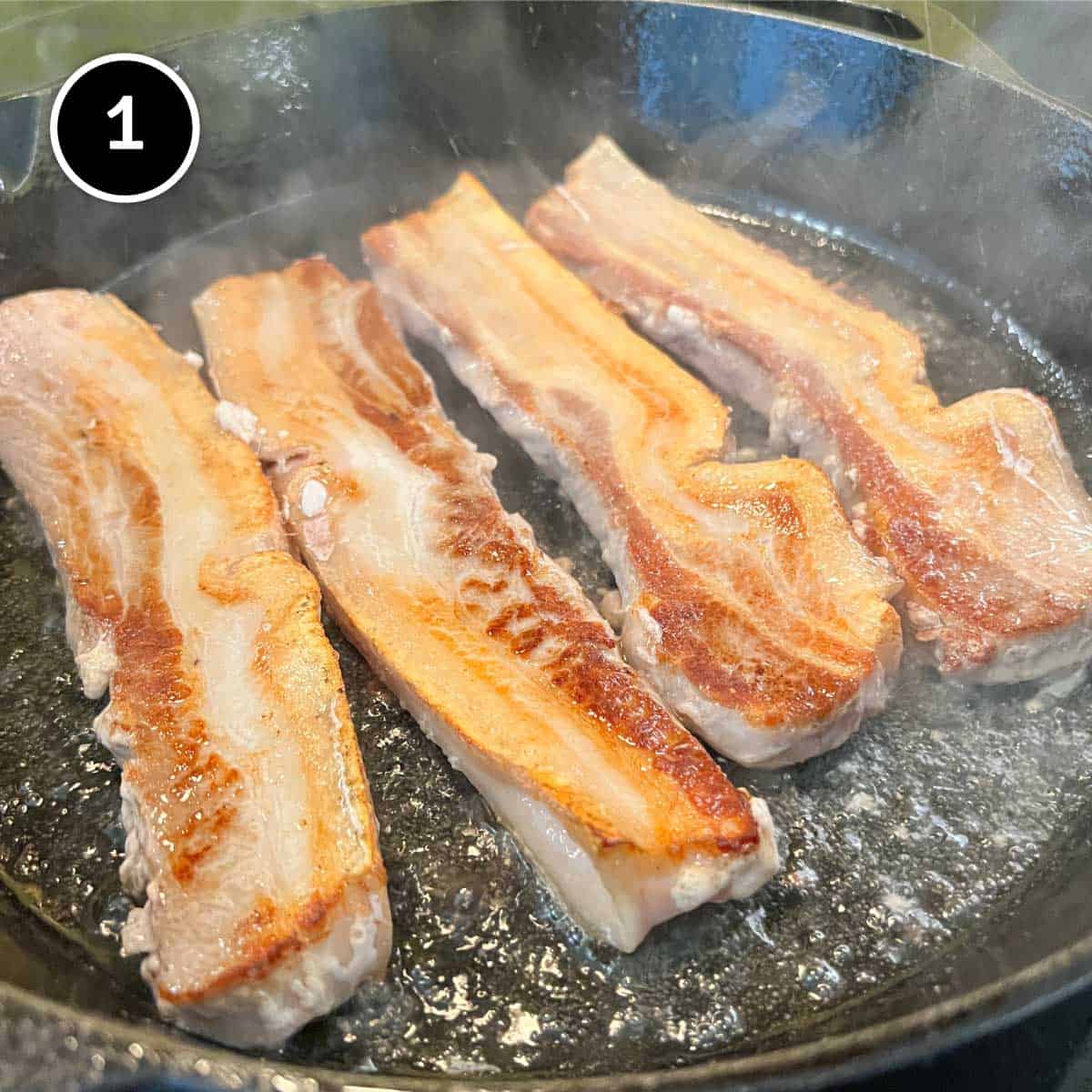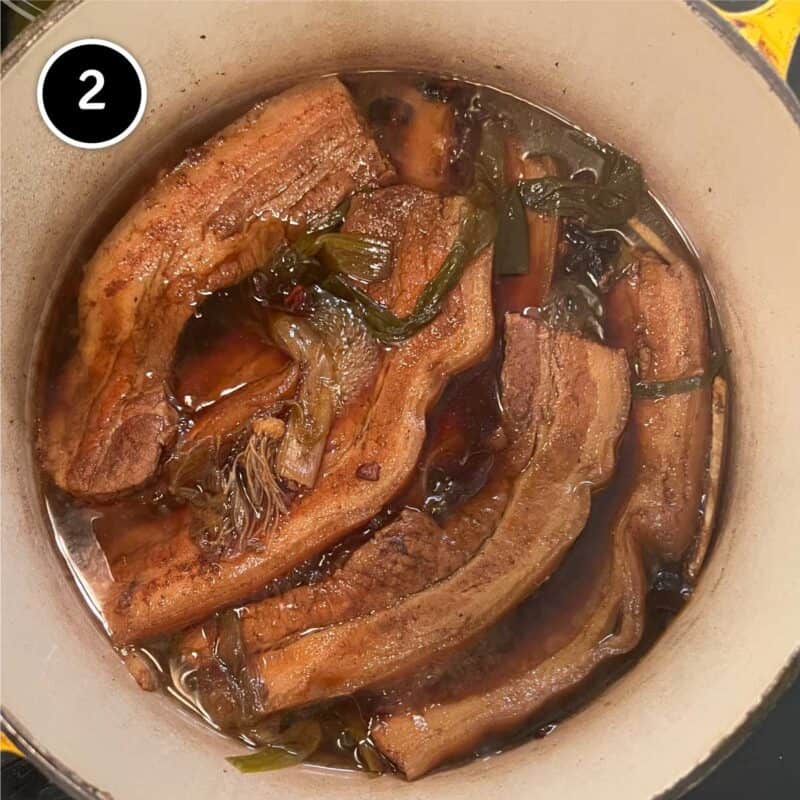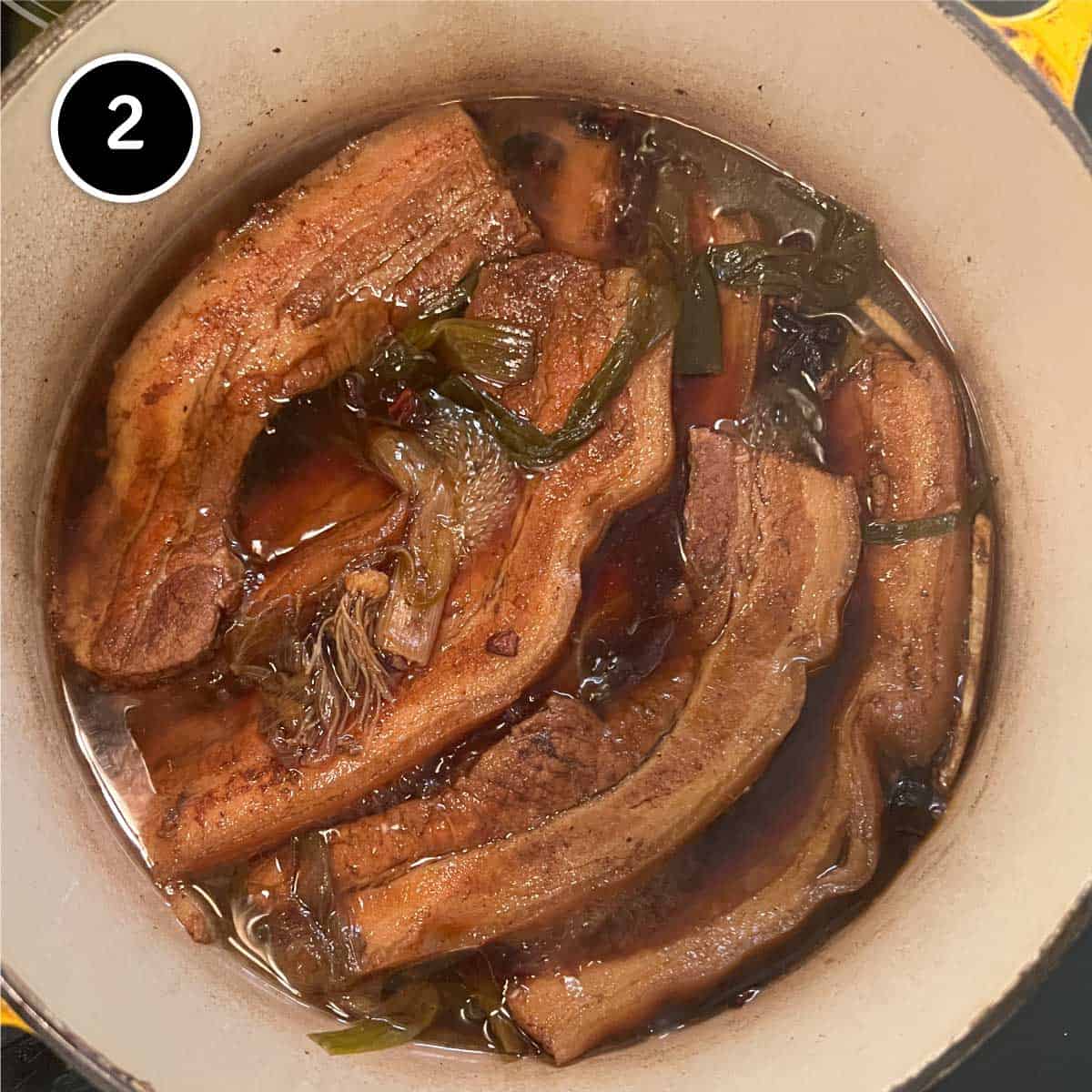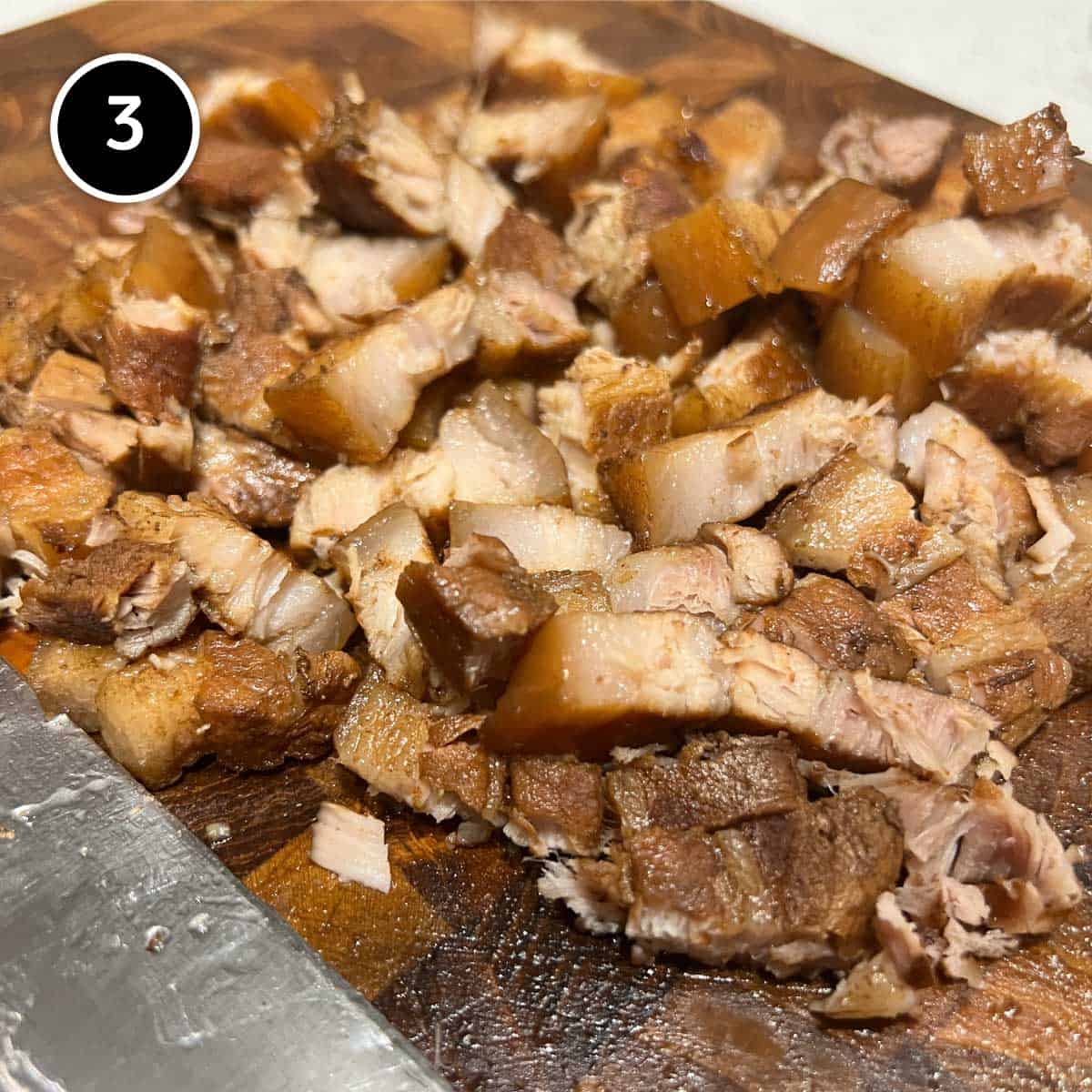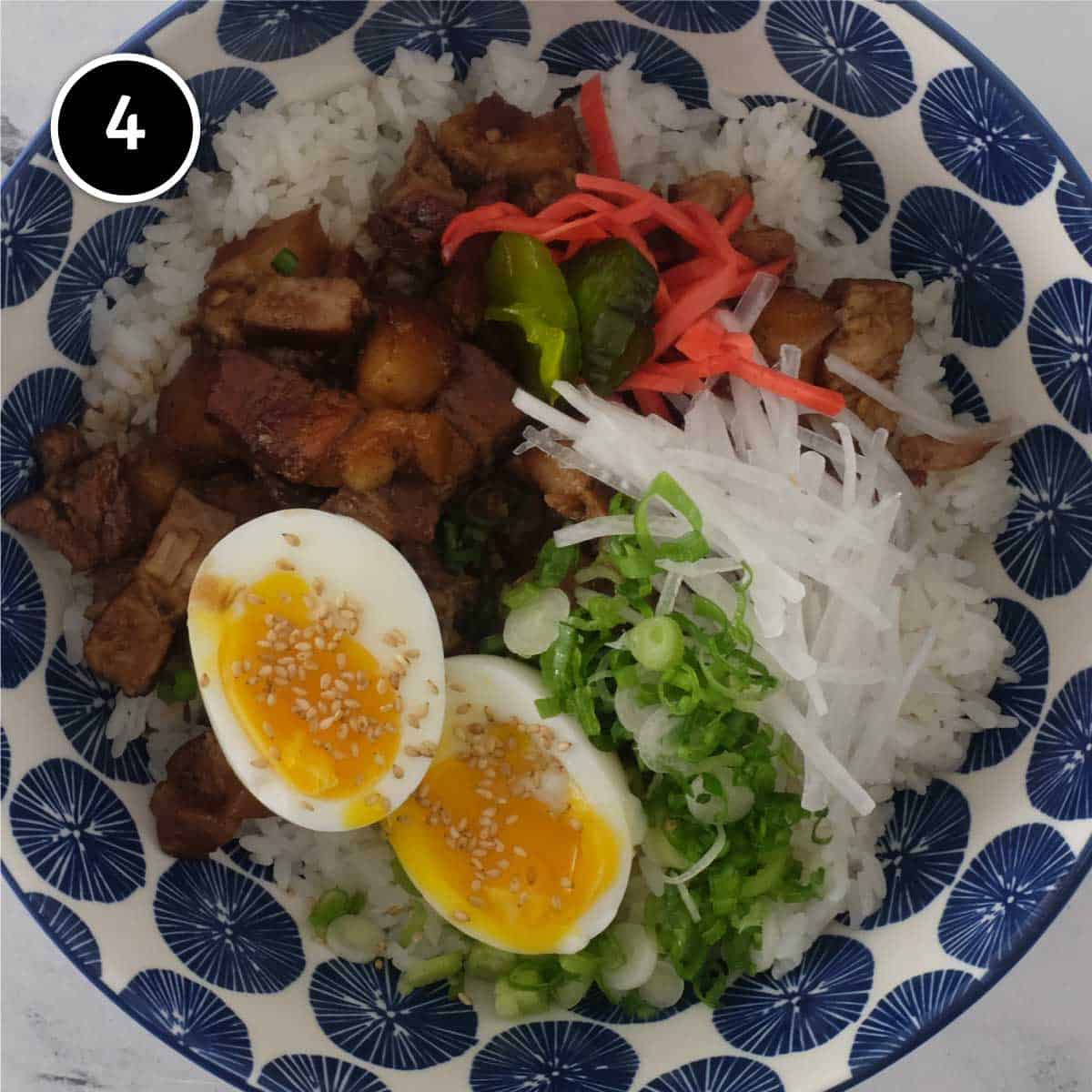 Ramen-style egg tips!
This donburi rice bowl is incomplete without a soft boiled egg. It just doesn't feel right if it's not there! There are a couple of ways to prepare your egg:
Regular soft boiled. I bring a small pan of water to a boil then pop in the egg. I cook for exactly 6 minutes then remove from the heat and rinse under

cold water for 1 minute. I like to peel at this stage as the shell comes off cleanly when it's still a little hot inside. Then set aside until you need.

Marinated egg. This one takes a bit of organisation and time. Cook

your egg the same

way

as above. When the pork has finished cooking leave it in the

liquid

and let it cool to room temperature. Pop the eggs into the sauce with the pork, making sure they're fully submerged. Cover and refrigerate overnight. The eggs will take on the colour and flavour of the marinade, but will remain soft and runny inside. Then take up the recipe where you left off. Reheat the pork in a pan

until

just hot.
Serving suggestions
Serve the pork over hot rice garnished with your choice of toppings. I typically add some egg preparation, and some thinly sliced spring onion (green onion). Then, I'll add whatever I have on hand or feel like. Here are a few suggestions.
Daikon radish (grated or sliced)

Crispy onion
Cherry Tomato
Fresh or pickled carrot julienne
Cucumber julienne
Steamed snow peas or edamame
Shredded cabbage
Crispy fried egg

Raw egg yolk (delicious).

Pickled ginger

Pickled cucumber

Fermented cabbage

Seaweed/nori

Rice flavouring or sesame seeds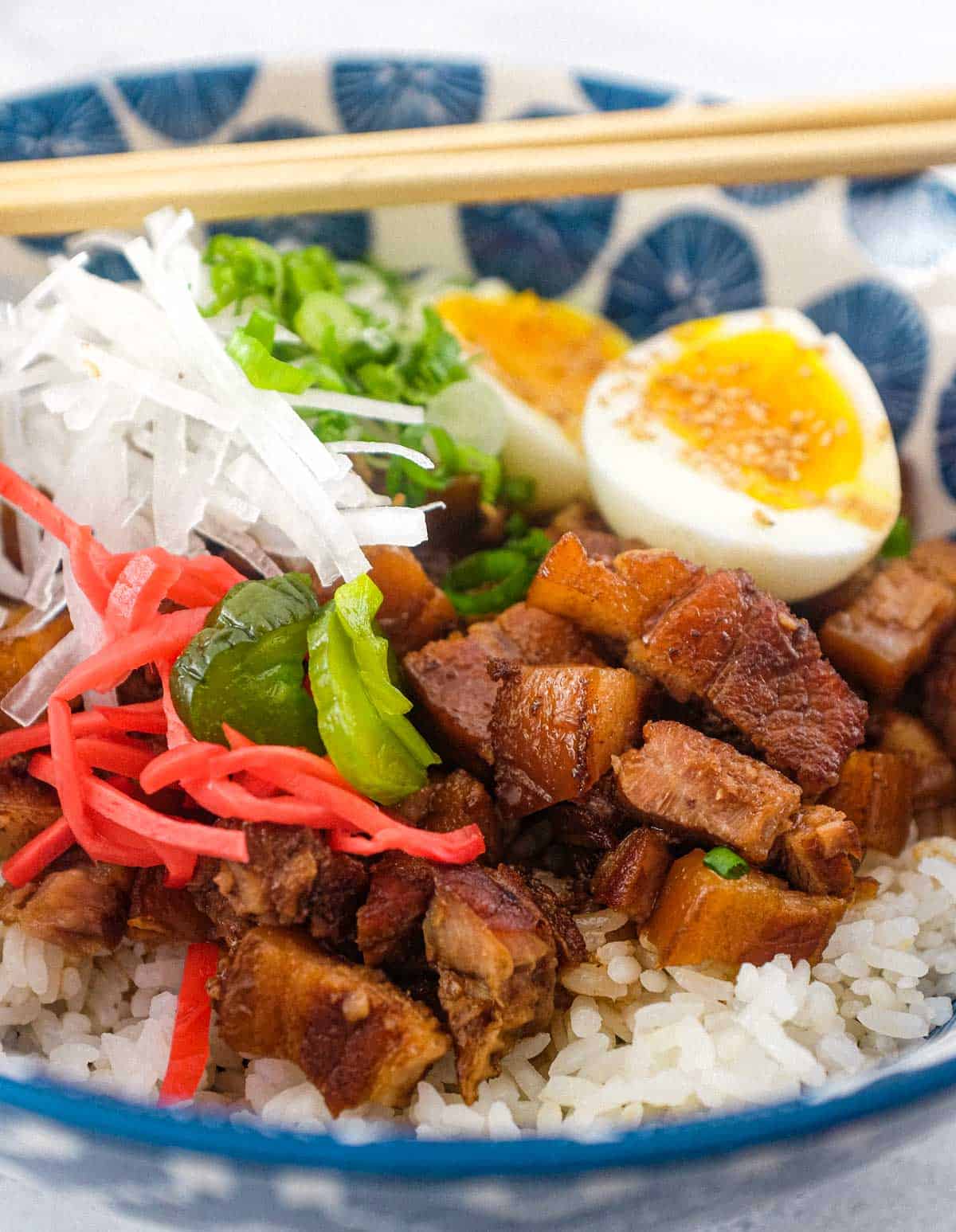 Storage
Refrigerating: You can keep the pork in its cooking liquid for up to a week in the fridge and reheat when you're good to go. Leftovers of the rice bowl itself should be eaten after 1 day in the fridge. Fresh is most definitely best. Leftover rice b owl is not suitable for freezing.
Freezing:

you can freeze the cooked pork in its poaching liquid for 3+ months.

Freezing:

you can freeze the leftover, drained poaching liquid and use as a flavouring to rice or to soak boiled eggs in whenever you feel like marinated eggs.
Ready to get cooking?
Chashu Don is an epic little all-in-one bowl of flavour. A celebration of taste, texture and colour too. You'll be sure to agree once you've made this at home that it's so easy and just like the rice bowls you'll enjoy in a donburi restaurant. You can get a little taste of Japan without leaving your kitchen...
Any Questions? (FAQ)
Have a question about my Chashu Don (チャーシュー丼) recipe, let me know in the comments.
What does Chashu Don mean in English
Chashu Don translates as "Pork Rice Bowl". 'Chashu' is the pork and 'Don' is the bowl. Don is shortened from the word 'Donburi'.
What is Chashu in ramen?
Chashu is the pork slice in ramen. Often a fatty cut and typically rolled and slow braised in aromatics until soft. The pork is then cooled, and thinly sliced and added to ramen dishes where the broth will heat it.
What is in a donburi?
Donburi features cooked rice topped with endless combinations of meats, vegetables, sauces, egg and pickles. Learn more about the types of donburi by visiting my recipe for Chicken Katsudon
More Asian rice recipes
If you liked this recipe for Chashu Don, you'll be sure to enjoy more of my favourite Asian rice recipes.
Chashu Don (Japanese Pork Rice Bowl)
Rate this recipe
Print Recipe
Pin Recipe
Save Recipe
Go to Collections
Calories (per serving) |
1371
Ingredients
For the braising/poaching liquid
1½

lb

pork belly

(700g)(thick slices or slab, rolled and tied)

2

tbsp

vegetable oil

¾

cup

light soy sauce

3

tbsp

sugar

5

slices

ginger

2

spring onion

(green onion/scallion)
Other ingredients
2

cups

rice

(cooked)

4

eggs

(soft boiled and peeled)

1

cup

daikon radish

(thinly juilenned)

2

spring onions

(green onion/scallion)(finely sliced)

4

tsp

pickled ginger

(optional)

4

tsp

sesame seeds

(optional)
Instructions
Using a frying pan over a medium/high heat, heat the oil until hot. Add a few slices of the pork belly and sear for 1-2 minutes each side. Repeat with the remaining slices.

If you're using a rolled pork belly, sear the entire surface until nicely browned.

Add the pork to a smallish pan then add all the poaching liquid ingredients along with 2-3 cups of water (enough to cover the pork completely)

Bring to a boil then reduce the heat to low, cover the pan and simmer gently (barely simmering) for 1½-2 hours until the pork is tender. The rolled pork may take a little longer depending on its size.

Near the end of cooking, cook the rice and keep warm.

While the pork is cooking, prepare the garnish/toppings and keep cool in the fridge.

To make the soft boiled egg, add eggs to boiling water and cook for 6 minutes. Drain the water and cool the eggs with cold water for a minute. Peel the eggs now as they'll still be warm inside and easier to peel than if left until cold. (see notes below on how to make marinated eggs).

When the pork is cooked, remove from the heat and then carefully remove the pork. Cut into small pieces and then add to a bowl with a ladleful of the braising liquid to keep it moist.

Drain the cooking liquid and discard the solids. Take 2 cups of the liquid and add to a small pan. Bring to a boil and bubble for 5 minutes to reduce. This will intensify the flavour. Remove from the heat and set aside.

To arrange the bowl, add a generous layer of the cooked rice then spoon over some pork. Pour over a little of the reduced sauce and then arrange the onion, radish and pickles on top. Slice the egg in half and add to the bowl scatter over some sesame seeds and serve hot!

To eat, mix everything together and eat with an Asian spoon alongside chopsticks.
Notes
Serving:
Serve the pork over the cooked rice with a little of the reduced sauce. Then you can garnish it however you like. The Boiled egg is my favourite, but you can also serve a fried egg, poached egg or even just the raw yolk of an egg. Other than that you can play around with other garnishes including:
Daikon radish (grated or sliced)
Crispy onion
Cherry Tomato
Fresh or pickled carrot julienne
Cucumber julienne
Steamed snow peas or edamame
Shredded cabbage
Pickled ginger
Pickled cucumber
Fermented cabbage
Seaweed/nori
Rice flavouring or sesame seeds
Storage
Fridge: Leftovers will stay fresh in the fridge for 1 day. Eat cold.
Fridge (Sauce and meat): Combine the two and keep in the fridge for up to a week.
Freezer (Sauce and meat): Combine the two and keep in the freezer for 3+months. Defrost thoroughly before use.
Nutrition
Calories:
1371
kcal
(69%)
|
Carbohydrates:
90
g
(30%)
|
Protein:
34
g
(68%)
|
Fat:
96
g
(148%)
|
Saturated Fat:
35
g
(219%)
|
Polyunsaturated Fat:
11
g
|
Monounsaturated Fat:
44
g
|
Trans Fat:
0.02
g
|
Cholesterol:
286
mg
(95%)
|
Sodium:
2561
mg
(111%)
|
Potassium:
721
mg
(21%)
|
Fiber:
3
g
(13%)
|
Sugar:
11
g
(12%)
|
Vitamin A:
376
IU
(8%)
|
Vitamin C:
10
mg
(12%)
|
Calcium:
108
mg
(11%)
|
Iron:
4
mg
(22%)
This recipe uses affiliations and may receive a commission based on your activity (link clicks). Learn more.