Japanese Soft Scrambled Tamago Rice Bowl
A perfect start to any day is one of my favourite little Japanese brekkie – A soft-scrambled egg Tamago Bowl is perfect any time of day, but especially breakfast – because eggs! You gotta LOVE eggs! Get this mega-simple recipe in your life right now!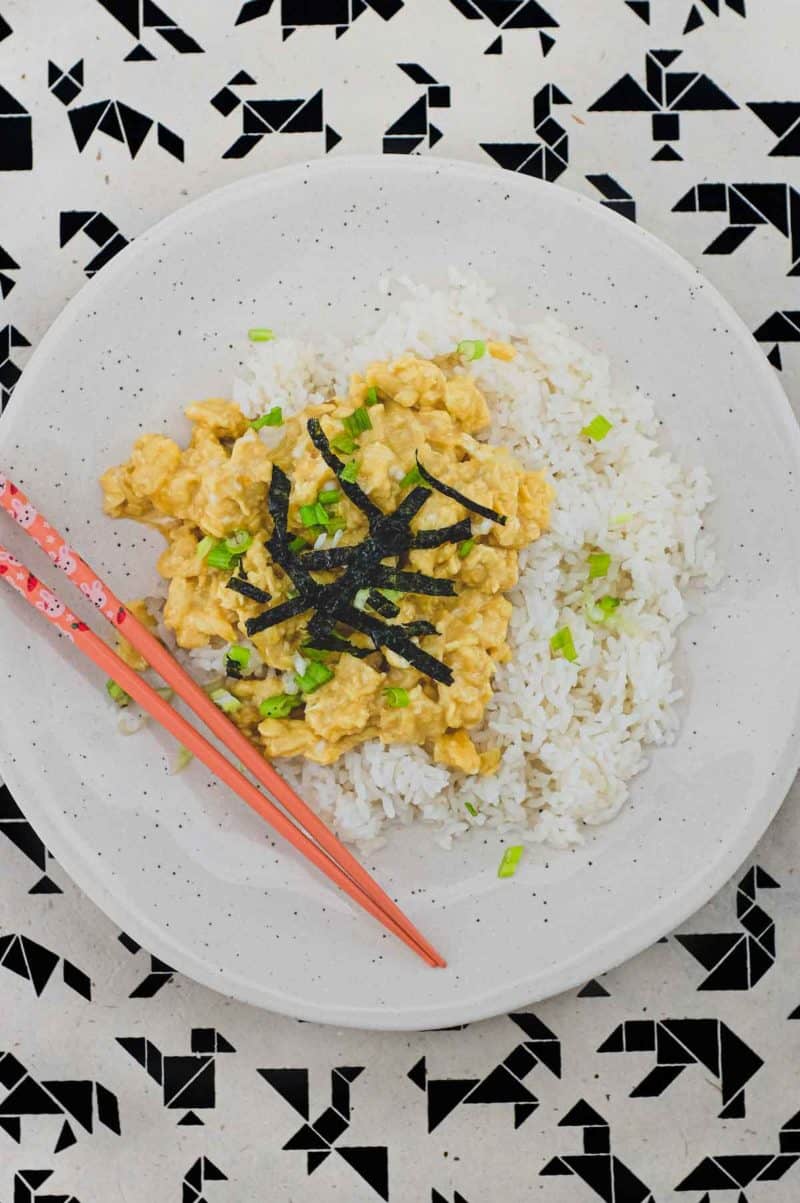 Most breakfast times for me include an egg! Ever since I was a giant child, I've loved eggs - all ways, all shapes, all sizes! This simple Japanese dish is a sure-fire hit in the morning. A filling, fragrant treat.
For my scrambled eggs, I want to replicate the flavour of Tamagoyaki, a sweet and savoury egg. I don't like mine too sweet, so I'll not add sugar - instead I'll use a little mirin (Sweet Japanese cooking wine) to add a note of sweetness. To add more aroma, a little sesame oil will be added and to finish the flavours off, a teaspoon of light soy sauce.
What is a Tamago or Tamagoyaki bowl?
This tamago rice bowl is not a tamago bowl in the traditional sense, the 'tamago bowl' typically feature a raw egg, like this delight. This dish is inspired from one of my favourite sushi dishes, the tamagoyaki - a little pillow of sushi rice topped with a slice of sweet omelette and kept in place with a thin nori (seaweed) belt. They're the FIRST thing I grab from the sushi belt! That said, Tamago translates as 'egg' so, it actually IS a Tamago bowl.
Confused?
Me too.
Anyway! This is my take on the tamagoyaki omelette, as a soft scramble (my facourite) over rice. Typically, I'll use leftover rice for this in the morning. I'll add a couple of tablespoons of water over the rice and microwave it for a minute. In that time, my scramble is pretty much done too! Now, I do enjoy this as a breakfast dish, but i'll eat it for lunch and even dinner too - there are no rules, people!
Why it works?
It's quick and easy - Making your tamago scramble is so quick and easy. Eggs are ready in seconds, so there's no fuss and no time to wait for this amazing little bowl of flavour.
Stuff You'll Need
There's not a lot to this delicious Japanese scrambled eggs. Here are the key flavours.
Eggs
Mirin - for a gentle sweetness
Salt
Light Soy Sauce - for more umami saltiness (don't use dark soy sauce as it will discolour the eggs)
Sesame oil - For that alluring Japanese nutty flavour
Spring onion - (green onion) for garnish
Seaweed (Nori) - for garnish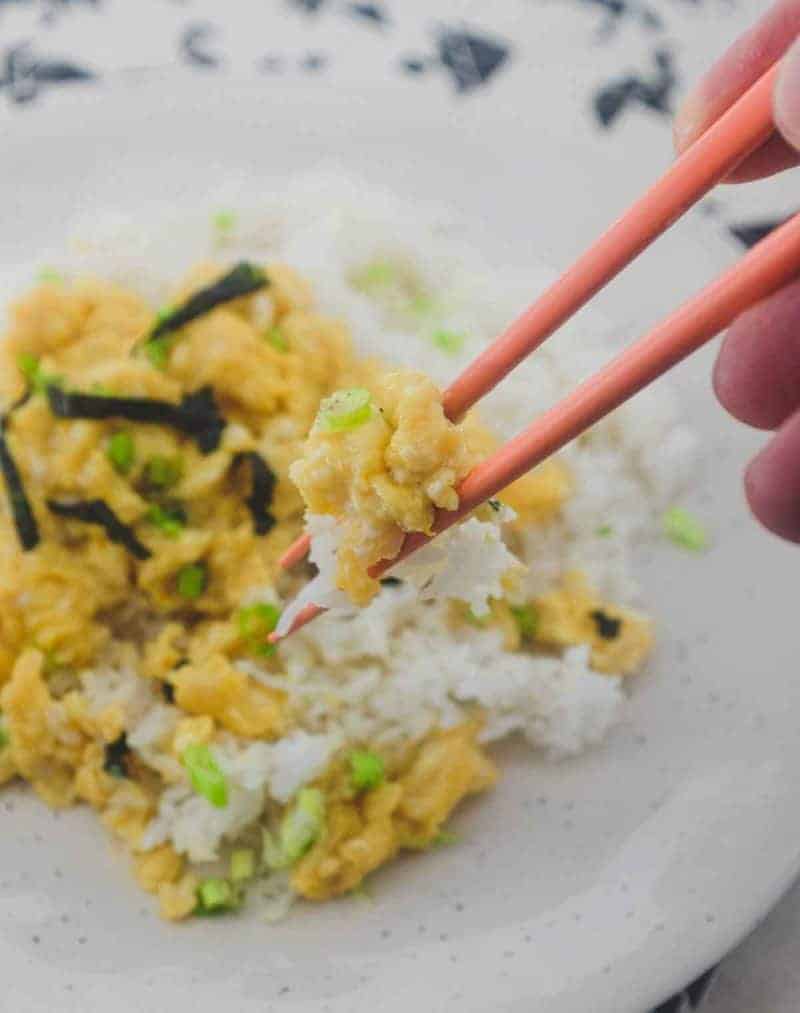 The how-to...
Making my Japanese scrambled eggs couldn't be easier. All you need to do is combine the eggs with soy, salt, mirin and a little of the sesame oil, then cook them gently in a pan with the remaining sesame oil. That's it!
All that's left to do is spoon them over some warm cooked rice and sprinkle over some finely sliced spring onion and a few pieces of shredded nori (seaweed) sheets.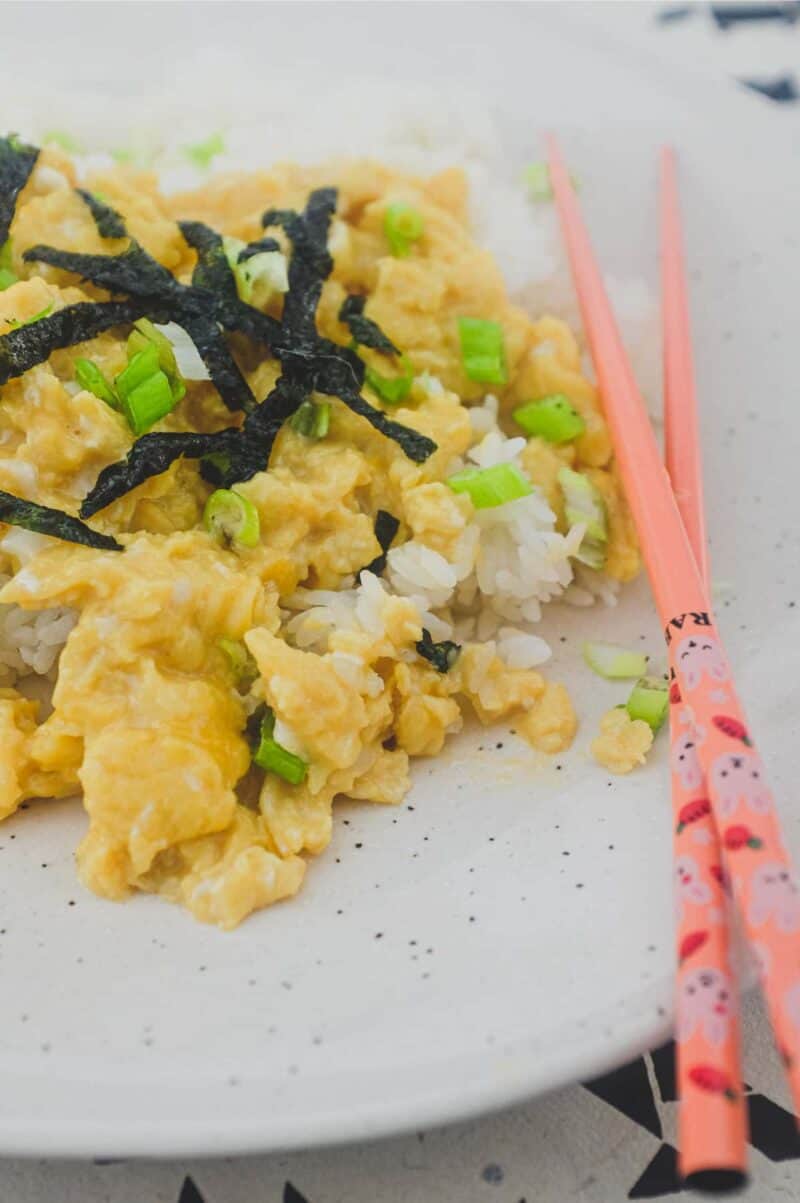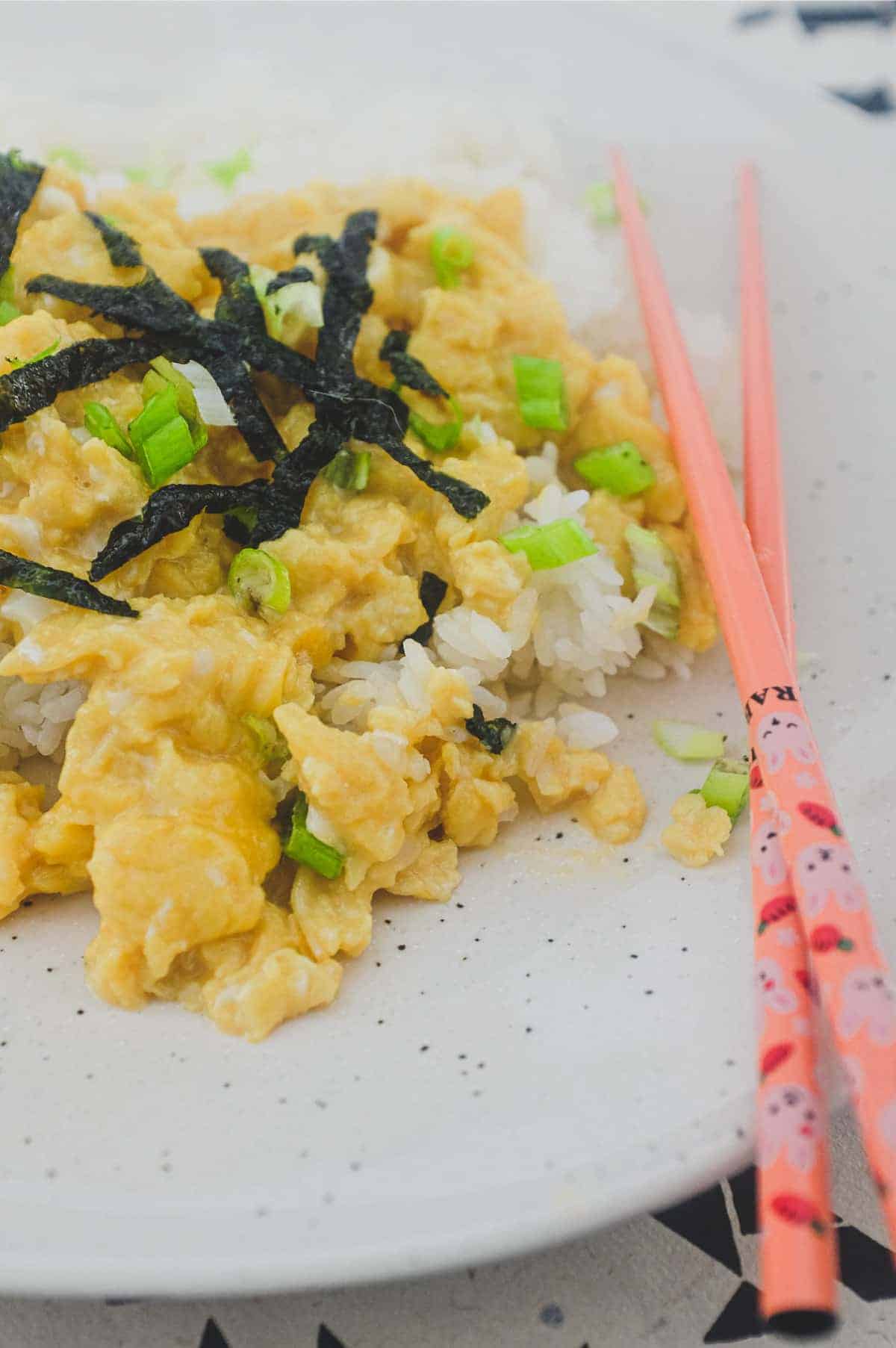 Serving & Storage Suggestions
Serve hot. These eggs are best eaten right away, but you could refrigerate until needed and reheat gently until warm. However, the eggs will definitely lose some of their creamy quality, so I recommend cooking and eating right away.
This dish is not suitable for freezing.
Ready to get cooking?
A quick scramble over a low heat will create the creamiest, softest eggs, ready to be spooned over the rice. A few sliced spring onion and nori strips finish off the whole affair. Incidentally, seaweed and eggs are a marriage made in heaven! This dish is really simple to prepare as you can see. Perfect for morning time - the whole affair can be on your plate in 3 minutes!
Now, tell me that's not the BEST start to any day!
More Japanese recipes
If you liked this Tamago rice bowl, then why not try one (or all) of my favourite Japanese recipes.
Any Questions? (FAQ)
Have a question about my Japanese Soft Scrambled Tamago Rice Bowl? Let me know in the comments.
What is Tamago?
Tamago, in Japanese cuisine, refers to a sweet and savory omelet typically made with eggs, sugar, and sometimes soy sauce. It is often used as a filling in sushi rolls, such as tamago nigiri, and is known for its slightly sweet taste and delicate texture.
What is Tamago scramble?
Tamago scramble uses all the key flavours of a regular tamago (see above) but creates a soft, creamy scrambled egg texture instead of a set omelette.
This recipe uses affiliations and may receive a commission based on your activity (link clicks). Learn more.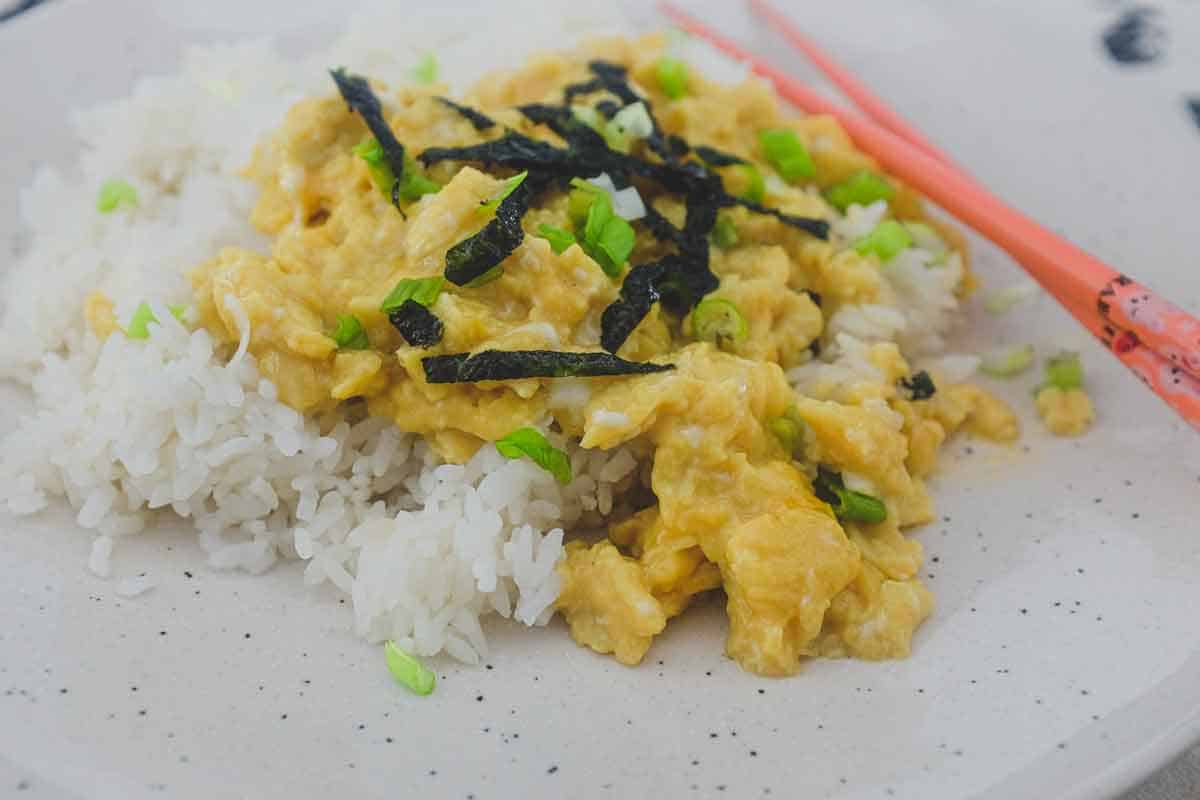 Japanese Soft Scramble Tamago Rice Bowl
Rate this recipe
Print Recipe
Save Recipe
Go to Collections
Calories (per serving) |
977
Instructions
Beat the eggs together with the mirin, soy sauce, salt and 1 tsp of the sesame oil.

Heat a small frying pan with the remaining sesame oil until just hot - not too hot, we don't want the egg to cook too quickly as it'll be rubbery.

Pour the eggs into the pan and leave for a few seconds before stirring. Stir until just set, but still wet - it will continue cook in the pan.

Heat (microwave) the rice in a bowl

(I like to sprinkle over a couple of tablespoons of water to my leftover ice before microwaving, to keep it moist and avoid drying out).

Spoon over the eggs and then sprinkle with the spring onion and a little seaweed
Nutrition
Calories:
977
kcal
(49%)
|
Carbohydrates:
157
g
(52%)
|
Protein:
31
g
(62%)
|
Fat:
23
g
(35%)
|
Saturated Fat:
6
g
(38%)
|
Cholesterol:
491
mg
(164%)
|
Sodium:
1246
mg
(54%)
|
Potassium:
395
mg
(11%)
|
Fiber:
3
g
(13%)
|
Sugar:
5
g
(6%)
|
Vitamin A:
962
IU
(19%)
|
Vitamin C:
3
mg
(4%)
|
Calcium:
126
mg
(13%)
|
Iron:
4
mg
(22%)