Katsu Curry
Japanese Katsu Curry – カツカレー , is one of those very very (twice) special dishes I turn to all-year-round for spicy, crunchy comfort food greatness. Learn why i'm so in love…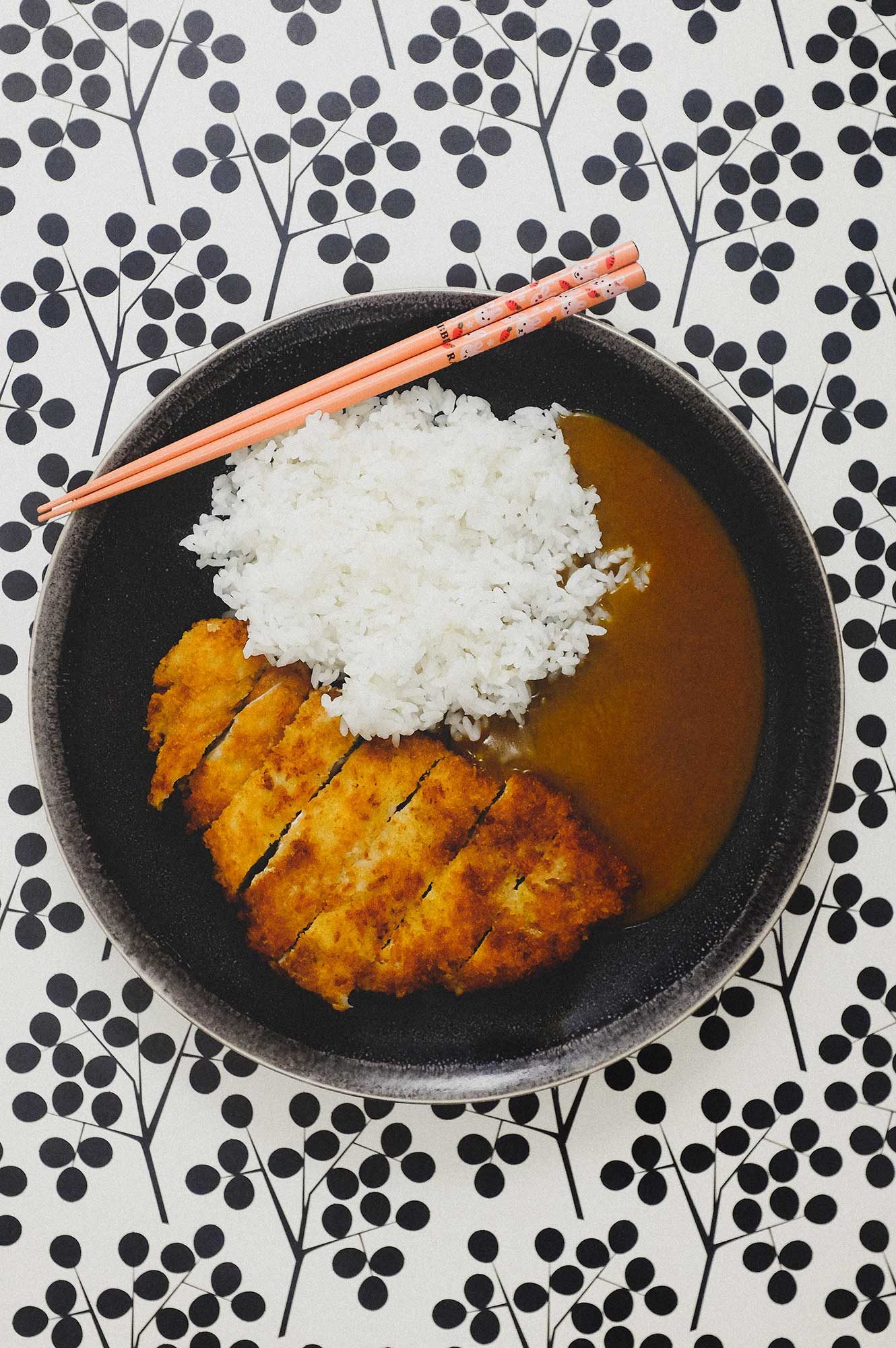 Words (my words anyway) can't come close to explaining how much I love Katsu curry. It has three elements and no apologies. I love nothing more than sitting in a tiny Japanese Restaurant in the warm, being deeply fulfilled by the crunchy chicken cutlet (Katsu), the carb-laden rice and of course, the delicious Japanese sweet and spicy curry sauce.
What is Katsu Curry?
Katsu curry is a very simple combination of Katsu (typically breaded pork or chicken), rice and curry sauce. Japanese curry sauce is a flavourful affair. Rich in cumin, slightly sweet and ranging in spice levels from mild to wild. I say wild, it's spicy, but for a certified chilli freak the hottest I've experienced is about a 5/10 on the chilli rating. That said, it's not about the heat really, it's about the marvellous combination of those three ingredients. And this is where the simplicity of Japanese food is at its best!
The perfect Katsu Curry Powder Recipe
OK! In the past I have made my own Japanese curry powder, which was successful, no doubt but I have to be honest - Japanese packet curry cubes are NOTHING to be mad at. In this case I am 100% behind dropping a few cubes into boiling water and drowning myself in convenience food heaven! I'm not going to pretend I even bother making my own sauce now, buy a packet of curry cubes and be done with it!
Other than breading, (let's celebrate another of Japan's greatest hits Panko Breadcrumbs) and frying your chicken this dish is super simple to put together. I don't deep fry a lot of things, but I'll make an exception for Katsu. I make this with chicken mostly, but I also love it with a nice lean pork steak. The crunch of a katsu is one of life's great treats.
While I have you on the whole deep fried crunch thing, another of life's great Japanese treats which features the Katsu is the formidable Katsudon - a rice bowl like no other. Crunchy chicken or pork katsu over rice with a delicious fragrant egg topping. It's guaranteed to warm the coldest of hearts.
So, whenever you need a little comfort in your life, you should most definitely turn to the delights and life-giving properties of Katsu Curry. Hope you enjoy!
Katsu meets Dog
Shirley the dog approves of chicken Katsu too (minus the sauce). She ate hers with a little rice and then came to me in the kitchen and began shivering violently. She was of course pretending to be sick so that I would give her more. I fell for it and she got a second helping!
More deliciously tasty fried International recipes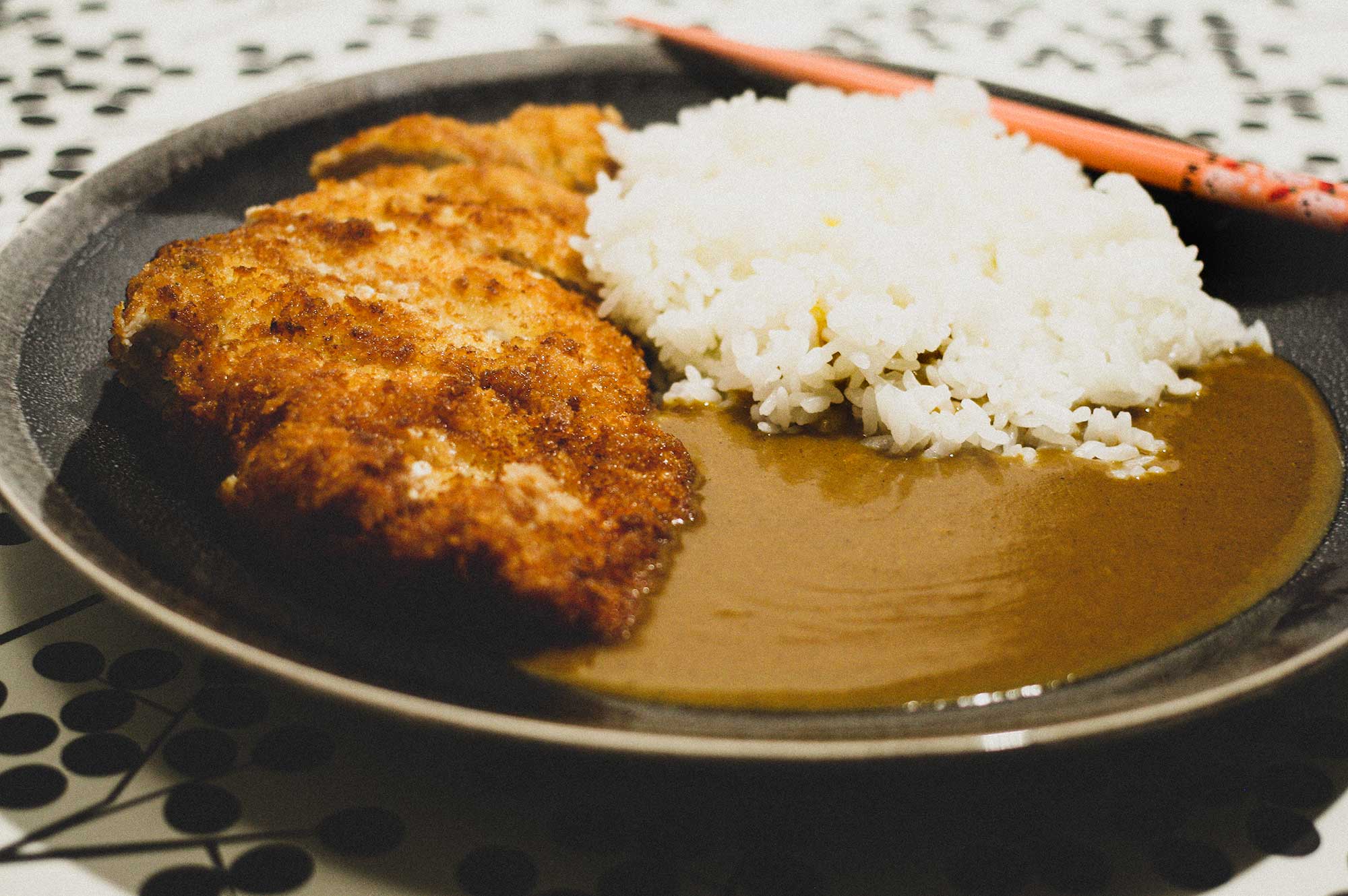 Katsu Curry
Rate this recipe
Print Recipe
Pin Recipe
Calories (per serving) |
748
Instructions
To cook the rice, add 1 cup rice and two cups water. Bring to a boil, then reduce heat to very low and cover the pan. DON'T STIR THE RICE. Simmer for 10-12 minutes until all the water has evaporated. Remove from the heat. Remove the lid and cover the pan with a tea towel or paper towel and return the lid. (this will stop it becoming wet). Set aside while you cook everything else.

Cook the Japanese Curry Sauce to the packet instructions. If they're in Japanese, just wing it - add a little water at a time - it thickens when hot, so just add a little at a time till you get a good thick pourable consistency. Cover and set aside while you prepare the cutlets.

Place your chicken between two pieces of plastic wrap, and using a kitchen mallet, pound them to flatten out to about 1 inch. Set aside.

Create a breading station with 3 separate bowls. Bowl 1: Flour, seasoned with salt & pepper Bowl 2: Beaten egg, mixed with 1-2 tbsp water Bowl 3: Panko breadcrumbs Dip the chicken into the flour, shake off the excess then dip into the egg. Shake off the excess egg and then dip into the Panko. Coat the chicken in breadcrumbs, pressing them firmly to stick to all parts of the chicken. Lightly shake off the excess and place on a plate while you do the same for the second piece of chicken. Leave these to dry a few minutes (it'll stop the breading coming off when you fry).

Heat the oil in a deep frying pan until just hot, not smoking. About 185ºC/370ºF. Carefully place each chicken cutlet into the oil, away from yourself. Let them fry for about 5-6 minutes each side until the chicken is thoroughly cooked. Rest on a plate.

To serve, cut the chicken into thick slices and arrange on the plate with the rice and a generous pouring of curry sauce.
Nutrition
Calories:
748
kcal
(37%)
|
Carbohydrates:
65
g
(22%)
|
Protein:
34
g
(68%)
|
Fat:
36.7
g
(56%)
|
Saturated Fat:
4.7
g
(29%)
|
Cholesterol:
154
mg
(51%)
|
Sodium:
568
mg
(25%)
|
Potassium:
445
mg
(13%)
|
Fiber:
2.2
g
(9%)
|
Sugar:
2.3
g
(3%)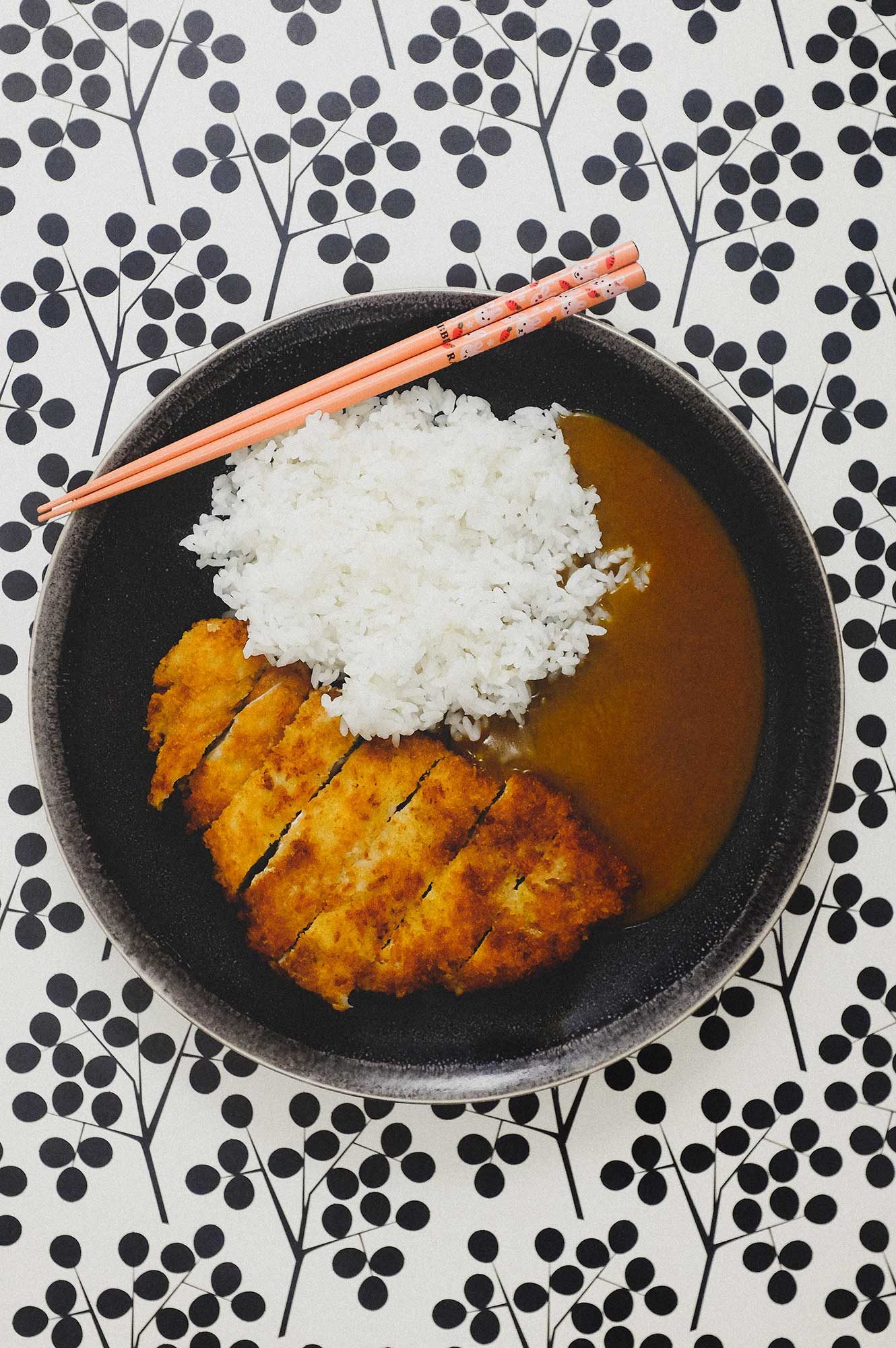 Did you make my Katsu Curry?
How did you go? Let me know in the comments below and be sure to tag @cookeatworld at Instagram.