Esquites (Mexican Street Corn)
Esquites (Mexican Street Corn) is sold all across Mexico a delicious, cheap and filling street food that's beloved by everyone. Learn how to make this sweet, creamy and super-delicious favourite yourself at home with my easy to follow recipe.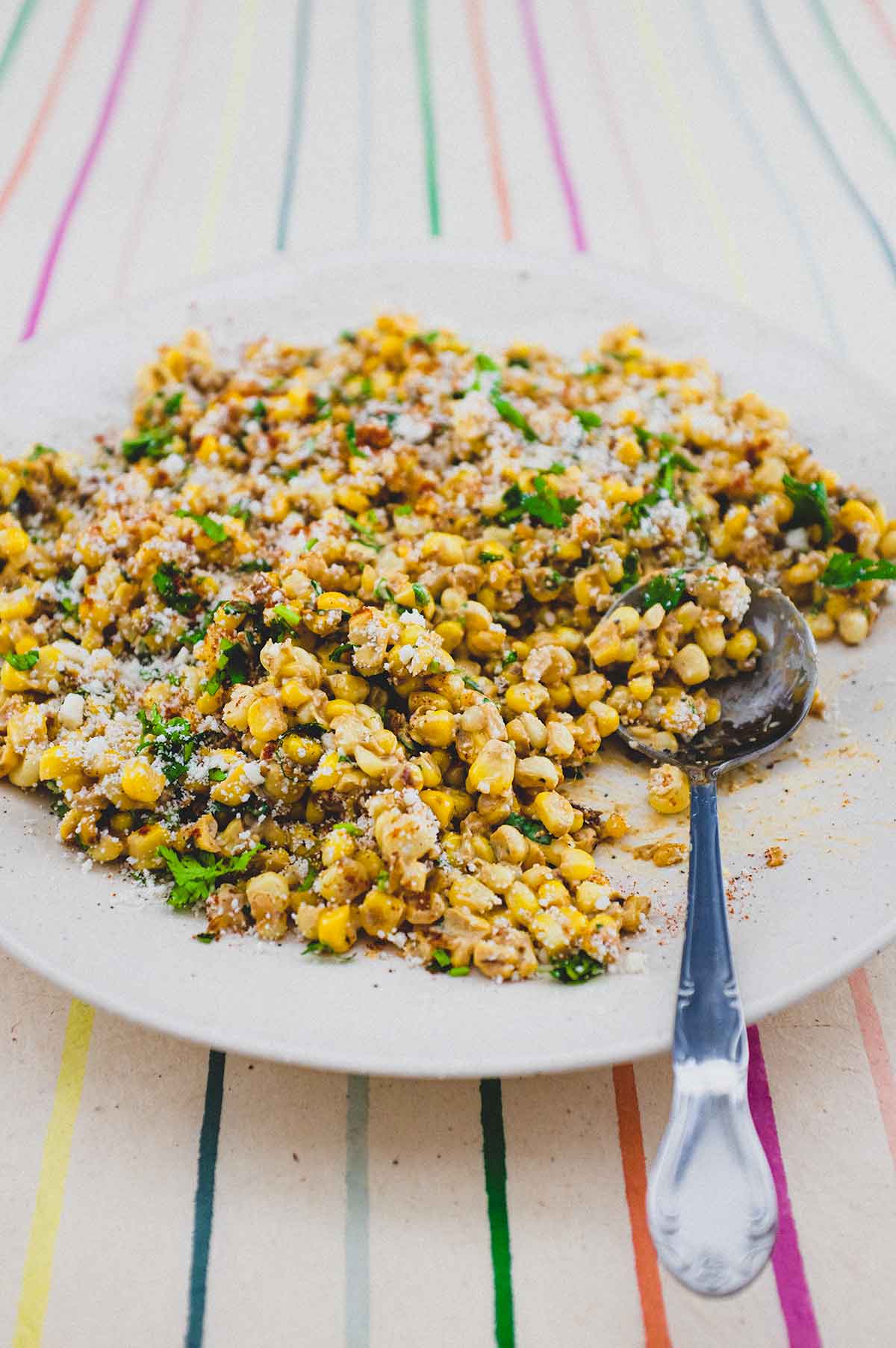 There's nothing I love more than eating a simple cup of Mexican corn in the street. In Mexico, esquites (street corn), is an unassuming dish that really takes you by surprise. It's corn! How delicious could it be?! Mexican's know...
It's a welcome burst of sweet, savoury and sometimes spice - all in a creamy and light dressing!
Esquire's is the perfect portion of Mexico served in a styrofoam cup. At home, we dispense of the cup and serve as a wonderful side dish or appetiser/snack. It's fantastic alongside grilled fish and meat and great as a topping for tacos, tostadas and the like. Wherever you have Mexican food, you should think about serving some esquites too.
What is Esquites?
The word "esquites" is derived from the Nahuatl word "izquitl," which means "toasted corn." The dish has a long history in Mexican cuisine and is often sold by street vendors as a popular snack or side dish.
Esquites is a close cousin to the tasty 'Elotes' (corn on the cob), which is slathered with all manner of tasty treats, but instead of being on the cob, esquites is stripped from the husk and served in cups. It's sweet, creamy and super delicious. The toppings can vary but usually incorporate cotija cheese, lime and cilantro.
Why it works?
It's quick - Making this delight even more appealing is the fact that it's quick and easy to put together.
It's versatile - apart from being a snack on its own, it's great as a side dish and as an all-in-one topping for tacos, I especially love it on any kind of tacos, tlayudas and tostadas.
Stuff You'll Need
To make your own esquites, you'll need a few simple ingredients. Here are some of the key flavours that go into the dish - there's a full recipe below.
Corn - Mexican corn is on another level, but wherever YOU are, be sure to buy in season and get the freshest you can find.
Cilantro - Mexico's favourite herb brings the quintessential flavour enhancer.
Mexican Sour Cream - there are so many varieties, but regular sour cream works well too.
Mayonnaise - for a lovely creamy texture!
Chipotle hot sauce - Bottled chipotle hot sauce brings a bit of smoke and spice
Cotija cheese - for texture
Lime -

because it's

Mexican

food.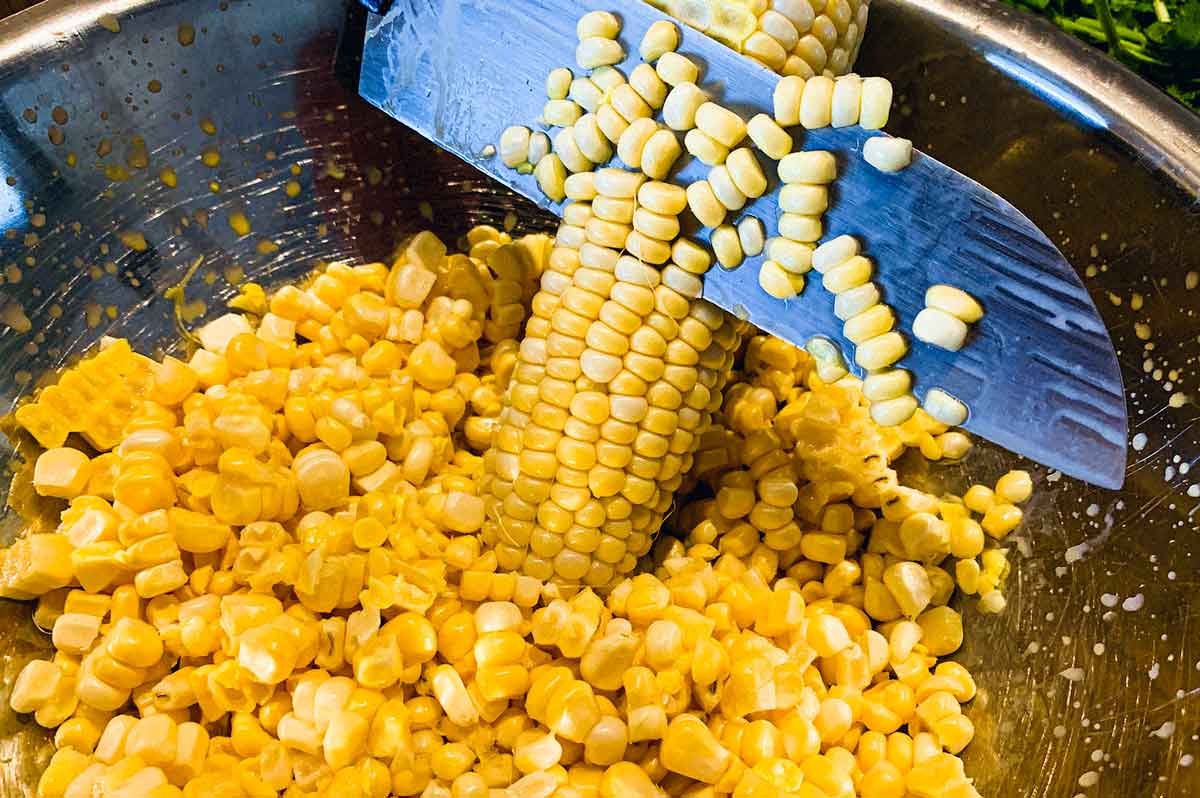 Step by Step
Making this dish is very easy, ready in 30 minutes. Here's a rough breakdown of how you'll spend your time.
Step 1 - Remove the corn from the cob and fry with a little onion
Step 2 - Stir in the rest of the ingredients to form a creamy consistency
Step 3 - Decant to a bowl and squeeze over some lime. That's it - your esquites await!
Pro Tips
Make a spicy version -

If you want to dial up the heat, add a chopped serrano or jalapeño pepper with the onion, or use a spicier hot sauce than chipotle.

Make a healthier version -

I'll often make mine using low-fat sour cream and mayonnaise. It doesn't suffer in the slightest!

Hot or cold? -

In Mexico, esquites are mostly served hot, but I also like to serve mine at room temperature. You can prepare esquites up to 3 days in advance and keep refrigerated until you need. Then just leave to come to room temperature for an hour. I love them hot or cold, so you can decide which you like best.

Canned or frozen corn? -

Personally, I would say frozen is fine, but no to canned corn - It will make the esquites a little mushy. Fresh is by far the best, so count the days 'til the juiciest fresh corn is in season between May-Sep (US).

Grill Grill Grill - Try grilling the corn on the bbq to char it lightly, then remove from the cob. It'll add a smoky flavour to the finished dish which is quite special! Simply stir the charred corn into the sauteed onion and stir in the remaining ingredients.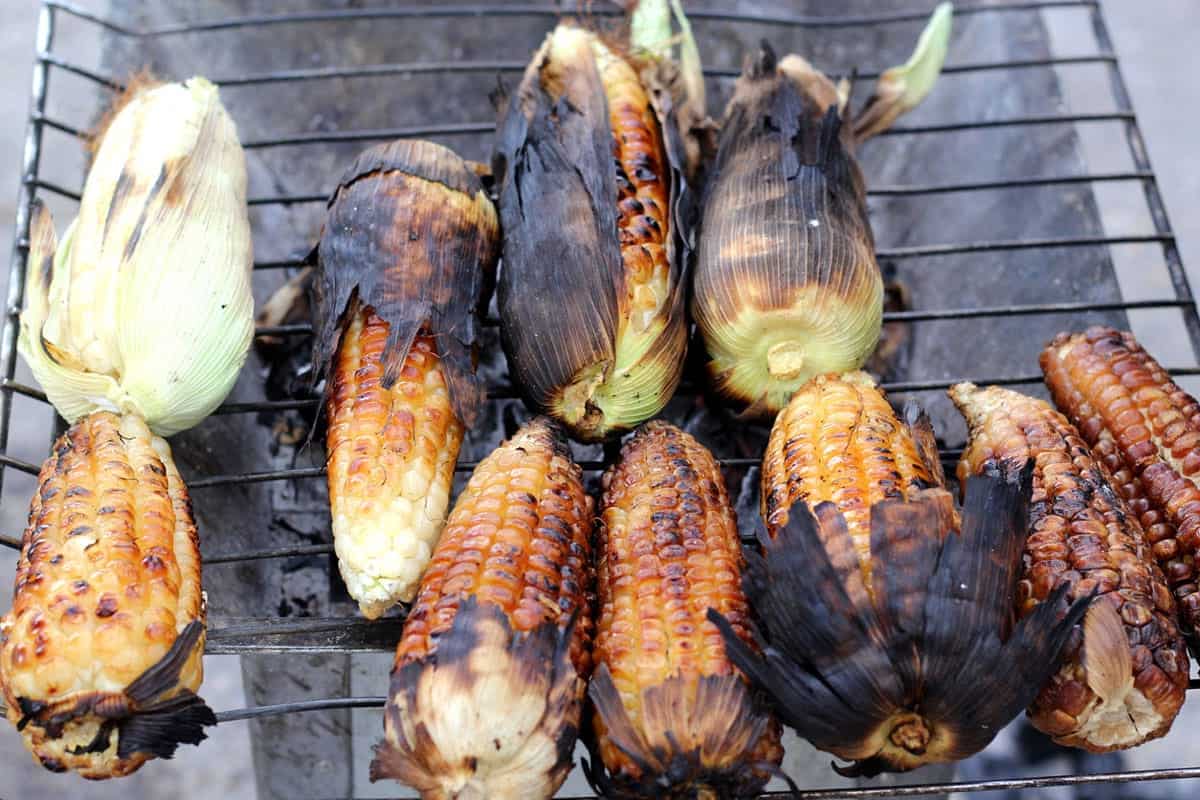 Storage Suggestions
Esquites are best eaten soon after preparing, but leftovers can be stored in the fridge for 2-3 days. They're not really suitable for freezing as they'll lose their freshness. On this occasion, fresh is best in my opinion.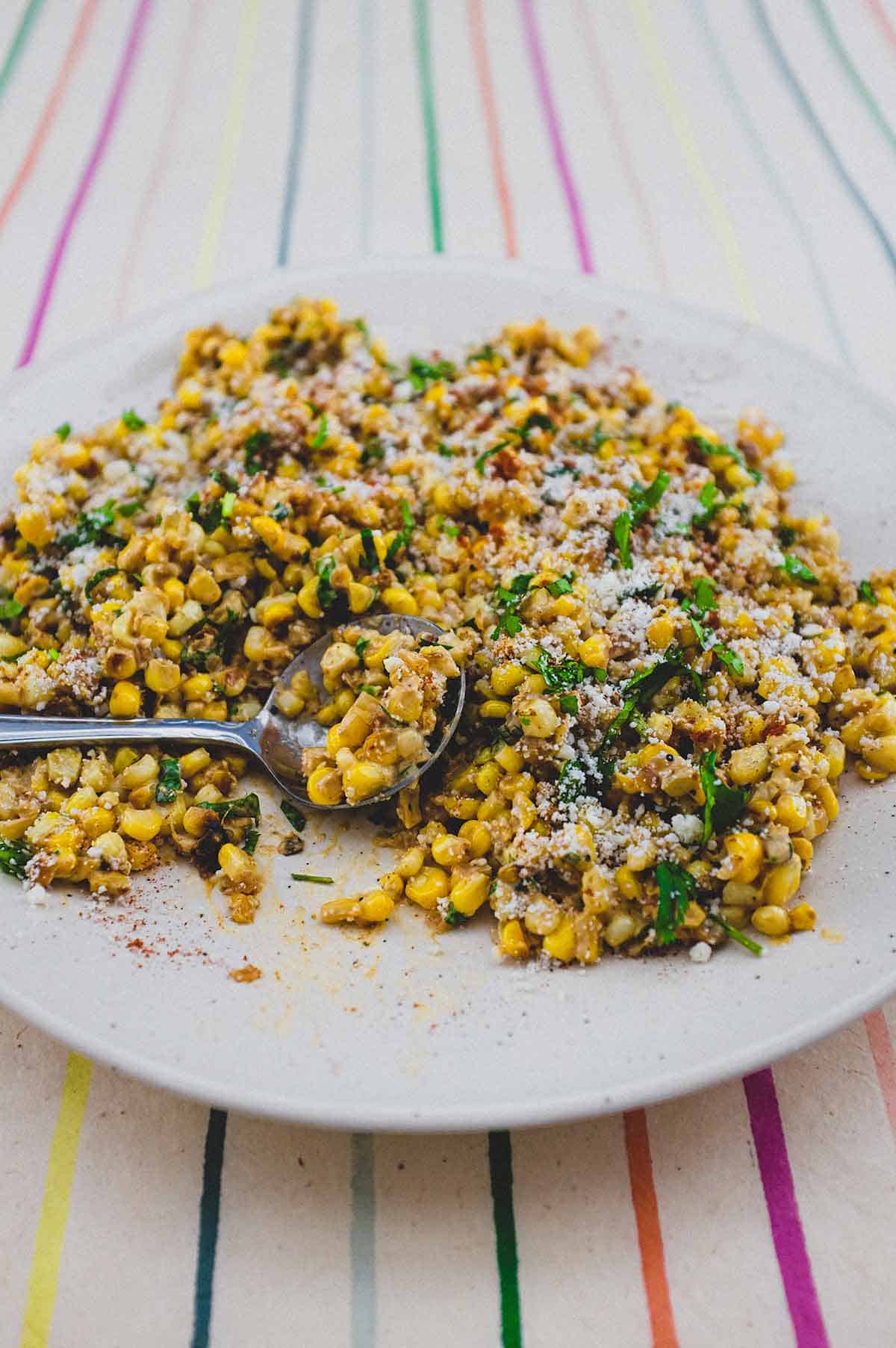 Ready to get cooking?
So, it's a real no-brainer that when you're cooking and eating Mexican that you should consider one of its most popular dishes, esquites. I love the flair that it brings to any spread and the welcome light, sweet and addictive flavours and fragrance. I hope you enjoy!
More Mexican recipes
If you liked this recipe for esquites, I'm sure you'll love some more of my Mexican recipes.
Any Questions? (FAQ)
Have a question about Esquites? Let me know in the comments.
What are the origins of Esquites?
Esquites originated in Mexico and are a popular street food in many parts of the country. The dish is thought to have originated in pre-Hispanic times when corn was a staple food for indigenous peoples in Mexico.
How are Esquites typically served?
Esquites are typically served in small cups or bowls as a snack or appetizer. The corn kernels are mixed with various toppings and seasonings, such as chili powder, lime juice, mayonnaise, and cotija cheese.
What are some variations of Esquites?
There are many variations of esquites, depending on the region and personal preferences. Some popular variations include adding diced avocado, chopped cilantro, or grilled onions. Some vendors also offer esquites with additional proteins, such as shredded chicken or pork. Additionally, some people prefer their esquites to be spicy, while others prefer a milder flavor.
This recipe uses affiliations and may receive a commission based on your activity (link clicks). Learn more.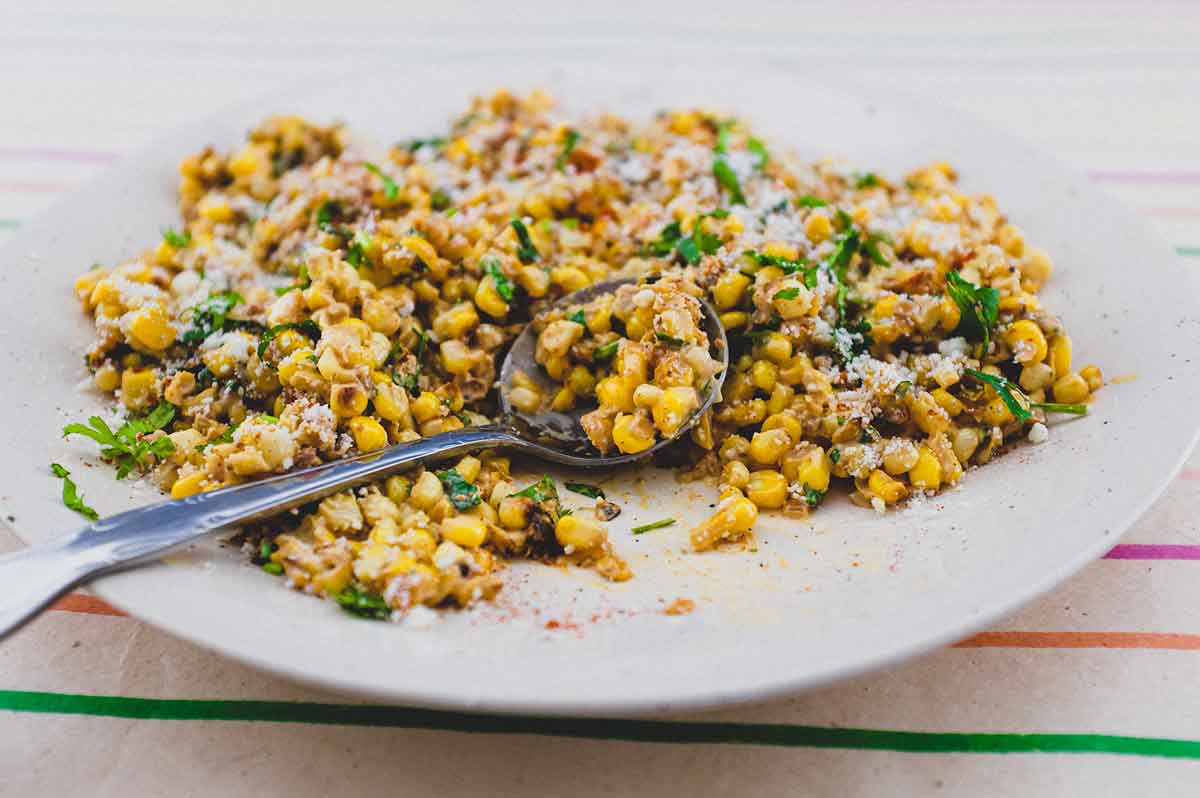 Esquites (Mexican Street Corn)
Rate this recipe
Print Recipe
Pin Recipe
Save Recipe
Go to Collections
Calories (per serving) |
217
Instructions
Heat frying pan with olive oil until hot. Add onion and cook for 3-4 minutes until soft.

Add the corn and cook for a further 5-6 minutes, leave the corn still in the pan to char slightly. Remove from the heat and cool for 5 minutes.

Stir in the cilantro, mayonnaise, sour cream, chipotle hot sauce, salt & pepper and juice from half the lime.

Decant into serving bowl or plate and sprinkle with cotija cheese. Add a few pinches of chilli powder and then finally squeeze over the remaining half of lime just before serving. Serve warm or at room temperature.
Notes
Suggestions
Spicy twist: To add more heat to your esquites, include diced serrano or jalapeño peppers with the onion or use a hotter hot sauce than chipotle.
Healthier option: You can opt for a healthier version by using low-fat sour cream and mayonnaise without compromising the flavor.
Hot or Cold: While esquites are typically served hot in Mexico, you can also serve them at room temperature. You can make them up to 3 days ahead, refrigerate, and bring to room temperature before serving. The choice of serving them hot or cold is yours.
Fresh or frozen corn: Frozen corn is a suitable substitute for fresh corn, but canned corn is not recommended as it can make the esquites mushy. The best flavor is achieved by using fresh corn, which is available from May to September in the US.
Grilled corn: Experiment with grilling the corn on a barbecue for a light char to enhance the smoky flavor of the dish. After sautéing the onion, add the charred corn and the remaining ingredients to the mix.
Storage
Esquites are best eaten soon after preparing, but leftovers can be stored in the fridge for 2-3 days. They're not really suitable for freezing as they'll lose their freshness. On this occasion, fresh is best in my opinion.
Nutrition
Calories:
217
kcal
(11%)
|
Carbohydrates:
21
g
(7%)
|
Protein:
5
g
(10%)
|
Fat:
14
g
(22%)
|
Saturated Fat:
4
g
(25%)
|
Cholesterol:
14
mg
(5%)
|
Sodium:
273
mg
(12%)
|
Potassium:
289
mg
(8%)
|
Fiber:
3
g
(13%)
|
Sugar:
8
g
(9%)
|
Vitamin A:
361
IU
(7%)
|
Vitamin C:
15
mg
(18%)
|
Calcium:
76
mg
(8%)
|
Iron:
1
mg
(6%)