Esquites (Mexican Street Corn)
Esquites (Mexican Street Corn) is sold all across Mexico a delicious, cheap and filling street food that's beloved by everyone. Learn how to make this sweet, creamy and super-delicious favourite yourself at home with my easy to follow recipe.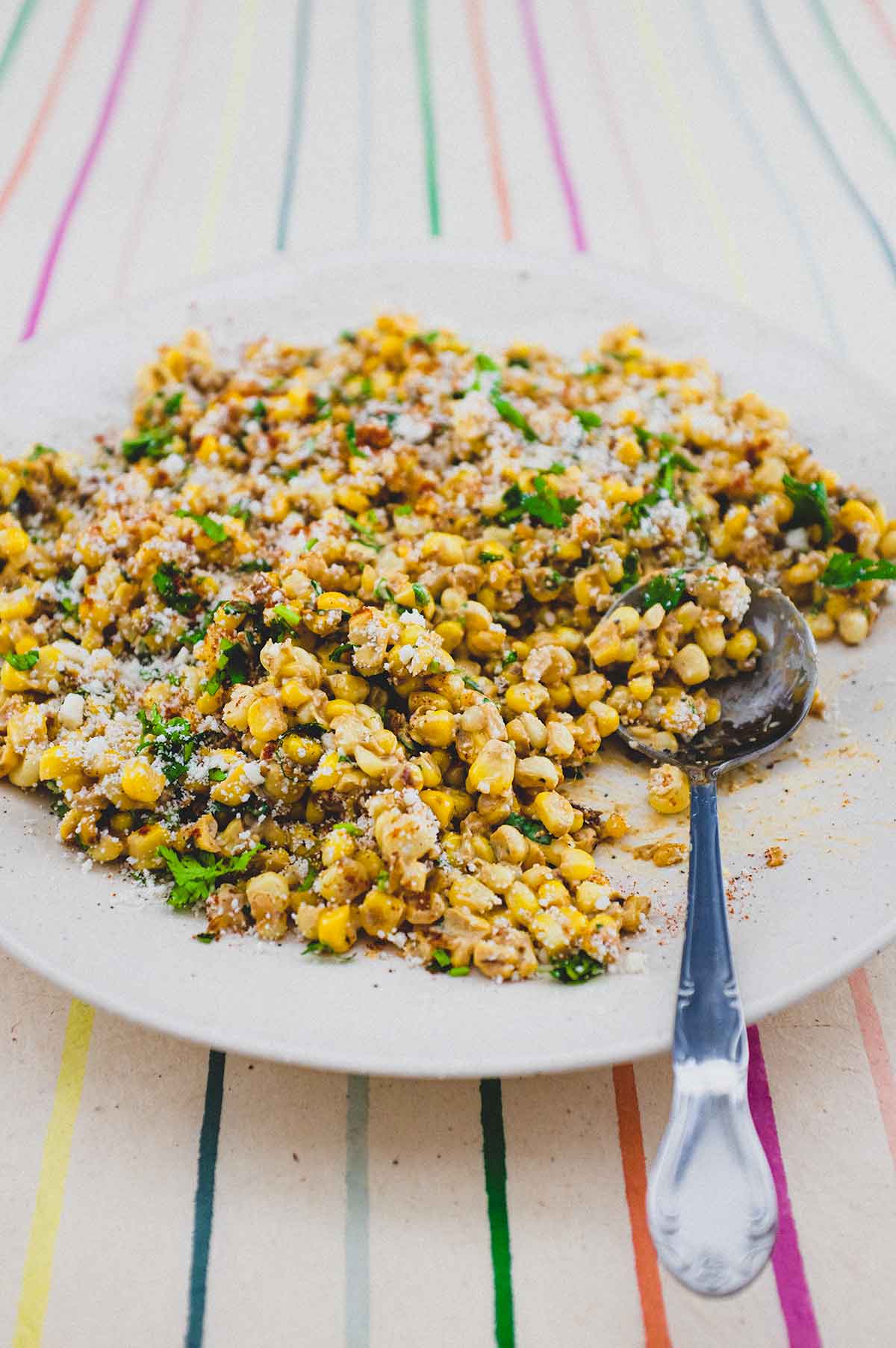 There's nothing I love more than eating a simple cup of Mexican corn in the street. In Mexico, esquites (street corn), is an unassuming dish that really takes you by surprise. It's corn! How delicious could it be?! Mexican's know... Esquites is a close cousin to the tasty 'Elotes' (corn on the cob), which is slathered with all manner of tasty treats, but instead of being on the cob, esquites is stripped from the husk and served in cups. It's sweet, creamy and super delicious. The toppings can vary but usually incorporate cotija cheese, lime and cilantro. I much prefer esquites, as it's a more civilised affair for those, like me, who can't take a bite of ANY food without spilling it down their front. It's the perfect snack or light lunch when you're out and about, but also a great side dish to serve alongside other Mexican treats for dinner.
Stuff you'll need
To make your own esquites, you'll need a few simple ingredients. Here are some of the key flavours that go into the dish - there's a full recipe below.
A step by step guide
Making this dish is very easy, ready in 30 minutes. H
Remove the corn from the cob and fry with a little onion
Stir in the rest of the ingredients
Decant to a bowl and squeeze over some lime. That's it - your esquites await!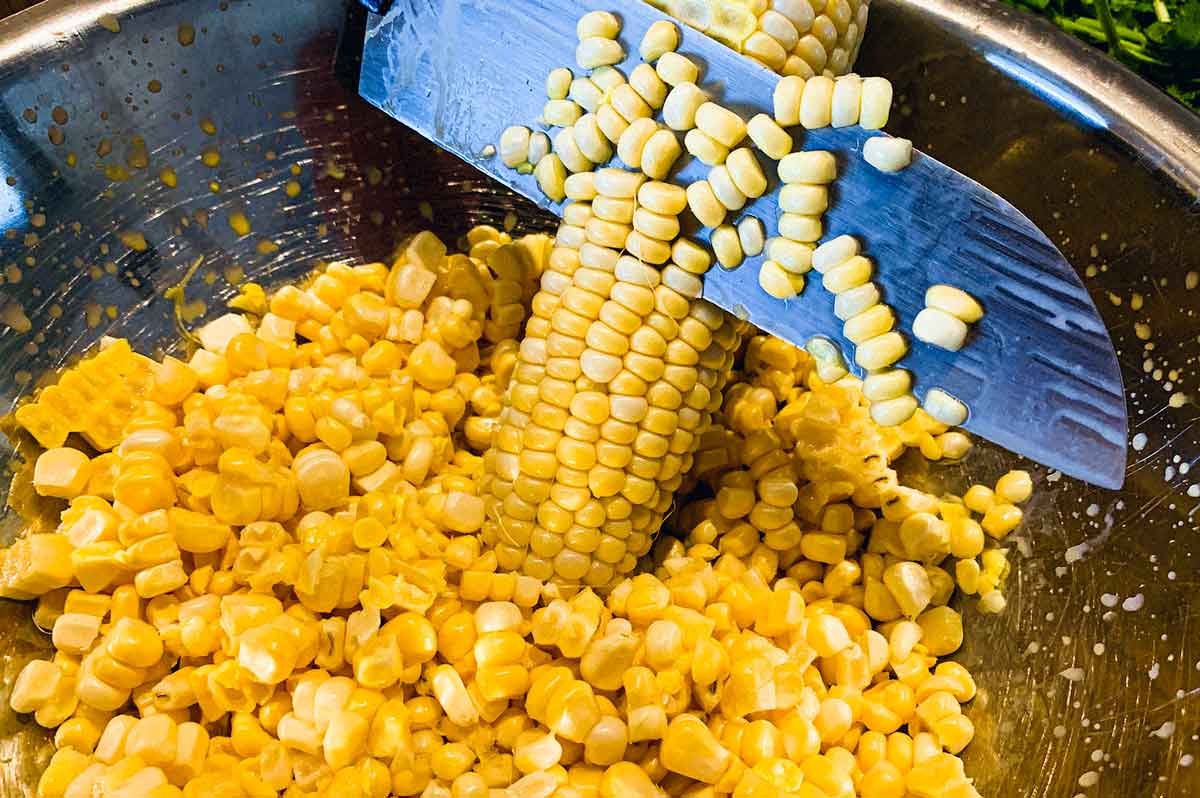 Tips, tricks & substitutes
Make a spicy version
If you want to dial up the heat, add a chopped serrano or jalapeño pepper with the onion, or use a spicier hot sauce than chipotle.
Make a healthier version
I'll often make mine using low-fat sour cream and mayonnaise. It doesn't suffer in the slightest!
Hot or cold?
In Mexico, esquites are mostly served hot, but I also like to serve mine at room temperature. You can prepare esquites up to 3 days in advance and keep refrigerated until you need. Then just leave to come to room temperature for an hour. I love them hot or cold, so you can decide which you like best.
Can I use canned or frozen corn?
Personally, I would say frozen is fine, but no to canned corn - It will make the esquites a little mushy. Fresh is by far the best, so count the days 'til the juiciest fresh corn is in season between May-Sep (US).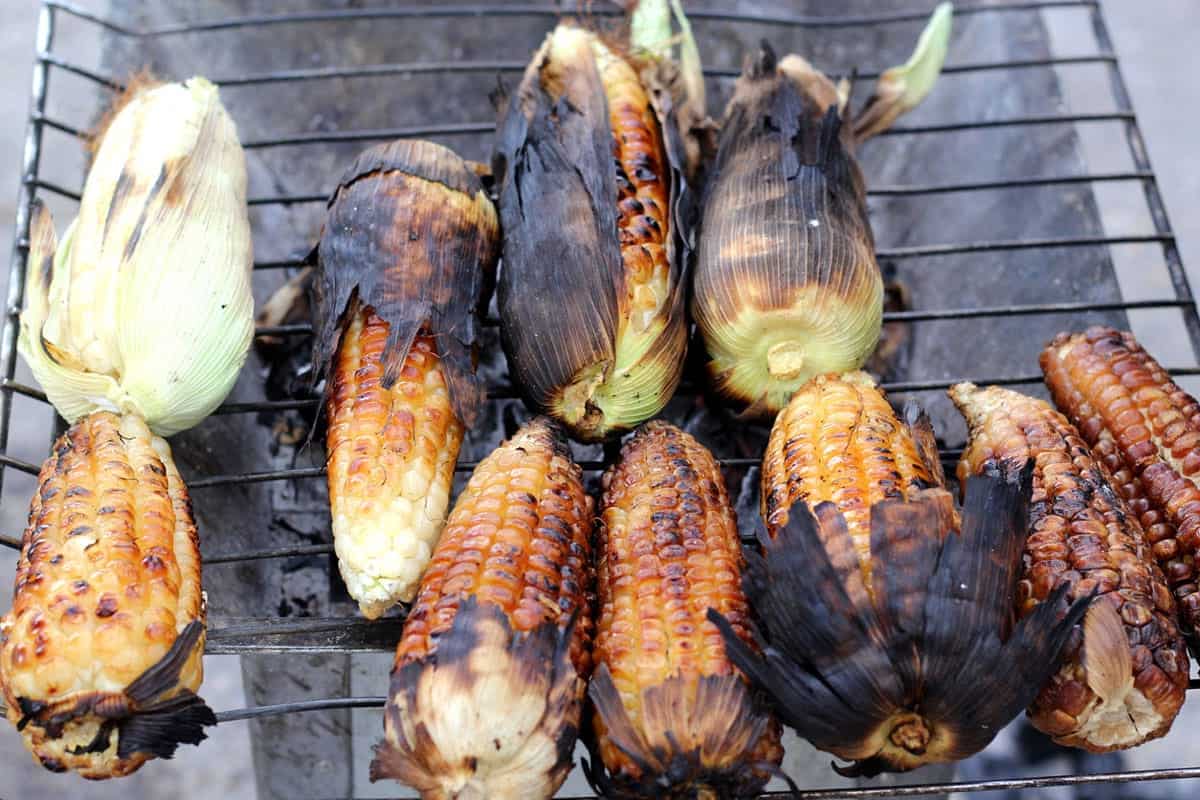 Try grilling the corn instead
Try grilling the corn on the bbq to char it lightly, then remove from the cob. It'll add a smoky flavour to the finished dish which is quite special! Simply stir the charred corn into the sauteed onion and stir in the remaining ingredients.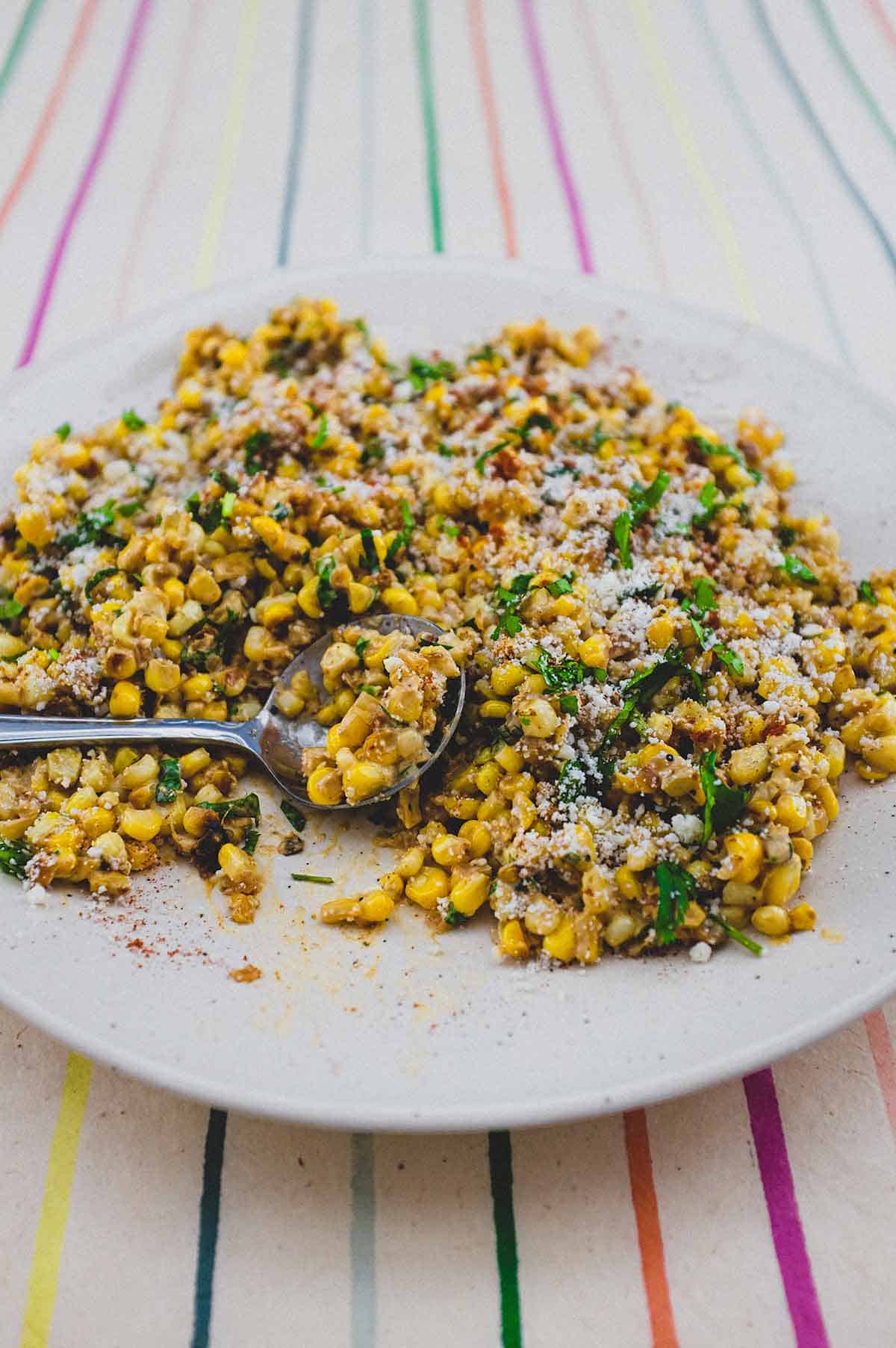 More delicious Mexican recipes
While you're in Mexico (in your kitchen), you might want to give one of my Pozole recipes a try - have you tried Pozole Rojo? Or the fresh, zingy Pozole Verde? Or what about the tasty monotone Pozole Blanco? They're Mexico's most wonderful soups! Why not sample the tasty delights of Tlayudas - the Oaxacan answer to pizza. Or why not a deep fried treat? Try my pork flautas or my Baja Fish Tacos from Ensenada - crunchy greatness! There's plenty of flavour to be had in Mexico!
How to make Esquites (Mexican Street Corn)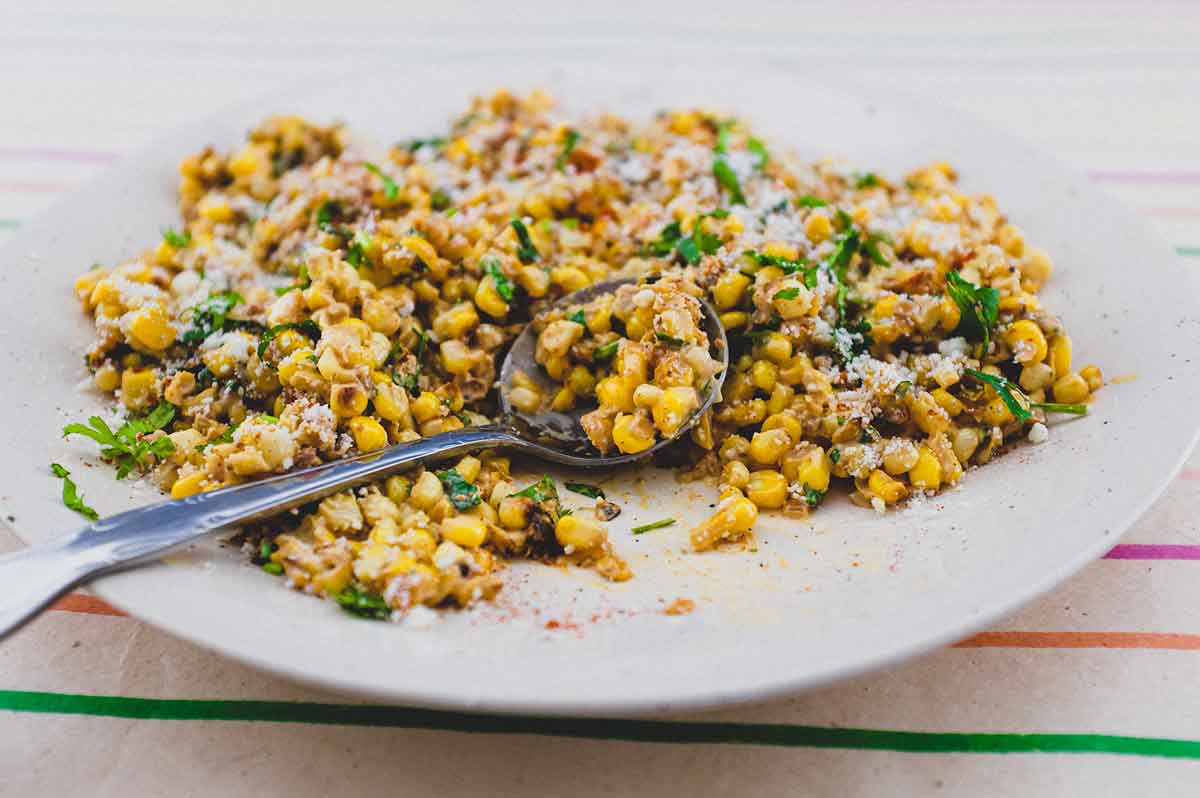 Esquites (Mexican Street Corn)
Rate this recipe
Print Recipe
Pin Recipe
Calories (per serving) |
217
Instructions
Heat frying pan with olive oil until hot. Add onion and cook for 3-4 minutes until soft.

Add the corn and cook for a further 5-6 minutes, leave the corn still in the pan to char slightly. Remove from the heat and cool for 5 minutes.

Stir in the cilantro, mayonnaise, sour cream, chipotle hot sauce, salt & pepper and juice from half the lime.

Decant into serving bowl or plate and sprinkle with cotija cheese. Add a few pinches of chilli powder and then finally squeeze over the remaining half of lime just before serving. Serve warm or at room temperature.
Nutrition
Calories:
217
kcal
(11%)
|
Carbohydrates:
21
g
(7%)
|
Protein:
5
g
(10%)
|
Fat:
14
g
(22%)
|
Saturated Fat:
4
g
(25%)
|
Cholesterol:
14
mg
(5%)
|
Sodium:
273
mg
(12%)
|
Potassium:
289
mg
(8%)
|
Fiber:
3
g
(13%)
|
Sugar:
8
g
(9%)
|
Vitamin A:
361
IU
(7%)
|
Vitamin C:
15
mg
(18%)
|
Calcium:
76
mg
(8%)
|
Iron:
1
mg
(6%)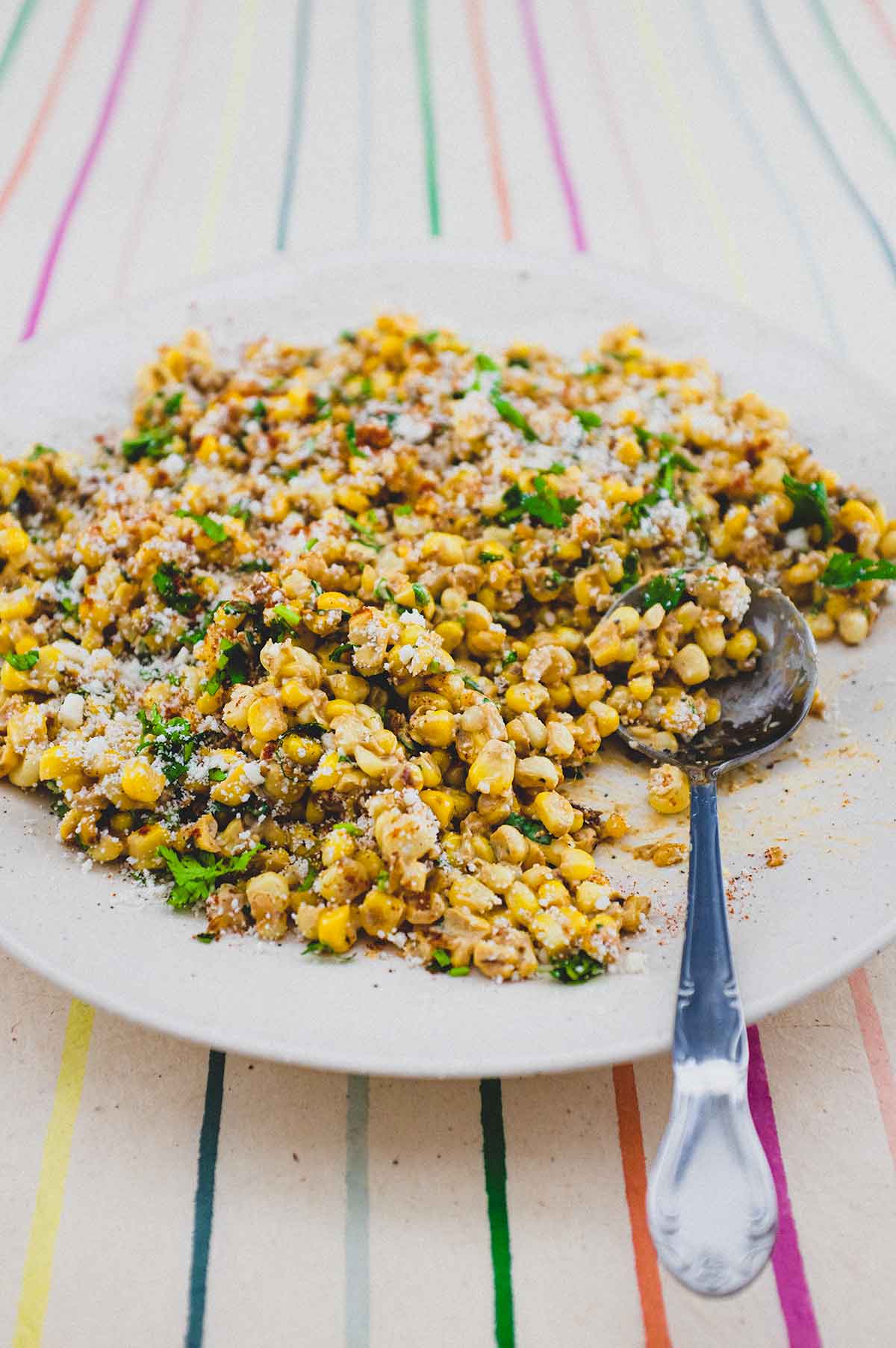 Did you make this?
How did YOUR esquites turn out? Let me know in the comments below and be sure to tag @cookeatinsta at Instagram. If you have any delicious Mexican recipes you want to share, get in touch!