To complete the trinity of Mexican Pozole is this wonderfully simple and tasty recipe for Pozole Blanco. A flavoursome soup with fork-tender pork and fluffy hominy corn – pozole blanco is a monotone marvel!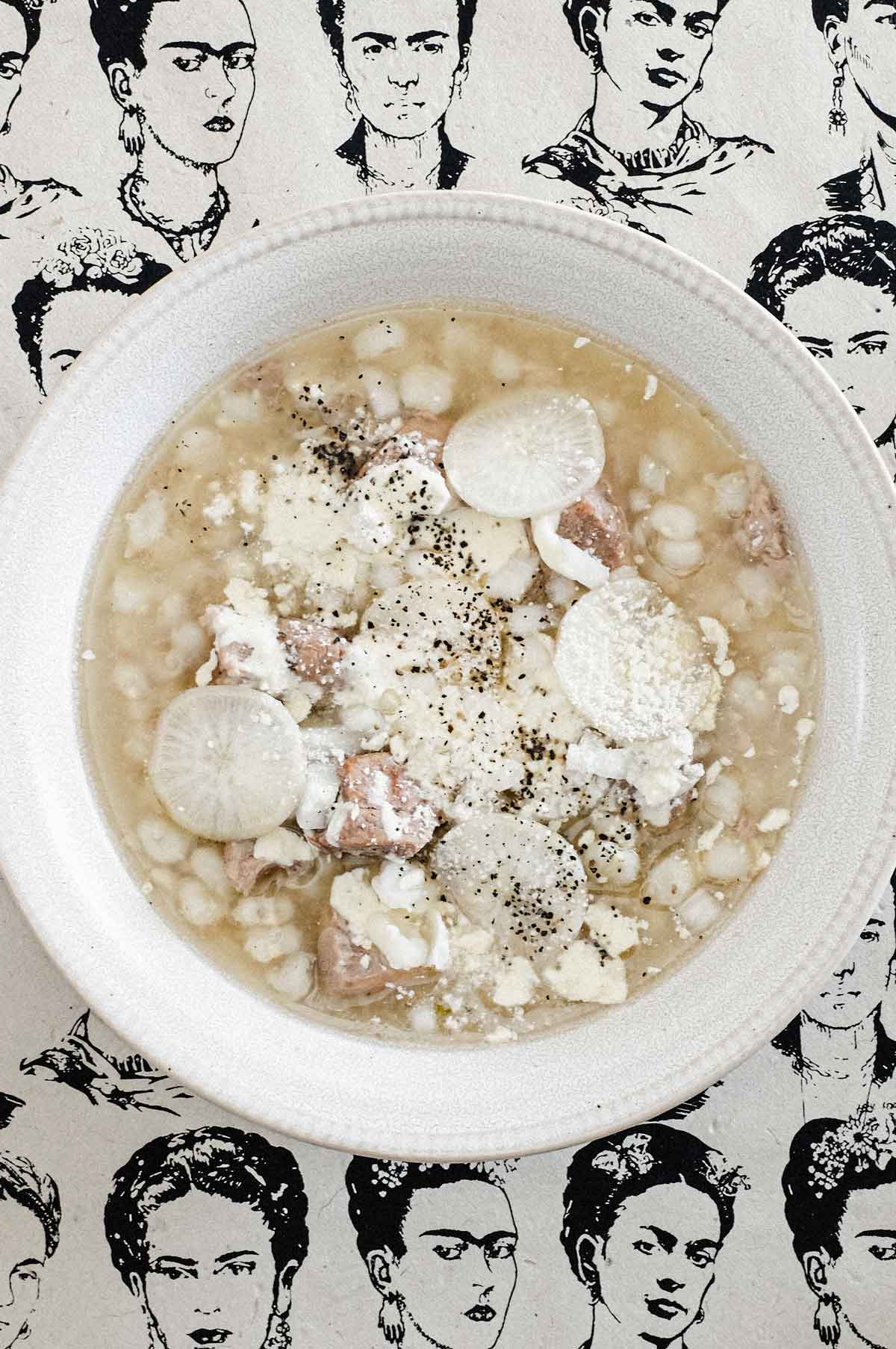 Traveling in Mexico, you get to discover an entire world of dishes made with corn. It's everywhere and used in everything and I can't get enough. Pozole blanco (white pozole) is one such delight, a soup made using hominy (a puffed corn kernel) that is paired with a light, flavourful broth of pork.
Pozole Verde, Blanco Y Rojo - the Mexican flag of flavour.
Most people would be aware of Pozole Rojo, the red version of pozole soup - rich with smoky chilli heat and bright red appearance. Pozole Verde features an abundance of green ingredients which come together to make a light, bright and often spicy pozole soup. And then there is this - a delicious recipe for Authentic Pozole Blanco (white pozole) - the simplest of the three to make at home - but don't assume that means less flavour - it's a taste sensation. And how fitting that the three together mirror the colours of the Mexican flag. 🇲🇽
What is Pozole?
Pozole is a soup originating in Central Mexico, most commonly Red (rojo), Green (verde) and white (blanco). The soup usually features pork, and often tripe and offal and is commonly prepared for a special occasion or at weekends. It's a rich, slowly cooked stew type soup that is packed with flavour, colour and texture. One magical ingredients that all pozole have in common is hominy, corn kernels, soaked in pickling lime until they swell to more than double the size. The skins are removed and we're left with a soft, tender ball of corn.
Pozole blanco is the lesser known of the pozole soup family and is said to have originated in Guerrero, It's a simple soup but surprisingly flavoursome. Don't let the monotone appearance trick you!
Why it works
It's easy - just put everything together into a pot and let time do its magic.
It's filling - those little hominy kernels do their job in filling you up. A bowl or two of pozole blanco will satiate any hunger.
It's tasty - Hominy has an addictive flavour, just like corn tortillas!
Stuff you'll need
Making the soup is simple. Few ingredients for the soup itself and then an abundance of garnishes. We add nothing that will leech its colour into the broth, so no chillies, tomatoes or peppers. Once again, this doesn't mean we sacrifice flavour.
For the Soup - White onion, garlic, bay leaves, oregano, pork and hominy will be all you'll need for the soup.
For the Garnishes - include white onion, white radishes, cojita cheese (crumbly Mexican cheese) and sour cream. Think white and you can't go wrong.
Step by Step
My recipe uses pressure cooking with an Instant Pot, but also outlines how-to for a regular stovetop too. Instant pot will only take 40 minutes or so.
Step 1 -

Fry the onion, garlic, bay leaves and oregano for a few minutes

Step 2 -

Add the pork and fry a few

minutes

more

Step 3 -

Pour in the water and cook at high pressure for 30 minutes or regular simmer for 1 1/2 hours.

Step 4 -

Stir in the hominy and simmer for 10 minutes.

Step 5 -

Ladle out servings and garnish. Serve hot!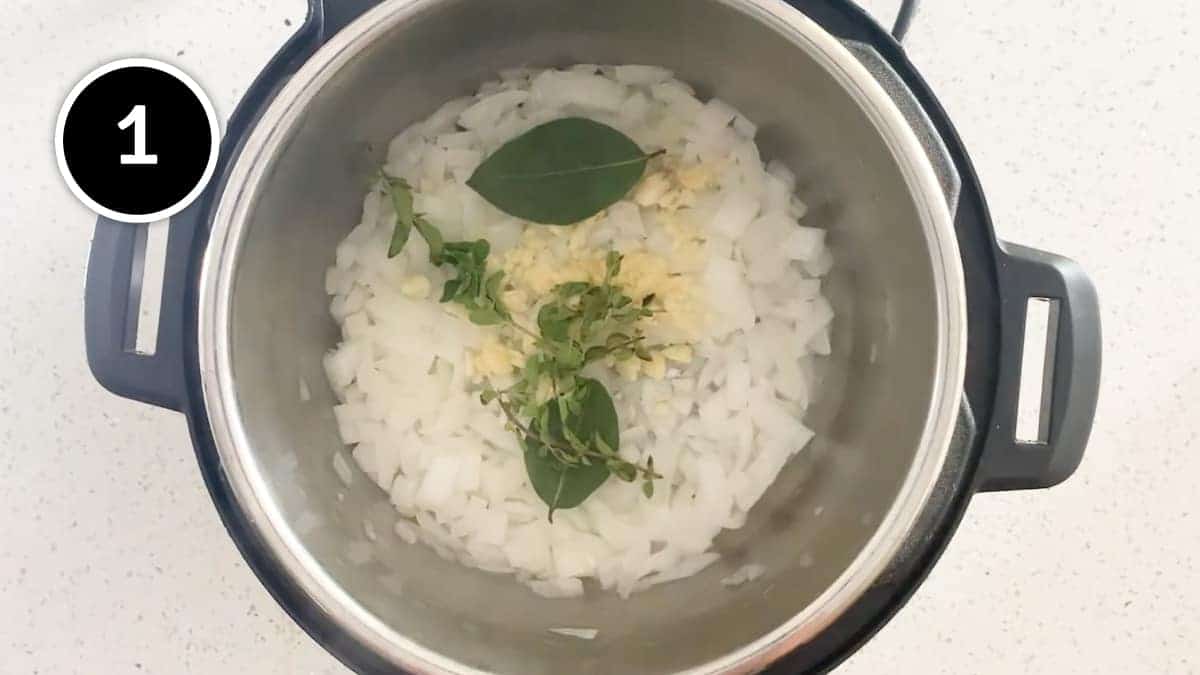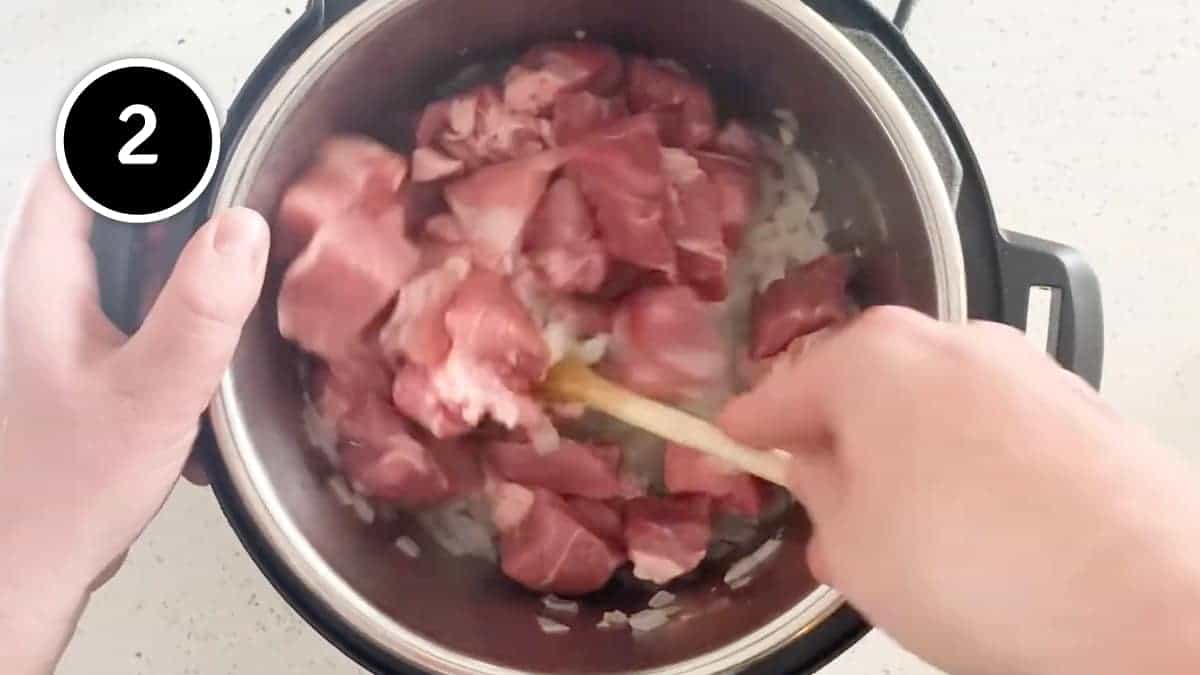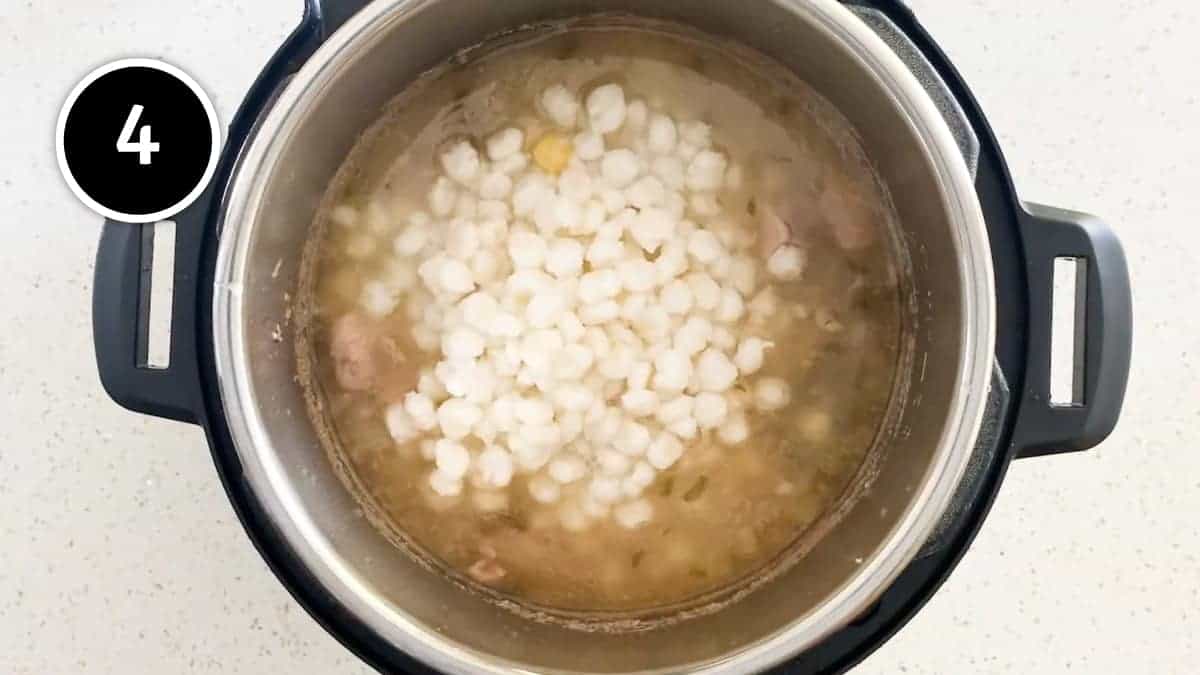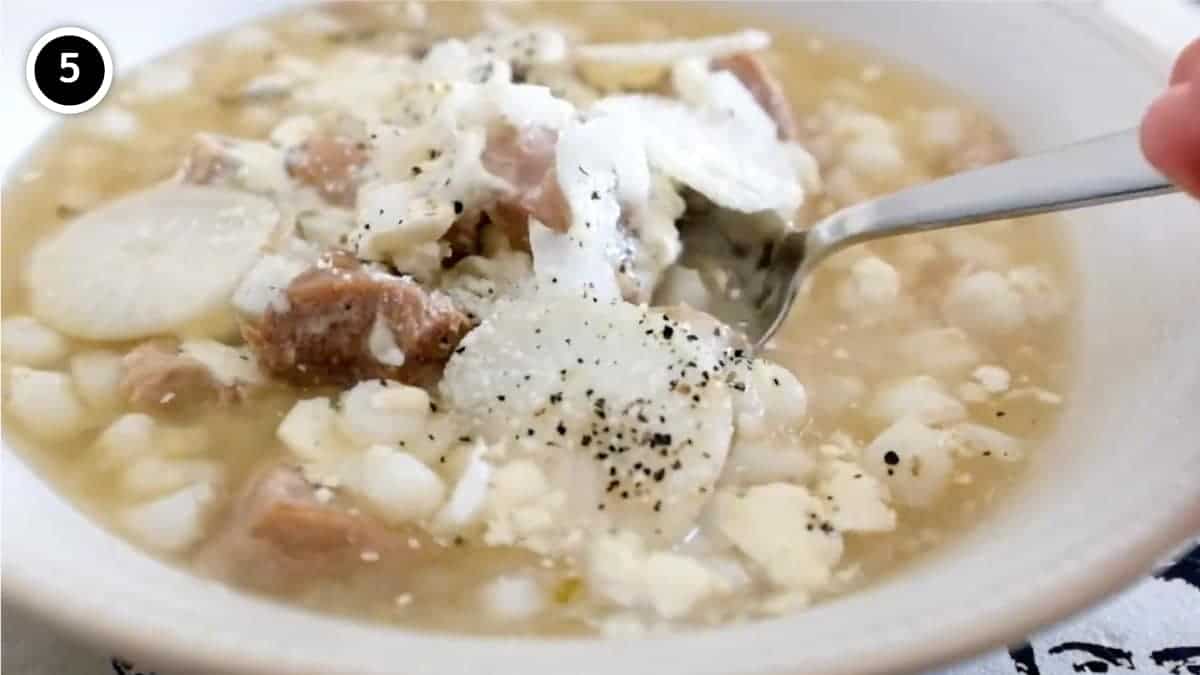 Pro Tips to make your life easier
I use an Instant Pot or pressure cooker to cook my pozole as it'll cut the cooking time considerably. Fear not if you don't own one, a regular pan on the stove will make pozole exactly the same, only you'll have to wait a little longer to enjoy.

I like to keep my garnishes monotone, so choose white all the way, with Donita cheese, sour cream and white radishes, but pozole can be garnished with many more options. Try fresh chillies, avocado, shredded cabbage, tomato, peppers, cilantro, pink radishes, fried tortilla chips, hot sauce and limes.

Make your pozole in advance, it'll stay fresh in the fridge for a 4-5 days.
Serving and storing suggestions
Serve the pozole in its pan in the middle of the table, surrounded with an array of garnishes and let everyone sprinkle the soup with whatever they like.
Fridge

- Pozole will stay fresh in the fridge for 4-5 days. Reheat until piping hot and garnish as normal.

Freezer

- Pozole freezes well. Simply freeze in single serve containers for 3+ months and reheat in the microwave from frozen, stirring during cooking then garnish as normal.
Ready to get cooking?
Once you sample the delights of hominy corn in our divine white pozole soup, you'll be eager to try the green and red pozole too! You'll see for yourself just how quick and easy this Mexican soup is to make at home and how super flavoursome it is too. I hope you enjoy!
Any Questions? (FAQ)
Have a question about Hominy or Pozole soup? Let me know in the comments.
What is pozole blanco made of?
Pozole blanco is a simple soup made from pork, onion and a few herbs. White hominy (corn) is added too to give it its unique essence of Mexico. Other versions of pozole exist, namely red (rojo) and green (verde).
What are the three types of pozole?
The most common is Red (rojo), followed by Green (verde) and then White (blanco). Most versions use pork or chicken as their main ingredient followed by various ingredients that help to create each unique colour. Incidentally, the three colours also make up the three colours of the Mexican flag.
Where is Pozole Blanco from?
Pozole blanco is said to have originated in the Mexican state of Guerrero, but Pozole has been eaten for generations throughout Central Mexico.
More delicious Mexican recipes
If you're looking to cook something packed with flavour, texture and colour - you need not look further than Mexican food. It's one of my most favourite cuisines on the planet and I cook it most weeks at home. Here are some of my other favourite Mexican recipes for you to try yourself.
Pozole Blanco
Rate this recipe
Print Recipe
Pin Recipe
Calories (per serving) |
457
Ingredients
2

tbsp

vegetable oil

2

white onion

(diced)

6

garlic cloves

(peeled and chopped)

1

sprig

oregano

2

lb

pork

(stew meat, cut into chunks)

1

tsp

salt

2

29oz

cans white hominy

(1 can undrained, 1 can drained)
Instructions
Heat the oil until hot in the Instant Pot using the sauté setting, or in a large pan over a moderate heat.

Add the onion and fry gently for 3-4 minutes until softened but not browned.

Add the garlic and fry for another 1-2 minutes before adding the oregano and bay leaves.

Add the pork and stir to coat everything. Season with the salt and then pour in 700ml/23oz of water.

For Instant Pot: Put on the lid and set to pressure cook for 30 minutes.

For stove top: Bring to a boil, then reduce the heat to low, cover the pan and simmer gently for 1½ hours until the pork is soft.

Remove the lid and then pour in the hominy and liquid. Return the pan to the heat (or sauté setting if using the Instant Pot) and bring to a boil. Cook for 5 minutes then remove from heat and serve.
Serving
Serve hot in bowls and garnish with the white onion, a drizzle of sour cream, a scattering of cojita cheese and a few radish slices.
Notes
Alt Cooking Methods
Instant pot version will cut the recipe into one third of the cooking time without sacrificing flavour or texture.
Stove top will take longer, but will give exactly the same results.
Ingredient Substitutions
You can substitute pork for chicken. Use chicken thighs (with the bone in for more flavour). Chicken breast will dry out, so use only thighs.
For garnishes, you needn't stay monotone like I did, you can add all sorts to liven up the colour and flavour to your own liking. Try fresh tomatoes, avocado slices, pink radishes, limes, shredded cabbage, cilantro, fresh chillies, peppers, hot sauce, cojita cheese, sour cream, crumbled crispy corn tortillas, red onion, white onion, spring onion and more.
Serving suggestions
Serve hot alongside bowls filled with your choice of garnishes for those at the table to garnish themselves. Add a few warm corn tortillas to the side too.
Storage
Fridge: Pozole blanco is a perfect contender to make in advance. It'll stay fresh in the fridge for 4-5 days without any garnishes.
Freezer: Portion into single serves and freeze for 3+ months. Then simply reheat in a microwave (stirring occasionally) until piping hot. Garnish as normal.
Nutrition
Calories:
457
kcal
(23%)
|
Carbohydrates:
5
g
(2%)
|
Protein:
26
g
(52%)
|
Fat:
37
g
(57%)
|
Saturated Fat:
16
g
(100%)
|
Cholesterol:
109
mg
(36%)
|
Sodium:
475
mg
(21%)
|
Potassium:
500
mg
(14%)
|
Fiber:
1
g
(4%)
|
Sugar:
2
g
(2%)
|
Vitamin A:
11
IU
|
Vitamin C:
5
mg
(6%)
|
Calcium:
40
mg
(4%)
|
Iron:
2
mg
(11%)