Baja Fish Tacos from Ensenada
Mexico's Baja peninsula offers up some of the country's finest seafood. None more so than the fish tacos of Ensenada. Famed for all manner of preparations, one such a crispy battered fish, served simply on corn tortillas with a selection of spicy condiments – they're life-changing!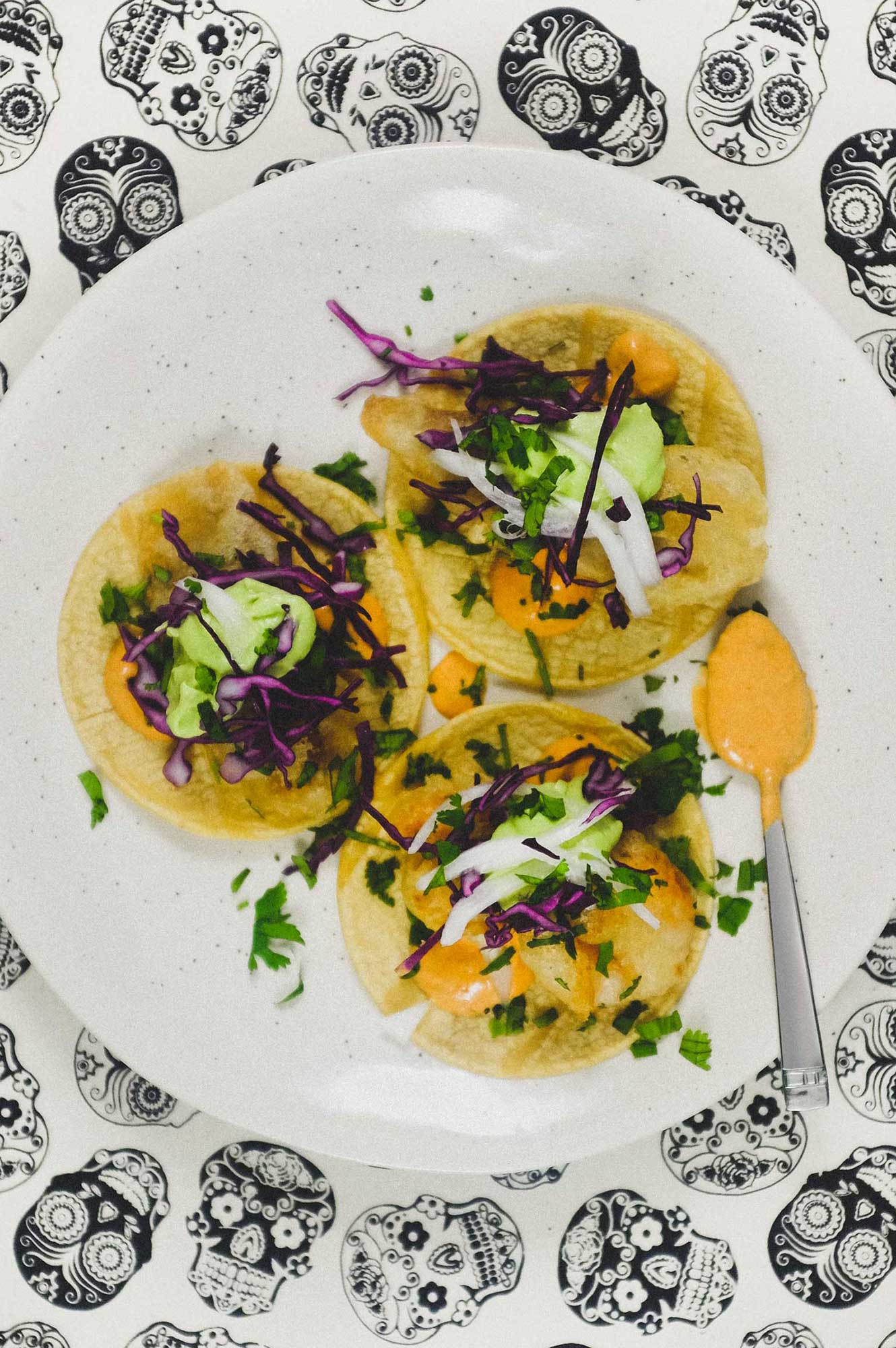 These Baja Fish Tacos from Ensenada, Mexico in a strange way, remind me of my childhood in England. I was a big fan (and still am) of the fish & chip shop! The crunch of the batter coating the soft, delicate fish got me every time. I'd fold my buttered bread slice in half and stuff it with fish and chips then smother it in mushy peas or ketchup - like a rough and ready Geordie taco!
One of the highlights of moving Las Vegas back in 2015, other than all sunshine and no rain, is the proximity to great Mexican food and even more wonderful the distance to Mexico itself! I'm a BIG fan!
Beautiful Ensenada in Baja California
On one of our travels, we decided to make the seven hour drive from Vegas to the coastal town of Ensenada in Baja California - where the Baja fish taco originated. I'd watched TV chefs Anthony Bourdain, Rick Bayless and Rick Stein all take in the town and rave about the street food seafood tacos and tostadas, so I knew it would be worth the trek.
We even discovered we could take our dog, Shirley. She's not such a fan of Mexican food, but agreed to come regardless.
After a pleasant drive there, we sampled all manner of seafood delights. The Uni, Cuttle fish, Marlin and Octopus tacos, ceviches and tostadas were all sensational and super fresh, but it was the battered tilapia tacos from one unassuming street stall Tacos de Pescado Floresta were the drop-jaw stand-out.
The perfect fish taco?
Costing around 90c, our tacos were small and simple. Consisting of two corn tortillas, a strip of perfectly battered tilapia fish and that was it! Plentiful condiments were provided - fresh salsas, shredded cabbage and limes with two sauces - Chipotle pepper infused sour cream and a thin zesty and spicy avocado/chilli sauce. There were also a range stomach rumbling hot salsas ranging from 'yum!' to 'ay caramba!'
They were sensational! The best street food I've ever eaten anywhere in the World. I lost count how many I ate. Shirley loved them too, she was fresh from a haircut at the "estetica canina" and devoured a whole piece of fish, to much applause from the locals.
Back home, creating these myself was easy - and the results surprisingly authentic. We live in a neighbourhood with countless amazing Mexican and Latin supermarkets, so our proximity to the same ingredients they use in Ensenada is no problem, but for those further afield, I've put together some helpful links below to some key ingredients online. The chipotles in adobo are a great store cupboard thing to have - they also feature in my delicious, authentic Mexican Posole soup.
Fish tacos with a little help from Japan
Now, before you scroll down to the comments to whine about me using a packet tempura batter mix, i'll defend my actions. In all honesty, my batter skills are all over the place. One day it'll be perfection, the next stodgy and gross. I'm just mediocre at batters OK! Life is too short for batter roulette, so instead I choose Japanese tempura mix - it's perfect every time. In the batter game, the Japanese DO NOT MESS AROUND . ありがとう (arigato).
They're perfect to serve when friends or family come by and everyone can participate in assembling their own food. Kids love them and the adults can spice them up or down as they see fit - everyone's happy! So, if you're in the game for authentic Ensenada Street Tacos (yes please!) - there's no need to pack up the car and dog, just try my simple to follow recipe instead!
More Mexican Recipes
If you liked this Fish Taco recipe, try one of my other delicious Mexican recipes.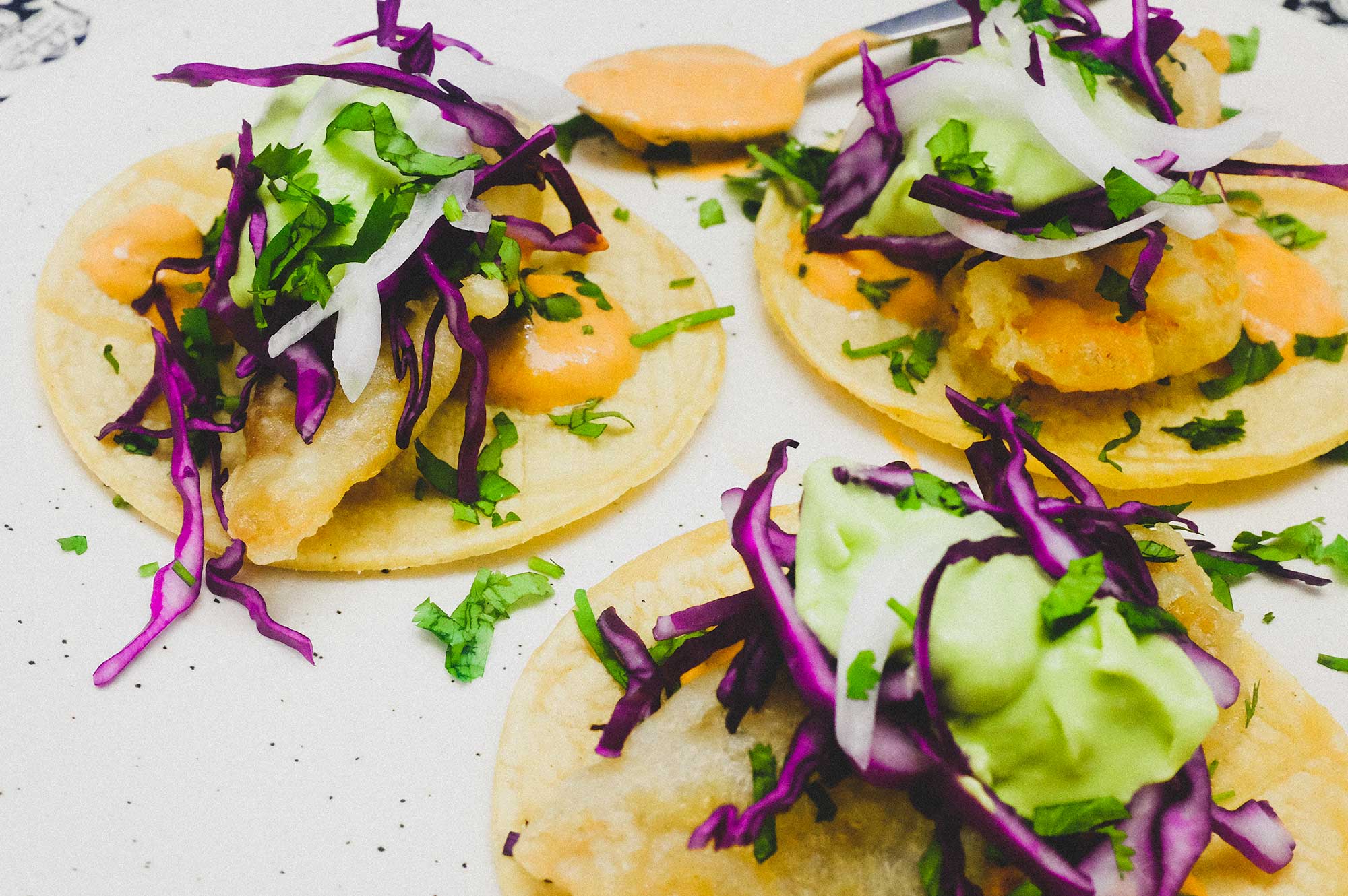 Baja Fish Tacos from Ensenada
Rate this recipe
Print Recipe
Pin Recipe
Save Recipe
Go to Collections
Calories (per serving) |
498
Ingredients
Oil for frying (canola, vegetable or corn)

400

g

tilapia fillets (skinless) or use other white fish.

2

tbsp

plain flour generously seasoned with salt & pepper

1

packet of Japanese tempura batter mix (do it!)

1/4

firm green or purple cabbage (shredded)

1

packet of small taco corn tortillas

2

limes (cut into wedges)

1

medium white onion (thinly sliced)

1

bunch fresh cilantro/coriander (finely chopped)
Chipotle Cream Salsa
1

cup

sour cream

2-3

peppers and a little sauce from a can of chipotle peppers in adobo sauce

1

lime (juice of)

Salt & pepper
Spicy avocado salsa
1

ripe avocado (peel and stone removed)

1/2

lime (juice of)

1-3

serrano chillies (you decide how spicy) - seeded and chopped

1

tbsp

fresh cilantro

Salt & pepper
Instructions
For the chipotle cream salsa
Using a stick blender or food processor, blend all the ingredients together until smooth. Add a few Tablespoons of water to thin in down a little, to a double cream consistency. Decant into a squeeze bottle or bowl.
For the avocado salsa
Using a stick blender or food processor, puree all the ingredients until smooth. Add a few Tablespoons of water to thin it out to a double cream consistency. Decant to a squeeze bottle or bowl.
For the fish
Cut this fish into strips large enough to fit in a taco. Toss them into the flour to coat then shake off the excess.

Prepare the batter mix to the packet instructions and set aside.

Heat a pan with around 5-6 cm of oil until shimmering but not smoking around 190ºC/370ºF.

When the oil is hot, dip a strip of fish into the batter to fully coat, give a gentle wiggle to remove the excess and then place gently (away from yourself) into the oil. Do this with about 4 pieces at a time to avoid the oil reducing In temperature (it'll make them greasy) or crowding the pan where they'll stick together.

Fry for 4-5 minutes until golden brown and crisp. Remove and drain on paper towels. Repeat this process for the rest of the fish and then you're ready to serve!

Heat your tortillas in the microwave until just hot, then keep warm in a tortilla warmer or wrapped in a clean tea towel.

Serve the fish tacos in a bowl alongside the tortillas, cabbage, salsas, onion, cilantro/coriander and some fresh limes, plus any hot sauces you like. That's it, your job is done here! it's now the responsibility of your guests or family to create their tacos the way they want them.
Nutrition
Calories:
498
kcal
(25%)
|
Carbohydrates:
53
g
(18%)
|
Protein:
28
g
(56%)
|
Fat:
23
g
(35%)
|
Saturated Fat:
9
g
(56%)
|
Polyunsaturated Fat:
3
g
|
Monounsaturated Fat:
9
g
|
Cholesterol:
80
mg
(27%)
|
Sodium:
244
mg
(11%)
|
Potassium:
1018
mg
(29%)
|
Fiber:
12
g
(50%)
|
Sugar:
8
g
(9%)
|
Vitamin A:
1571
IU
(31%)
|
Vitamin C:
71
mg
(86%)
|
Calcium:
184
mg
(18%)
|
Iron:
3
mg
(17%)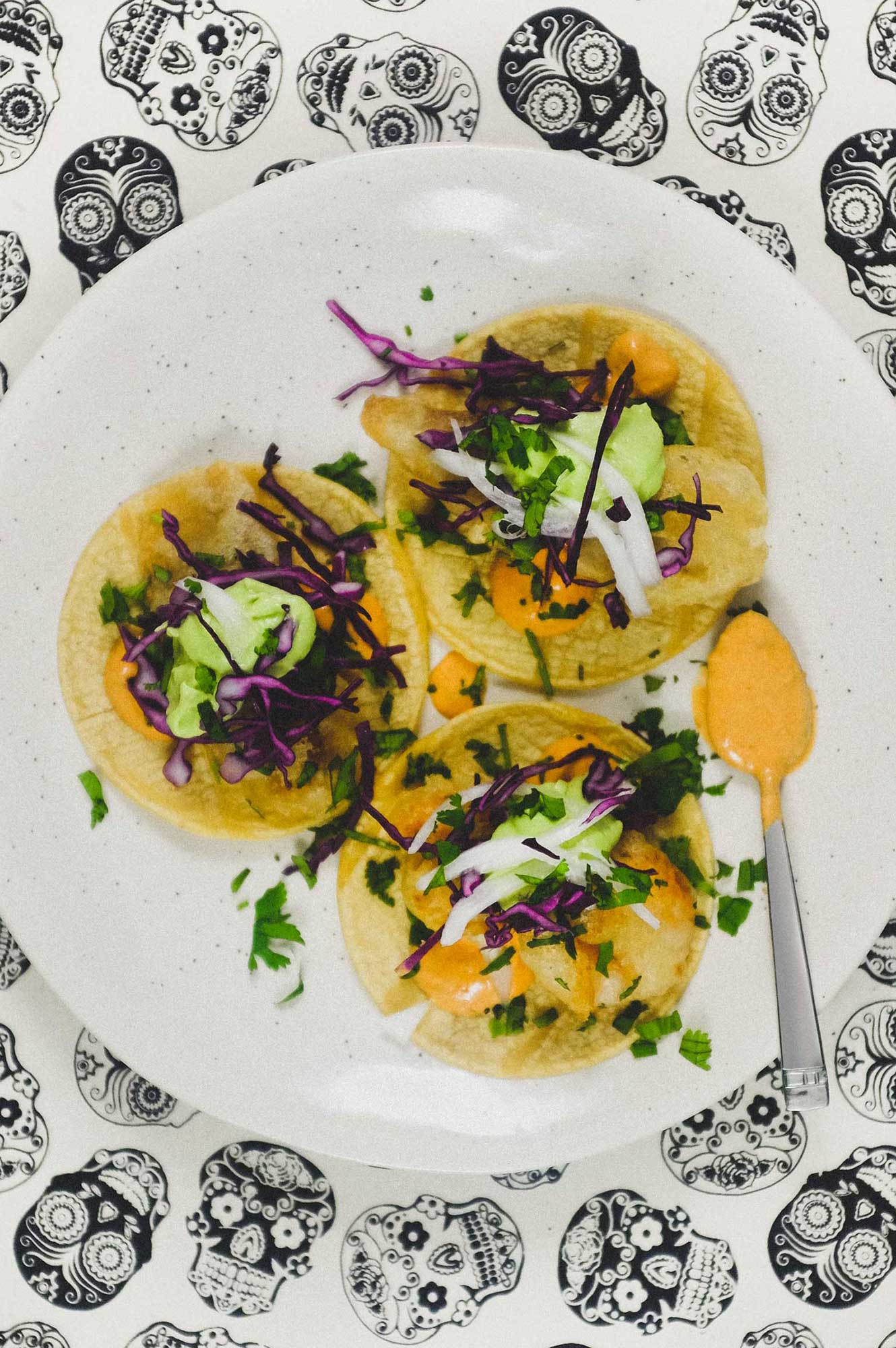 Did you make my Baja Fish Tacos from Ensenada?
How did you go? Let me know in the comments below and be sure to tag @cookeatworld at Instagram.