Mexican Chochoyotes with Chicken Soup
My Mexican chochoyotes recipe features delicious dimpled dumplings of masa flour cooked in a super flavoursome chicken soup. A humble, warming and intensely satisfying hug of a dish.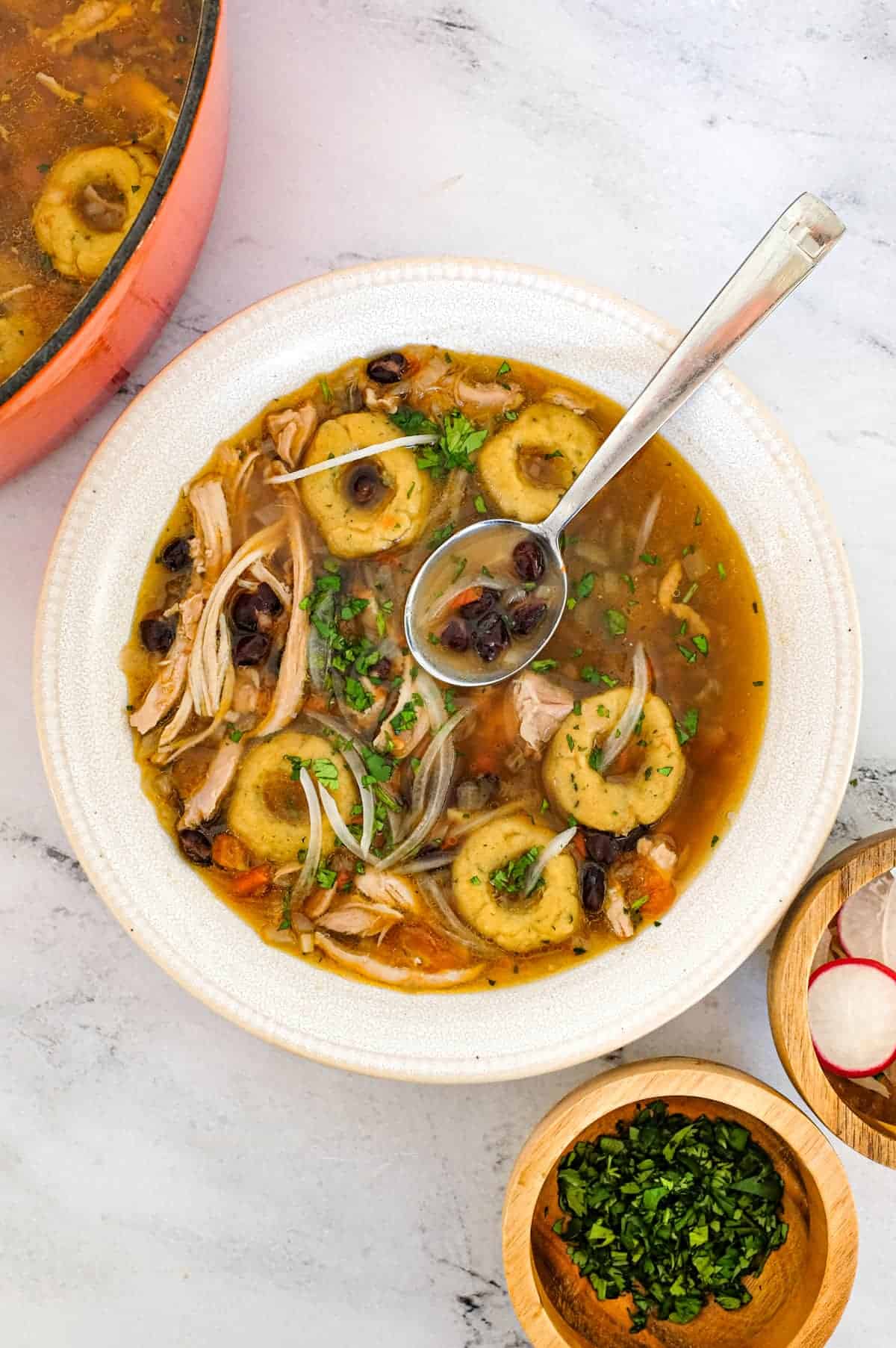 I lead with chochoyotes in my title because they really are the star of this soup. While the chicken soup is packed with flavour, the little unassuming dimpled balls of masa flour are the star of the show. Welcome little chochoyotes!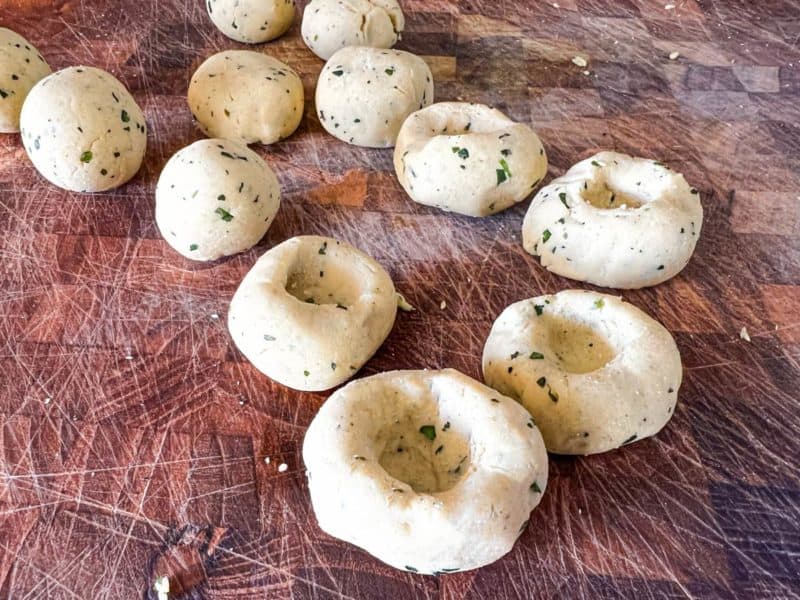 What are Chochoyotes?
Chochoyotes (also known as chochoyota, chochoyo or chochoyónare) are small dumplings - mini balls of dough enjoyed across Central and Southern Mexico.
They're traditionally dimpled by making a deep depression with a finger Into the ball to help cook them more quickly.
Typically, chochoyotes are cooked in a soup, broth, with beans or in a mole to give a dish more sustenance. I enjoyed my first taste of chochoyotes in Oaxaca City with a deliciously complex Mole Amarillo.
The texture of chochoyotes is a dense doughy feel with a wonderful corn flavour from the masa flour. Chochoyotes are typically a mix of masa flour (white, yellow or blue corn masa) and water, but often include a fat element such as oil or lard. Additionally, as with my recipe, they can also be mixed with fresh herbs (try cilantro, epazote or oregano) to give an enhanced flavour and delightful speckled appearance.
Mexican chicken soup for the soul
Warming, simple and filling, my Mexican chicken soup recipe is the perfect vehicle for chochoyotes. With few ingredients, it's simple to make and have bubbling along while you prepare the masa balls. It's a very substantial soup that combines chicken, beans AND chochoyotes. It makes for a perfect soul-warming-belly-filling lunch or dinner! No word of a lie, one of the tastiest soups I know.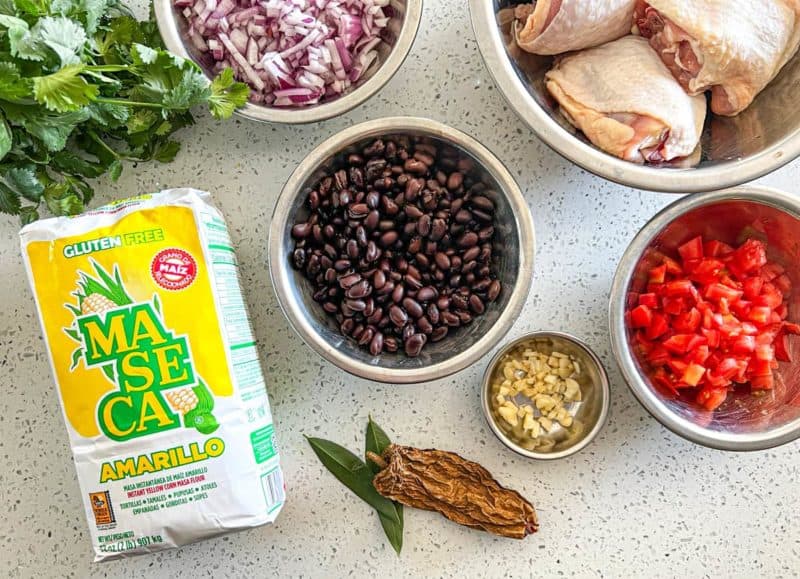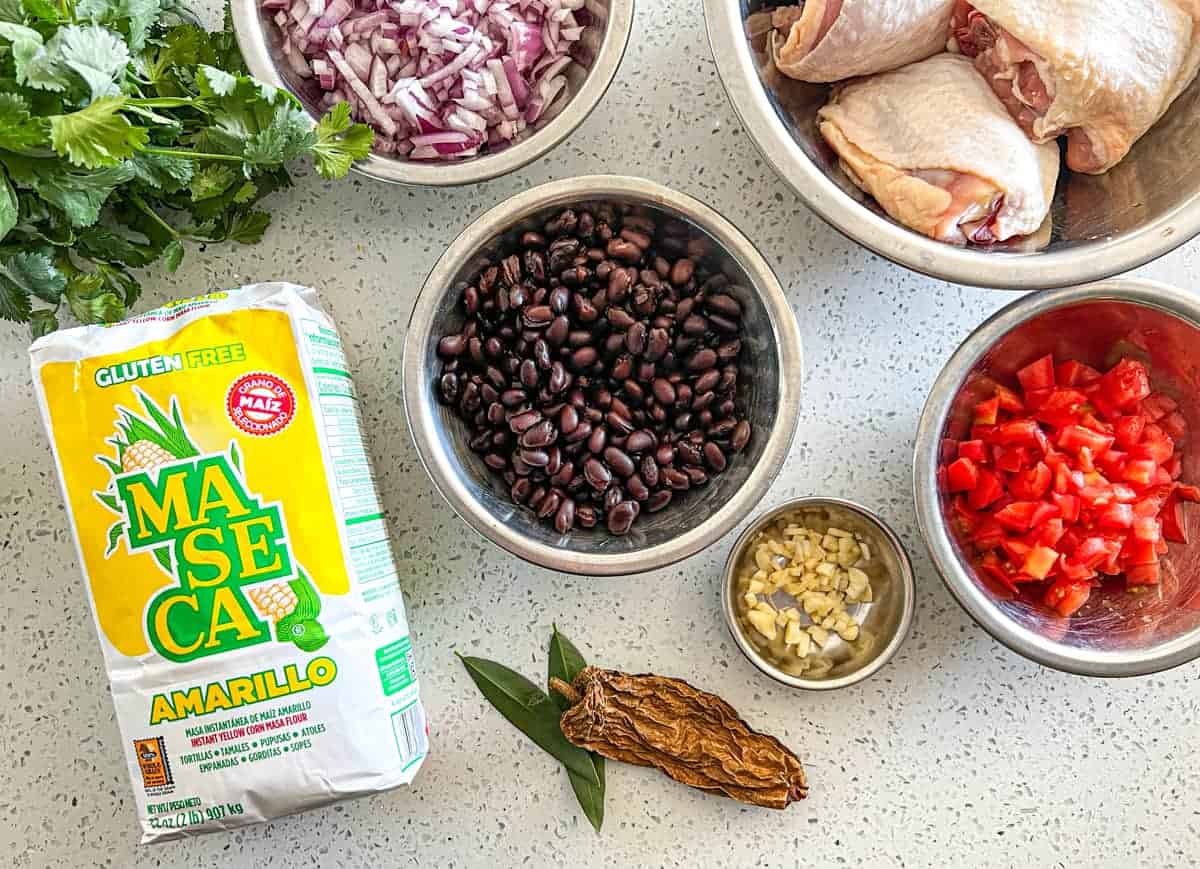 Stuff you'll need
Making this soup and chochoyotes couldn't be easier. Here are the key ingredients you'll need to make the magic happen. (There's a full recipe below)
Masa flour (Masa Harina) is dried and ground corn and the flour used for corn tortillas. It gives the chochoyotes their distinctive flavour.
Cilantro/coriander for added fragrance
Chicken thighs (bone in) - They make for a juicy addition to the broth and the bones from the thighs help give additional flavour
Dried chipotle chilli - chipotle are dried and smoked jalapeño chillies. One chipotle brings a light warmth and smokiness to the soup
Bay leaf

- lends

Its

distinctive flavour and aroma to the soup. This may well be the key ingredient to this soup!

Tomato - delivers a sweetness and orange hue to the broth.
Canned Black beans (frijole negro) are added at the end for an extra dimension of flavour and sustenance.
Step by Step
There only a few simple steps to making the soup and chochoyotes.
Making the soup - simply brown the chicken thighs, then sauté onion, garlic, the chilli, bay leaf. Then all the other ingredients are added (except the beans) to the pan with water and cooked for 1 hour.
Making the chochoyotes. While the soup is simmering, combining the masa flour, oil, salt and finely chopped cilantro with water creates a dough.
Shaping the chochoyotes. The dough is shaped into small balls and then using a finger, they are given a deep dimple in the centre to help them cook quicker.
Remove the chicken, add the beans and simmer a bit more.
Simmer the chochoyotes in the soup for 10-15 mins
Pull apart the chicken and return to the soup.
Scroll through the images to see step by step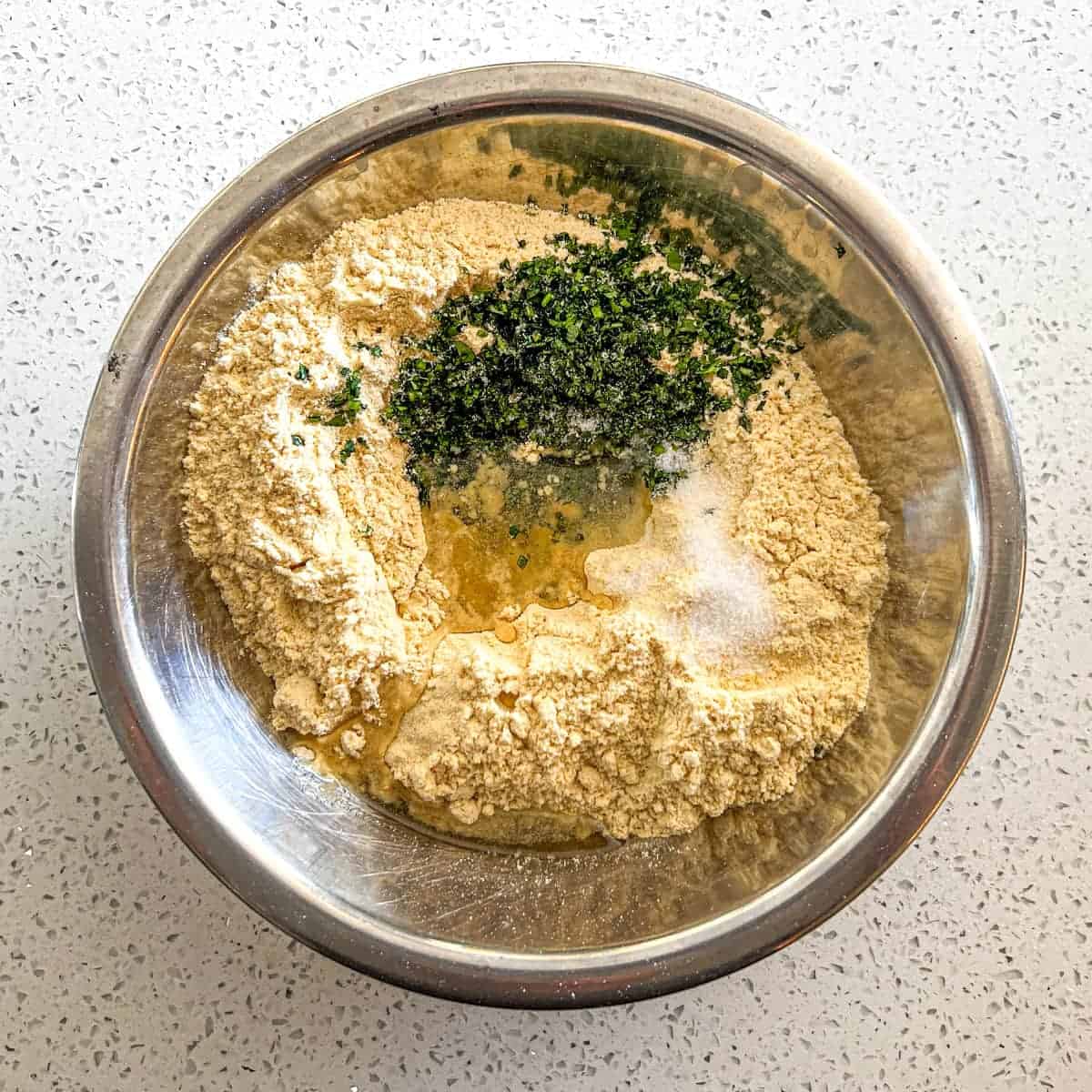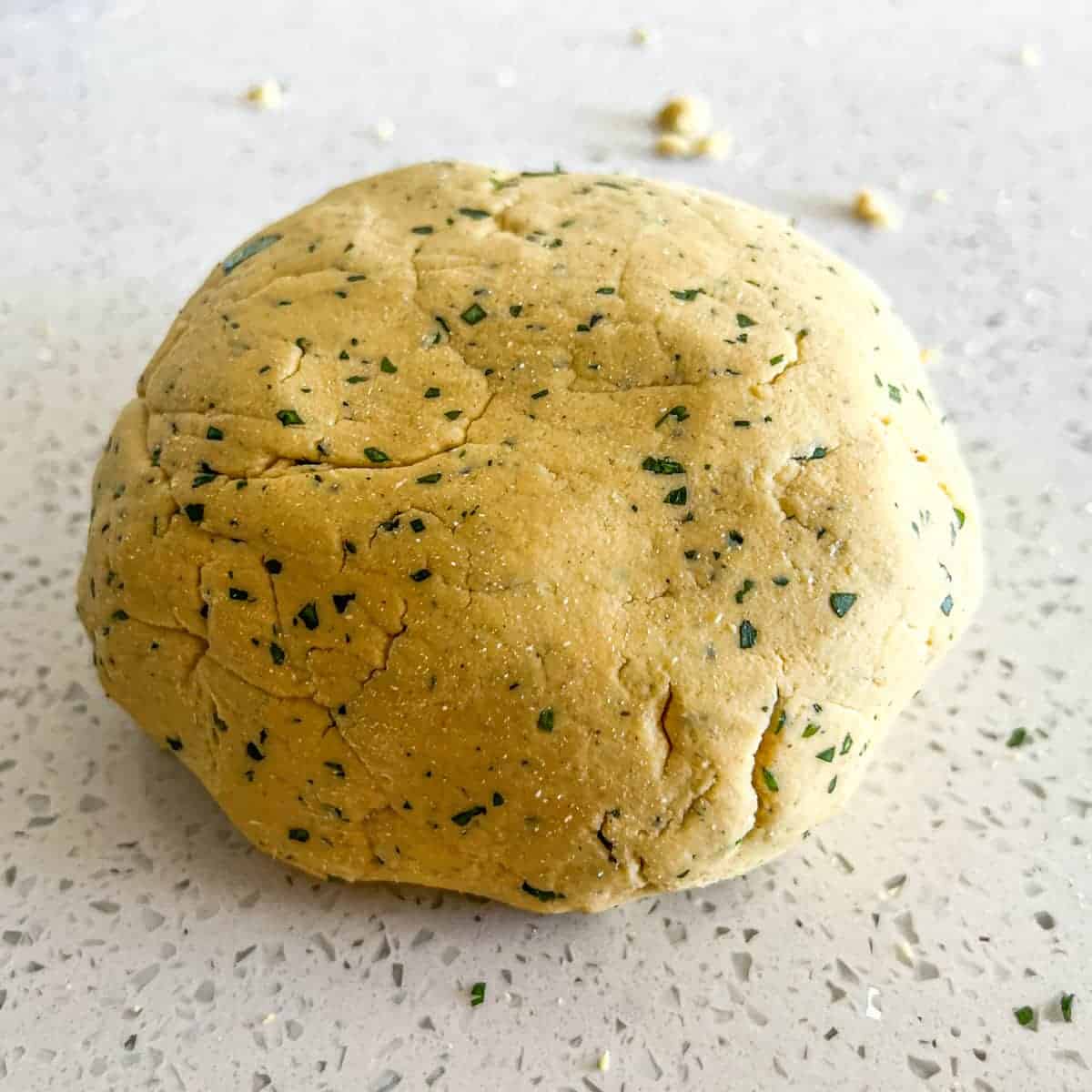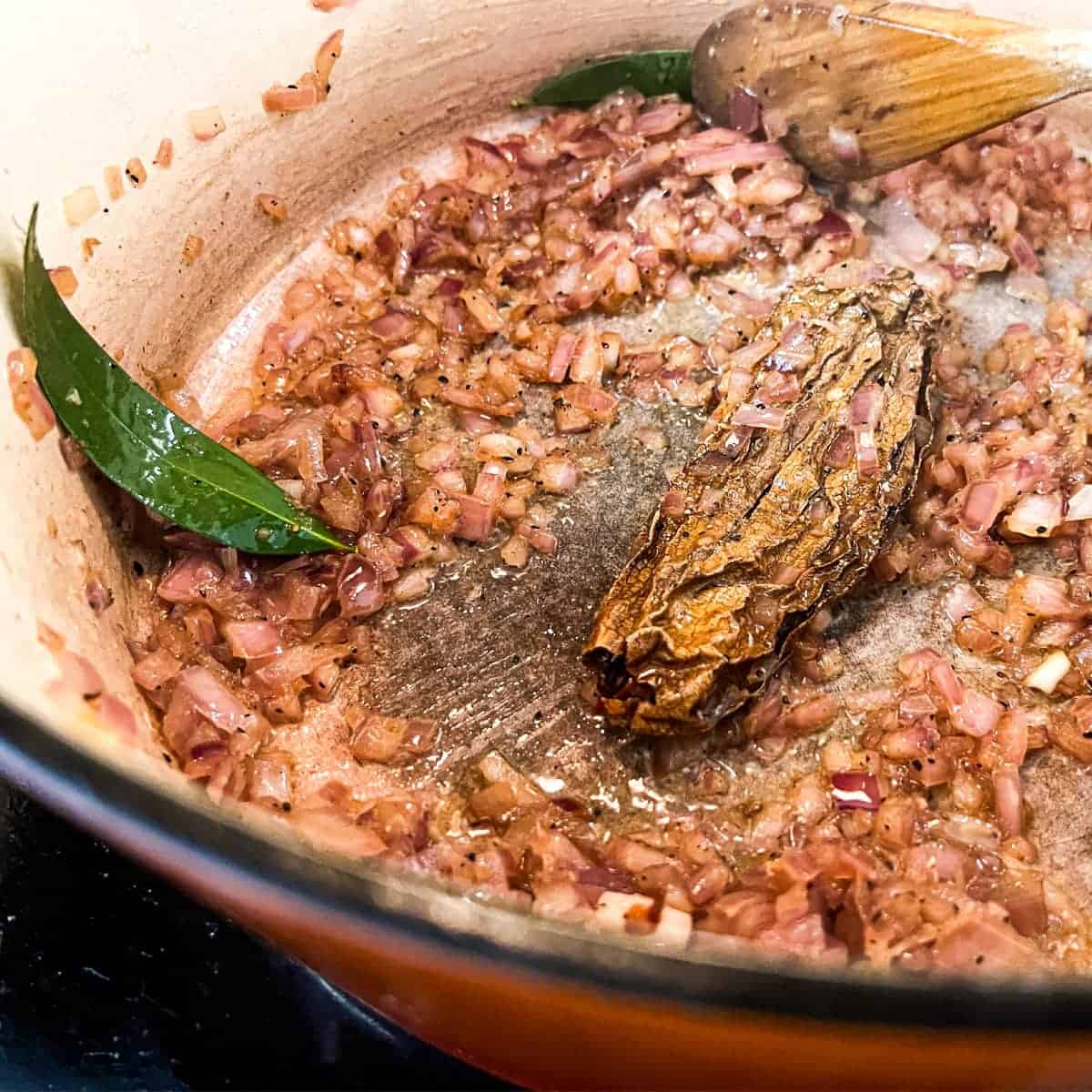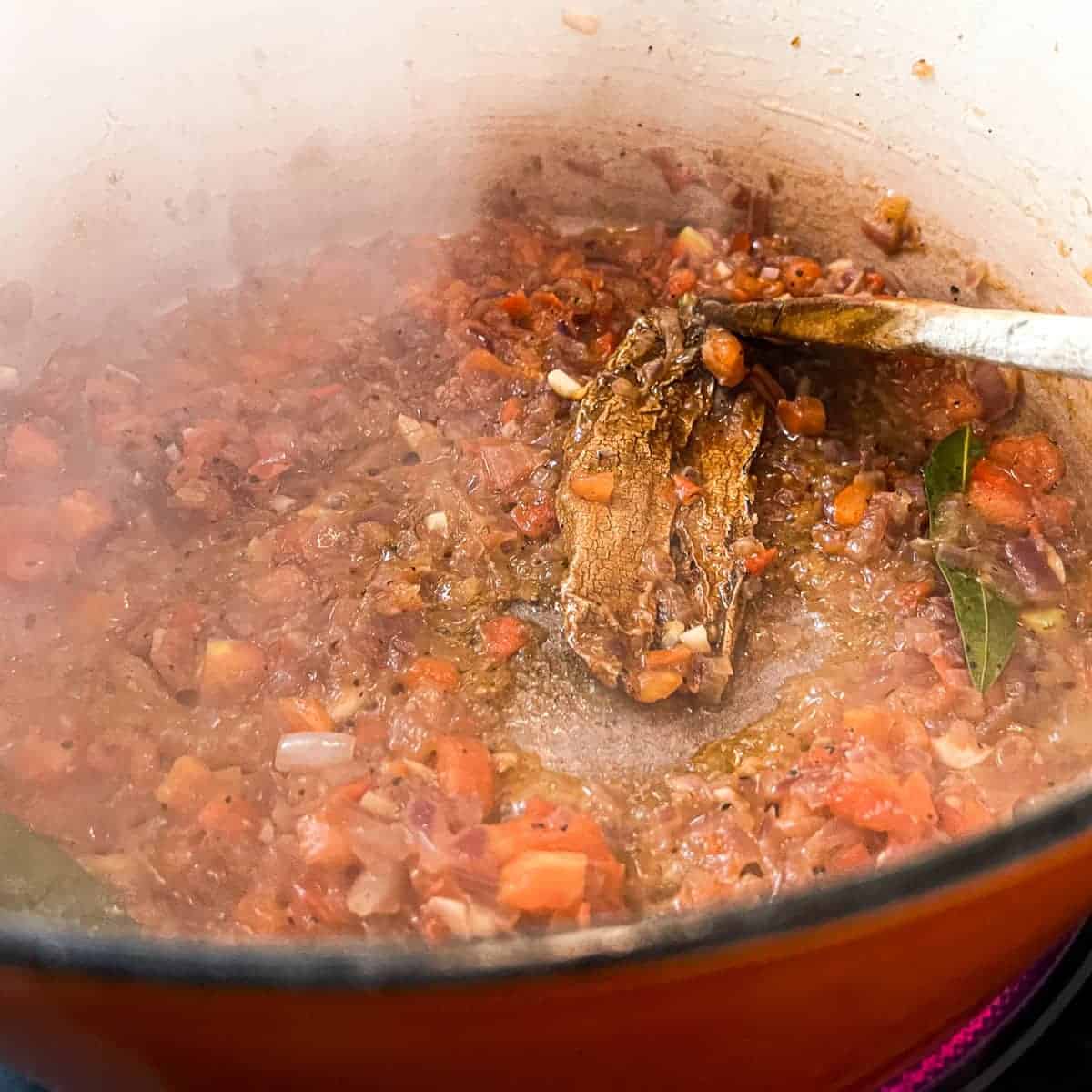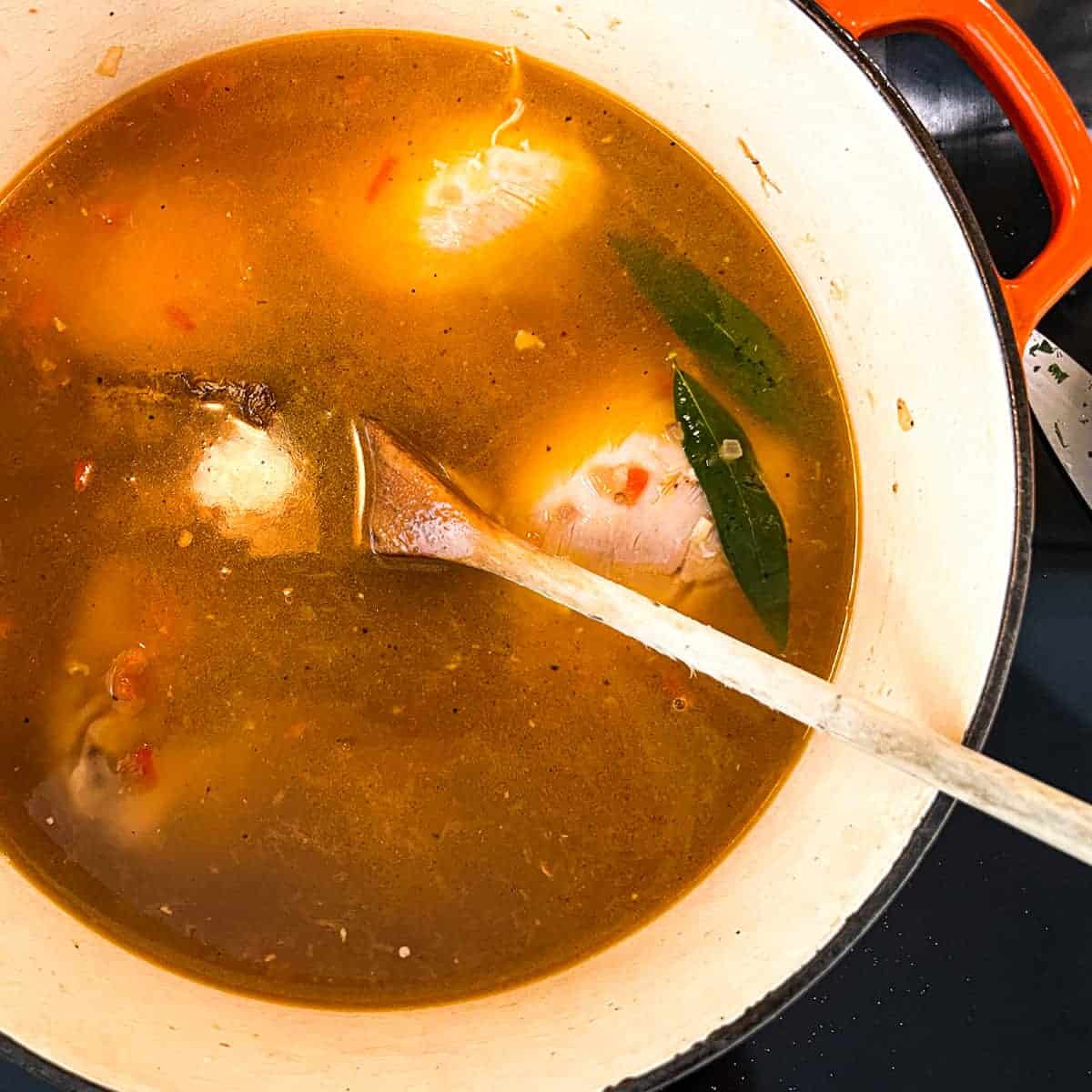 That's as taxing as it gets yet the results are so complex and flavourful. The soup is fragrant and warming, and filling! It's the perfect pop of flavour and a real taste of the amazing cuisine of Mexico.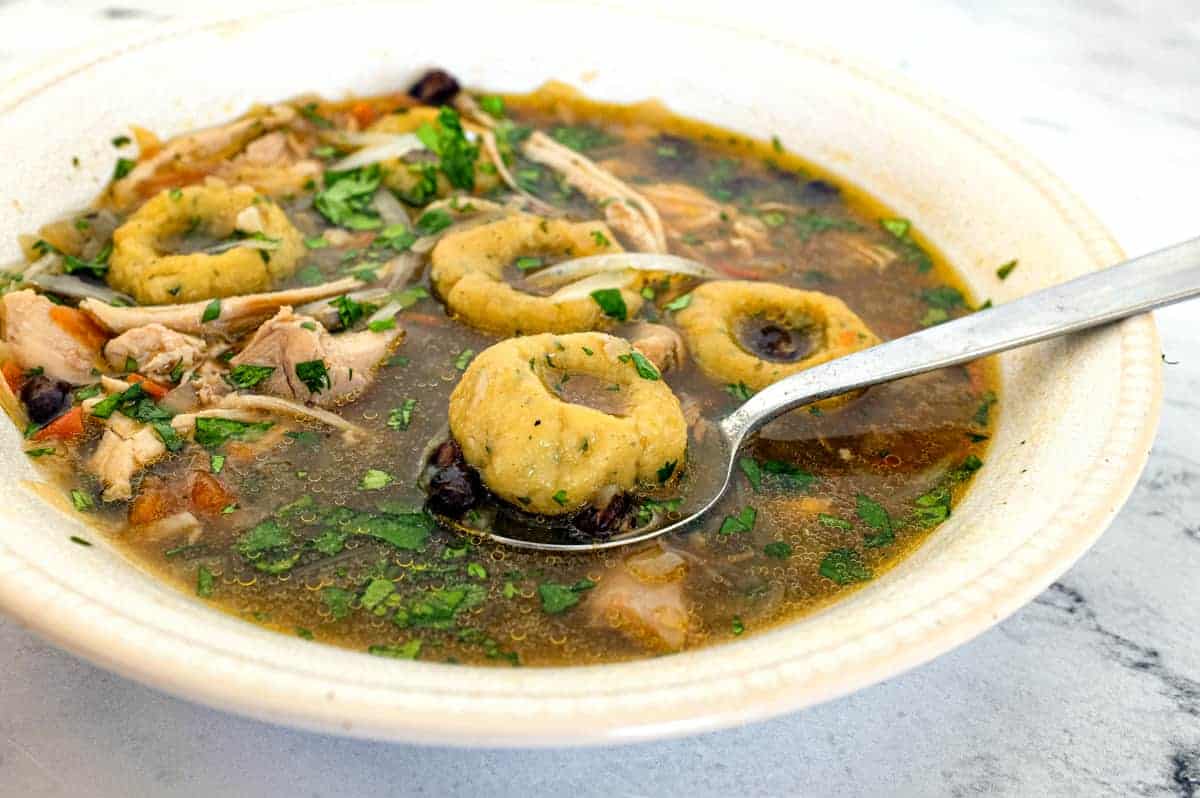 Pro Tips
The chcohoyote recipe creates a fair amount of dough. You don't need THAT many chochoyotes in the soup (I would say 3-5 per person), so if you have any dough left you can use up in a variety of ways:
Roll into tortillas or flatten using a tortilla press then cook for 30-40 seconds each side. Then serve them with your favourite taco filling.
Fry the cooked or raw tortillas in some oil until they crispen and serve as chips with beans, dips or as a splendid Chilaquiles breakfast.

Fry up strips of the tortillas and sprinkle over soups and stews.
Frequently Asked Questions (FAQ)
Where are Chochoyotes from?
You'll find them eaten across all of Mexico, but specifically in Central and Southern parts of the country, especially Oaxaca.
What is Masa Harina?
Masa Harina is flour made from corn that has been soaked in limewater (calcium hydroxide) to create hominy. It's then dried and ground into flour. It's the flour used in many preparations like tortillas, tamales and pupusa)
Is masa flour the same as corn flour?
No, they are completely different. Masa flour is created with calcium hydroxide, which gives the flour its very distinctive taste. Corn flour /cornstarch is not suitable as a substitute for this recipe.
More delicious Mexican recipes
If you enjoyed this Chochoyote recipe, then I know you'll just love some more of my Mexican flavours. You can also see all these and more at My Best Mexican Recipes in the Cook Eat World.
How to make Mexican Chochoyotes with Chicken Soup
Mexican Chochoyotes with Chicken Soup
Rate this recipe
Print Recipe
Pin Recipe
Save Recipe
Go to Collections
Calories (per serving) |
444
Ingredients
For the Chicken Soup
2

tbsp

olive oil

3

chicken thighs

(skin on or off, bone in if possible)

1

onion

(finely chopped)

1

bay leaf

2

garlic cloves

(chopped)

1

tomato

(chopped)

1

can

black beans

(frijole negro) (400g/12oz)

1

tsp

salt
For the Chochoyotes
3

cups

masa harina

(350g)

2

tbsp

vegetable oil

1

tsp

salt

2

tbsp

cilantro

(very finely chopped)

1 ⅓

cups

warm water

(330ml approx)
Instructions
For the Chicken Soup
Heat the oil in a large pan or casserole pan until just hot then add the chicken and brown on all sides for about 8 minutes. Remove from the pan.

Add the Chipotle pepper and onion and sauce for 5 minutes until the onions are lightly browned and softened. Add the garlic and tomato and stir for 2-3 minutes until the tomato has broken up a little.

Return the chicken to the pan and add around 6 cups (1 1/2 litres) of water and the salt. Bring to a light boil then reduce the heat to low and simmer gently for 1 hour (covered).

While the soup cooks, you can prepare the chochoyotes (see below)

Remove the chicken pieces and set aside to cool. Drain and rinse the beans then add to the soup and simmer for a further 5 minutes.

Carefully add the chochoyotes and simmer for 10 minutes.

Meanwhile, strip the chicken from the bone roughly pull apart - discard the bones and skin if you left it on. Return the chicken to the pan, stir well, and cook for 5 minutes more. The chochoyotes should now be fully cooked.

Serve hot garnished with chopped cilantro, radishes and thinly sliced white onion.
For the Chochoyotes
Combine the flour, oil, salt and chopped cilantro. Add the water and bring together into a soft dough (like play-dough). Add a little extra water if needed.

Knead for a couple of minutes then leave for 10 minutes to relax the dough.

Take a little piece of dough and make a ball about half the size of a ping pong bal about 15g/½oz. Using your thumb, press a deep indent into the ball and set aside. Repeat this process for as many as you need (I'd say around 3-5 per person)

Cover and set aside while the soup cooks
Notes
Leftover Dough
This recipe has a fair amount of dough, so if you have any leftover that you don't want to shape into chochoyotes, you can:
Roll into small balls and flatten in a tortilla press between plastic or roll out between plastic into tortillas. Heat for 30-40 seconds per side in a non stick pan and use as you would for tacos.
Make tortillas as above and drop fry to make tortilla chips
Make tortillas as above and cut into think strips then deep fry. Sprinkle over soups and stews like Pozole Verde, Pozole Rojo, Pozole Blanco or Mexican Chicken & Sweetcorn Soup
Nutrition
Calories:
444
kcal
(22%)
|
Carbohydrates:
57
g
(19%)
|
Protein:
19
g
(38%)
|
Fat:
17
g
(26%)
|
Saturated Fat:
4
g
(25%)
|
Polyunsaturated Fat:
4
g
|
Monounsaturated Fat:
8
g
|
Trans Fat:
1
g
|
Cholesterol:
55
mg
(18%)
|
Sodium:
825
mg
(36%)
|
Potassium:
494
mg
(14%)
|
Fiber:
8
g
(33%)
|
Sugar:
2
g
(2%)
|
Vitamin A:
350
IU
(7%)
|
Vitamin C:
5
mg
(6%)
|
Calcium:
102
mg
(10%)
|
Iron:
6
mg
(33%)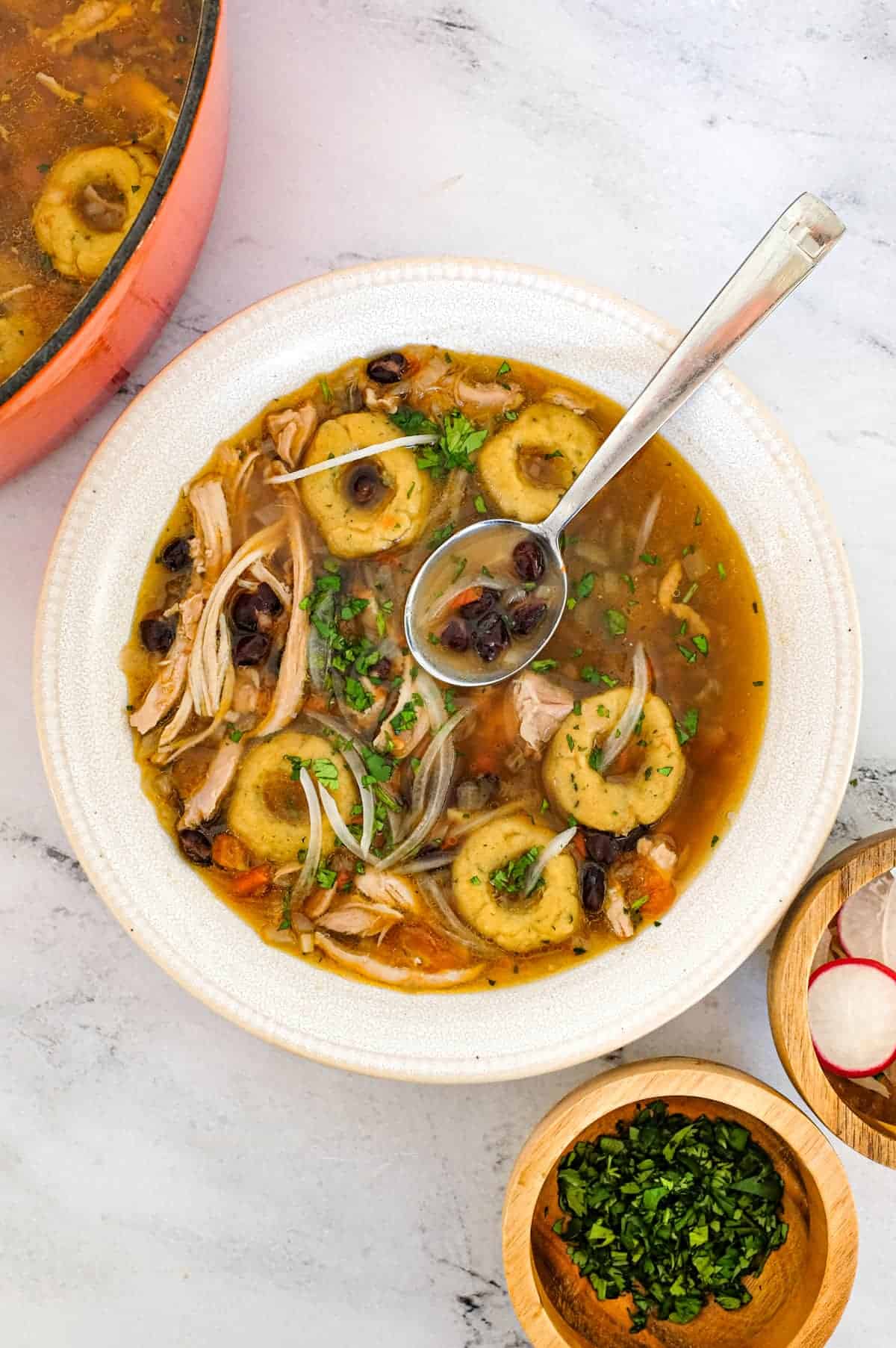 Did you make my Mexican Chochoyotes with Chicken Soup
How did you go? Let me know in the comments below and be sure to tag @cookeatworld at Instagram.