Learn all about this rustic regional dish from the UK – a wonderful pea condiment that is a staple on tables all across the North East of England. It's a nostalgic treasure from my homeland! Learn how…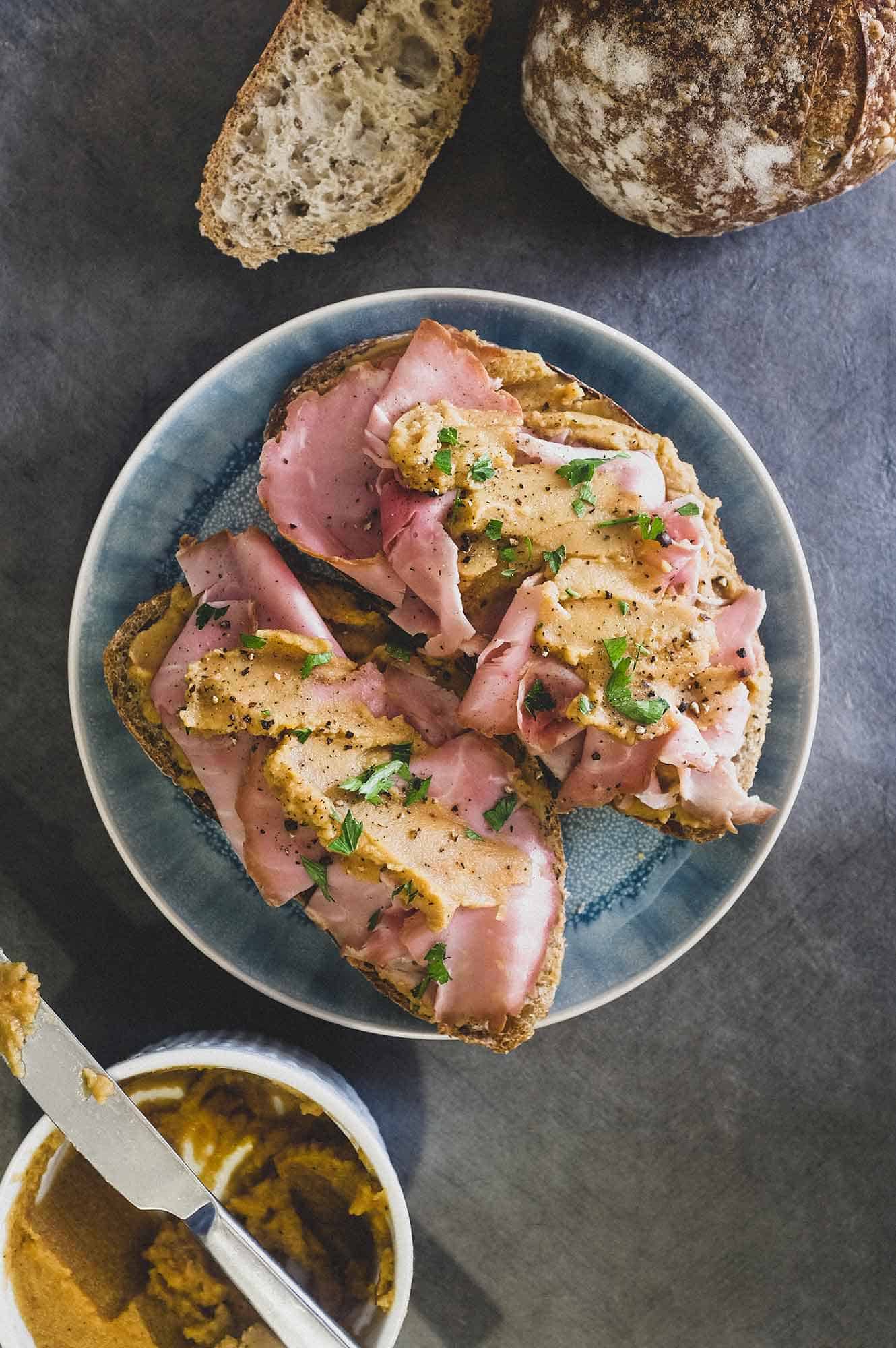 Ham & Pease Pudding is the taste of my childhood. Few culinary combinations are guaranteed to leave me a little teary-eyed like the mere thought of ham & pease pudding. In fact, my nickname as a child was 'Peasy' - partially due to my love for pease pudding.
Pease pudding is a simple, humble spreadable condiment made from split yellow lentils (or Chana Dal if you're Indian). It's traditional to the North East of England (my people!). It's found in every sandwich shop, supermarket and deli and it's delicious!
As far as I'm concerned, it's always spread liberally on a wedge of Stottie Bread with slices of ham. I don't have the patience to make my own Stottie bread i'm afraid, so I use a crusty loaf instead. I make it once a year, between Christmas and New Year to eat with the mountains of leftover ham I have or am about to have. Sometimes I dispense with the bread altogether, and eat it spread over a thick ham slice. Sometimes, I dispense with the ham and eat it from the fridge with a spoon. Sometimes I dispense with the spoon.
Pease pudding hot, pease pudding cold.
I have been singing this nursery rhyme since I was a toddler. We regularly sang it, en masse at school as little people, and any time i make pease pudding it's embedded in my head for days. In all my years I've never eaten it hot - always cold and always spread liberally on bread with sliced ham. And never in my life has it made it to nine days old.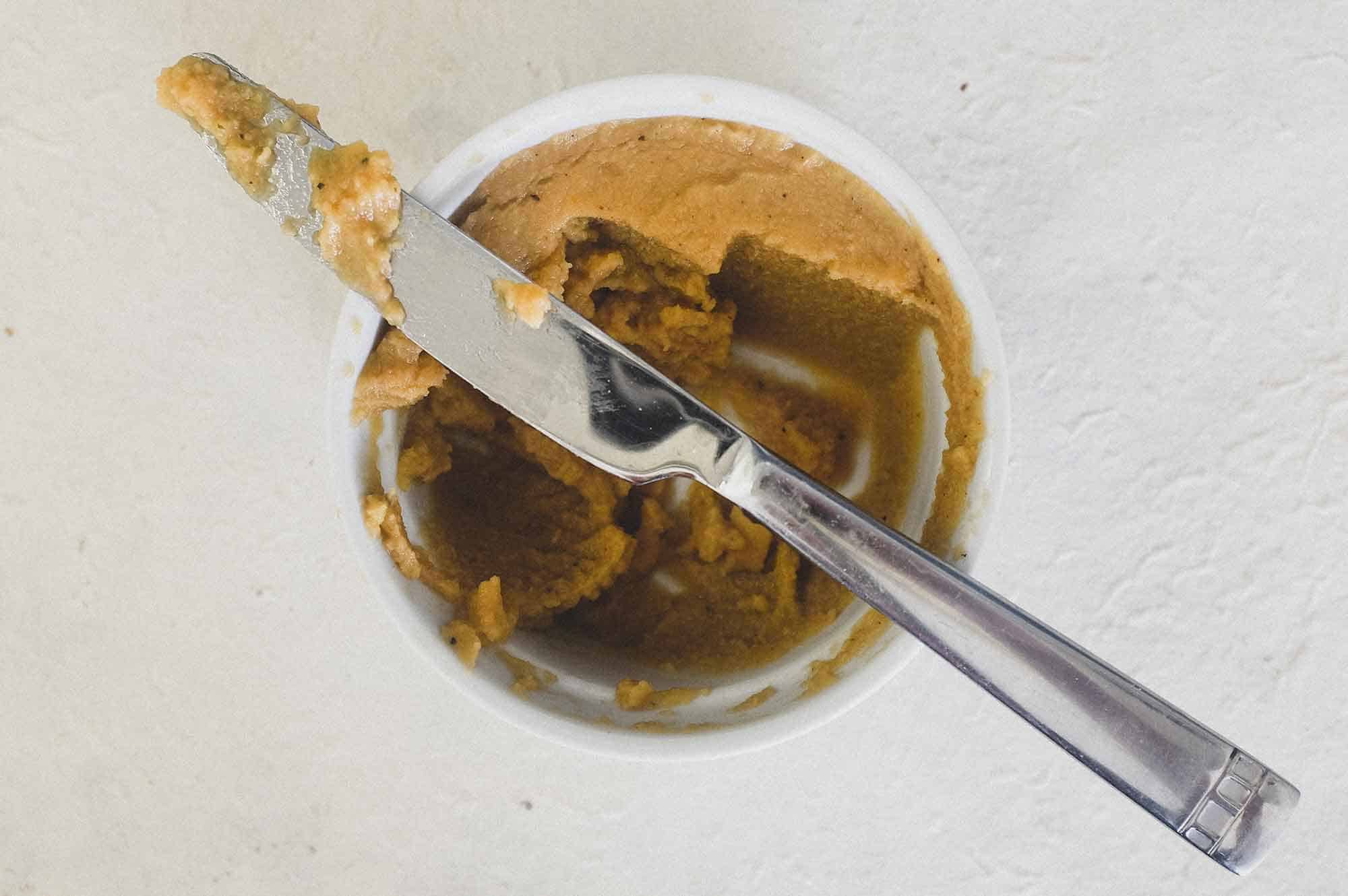 Pease pudding is a very simple thing to cook at home. It's light on ingredients but big on nutty, lentil, smoky ham flavour with a lovely smooth texture. If ever I need a fix of nostalgic Northumbrian flavour - I'll whip out the split lentils and make a batch of pease pudding. If you're looking for an authentic regional British flavour, not found anywhere else in the UK. This is my personal recipe. Super simple, super authentic. I'm tearing up. 😥 Enjoy.
If you have leftover split lentils, which will probably be the case, give my delicious Pakistani Lahore Chicken Curry a try - it makes great use of them.
How to make my Ham & Pease Pudding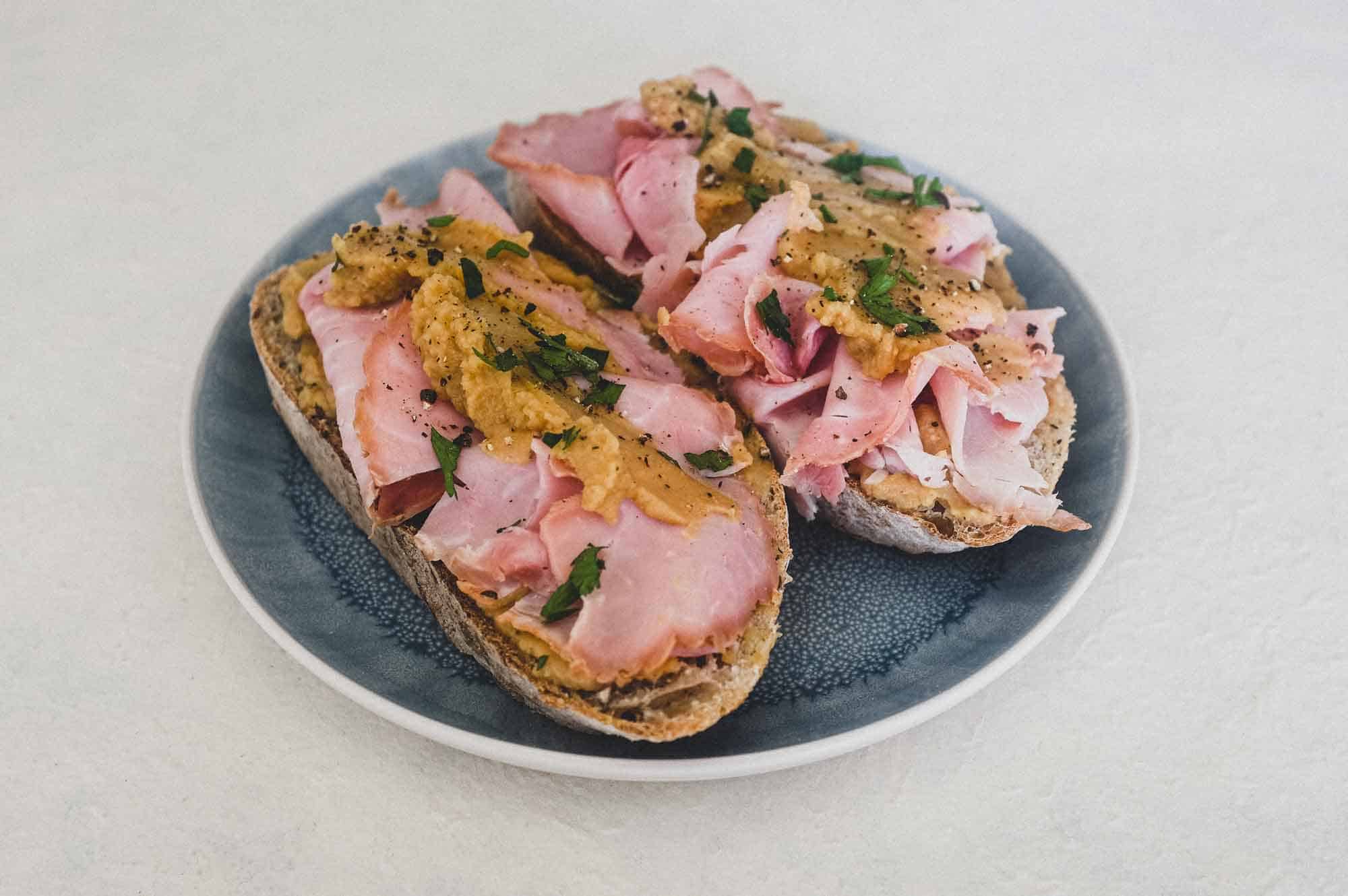 Ham & Pease Pudding
Rate this recipe
Print Recipe
Pin Recipe
Calories (per serving) |
123
Ingredients
For the pease pudding
1

cup

split yellow lentils

1/2

medium onion (peeled & diced)

1

small carrot (diced)

1

celery stick (chopped)

2

slices smoked bacon

1

tbsp

malt vinegar

Salt & pepper
Instructions
Add all the pease pudding ingredients to a pan and cover with 4 cups water. Bring to a boil, then reduce the heat to low and simmer, uncovered for 1 - 1 1/2 hours until the lentils are tender and not grainy.

Remove the bacon and bay leaves, and carefully pour away any liquid - it'll make the pease pudding too watery. Using a hand blender, blitz into a smooth puree.

Add the vinegar and check for seasoning, adding a little salt or pepper as you see fit. Decant to a bowl, cover with plastic wrap and refrigerate for a couple of hours or overnight.

To serve, spread liberally on bread and add slices of ham.
Nutrition
Calories:
123
kcal
(6%)
|
Carbohydrates:
21.3
g
(7%)
|
Protein:
8.6
g
(17%)
|
Fat:
0.5
g
(1%)
|
Saturated Fat:
0.1
g
(1%)
|
Sodium:
17
mg
(1%)
|
Potassium:
366
mg
(10%)
|
Fiber:
10.3
g
(43%)
|
Sugar:
1.6
g
(2%)