Ayam Masak Merah (Malaysian Chicken in Spicy Tomato Sauce)
Ayam Mesak Merah is a rich and fragrant Malaysian Red Chicken Curry. Packed with South East Asian aromatics in an intensely flavourful, tangy coconut sauce that coats juicy chunks of chicken.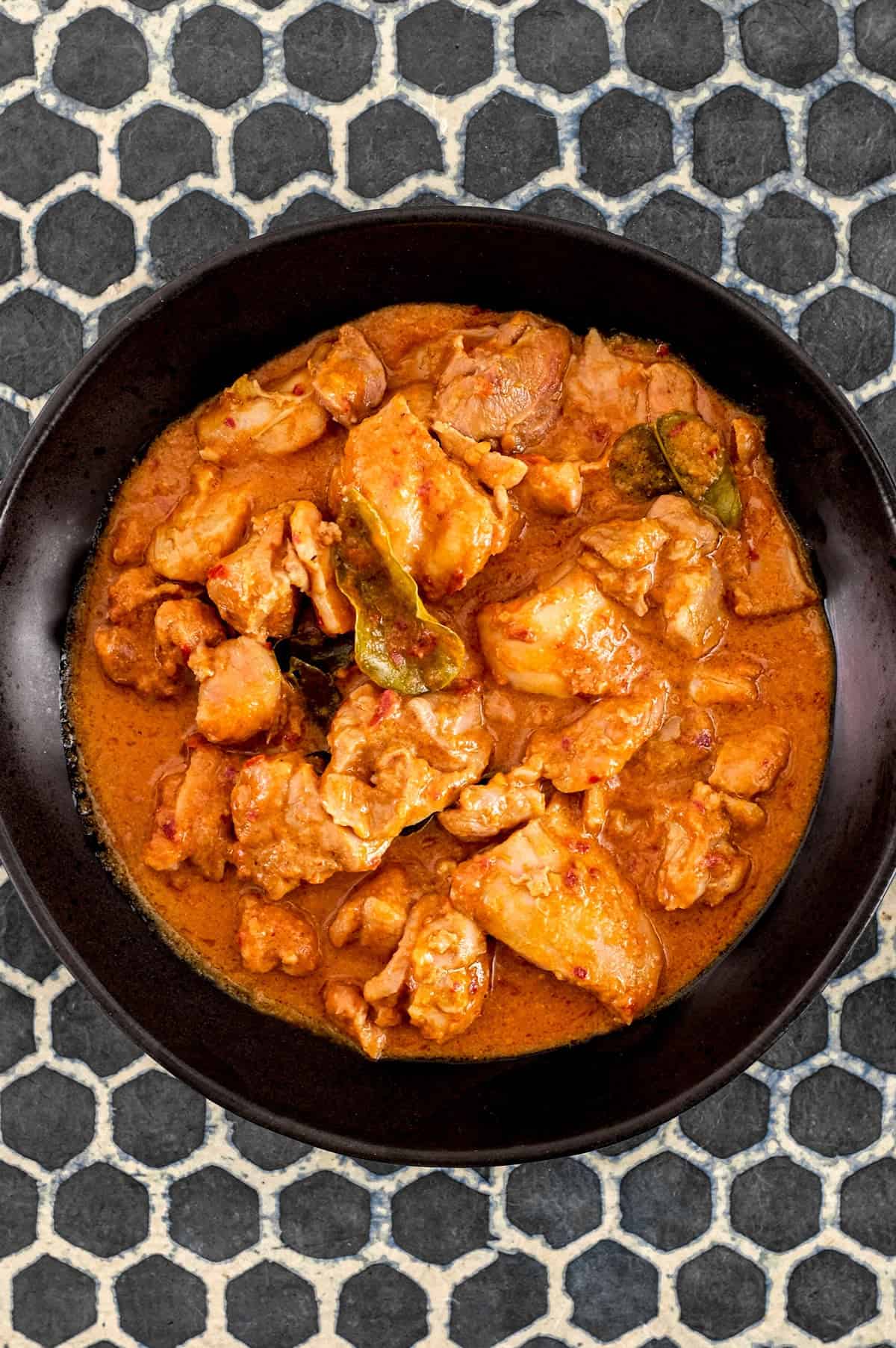 Ayam Masak Merah is a wonderful Malaysian chicken curry. Just like my delicious Malaysian Kari Ayam and Ayam Kleo curries, Ayam Merah is a harmonious combination of sweet, sour, spice and salt, but for this kari recipe the addition of tomatoes adds a warm red hue to the gravy alongside a rich, tangy layer of flavour. It's a great weekday curry and a quick and easy choice - ready in no time, it's a crowd-pleaser any night of the week.
What is Ayam Masak Merah?
In essence it translates as 'Chicken cooked red', or as we would describe it, a Malaysian Red Chicken Curry. Ayam Masak Merah is popular throughout Malaysia and Singapore and has a vibrant, fragrant sauce that characterises all the colour and flavour of South East Asian curries.
Stuff you'll need
Making curries from scratch can often feature a giant roll-call of ingredients. My ayam masak merah recipe keeps it to the bare minimum to achieve that super-authentic experience of colour and flavour.
Chicken (I always use skinless & boneless thigh meat - it's juicer and won't dry out like chicken breast will)
Rempah Paste - my Ayam masak merah paste is a smooth blend of

chillies, c

andlenuts or macadamia,

ginger,

galangal,

garlic,

shrimp paste,

shallots and

sugar. This acts as the main base of flavour.

(

Candlenuts, known as Kemiri in Indonesia help bind the paste and make the sauce creamy. You can use macadamia as a close substitute or switch out with peanuts or cashews).
Tomato - To lend its vibrant colour, tomatoes put the red in the red curry along with a sweet tanginess.
Aromatics - To enhance the flavour even more, the chicken is cooked with some kaffir lime leaves and lemongrass
Coconut milk - brings the luxurious, creamy texture to the addictively delicious sauce.
Step by Step
To make the best Ayam Masak Merah is not difficult at all - the curry can be broken down into 3 stages.
Make the rempah - the Ayam masak merah paste is as simple as soaking the dried chillies for a while and then blending together all the rempah ingredients in a blender until smooth.
Fry the paste with some coconut milk and then add the chicken.
Follow with the rest of the ingredients and simmer for 30 minutes. The curry is ready!
Click arrows or swipe to scroll through how-to images
Pro tips and substitutes
Store bought curry paste - If time isn't on your side, you can substitute the rempah (spice paste) with a pre-made Thai red curry paste. Many of the ingredients are the same so you'll create a similar result.
Add a fresh element - Up the red by stirring in large chunks of fresh tomato at the end - it'll add a wonderful texture and freshness to the final dish.
Go seafood - Instead of chicken use fish or shrimp/prawns. Add the lemongrass and lime leaves at the same time, but don't add the seafood until the sauce has been simmering for 20 minutes. Cook the seafood for 5-10 minutes and serve.
Freeze it - For curry in a hurry, Ayam Masak Merah freezes excellently. Portion it up with rice for the best meal prep curry. While your curry is reheating in the microwave you could also cook up a couple of frozen flaky, buttery paratha breads for a quick and easy roti canai. The ultimate Malaysian treat!
Leftovers will stay fresh in the fridge for 4-5 days. Dare I say it, Ayam Masak Merah improves even more with age...
More Malaysian recipes
If you're a fan of Malaysian and Singaporean dishes, you have to try my favourites! All of them!!
Ayam Masak Merah 
(Malaysian Chicken in Spicy Tomato Sauce)
Rate this recipe
Print Recipe
Pin Recipe
Calories (per serving) |
621
Instructions
To make the paste (rempah)
Soak the red chillies for 10 minutes in 1/2 cup just boiled water, then drain.

Add them to a food processor with all the other paste ingredients and blend until smooth. Alternatively, use a stick blender to blend them together.

----

You can also pound until smooth in a pestle and mortar, starting with the chillies, galangal and ginger then shallots, candlenuts, garlic, shrimp paste and sugar one by one.
To make the curry
In a wok or saucepan, heat the oil until hot then add the curry paste along with half the coconut milk. Fry for 5 minutes until the raw onion smell is gone. Add the chicken, lime leaves, lemongrass and salt and cook for a further 5 minutes.

Add the tomato, remaining coconut milk and 1 cup of water and bring to a simmer. Reduce the heat to low and simmer gently for 30 more minutes until the chicken is cooked through and the sauce is thick and creamy. Add a little water if the sauce thickens too much.

Stir in the tamarind pulp and simmer for 1 minute.

Remove from he heat and serve, scattered with cilantro with lots of fluffy jasmine rice.
Notes
Better flavour
Make a day ahead - the flavour is even better once it's sat in the fridge for 24 hours. Trust me!
Alternative suggestions
Store bought curry paste - Thai red curry paste makes for a great alternative to blending your own. They have a similar taste profile so if you're short on time, this is a good option.
Stir-in additions - At the end you can stir in some fresh tomatoes to accentuate the red colour and give a burst of freshness. Be sure to also squeeze over some fresh lime too to bring a pop of zing.
Make it a seafood recipe - Instead of chicken, try shrimp/prawns or fish. When the sauce has been simmering for 20 minutes, add the seafood and cook for 5-10 minutes until cooked through.
Storage
Freezing - This curry freezes well, simply portion up and cook for 5-7 minutes in the microwave from frozen or until piping hot. Serve with rice or Indian bread. The curry will stay good for 3-4 months in the freezer.
Refrigeration - The curry will be good in the fridge for 3-4 days.
Nutrition
Calories:
621
kcal
(31%)
|
Carbohydrates:
16
g
(5%)
|
Protein:
31
g
(62%)
|
Fat:
50
g
(77%)
|
Saturated Fat:
26
g
(163%)
|
Polyunsaturated Fat:
6
g
|
Monounsaturated Fat:
13
g
|
Trans Fat:
1
g
|
Cholesterol:
172
mg
(57%)
|
Sodium:
612
mg
(27%)
|
Potassium:
776
mg
(22%)
|
Fiber:
2
g
(8%)
|
Sugar:
7
g
(8%)
|
Vitamin A:
440
IU
(9%)
|
Vitamin C:
8
mg
(10%)
|
Calcium:
63
mg
(6%)
|
Iron:
4
mg
(22%)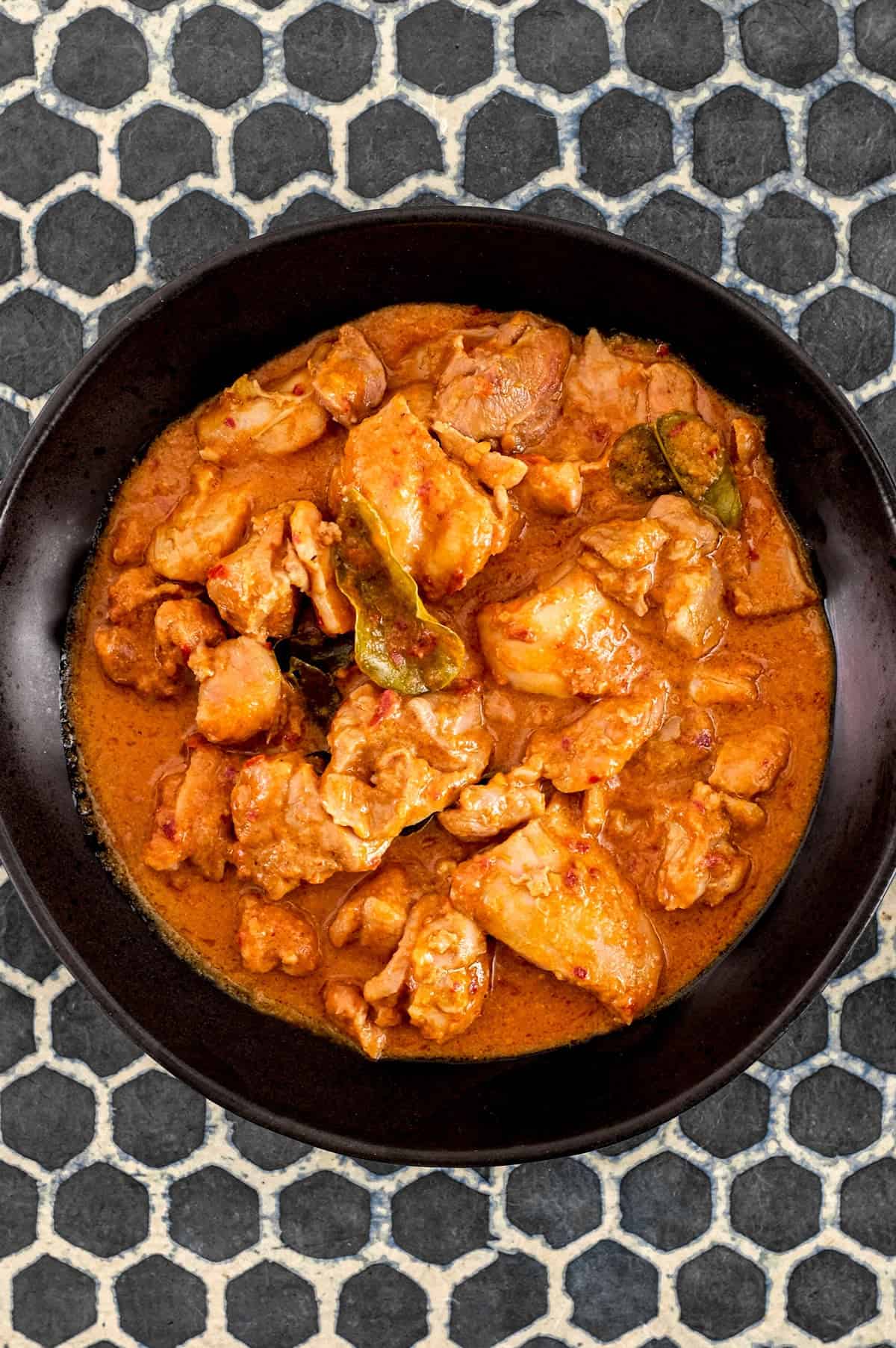 Did you make my Ayam Masak Merah (Malaysian Chicken in Spicy Tomato Sauce)
How did you go? Let me know in the comments below and be sure to tag @cookeatworld at Instagram.
This site contains affiliate links to products. We may receive a commission for purchases made through these links. Learn more.