Filipino Pork & Vegetable Adobo
Filipino Adobo is a national treasure, with many variations from family to family. My recipe is a lighter, more wholesome take on the classic recipe. Soft pork, tasty sour gravy, with the addition of a few hidden veg! Learn how…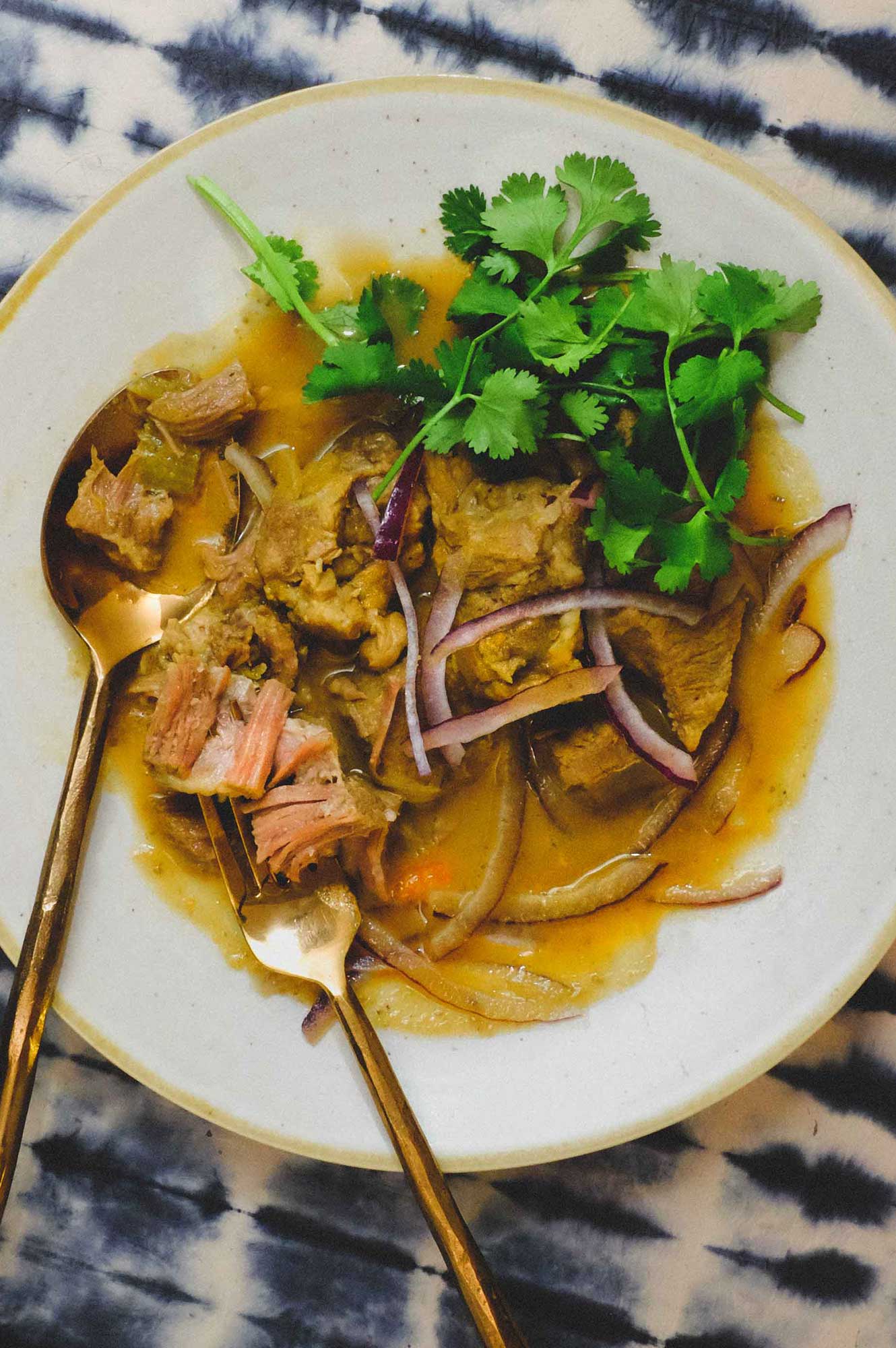 This Filipino Pork & Vegetable Adobo is an adaptation from the more traditional recipes that don't really seem to care to include many veg. I love Filipino food, but I always order all the bad stuff (not bad in flavour - bad in nutrition). So, when I cook this at home I create a lighter version that has actual nutrition.
There's nothing more that I LOVE in life than pork belly, but as my own belly can attest. I can't always have what I want, so I choose pork butt for my version - it still has some fat which keeps the pork moist, but it's a 90/10 meat/fat split rather than the 20/80 meat/fat of pork belly. It's the responsible thing to do. Sad face.
To help lighten the sauce I add vegetables, which I'll blend at the end. I think it adds flavour and creates a creamier texture and not just a sea of oil which, as much as I like, is not good!
A roll of the eyes
I'm sure there are lots of scoffing Filipinos out there who are rolling their eyes at my recipe. But to them I say, "rather they roll their eyes, than roll me out the house like a giant ball". As is the tradition with Adobo, every family has its own recipe - nobody can agree on what is what. So following that tradition, this is MY family recipe - no squabbling.
So, to the Adobo! It has its roots firmly in the Spanish colonial history of the Philippines. Much like they did in India, the Spanish brought with them cooking techniques and ingredients that made their way into the nations cuisines to create unique fusions of cultures.
The use of vinegar in Filipino cuisine is a classic Spanish influence (originally wine, but as wine was pretty acidic back then in the heat it gradually became vinegar), which is what gives the food its distinctive and addictive sourness.
This adobo uses a fair amount and you can of course, try out the amount to see what you like best.
Unlike many spicy dishes from South East Asia the Adobo offers a mild sauce, nothing too intense - but it very tasty nonetheless. Fragrant and full of flavour. When I serve mine, to add a sharp note I like to add some tart and sour pickled onions - they work beautifully with the vinegar in the sauce. I know you'll love my Filipino Pork and Vegetable Adobo - even if you're a sceptical Filipino.
How to make my Filipino Pork & Vegetable Adobo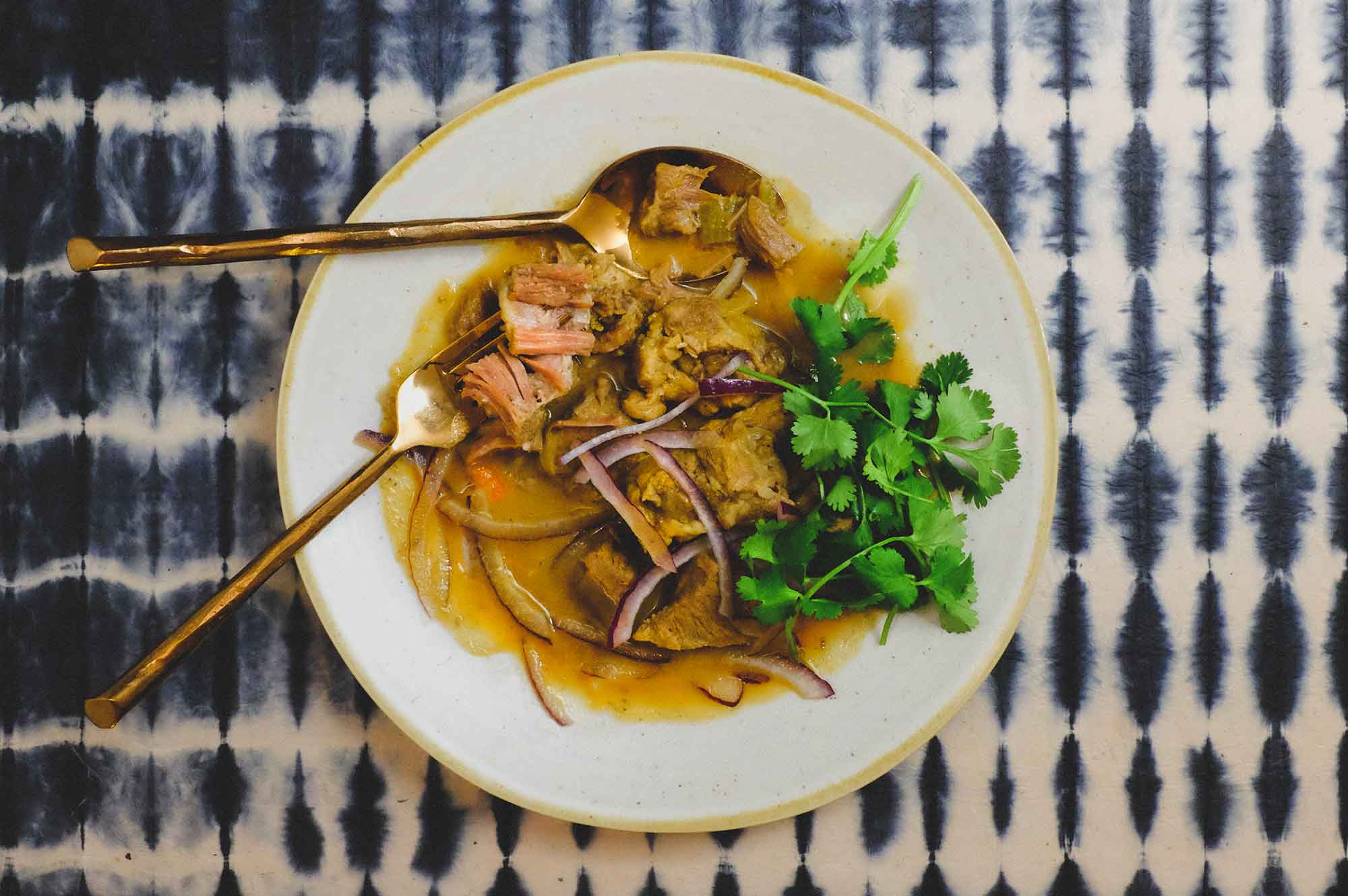 Filipino Pork & Vegetable Adobo
Rate this recipe
Print Recipe
Pin Recipe
Save Recipe
Go to Collections
Calories (per serving) |
437
Ingredients
2

tbsp

vegetable oil

1

kg

pork butt (cut into large chunks)

1/4

cup

Filipino soy sauce

1

onion (chopped)

1

carrot (chopped)

4

garlic cloves (chopped)

1

tsp

whole black peppercorns

1/2

cup

filipino vinegar

1

tsp

salt
Instructions
In a large casserole pan (with a lid), heat the oil over a medium/high heat until hot.

Add the pork in small batches and fry until browned. Repeat with all the pork then set aside in a bowl.

Too the pan, add the onion, celery, carrot, garlic, bay leaves and peppercorns and fry for 2-3 minutes to soften.

Return the pork and juices to the pan along with the soy sauce, vinegar and salt. Bring to a boil and then add around 400ml water. Bring this to a boil then reduce the heat too low. Pop on the lid and simmer gently for 1 1/2 - 2 hours until the pork is tender - stirring occasionally.

Using a slotted spoon, remove as much pork as you can to a waiting bowl and then using a stick blender, blend the vegetables into the liquid to make a sauce. Return the pork, and you're done.

While the Adobo cooks, mix the onion and vinegar together to make the garnish. Refrigerate until needed.

Serve with boiled rice. Scatter over the pickled onions and sprinkle a little fresh coriander if you have any just before serving.
Nutrition
Calories:
437
kcal
(22%)
|
Carbohydrates:
8
g
(3%)
|
Protein:
49
g
(98%)
|
Fat:
21
g
(32%)
|
Saturated Fat:
11
g
(69%)
|
Cholesterol:
150
mg
(50%)
|
Sodium:
1568
mg
(68%)
|
Potassium:
1014
mg
(29%)
|
Fiber:
2
g
(8%)
|
Sugar:
3
g
(3%)
|
Vitamin A:
2548
IU
(51%)
|
Vitamin C:
5
mg
(6%)
|
Calcium:
63
mg
(6%)
|
Iron:
4
mg
(22%)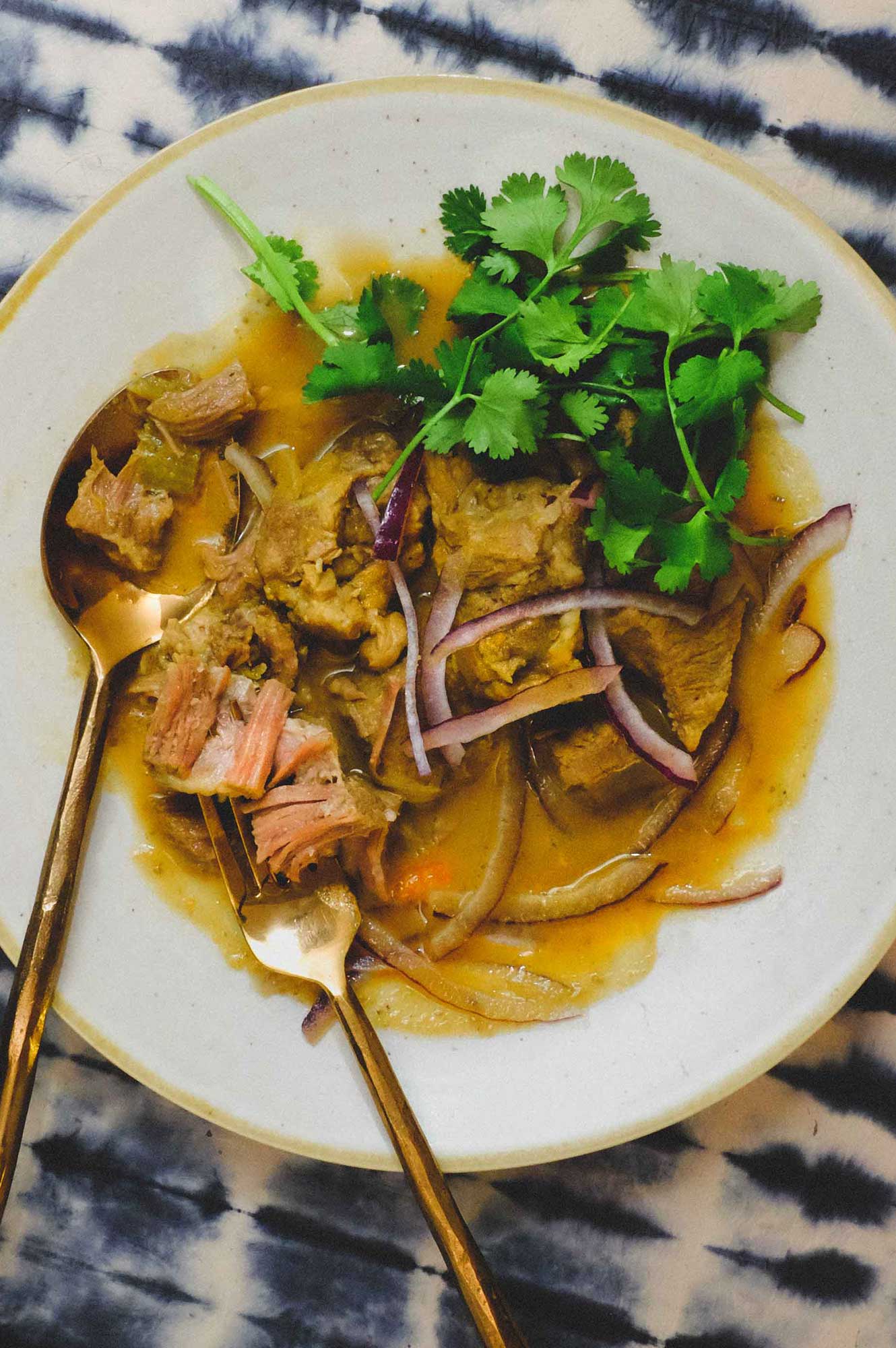 Did you make my Filipino Pork & Vegetable Adobo?
How did you go? Let me know in the comments below and be sure to tag @cookeatworld at Instagram.