Osso Buco Ravioli
Osso Bucco, braised until meltingly tender is then put to magnificent use in these delicious ravioli parcels. Meaty, flavoursome bites, coated in the rich, fragrant sauce is something very special indeed! This is a winter warmer or summer spectacular. You can enjoy this recipe 24/7/365!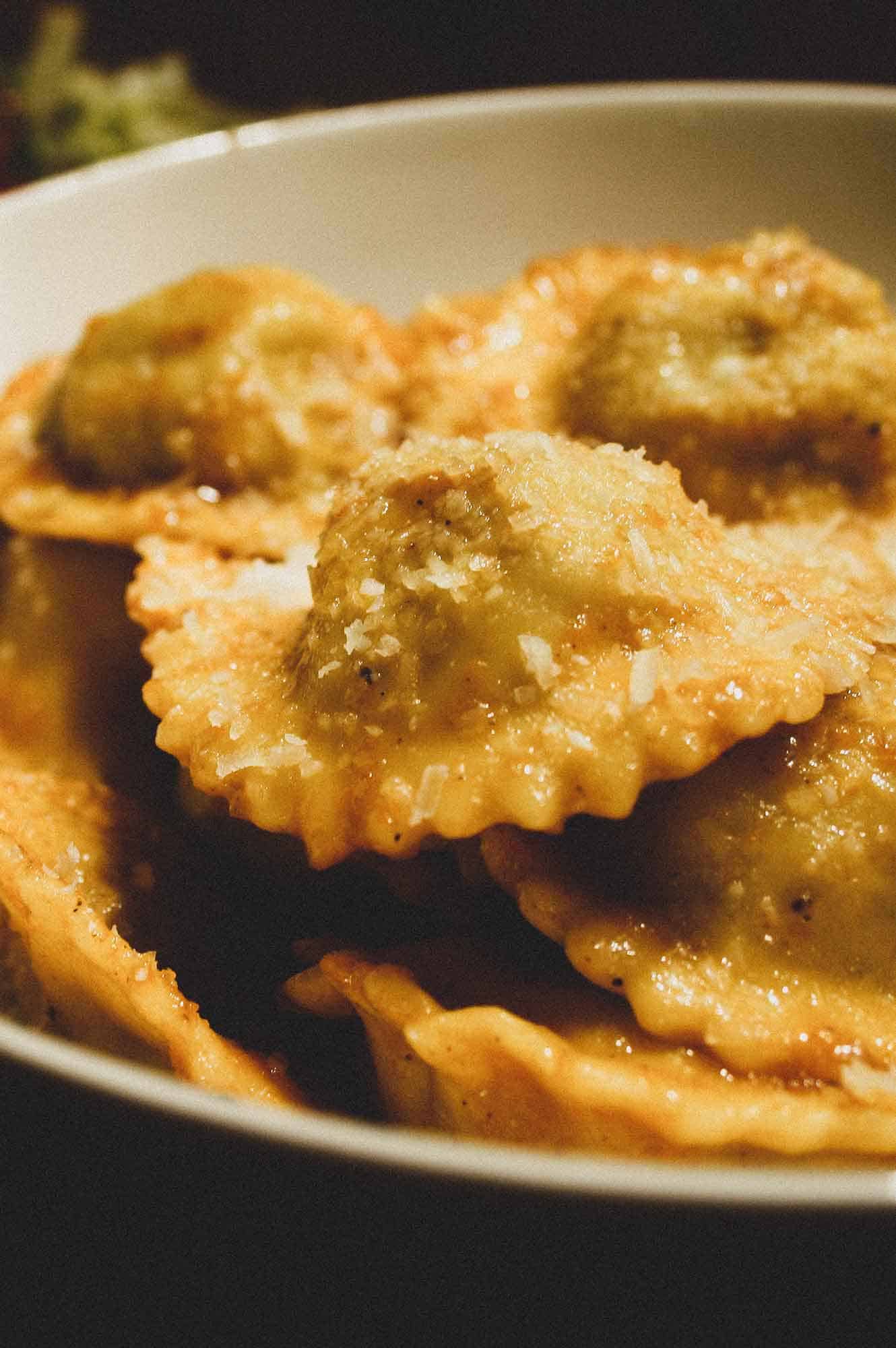 Few things are more delicious than Osso Buco. The beloved Italian favourite of Veal, slowly cooked over many hours, resulting in mouthwateringly tender meat and a rich, warming gravy. If you're lucky, you might also win the meat lottery and find a little bone marrow in the shank too!
What is Osso Buco?
Osso Buco is the shank of the veal or beef. It's the top part of the cow's legs (see diagram below). It's sliced thickly and includes the bone in the centre. As it's a part of the cow that gets a lot of exercise, it's a tougher cut of meat, which is why it's almost always cooked low and slow.

The resulting meat is full of flavour and works as a dish on its own, usually served with polenta or risotto (traditionally the saffron infused Risotto Milanese) and a light sprinkling of the herb, lemon and garlic combination known as gremolata.
With tomato? Without tomato?
There are two schools of thought as to the perfect osso buco sauce to cook in a tomato based sauce or not… Both are common in Italy so no one method is more traditional. It's a matter of taste – I'm not going to get drawn into an eternal Italian argument as to which is most authentic. I prefer a non tomato based sauce. It's delicious! End of argument. :)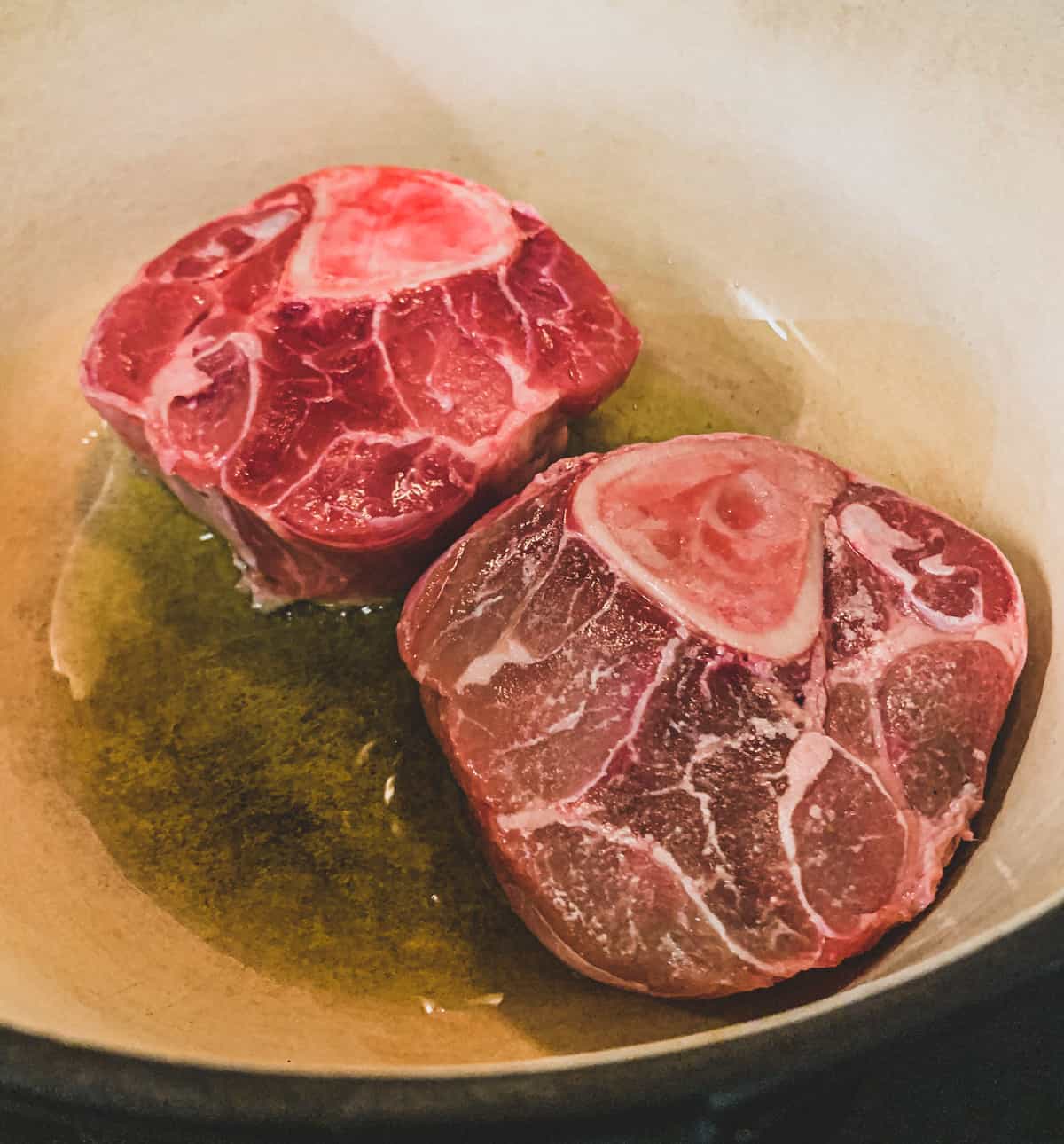 Are there other uses for Osso Buco ragu?
Yes! Once cooked, the osso buco gravy on its own is often used as a pasta sauce, stirred through thick ribboned pasta like pappardelle or fettuccini and served before the meat as a small appetiser. Or a lunch before the main evening meat event.
The leftover meat (there is leftover meat on occasion – ha!) is shredded into pieces and stirred into the remaining gravy to create a ragu sauce. This again, is stirred through pasta and served as a meal on its own. Much like the way I prepare my absolutely delicious Beef Short Ribs with Polenta.
Lastly, and the reason for this recipe – the meat is separated and shredded, mixed with a little sauce and used as a stuffing for pasta shapes like ravioli. A little braising gravy dresses the pasta when cooked. So as you can see, Osso Buco is a very versatile meat dish to cook at home. Feel free to skip the ravioli part completely and enjoy it as its own thing!
Creating perfect fresh ravioli
Today we're focussing on making Veal Ravioli with the braised osso buco. If you've never made fresh egg pasta you should start by reading my How to make fresh egg pasta guide to get you primed. To feed four, we're going to be using 8oz/220g of '00' flour and 5 eggs. You can read all about why '00' flour is a great flour for pasta at the Kitchn.
You could also think about buying a ravioli cutter to make light work of making the shapes, but it's not essential you can create the perfect ravioli using a circular cookie cutter or small glass.
Three stages to winning at Osso Buco Ravioli
There are three stages to creating the ravioli. You can split these stages up if you prefer, or do them all in one go – I'll often divide my prep over a couple of days but usually just do the whole thing in one day – honestly, it's no sweat.
Preparing and cooking the osso buco ragu


You can make this ahead and refrigerate for 2-3 days or freeze for up to 3 months in batches.

Making the fresh egg pasta – use my how to make fresh egg pasta guide for technique.
You can make this ahead and refrigerate as a ball for 1-2 days or freeze for up to 3 months and thaw when you need.
Roll, stuff and cook the pasta
Do this on the day you want to eat the pasta.
As I said, this can easily be done in one go but if you're looking to save yourself time, pre-preparing some stages can be a great help.
So, without further ado, let's get Raguuing!
How to make my Osso Buco Ravioli
Osso Bucco Ravioli
Rate this recipe
Print Recipe
Pin Recipe
Calories (per serving) |
825
Ingredients
For the ragu
2 1/2

lb

(around 1kg) Osso Bucco (veal or beef)

2

tbsp

olive oil

1

large onion (diced)

2

celery sticks (diced)

2

carrots (diced)

4

garlic cloves (peeled and chopped)

1

bouquet garni

1

tsp

fennel seeds

1

cup

dry white wine

4

cup

beef broth/stock

salt & pepper
For the fresh pasta
8

oz

(220g) 00 flour (or plain, all-purpose flour)

5

eggs (2 whole eggs, 3 yolks)
For the pasta stuffing
1/2

cup

finely grated Parmigiano Reggiano (parmesan)
Instructions
For the Osso Bucco
Heat the oil in a large casserole pan over a medium heat until hot.

Add the osso bucco (in one or two batches - depending how big your pan is) and brown well on all sides - about 2 minutes per side. Remove from the pan.

Add the onion, celery, carrot and garlic and stir. This will create a little moisture in the pan to allow you to scrape any of the meat that stuck - this is all flavour!

Cook the vegetables for 2-3 minutes until softened a little, then return the meat to the pan.

Pour in the wine and stock and stir. The meat should be just covered in liquid - add a little water if necessary.

Add the bouquet garni and fennel seeds and season generously with around 2 teaspoons salt and 1-2 teaspoons black pepper. Stir well, then bring to a boil.

Once boiling, reduce the heat to very low and cover the pan. The stew should be barely bubbling - a very gentle simmer. Cook for 4 hours, stirring occasionally.

After 4 hours, the meat will be super tender. Carefully remove from the pan and place in a bowl to cool for around 10 minutes.

Once cool, remove the meat from the bones - discard any fat and bones. Be sure to look for any marrow in the bone and add this to the meat. Shred and chop the meat into tiny pieces and add the parmesan cheese and a few ladlefuls of gravy until you have a thick dry paste like mixture.
Making the pasta
Add flour to a large bowl or just on the countertop and make a well in the centre.

Drop into the well, the eggs and then begin to whisk them with a fork, picking up the flour, little by little as you whisk.

Eventually, the mixture will become too thick to whisk, which is when you get involved with your hands to bring the mixture together to form a dough.

Knead the dough for a good 10-15 minutes to form a silky, smooth texture. Eggs differ in size, so if the dough feels dry, add a little water or egg white. If it feels too wet, add a little flour - the dough should be pliable, but not stick to the surface.

Roll into a ball, cover with plastic wrap and refrigerate for 30 minutes
Rolling and stuffing
Once chilled, remove the dough and cut in half. Using a pasta roller, on the thickest setting, pass the pasta through 3-4 times to get it started. Folding each time you roll. Gradually roll through the machine, reducing the settings each time to create a thinner sheet. Stop the second from thinnest setting.

Dust the pasta sheet with flour and fold a few times. Cover with a tea towel while you repeat the process with the other half.

Lay one pasta sheet on the countertop, cut it in half if it's too long.

On the top top half of the pasta sheet, make very gentle indentations with your pasta/cookie cutter in one line. Then make small balls of meat, about half the size of a ping-pong ball and space them out in the centre of each circle.

Using a pastry brush or your fingers, brush the bottom half quickly with a little water.From the bottom, fold the pasta sheet upwards to cover the meat and gently press around the meat balls to seal them. Get as close to the meat as you can to avoid air pockets. This will ensure the ravioli don't explode in the pan. Now, using your cutter, cut out each ravioli. Place on a tray and cover with a tea towel. Repeat the process with the remaining pasta ball. Discard the leftover pasta.
Cooking
Heat a large frying pan and add 3-4 ladles of the osso bucco cooking sauce with 1/2 stick butter. Bring to a simmer, reduce the heat to very low to keep warm.

Heat a large pan of salted water and when boiling, carefully drop in the ravioli. Cook for 2-3 minutes then using a slotted spoon, remove the ravioli and drop into the sauce.

Carefully toss the ravioli with a spoon or by agitating the pan for 30-40 seconds to coat with the sauce.Portion up the raviol, add another spoonful of sauce and sprinkle over more Parmigiano Reggiano cheese.
Nutrition
Calories:
825
kcal
(41%)
|
Carbohydrates:
55
g
(18%)
|
Protein:
76
g
(152%)
|
Fat:
27
g
(42%)
|
Saturated Fat:
8
g
(50%)
|
Polyunsaturated Fat:
3
g
|
Monounsaturated Fat:
12
g
|
Trans Fat:
1
g
|
Cholesterol:
426
mg
(142%)
|
Sodium:
1455
mg
(63%)
|
Potassium:
1474
mg
(42%)
|
Fiber:
5
g
(21%)
|
Sugar:
4
g
(4%)
|
Vitamin A:
5864
IU
(117%)
|
Vitamin C:
7
mg
(8%)
|
Calcium:
369
mg
(37%)
|
Iron:
10
mg
(56%)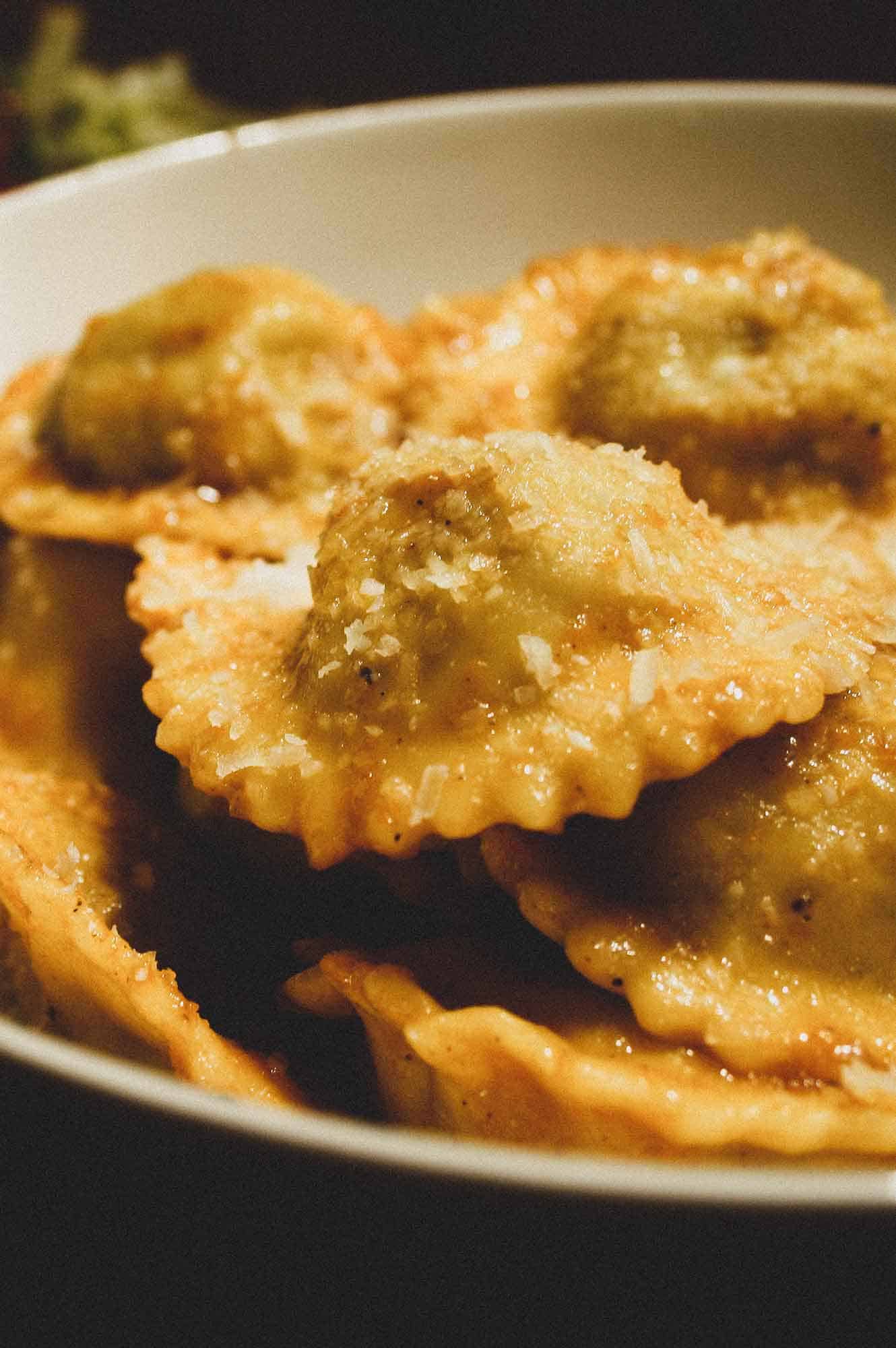 Did you make my Osso Buco Ravioli?
How did you go? Let me know in the comments below and be sure to tag @cookeatworld at Instagram.