Za'atar Bread with Beef & Shangleesh Recipe
For a quick and easy alternative to pizza, this flatbread with juicy beef and a fragrant scattering of Za'atar spice mix paves the way for a light sprinkling of the Middle Eastern cheese, shangleesh (shanklish). Full of flavour, so easy!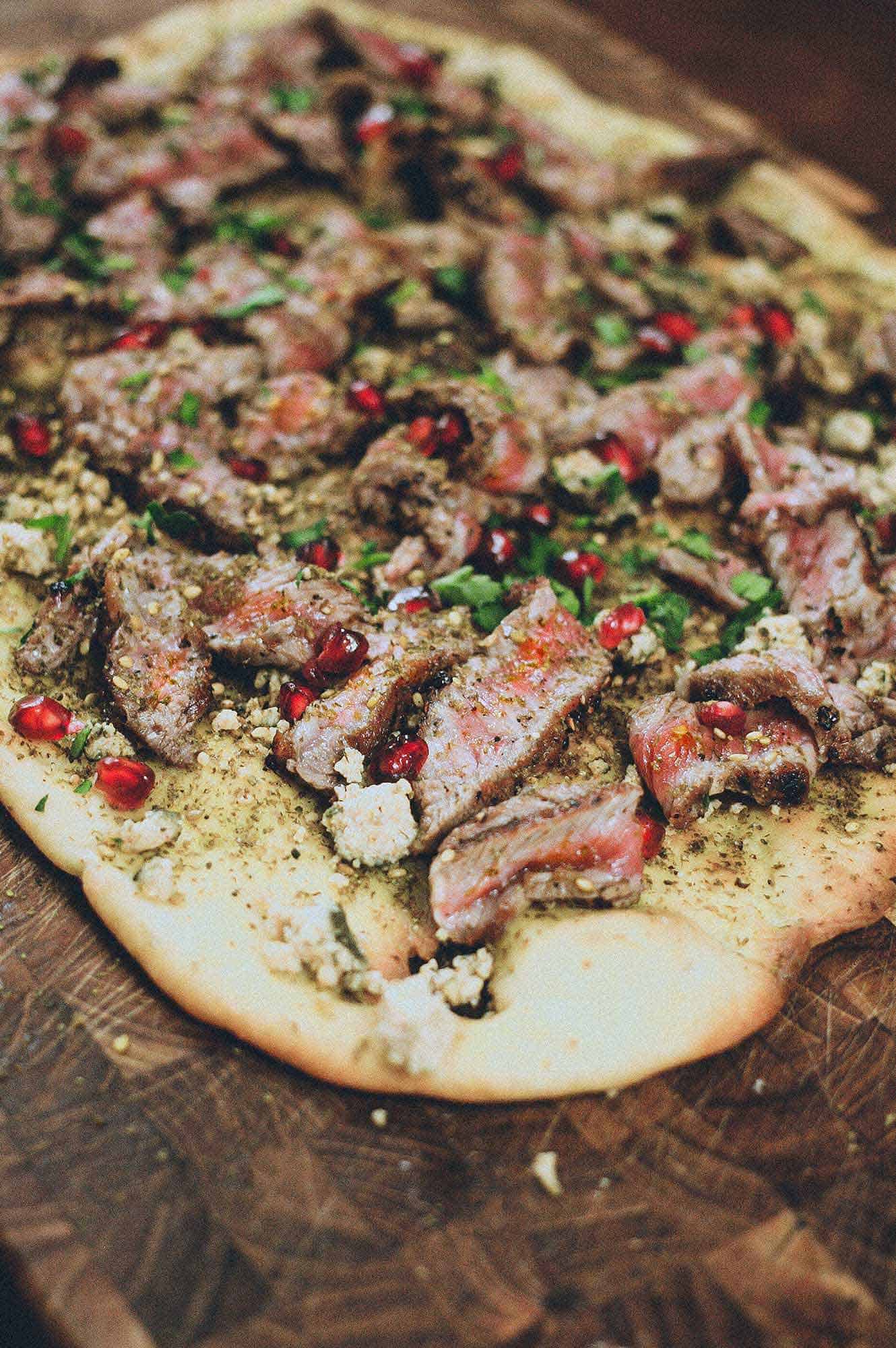 This Za'atar Bread with Beef & Shangleesh is a super simple Middle Eastern delight! I was feeling a little lazy when I first made this - I couldn't summon the energy to cook something too involved - I just wanted a quick, tasty treat.
Za'atar Bread made from shop bought Pizza Dough - it's genius.
In the fridge, there was a shop bought pizza dough - I'd bought it with pizza in mind a few days earlier but during one of my supermarket vague-outs had completely forgotten to buy anything to put on top of the pizza. Other than that, I had zero ingredients. There WAS a steak, but steak pizza sounded a bit weird so further brainstorming was required. My mind drifted to Turkey...
The flavours of Turkey and the Middle East
One a trip to Turkey, one of my favourite things to grab in the street for a quick snack were the delicious breads, Simits and Zahtar (Za'atar) breads. Simits being a bagel-like bread covered with sesame seeds, and Zahtar bread a yeast flattened bread covered in olive oil and zahtar/za'atar. It's an alluring smell - herby and nutty and would waft through every street in Istanbul, tempting me at every turn.
Making this bread with a pre-bought proven dough is as simple as it gets. Just roll it out and generously cover with za'atar and olive oil. I'd used this method before, but had always just made straightforward za'atar bread - but this time I made use of the steak and also a little Shangleesh Cheese I had in the fridge.
Shangleesh Cheese - A salty, herby delight
Shangleesh/Shankleesh is a Middle Eastern cheese that's been rolled in dried thyme and aged, sometimes in oil - it's a little like feta, but more intense. It's absolutely delicious! You could easily substitute the Shangleesh with Feta, and it would be just as delicious. If you get hold of it, you could and should try my amazing Shangleesh Salad (Lebanese Breakfast Salad) - it's a dream everyone should wake up to!
So here we have it, Part Turkish, part Lebanese - let's call it a Middle Eastern Inspired flatbread. It's a super simple dish to put together and looked rather splendid for the 5 minutes it was on the table.
If you're searching for something a little different than Pizza for dinner, give this Za'atar Bread with Beef & Shangleesh a whirl. If you have any Za'atar leftover, then give this deliciously creamy Harissa hummus with Za'atar a go too.

What is Za'atar?
Za'atar is a herb mix made from a combination of dried herbs, including thyme, oregano and marjoram. Also included are toasted sesame seeds and the ground sour sumac berry.

What does Za'atar taste like?
It's a herby, salty, nutty and sour hit of flavour. The predominant flavour are the herbs which lend a beautiful earthy fragrance to any dish.

I don't have Za'atar, what can I use instead?
You can create your own by combining dried thyme, oregano and/or marjoram with toasted sesame seeds.

What else can I use Za'atar for?
You can sprinkle it over meats, vegetables and fish. Combine it with oil and vinegar to make salad dressings. It's best as a condiment, so anywhere you'd sprinkle herbs, you can use Za'atar.
What is Shangleesh?
A Middle Eastern semi soft, aged sheep or cow's cheese, rolled in herbs - typically thyme or Za'atar. Available fresh or preserved in oil. Sometimes available with chilli for a spicy version.
What can I use Shangleesh for?
You can use it in salads, sprinkled over breads, vegetable meats and fish. It's traditionally popular at breakfast time and mashed with eggs, and served with cucumber, tomatoes.
I can't get hold of Shangleesh what should I use instead?
Shangleesh goes under lots of other names so try searching one of the following instead: Shankleesh, Shanklish, Chancliche, Shinklish, Sorke or Sürke.
Failing that, It's probably closest in texture and flavour to a good quality Bulgarian or Greek feta cheese.
How to make my Za'atar Bread with Beef & Shangleesh
Try some of these recipes:
Za'atar Bread with Beef & Shangleesh
Rate this recipe
Print Recipe
Pin Recipe
Calories (per serving) |
1118
Ingredients
1

packet pre-made pizza dough

1/3

cup

Za'atar spice mix

1

Steak (New York, Ribeye) around 250g/9oz

1/3

cup

Shangleesh Cheese (or feta) - crumbled

Salt & pepper

1/4

cup

Fresh pomegranate seeds (optional)

1

tbsp

fresh flat-leaf parsley (chopped)

1/3

cup

extra virgin olive oil (approximately)
Instructions
Preheat oven to 220ºC/425ºF

Drizzle around 2 Tablespoons of extra virgin olive oil on a 30x40cm/12x17" baking sheet and spread out with your fingers to cover the whole sheet. Using a rolling pin, roll out your pizza dough to a rough rectangle around 35x25cm/10x15" to fit on the baking sheet. You can also just stretch it with your fingers straight onto the baking sheet.

Drizzle generously with about another 2-3 tablespoons of olive oil, then scatter over generous amounts of za'atar. Taste the za'atar to see if it has salt, if it doesn't then season the bread with salt & pepper. If it does, just pepper. Bake in the oven for around 10-15 minutes until browned and cooked through. Remove from the oven.

Season the steak well with salt & pepper. Heat a frying pan with a little olive oil and fry the steak for 4-5 minutes each side for a medium cook. Rest the meat for 2-3 minutes and then thinly slice.

Arrange the steak in one layer on the flatbreads then scatter over the Shangleesh, pomegranate seeds (if using) and the parsley. Sprinkle over a little more Za'atar and then finish with another drizzle of extra virgin olive oil. Use a pizza cutter to portion out the bread. That's it, you're good to go!
Nutrition
Nutrition Facts
Za'atar Bread with Beef & Shangleesh
Amount Per Serving
Calories 1118
Calories from Fat 576
% Daily Value*
Fat 64g98%
Cholesterol 91mg30%
Sodium 1754mg76%
Potassium 351mg10%
Carbohydrates 98g33%
Protein 42g84%
Vitamin A 274IU5%
Vitamin C 5mg6%
Calcium 131mg13%
Iron 8mg44%
* Percent Daily Values are based on a 2000 calorie diet.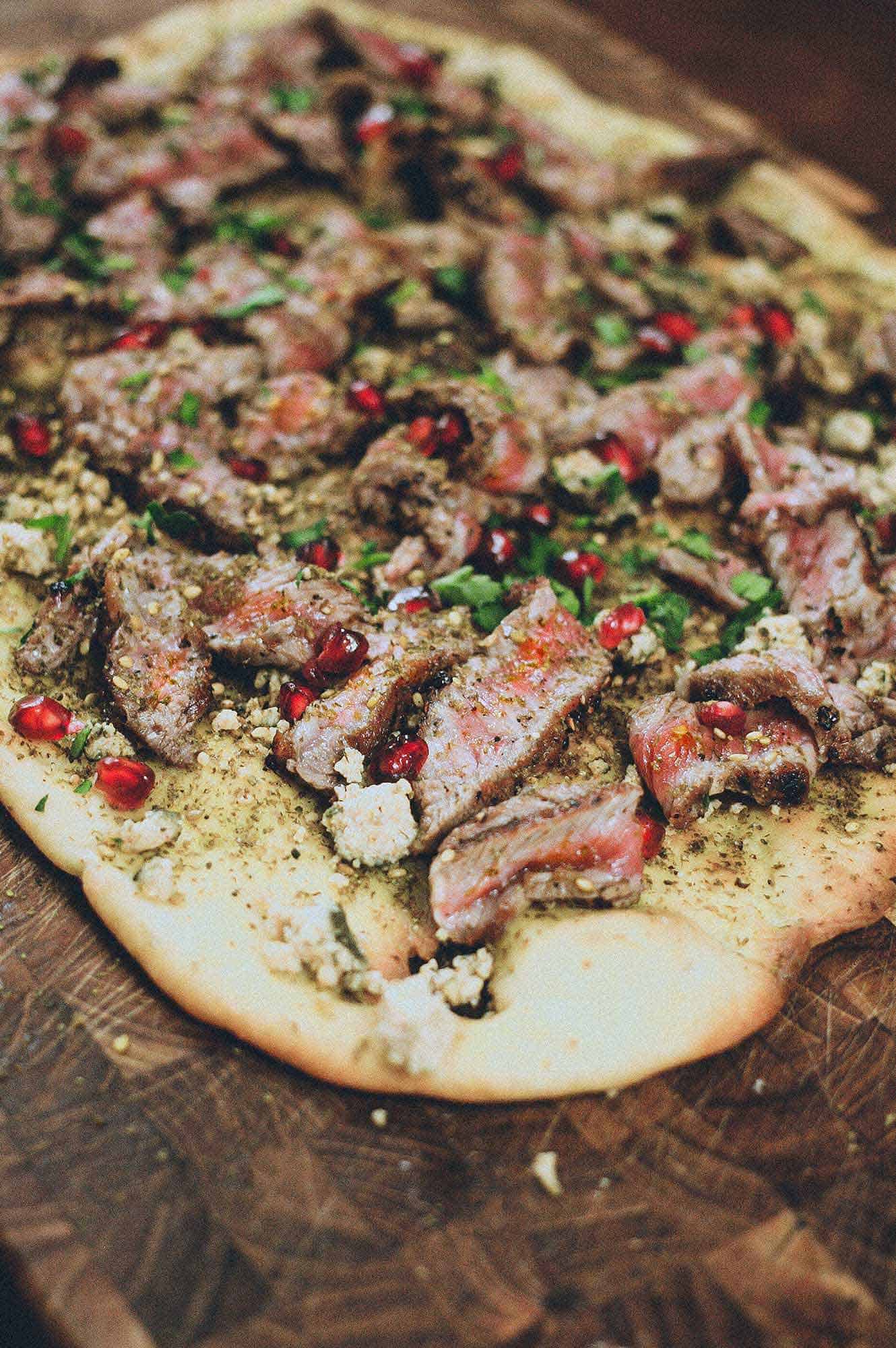 Did you make my Za'atar Bread with Beef & Shangleesh Recipe?
How did you go? Let me know in the comments below and be sure to tag @cookeatworld at Instagram.